With the right highlighting technique your light and chestnut hair looks more attractive, voluminous, and thicker. Light shades on dark hair highlight your face. Still, it could be a challenge to choose a suitable highlighting technique as the result depends on your hair color, hair length and hair density. With that in mind, we will share with you secrets about highlighting techniques, ombre and balayage for warm, cool and neutral skin undertones. Hair length and a hairstyle affect the color choice and the highlighting technique as well.
1. Ash brown hair with highlights
Brunettes look great with a tinge of gold blonde into their hair. Balayage in warm shades gives dark hair this golden shine and bounce. And to achieve the effect of luxurious hair you don't need to dye your hair to level 9.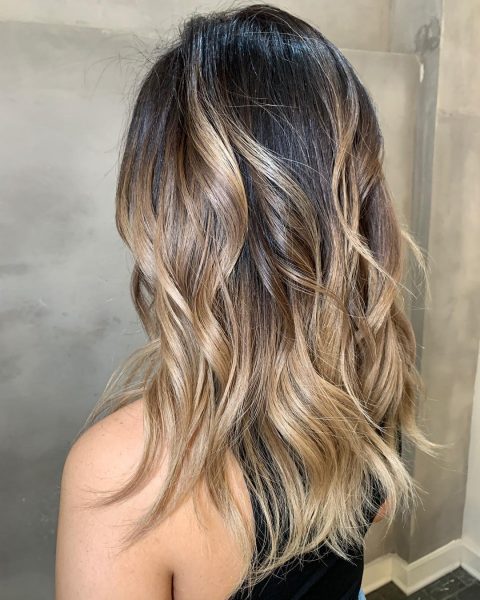 Source: @hairloungenyc
2. Shoulder length hair with highlights
Don't be afraid of medium haircuts. Medium length hair highlights bring out the most beautiful features of your face. The skin looks more even and contoured. Dyed hair could be colored in a cool platinum, a warm sand, and a honey caramel shades.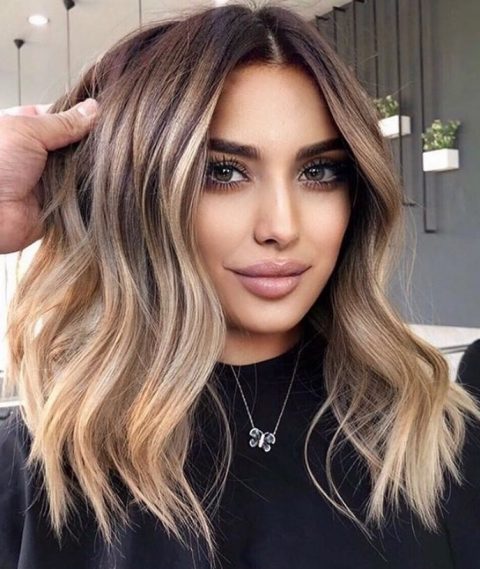 Source: @sinank4hraman
3. Contrasting black and cherry highlights
Black cherry highlights look great on dark brown or black hair. If you don't want to change your hair to a nut-brown or fair color base in the process of reaching classic highlights, opt for contrast cherry color streaks.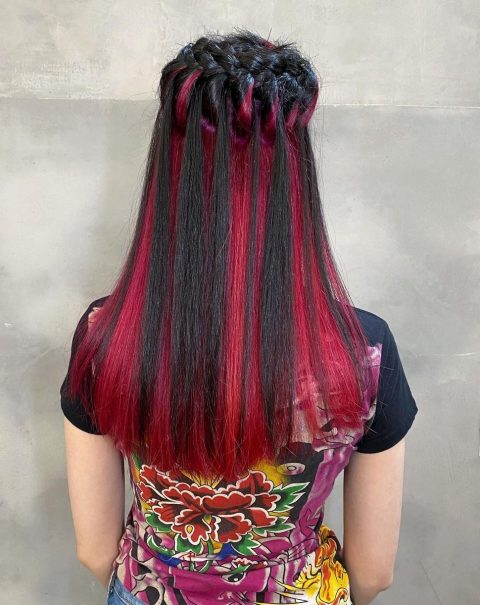 Source: @hairloungenyc
4. Subtle Cinnamon highlights
Cinnamon hair color looks gorgeous and elegant. A highlighting technique on dark brown hair creates the play of different warm hues. It looks stunning in the sunlight. Dark blonde or nut brown hair is the best base for balayage into intense cinnamon color shades.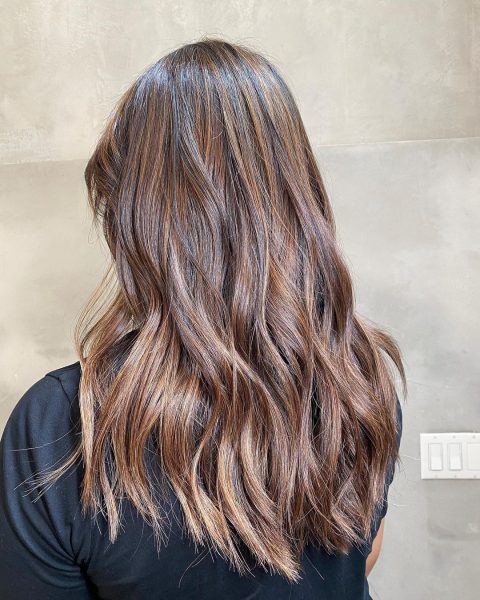 Source: @hairloungenyc
5.  Plum highlighted hair tips
Brown and nut-brown hair match with lavender, plum and purple hues. Mix and match the colors and get highlights in chocolate plum color. It looks bright and audacious than regular color options. Many creative people tend to choose these highlights.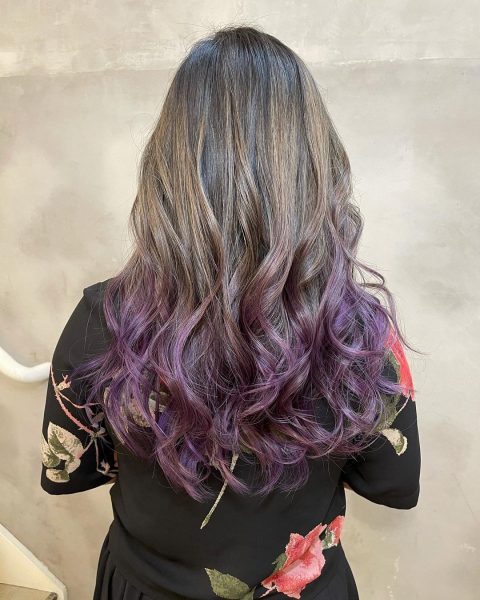 Source: @hairloungenyc
6. Ash blonde highlights 
A dark base punctuated with classic ashy highlights add more depth, texture, and dimension to your hair. To maintain the contrast between the hues and the base you need to apply a hair toner and follow a home hair care routine for cool shades.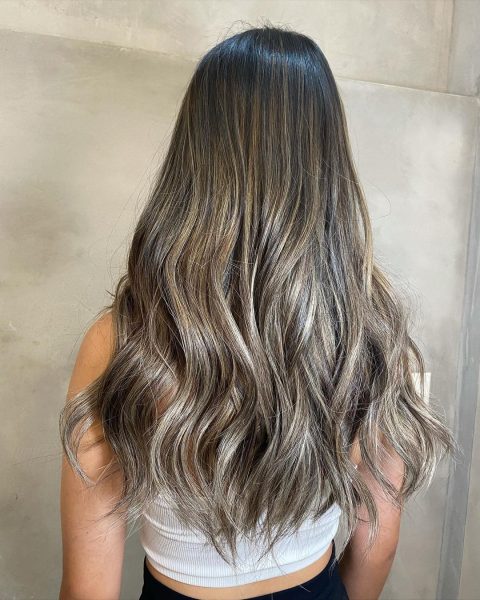 Source: @hairloungenyc
7. Warm Honey highlights 
Honey blond highlights on a dark brown base look more natural than ash highlights. If you have chestnut hair, golden tones will give more brightness to your mane. If you don't like high-maintenance color, it's the perfect option for you. It matches girls with dark and warm skin undertones.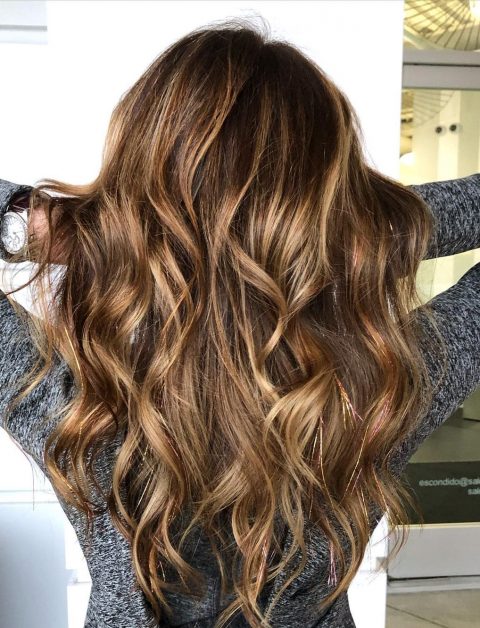 Source: @kirstiev.stylist
8. Glossy red highlights
Reddish hues look best on dark hair due to the stark contrast of red and black. Cherry color undertones enliven a regular hairstyle or an elaborated brade. It's an alternative look to classic highlights. Even though these red lowlights are prone to fading, dyed locks could be easily colored again into ash, cinnamon or caramel colors.
Source: @hairloungenyc
9. Strawberry blonde highlights
Strawberry highlights create a romantic and innocent image. They're on trend for 2021 and go well with blond and light-brown hair. They look beautiful both in balayage and ombre techniques.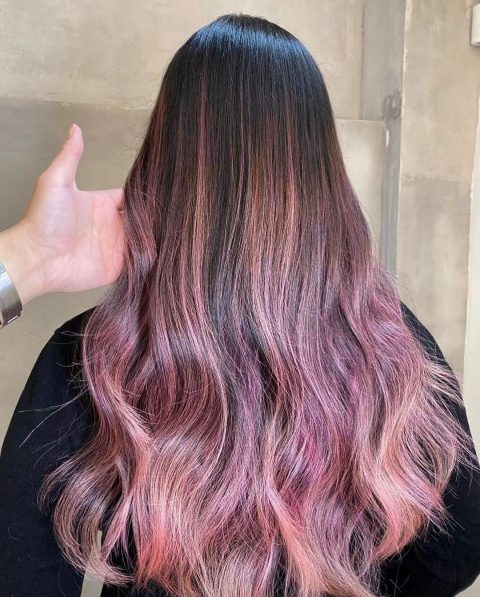 Source: @hairloungenyc
10. Rose gold highlights 
Another romantic image can be created with rose gold highlights. The mix of gold and pink hues suits blond and light-brown hair. You need to lift dark brown hair 1-2 levels if you want this hair color to pop.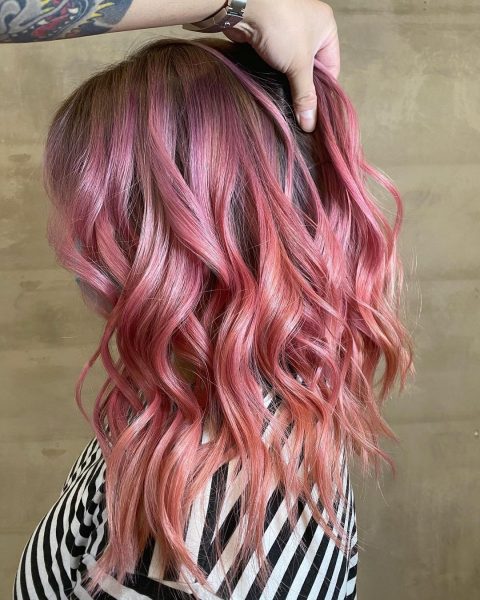 Source: @hairloungenyc
11. Chocolate balayage on straight bob
Sand balayage highlights on dark hair look more natural than ash hues. And short hair makes this gradient play of colors more obvious. Medium bob and straight hair make chocolate shades look even more attractive and elegant.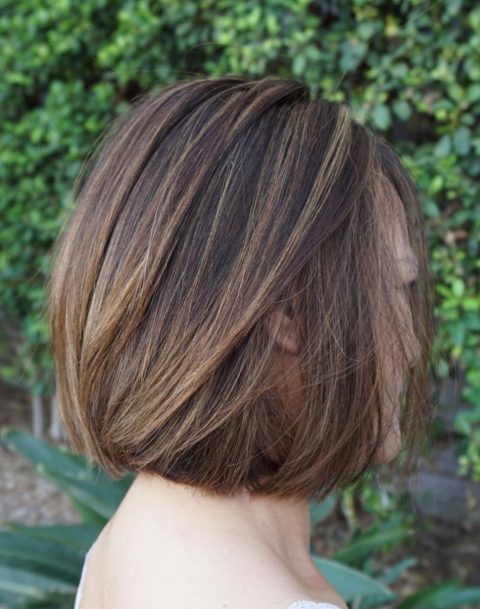 Source: @kirstiev.stylist
12. Espresso hair with caramel highlights
Caramel highlights on chestnut hair create a balance of warm and cool undertones. Ash highlights don't quite flatter warm types like an Autumn and a Spring, so these two types should better opt for a trendy caramel. A textured gradation of this highlighting technique adds dimension to curly hair.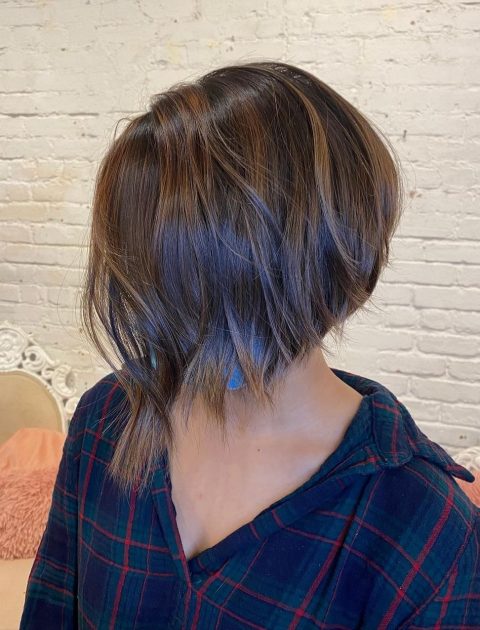 Source: @hairloungenyc
13. Chestnut-brown highlights
Chestnut hues and caramel highlights look elegant and add dimension to fine hair. This color combination will make your hair dazzle in the sunlight. Locks colored in a rich burnt caramel shade are legit attention-grabbers. These chestnut highlights flatter girls of warm skin undertones.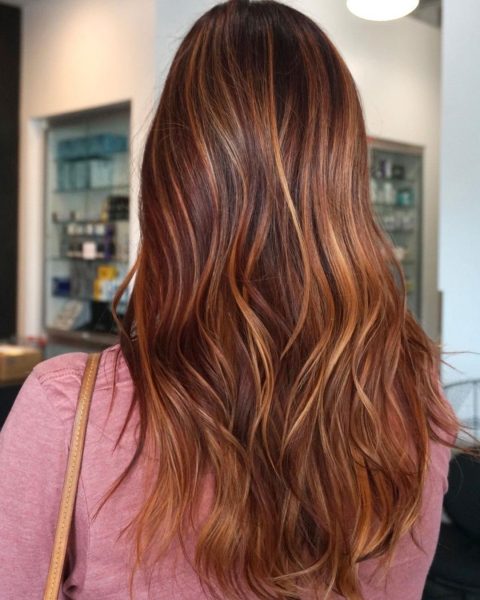 Source: @kirstiev.stylist
14. Highlights for greying brown hair
Silver grey hair is highlighted a few inches below the roots to accentuate the natural look. Face framing strands are dyed and toned ash grey so your silver and bleached hair combine and look balanced and natural. This highlighting technique is best to make age work for your benefit.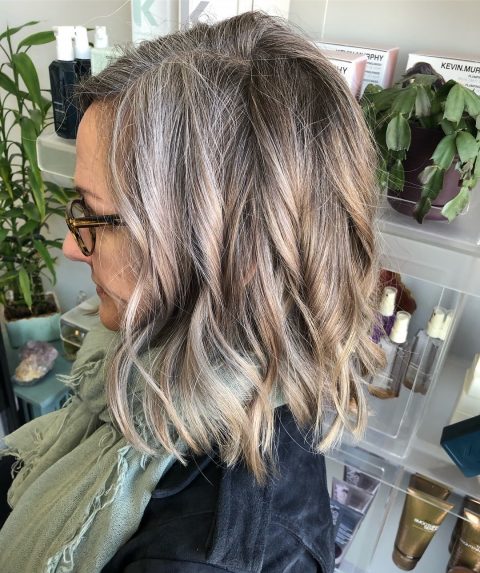 Source: @avensonsalonic
15. Light brown hair with blonde highlights
Ashy and icy highlights look stunning on natural blond hair. Dyeing doesn't require much time in this case. It's also a low-maintenance highlighting technique which adds dimension and creates extra volume.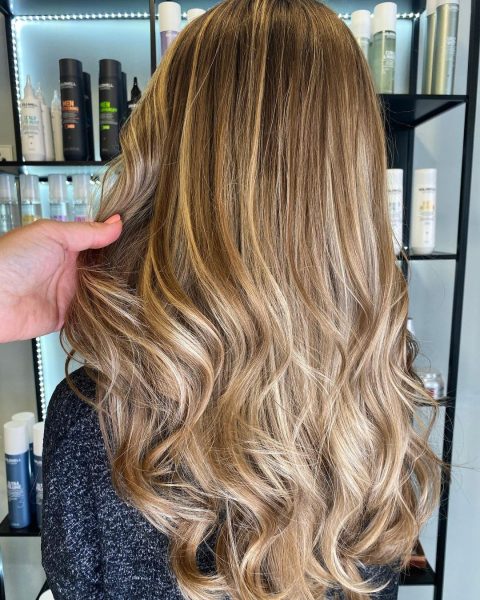 Source: @salonb_
16. Golden brown hair with highlights
Brunettes will like golden highlights. Lovers of golden brunette hair could choose from different tones. Sand, honey, and caramel streaks on dark hair create a rich shimmering color. Mix and match these shades with nut brown hair and get brightness together with volume.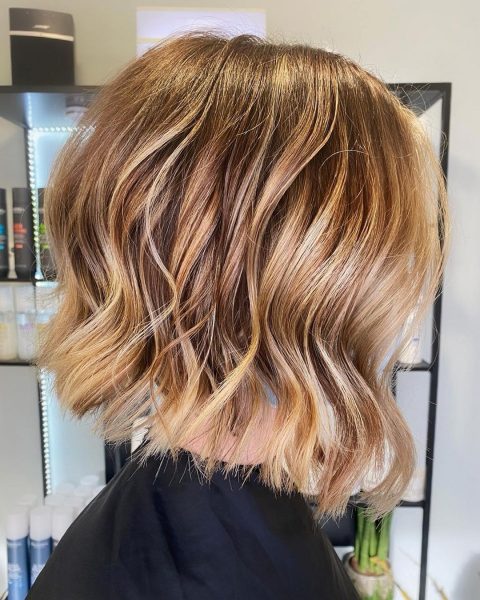 Source: @salonb_
17. Light reddish highlights
Highlights on natural red hair or dyed red brown hair create a caramel or burnt caramel shade. If you don't like high-maintenance hair, this highlighting technique is best for you. In the sunlight the highlights look intense with a balanced gradation of hair color. In the end you will be pleased with an elegant and natural look.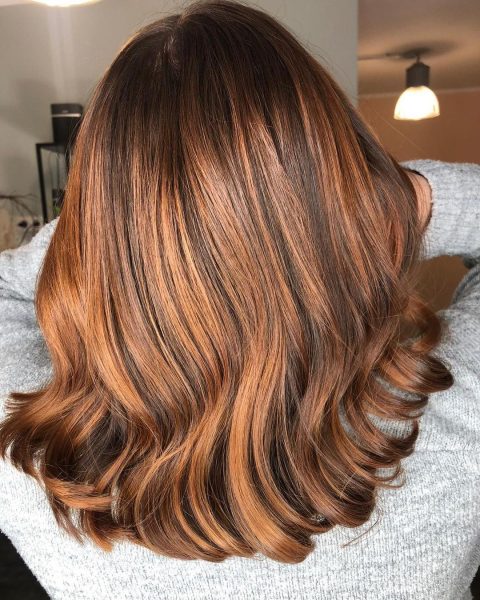 Source: @salonb_
18. Brown hair with honey highlights
If your natural hair color is dull brown, lighten it and add to it some shine with warm honey highlights. It doesn't require much toning and it stays fresh for long. It also looks more natural than ash hair. You should opt for it if you want to dye your hair gradually or change dark color to your natural hair color.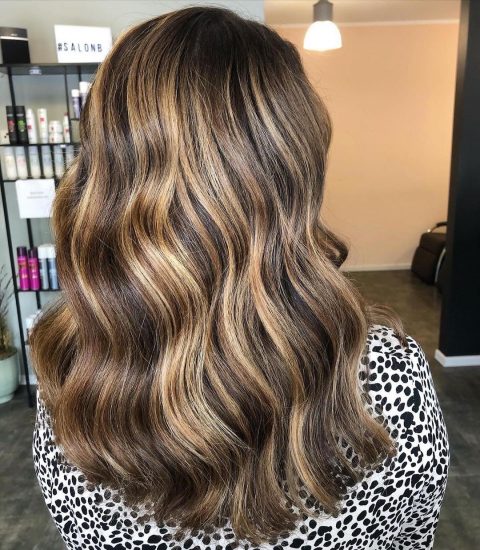 Source: @salonb_
19. Babylights on brown hair
Dark hair requires a cool shade of baby blonde for this coloring result. These platinum and natural looking babylights work especially well with fair skinned girls. Baby blonde contrasts against warm shades and creates this romantic and tender look.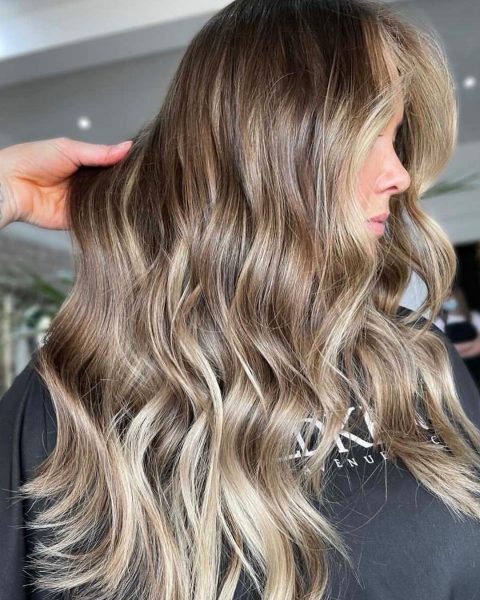 Source: @hairloungenyc
20. Subtle Amber highlights
Amber highlights add warmth to nut-brown hair. They look in a more natural and fancier way than ash shades. A mix of a melting chocolate shade together with a tinge of amber looks great on dark brown hair. In the end you will rock this sun-kissed hair look.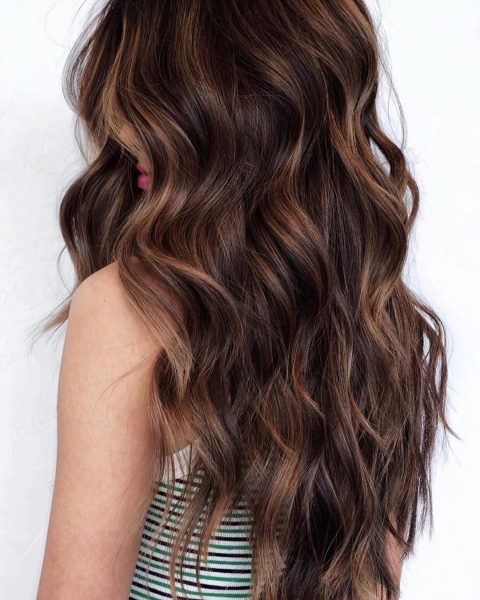 Source: @hairbyamybee
21. Blonde and red highlights
Peach, caramel, sand streaks with a touch of ash color is an elaborated highlighting technique. It will help add a high-impact dimension and texture to fine and thinning hair.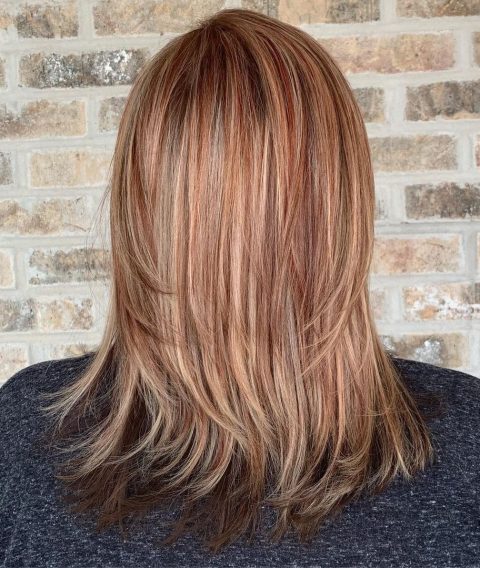 Source: @gingerhairgirl_erin
22. Ash Brown hair with blonde highlights
Ashy highlights are painted best on a natural blonde base. An ash hue brightens and makes you look younger as it hides grey hair and adds extra volume. Chunky American style highlights on your locks are a field to go creative.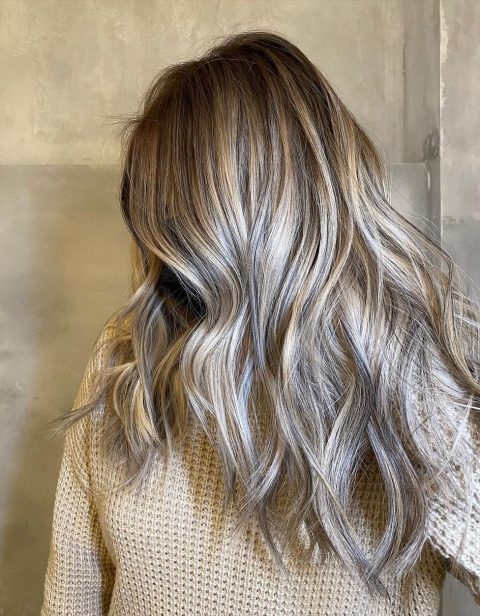 Source: @hairloungenyc
23. Blonde face framing highlights
This technique combines ombre and highlights on locks around your face. It brings attention to your make-up and face features. This coloring suits everyone who prefers natural looking hair. Last but not least, it looks stunning on short hair, particularly on shaggy.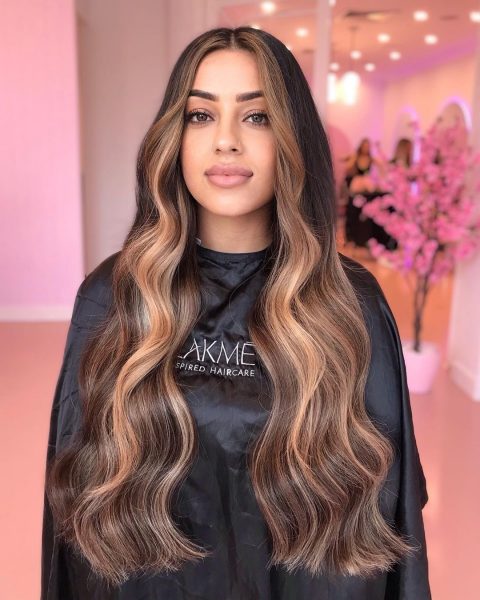 Source: @luxelabel.hair
24. Blue highlights on brown hair
Subtle highlights with blue tips look creative and bold. It's also an original way to accentuate blue eyes. This blue color matches with any brown shade. After the pigment is washed out, a colorist can retone the tips to any other dramatically awesome color.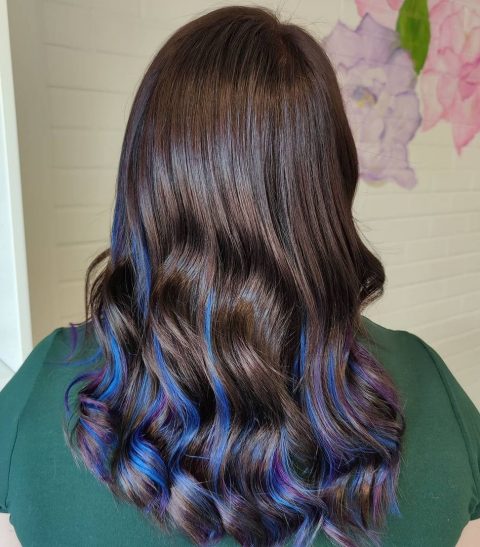 Source: @hyvinvointipiste_charlotta
25. Burgundy and blonde highlights
Strawberry and cream is a match made in hair heaven. Juicy. Féminine. Vibrant. Burgundy and blonde highlights are perfect for a dark base color. Ash strands match well with burgundy highlights and create an intensive shade! It looks amazing on dark and chestnut hair. It's a great option if you want to leave your black coloring in the past as well.
Source: @cristinalethgo
26. Auburn highlights on brown hair
A mix of melting chocolate balayage with a tinge of gold also suits chestnut hair. Lightened strands are colored with another shade of brown: a golden honey shade or a sand shade. They are lighter than the base color and combine well with a natural hair color. This mix is timelessly fashionable. It creates an elegant look and adds beautiful warm brightness to your face.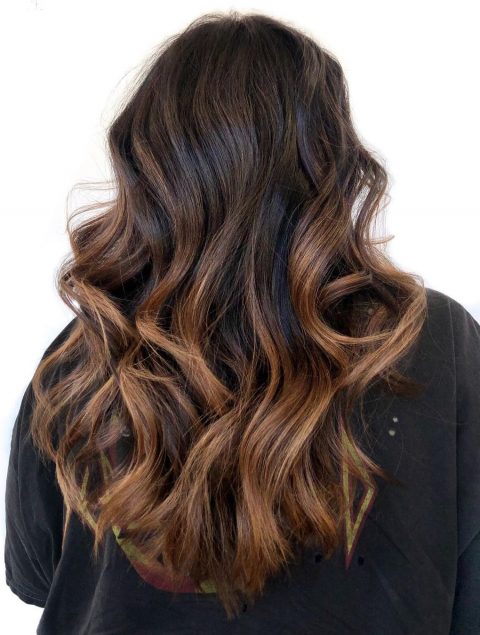 Source: @hairbyamybee
27. Brown copper highlights
Highlights in flamy copper shades are best on dark colors, ranging from chestnut to black colors. A red shade creates a bodacious, lively effect to the image. Flamboyant spice copper hair is a high-maintenance look, but the result is worth it.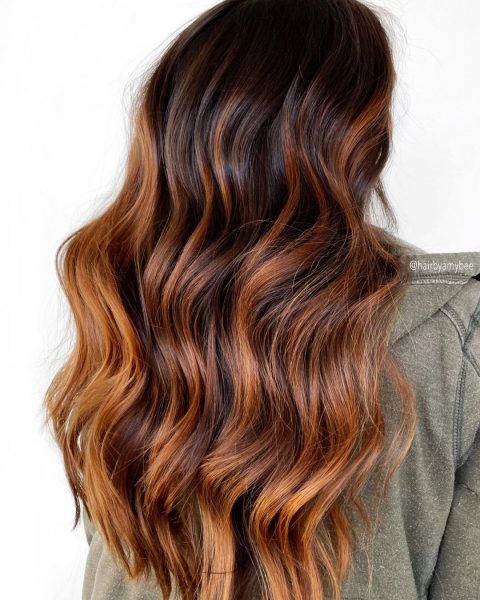 Source: @hairbyamybee
28. Contrasting Green highlights 
Creative people and people who love original ideas in make-up rejoice! Highlights of fresh cut grass color is on trend now. The color looks striking and it will get the attention towards your locks. Highlights are easily washed out and your tresses could be toned to another shade later on.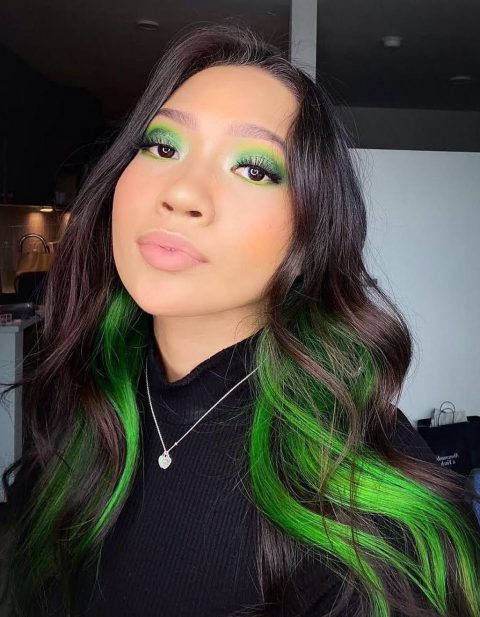 Source: @avedaartists
29. Orange and purple highlights
Magenta, rose and crimson highlights make the look girly, tender, and romantic. This color combination is quite new in the field of coloring. It works best with fair hair. It requires constant care and coloring of the strands to help keep your hair looking gorgeous.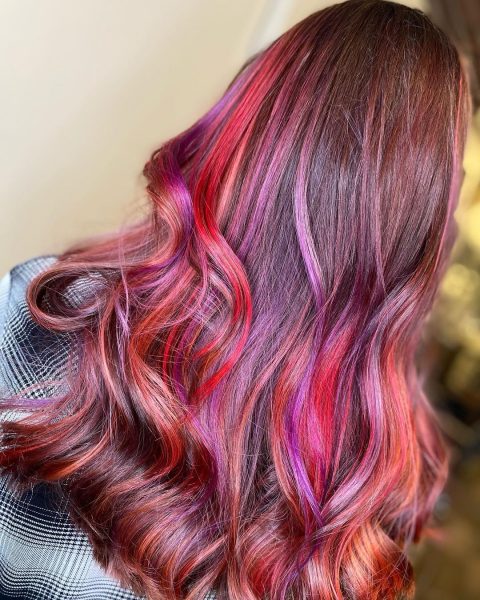 Source: @melinakahane1
30.  Maroon highlights
Juicy burgundy highlights don't require a natural base and match any chestnut or dark blond hues. You can have your hair level 6 to 4 to get these wonderful highlights. The occasional warmth could be regulated with ash toning so you can get frosted plum color as a result.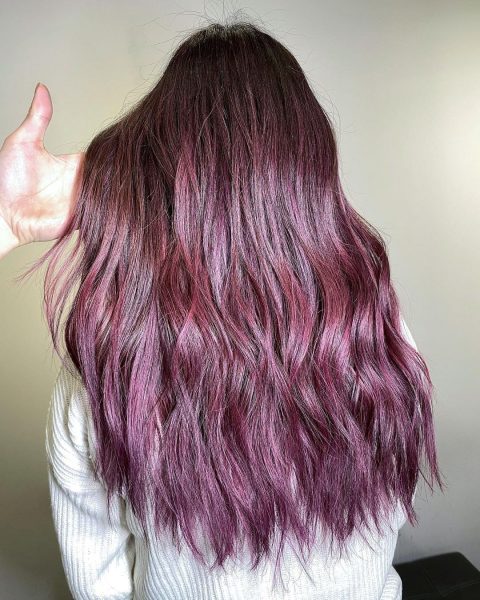 Source: @hairloungenyc
31. Ombre highlights
Chestnut or dark blond bottom hair is colored in ombre technique. Depending on your color preference, choose copper, sandy or creamy blonde. Classic ombre looks great in braids, buns, waves and it's a low-maintenance technique.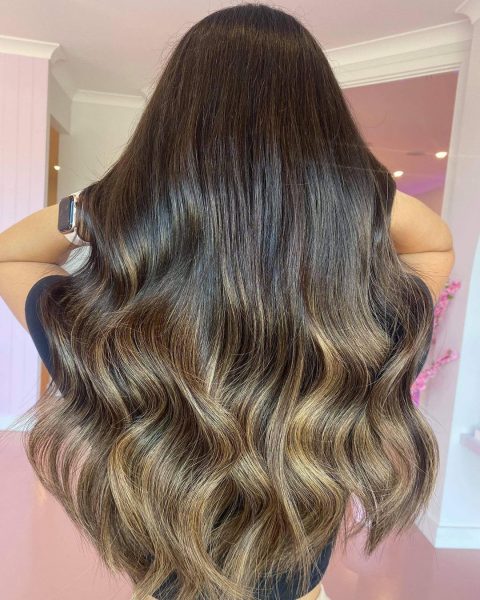 Source: @luxelabel.hair
32. Hot orange highlights
Brassy highlights on chestnut hair look like a flamboyant lion's mane. The closer the color to an orange shade, the better is the result. These highlights look best with fair skinned women with blue or green eyes.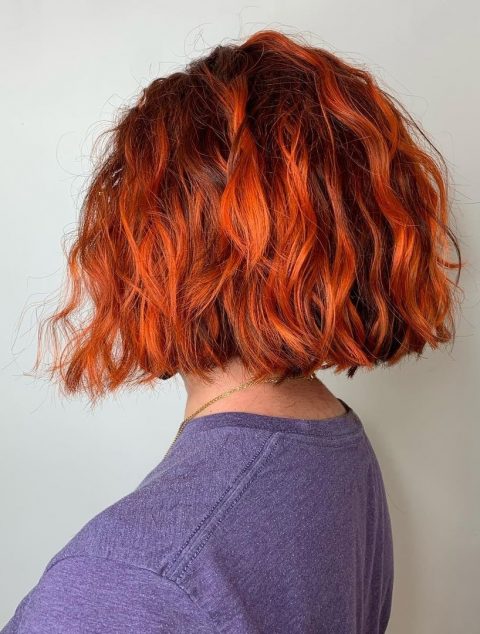 Source: @hairbysarahwilson
33. Hot pink peek-a-boo highlights
The twist of this technique is that you don't always notice colorful bottom layer strands underneath natural colored hair. This technique is best for people who love to make braids, buns and create intricate hairstyles. Peek-a-Boo reveals it's nature best in all the above mentioned styles.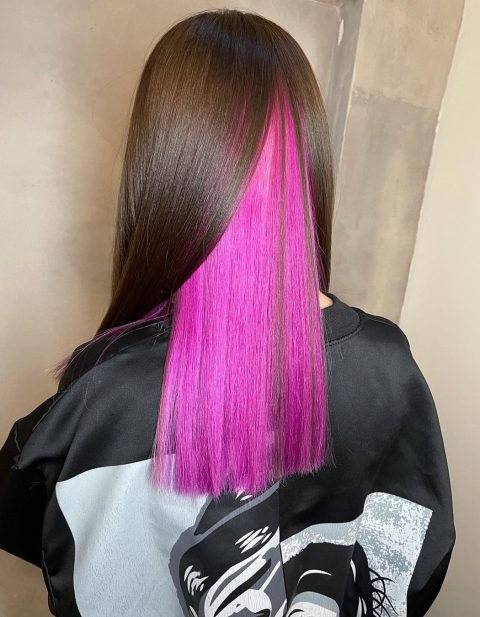 Source: @hairloungenyc
34. Peach and Pink highlights
Pink highlights go well with blonde and chestnut hair. If you are looking for a creative and romantic look, opt for dyeing brown hair pink.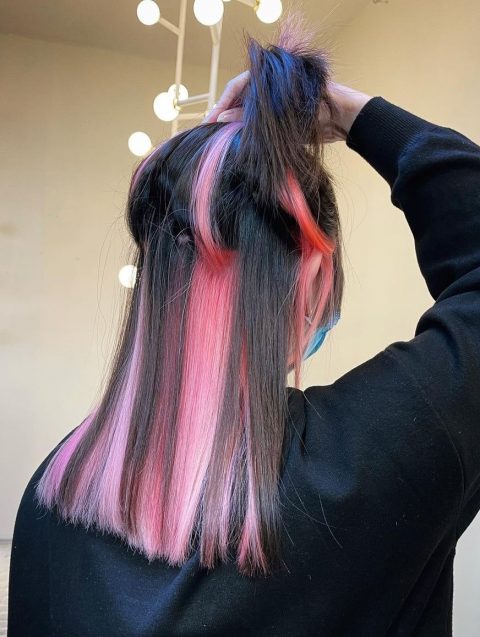 Source: @hairloungenyc
35.  Elegant platinum highlights
Cool ash highlights look stunning on a natural blonde base. Painted strands should be very fine so your hair will look bouncy at the end of the application process. Classic American highlights are better done on long or even medium hair, for example on a long bob.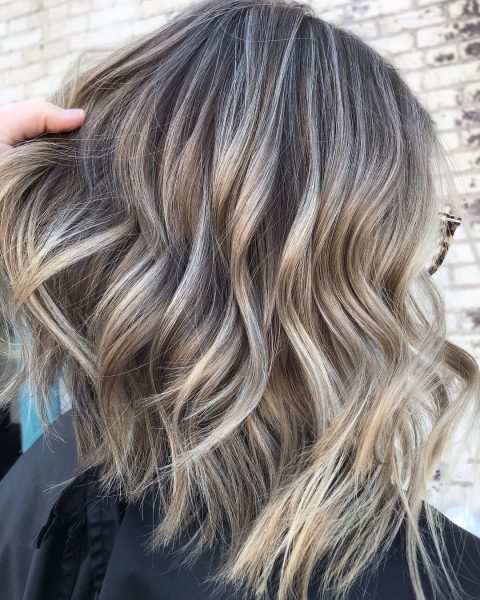 Source: @askforamy
36. Fairy Rainbow highlights
Get in on the fun with these creative hair coloring! A colorist puts green, pink, blue, red and yellow pigments on already dyed hair. Rock this look with a bold make-up and informal style of clothes. Cherry on top? It matches all complexions.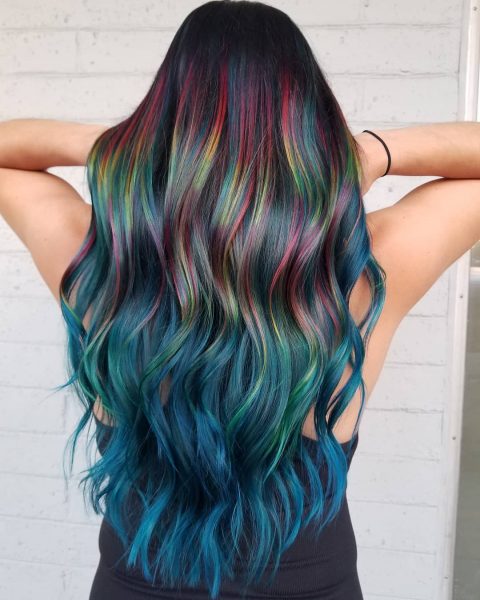 Source: @hilaryish
37. Red balayage with black roots
Why try to get blonde on chestnut or dark blonde hair if you can ask for red auburn balayage. The color looks gorgeous on brown swirls. If you add a bit of ash toning, you can come across a beautiful frosty cherry hue.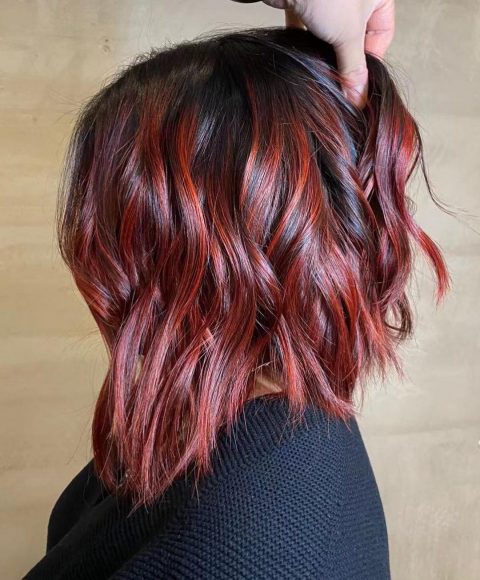 Source: @hairloungenyc
38. Delicate silver highlights
Silver highlights are still one of the main trends in coloristics these days. It's quite challenging to get this result if you have natural blonde hair darker than the 8th level. The full grey dyeing with sandy undertones is the best bet for women with grey hair.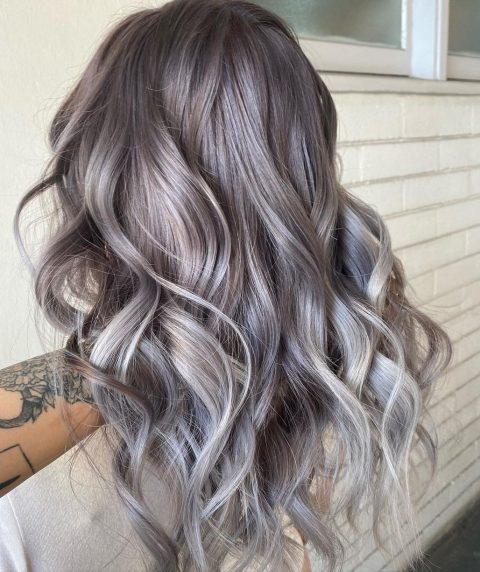 Source: @kireibykate
39. Pastel highlights with brown roots
Dyeing hair strands in pastel blue, pink, green works well for blondish girls. These creative pastel highlights add a tender girly look.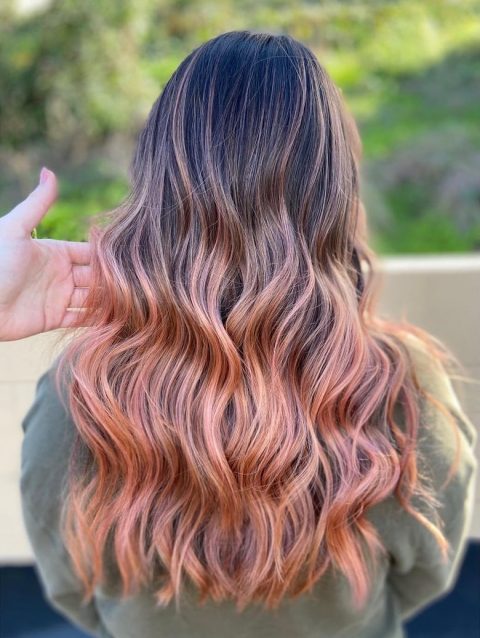 Source: @sarahjeanhair
40.  Subtle teal highlights 
A teal color matches well with light and dark blonde as well as with chestnut hair. It accentuates blue eyes and matches an original make-up and a creative outfit.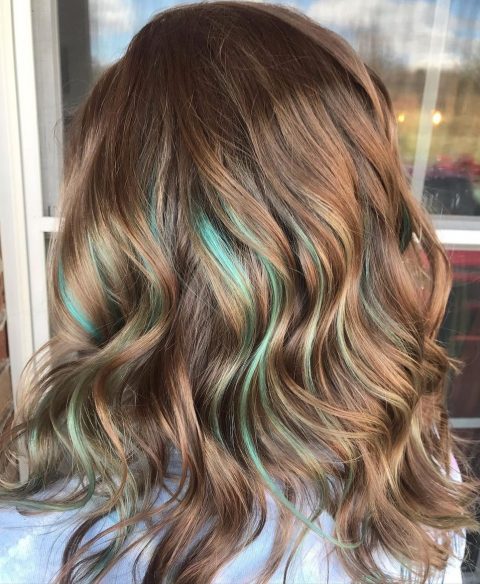 Source: @teasintanglessalon
41. Barely there Frosted highlights 
Cool ash highlights from roots to tips are best to paint on natural fair blonde hair. You will get a dimensional and rich shade as a result. 70-80% of hair should be dyed as the first step but it's still a mix and match of brown and platinum colors. It's high-maintenance hair so be sure to tone it regularly and choose the right hair routine.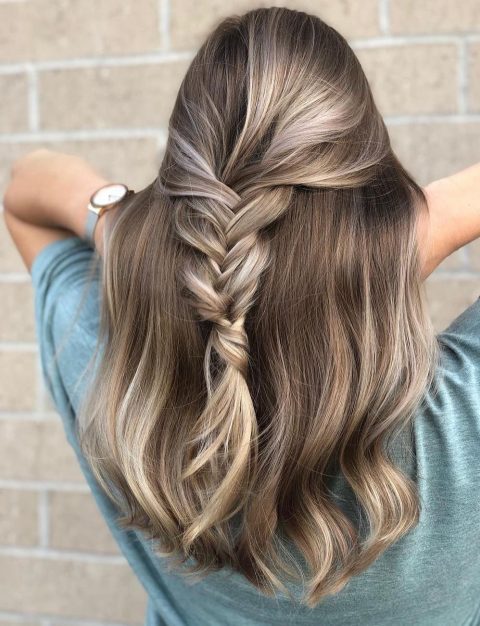 Source: @naomipaintshair
42. Caramel highlights on brown hair
A combination of brown and gold creates a look of sun kissed hair. It also brightens your face. Be careful as light strands on brown hair could make you look like a chipmunk so add this caramel shade to save your image from the undesirable comparison.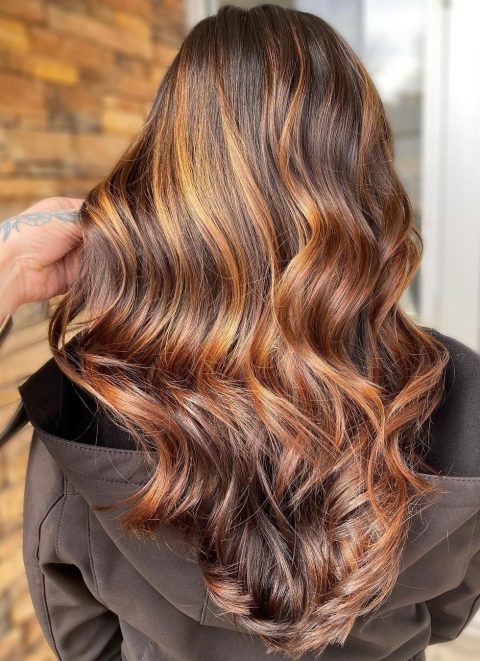 Source: @naomipaintshair
43. Sun kissed highlights 
If you have naturally light brown hair, you can dye it golden blonde. This color never goes out of style. It brightens your face and makes you look younger. Light golden yellowish color is a very natural shade and it doesn't damage your hair much as it doesn't require maximum dyeing.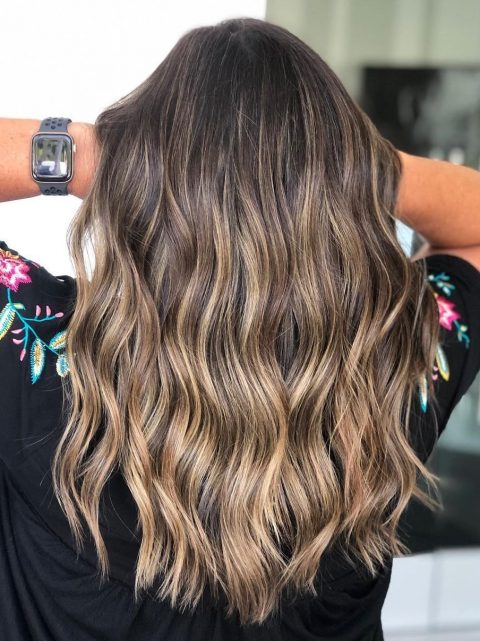 Source: @kirstiev.stylist
44. Brown curly hair with blonde highlights
Elegant fine highlights add fresh movement and texture to your curls. Locks already look voluminous but add these highlights and increase the volume up to 2-3 times.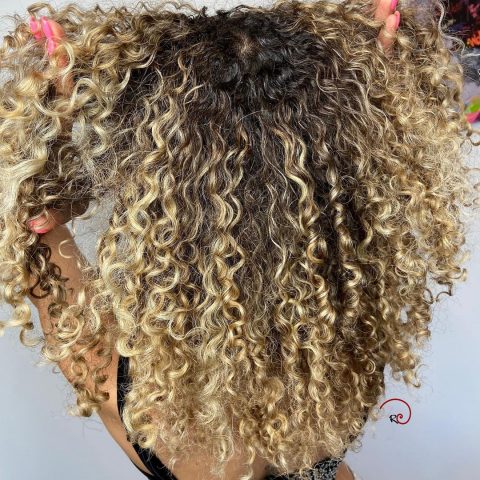 Source: @radicallycurly
45. Caramel highlights on brown curls
Want to freshen your dark-blonde and chestnut hair? Then opt for warm caramel highlights. The darker your hair, the brighter and warmer hue you can choose. Icing on the cake? Even more voluminous hair.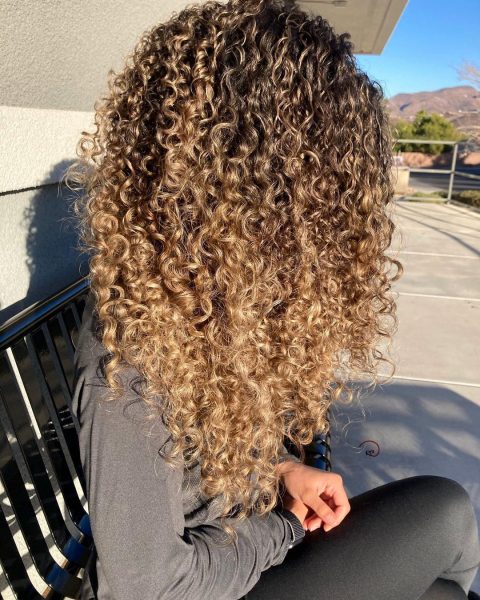 Source: @radicallycurly
46. Red highlights on curls with brown roots
The best way to enliven your dark blonde is to add some red, copper and auburn highlights. Copper looks stunning on dark hair at levels 4-6.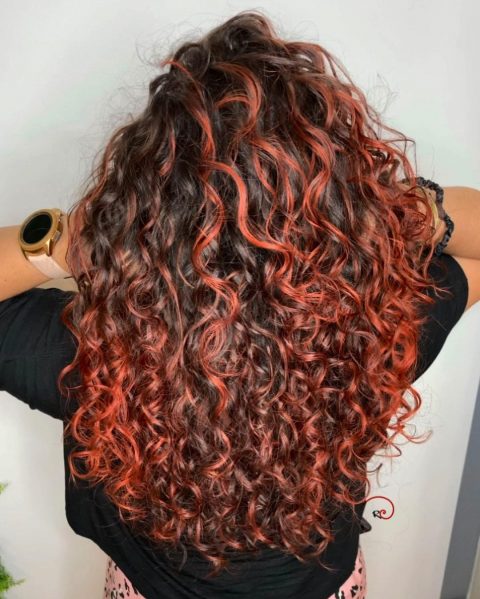 Source: @radicallycurly
47.  Cute money pieces and hightlits on brown bob
To help you add more dimension to a short hairstyle you need some creative coloring. An assymetrical, streamlined, long dark brown bob matches well with these highlights. To show the best of this technique, opt for a blonde color on face-framing strands.
Source: @naomipaintshair
48. Brown bob with caramel highlights
A lucent caramel shade freshens up chestnut hair. Brown hair with a tinge of white results in an amazing intricate hair color.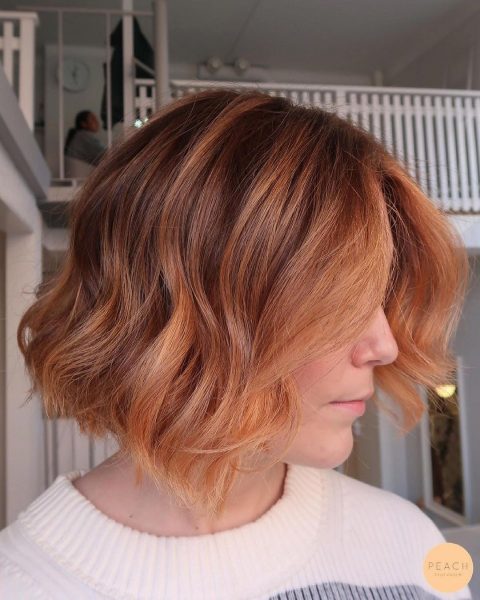 Source: @peachstockholm
49. Pixie cut with blonde highlights
It is rather challenging to choose a highlighting technique for short pixie or bixie cut. The color needs lengths to show itself fully. You can still opt for heavy highlights in cool or warm hues of blonde to enliven your hairstyle. Worry about the bounce effect? Incorporate spiral waves to your daily hairstyle routine.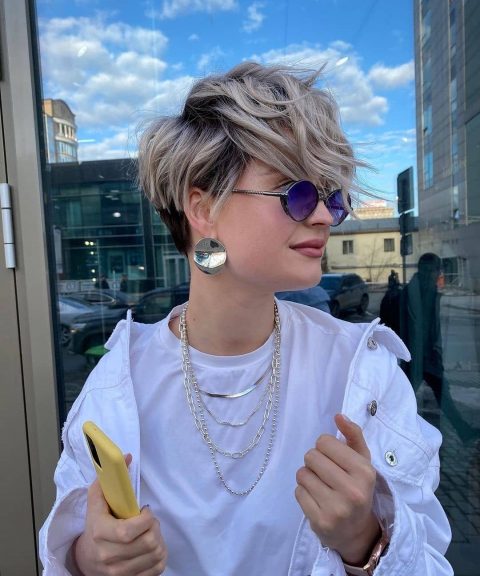 Source: @elizazemlyanova
50. Short brown hair with balayage
If you have naturally fair or dark chestnut hair choose blonde highlights. And dyeing is almost obligatory for bob and shaggy haircuts to add this volume up.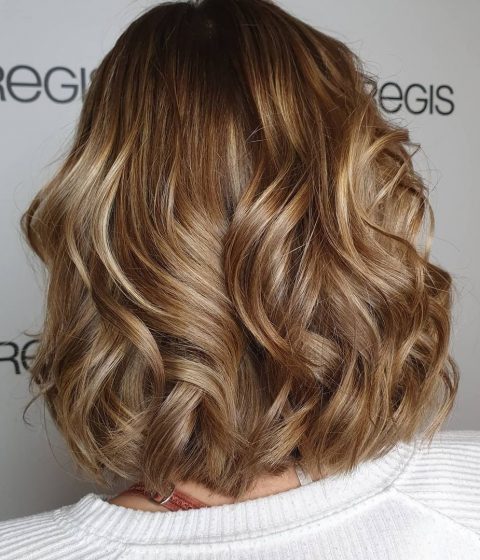 Source: @wellahairuki
51. Blonde highlights on straight brown hair
A classy American highlighting technique was created for naturally straight blonde or chestnut hair. It looks gorgeous on straight hair. You can tint your mane in ash or leave it in creamy gold. The latter is an eventual color after dyeing natural blonde hair.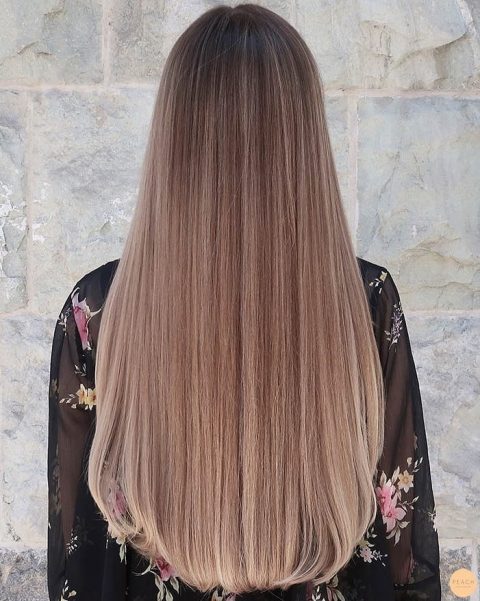 Source: @peachstockholm
52. Long layered hair with highlights
Highlights of natural chestnut hair and gradual change to ombre is a terrific idea for long brown hair with layers. It doesn't suit short hair as it requires the length to go creative. Long hair instead will benefit some extra volume from this technique.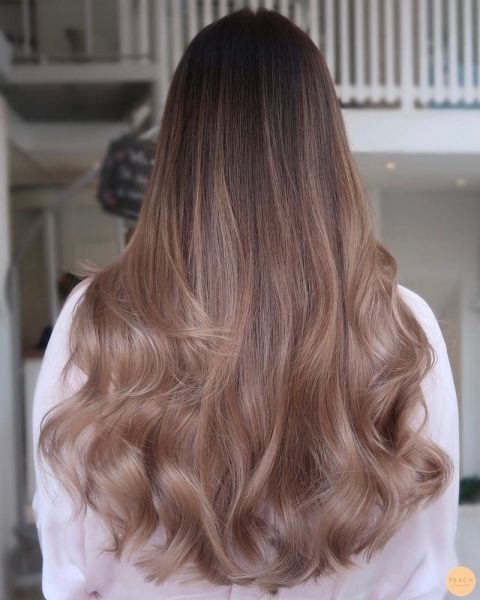 Source: @peachstockholm
53. Caramel highlights on brown base
Shoulder length hair needs volume and highlights are best to visually create the bounce and enliven the look. A caramel hue is trendy and a warm copper shade will also be a good choice that doesn't overpower the hairstyle.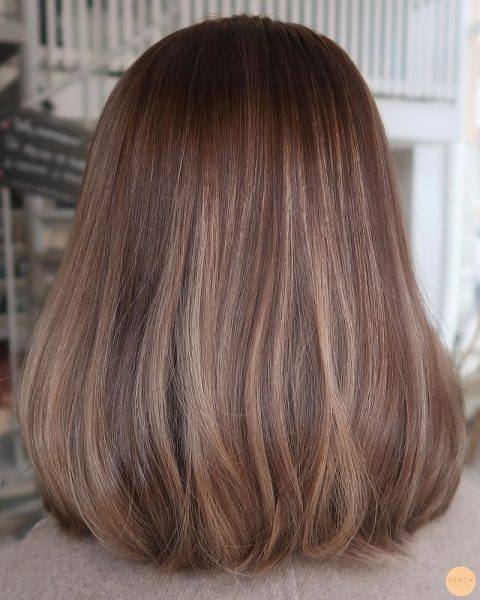 Source: @peachstockholm
54. Short brown hairstyles with caramel highlights
A short haircut for fine dark hair always needs more volume. It requires a day-to-day hairstyle and some highlights. To make the latter look natural, opt for caramel shades. It looks great on chestnut and light brown hair.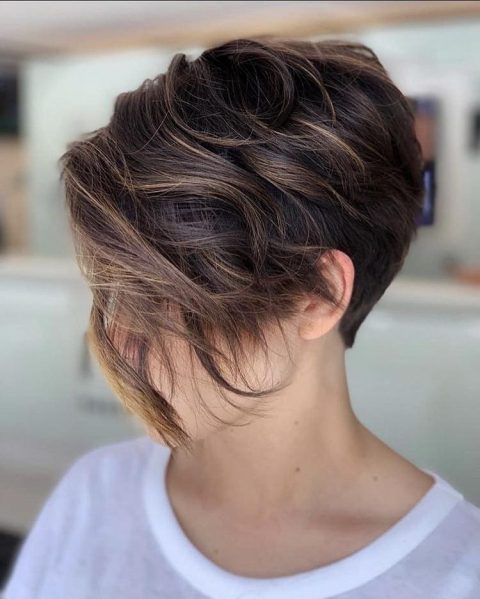 Source: @diegomarcsant
55. Shoulder length hair with blonde highlights
Highlights on medium length hair give chestnut and blonde hair texture, volume and a new look for the whole image. A mix and match of sandy and ash strands creates dimension that naturally blonde hair doesn't have.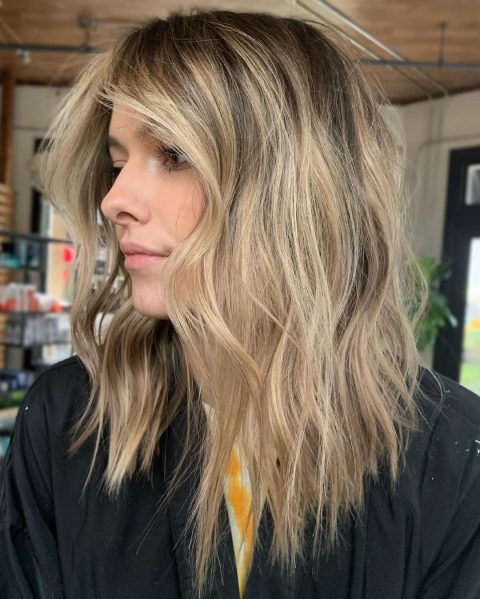 Source: @cuttingitwithvic
56. Dark balayage 
Classic highlighting technique on medium natural fair hair looks like an intricate balayage. This beautiful effect won't be possible on already dyed hair or brown hair. And you need to take care of this cool hue on your locks to maintain it as long as you can.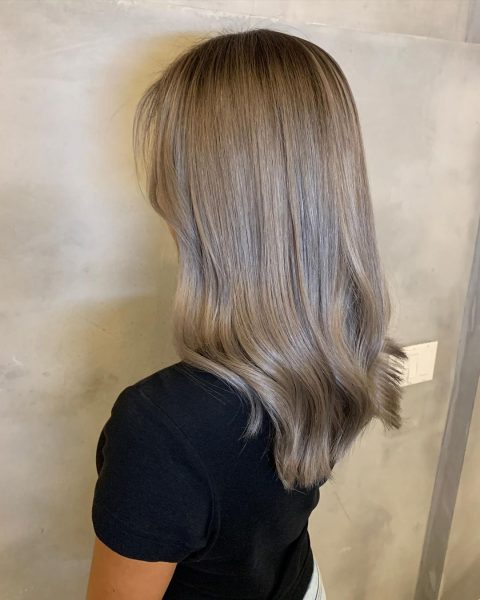 Source: @hairloungenyc
57. Straight brown hair with caramel highlights
Caramel highlights look best on chestnut and blonde hair. Highlights enliven tresses and create a lustrous effect. The darker your natural hair, the more subtle technique should be chosen for this look.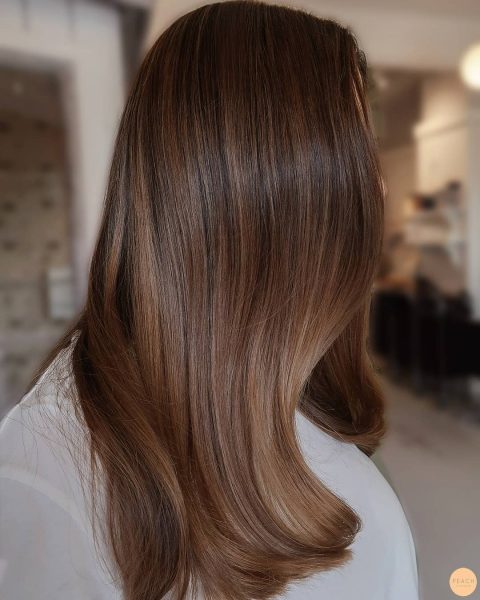 Source: @peachstockholm
58. Сaramel highlights for short wavy hair
To bring life to your long bob opt for bouncy waves and caramel strands. This shade will show best on chocolate and blonde hair and gives the volume you are looking for.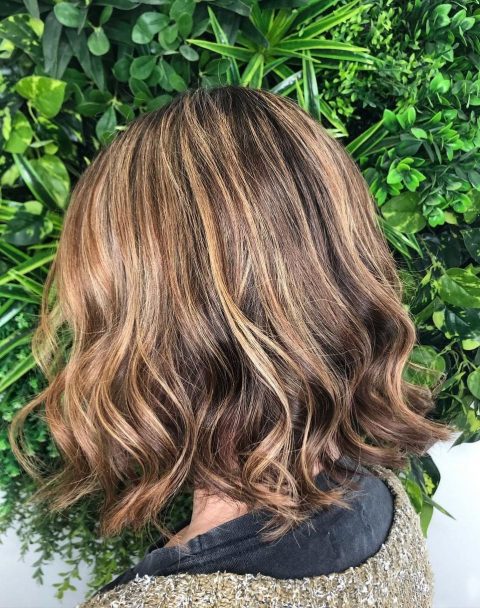 Source: @baysidehairandbeauty
59. Highlights on brown base with blue eyes
Cool brown shades flatter most fair skinned girls with cool grey, blue color eyes. The strands should be colored in cool ash shades so the look will be well-balanced.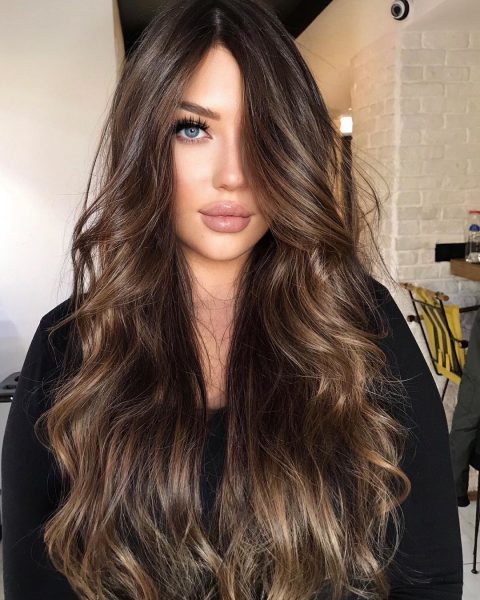 Source: @sinank4hraman
60. Highlights on dark base with olive skin
Highlights in warm hues will emphasise your tan. Honey, creamy, sandy or caramel-y shades are there to help you create a sweet look. For a 'gala' look, curl your hair a bit.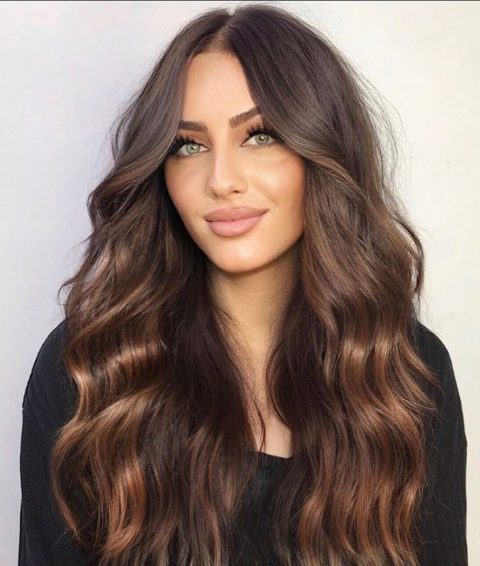 Source: @sinank4hraman
61. Highlights on dark brown hair with brown eyes
Chunky highlights in warm shades for dirty-blonde or dark chestnut color accentuate your eyes and cheekbones. If you are willing to accentuate your face contour, lighten your face-framing strands. Girls with hazel eyes and fair skin can choose warm shades of blonde, burgundy, copper tones. Add a bit of curls and rock the party look.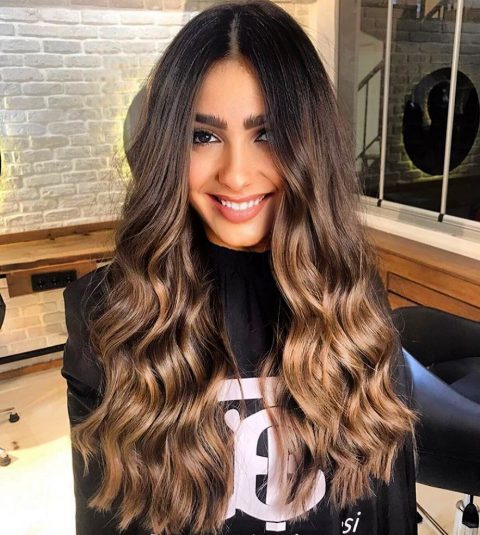 Source: @sinank4hraman
Each of the above mentioned styles of highlighting technique could be adapted to different hair length, haircut and hair structure. And remember about the whole look and skin undertones as well. It's worth mentioning that a hair care routine and high-maintenance will prolong your hairstyle and hair color. Thus, cool ash shades look elegant but require a lot of work at your home and with a colorist, and reddish-copper hues won't be ideal for everyone. We hope that the information we shared with you will be useful to make the right choice.