Christmas entertainment is always full of joy because every woman wants to look beautiful and attractive. You can choose Christmas nail styling by searching for the best options for a certain form of nails, and successfully combining different execution techniques.
Your nail design can be succinct and colorful or sharpen your focus on certain details, but it will still be stylish and unique. Uniqueness and gentleness are introduced by bright elements of decor, thematic patterns, golden inclusions, and unusual combinations of shades. A manicure that was selected with taste will give you a Christmas atmosphere and add magic to your image.
Simple Stars
Simple Christmas nail designs will look unique through the use of golden sequins and patterns in the form of stars. White nail polish will add a glossy effect to your manicure.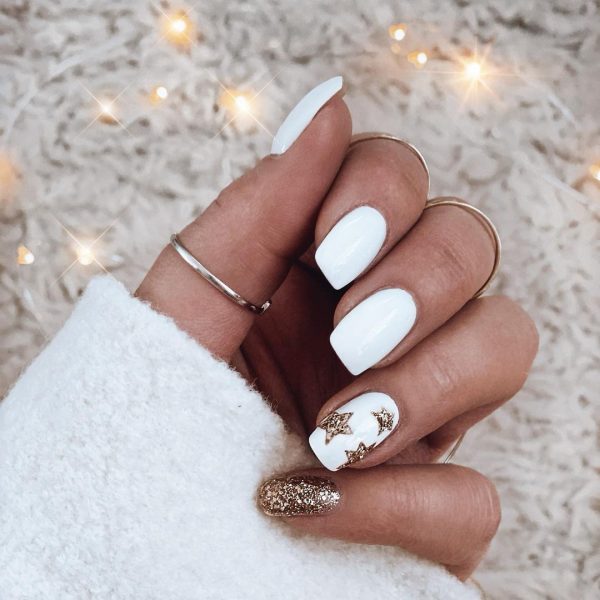 Source: @adr1anye
Candy Cane
The pattern, which looks like caramel, cane, and some bright glossy nails with this color, will give you a beautiful design. Such nails will definitely give you a Christmas atmosphere.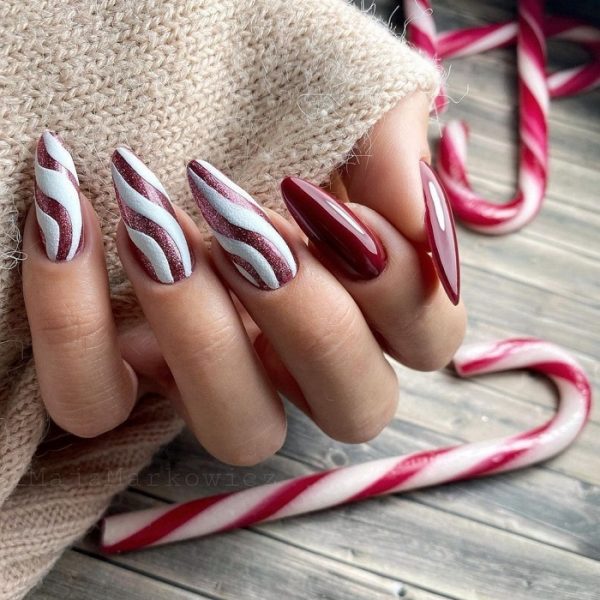 Source: @silvya_terrade
Elegant Christmas Nails
White and beige glossy nails are perfectly combined with golden glitter, gentle patterns, and rhinestones. Elegant Christmas nail designs will focus on every detail of your image.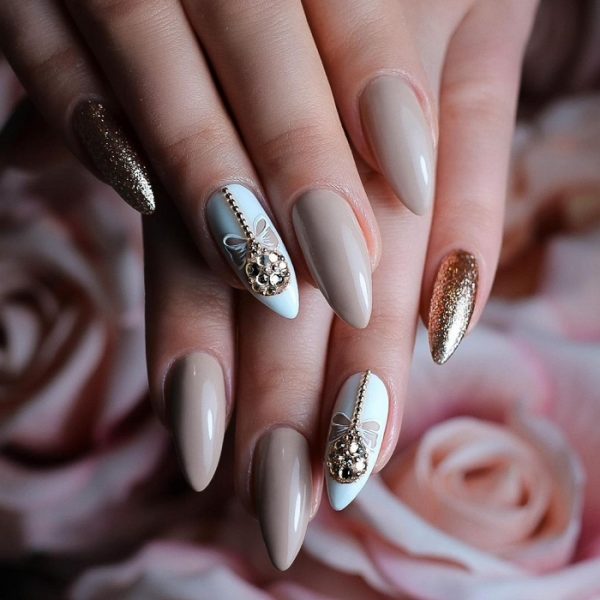 Source: @hoss_julia
Cool Snowman
Thematic patterns in the form of snow and snowman on one of your nails can complement the design of square glossy pink nails, while small snowballs will make your nails look like a French manicure.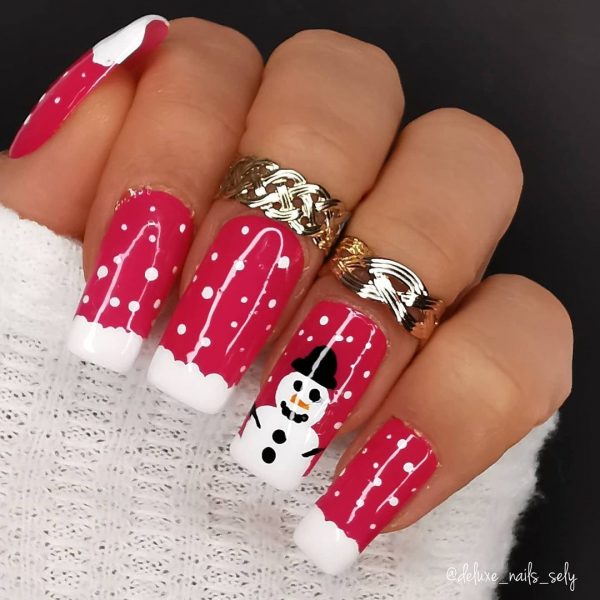 Source: @deluxe_nails_sely
Ice Queen
White Christmas manicure looks unique and fashionable if you use unusual combinations of the technique of such manicure and styling components. With this manicure, every nail will look unique.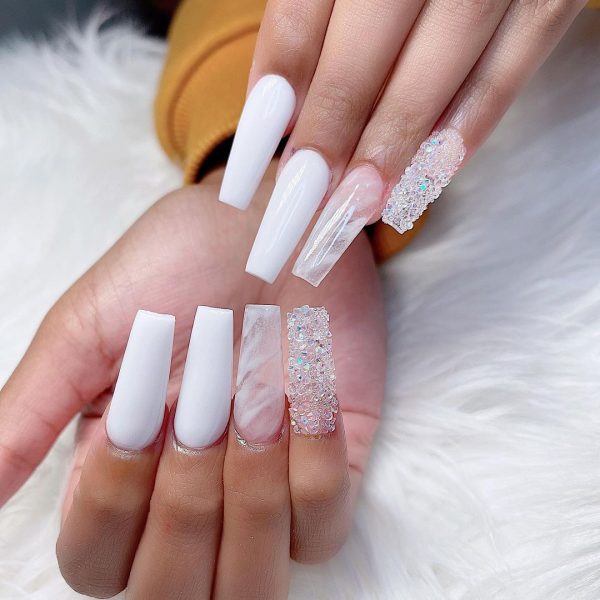 Source: @anndaonails
Red and White Classic Mani
The themes and patterns on red and white Christmas nails will give you an atmosphere of celebration and complement any of your clothes. Mixing matt and glossy nails will increase the attention of the people around you on every detail of your manicure and whole image.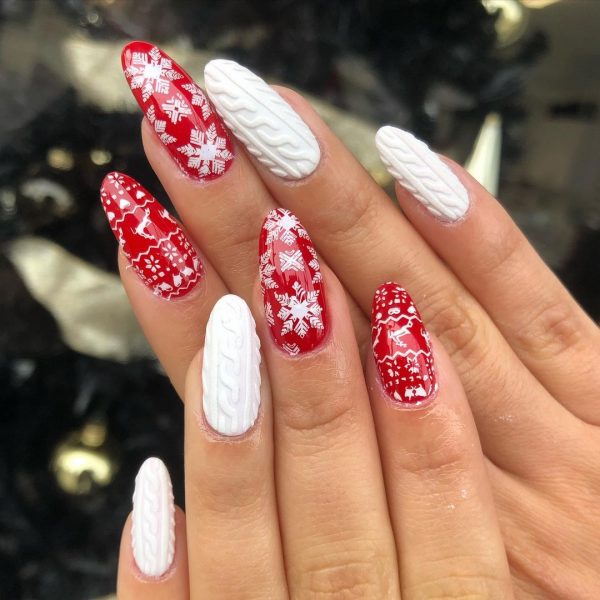 Source: @jbepolished
White Porcelain Nails
Winter white nail design with glossy effect, which you can achieve with nail polish, will give your manicure glow and efficiency. White and green rhinestones combined with a volumetric stone will give you an original pattern.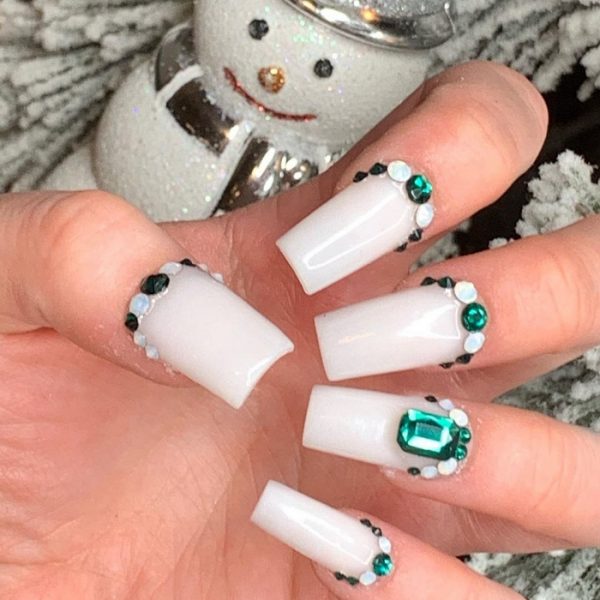 Source: @annasacrylix
Blue Christmas Evening
Blue Christmas coffin nails allow each woman to experiment. Original patterns together with multicolored rhinestones will complement the styling of matt nails and enhance your personality.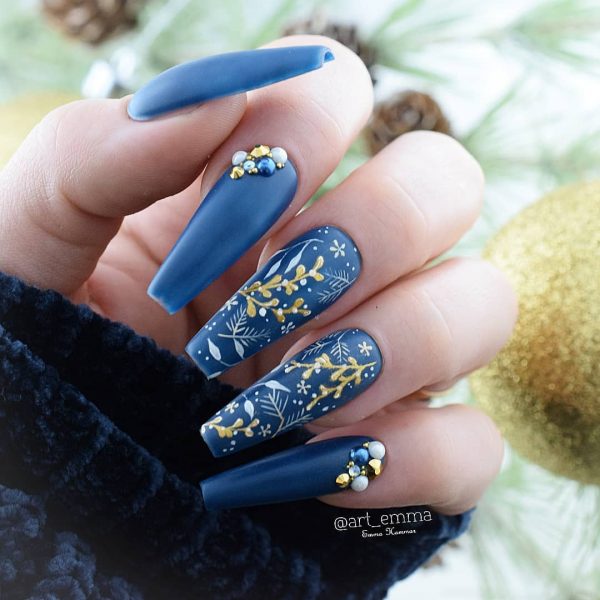 Source: @art_emma
Red and Glass
Classic Christmas nail art will be well-matched with unusual combinations of shades, theme patterns, and patterns, and they will be perfect for the broken glass effect if done on only a few nails.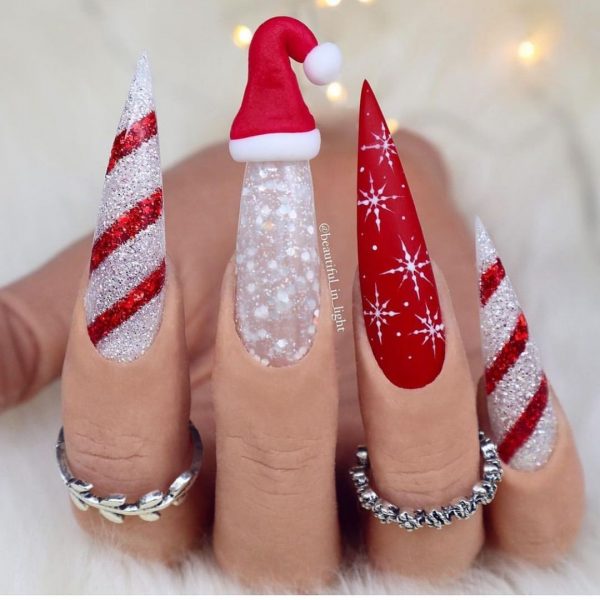 Source: @buranonail
Light Pink Dreams
Pink nails will be perfectly combined with gentle and romantic women of all ages. You will not be mistaken if you make a combination of glossy, semitransparent, and matt nails, and if you add unusual patterns to your manicure, you will be able to achieve lightness and refinement.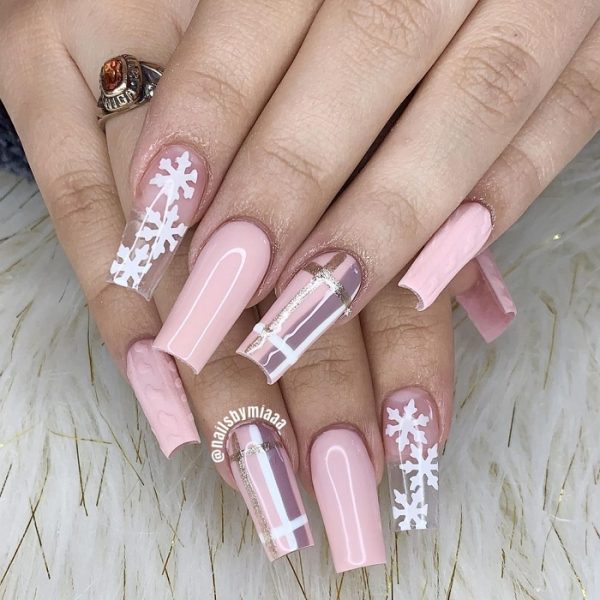 Source: @nailsbymiaaa_
Christmas Color Mix Manicure
Mixing of red, green, and white shades on short nails is perfectly complemented by Christmas nail colors. The golden dots on the top of your fingernails will give your shine.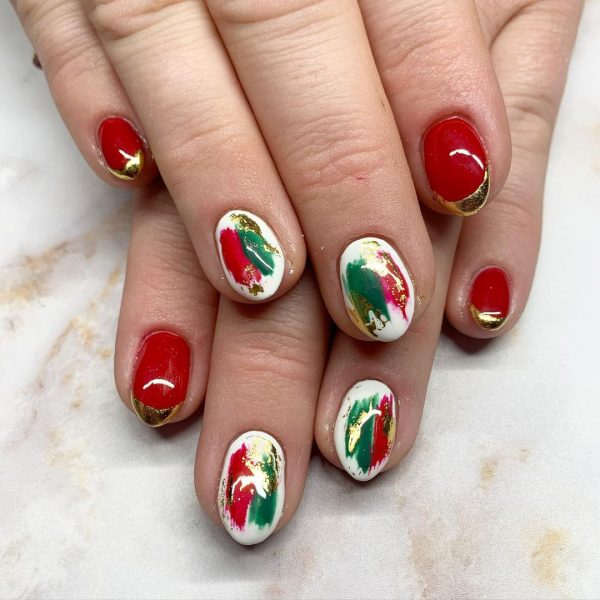 Source: @hilarymae_nails
Short Candy Nails
Christmas nail designs for short nails are popular due to their versatility and detail. Juicy red strips, thematic patterns, and small glitter make such nail styling complete and irresistible.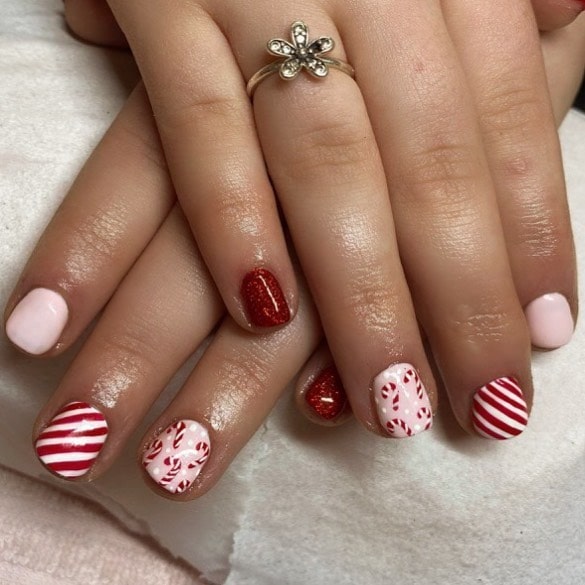 Source: @studiokbeautyx
Deep Green and Silver
Glossy green manicure, which is augmented with patterns in the form of snowflakes and silver glitter, will add to your image of glow and mystery, and this will be your main assistant in the process of creating a holiday image.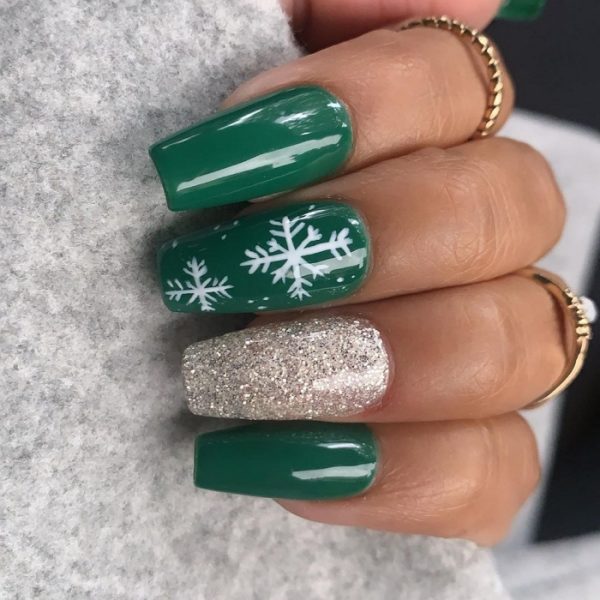 Source: @wendy.g.nunez
Easy Christmas Nail Art
Short red nails look fashionable and neat. This deceptively simple nail design just seems like one that actually completes the pattern like a snowflake, and the straps will deepen the image on the details.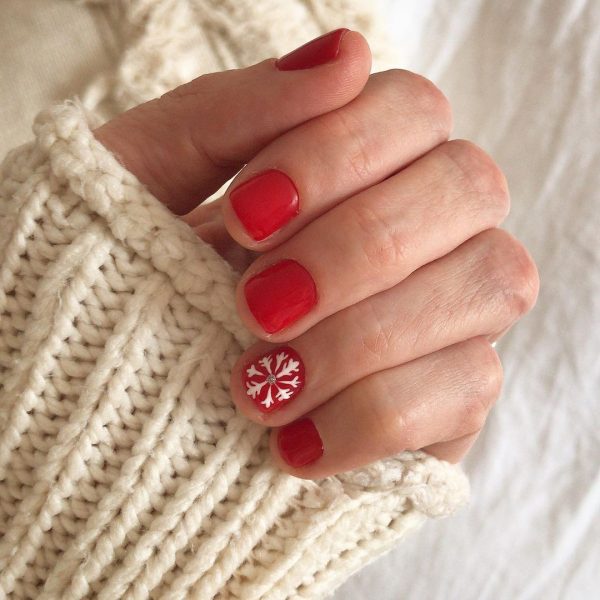 Source: @l_iita
White Winter Nails
Winter nail design will look unique by using small glitter and drawing delicate patterns. The combination of nail polish and matt basis gives effect to nail styling.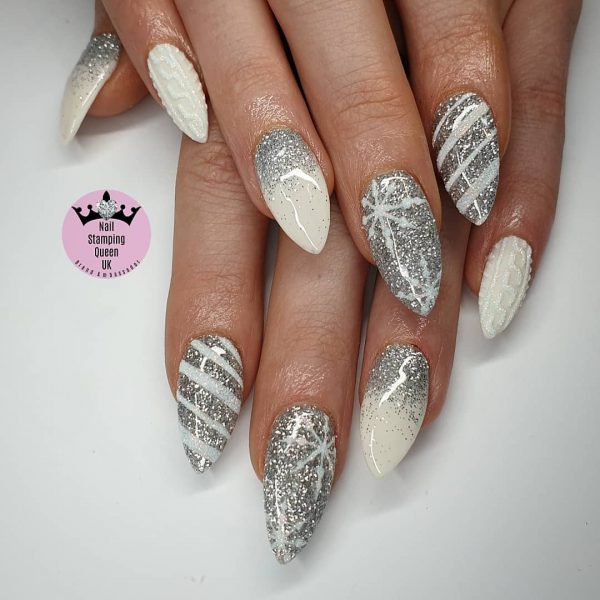 Source: @p.l.s.lashes.and.nails
Classy Holidays
Holiday nail design will complement any colorful image and draw attention to the details of your image. Colorful stripes, gentle patterns, and red rhinestones will create a beautiful nail styling.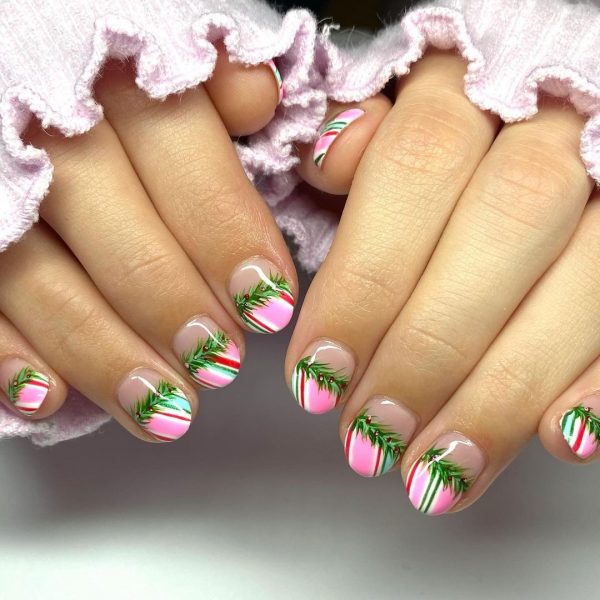 Source: @elles.gels.and.beauty
Dancing Snowflakes
Snowflake nail design will become a perfect and festive solution. The blue glossy nails will be supplemented with thematic patterns, and a tiny glitter will add glow to your image.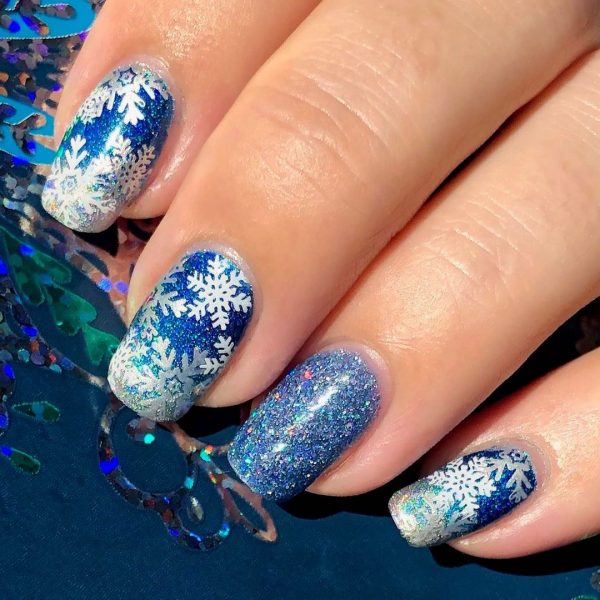 Source: @polishsoupforthesoul
Nightmare Before Christmas
Long black and white nails will make your image bright and give you confidence. A tiny glitter on a matt basis combined with glossy nails and bright decoration elements will form a unique nail styling.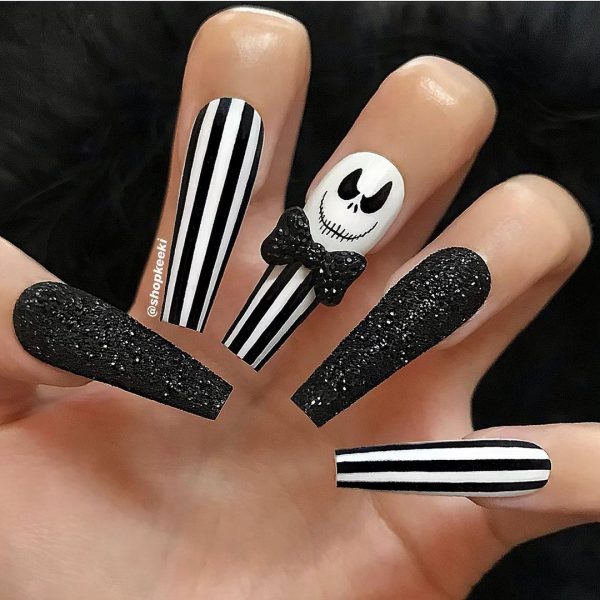 Source: @shopkeeki
Nude Gel Polish
Christmas gel nails will be the perfect solution for gentle and romantic girls. A little snowflake that the manicure master will draw on just one nail will deepen your personality, and gel will mirror the effect of your manicure.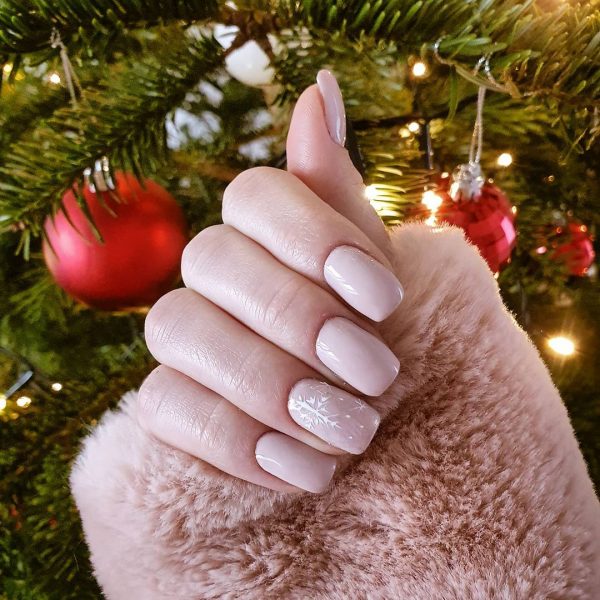 Source: @dominika.boinska
Glitter Nail Decorations
Christmas nails with glitter will make you the most attractive woman at the festival. The combination of unique shades, such as green, red, and bard, as well as a juicy pattern, will be combined in a nice manner.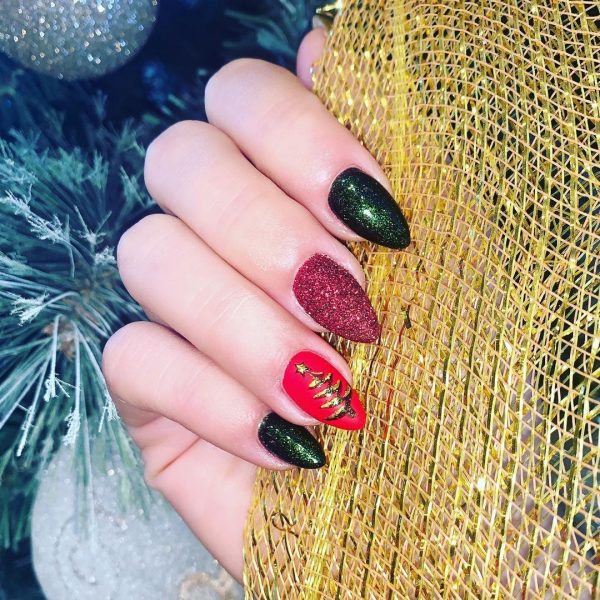 Source: @victoria_nailsandtraining
Cute and Simple Christmas Nails
The beige nails will look spectacular in combination with red glossy polish. Nail stickers will be an excellent addition to the nice nail styling.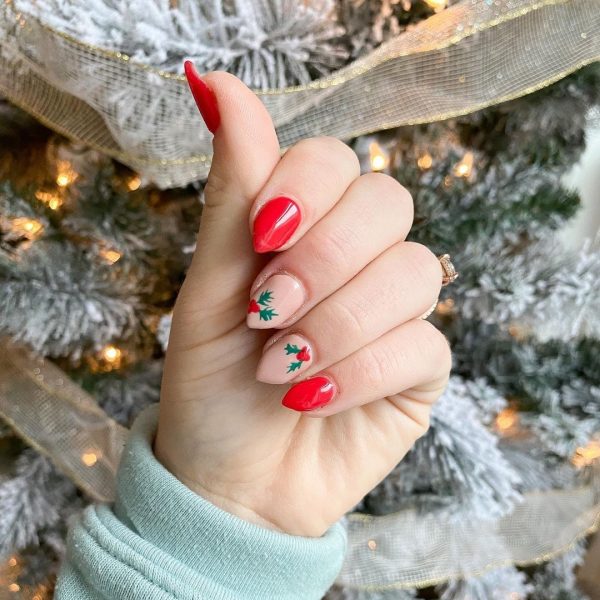 Source: @katebudzinski
Christmas Red French Tips
French manicure is a classic favorite of many women. Uniqueness will appear thanks to bright-red glitter strips and tiny snowflakes or lines.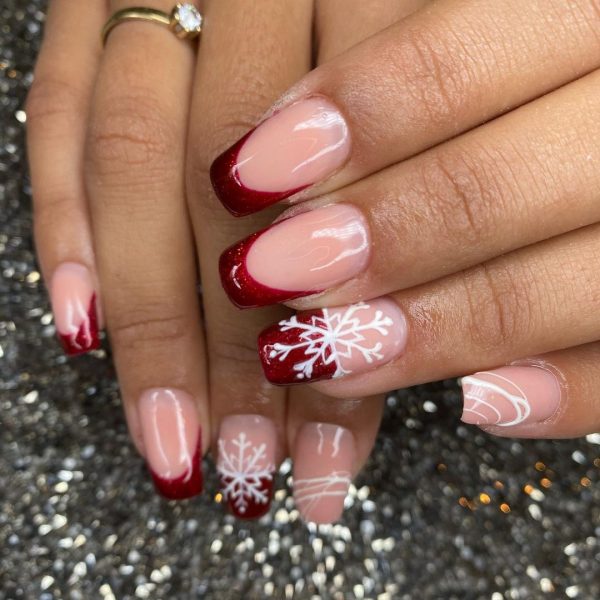 Source: @chicnails_beauty
Snow and Sparkles Ombre
Ombre Christmas nails have an unusual and stylish appearance. Snowflakes, lines, and large glitter will make your manicure juicy, which will also enhance your image appealing due to interesting waves of shades.
Source: @nailzbysadesimm
Shiny Christmas Tree
Nude nails on short nails give elegance and softness to your image. The bright Christmas tree of the large rhinestones on one nail will focus people's attention on your details and shine.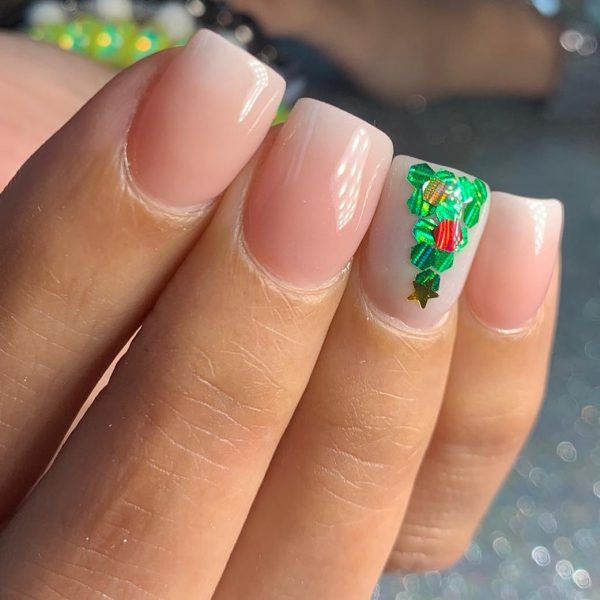 Source: @djansalon
Green-Red-Gold Design
An unusual combination of holiday nail colors, such as green, red, and gold, will make your nail styling unique. Thematic patterns and small glitter highlight every detail.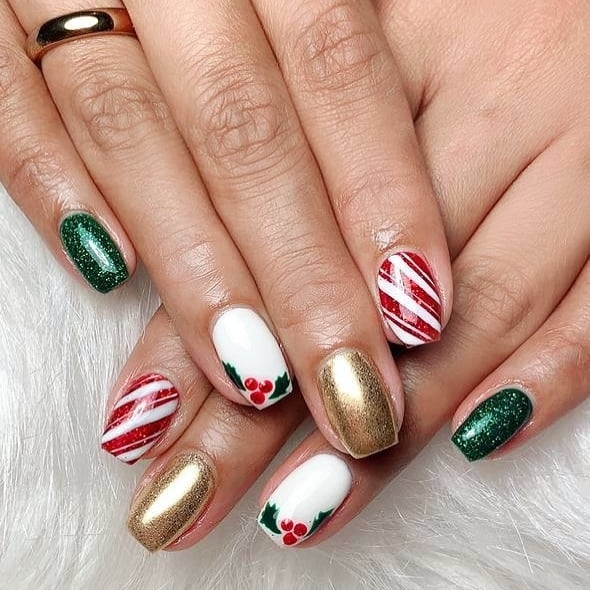 Source: @princessnali
Christmas Coffin Shaped Nails
Nails in the shape of coffins allow you to experiment and surprise people around you with unusual solutions. Bard glossy nails will be decorated with details such as snowflakes, thematic patterns, and small glitter.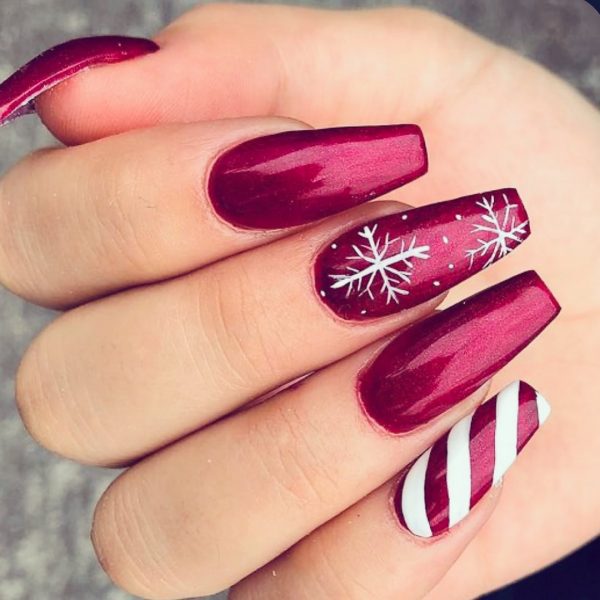 Source: @hkbeauty_shoop
Themed New Year Paintings
Christmas-themed nails will go with any holiday image and become a source of a good mood. A combination of bright shades, small glitter, and aesthetic patterns will not be ignored.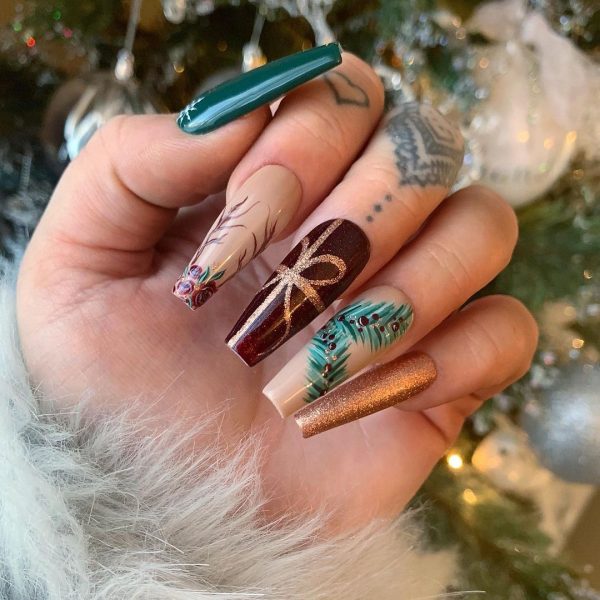 Source: @studioonenailartistry
Green-Silver-White Theme
Green glossy nails are the perfect basis for your manicure master who can vary in white and silver stripes. The large ostriches and snowflakes will make your festive manicured nails unique and brilliant.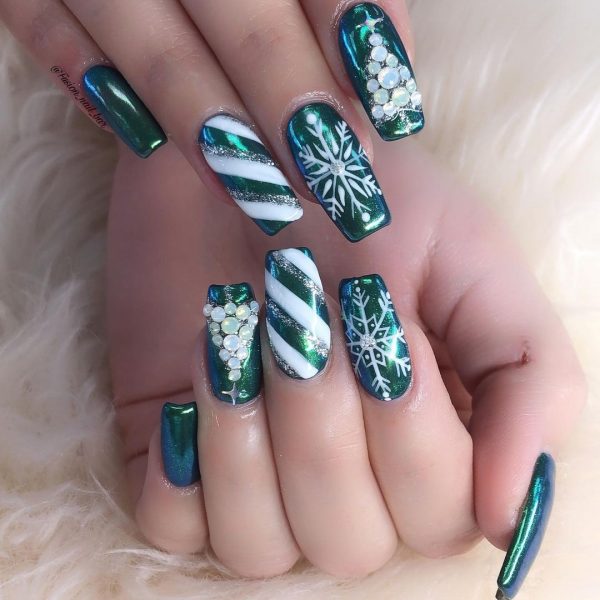 Source: @fusion_nail_bar
Christmas Three-Color Composition
Ombre manicure leaped hearts of women by its uniqueness and the perfection of each detail. A bright palette of different colors, glitter, and glitter are those details that will make your nail styling exquisite.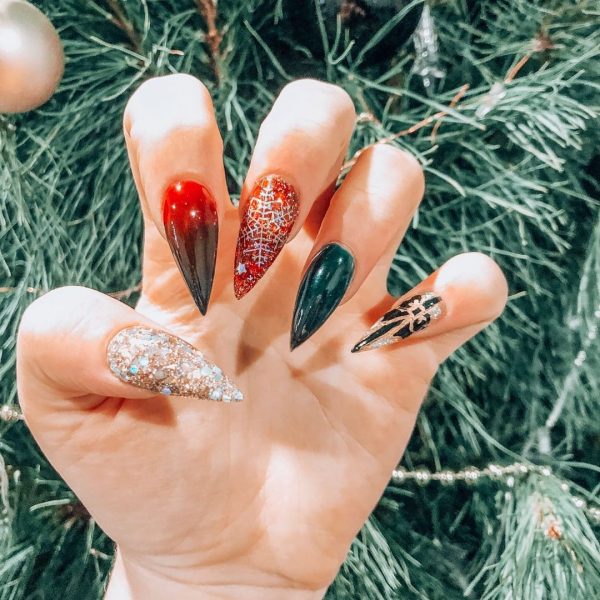 Source: @yourgirlgiigii
Acrylic Ice Nails
Acrylic nails look natural and aesthetic. For interesting designs on each nail, you can use thematic patterns and subtle rhinestones in the process of creating this manicure.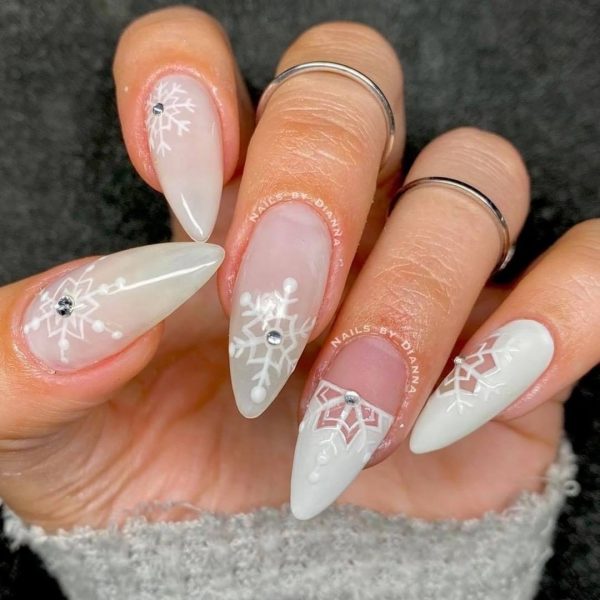 Source: @nailaddict_la
Dip Powder Decoration
Each nail can be unique due to different techniques, decor elements, and solutions of shades. Nail design with transitions from dark to lighter shades will certainly not be ignored by your loved ones and friends.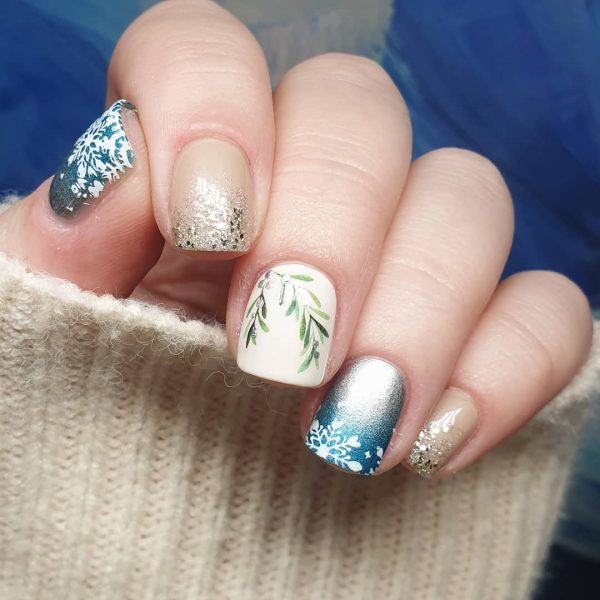 Source: @thesammersaurus
Silver on Black
Black nail art always looks stylish and elegant. Silver inclusions and rhinestones on each nail will focus attention on details and deepen people's attention to the glossy effect.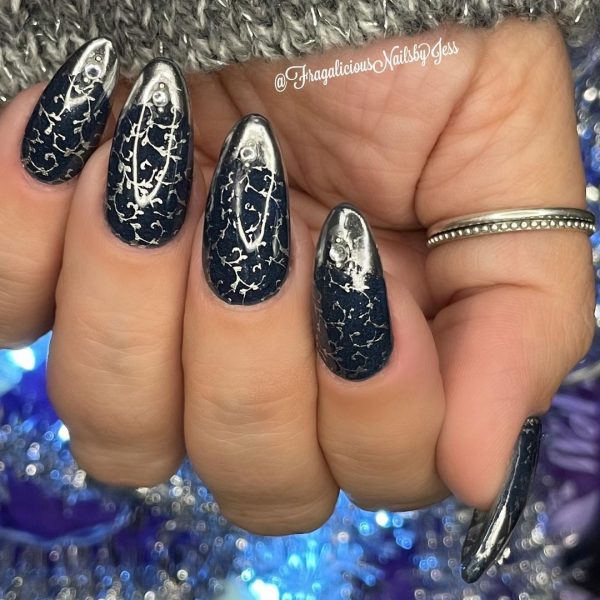 Source: @fragaliciousnailsbyjess
Black and Gold Fantasy
Black gel polish allows you to combine unusual shades and decor elements. White nails and patterns will create contrast, and a golden glitter will add a glow to your image.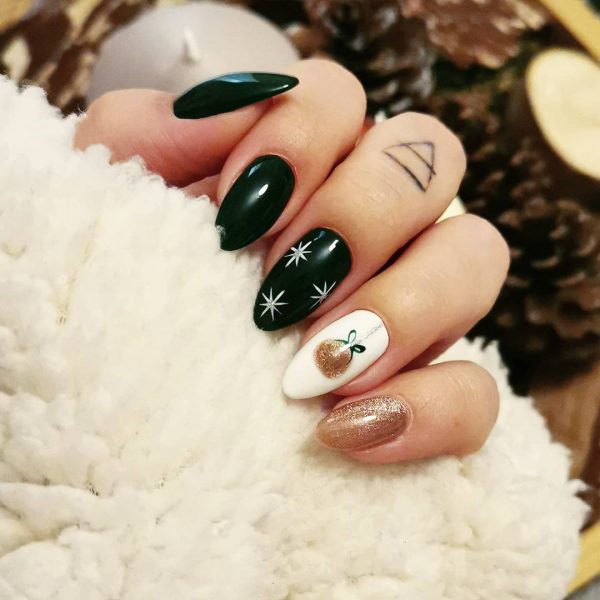 Source: @gwen_lrtytb
Christmas Kids Nail Design
Kids Christmas nail designs look bright and unusual. Different theme stickers on different colored nails will present a unique nail styling and will give you a good mood.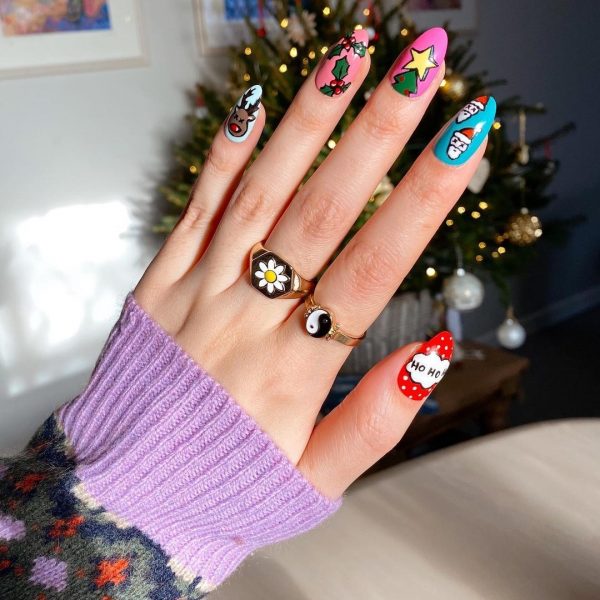 Source: @hannahlourobinson
Holiday Ornament
Matt and glossy nails of different colors represent a harmonious combination. Nail stamps will be an excellent addition as each will be different.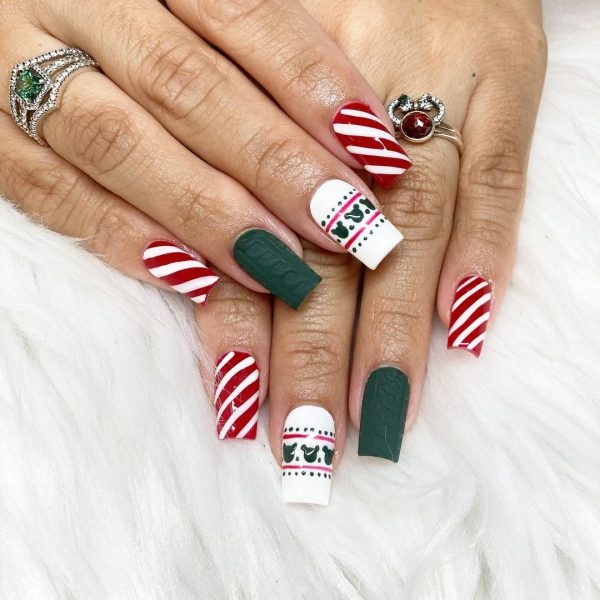 Source: @nailsbymimi0412
Bright and Sparkly
A semitransparent manicure with colored glitter will be an excellent solution for Christmas events. Different colors of different sizes will increase people's attention on your shine.
Source: @nails_by_laura_hanley
Dramatic Stiletto Nails
Glossy stilettos represent a bright palette of colors. They will emphasize your nail styling and each nail thanks to unusual patterns and patterns.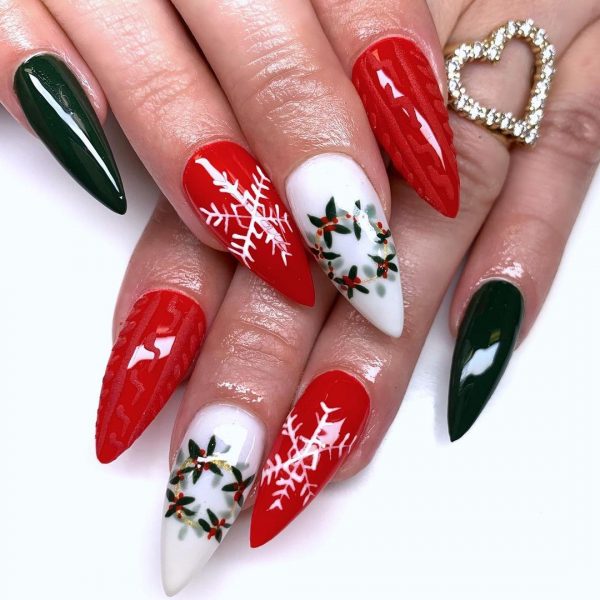 Source: @a.alysenails
Soft Pink, Rich Gold
Gently pink lacquer on short nails gives a feeling of ease and freedom. Uniqueness and glow are what adds a golden glitter at the bottom of your nail plate to your manicure.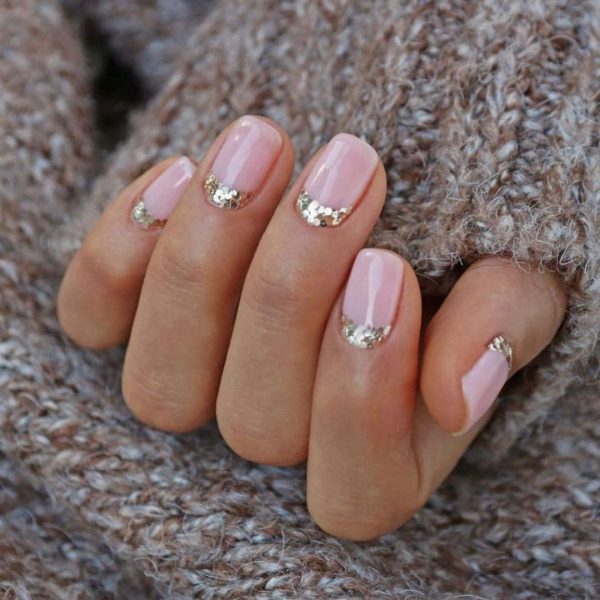 Source: @thebridalbeautyfestival
Favorite Deer Sweater
To create a nice and aesthetic manicure you can use thematic patterns and soft shades. A knitted pattern that reminds us of sweater texture and golden glitter will give you an atmosphere of fairy tales.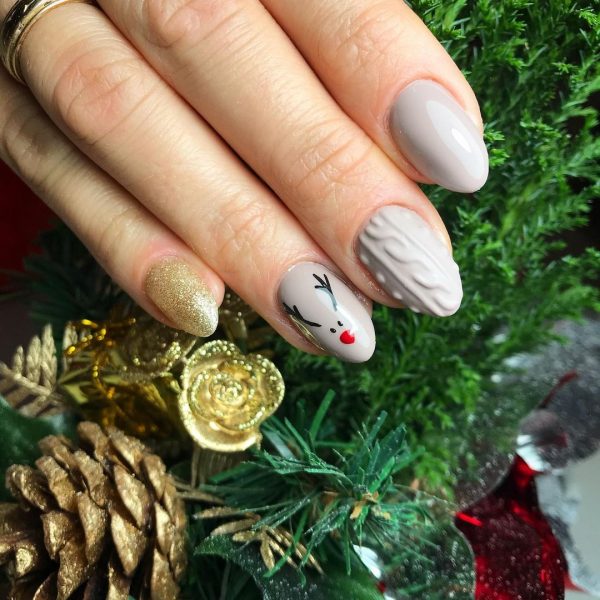 Source: @kejtimejti
Pretty Christmas Things
Gentle patterns, a combination of bright shades, small glitter, and ostriches complement Christmas nail styling. A Christmas tree and a knitted pattern resembling a sweater texture will take you to a childhood atmosphere.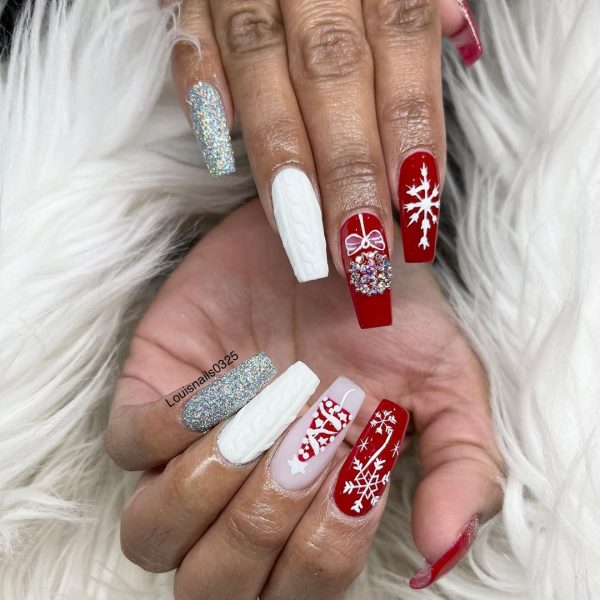 Source: @louisnails0325
Red Christmas Bow
Holiday nail art will receive a lot of attention from your friends and family. The combination of white and maroon colors will improve any image, and the red bow and patterns will give your manicure interesting patterns.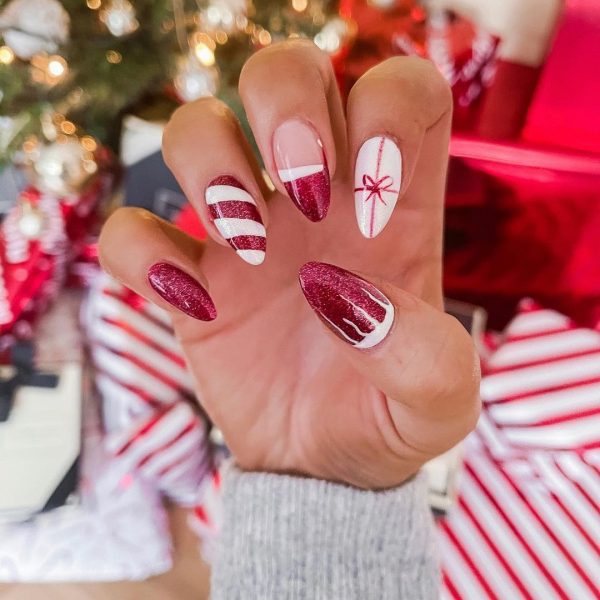 Source: @aimeemoriarty
Winter Wonderland Nails
Thematic pictures and patterns on long nails will focus the attention of the people around you on each of your fingernails. A gentle blue shade will make your manicure light and ethereal.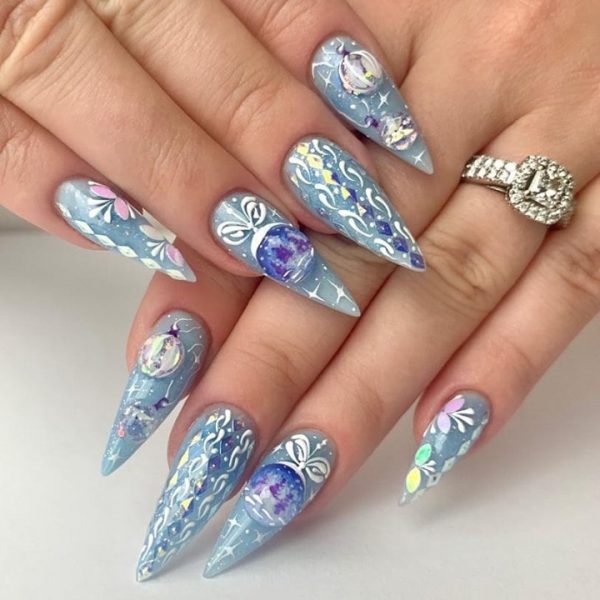 Source: @aniakesiaknails
Disney Characters
Christmas Disney holiday nails will be an excellent solution for experimentation fans. Light shades of polish and patterns will make nail styling unique.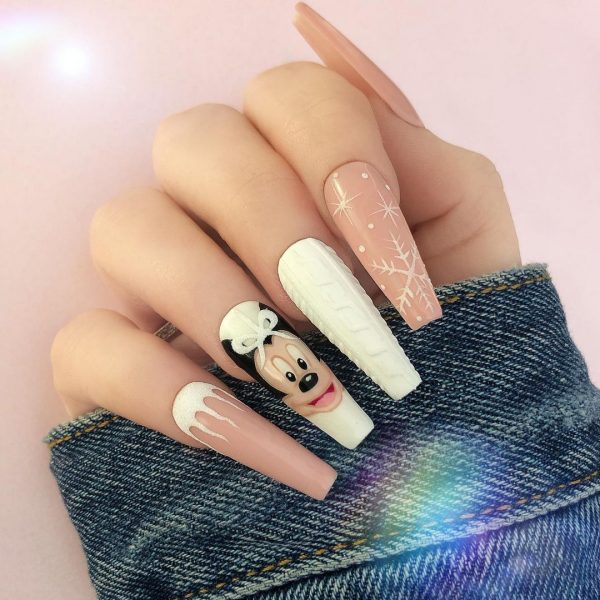 Source: @queencatherine_nailartist
Graceful Almond
Almond shaped nails can be supplemented with bright glossy varnish of red or beige color. Refined strips will deepen your image and detail with a snowflake pattern and a knitted drawing.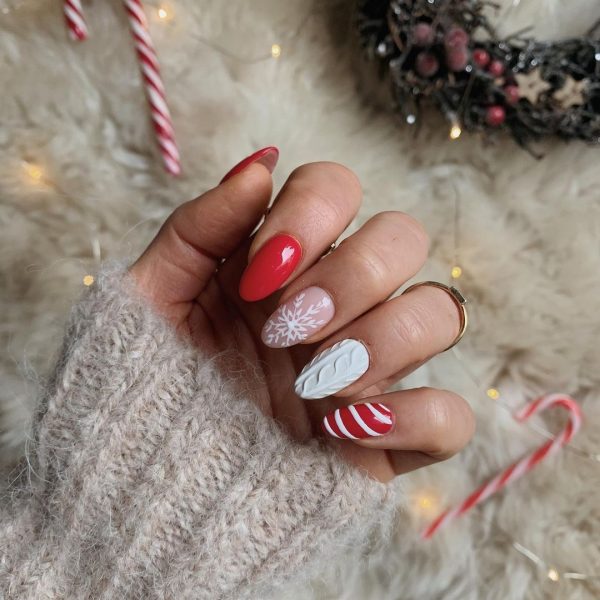 Source: @aleksandra.guss
Red and Green Plaids
A plaid Christmas nail design is what looks refined and harmonious. A combination of different shades, such as red, green, and black, as well as rhinestones and inclusions, will give juiciness to each of your nails.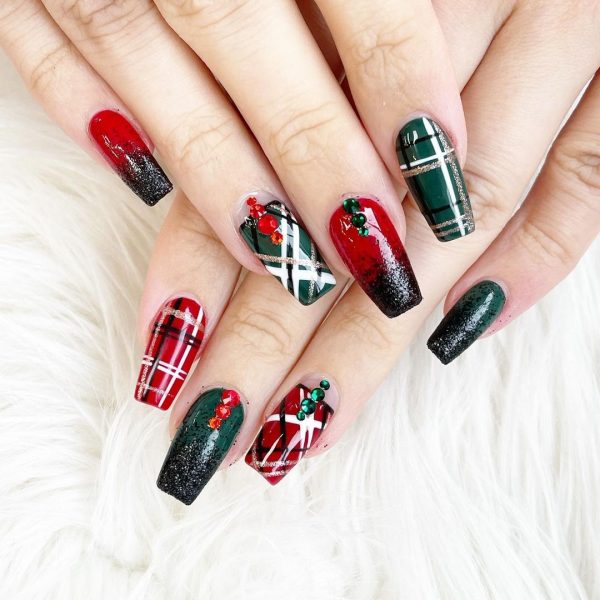 Source: @top_nails_bar
Santa Minions
A colorful manicure with minions will give any woman a good mood and make any image of her festive. Without attention will not be left glossy effect nail polish and silver inclusions.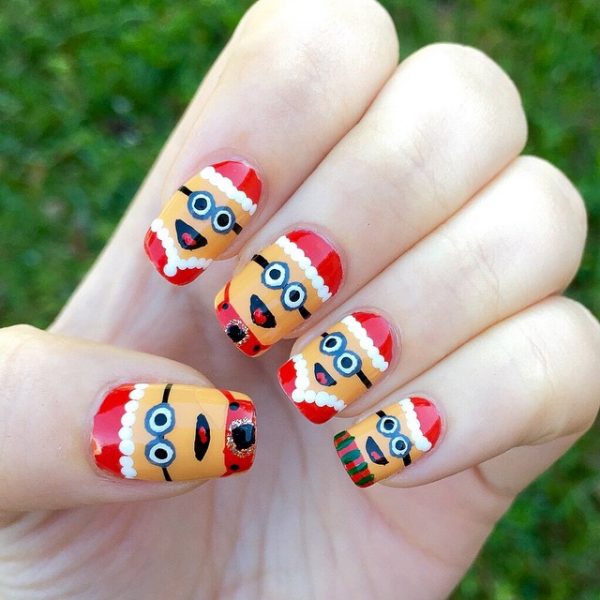 Source: @demisiriusly
Purple Chic Nails
A fancy manicure with purple colors will dumbfound you and the people around you by its brightness and eccentricity. Small silver glitter and large pink stones will focus on every detail of your image.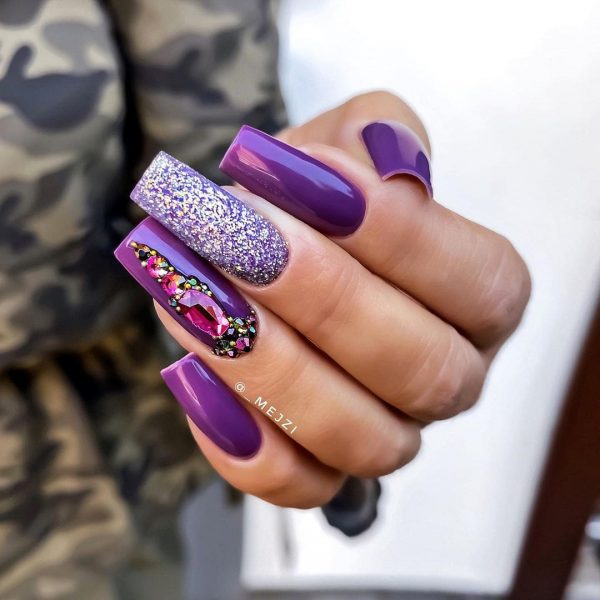 Source: @_mejzi
Little Present
Stiletto nails allow creating interesting combinations. Green and brown nails will be perfected with elaborate lines and patterns, and a real bow will add uniqueness to them.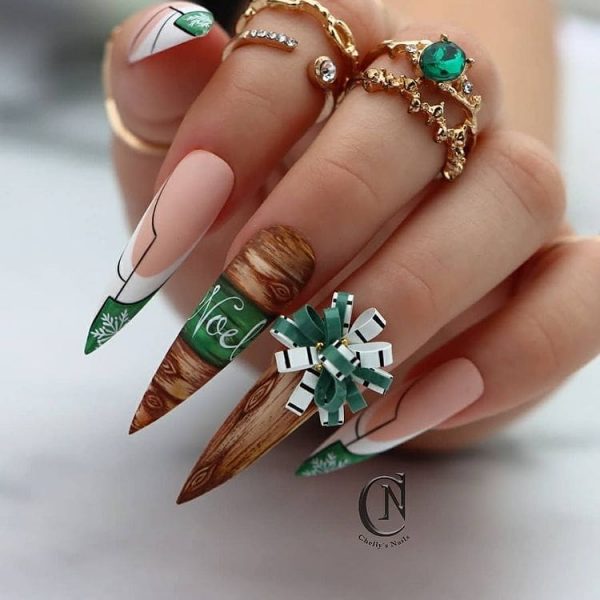 Source: @nailsfascination
Chrome Christmas Rainbow
The combination of green and white in a manicure looks unusual and stylish. Red chrome nail polish will create contrast, which will also brighten the image of any woman.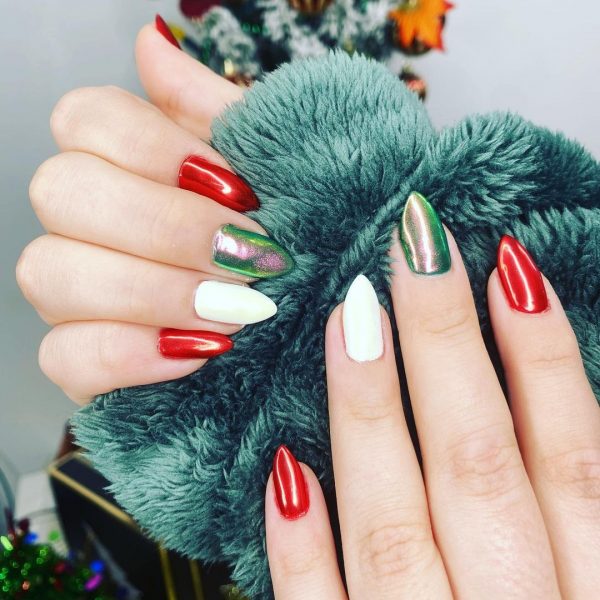 Source: @r.luxurynailsbeauty
Matte Print Mix
Matte manicure on short nails looks delicate and refined. Various matte prints on each nail will create a minimalist nail styling.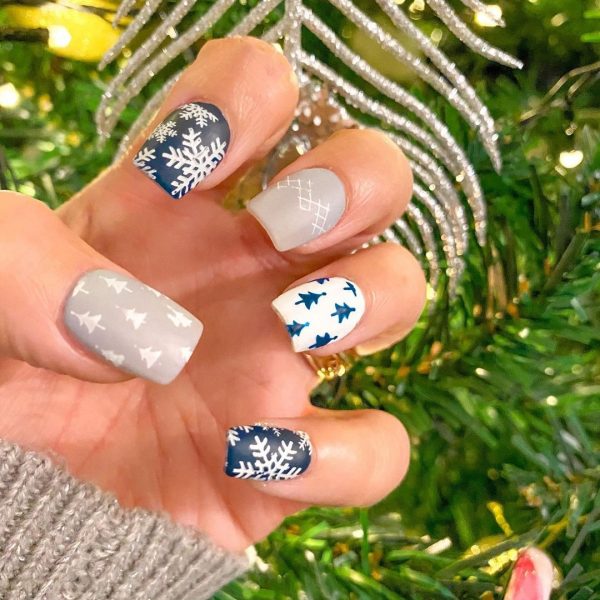 Source: @amberclarkhome
Painted for Christmas
Christmas nail decals will make any holiday manicure unique and will not leave its owner unattended. Shine and sparkles are what the rhinestones and glitter on the red glossy coating will add to your nails.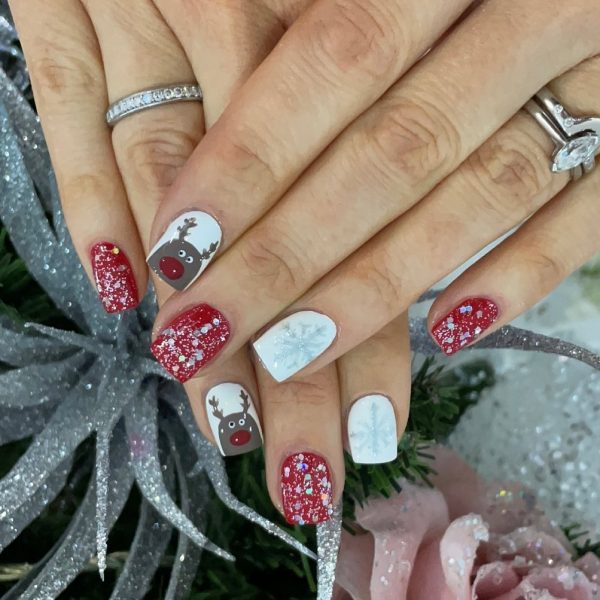 Source: @pinkbeautique
Dark Red Monochrome
Monochrome manicure for long nails is something that will never be unnoticed. A dark red shade will add to your image and add to your confidence in every action, just like any other woman.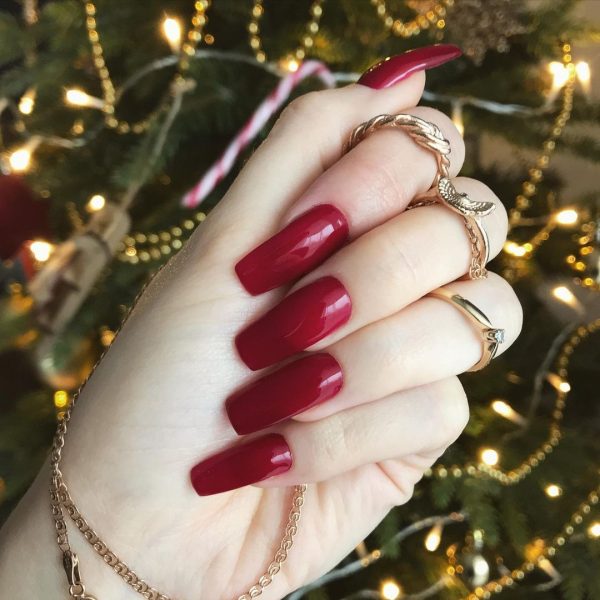 Source: @sochasia
Dear Deer
The combination of beige and orange makes every manicure delicate and refined. Dip powder, thematic patterns, and drawings will attract the attention of people around you due to the game of unusual colors.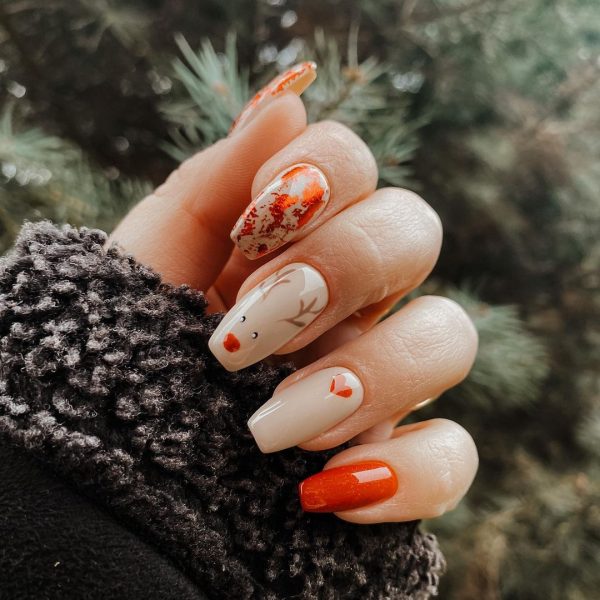 Source: @_93pati
Happy Santa
New Year nail art with minimalist patterns, sweater texture, and tiny glitter looks tender and festive. White and red will complement each other, creating a harmonious pattern.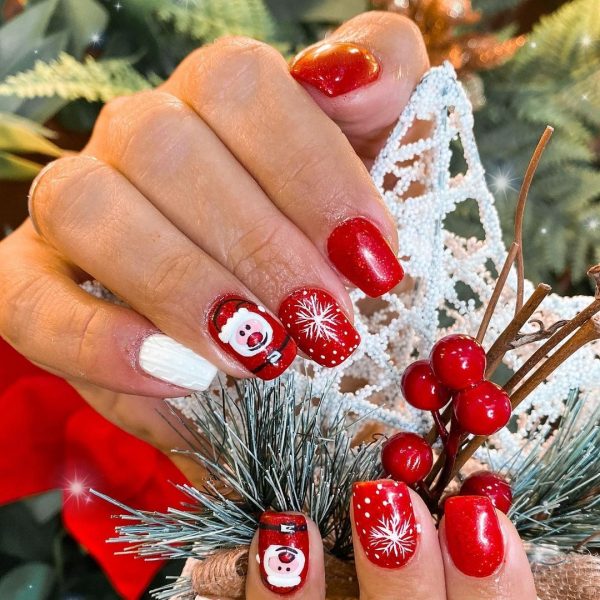 Source: @helenwearsit
Snow Patterns
White patterns on the red glossy surface will grace not only the nails but also all your holidays. This unique manicure will be perfect for any image of the most beautiful and attractive woman.
Source: @life.of.mara
New Year Minimalistic Style
The white, green, and red nails will create a minimalist New Years nail designs in which the glossy effect of nail polish and the tiny pattern complement each other.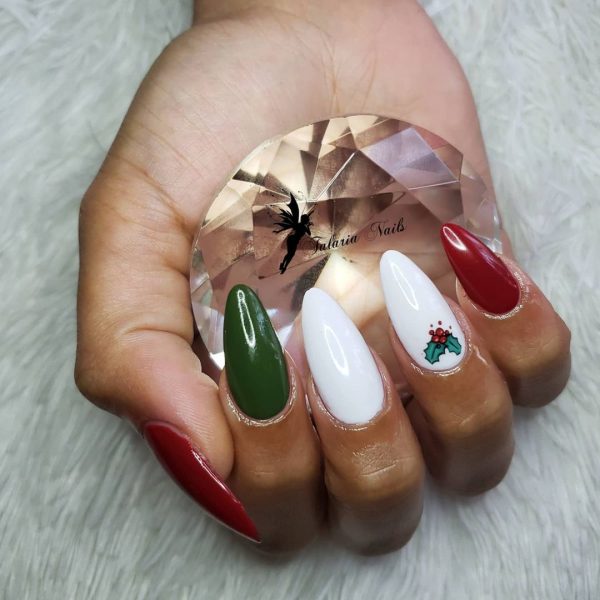 Source: @talaria.nails
Long Story
Very long nails in the red color of performance look fashionable and attractive. The glossy effect of nail polish and the voluminous design details will deepen the attention of your friends on details.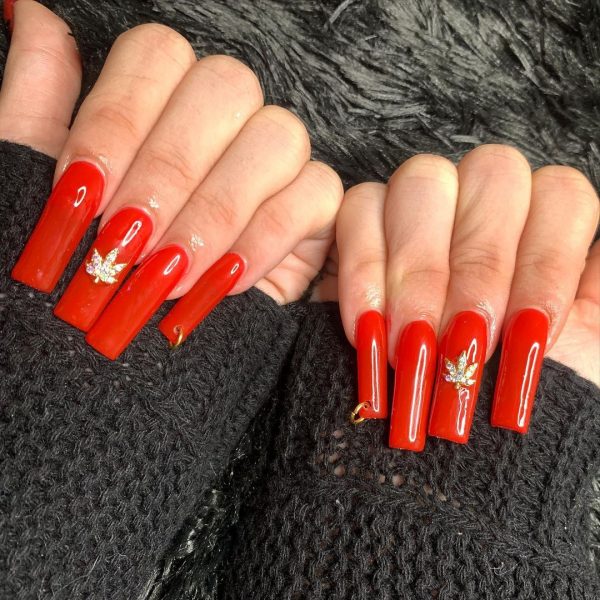 Source: @whatshappeninb_
Blood and Nude
A nude manicure with thematic patterns will make your nails more attractive together with red glitter. In this type of manicure, the focus will be on subtle color waves.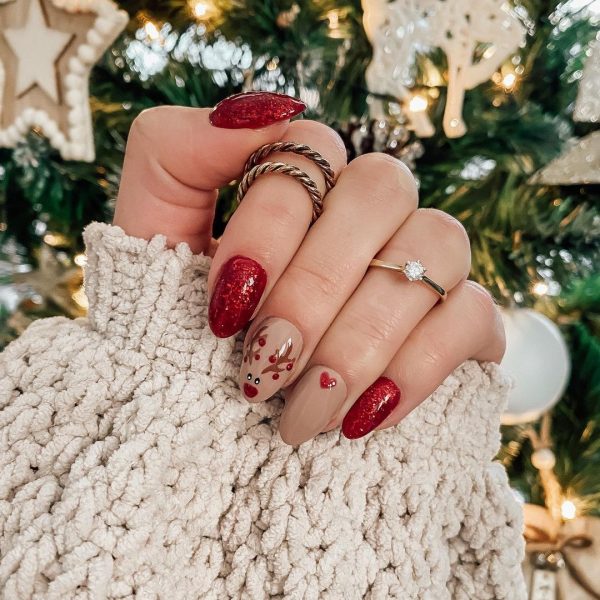 Source: @msbebelin
Ho-Ho-Ho
A bright orange manicure with humorous inscriptions and a large snowflake is a variety of other, more classical manicures. The velvet sand on one nail, which is painted entirely white, will create a contrast in your manicure that will make your image more juicy and festive.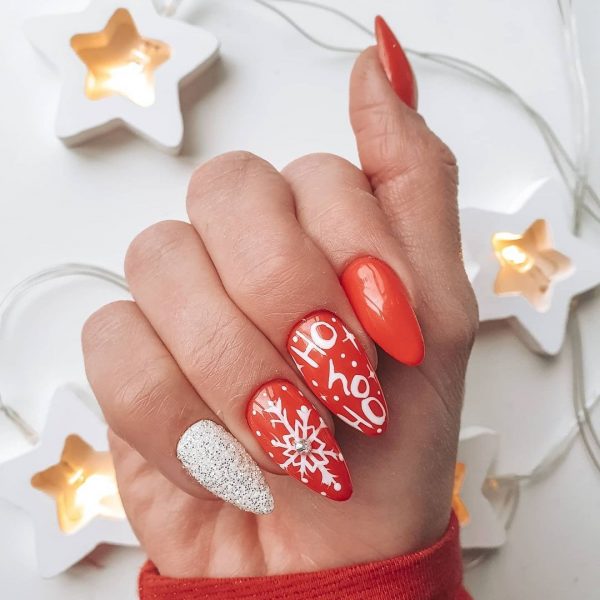 Source: @oleleeeee
Santa Was Here
Red manicures will look more unique using geometric patterns and even silver glitter. The glossy effect is what will add a glow to your nail polish.
Source: @hamiltonnailgirlss
French Snow Lace
Acrylic nails with lacy patterns at the top of each nail will remind you of your French manicure and will look refined and stylish. Such nude manicure is especially relevant for gentle and romantic women.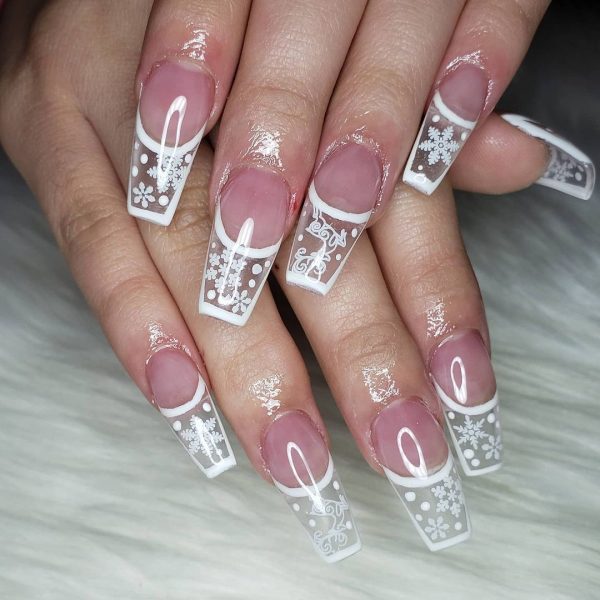 Source: @nails_by.mai
Rhinestones Accent
A white and red manicure is considered basic, but you can make it unique and unique with large patterns, patterns, and silver drawings. Rhinestones nail design will decorate and complete an image of you.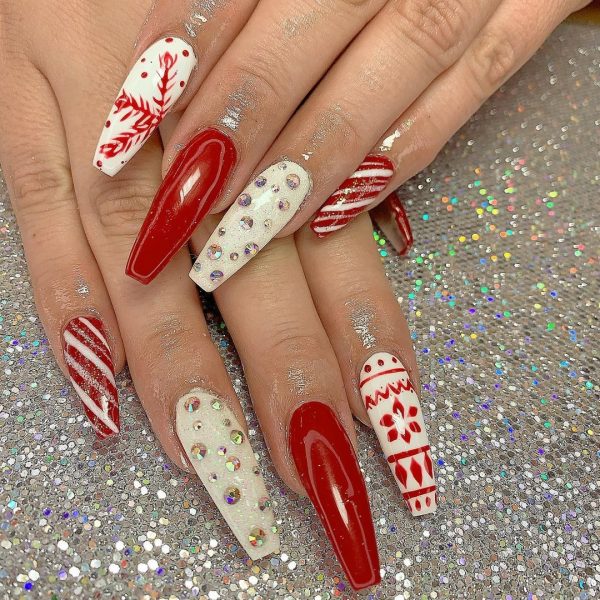 Source: @_glitterglamnails_
Pine Branches
Aesthetic painted nails look unique and interesting. The one nail that your manicure master drew in dark green, and the silver imprints will make your manicure perfect.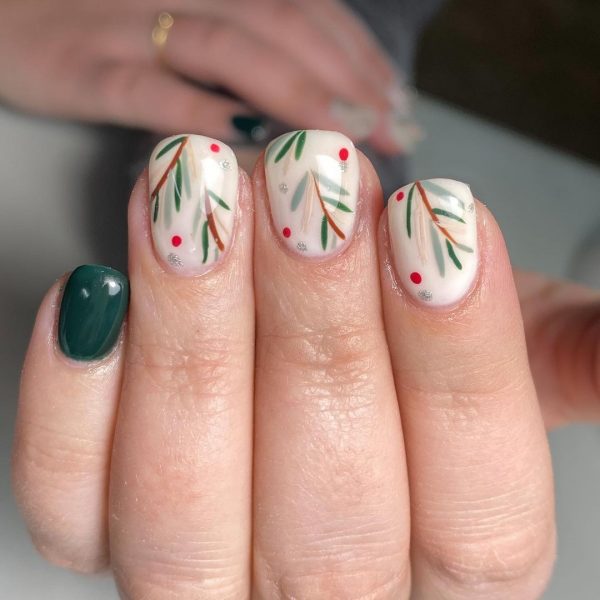 Source: @talishasnails
Funny Rabbit
Red glossy nails have always been considered succulent and expressive. A funny rabbit on one nail and refined snowflakes will make nail styling any woman unique and attractive.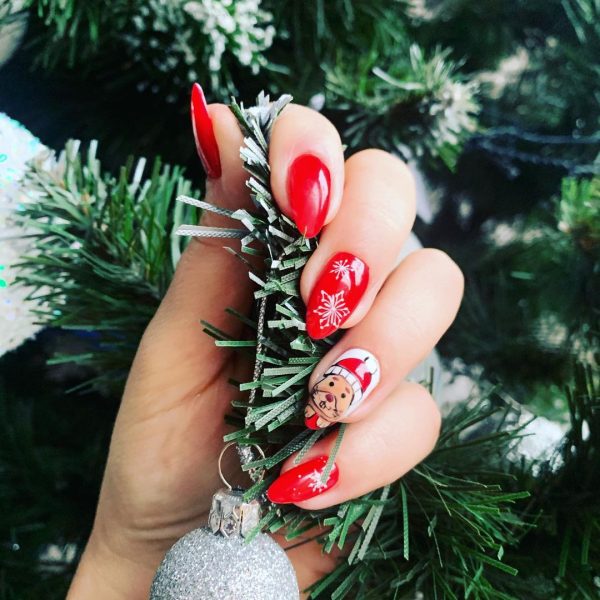 Source: @1to1dietaneta
Golden Prints
Matte nails of dark color choose only spectacular and purposeful women. Gold prints in different parts of your nails, such as the bottom or the top, will highlight your unique character and appearance and even your sense of style.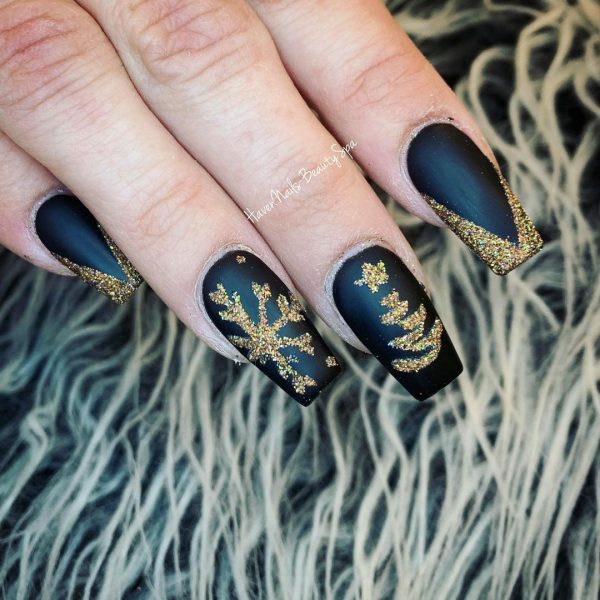 Source: @havennails_beautyspa
Barbie Pink Ombre
Ombre nail art focuses on the gentle waves of shades. Nail styling will attract the attention of people around you by its neat snowflakes, glossy effect, and rhinestones.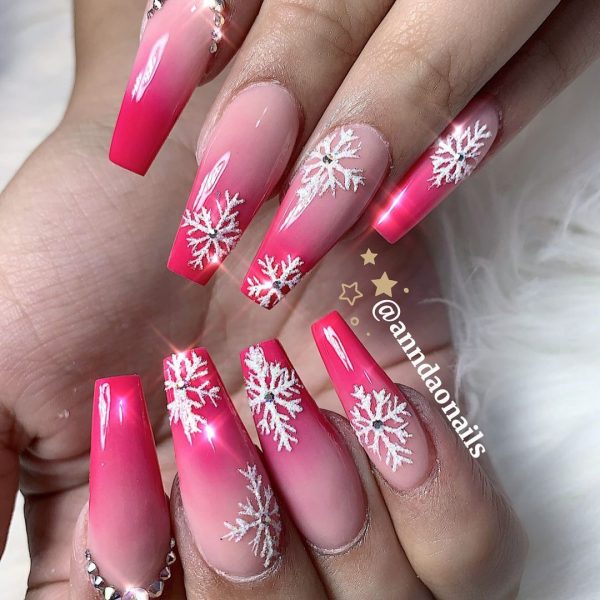 Source: @anndaonails
Ice Drop Accent
Blue and silver nails will give you a true winter manicure. Volumetric rhinestones, the effect of ice drops, and small snowflakes will make nail styling spectacular.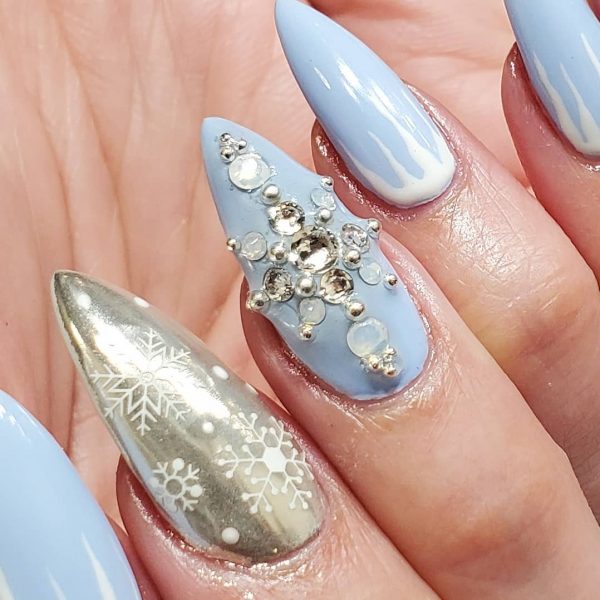 Source: @karen_deconailz
Christmas Sky
Each nail will be unique due to a combination of unusual shades and decor elements. Bright glitter and silver patterns on a glossy basis will look mysterious and magical, and it is just in time for New Year's Eve celebrations.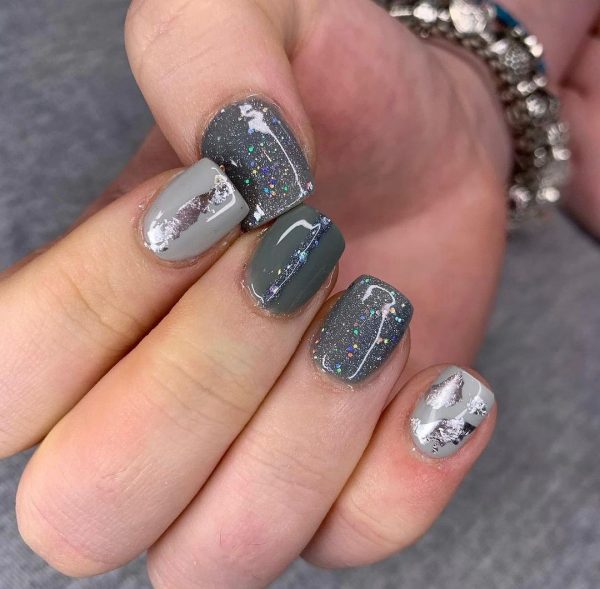 Source: @nails_byhannahjackson
Green Traditions
Painted fingernails with floral ornaments look juicy and natural. Golden inclusions will focus on the smallest details and add glow to your image.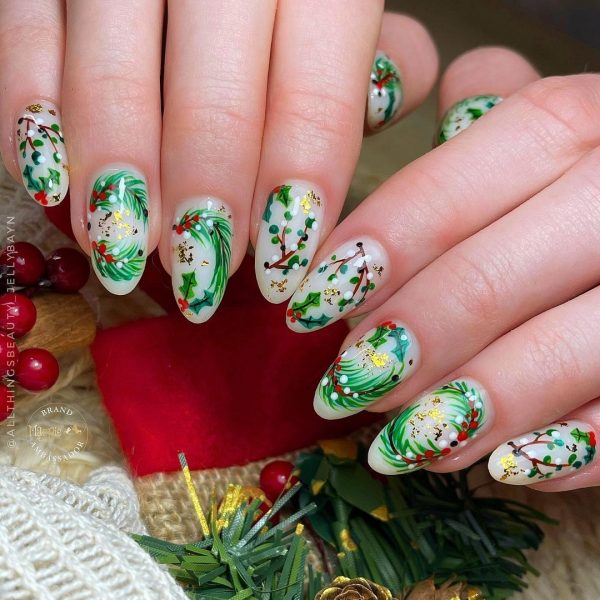 Source: @allthingsbeauty_jellybayn
Sweet and Sharp Canes
Very long stiletto nails, which are decorated in the form of caramel sticks, will give you a true Christmas mood and bright details in appearance. Some details of your nail design and silver shades will not leave your nail styling without the attention of those around you.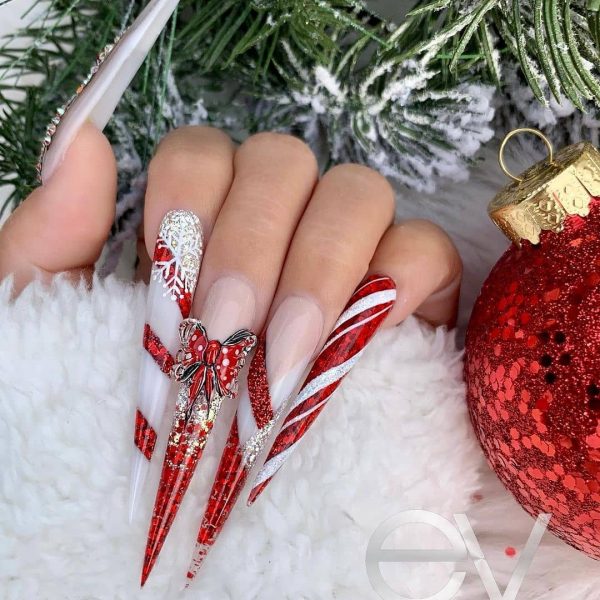 Source: @nailsfascination
Winter Fairy Tail
One of the most popular trends in nail design in the fall is blue, and this trend will continue during the Christmas holidays. Minimalistic manicure is the ideal solution for any delicate and romantic character and appearance. Blue glossy polish will become unique and juicy in a new way thanks to the use of gentle patterns for each nail.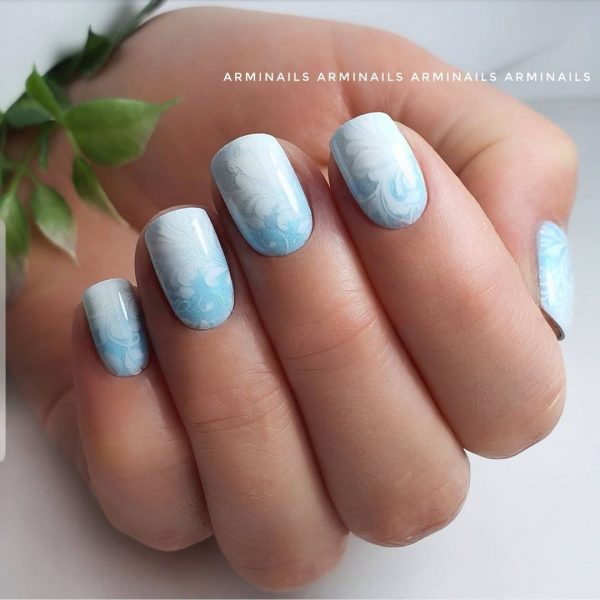 Source: @arminails
Christmas is one of the most special seasons of the year, so this is a great opportunity for you when you can entertain yourself with a manicure with fabulous details. Christmas nail ideas have unique combinations of shades, thematic and irreplaceable patterns, as well as attractive details of the whole design. It can be both bright and gentle or elegant and discreet.