The right haircut corrects the face shape, visually creates proportions of the golden cross-section, lengthens the neck, accentuates the merits of the woman, removing the focus from the defects. The article selected 50 best rejuvenating haircuts for women 50+ with recommendations on hair type and structure, facial shapes, and style.
1. Layered Bob for Thin Hair
Grading makes the hair voluminous, and light waves rejuvenate thanks to air the more disheveled, the better. In the case of thin hair, the bob needs easy layout and styling, otherwise, there is a lack of thickness. The haircut looks good on elongated and oval faces, and also softens coarse features, distracts from age changes of the skin and the oval of the face.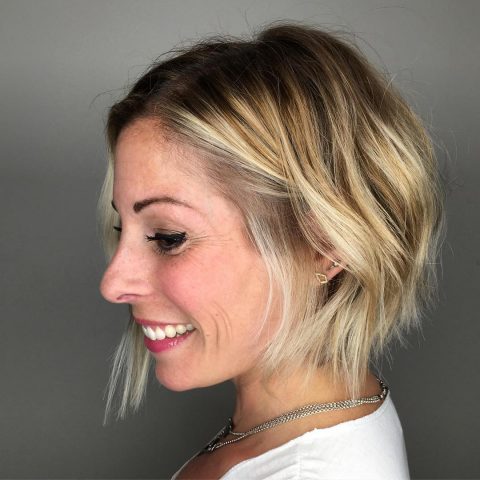 Source: @lkhair_chicago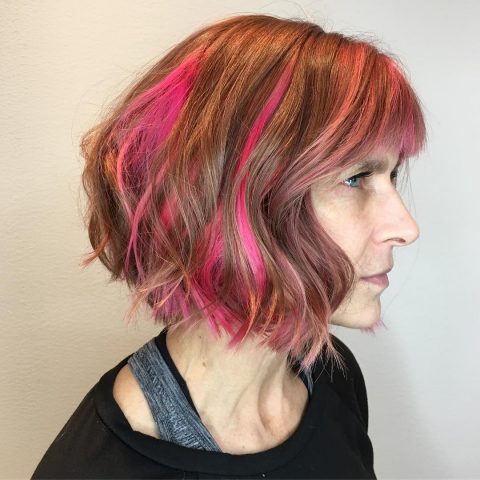 Source: @lkhair_chicago
2. Long Pixie Cut
Whether curly hair or straight, pixie may not be short. Like all triangular geometry haircuts, the pixie stretches out the chin and rejuvenates. Bully, but feminine, for those who want a short haircut but are not ready to follow a standard style with one option.
Sometimes this haircut is called a pixie-bob. It took tinted temples and the bulky top from pixie, and grading and framing long strands from bob.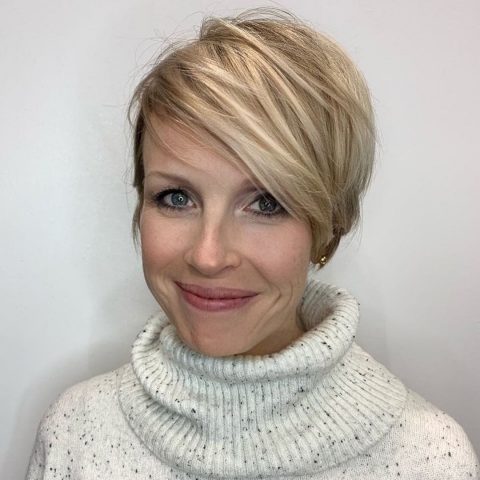 Source: @lkhair_chicago
3. Curly Pixie Cut
Whether curled up by nature or curled by a flat, short hair in pixie looks fresh and young. The curls look stylish in a mid-length pixie, and the ultra-short variant looks a-la garson. Hairdressing moves towards masculinity, and short haircuts with curls look original and fresh.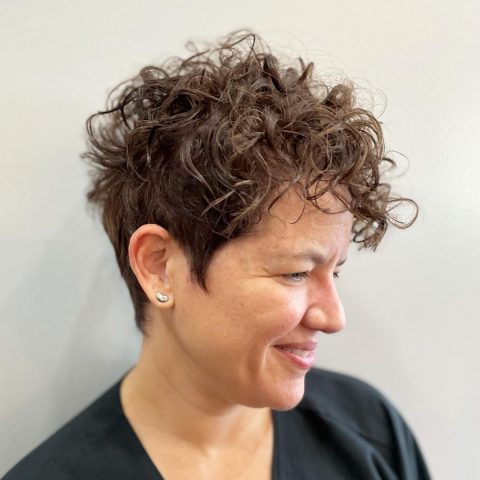 Source: @bekindhair
4. Wavy Pixie Cut
Pixies look best on texture hair, so those with curly hair have a head start. Senior ladies with curly hair can afford an asymmetric, long, short pixel and do not care for hair and styling in the way that straight-haired mature women do: wavy hair a priori looks larger, so you can save a lot of time. If the master does the haircut correctly, you can play with folding or lean towards the variant «washed and went». On the wavy hair, the fashionable pixie looks romantic, cute, and airy.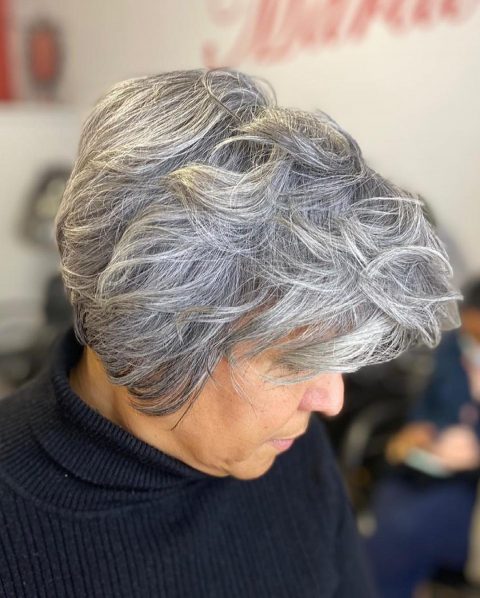 Source: @glamurosa_by_eli
5. Pixie Cut With Bangs
The elongated bang corrects the broad face by narrowing and stretching. Pixie always goes well with round faces with broad cheekbones or a massive chin. The long bang contrasts with short strands accentuate the eyes and look especially cool with smoky eyes makeup.
Asymmetric pixies are not only the bangs but also the spines in the lateral and occipital zones. A professional stylist can make a smooth transition between them in such a way as to correct square, triangular, rectangular faces. In addition to this variant, the pixie will be a long asymmetric bang to both left and right.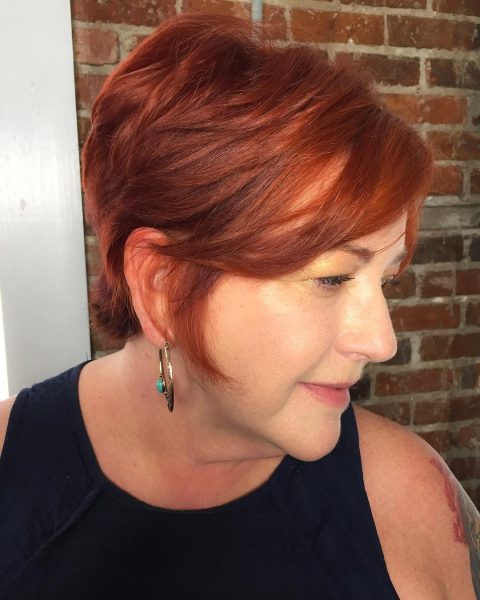 Source: @motherofcurls
6. Very Short Pixie Haircuts
A short bang that opens the forehead is suitable for oval, round and heart-shaped persons, and also fits perfectly into the image of a businesswoman. This variant requires an ultra-short length but looks even more creative with a lush bulky top. This pixie will make your neck look long, stretch out your face, and shrink your cheeks. However, a very short bang requires eye focus. Pixie combined with smoky eyes makeup is a win-win version.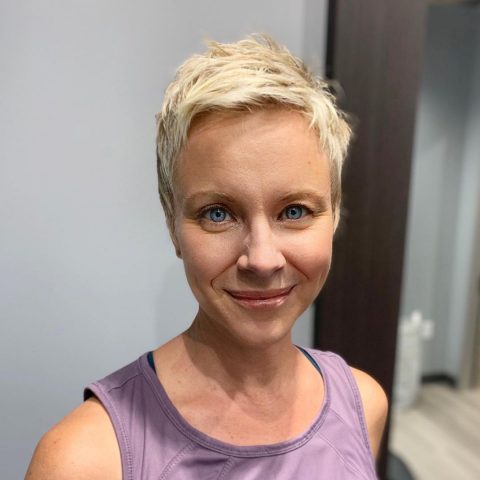 Source: @lkhair_chicago
7. Undercut Pixie
Pixie with shaved temples and high-carved coke is a daring option for those who do not grow old with body and soul. This punk and glam rock haircut is one of the most creative on our list. This option is most commonly encountered with the short and ultra-short back of the head. Not suitable for long faces.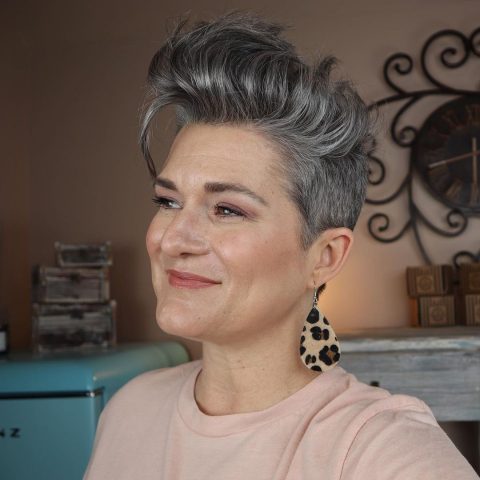 Source: @atoya_thecurlyhairstudio
8. Shaggy Pixie Cut
Shaggy haircuts give out eyes, shrink forehead, and slim face, which is especially true for large senior ladies. If you've always wanted a pixie cut, but you're worried that it looks too daring, choose a ragged version. It looks best on dense porous hair: the thicker and drier they are, the longer they keep the shape of the shaggy hair.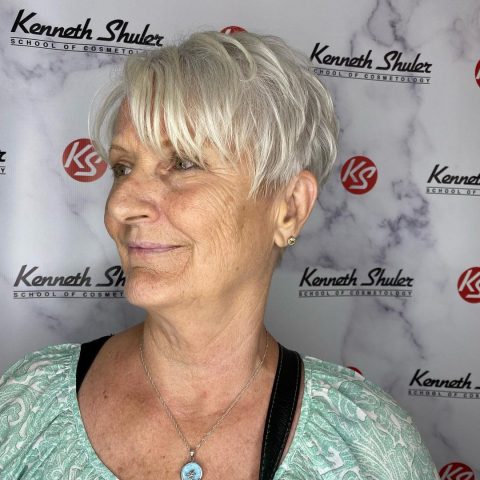 Source: @alottavagyna
9. Blonde Pixie Cut
If you have a round or thick face, the lateral bangs will visually pull it out and give you an oval shape. You can grow the strands and then turn them into a bang-drape. The most creative variants of pixie require length for folding, and here all creativity is made on bangs.
When it grows back, you can wave it, you can make light locks and other options, it looks fresh and creative. Headbands, accessories, a slight contouring of the cheekbones, a blond color, and a facial oval are only a plus.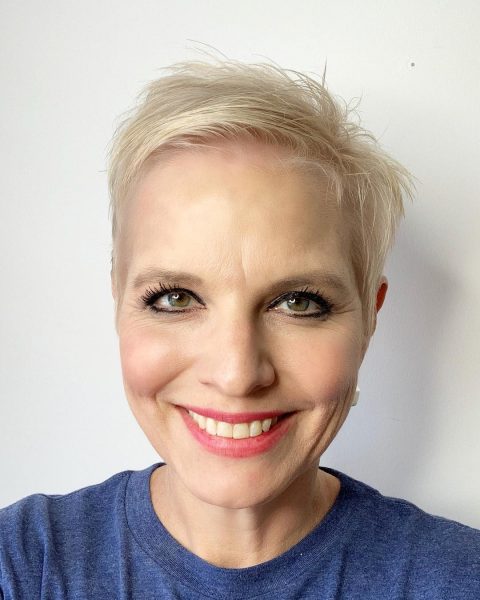 Source: @bekindhair
10. Short Angle Bob Haircut
A classic short angled bob is a favorite Hollywood celebrity haircut because it goes with all shapes of faces. Such a bob is elegant on straight and romantic on curly hair. Does not require long hair. You can grow it below your shoulders if your neck's not too short.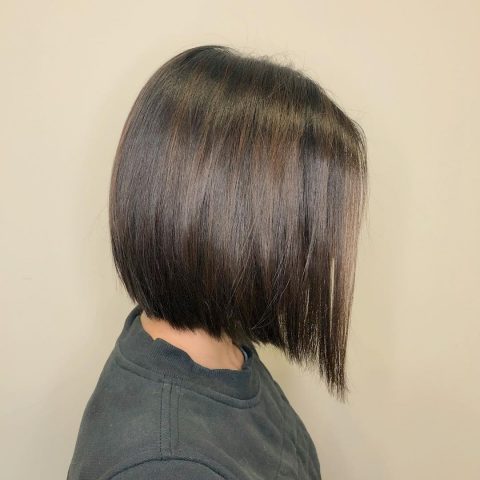 Source: @zen_hair_designs
11. Short Bob With Bangs and Glasses
A straight bang curtain does not require any laying, and the locks give the bob an airy, romantic, cute, and feminine appearance. There is no type of face and shape that a wavy bob would not fit, but a haircut requires the maximum volume at the roots and in the length of the hair. Thanks to the free texture, the haircut does not need to be packed daily, which makes this wavy bob suitable for everyday use. Sealing mousses and salt sprays will make it possible to visually increase the volume by a factor of 2-3.
Source: @marinapett.hair
12. Short Layered Bob for Thinning Hair
Bob A-silhouette with additional grading in the form of a staircase visually increases volume by 2-3 times due to strands of different lengths. A haircut looks better on straight hair, no matter thin or thick. With styling and light nachos, you can hide thinning areas.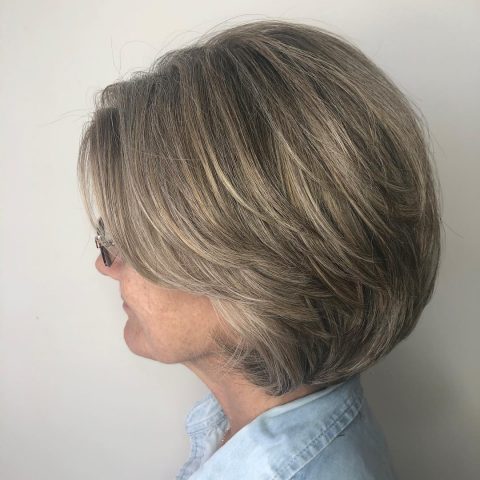 Source: @bekindhair
13. Spiky Pixie Haircut
A rebellious and creative punk cut refreshes, rejuvenates, and radically changes the image. It looks good on miniature women with straight or straightened hair to make spikes.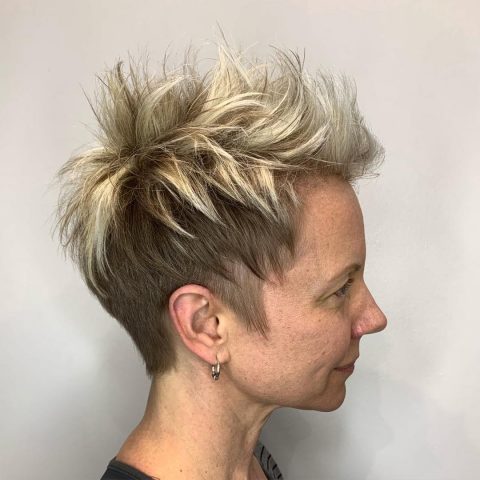 Source: @lkhair_chicago
14. Layered Curly Bob
The most voluminous version of the bob cut is suitable for older women with straight or slightly curly hair never to get such a bag (without additional curling, of course). That's why they get carte blanche for air, romantic and sexy haircuts. The long strands of the face and the diagonal cutting of the hair above the neck narrow the face and secrete the chin. Instead of hiding tight curls in a bun, it's better to make a calibration bob.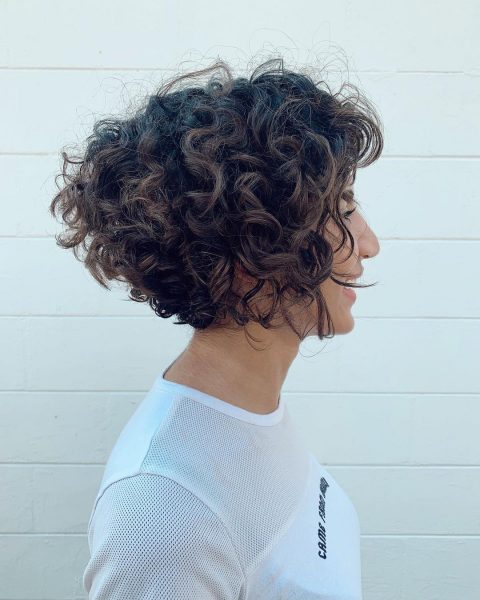 Source: @motherofcurls
15. Short Haircut With Сurtain Bangs
Bangs and curtains became the dominant trend of 2021: unlike straight bangs, they go for everyone, and they don't need straightening and look good without laying. The more disheveled and sloppy it is, the better. It is a rescue for wavy hair that does not fit well into a short straight bang. In combination with the square, the haircut is similar to the bohemian hair of French artists and writers. Romantic, airy, feminine, and not laborious. Not suitable for round and pear faces.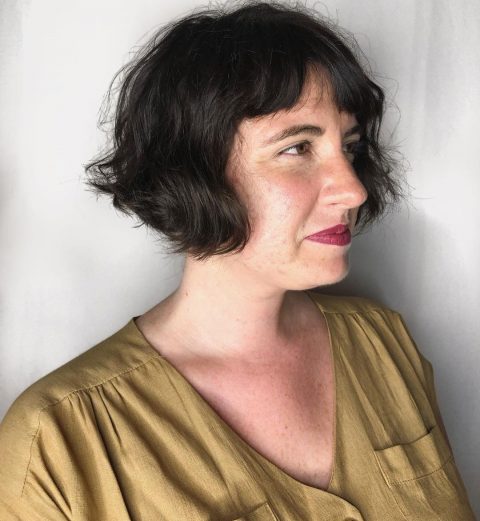 Source: @the.mindful.barber
16. Wash And Go Buzz Fade Haircut
The French bohemian favorite haircut, the female "zero" looks creative and elegant at the same time. Rather than grow and suffer from thin hair, it's better to make a woman's buzz fade. The haircut looks elegant and presentable, does not require styling and layout, harmonizes with business and sports styles.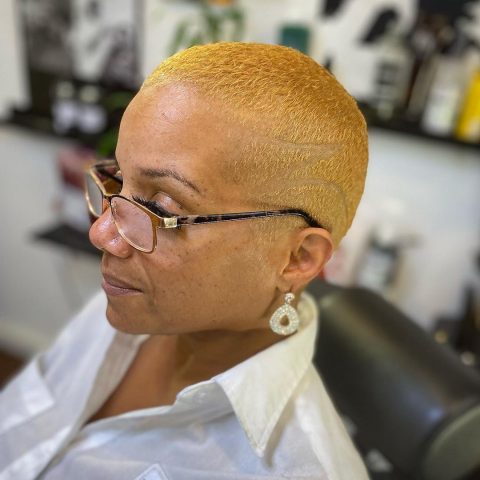 Source: @talentedmrcj
17. Very Short Bob Cut
The A-silhouette's ultra-short bob lengthens the face, sculpts the oval and accents the eyes. The more volume and texture, the better. It's not for thin or thinning hair. It fits thick, porous, or wavy hair because they're better at keeping geometry cut. And the calibration increases the volume by a factor of 2-3.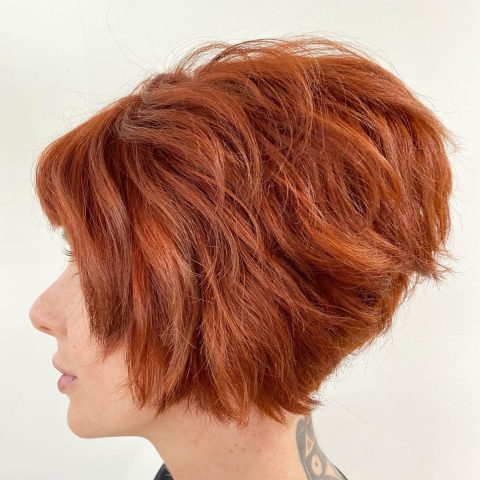 Source: @vidogisalon
18. Short To Medium Bob
The asymmetrical, medium-length bob holds its shape on wavy or thick straight hair. For thin and thinning hair this cut should be chosen as long as it is laid with sealing mousses and sprays.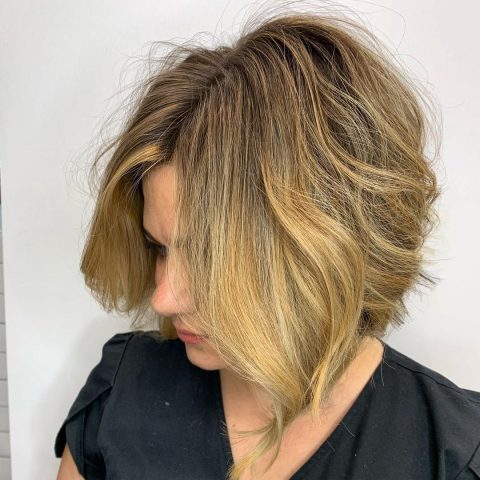 Source: @lkhair_chicago
19. Wavy Haircut with Side Bangs
A classic variant of the square, which can be grown or updated every 2-3 months. Has no restrictions on the structure or thickness of the hair. Straight, wavy, curly hair looks discreet and elegant. If you want a haircut, you can easily make an A-silhouette bob. Short carcasses with large bangs do not need careful laying, can be sprayed with salt spray for volume and air.
Source: @marinapett.hair
20. Straight Bob Haircut
Without the bangs with the classic A-silhouette line, this haircut is elegant, presentable. It is a real salvation for those who do not want too creative folding. It looks good with the volume at the roots, which is easily created by means of laying and brushing. It is recommended that lengtheners add a straight or asymmetric bucket.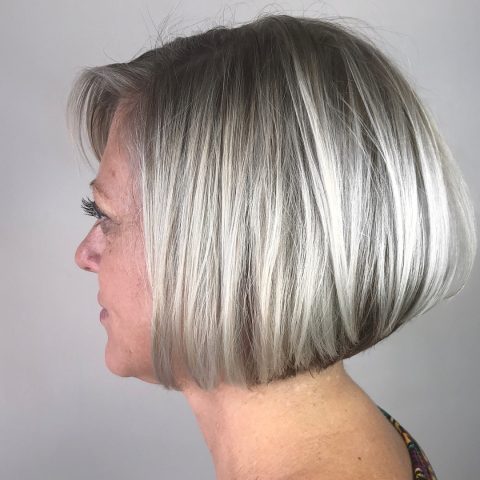 Source: @bekindhair
21. Short Haircut with Straight Bangs
Elegant and classical hair with trendy bangs and even cuts. The classic straight square without bangs stretches out the face, but a relaxed bang-curtain makes the elongated, rectangular, or pear-shaped faces proportional. In the warm months of the year it is possible to shorten the haircut every 2-3 months for emphasis on the neck and shoulders, but also in the elongated version look neat. Bangs must be straight and not thick.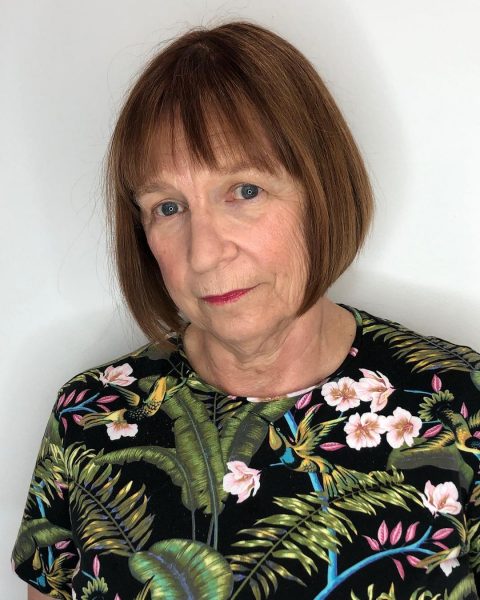 Source: @portia_rutherford
22. Textured Bob for Thinning On Top Hair
The texture of this bob is considered due to grading, which visually increases hair by a factor of 2-3. Thin thinning hair has to be cut briefly or laid with styling. A ladder or gradient is a solution for large, rejuvenating, and not short hairstyles.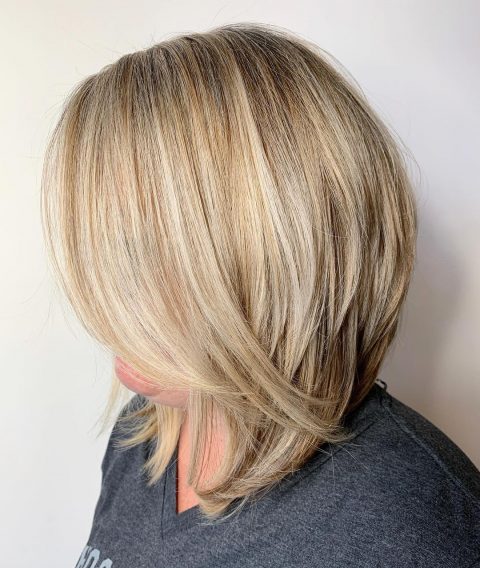 Source: @bekindhair
23. Choppy Bob Haircut
This haircut only goes for thick, straight, and preferably thick hair. The thin "torn" calibration looks good in a condition of at least average length, and this is a short version. An extra bang-curtain corrects the elongated face. Adding space to the temporal part is better for a pear-shaped face with a narrow forehead. The ragged bob goes to all types of body and face but requires thick, dense hair.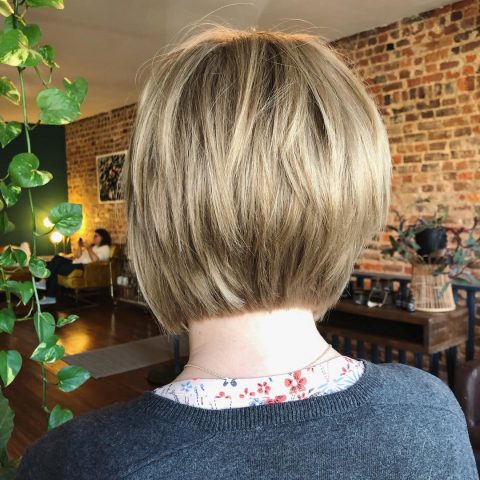 Source: @the.mindful.barber
24. Shaggy Layered Haircut
This is more like a mullet, which became the most trendy haircut of 2021. "Business in the front, party in the back" is what the Americans called it in the short front and the long butt. Perfect solution for oval, round and heart-shaped persons. Haircut stretches the face and looks creative, fresh, rebellious. Irina Sheik had to cut thick bags of hair for a shaggy mullet.
Source: @ellienorski
25. Messy Bob Haircut
There is no better solution for thin or rare hair than a medium wavy bob. Calibration visually increases volume by 2-3 times, which is advantageous for holders of thinning hair. Stacking with mousse or salt spray will capture the waves and highlight the "ragged" staircase.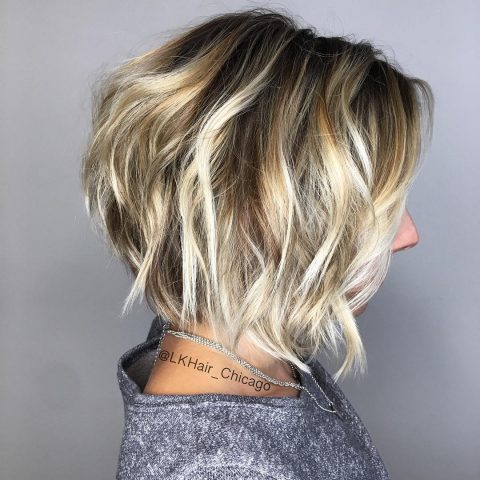 Source: @lkhair_chicago
26. Messy Lob Haircut
Curling tongs, straighteners, etc. can be left in the box. This is the longest haircut on our list for those who are sorry to part with the length. An elongated square-blunt can be executed on any hair structure, but the best-looking haircut is on dense and straight locks. Thin hair can be compacted with salt spray for extra volume.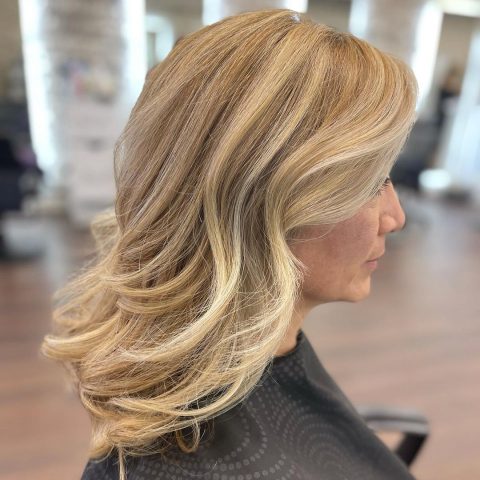 Source: @salonvevo
27. Medium Pixie Haircut
The round and thick faces are perfectly corrected by pixies with elongated temples, as the length of the strands can reach the neck by hiding the cheeks. The volumetric top is a prerequisite. The length of the strands outside the temporal zone can be kept at the level of a short square.
Classical pixies should open ears and show shaved temples, and here they are left untouched, which allows to beautifully arrange hair, correct round wide face, and stretch it out. In the future, you can grow a pixie bob, play with volume, make curls, and not limit the flight of fantasy.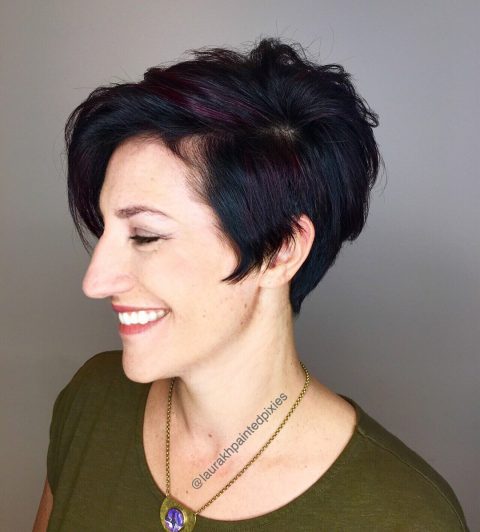 Source: @lkhair_chicago
28. Edgy Pixie Haircut
Pixie with sharp bangs looks good on long faces, as the accent on bangs visually shortens the face and nose. It is also an excellent option for adjusting too high a forehead. Also, bangs like this, combined with ultra-short pixies, look creative, cheerful.
The shaved back of the head, contrasted with the sharp bang, looks bold and fresh. The straps on the top and the sides look thicker, producing the effect of thick hair.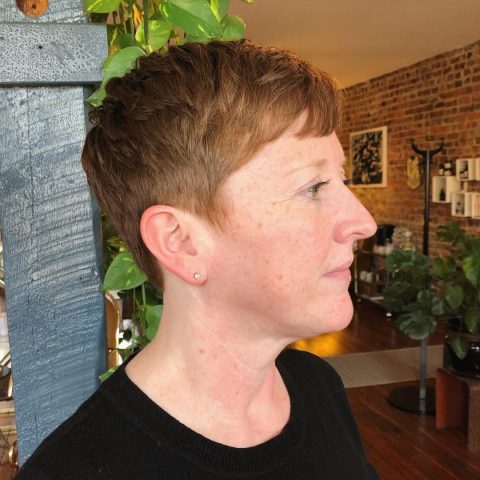 Source: @the.mindful.barber
29. Punk Pixie Haircut
The fashionably shaved temples and the Iroquois-style hair frontal and mace areas are perfect for the creative and free spirit of women, who don't listen to ones saying that punk, grunge, and rock are only for the young. On the contrary, such rebellious laying will lift off your shoulders for at least 15 years and distract attention from the age-related changes in your neck, cleavage, and face. And open ears and shaved temples lengthen your face visually.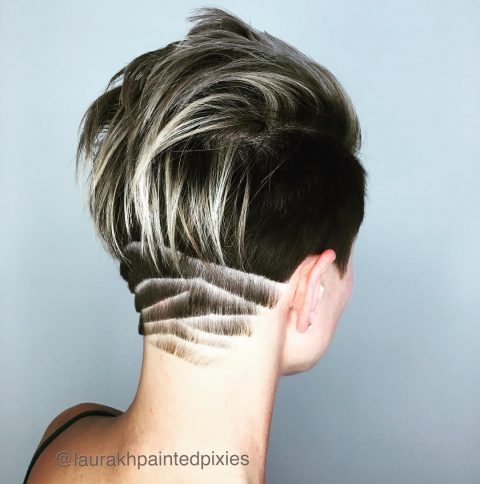 Source: @lkhair_chicago
30. Textured Pixie Haircut
Textural multilayered pixies are good because they create a volume of literally nothing. So if you're looking for short hairstyles suitable for thin hair, the ideal is found. By cutting hair layers, the hair looks thick and luscious. In addition, for a well-maintained appearance, there are sufficient means for the volume of the top, and it is also possible to twist the ends. The correct technique of the master makes the spines play and lie down nice.
It is especially good to cut with layers, thanks to which the hair is visually thicker 2-3 times. I mean, it's a lot of styling, but the effect is worth it. So don't hurry to cut your hair short, try a textured multilayered pixie.
Ask the stylist to add light layers: straps of different lengths allow to hide wide forehead and cheeks.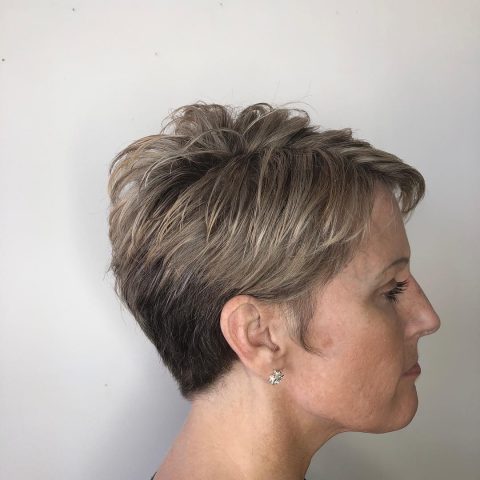 Source: @bekindhair
31. Spiky Cut
The favorite punk haircut is a vortex that breaks into the image, refreshes, and rejuvenates for 20 years. Perfect for the free spirit of straight-haired old ladies, and the wavy ones have to be straightened to produce spikes. In the classical version, neither temples nor neck is shaved, the haircut looks elegant and even conservative. The riots are added to it by sticking spikes and spines. Plus the haircut is that in this variant it is suitable for all types of persons and figures without exception.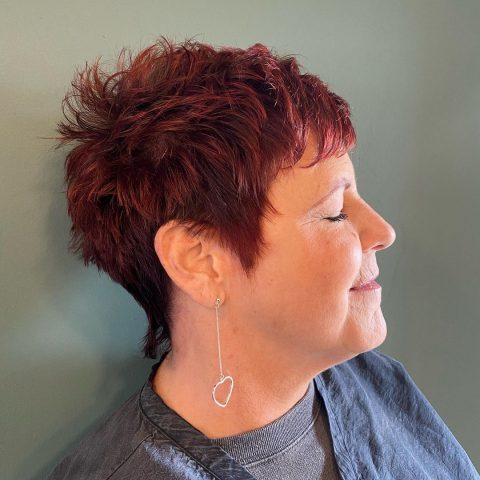 Source: @stepheronipepperoni
32. Natural Layered Short HairCut
The haircut is similar to a pixie, but not in triangular, but in male rectangular geometry. A variant ala garcon with French charm and no need for hair and effort. It's enough to wash your hair with shampoo, that's all the care. No shaved neck, no temples, got a stylish short bang that you can let go a little bit and not cut short every time.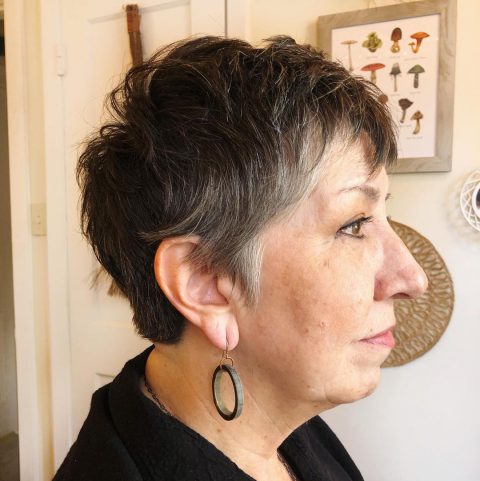 Source: @the.mindful.barber
33. Angled Bob Cut
The melding and A-silhouette of the bob visually create a lion's mane even on thin and rare hair. Stacking with styling (mousse, volume-spray) reveals the merits of the dried bob in full, and elongated strands in the face hide cheeks, splashes, floating oval of the face. Another advantage of the haircut is that it can be updated once every 1-2 months if you like the effect of the long neck, or grow to the shoulders.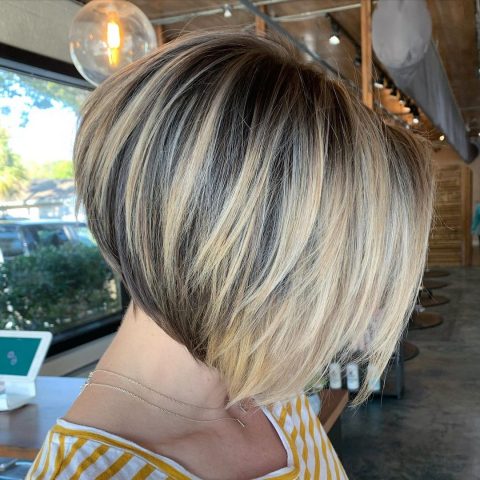 Source: @lkhair_chicago
34. Ear Length Bob Cut
A short bob with elongated front strands hides the cheeks, wrinkles in the eyes' area, lengthens the neck, and is simple in laying. It is ideal for pear-shaped faces because it creates a volume in the area of temples and visually extends the face. The most effective look is on straight or straightened hair. You can grow a haircut by changing the shape, adding a bang-curtain.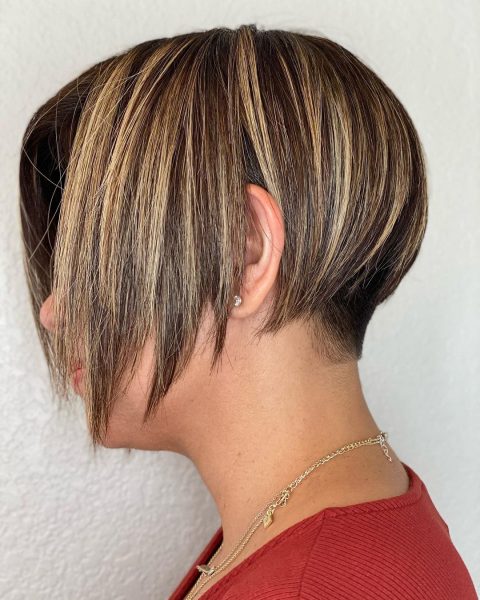 Source: @hairpin_me_down85
35. Blunt Bob Cut
There's something casual about the length of the midi. It's perfect for laying. The hair is long enough for a low beam or a ponytail, so a haircut never gets old. But if you want a little bit of diversity, the beach waves and light locks are especially well combined with a medium-length straight bob.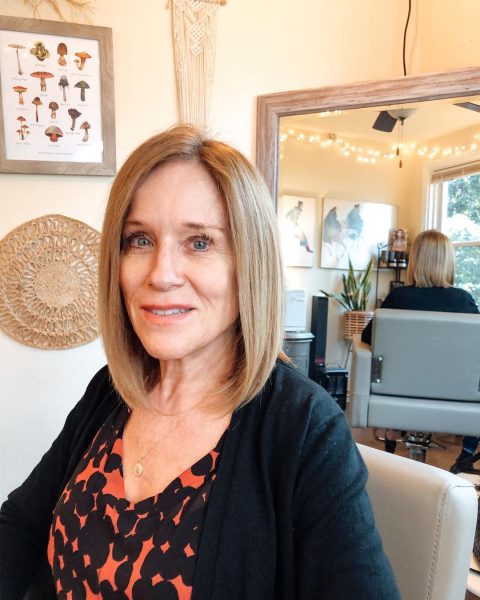 Source: @the.mindful.barber
36. Inverted Bob Cut
The pronounced diagonal bob visually extends the face if the master cuts it in the correct geometry. The haircut hides the cheeks, the age change of the oval balances the massive bottom of the pear or square face, but needs to be laid with styling the better the air and volume of the upside-down bob.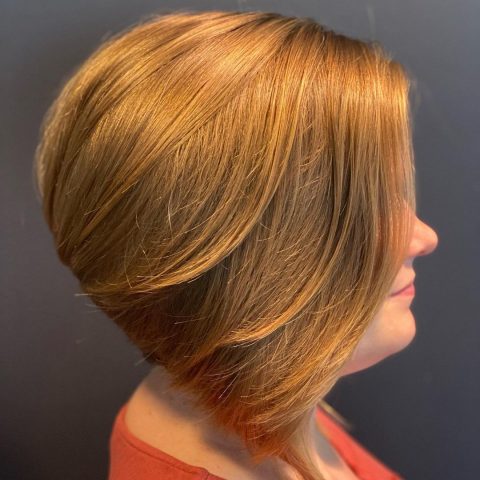 Source: @exploretagsinvertedbob
37. Asymmetrical Pixie Cut
Asymmetry always stretches out your face, especially if you don't add bangs. With or without volume, asymmetric pixies are suitable for all forms of persons but especially round and pear-shaped. The haircut is more suitable for women with thick hair. The larger the difference in the length of the strands on both sides, the more rejuvenating the pixie. And the «irregularity» of the haircut gives her rebellious charm.
Source: @stepheronipepperoni
38. Androgynous Haircut
The haircut is both pixie and adhesive, not everything works, but it is capable of radically changing the image of any woman who decides on such a punk-grunge variant. It looks good on oval and heart-shaped persons with wide foreheads, shaved temples + raised center stretch out the face.
Source: @stepheronipepperoni
39. Pixie haircut with long bangs
The haircut is ideal for thin andor thinning hair in both short and straight variants of pixie highlighting the lack of strands on the head. Here, with the help of means of laying and fixing, it is possible to create for a long time a voluminous, fashionable, and daring laying.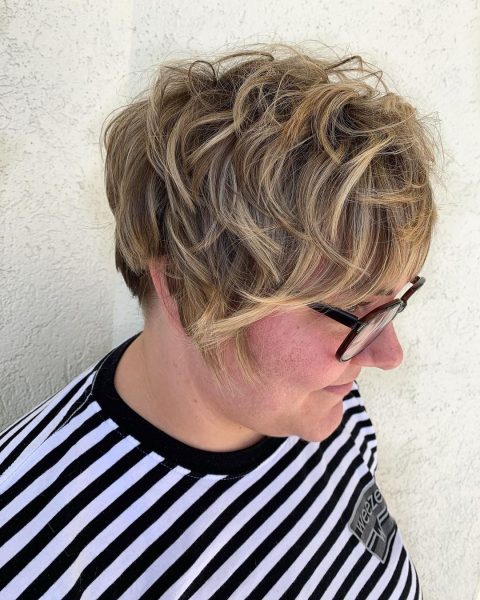 Source: @alyssah_doeshair
40. Tapered Pixie Haircut
A weighted pixie creates a large volume on the back of the head and thus visually lengthens the face. It's like the cheekbones are getting taller and the waist is tightening, and that makes the big face look smaller. This haircut has the perfect shape on straight hair.
This species of pixie is closest to the classics, that is, the haircut of the Twiggy model. You can also grow a slash bang down to the eyebrow line to narrow your face even further and focus on your hair.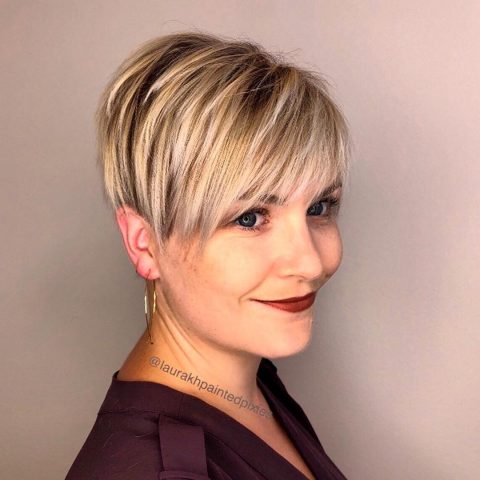 Source: @lkhair_chicago
41. Silver Pixie Haircut
A trend in gray hair allows an old lady with a noble gray to show it to the world, not hide it. Especially the creative youth pixie combined with silver hair forms a memorable mix. Paris chic, no different. Such a haircut and color does not limit the choice of accessories, clothes and makeup, and is suitable for all colors.
The option on the photo is short topped, and unlike most pixies, it should not be voluminous and disheveled. This haircut does not disturb the proportion and allows you to admire the natural beauty of your face. That's probably why celebrities and models love her so much.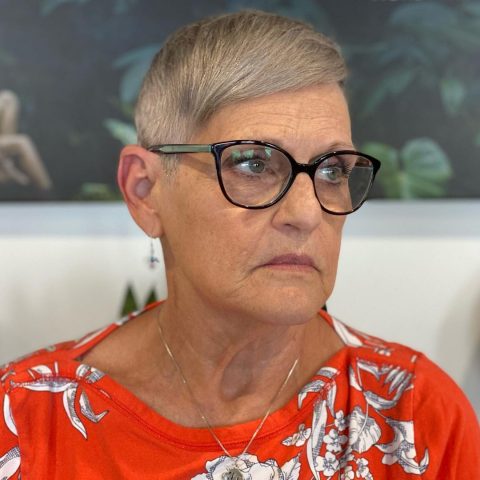 Source: @zen_hair_designs
42. Simple Blunt Cut
The classic medium-length straight square with bangs-curtain goes to all types of figures and shapes of faces, but best looks on oval, diamond-shaped, and heart-shaped. The long face should choose a bob with diagonal and elongated strands. Women with short necks are better off not taking risks and choosing a haircut that opens them, like a pixie or a bob with a shaved neck.
Source: @marinapett.hair
43. Swing Bob Haircut
A creative haircut suits a slender tall woman. The shorter the neck, the less a swing bob fits. There are no restrictions on the structure and thickness of the hair, the main condition being the smoothness of the strands. The haircut stretches out round faces, hides cheeks, but is hard to keep volume.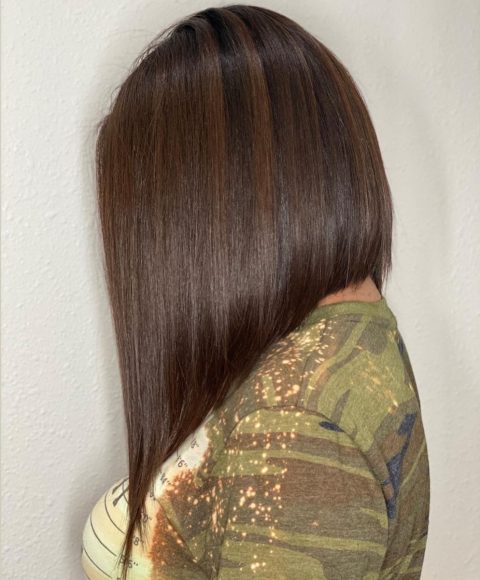 Source: @hairpin_me_down85
44. French Bob Haircut
The Paris charm hair looks natural and casual. But unlike a classic bob, it does not require a neat and symmetrical cut. It also means that individual strands are longer or shorter than the rest of the hair. A filled bang or a bang-curtain accentuates the eyes, shortens the elongated face, and gives the French bob even more charm. Really, if the nose is massive, it's better to have this haircut without bangs.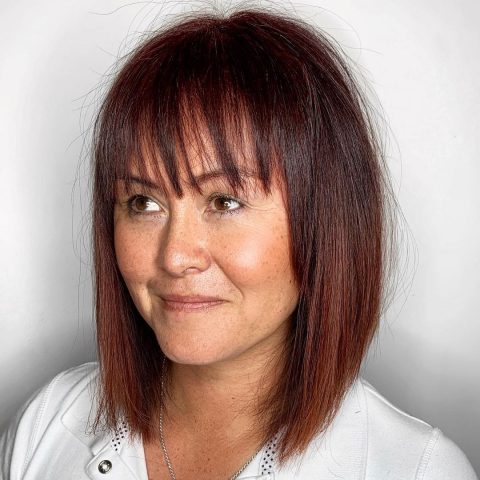 Source: @bekindhair
45. Slant Bob Haircut
The classic A-silhouette bob with long forelimbs is ideal for thin hair because it opens up a large field for experimentation: you can easily and quickly create a volume of stylings, pliers, iron. It looks beautiful with both wavy and straight strands. No face or figure doesn't fit this classic version of a bob, but a woman with a long face would do well to add bangs.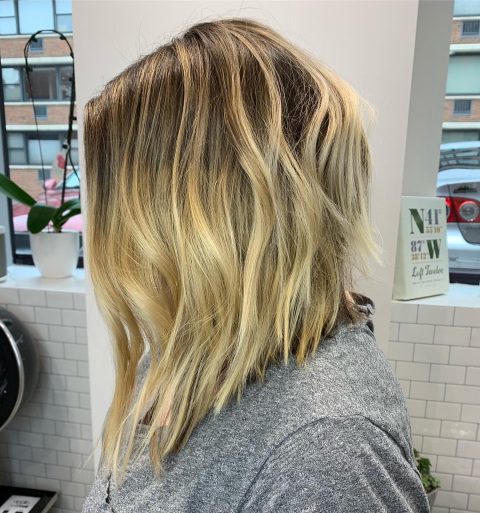 Source: @lkhair_chicago
46. Short Reverse Bob Haircut
A creative bob with a large contrast between the hair length of the posterior and frontal parts of the head lengthens the neck and extends the oval. It is suitable for round and pear faces, and for the long ones it is better to add bangs. You can style such a bob simply it is important to update the contours of the haircut once in 1-2 months.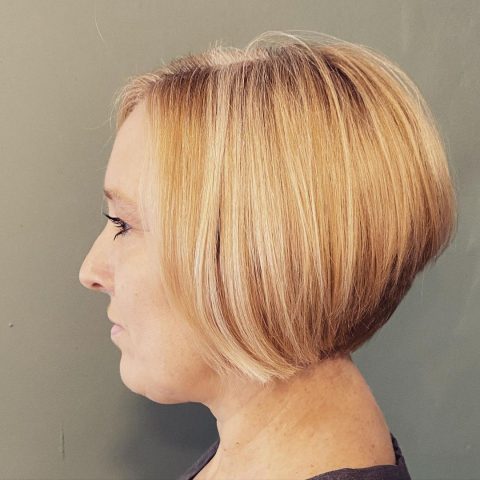 Source: @stepheronipepperoni
47. Short Bob Haircut With Shaved Nape
A bob with pronounced A-silhouette and diagonal sculptures the face and distracts attention from age-related oval changes, and a shaved neck + thick cap creates a creative version of the bob cut. It looks better on straight thick hair — on thin, without styling there will not be a large-cap on the back of the head, and curly ones will have to straighten. The haircut looks expensive, elegant and presentable, but needs constant updating.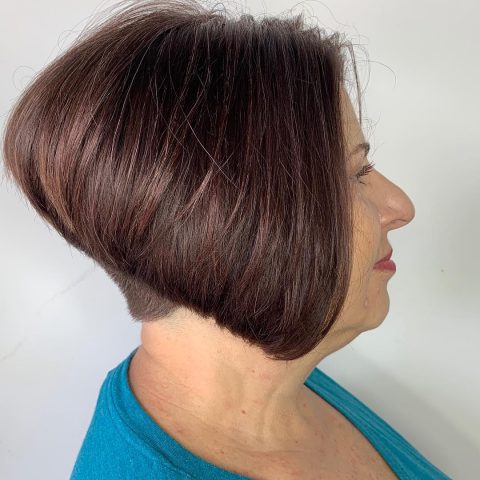 Source: @bekindhair
48. Rounded Bob
The haircut lengthens the neck, smoothes the corners of the rectangular or square face, visually stretches and hides the cheeks. It does not require constant updating and does not look unconventional. It looks better on straight or slightly wavy hair, straightened by iron or a brushing.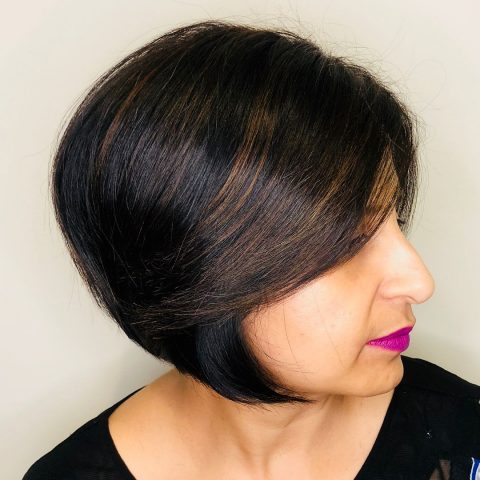 Source: @zen_hair_designs
49. Ruffled Short Cut
An ultra-short version of a cascade with a bang is well balanced with long faces with thin features. The long strands on the sides lengthen even further, and this variant of a haircut into short hair visually makes the face oval. It is not suitable for thick women. In this case, it is worth choosing between the options of a bob or pixie.
By the way, you should always have a texture spray at home with that hair. It allows you to easily fit a short haircut.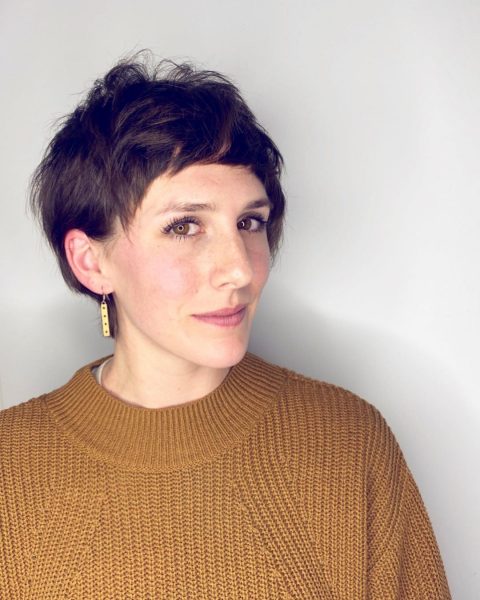 Source: @marinapett.hair
50. Naturally Curly
A playful, romantic, and feminine setting suits everyone, regardless of the type of face, figure, and age. A woman after 50 years of age will seem to be younger and fresher with it. Curls hide wrinkles, cheeks, splashes, set a special tone and mood of the image. And you can also hide poor dyeing or damaged hair structure rather than cutting. It's better to please yourself and the surrounding feminine hair for a while.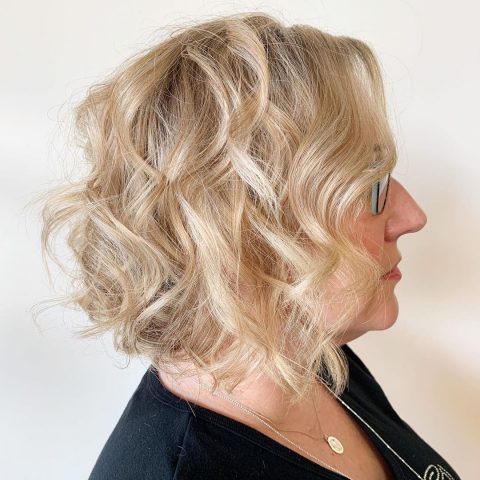 Source: @bekindhair