A lotus tattoo is a symbol of purity, a unique soul, and a humans' desire to improve themselves.
This skin print will be optimal for those people who seek new spiritual paths and want to understand the meaning of life, what is harmony with the universe, inner peace in the soul, and peace in mind. The tattoo can vary in color, which can have many meanings and be a symbol of different things.
1. Mandala Lotus Flower Tattoo
Best mandala lotus tattoos are very popular due to their subtlety and their deep symbolism. So it can be drawn on any part of your body. Such a tattoo is the symbol of a department store that protects the tattoo holder, helps him in finding the right way of life, and protects him from wrong decisions. The mandala image is a graceful pattern with repeating fragments that resemble a lace pattern. That's why it is women who most often get this type of tattoo.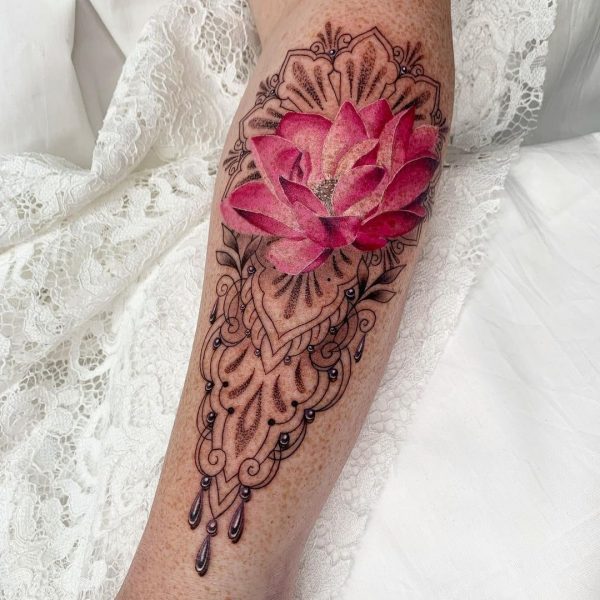 Source: @sarahthirteentattoo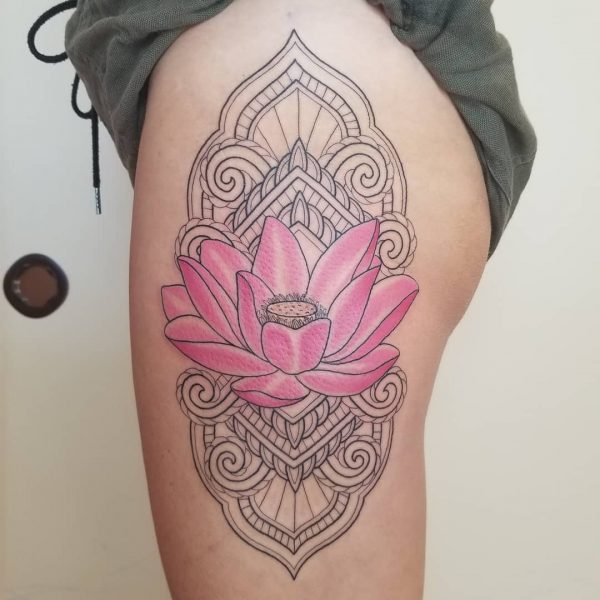 Source: @haillymartintattoos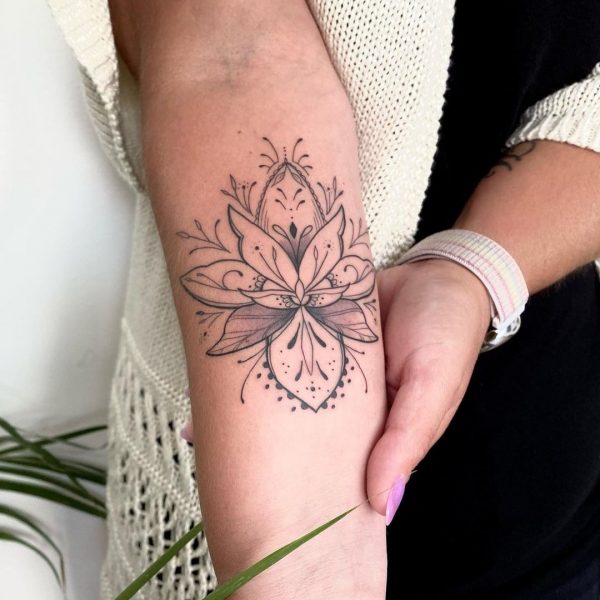 Source: @needlejuice28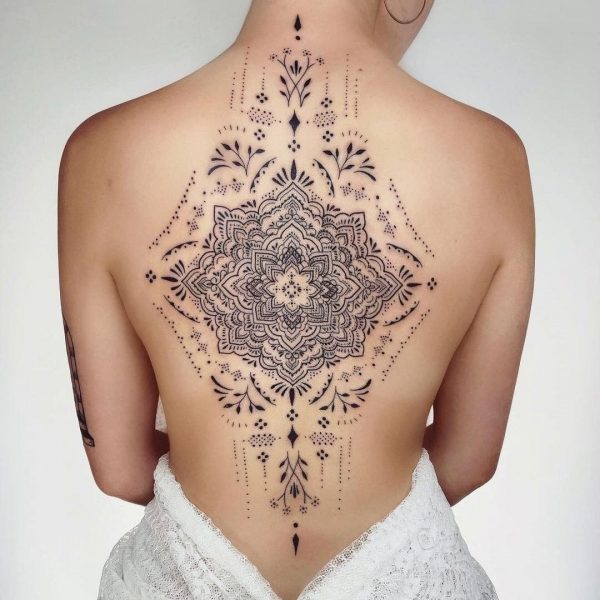 Source: @tattoo4ladies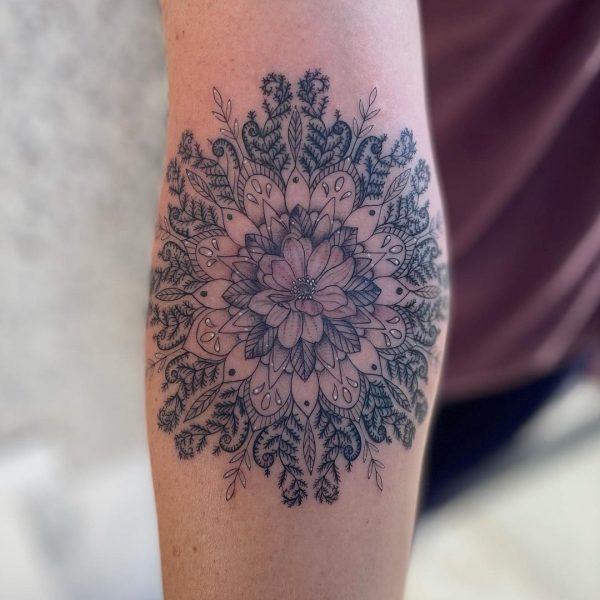 Source: @sirens.ink_tattoo
2. Simple Lotus Flower Tattoo photos
In the art, one flower is pictured, which is often applied on the areas between shoulder blades, on the forearm, or the lower back. It's a symbol of its owner's ability to overcome obstacles to the goal. It also symbolizes the pursuit of excellence.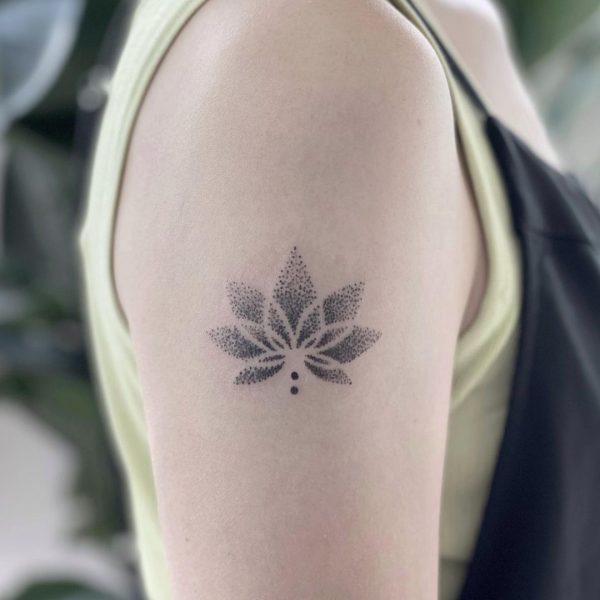 Source: @visual.tattoo.hk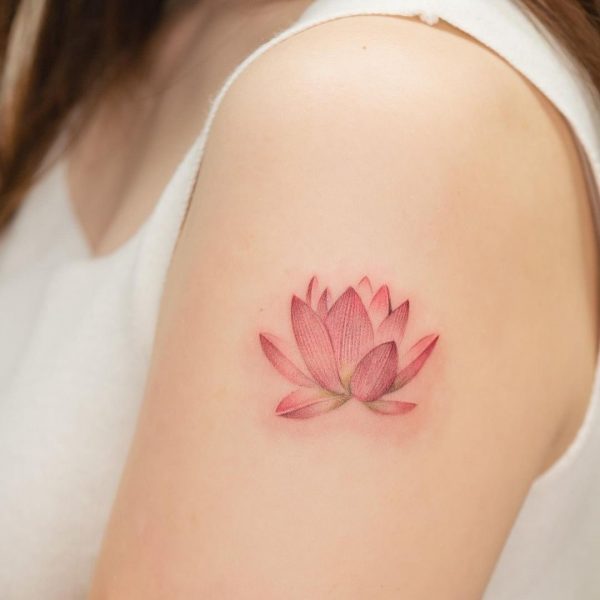 Source: @tattooer_woorin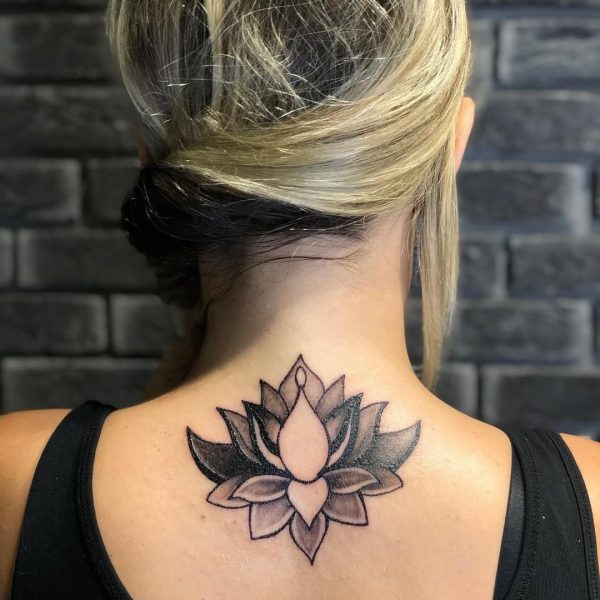 Source: @inkart07
3. Japanese Lotus Tattoo Ideas
According to Japanese belief, a lotus image is a symbol of love for life, a rebirth, or a unique vision of the world. This tattoo is very popular with both men and women. It is most often painted on the forearm or on the inside of the elbow.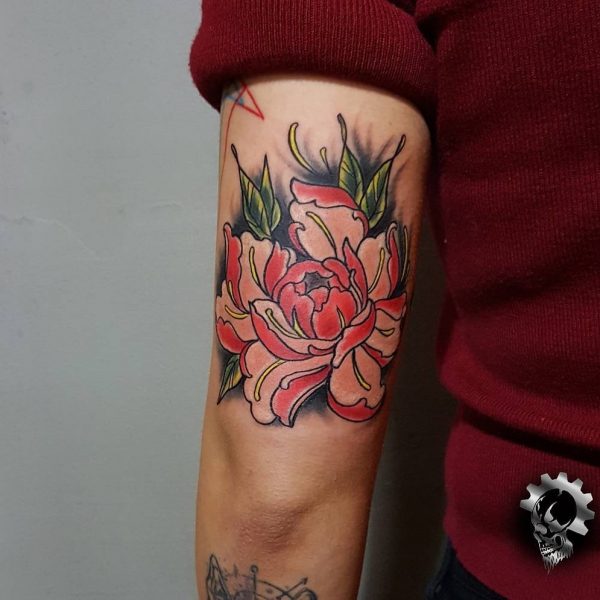 Source: @sonerkurak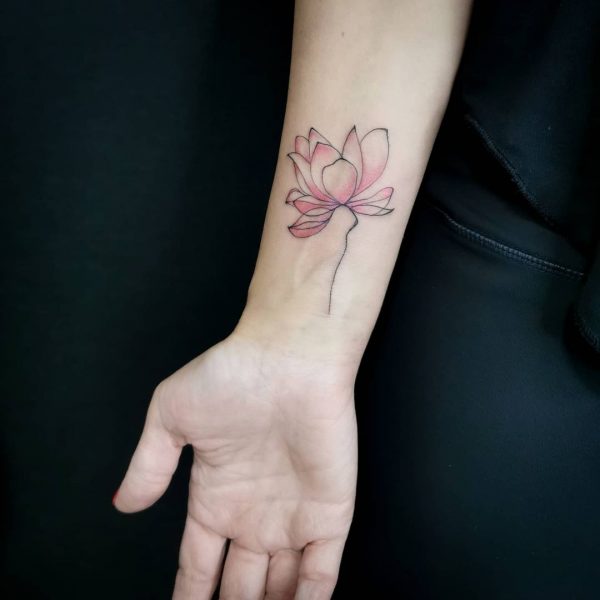 Source: @spic.tattoos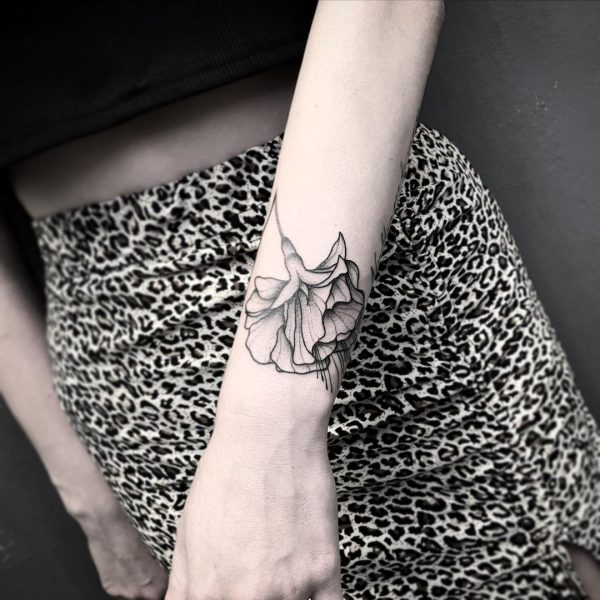 Source: @j_erre_tattoo
4. Back Lotus Flower Tattoo for Woman
The black and white lotus on the back is, first of all, the unity of opposites, the aspiration to the spiritual perfection of a man who has fallen into difficult circumstances of life. In the area between the shoulder blades on the woman's body, a semi-open lotus bud is a symbol of her chastity, womanhood, and softness, as well as a testament to her desire to make her life sincere. If you draw a flower closer to your neck, you show all the people around you that you have acquired spiritual protection as well as support for the universe.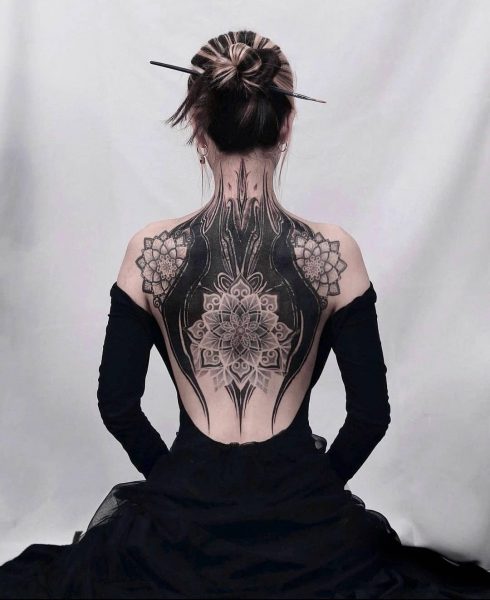 Source: @punktured_official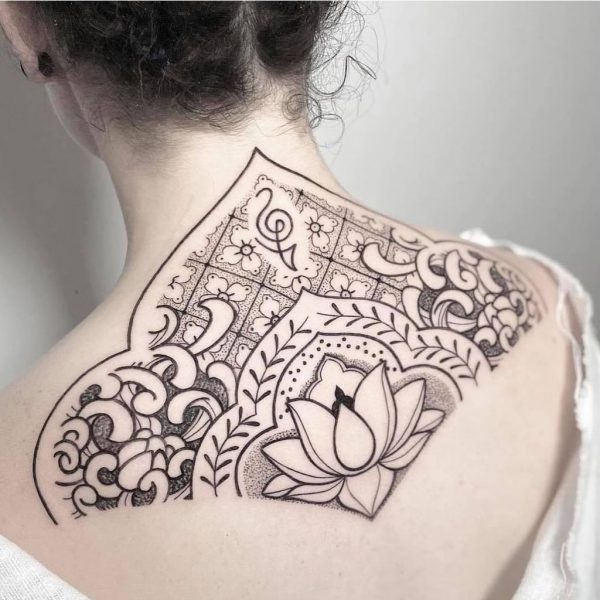 Source: @theasylum_tattooshop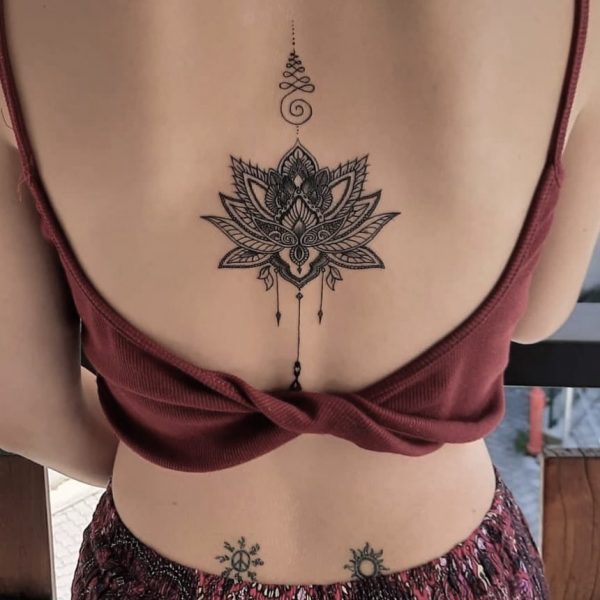 Source: @karashock_ink
5. Arm Lotus Flower Tattoo: meaning
The lotus tattoo on the hand is universal as it is found in both men and women. On this part of the body, the master draws it in blooming form, and also with fully developed petals. A floating lotus painted by you or the tattooer indicates the deeply religious nature of its host, as well as symbolizing the search for meaning in life and even some self-sufficiency and harmony with itself.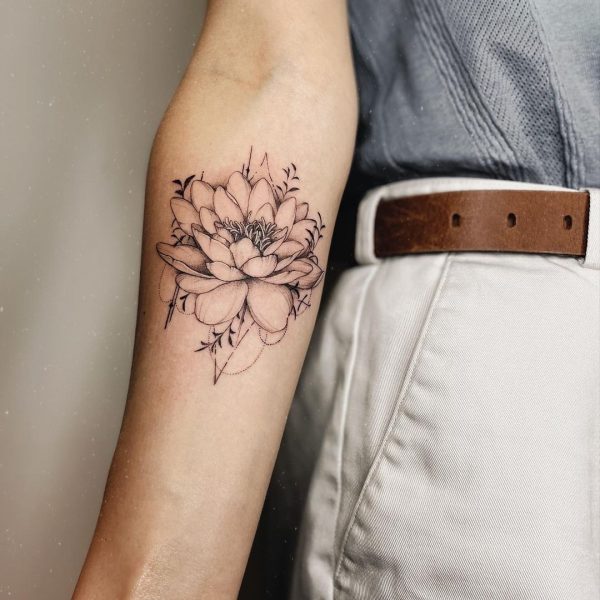 Source: @jimmygalan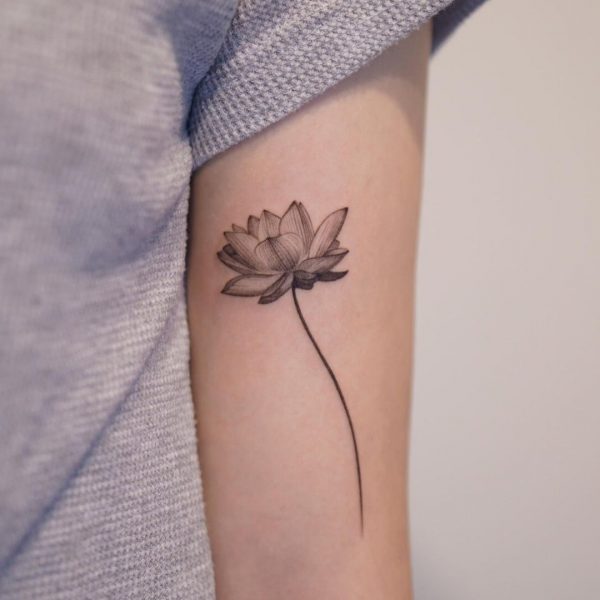 Source: @kkongji_tattoo
Source: @sarah_machen
6. Gorgeous Purple Lotus
The petals, that are painted purple, symbolize spirituality, which helps overcome the difficulties of life, temptations. The purple semi-open bud represents the continuous development and pursuit of perfection.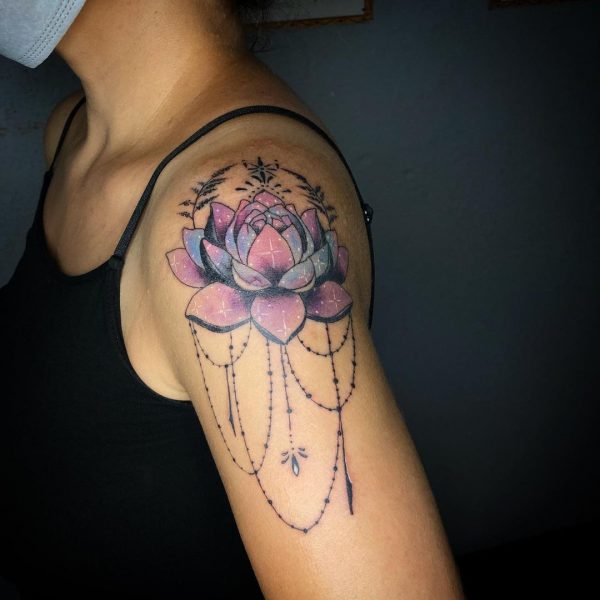 Source: @emredizici_grimmtattoo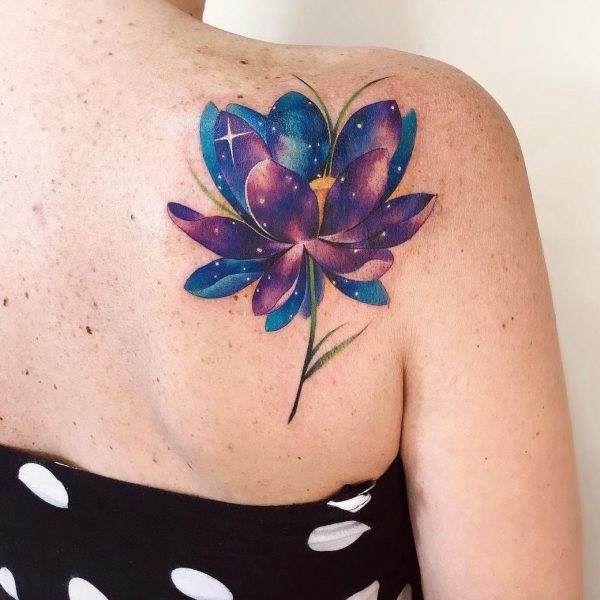 Source: @camillafrazao_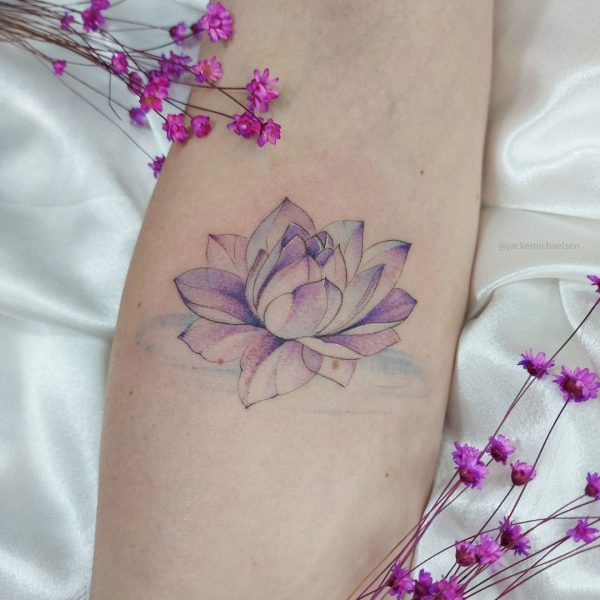 Source: @jackemichaelsen.tattoo
7. Pretty Small Lotus Tattoo
The small black tattoos express aesthetics and lotus symbolism, but they are not too vivid an accent on the body. Most often, tattooers advise their clients to paint these tattoos on the back of their neck, in the area of the solar plexus, or on the inside of their elbow.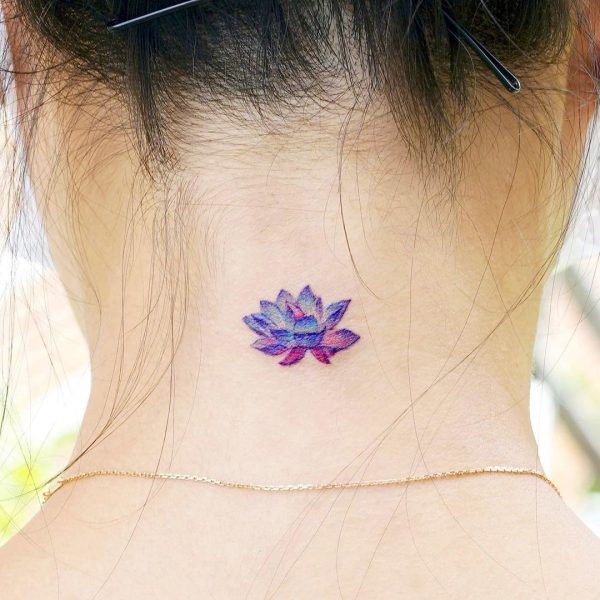 Source: @tilda_tattoo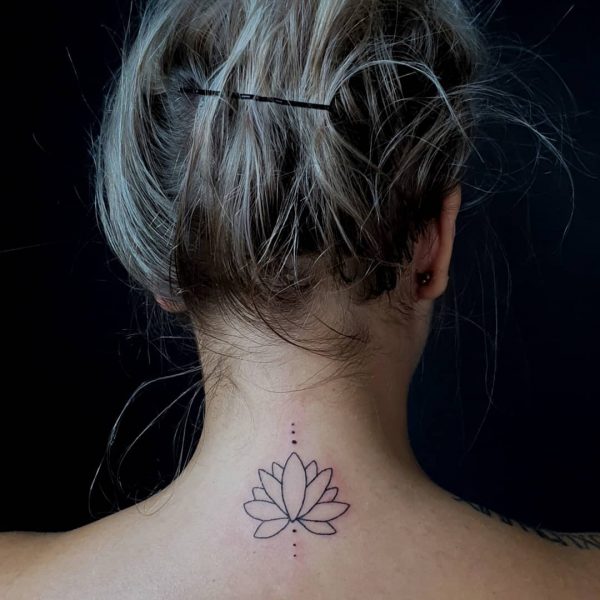 Source: @sense_ofspace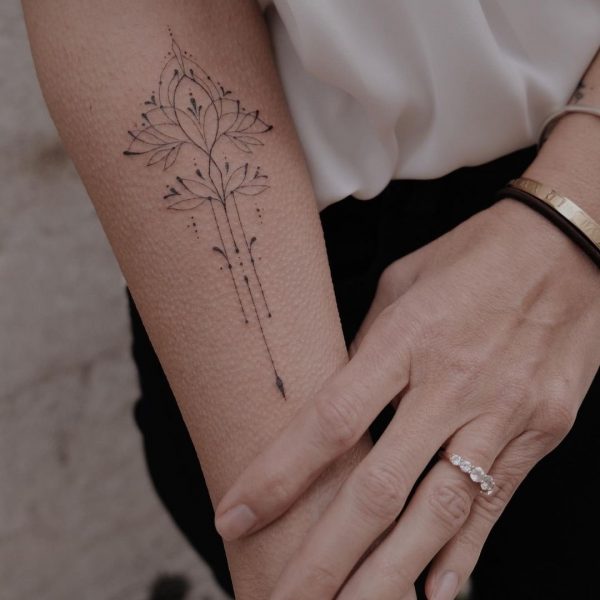 Source: @slavenavena
8.  Koi Fish Lotus Flower Tattoo for Man
Men often choose original eastern tattoos, such as the hand with the lotus and koi fish. The drawing may be monochromatic, but if it is in color, the bright contrasting shades are chosen, with red and orange prevailing. Aside from the hand, fish koi is often a drawing on the chest.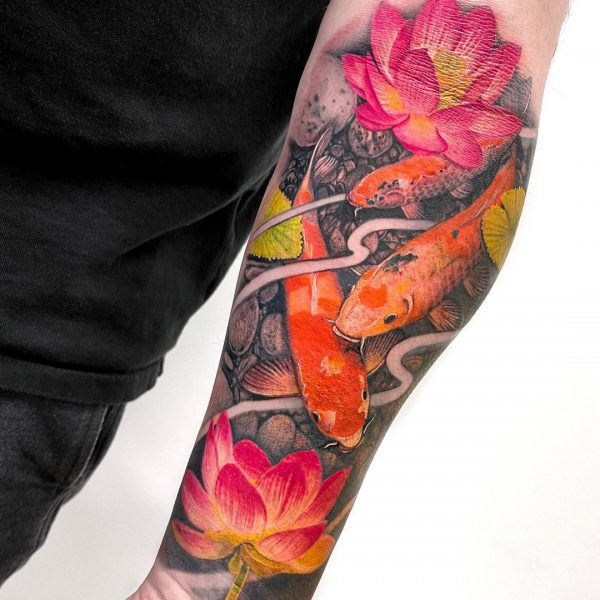 Source: @matthewtrantattoo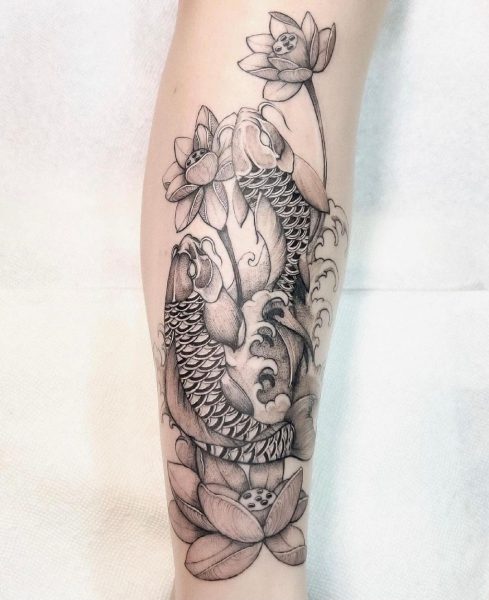 Source: @onitattoo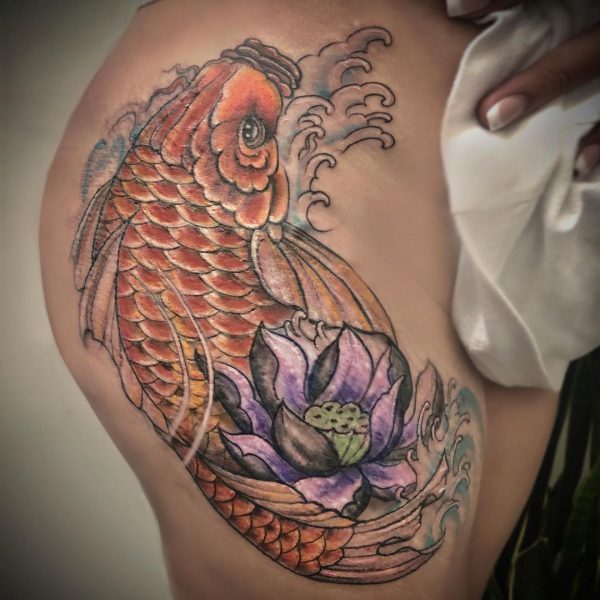 Source: @amynguyenart
Related: 95 Octopus Tattoo Ideas
9. Unalome Lotus Flower Tattoo
A lotus and unalome combination is very popular. Many women prefer such mysterious graphic designs, but men often choose this unique style. The popular location of unalome is the wrist. The hinges that go into the straight line are a great addition to this tattoo because it looks extremely elegant. Such a tattoo is a symbol of the desire for inner harmony through enlightenment, as well as a symbol of the path of the human soul from darkness to light.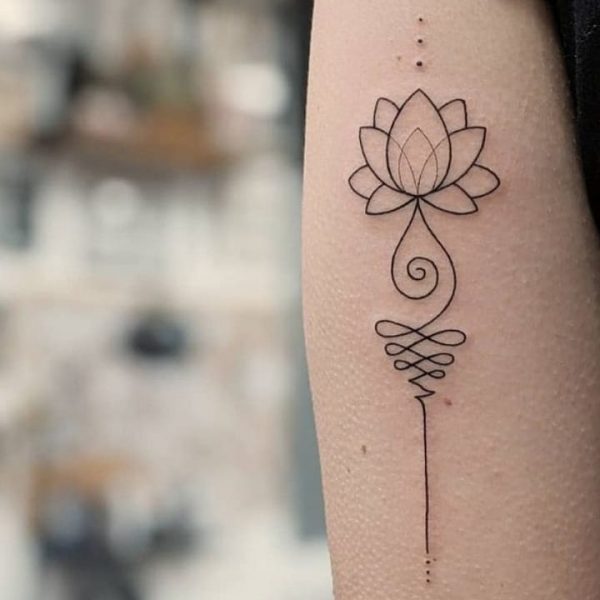 Source: @tattoo.girl.idea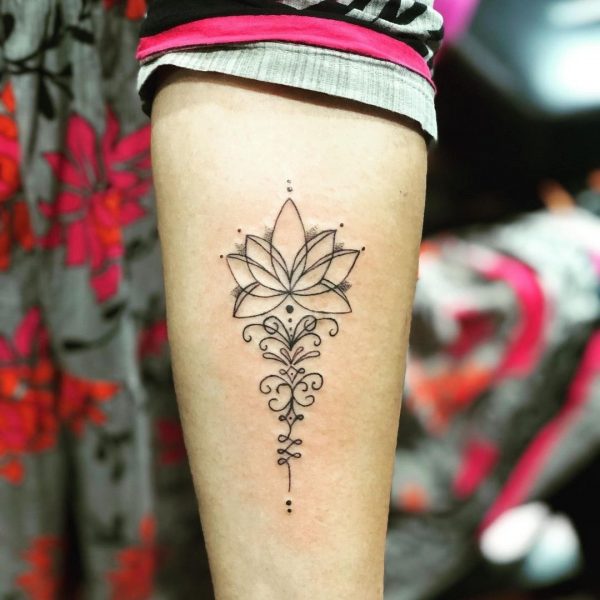 Source: @upbeat_ink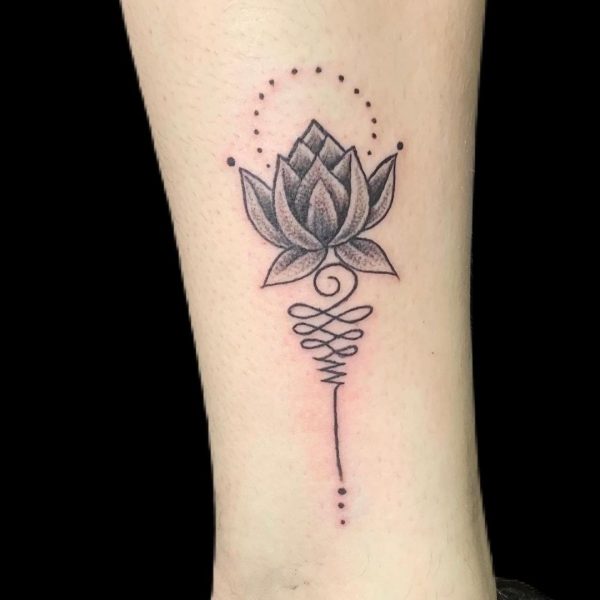 Source: @inkmonster_20
10. Trendy Watercolor Lotus
The lotus that is pictured in watercolor techniques, is a symbol of a person's emotionality, as well as his or her diverse interests and contradictory character. The predominance of red tones speaks of the passion and energy of the owner. White petals symbolize spiritual purity and Buddhism, and blue buds indicate human wisdom.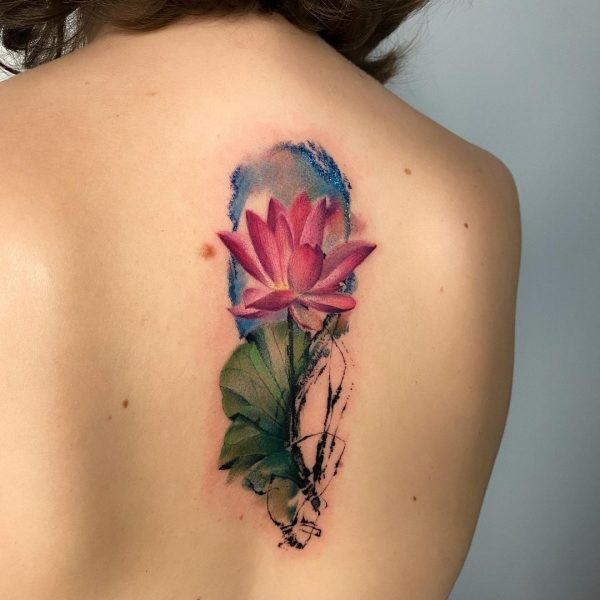 Source: @sammeantunes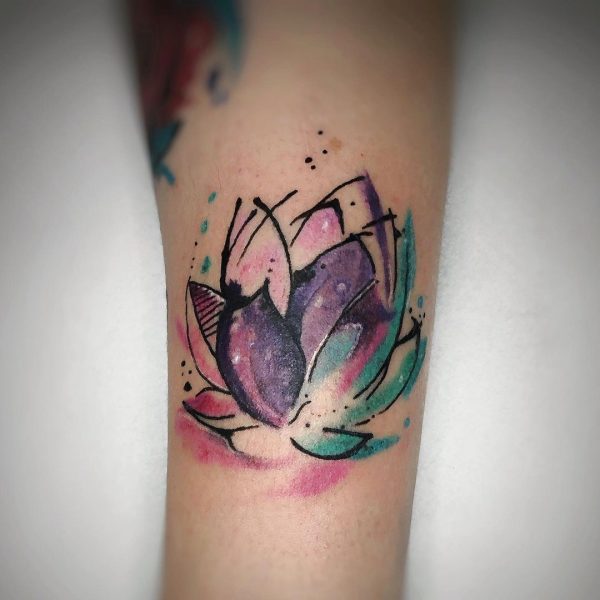 Source: @tattoostationbrasil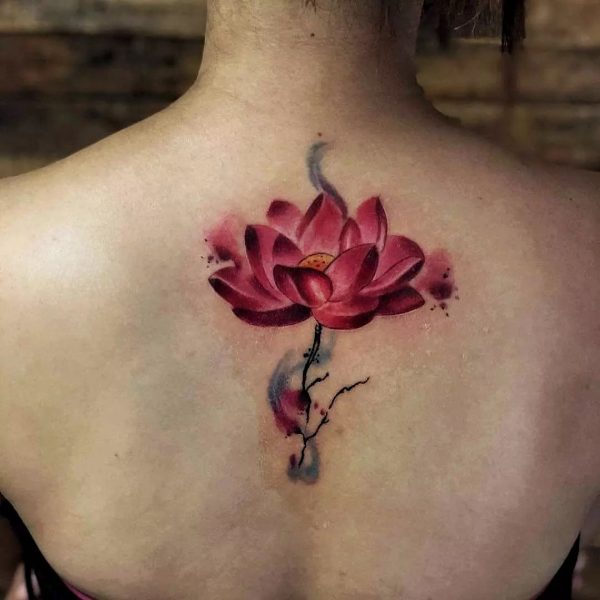 Source: @alexbleedtattoo
11. Outline Lotus
When a lotus tattoo is an image of a flower in the form of a thin line or several ones, it indicates a love of minimalism, although besides miniature designs rather bright variants with mandala and lace patterns are also popular. As additional elements, inscriptions are often added to the flower, the meaning of which is chosen individually and has a deep meaning.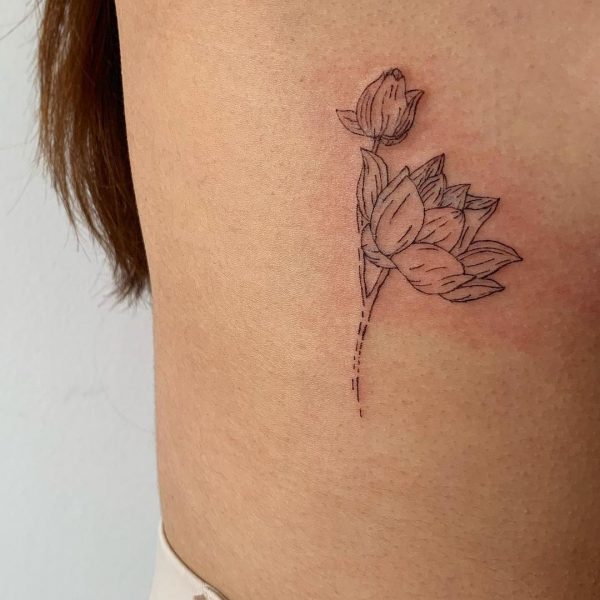 Source: @flameo_ink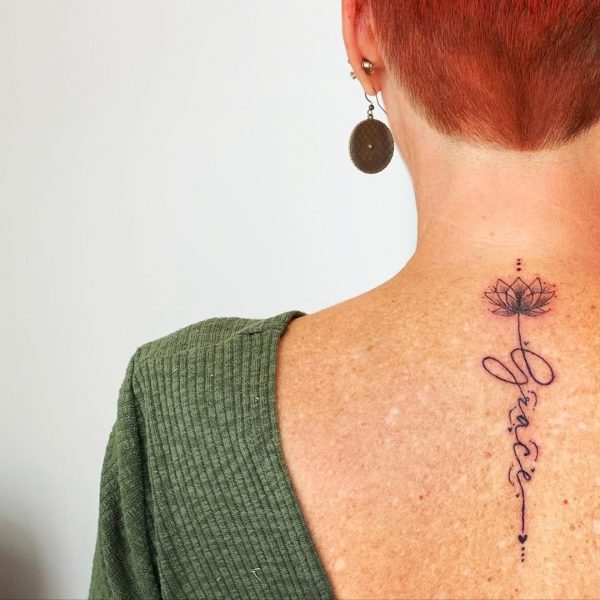 Source: @myflytat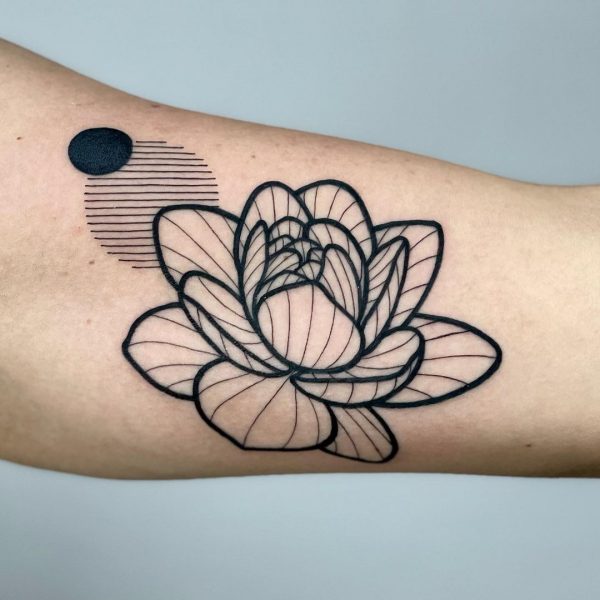 Source: @ianreynold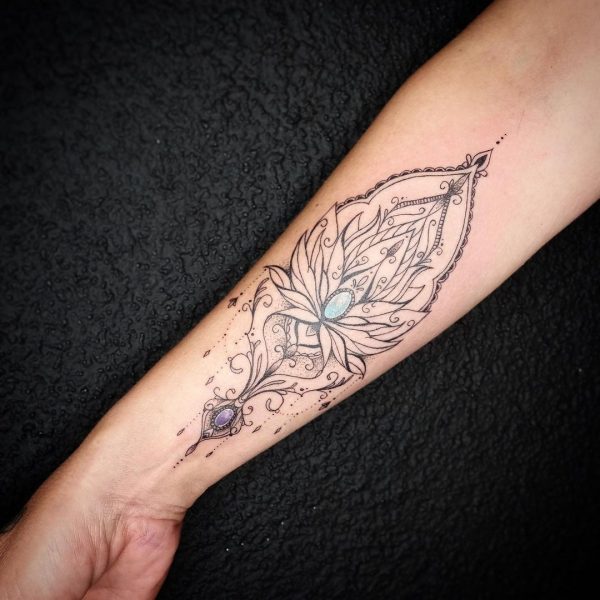 Source: @graphitandink
12. Buddhist Lotus Style
The Buddha lotus tattoo is a common choice of followers of Buddhism or Hinduism and other Oriental religious traditions, as well as this tattoo, is loved by those who are familiar with the concept of Enlightenment as the only way out of samsara. A drawing like this is a symbol that shows spirituality, detachment from worldly attachments, and that the tattoo holder has a teacher that he or she follows. Men prefer the most realistic designs and ask the tattoo artist to decorate their hands. Also popular is a Buddha in a lotus pond on the back or chest.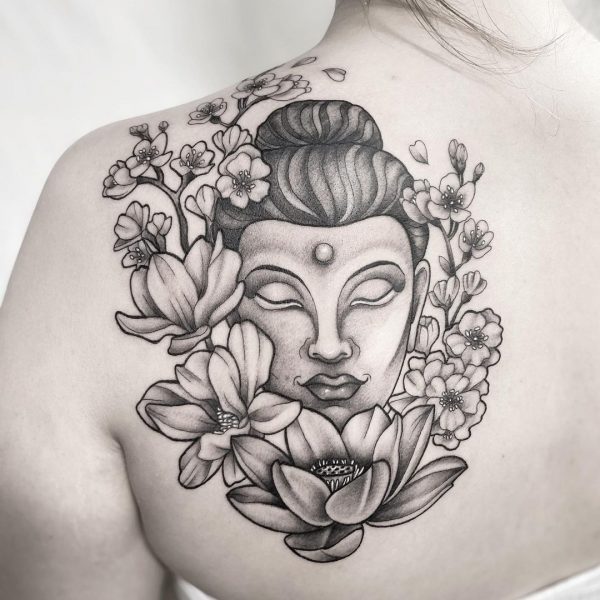 Source: @tess_divine_ink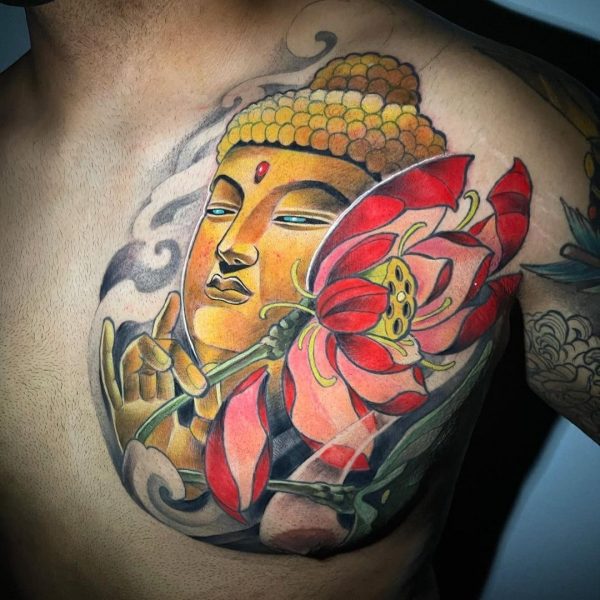 Source: @crisfuentesart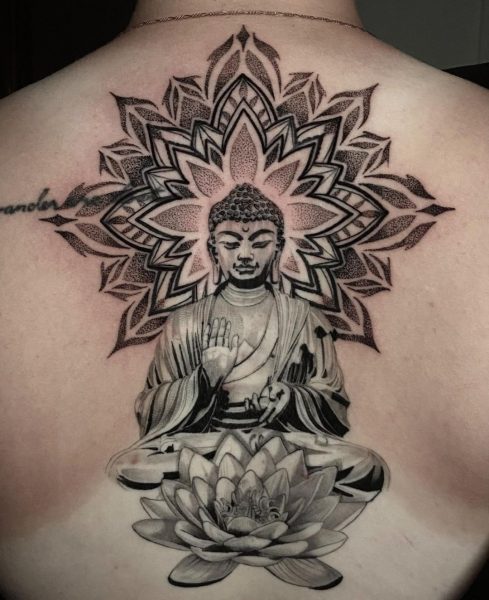 Source: @matthewgreskiewicz
13. Om Lotus Flower Tattoo
Any mantra in religious songs of Buddhism or Hinduism begins with the sound of Om. It represents the truth, the human aspiration for enlightenment, and his or her harmony with the universe. The common combination of Ohm and Lotus speaks of a holistic and harmonious personality, indicates the peace of mind within a person, and symbolizes his or her wisdom. The most common use of this tattoo is to decorate the upper neck to highlight the relationship of the tattoo holder to higher energy.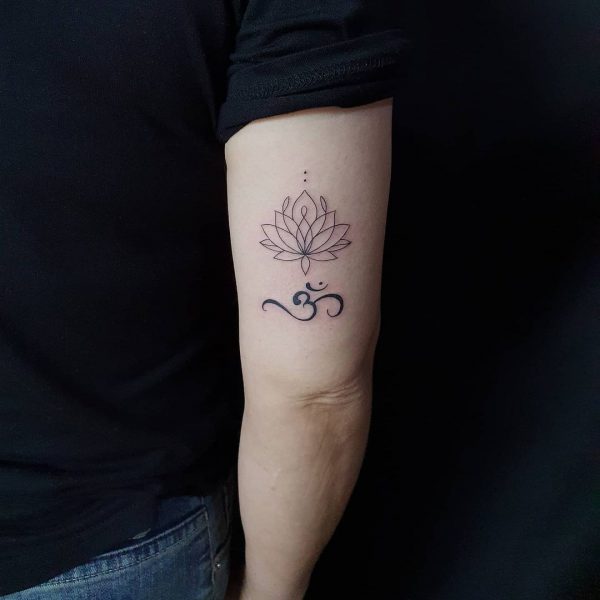 Source: @zerotattoo_fashion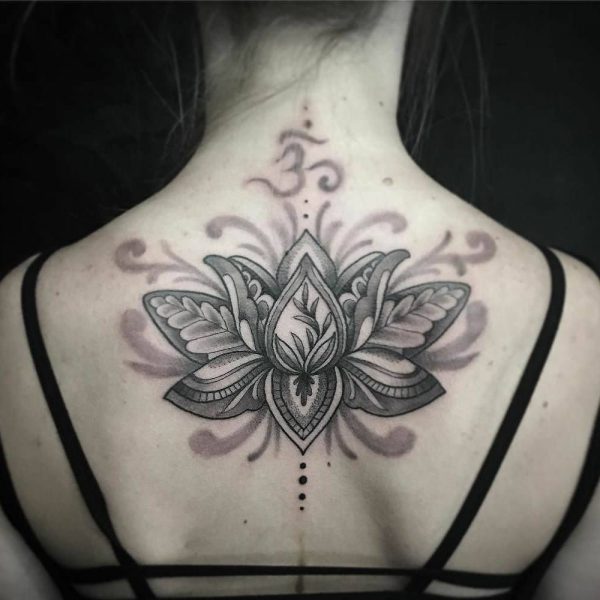 Source: @renotattooco
14. Lotus Blossom Tattoo
A lotus-blossoming tattoo is a symbol of a man's abundant inner-world love for life and his or her generosity. It also shows the cultural renaissance, the triumph of life over death, and the inner harmony of the chaos that surrounds it. Only in rare cases, tattooers use black and white to depict petals. This occurs when a flowering lotus has been drawn in the Dotwork style or supplemented with lace patterns and mandala. But mostly they're bright and colorful petals.
Source: @crossroads.tattoo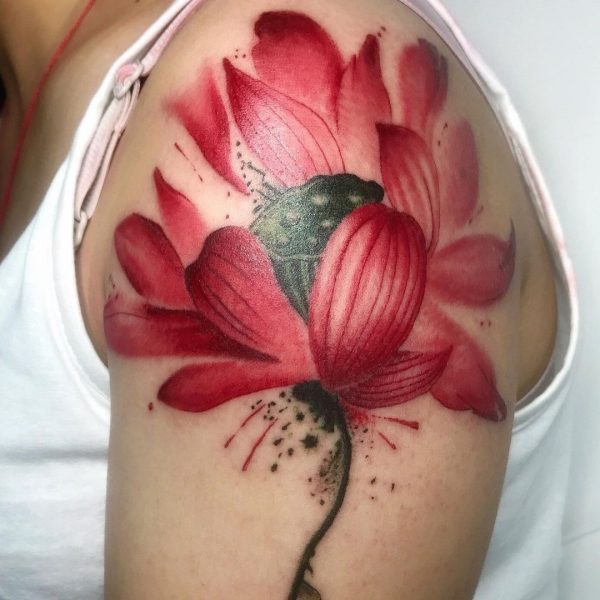 Source: @tbamyong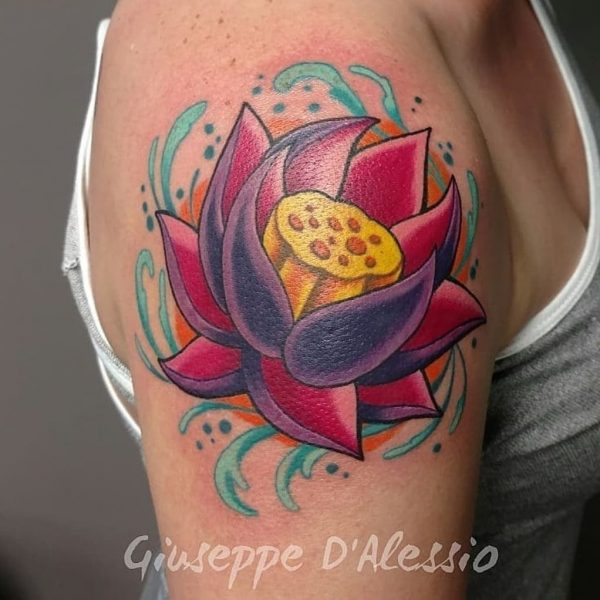 Source: @inkmonkeyvenice
15. Wrist Lotus Flower Tattoo
The lotus tattoo on your wrist is a symbol of your tenderness and womanhood. That's why women often choose this option. It is usually a small minimalist flower, which is often monochromic or colorful and bright like painting.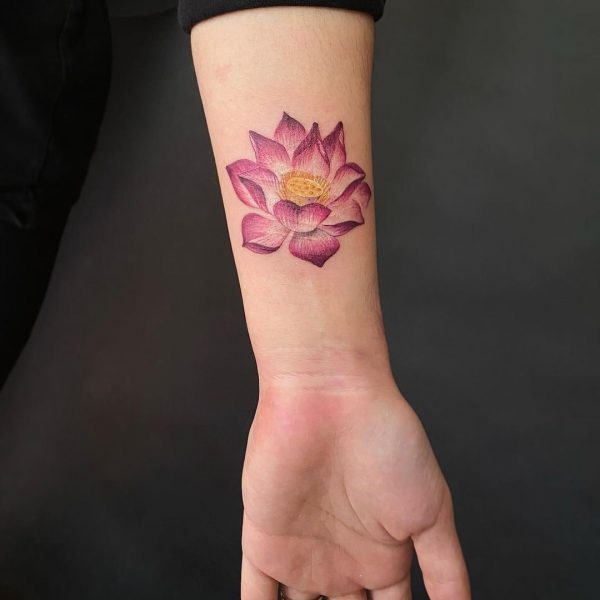 Source: @genevieve_tattoos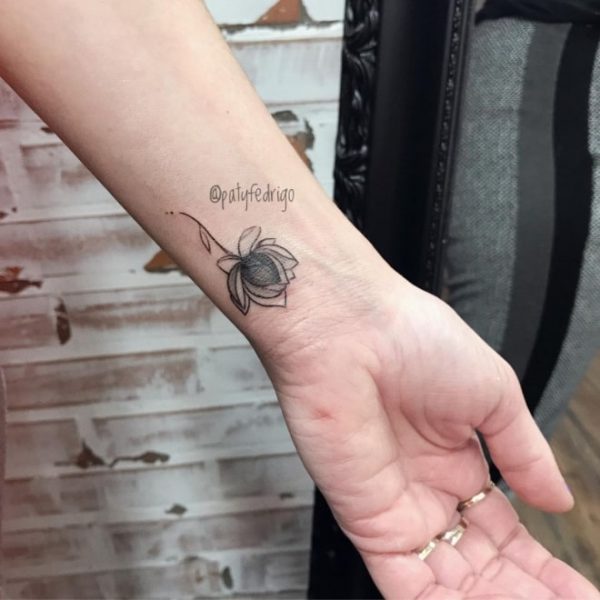 Source: @patyfedrigo
16. Incredible Shoulder Lotus Flower Tattoo
There is public opinion that the representation of a lotus on the left shoulder brings luck, family well-being, and prosperity to its owner. This is why women tend to choose this option. The flower that the tattoo artist drew on your right shoulder is a symbol of courage, of spiritual maturity, and of the wisdom of you, its owner. This option is often chosen by men.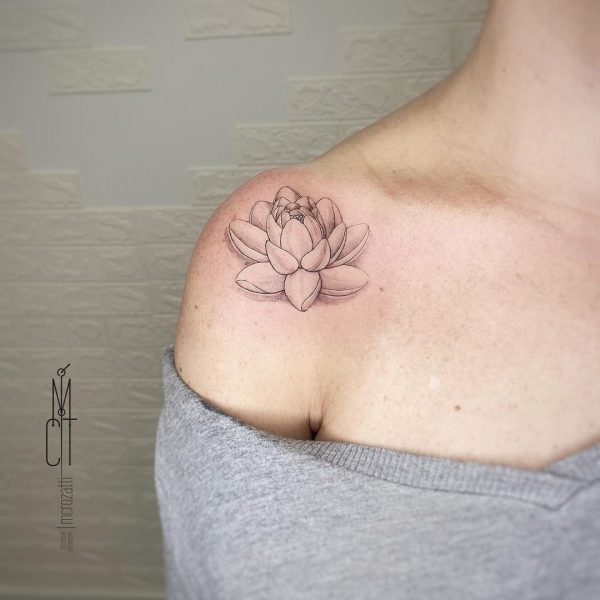 Source: @mcrozatti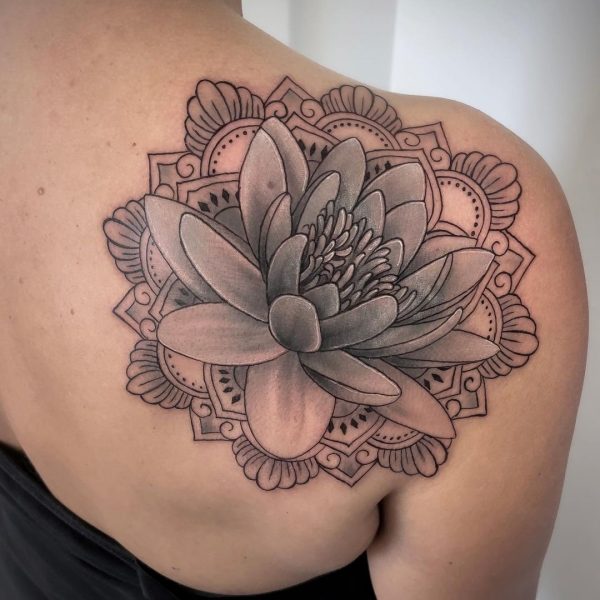 Source: @coretjonathan
17. Tribal Lotus Flower Tattoo for Men
The sharp-pointed Tribal patterns symbolize a person's commitment to his or her traditions, connection to lineage, and the desire to develop his or her inner potential. Combined with a lotus, such a tattoo tells the people around you to find harmony between your soul and your body. Most often, men prefer this sketch and draw it on the forearm, chest, and back.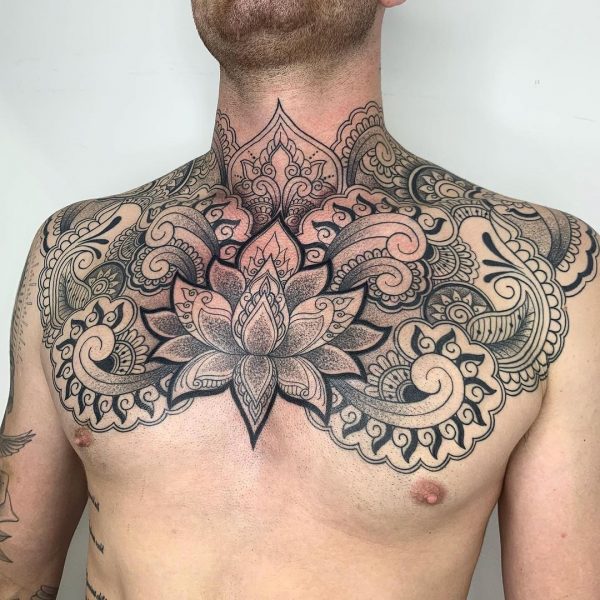 Source: @worldoftattoos
18. Red Lotus Tattoo
The red lotus of a flower tattoo in full bloom, it's a tradition. It indicates the vitality and filling of the person, embodies the love and compassion for the people around them. This tattoo is often referred to as a heart flower, and then they paint it on the back, hand, hip, or upper neck.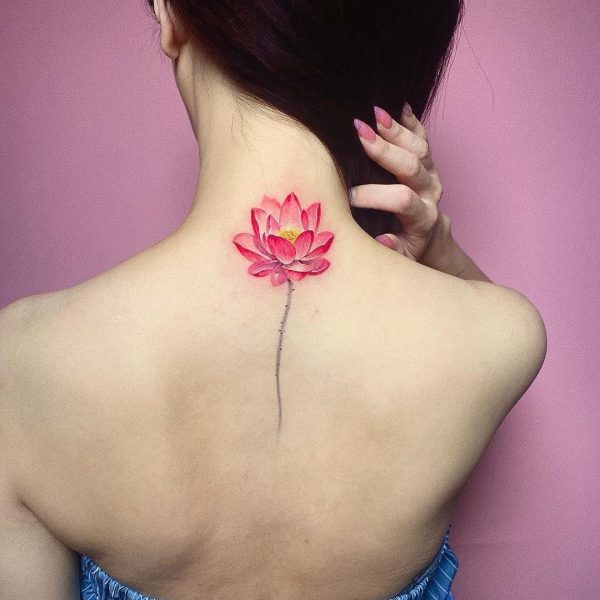 Source: @lucymytattoo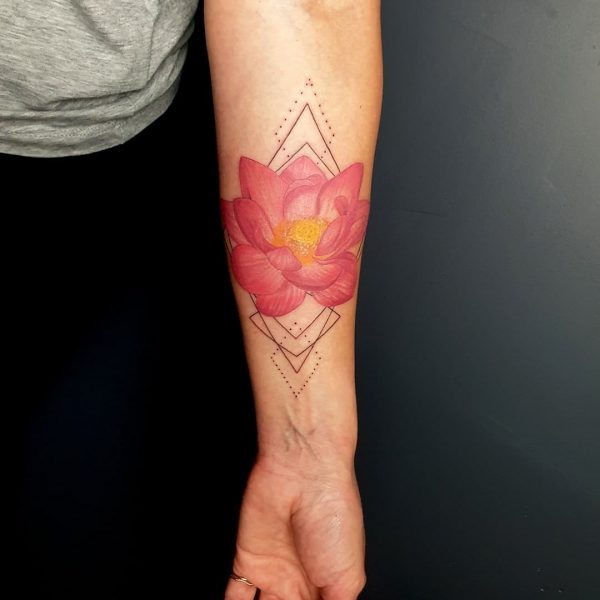 Source: @studio.furia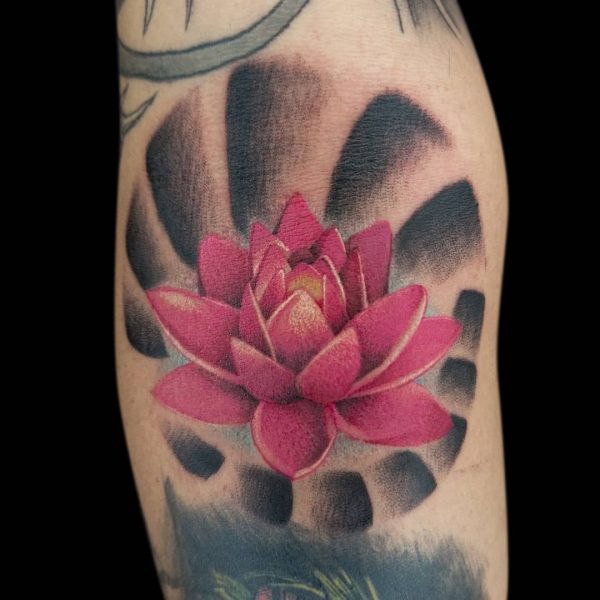 Source: @hollowtattoohouse
19. Colorful Lotus Flower Tattoo
Colorful lotus is very popular in aqua style. Such a tattoo has one bright color or several ones, and it is also very expressive and reminds everyone of a work of art. But you can only get a readable drawing if the tattoo artist uses high-quality expensive paint. Otherwise, the tattoo will look vague and unrealistic.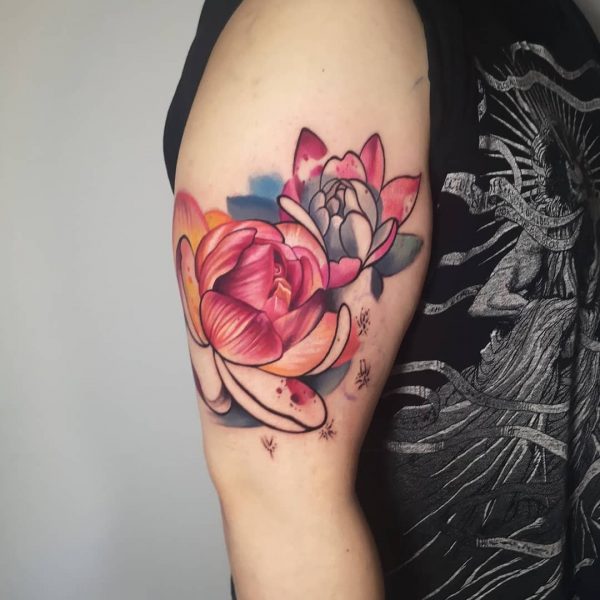 Source: @olivetats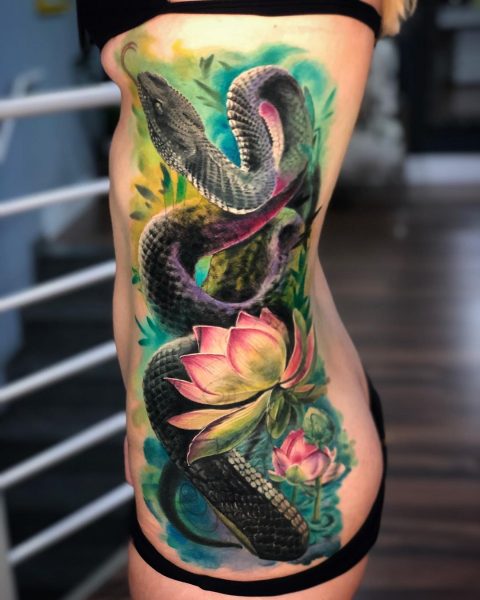 Source: @andretenoriotattoo
20. Black Lotus
Tattoo artists often apply a black lotus-like drawing to the skin in the style of Dotwork. This tattoo is a flower that has many dots and other small elements. Monochrome tones indicate that the tattoo holder has a moderate and highly balanced character.
Source: @ex_votist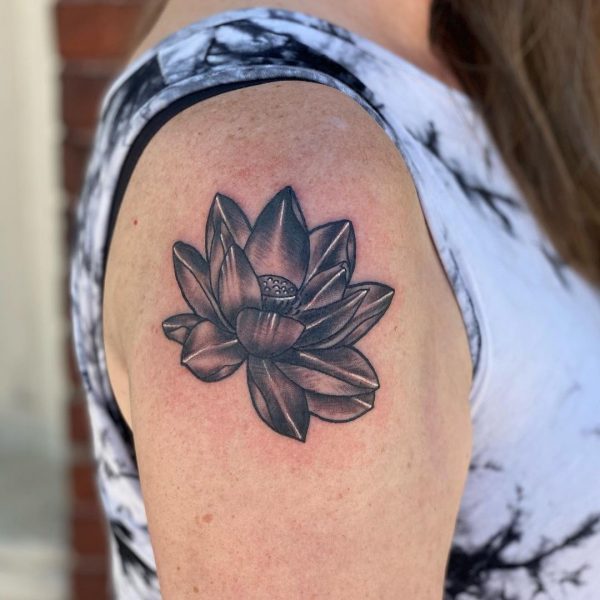 Source: @staysonyamind
21. Blue Lotus – symbolizes your spirituality
The blue lotus symbolizes your spirituality, your devotion to high ideals, and wisdom. Typically, tattoo artists depict these drawings in the form of semi-open flowers, which symbolize the continuous process of self-improvement of the owner. This tattoo can be associated with Buddhism or Eastern beliefs, but it can also be chosen regardless of a person's religion.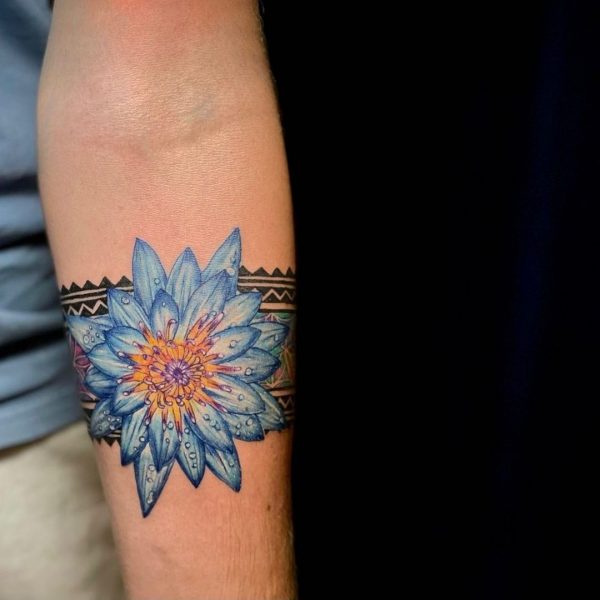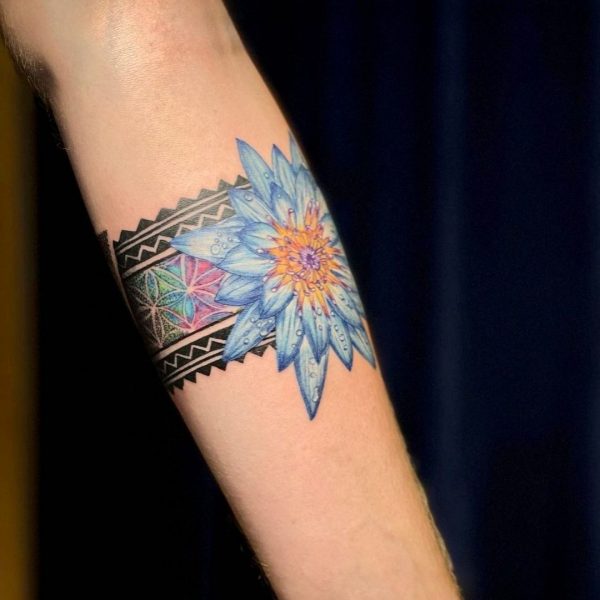 Source: @kota.808
22. White color Lotus Flower Tattoo
Often, tattoo artists use white ink to draw lotus on their client's skin as a symbol of respect for Buddhist deities. Moreover, in this religious tradition, they are called the Buddha flower. Moreover, white petals, if eight of them, are a symbol of enlightenment and a unique spiritual path.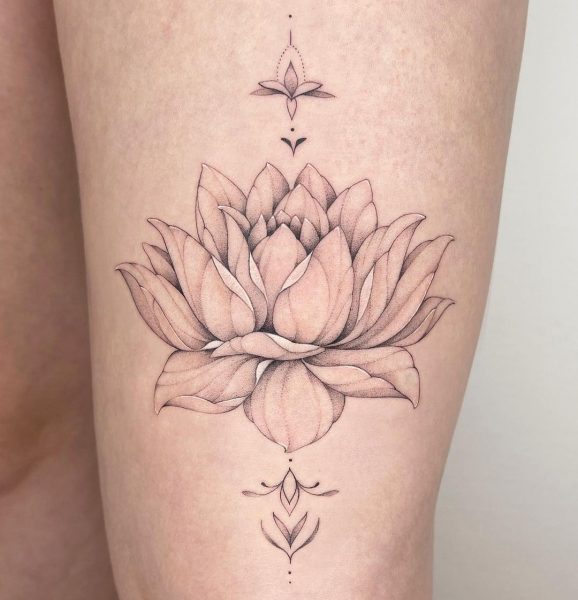 Source: @viktoria_tattoos
23. Half Sleeve Lotus Tattoo Design
A tattoo with flowers on half of the entire arm is suitable for a large and bold design, for example, if the client and the tattoo artist wanted to depict a lotus surrounded by water or unique patterns and symbols. Men very often choose realistic sketches. However, among women lotus with hamsa is popular.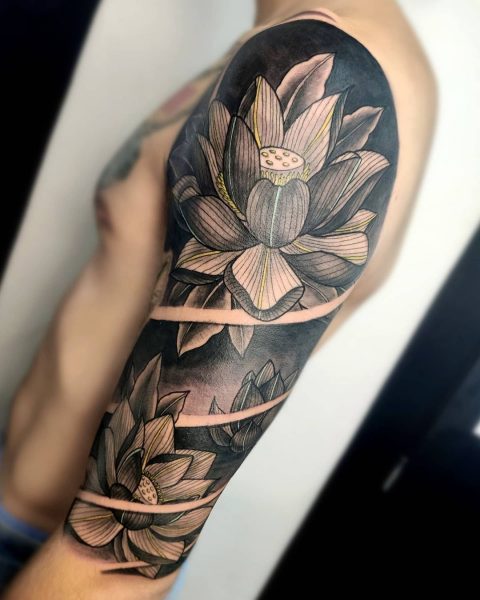 Source: @sol_retro
Source: @13wavestattoo
24. Sleeve Lotus Tattoo
You can see tattoos on a full sleeve very rarely in women, unlike cases with men who love this option very much. Tattooers often supplement this lotus drawing with various decorative components they take from Eastern culture. Colored petals on a monochrome background, as well as in combination with black and white waves of the river and clouds, look beautiful.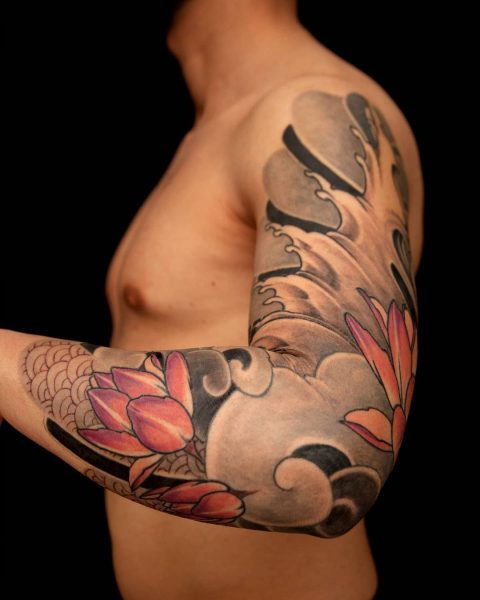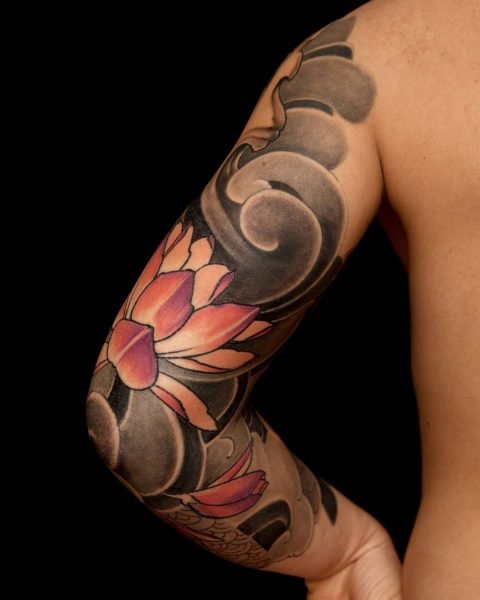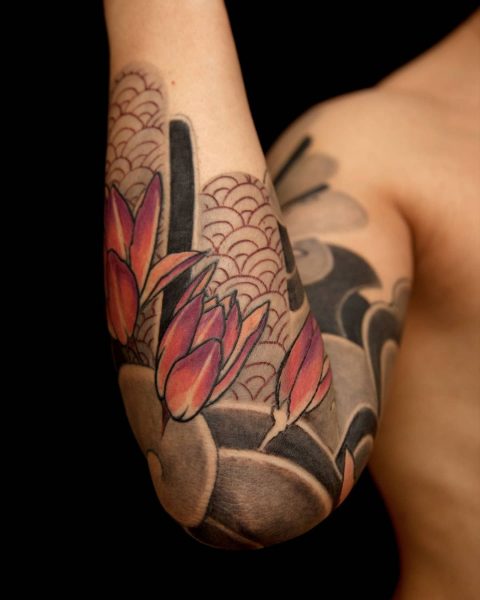 Source: @francescocintipiredda
25. fabulous Neck Lotus Flower Tattoo
The lotus tattoo on a woman's neck is a symbol of her rich inner world and her desire for creativity. Women prefer to draw it in the upper part of their neck, as well as near the neck base side, near the shoulder blades or shoulders. The image of this flower in a man symbolizes his wisdom or desire to discover his inner potential.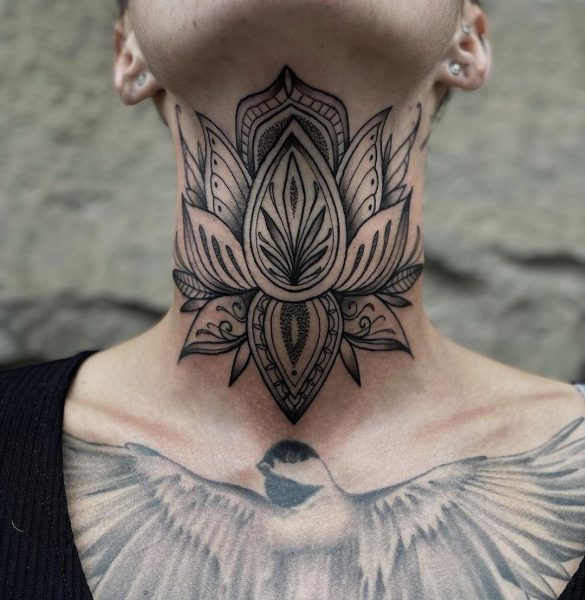 Source: @animadetattoo
26. Pink Tattoo
Many people believe that the lotus flower that is painted on the hand helps its owner to act correctly in this world, to keep the purity of thoughts, and to resist temptations and vices. This tattoo is often both colored and monotonous. Every shade in this detail has a unique meaning.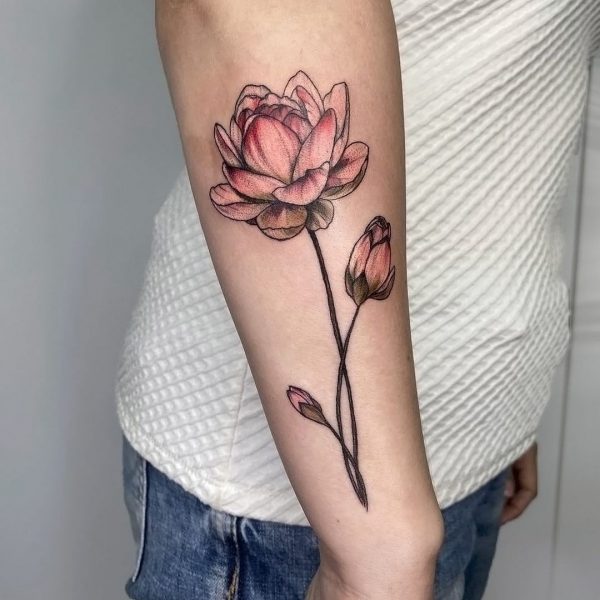 Source: @van_gogh_tattoo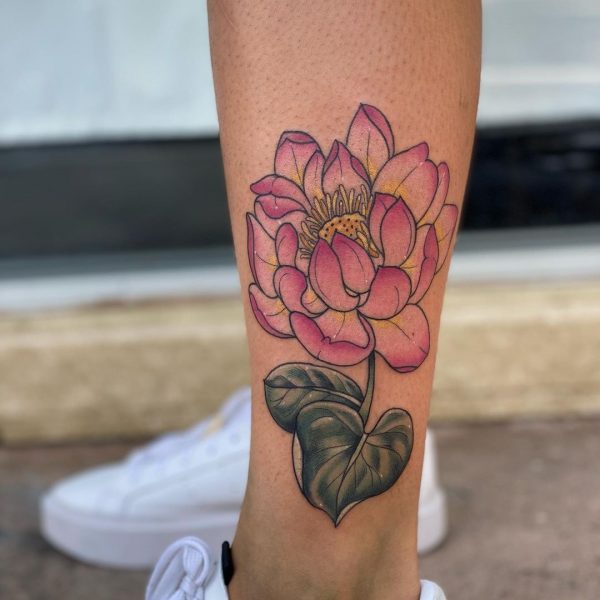 Source: @reid_elizabeth_tattoo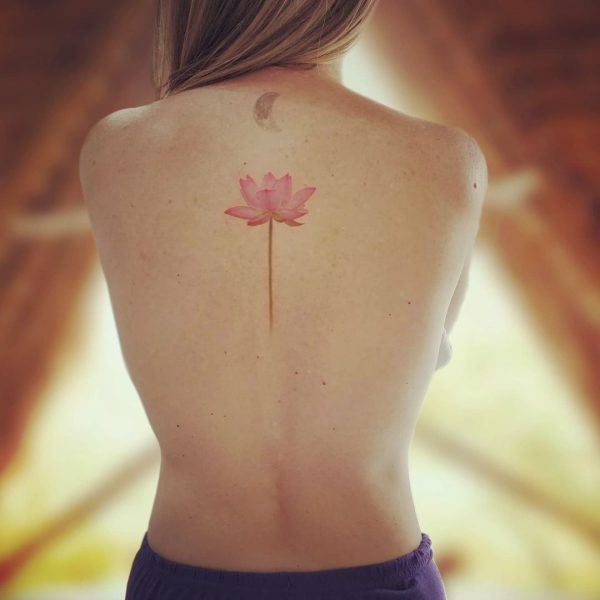 Source: @dalmar.paratela
27. Minimalist Lotus Flower Express Tattoo
Tiny lotuses are popular among young women. Tattoo artists like to depict these little ornaments on their clients' necks, as well as on their shoulders, wrists, or in the tibia. Execution styles are very different, but more often it is Dotwork, which is ideal for minimalist tattoos.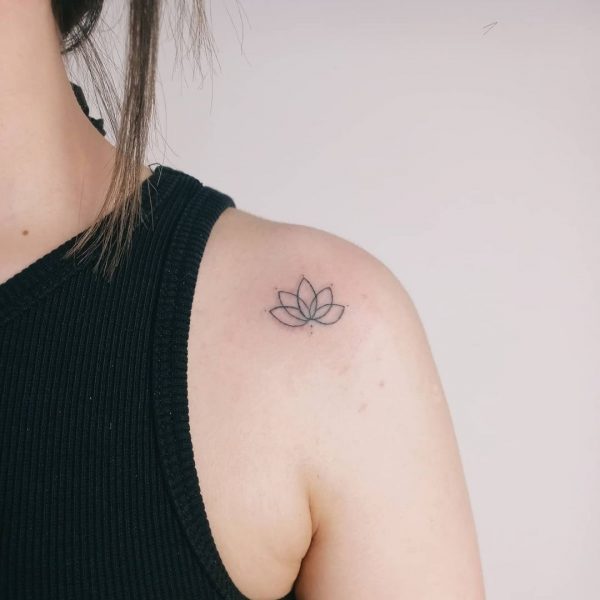 Source: @gulsumalacalitattoo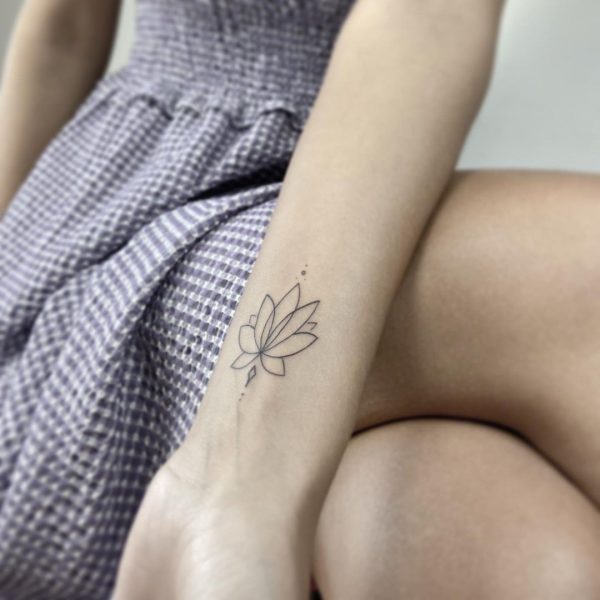 Source: @buraktattooart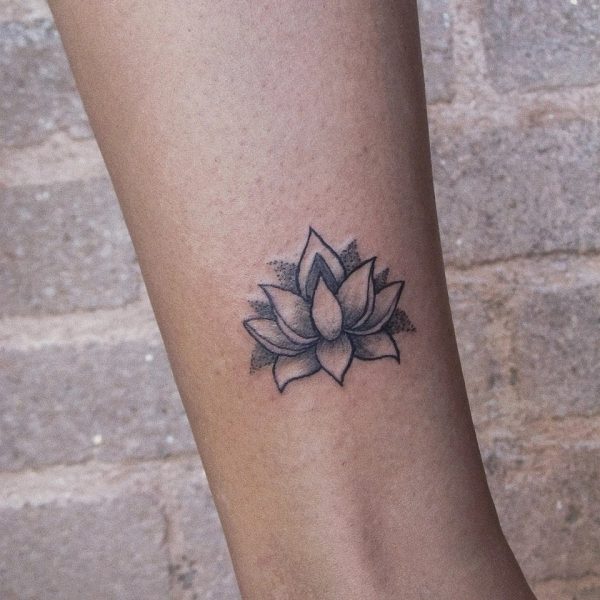 Source: @soucla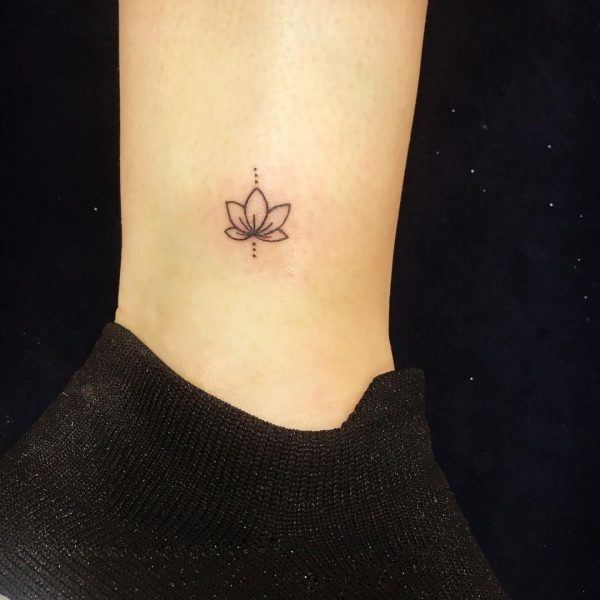 Source: @jmk.tattoo
28. Elegant Hand Lotus
It's a female version of drawing a lotus flower tattoo. The flower on the brush is primarily a symbol of artistry and a delicate spiritual organization, and it gives elegance to its female owner. Visually, this pattern strengthens your womanhood, the delicate bends of your hands, and it also attracts the attention of others immediately.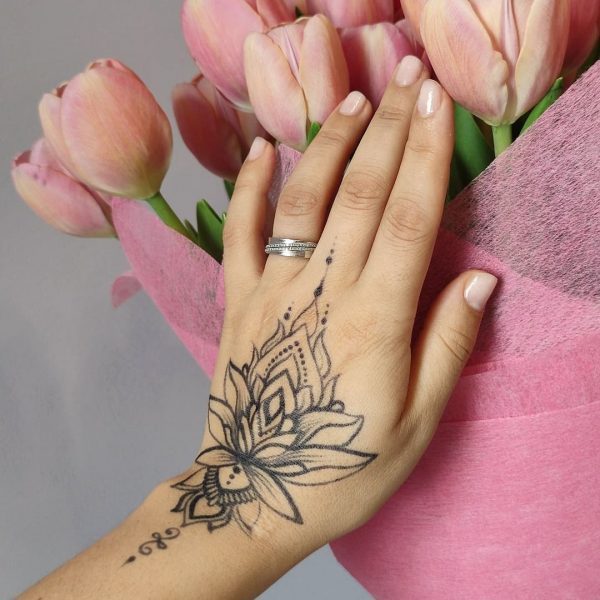 Source: @ksuvahrusheva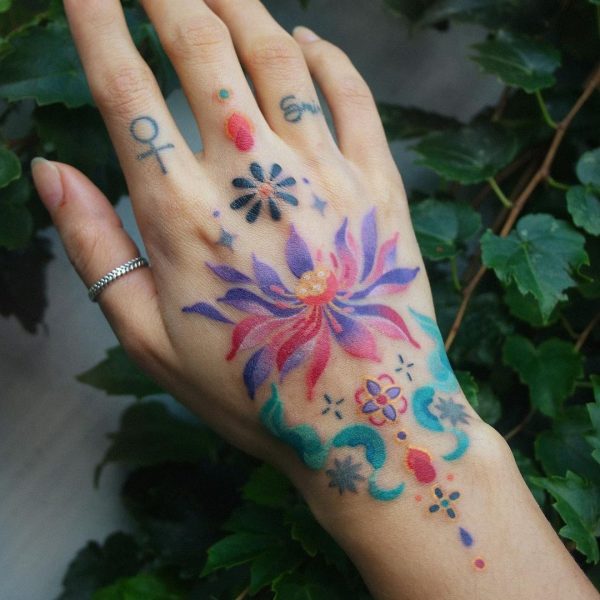 Source: @needles_riri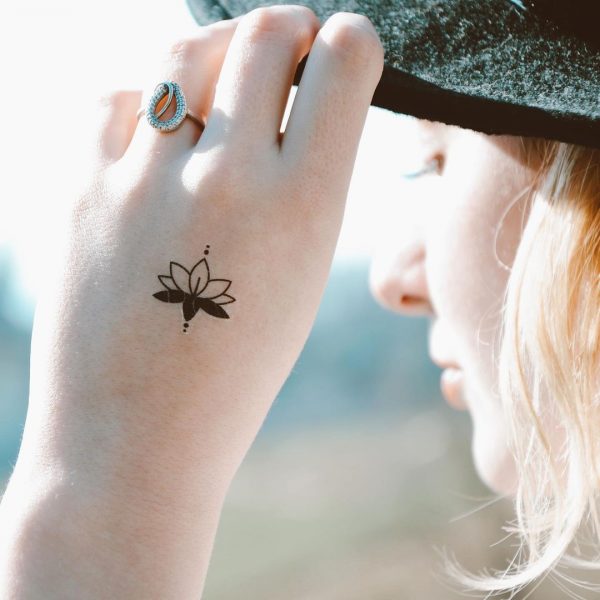 Source: @sioou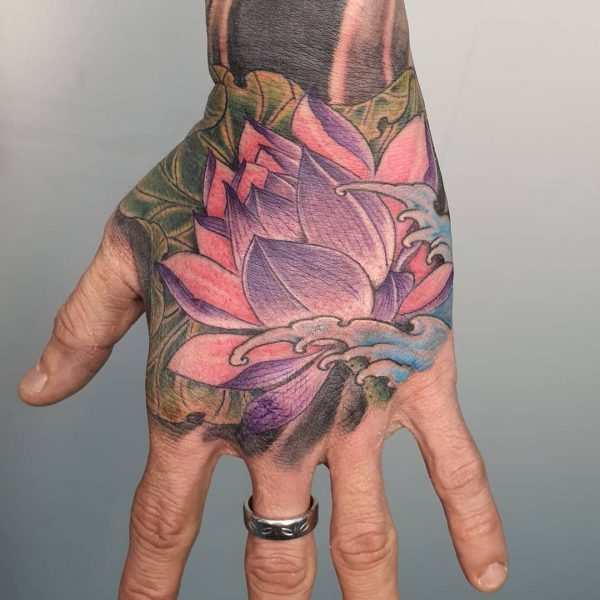 Source: @jeremy_goodlifetattoosg
29. attractive Ankle Flower
The ankle area is ideal for minimalist tattoos. But lovers of ethnic motives often supplement the lotus with eastern symbols, different ornaments, and patterns. Mostly on the ankle, only women draw these flowers. However, you can see this on the body of a man too, but very rarely.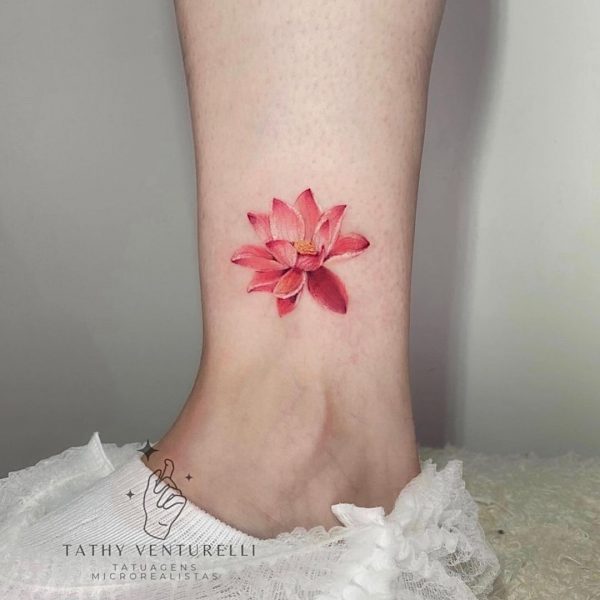 Source: @tathy_venturelli_tattoo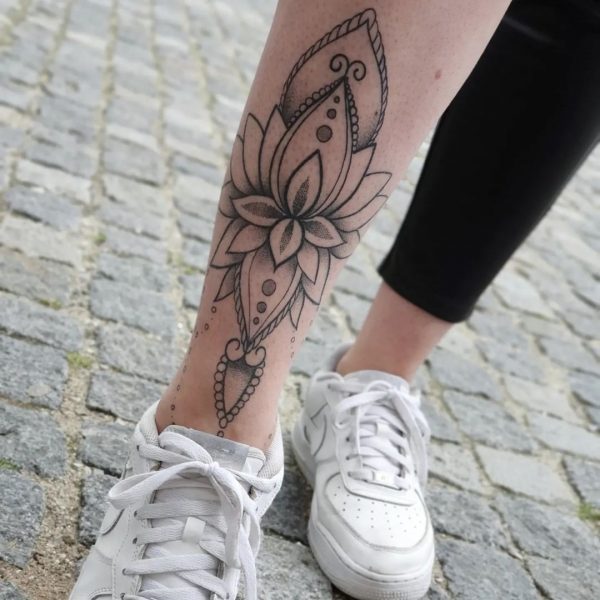 Source: @simonedora.tattoo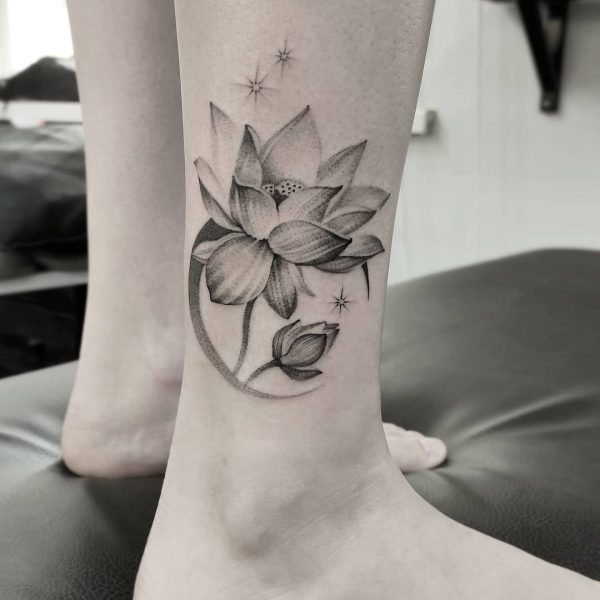 Source: @k_s_tattoo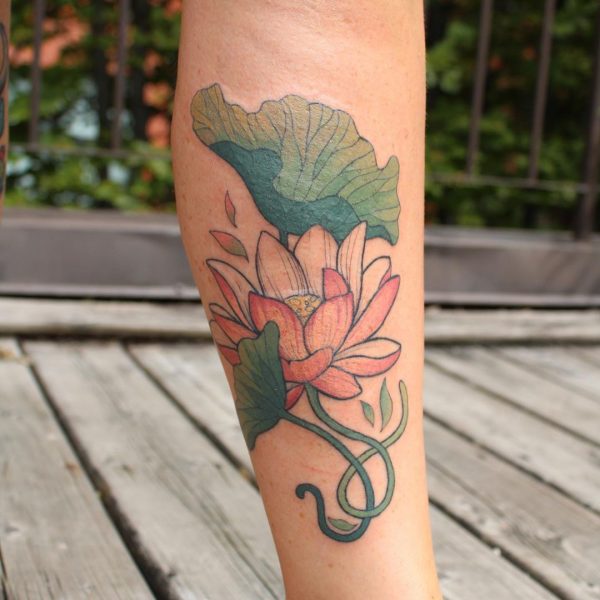 Source: @fauna_tattoos
30. Thigh Lotus Flower Tattoo
The hip is the ideal place to paint tattoos on skating and beautiful girls who plan to enhance their sexuality. This part of the body has enough space for different thumbnails, but most often a lotus is filled surrounded by patterns and ornaments on thigh.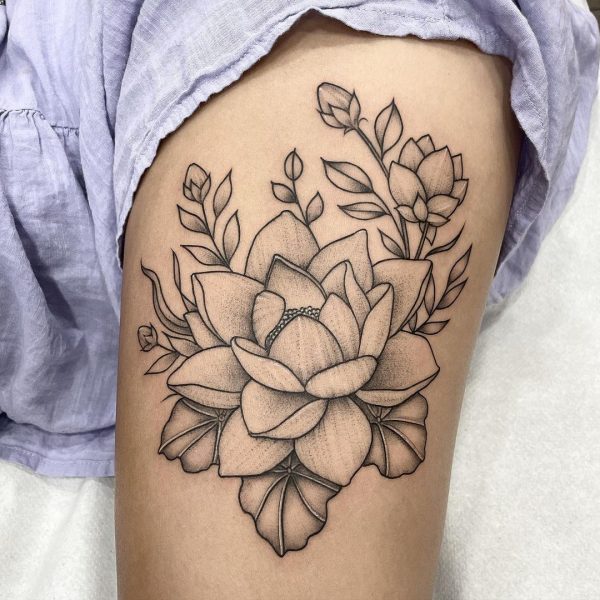 Source: @julls_tattoo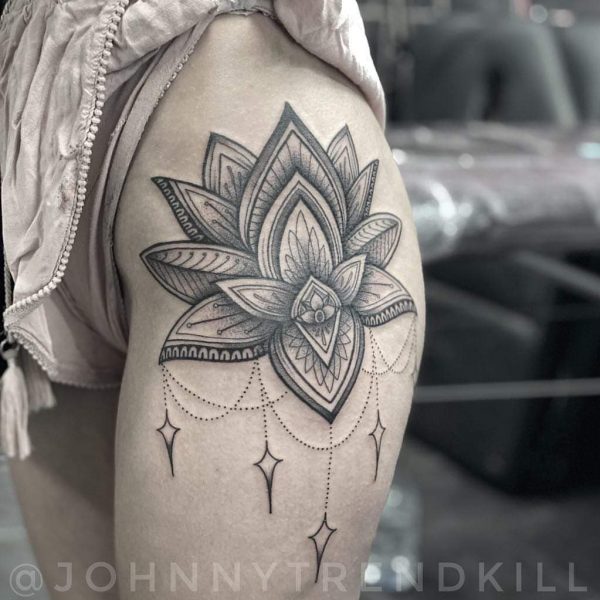 Source: @awoltattoos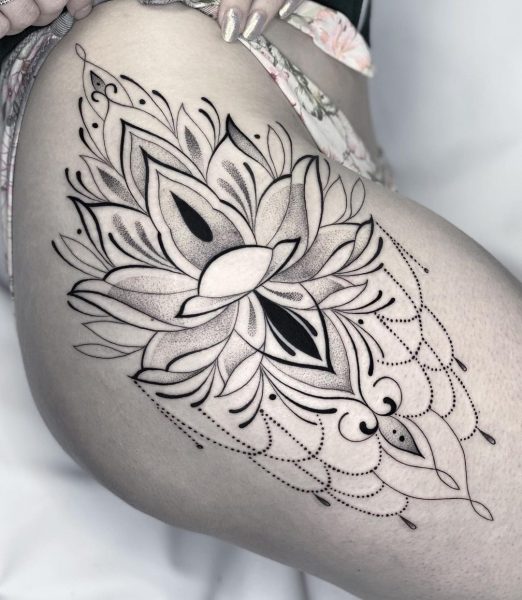 Source: @lidiadepablotattoo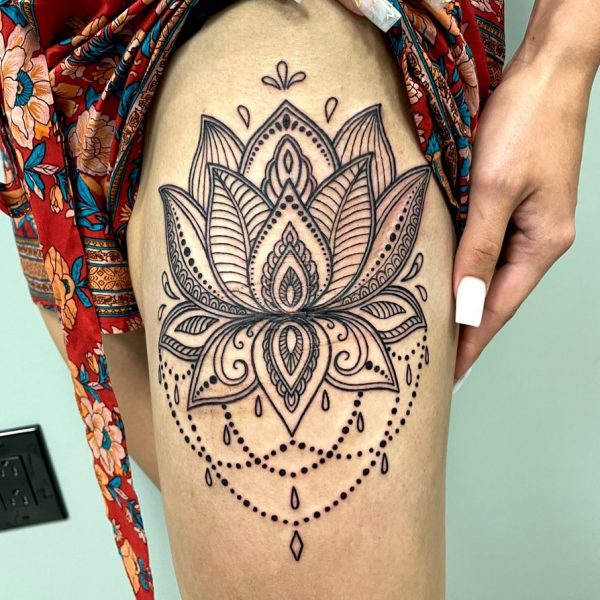 Source: @inkedbyx_
31. Foot Lotus Flower Tattoo in Black
The small flowers on the leg are a drawing that looks very aesthetic and even minimalist. They symbolize the ability of man to preserve his inner purity, even in a spoiled world. This part of the body has the most beautiful monochrome-style lotuses, although some people prefer realistic plots with different shades.
Source: @jasminwalshtattoo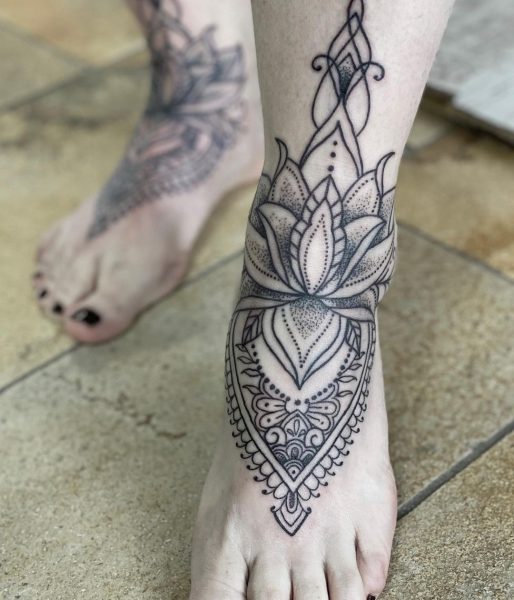 Source: @omahung69
32. Lotus Flower and Butterfly Tattoo
A butterfly tattoo is a symbol of eternal life, the triumph of good over evil, and a life cycle. In combination with the lotus, it symbolizes the revival of the soul, the internal recovery of the human being, and his or her return to active life after difficult events.
Source: @joeygtattoo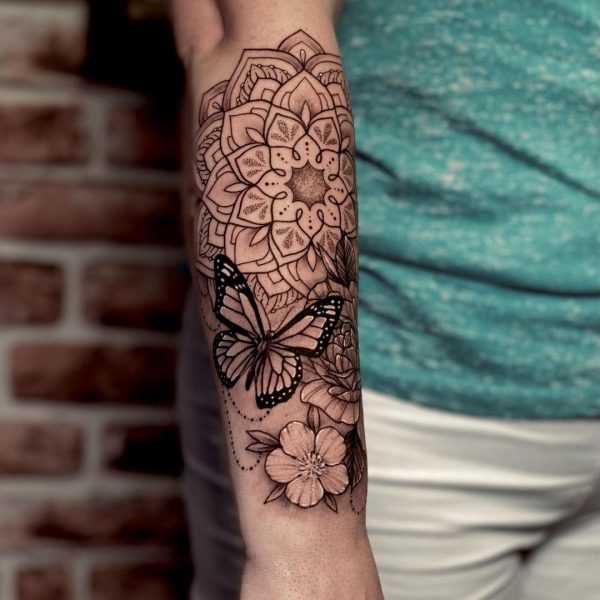 Source: @atlantic_coast_tattoo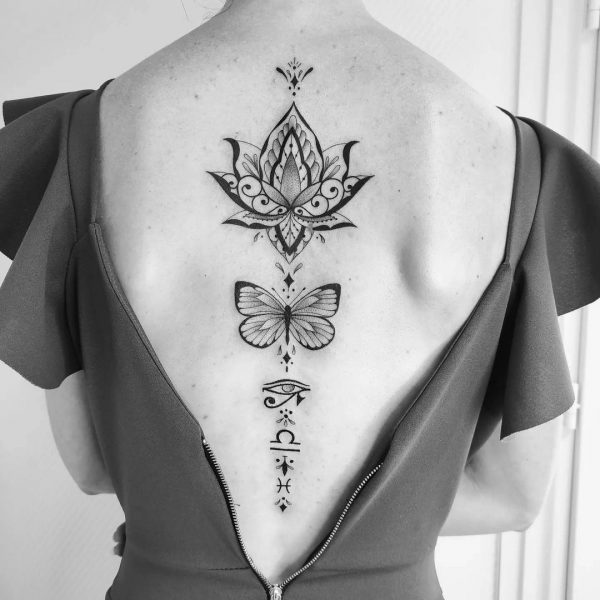 Source: @tinta_creation_tattoo
33. Chest Lotus
Although lotus is a woman's flower, men often draw it on their breasts, too. As a rule, they supplement this with oriental symbolism, such as the carp fish that tattooers portray on their clients to attract luck and happiness into their lives. And a dragon surrounded by lotus petals symbolizes leadership, fortitude, and courage.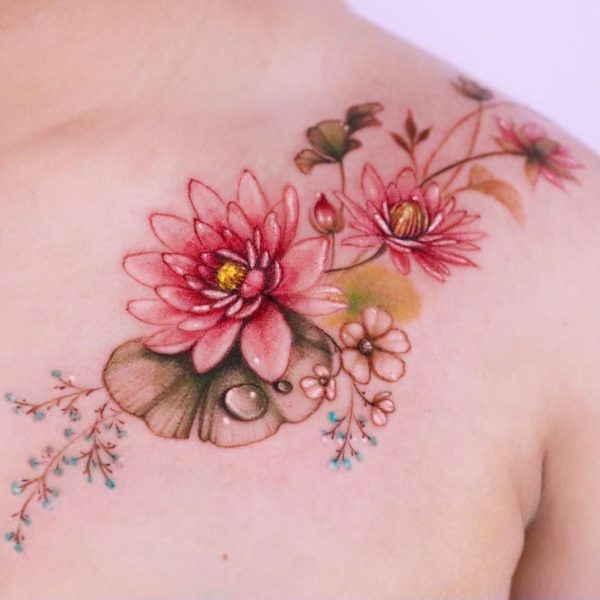 Source: @chaewha.tattoo
Source: @modernangels_tattoo
34. Geometric Lotus Flower Tattoo in vectors
The lotus, which is drawn inside a triangle or diamond, is stylish and unique. Besides visual beauty, such a drawing has a unique hidden meaning, for example, it denotes the harmony between the mind, body, and soul of a person. People who have a balanced personality prefer this option.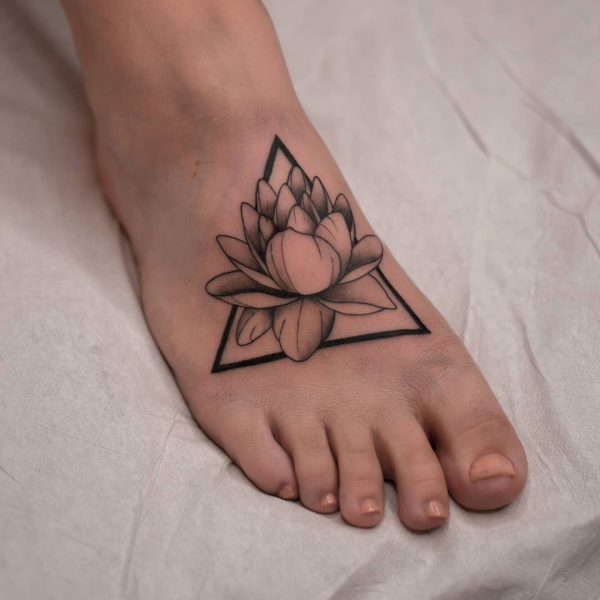 Source: @valentino.tattoos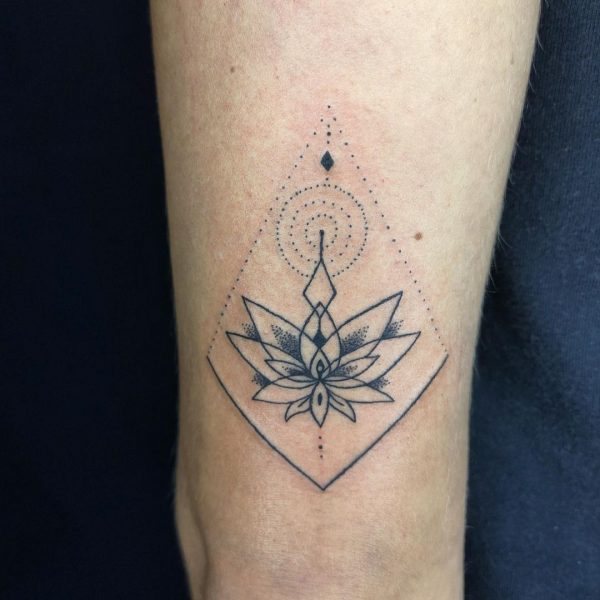 Source: @sashka_kasatka.tattoo
Related: 31 Semicolon Tattoo with Deep Meaning
35. Forearm Lotus
The lotus on the forearm depicts people who want to know the meaning of life and believe in the possibility of reincarnation. The most common choice of this type of tattoo is for men, while women do not get enough forearm tattoos.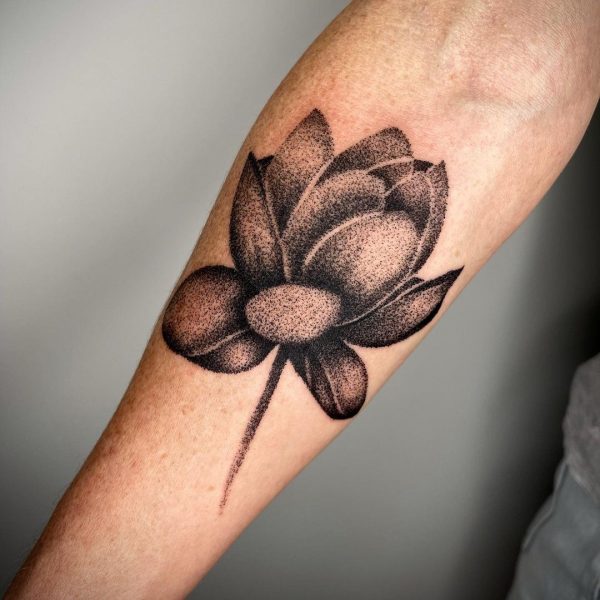 Source: @nicdub_tattoo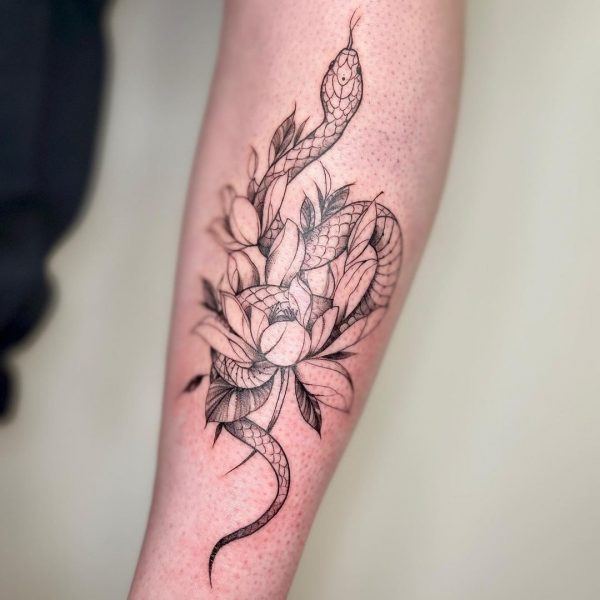 Source: @mooody.ink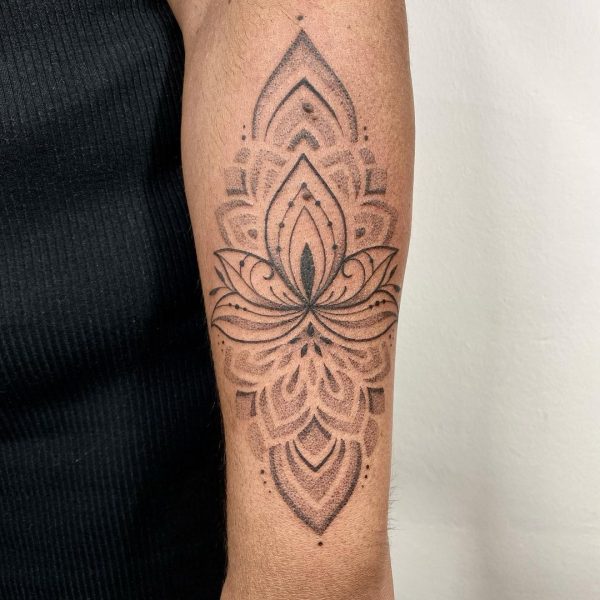 Source: @noomi_tattoo
36. Blue Lotus Flower and Tiger Tattoo
A tiger tattoo is what people call a male variant because it symbolizes rage, ferocity, and other qualities that all predatory animals have. Surrounded by lotuses, this tiger pattern symbolizes a man's ability to strike a balance between a woman's and a man's nature. Thus, in some circumstances, a man must show his cruelty, and he must behave in a friendly and compassionate manner among those closest to him.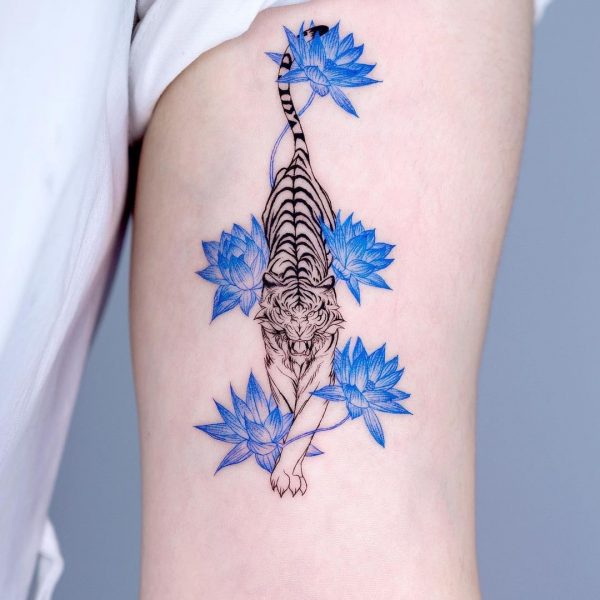 Source: @bium_tattoo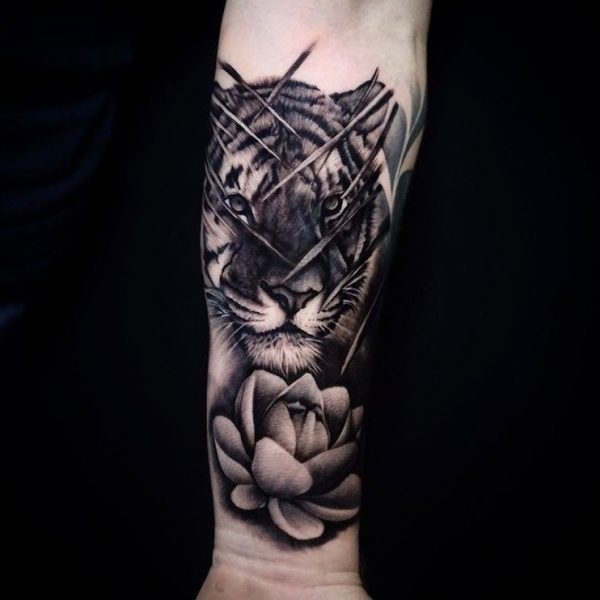 Source: @realarttattoo
37. Realistic Lotus Tattoo
The realistically styled lotus does not have an additional meaning component, but it looks very bright and makes a great impression on the people around you. Most often, tattoo artists do this on a client's shoulder, back, or lower back. These are places where there's space to paint small details like petals and the surrounding wildlife.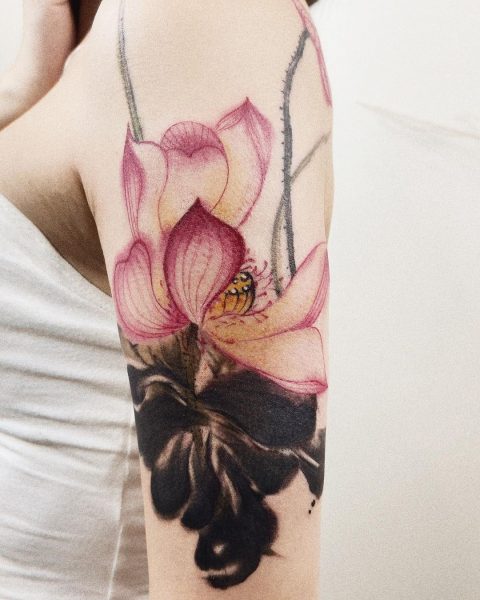 Source: @koizhou_tattooist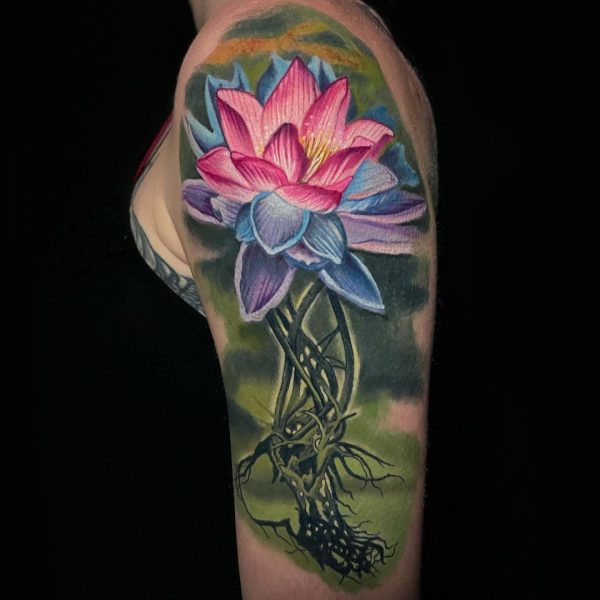 Source: @steveknerem
38. Meaningful Sternum Lotus Flower Tattoo
If men prefer flowers on their breasts, women often draw this tattoo under their breasts because it looks unique and feminine in this place. A common variant is a monochrome lotus surrounded by patterns and ornaments that encircle the entire area under the breast like a hoop.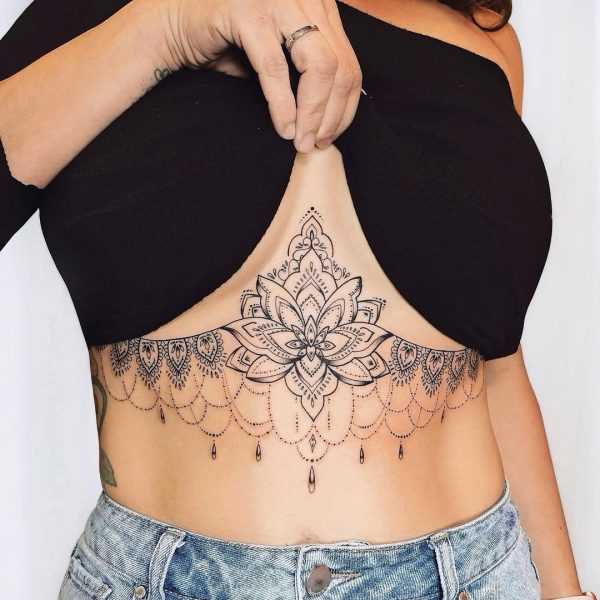 Source: @anais_chabane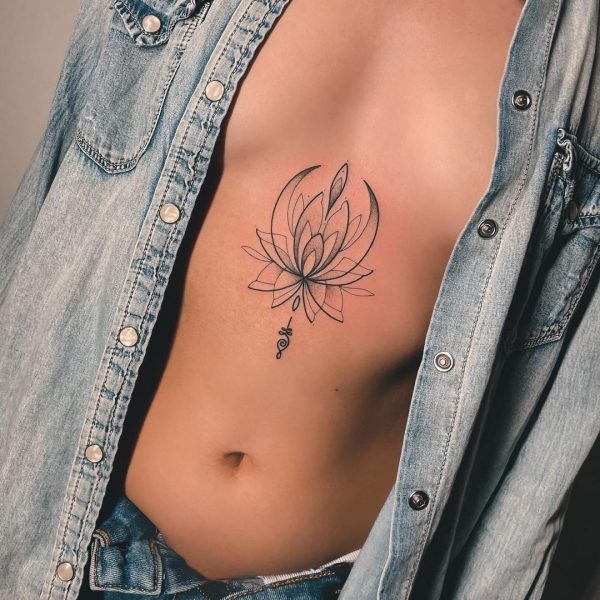 Source: @nagor_tattoo
39. Lotus Flower With Stem

on the wrist
Lotus with stem tattooers draws both as a bud and in the form of a fully developed flower. In both cases, this drawing is a symbol that a man does not forget his past generations, such as teachers and tutors, and that, despite the turmoil of life, he or she remembers his or her spiritual purpose.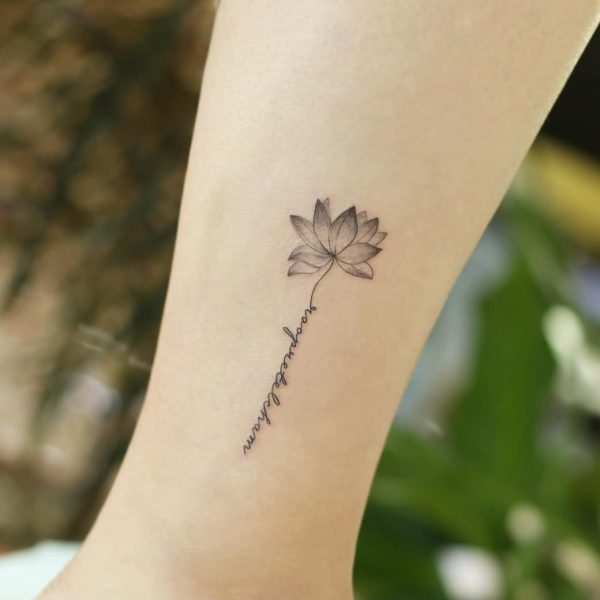 Source: @tattooist_moonsun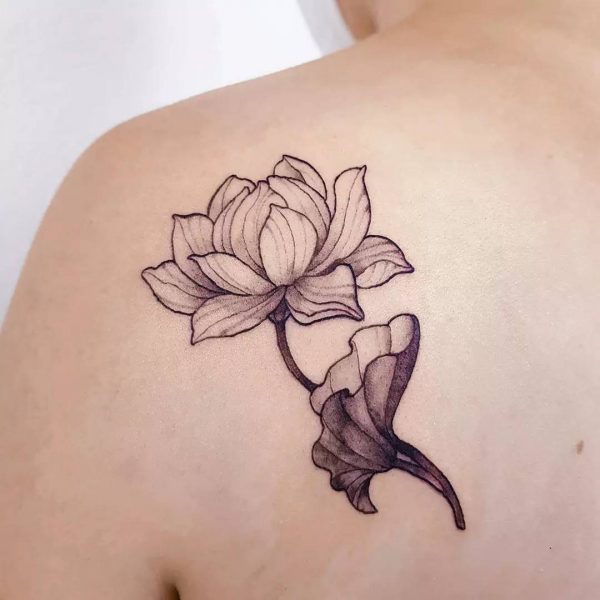 Source: @yasmine.relic
40. Black and Grey Lotus Flower Tattoo
In the lotus flowers, the black symbolizes strength, and the grey is a symbol of nobility, of a versatile view of the world, and of powerful reason. These tattoos are preferred by people who are passionate about self-knowledge, Eastern martial arts, and Asian philosophy.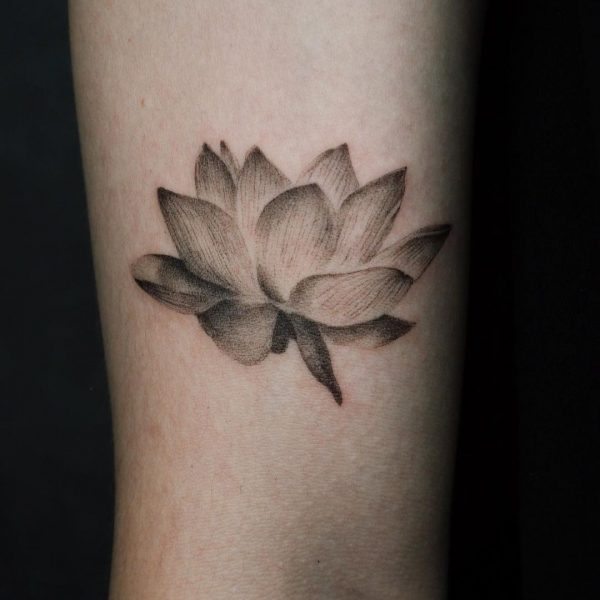 Source: @guihee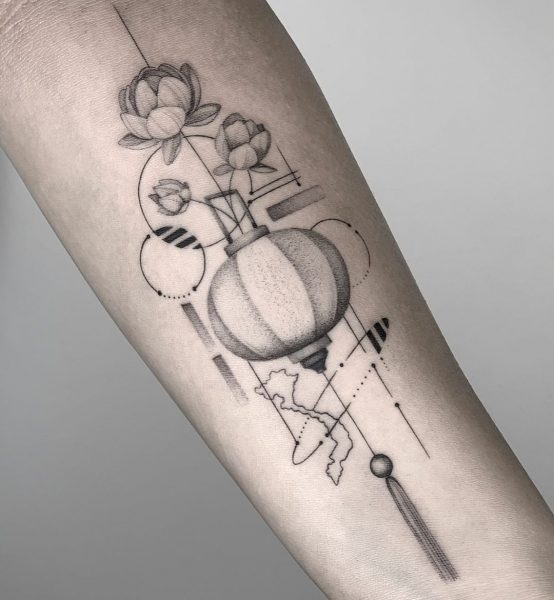 Source: @brittnaami
41. Dotwork – Rib Lotus Flower Tattoo
The area on the ribs is sensitive enough to apply a tattoo, so tattoos in this part of the body are very rare. Typically, tattoo artists paint lotuses in these locations in the style of graphics, minimalism, or popular Dotwork style under ribs. Drawn on ribs, lotus flowers have no unique meaning and simply make your appearance and style unique.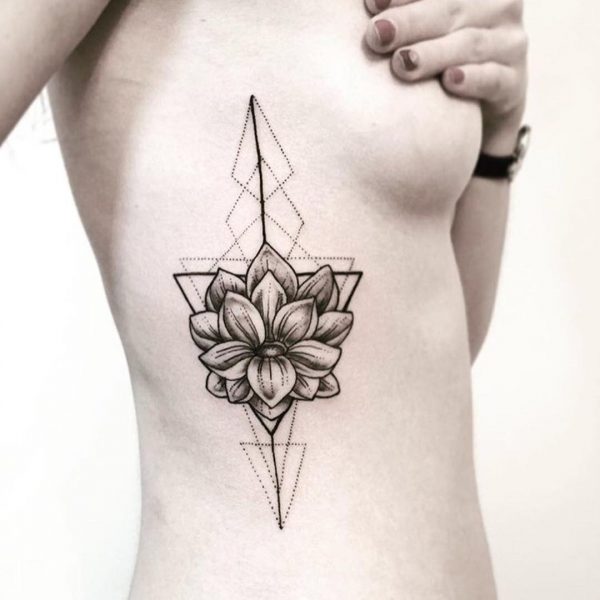 Source: @dagmar_at_the_liner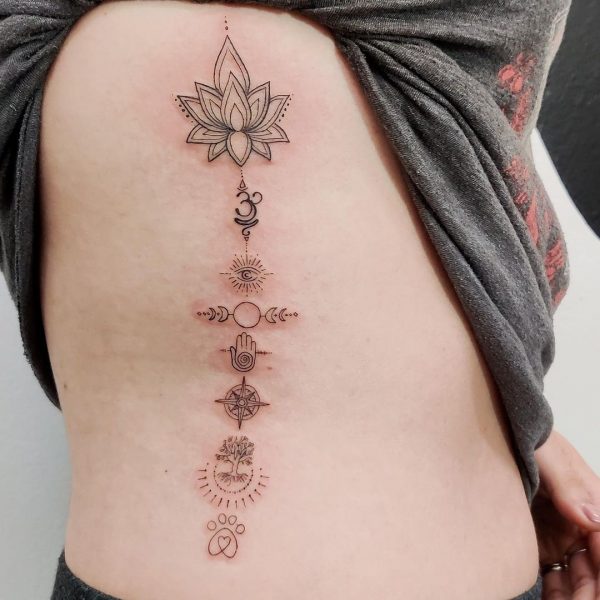 Source: @jad_tattoo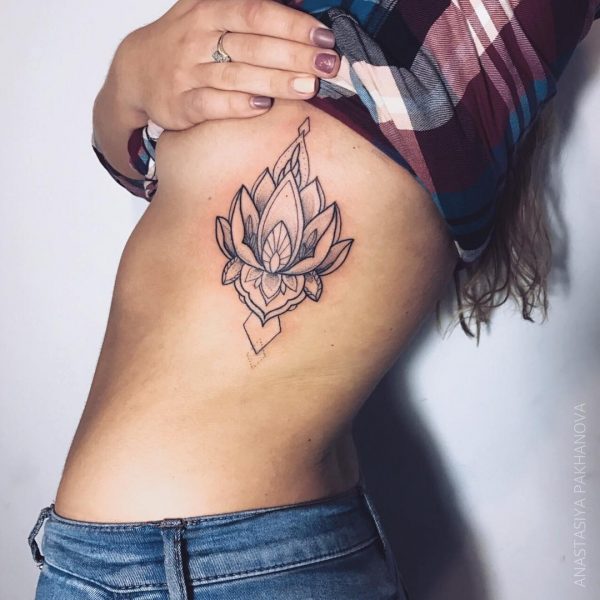 Source: @pakhanova
42. Spine Unalome Lotus Flower Tattoo
The lotuses that the tattoo artist made on the client along all spine are often supplemented by unalome. This combination symbolizes the rich life path of the individual, the desire for enlightenment, and the continued spiritual development of the tattoo holder. Most often, women prefer these tattoos because they visually flatten and refine the back.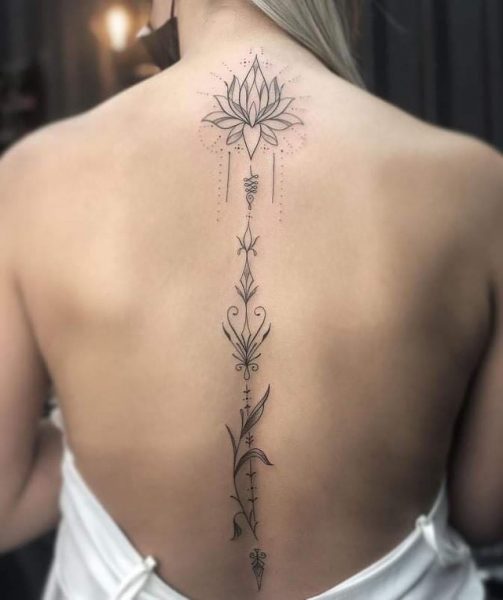 Source: @thomasstreetink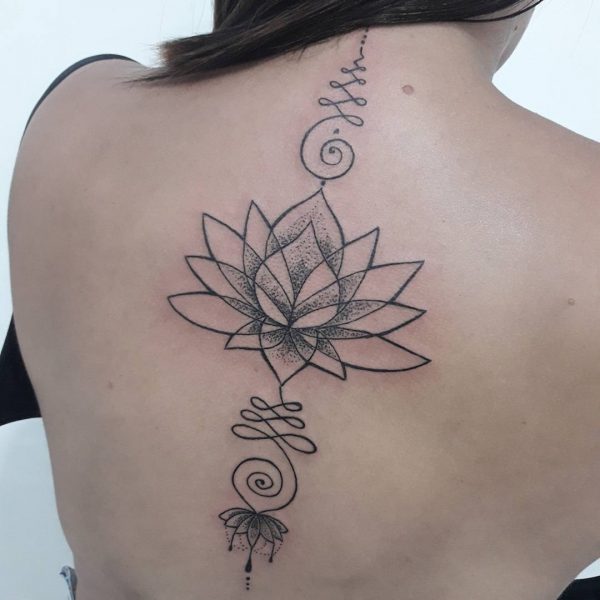 Source: @paulomeirelestattoo65
43. Finger Lotus Flower Tattoo
Buds or blossoms are very beautiful if they're painted by a tattoo artist on a client's finger. This is a case where the tattoo is not a component of the other drawings on your body. It's a choice of men and women who want everyone around them to see their tattoo. This is a good option for minimalist tattoos, but sometimes tattoos add dots, lace, letters, or other small details.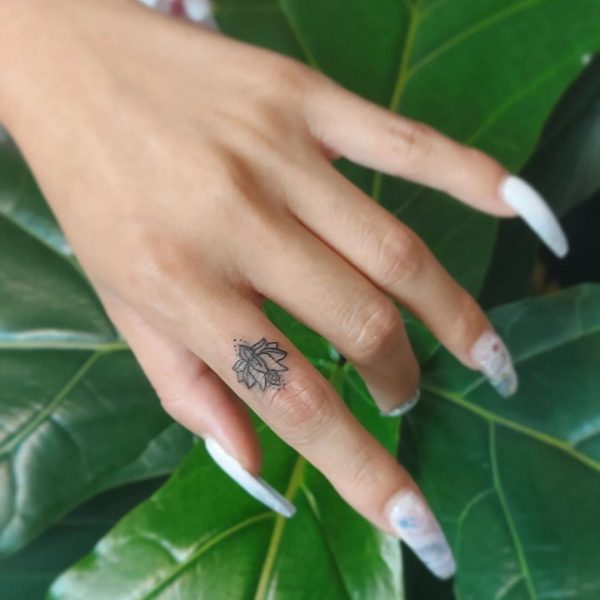 Source: @sarah.gwansoontattoos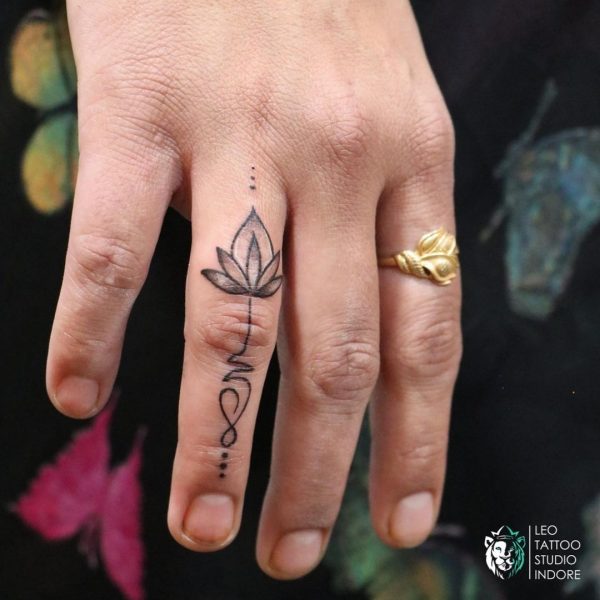 Source: @leo_tattoo_academy
44. Amazing Phoenix Lotus Flower
Traditionally, the Phoenix in tattoos symbolizes rebirth, the triumph of good over evil, as well as overcoming serious hardships in life. Combined with the lotus, this value is amplified and has in itself immortality, enlightenment, the end of worldly life, and the acquisition of spiritual wealth.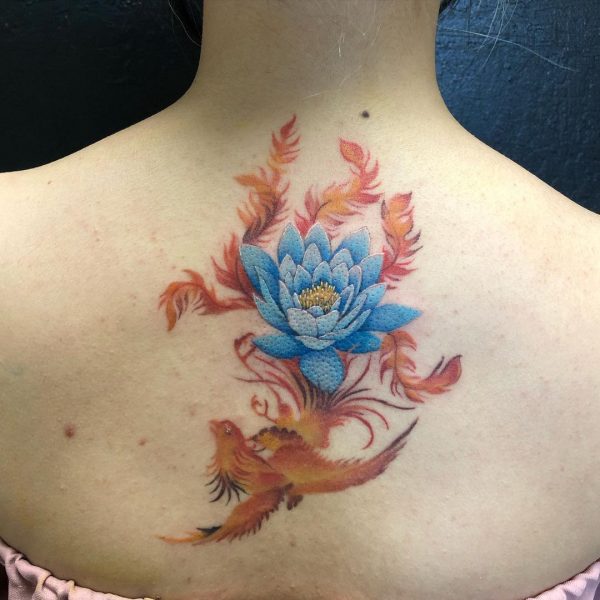 Source: @mynamesnoli
45. Hummingbird Lotus Flower Tattoo
Hummingbird is a popular symbol of joy, optimism, mystical ability, grace, and even femininity. Depicted in a lotus environment, this bird demonstrates your rich inner world, your power to adapt to your surroundings, and your love of life even filled with hard events. It's a popular variant where a tattoo artist paints this tattoo in a colorful style. The reason for this is to stress the energy and positive attitude of the client.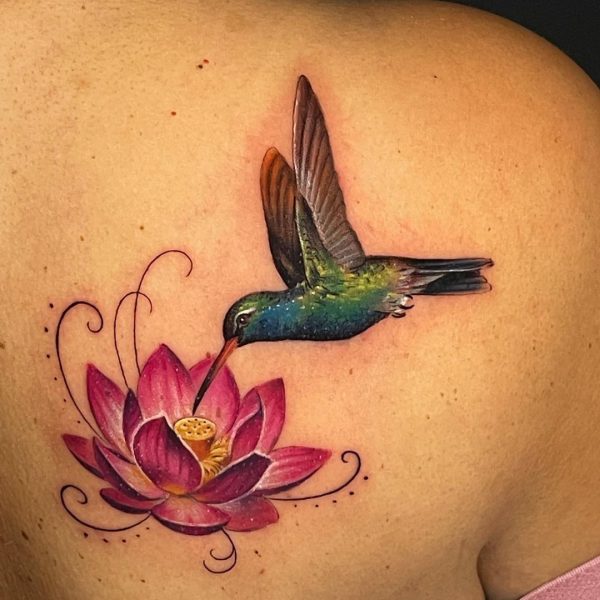 Source: @inkdamind
Lotus tattoos are not just beautiful drawings, but also mysterious symbols that have hidden and unique meanings. They can show people a lot about the character, the values, and the passions of a person with that tattoo.
.