A medium bob cut is a versatile hairstyle that will successfully decorate a woman of any age. Even teenage girls will look individual with this haircut. Older women will be able to rejuvenate themselves with a bob haircut.
Elegant women who use formal business dress and make-up in their everyday life prefer to do their hair with a neat shape and smooth curls. Those girls who are distinguished by special creative expression make a bob haircut with asymmetry and chaotic length of curls. A medium-length bob cut is an ideal option for those women whose hair is not on friendly terms with a hairdryer and curlers.
The bob haircut has many varieties. Combined with different types of bangs, it will give every single woman exactly what she needs. In this article, you will see what looks you can create with a medium bob haircut.
1. Medium Blonde Bob Haircut on Straight Hair
A red, wheaten, and cream-colored bob looks perfect on tanned faces. Those who have a clean face without freckles or a pale face can do their own pearl-colored hair. If you have skin with acne and age spots, then it is better to forget about this type of hairstyle because a blonde color combined with a medium-length bob will make your skin imperfections even more noticeable. The main thing to remember is that the bob makes women with blonde hair look younger and fresher. If you are over 50 years old, then feel free to do this haircut with additional volume in the back.
Source: @samcheevs
2. Medium Length Bob Ash Blond
If you decide to make an elongated bob with medium length, then you will be more feminine and stylish. At the same time, ash blonde is more suitable for girls with freckles. A silver bob is most optimal hairstyle for older women.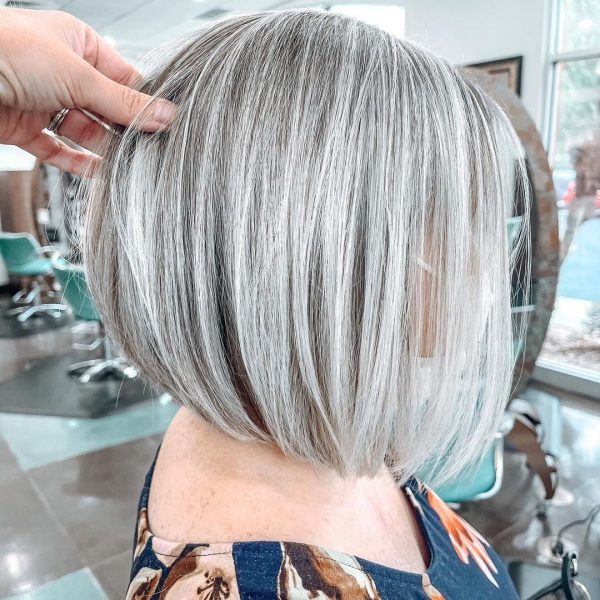 Source: @hairbybrandystanley
3. Platinum Blonde and Bob Haircut on Wavy Hair
Platinum blonde is ideal for women with a cold look. Such persons have pale skin, green or blue eyes, and feminine features. For such women, the ideal option is an elongated bob. Only the most modern girls and women dare to create such a hairstyle. You can curl your hair for a great date night hairstyle.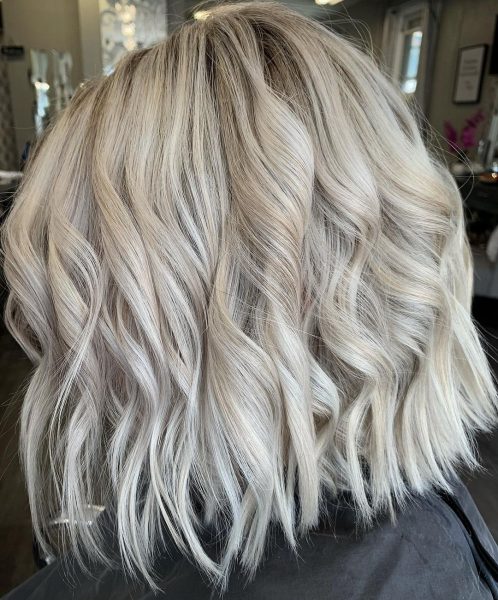 Source: @beautifulyouhair_
4. Black Shoulder Length Blunt Bob
Women with dark hair can show off the beauty of their shoulders by doing a medium bob with a straight cut. Brunettes can choose a bob with bangs, with straight and wavy hair, as well as a bob short or long.
Visually, the volume of the hair becomes less if it is dark in color. Therefore, the owner of a small amount of hair is undesirable to make a blunt bob with black color. In this case, it is better to make a cascade haircut or graduation.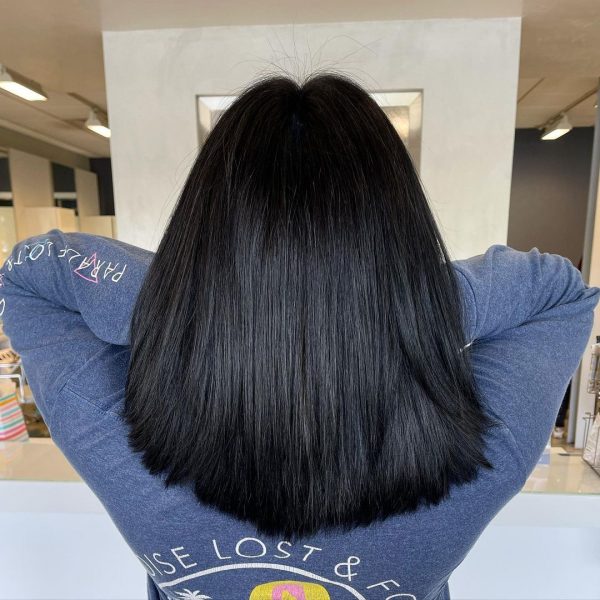 Source: @cryptidcolors
5. Medium Wavy Brown Bob
Dark hair is the perfect base for a bob. You can experiment with haircuts of different lengths of curls. You can easily style your hair on a multi-layered bob. You can also add a separate strand of bright color.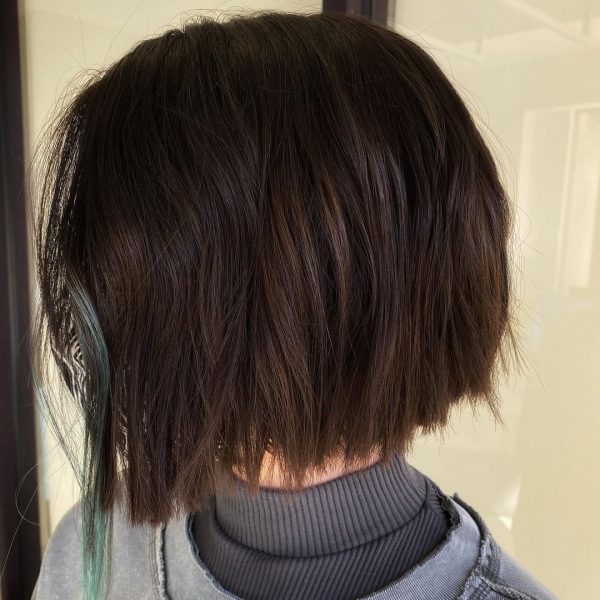 Source: @_hairbyabi
6. Red Shoulder Length Hair With Bang
The most popular haircut option this season is chin-length red hair. Such a haircut attracts the attention of others and makes the woman's face more delicate, bright, and stylish. Straight long bangs and highlights are a good way to add volume to this haircut.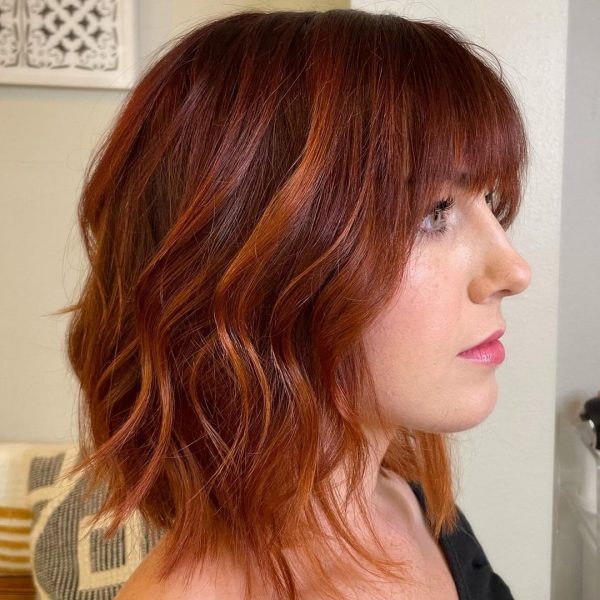 Source: @tribe.organic.beauty.bar
7. Burgundy Bob Hairstyles
Bob in burgundy color will perfectly set you apart from the crowd. You can make many variations of this haircut, such as an elongated bob without bangs, a bob with thick bangs and graduated curls, a classic bob. A burgundy ombre with dark roots is the perfect way to refine the bob.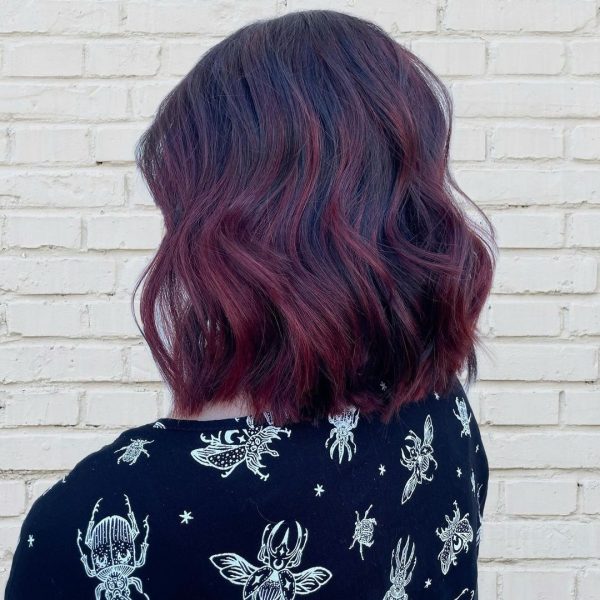 Source: @hairby.miranda
8. Pretty Caramel Colored Bob
Caramel highlights are a great way to add flair to a haircut. Warm caramel bob looks good on both straight and wavy hair. The hairstyle can be more voluminous if you make a bob in several levels of length. Also, this method will allow you to hide gray hair and give your face tenderness.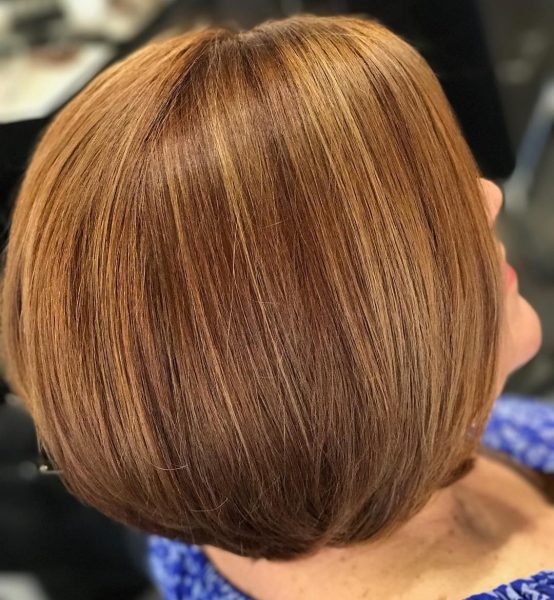 Source: @fringestudiosouthlake
9. Brown Bobs With Highlights
Graduated bob looks great in combination with highlighting. A haircut with a trapezoidal styling and waves is ideally complemented by highlights. Such a haircut makes the face younger, and the image turns out to be more stylish. Curls become lush. This is the best option for women with thin brown hair.
Source: @styld_salon
10. Pearl Ombre Medium Bob Hairstyles
If you want to make a bob with an ombre, then you must remember that the beginning of the color transition should begin above the level of the ears. Otherwise, the coloring effect will be invisible. The haircut is suitable for women with triangular faces. Ombre makes facial features more feminine. Round-faced women should beware of this hairstyle because it will accentuate their chubby cheeks.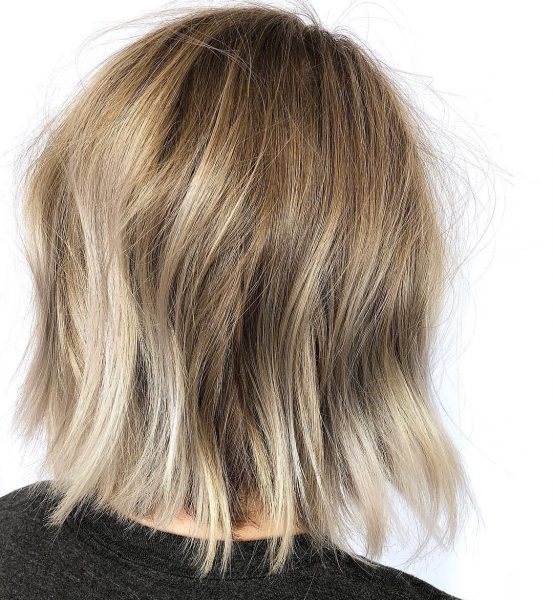 Source: @swatchbysam
11. Dark to Light Highlight Medium Bob Haircut
Medium-length hair will look more voluminous in a bob cut if the hairdresser makes you a contrasting transition between a dark top and a light bottom. This color transition is most noticeable when cutting a bob with a length, not below the shoulders. A dark base of hair color will go well with a wide variety of shades. Nevertheless, the best option is blond.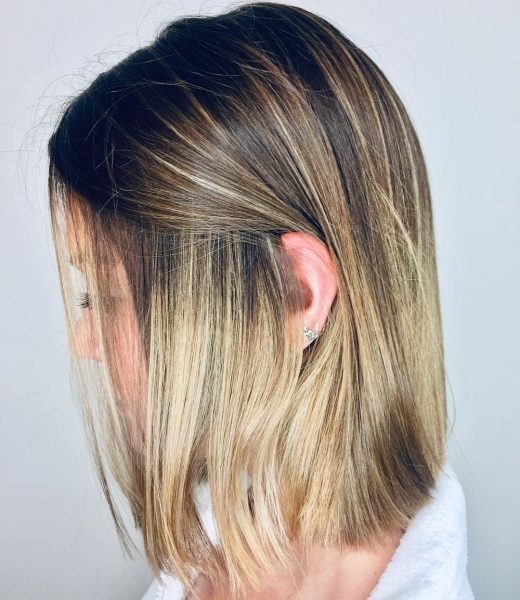 Source: @salontrionh
12. Beautiful Medium Bob Haircut Blue Highlights
Blue curls are the best way to showcase how rich black your hair is. Girls with white skin and blue eyes are ideal for bob haircuts with turquoise shades. For those women who have dark skin, it is better to wear dark blue hair. In addition, this color is perfect for asymmetrical haircuts and other avant-garde hairstyles. However, this color will not work for you if you have puffy eyelids and wrinkles.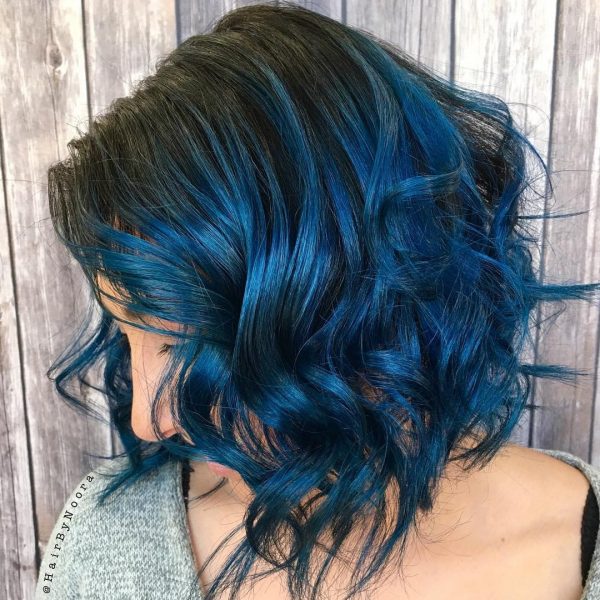 Source: @hairbynoora
13. Beautiful Medium Straight Bob
If you have thick, straight, strong hair, then clean lines in the color of the haircut will suit you. Glossy shine will help you enhance the effect and give you elegance and aristocracy.
This hair coloring is suitable for cutting a medium-length bob. Age and appearance are not important. If you have fine hair, straight lines will give it volume and make your face look younger.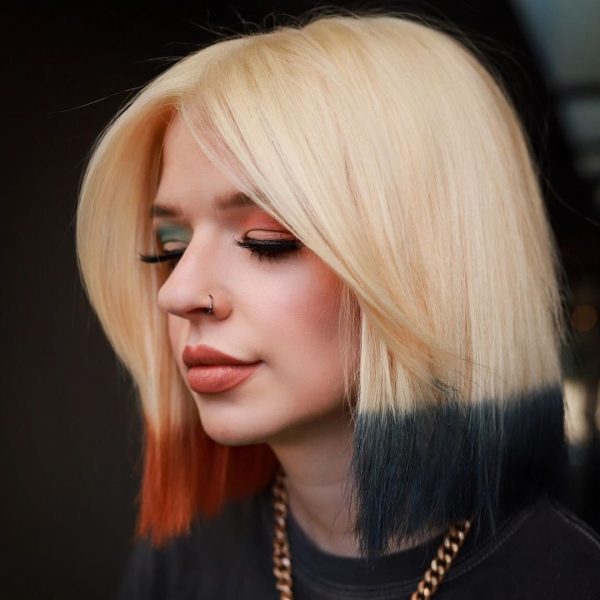 Source: @catcoiffeur
14. Medium Bob Curly Haircut
Today, this haircut has become very popular. It will suit girls with thin hair, because heavy curls have to be regularly styled and strengthened with special fluids, and this is an additional difficulty. This type of haircut has several varieties. For example, there are haircuts with shaved temples with oblique bangs, with asymmetric strands.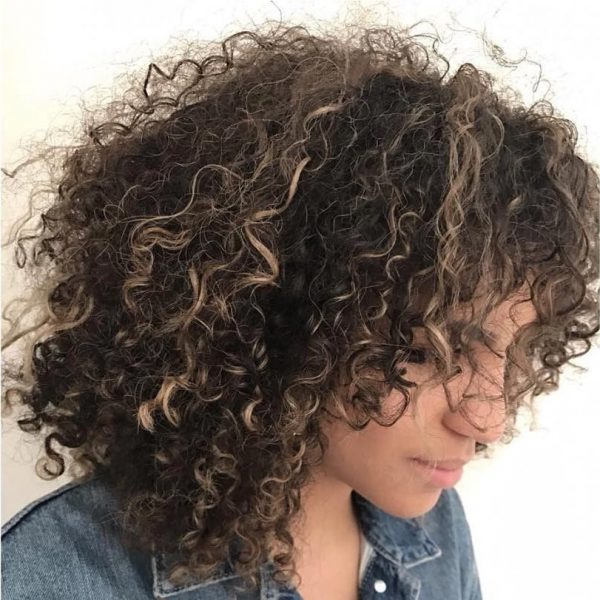 Source: @aaronscottlacy
15. Medium Wavy Bob Haircut
If you have wavy hair, then a bob haircut will look especially attractive. This haircut is versatile and suits women with any face shape such as triangle, circle. It will be easy for you to create an evening hairstyle. To do this, you must complement your haircut with stylish accessories such as a bandana or headband.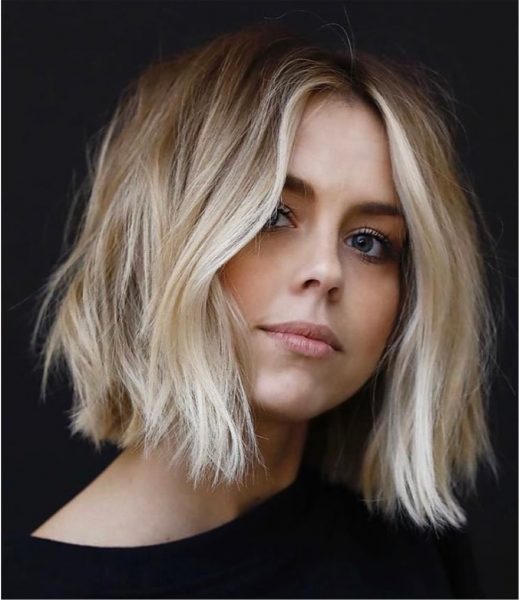 Source: @colorcutcollective
16. Medium Bob Haircut for Thick Hair
Women who have thick complicated hairs can have a smooth bob cut with a solid surface and a pleasant shine. Experts use thinning. This is a special technique that makes your hair look smooth. Such hair has a soft transition in length and a neat appearance.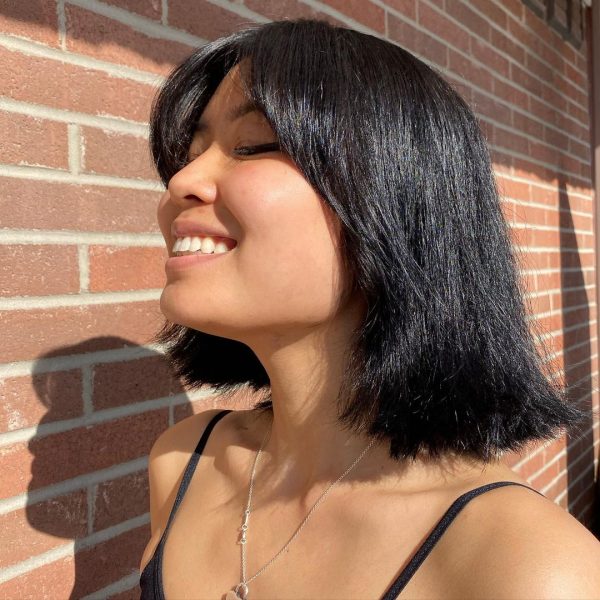 Source: @kreations.salon
17. Hairstyles for Thin Curly Hair
If you have thin strands, then the best option is to share this bob haircut. To make the styling look beautiful, you should choose the shortened versions of this swift. You'd better not do solid colors because they can flatten your hair. Experts advise women to choose shatush, bronding, or highlighting for curly hair.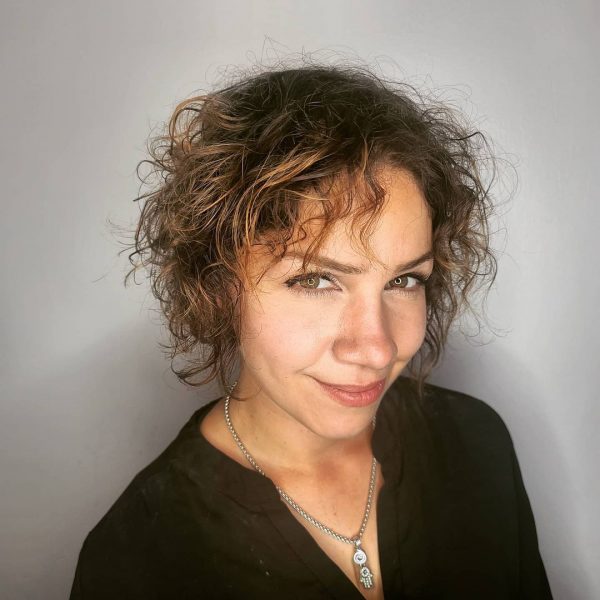 Source: @styledbyjenae
18. Medium Bob Hairstyles no Bangs
This type of haircut is ideal for women with an oval face shape and symmetrical facial features. You can choose to have the hair part in the middle as this will make your squaring face look longer and also hide overly large cheekbones.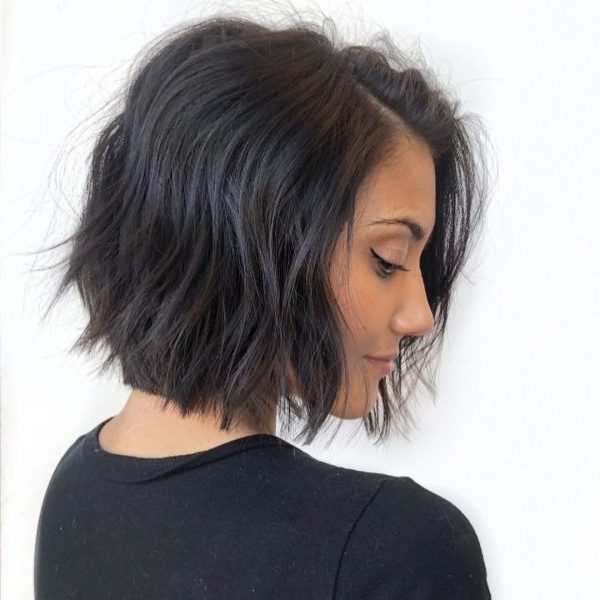 Source: @hair_do_salon
19. Mid-Length Dark bob With Bang
This type of bob haircut is of medium length and is ideal for women over 30 years old. You must remember that your bangs must be thick and straight. The bangs should be above the eyebrows. This will make your facial features more feminine and sophisticated.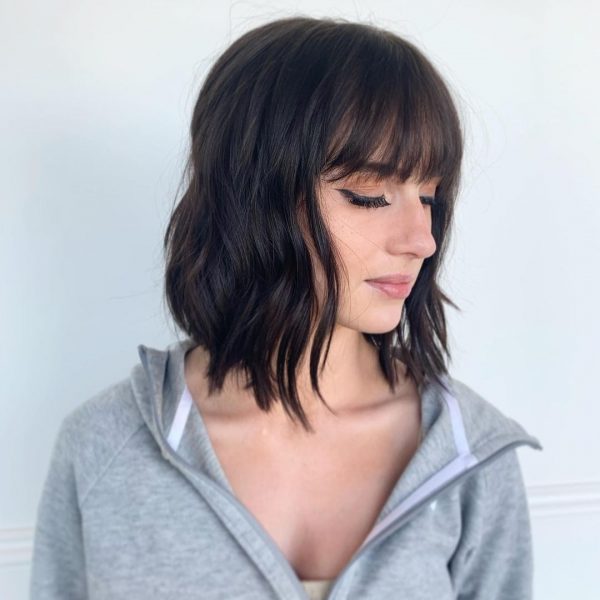 Source: @sacredhair.nadia
20. Medium Length Bob with Side Bangs
This is a bob haircut with oblique lines. Your face shape will be perfect if you do this haircut. If an adult lady chooses such a haircut, then she will become more feminine. If the oblique bob is on a young girl, then she will become more cheerful in appearance. This type of haircut focuses on the eyes.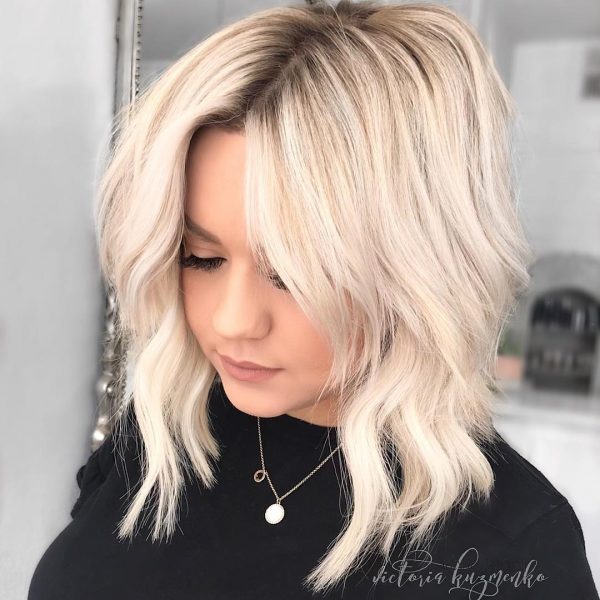 Source: @vic.k.hair
21. Beauty Medium Bob With Short Bangs Haircut
Girls with graceful faces are ideal models for cutting a bob with short bangs. However, a too short bang is a bad option, but only if the woman has large cheeks, an elongated chin, or a large nose. All this will only be strengthened by too short bangs.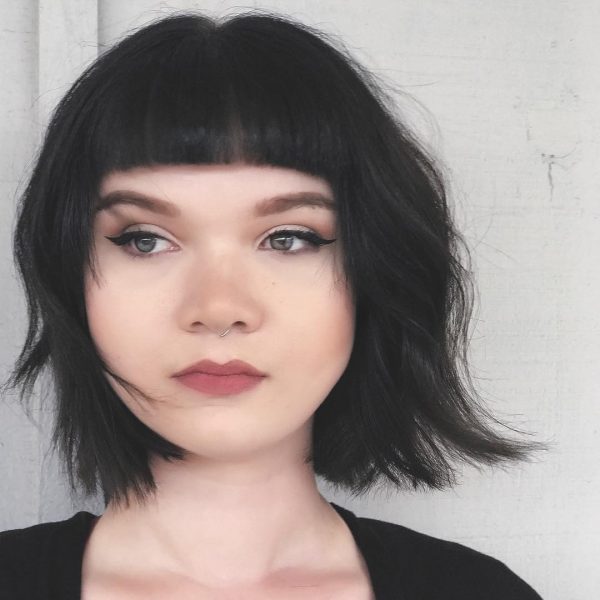 Source: @statementsthesalon
22. Asian Haircut Female Medium Length Bob
Asian ladies have thick, silky hair, medium-sized facial features, and large cheekbones. An ideal choice for such graceful beauties is a short bob haircut or straight chin-length hair. Those who love fashionable casualness can make a bob with a cascade. If you want to make your eyes more pronounced, then go for short bangs.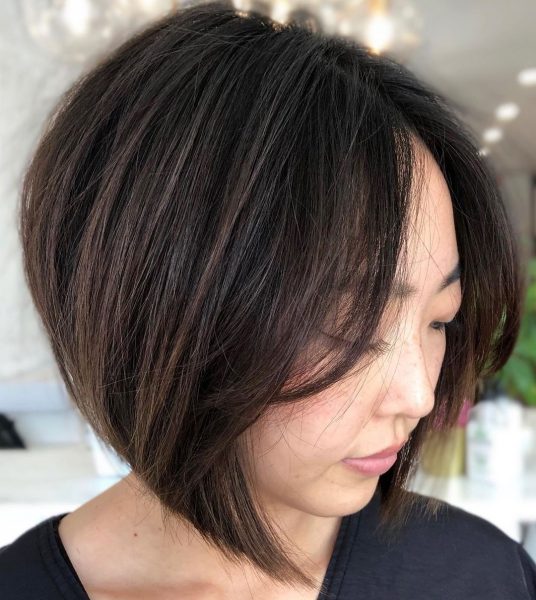 Source: @amidoeshair
23. Medium Bob Haircut African American
African American women have the most complicated hairs – it is naughty and contains too much moisture in its structure. The most comfortable hairstyles for such girls are dreadlocks and curls, but today all this is not in vogue. That is why African women choose a bob haircut with elongated front strands. It gives swarthy beauties femininity, emphasizes the natural shine of the hair.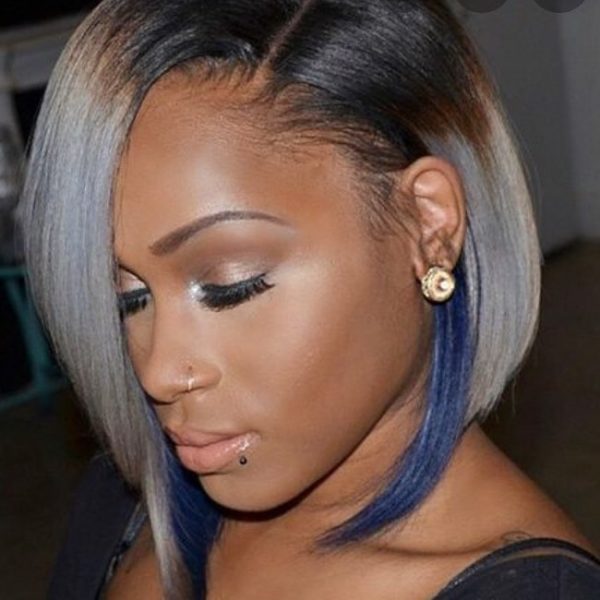 Source: @mayahairstar
24. Medium Bob Haircut for Round Face
A cascading haircut, a straight bob of medium length, and an asymmetric shape are suitable for round faces. It visually lengthens the face and makes the neck more expressive. If you curl the ends of your hair, you will make your lips and chin more expressive.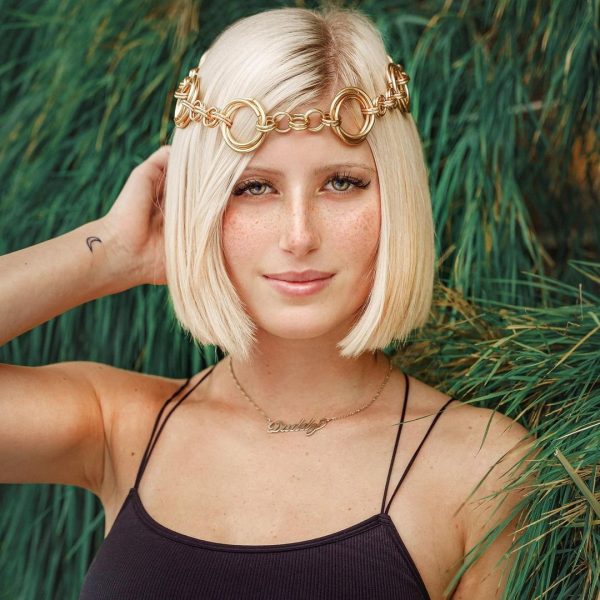 Source: @privesalon_orlando
25. Medium Bob Straight Haircut Square Face
For girls with a squaring face with wide features, the ideal option is a cropped back hairstyle with long curls in the front or a classic bob without bangs. You should have pronounced strands on your face, and you should curl the ends of your hair towards the chin.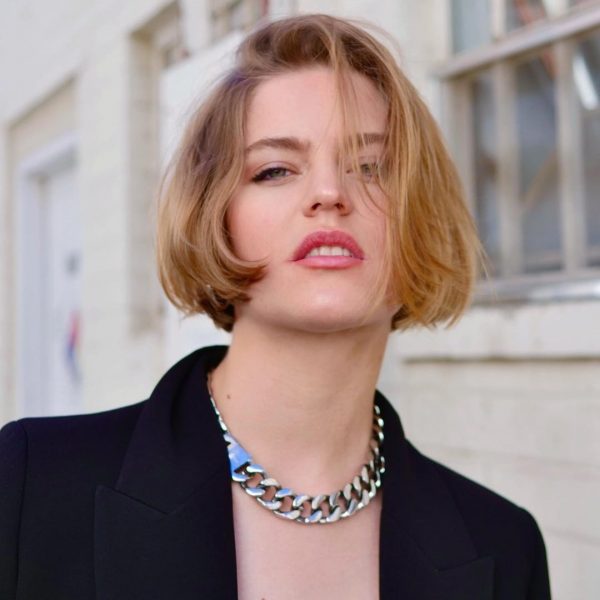 Source: @yukistylist
26. Blunt Medium Bob Haircut for Oval Face
This type of face is versatile. That is why you can choose absolutely any variation of the hairstyle or haircut. All this will emphasize your correct facial features. A blunt bob is one of these haircuts too. In this case, the haircut does not require additional curling of the hair. Add bangs to make the face look rounder. If you have a long chin, then make a long bob.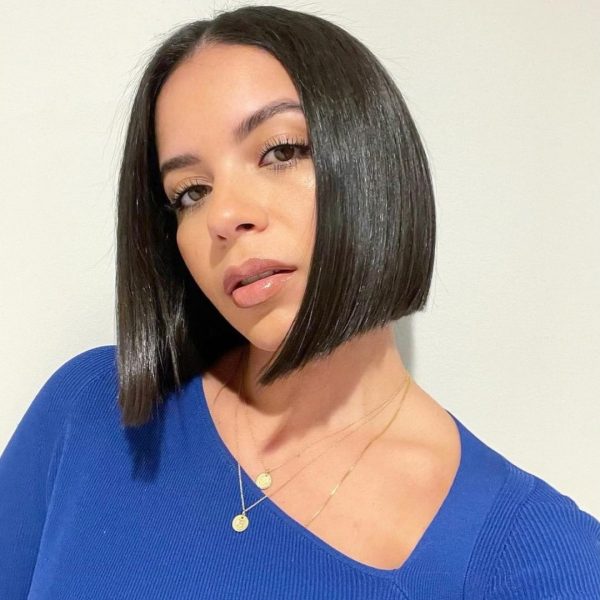 Source: @elietanous
27. A-Line Bob With Light Accent on Dark Hair
A-Line bob is a hairstyle with long strands in the front and cropped ones in the back. Such a haircut visually lengthens the face. It is ideal for hair that lacks volume as volume can be obtained by making several levels of hair at the back of the head. You can also make your face more expressive by using a light accent on the ends of dark hair.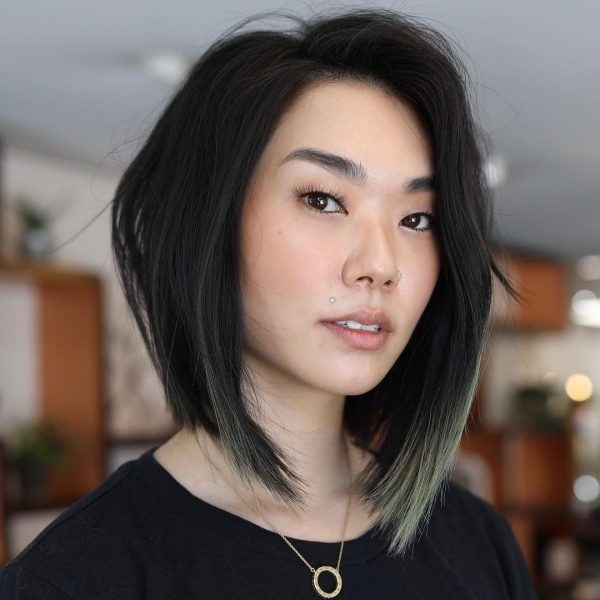 Source: @hirohair
28. Multi-Layered Bob With Highlights and Waves
Sometimes hairdressers combine the classic version of the bob with a multi-layer cascading haircut. Specialists do several layers, and this helps to make the hair voluminous. If you have round cheeks, then your ideal option is a bob haircut with an open forehead as it visually stretches the face. To make your hairstyle more expressive, you can use highlights and create light waves.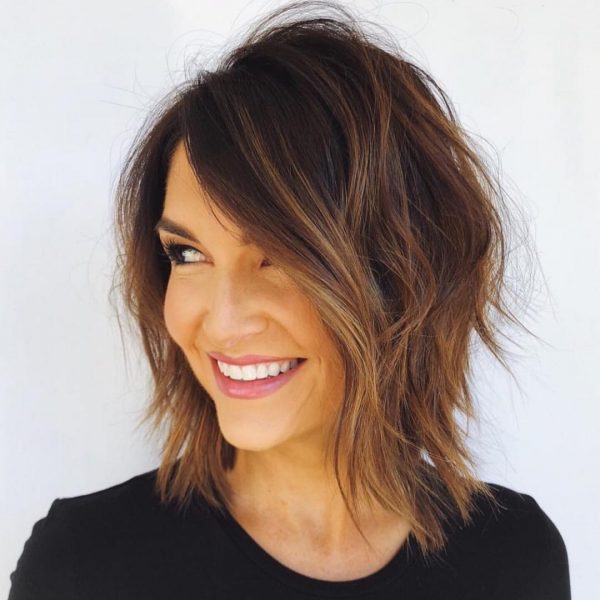 Source: @chrisjones_hair
29. Medium Length Angled Bob Hairstyle
The angled cut visually lengthens the face. That is why this haircut is ideal for women with round and rectangular faces. It goes well with almost all types of bangs. Fashionistas with skinny looks, big nose, long face, and pointed chin should ignore this haircut.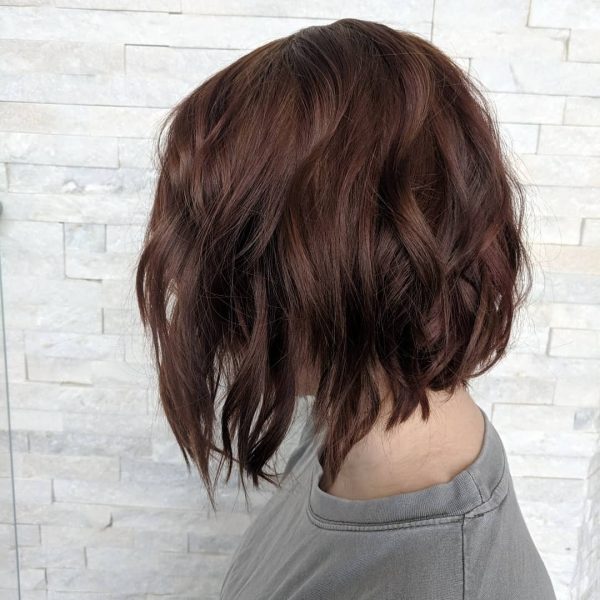 Source: @cassidy.salon297
30. Silver-Blonde Middle Parting Bob Hairstyles
According to stylists, such a haircut will help create an attractive and enchanting Cleopatra-style look. Asymmetrical bob is ideal for chubby beauties with fine hair. Such hair is very easy to style, and the procedure itself takes no more than 15 minutes.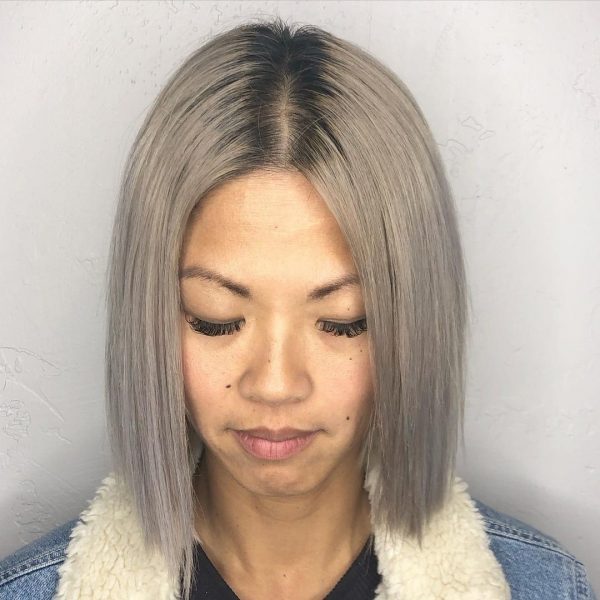 Source: @cassewiththegoodhair
31. Bob Hairstyles With Side Parting
An asymmetrical bob will divert attention from the large forehead or nose and accentuate the lips and eyes. Such a haircut visually corrects the appearance and looks good on both straight and wavy hair.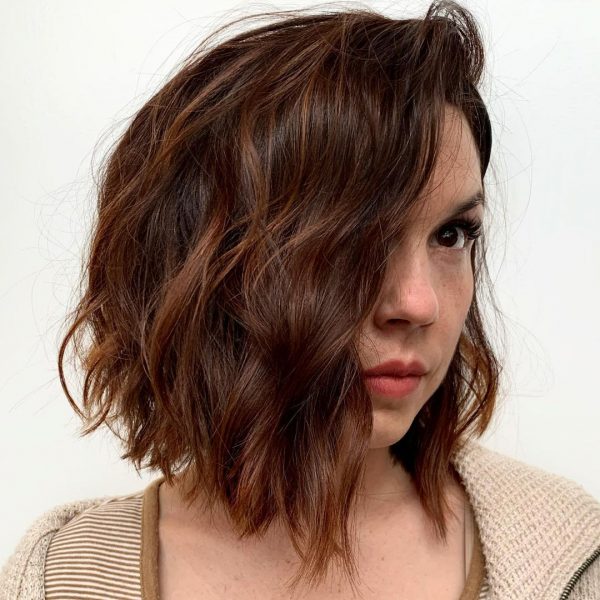 Source: @styled_by_carolynn
32. Shoulder-Length Sling Bob With Highlights
This hairstyle is ideal for those who do not want to radically change their image but want to bring novelty to their look. The main characteristic of this haircut is the elongated front strands. Highlights make straight hair more voluminous without unnecessary layering. It looks perfect not only on medium-length hair but also on long curls.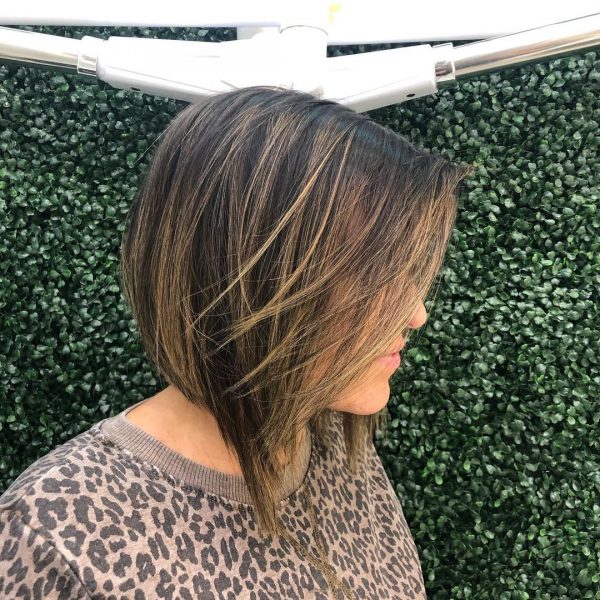 Source: @hair.by.krystin
33. Favorite Haircut Classic Bob
The classic bob is a great option for straight and voluminous hair. At the back, the haircut has a clear contour without graduation with slightly rounded ends. You will be very feminine thanks to the sleek and shiny strands. This hairstyle is easy to care.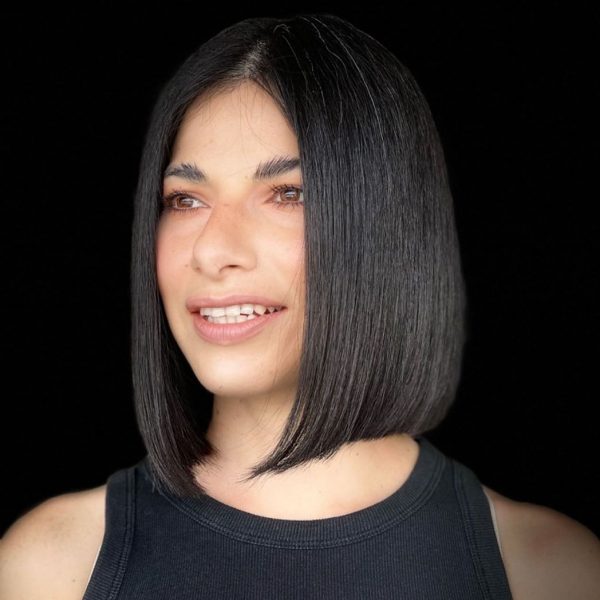 Source: @hairby.behnaz
34. Classy Balayage Blunt Bob
Characteristic feature of this hairstyle is incredibly straight lines. This haircut looks best if it is of medium length. This haircut is ideal for women with an elongated, oval, triangular face with long bangs. Balayage coloring will highlight your originality.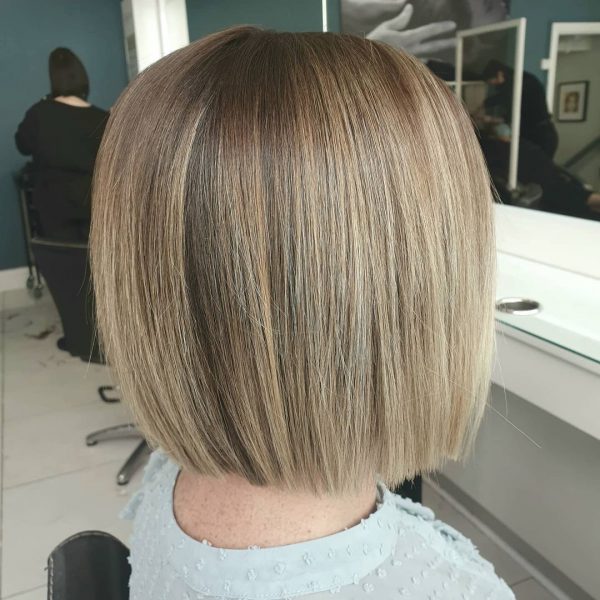 Source: @fiona_hair_momentoennis
35. Pretty Medium Choppy Bob
Slight tousle on the head is very fashionable and can be achieved through strands of different lengths. This haircut looks good on fine hair as it adds volume to it. It is ideal for women with curly hair – after styling, the curls beautifully emphasize the face. Contrast coloring is the best option for daring and cheerful women.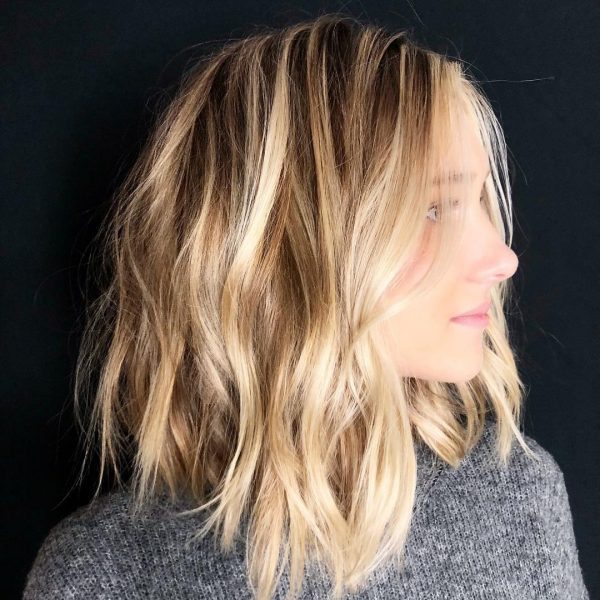 Source: @karissakolorist
36. Asymmetrical Bob With Volume at the Crown
This hairstyle includes long curls and short hair in the temporal region. Longer curls fit to one side. This is the perfect haircut for brave and creative women. If you want to make your femininity more expressive, then feel free to do this haircut.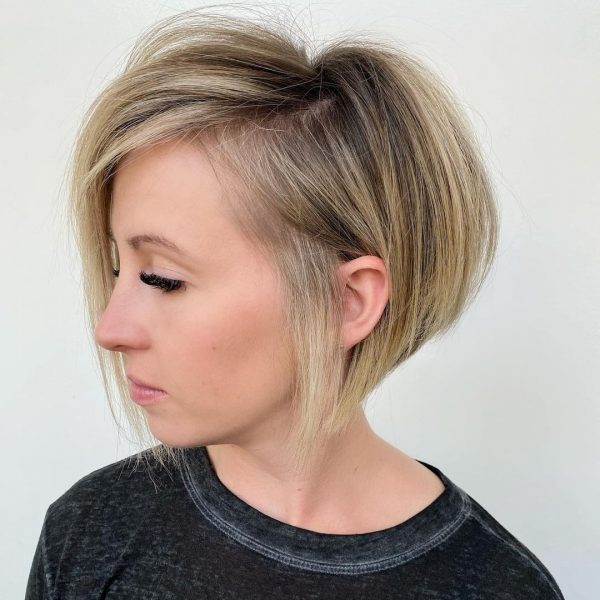 Source: @shmoakin_hair
37. Medium Inverted Bob Haircut
An inverted bob haircut is a variation of the A-Line haircut. The hairdresser cuts the hair short at the back and thus exposes the neck. The front is long hair. This is the most modern version of this hairstyle. Such a haircut visually rejuvenates the face, transfers accents from the protruding chin, and diverts attention from wrinkles, if they exist.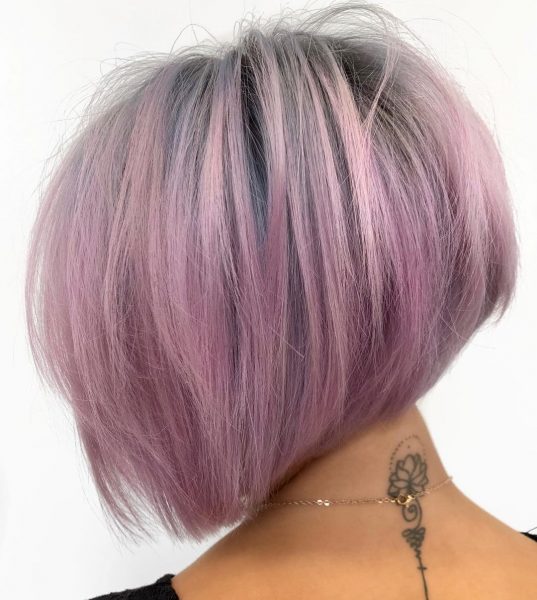 Source: @moorehairbykailee
38. Medium Length Inverted Bob Back View
Inverted bob makes your face attractive by exposing your shoulders and neck. This haircut is loved by many creative people. However, this hairstyle needs attention as you have to trim the growing hair constantly. To do this, you must go to a beauty salon every three weeks.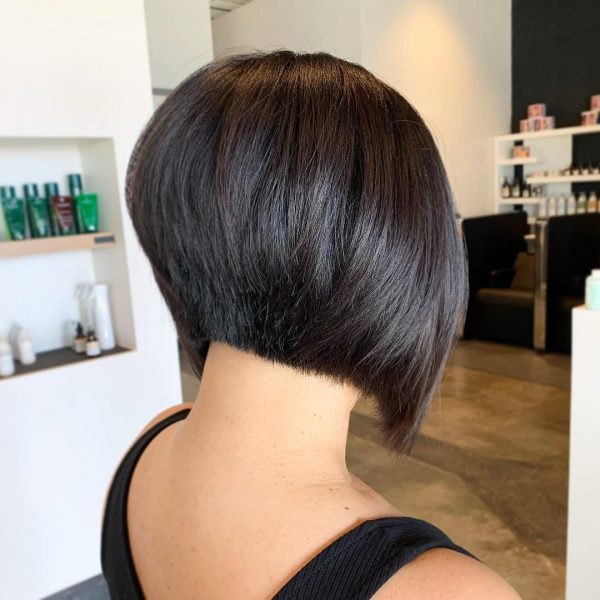 Source: @lemondesalon
39. Medium Graduated Bob
Graduation allows you to create a multi-layered haircut that will suit women with a round and squaring face, as well as women with a large forehead and cheeks. Your hair will become bouncy with a cascading haircut. This haircut is ideal for thin hair without volume.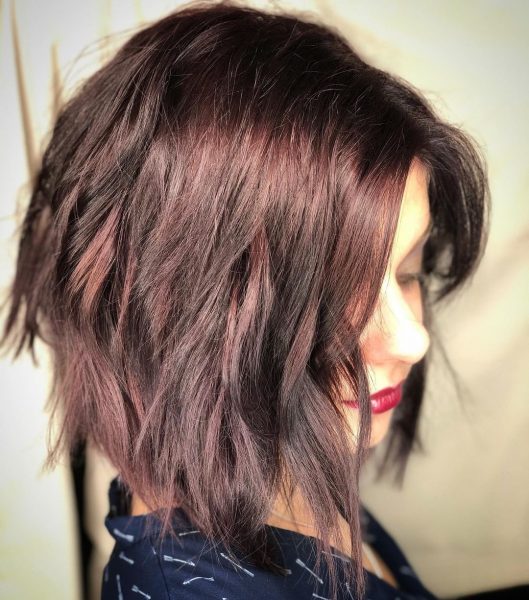 Source: @linda_carmineandco
40. Medium Length Undercut Bob Haircut
Bob haircut with a shaved head and temples is ideal for brave women who are not afraid to experiment with their appearance. Today, shaved whiskey is not an analogy for vulgarity or subculture. In addition, an undercut bob haircut is a great opportunity to combine cocky and business style. You can easily do this with the long front strands as you can hide the shaved areas of the scalp.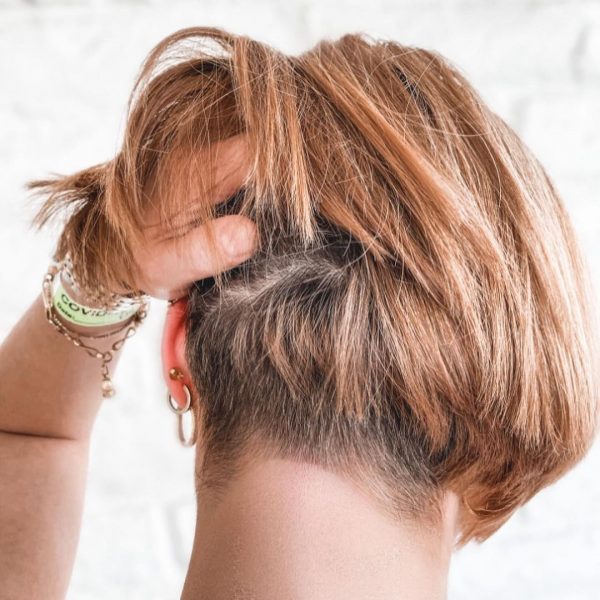 Source: @marina_skuratovsky
41. Rooty Textured Bob With Curls
Feminine hair that has flowing waves and medium-length textured strands is still relevant even today. With a hairdryer, you can easily do your hair for an evening date, and with curlers, you can make your thin hair lusher.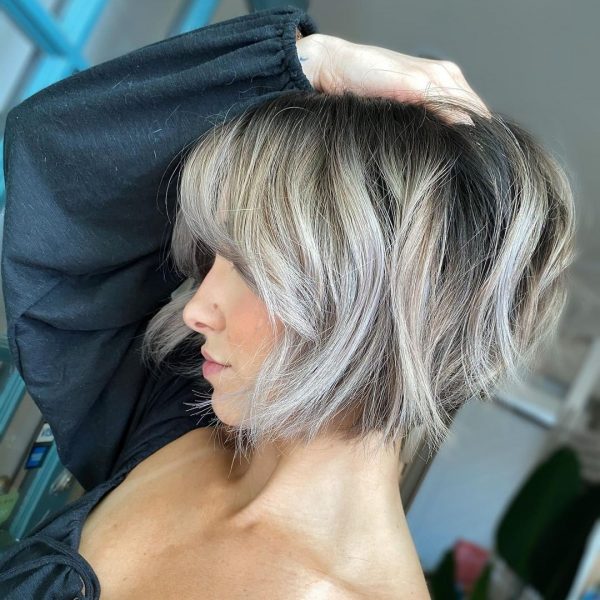 Source: @cararobertsonhair
42. Classy Chic Style Feathered Bob
This type of bob haircut is obtained by cutting the ends in the form of V-shaped tips. If you come across a professional hairdresser, he can make a bob with additional volume. The shape of the hairstyle is natural if the V-tips are small. Chic style feathered bob has the advantage that it strongly emphasizes coloring, highlighting, as well as interspersed strands of contrasting colors.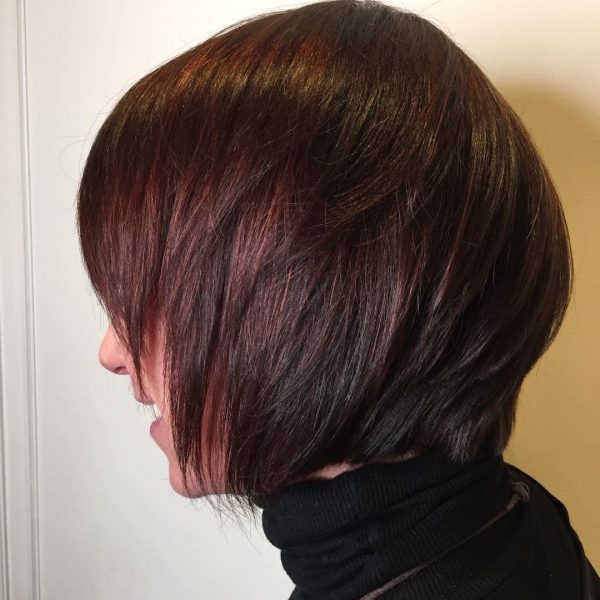 Source: @hairbykazue
43. Medium Length Shaggy Bob Haircut
Shaggy bob haircut is a more graduated, ragged cut than a cascade. The splendor of the hair depends on the form of cutting the curls. Shaggy bob haircut makes the hair look voluminous because the hair is interlaced randomly. This haircut is ideal for women with almost any hair type, except for curly hair.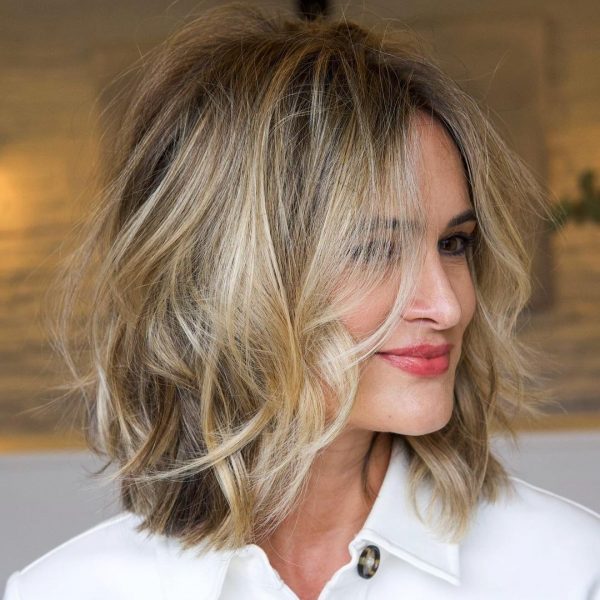 Source: @chrisjones_hair
44. Messy Bob Haircut Back Medium
Carelessness makes the hairstyle light and voluminous. For this type of bob cut, you should use a styling product for your hair type. At the same time, it is important that they can observe the tousled effect in combination with smooth curls. You must monitor the condition of your hair constantly. This type of bob will look sloppy without extra shine if you have dry and damaged hair.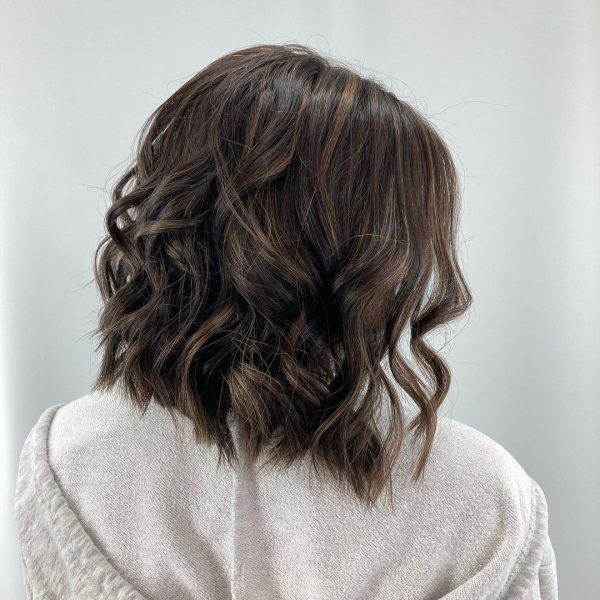 Source: @zazasalon
45. Medium Bob Haircut With Volume at the Crown
Front hair will look longer if you create a gentle hairline at the back of your head. This haircut makes the hair look voluminous. Bob haircut with volume at the crown is a unique mix of cascade and classic bob, in which all volume is distributed in the upper part of the head. This haircut is ideal for any woman, regardless of her age and physique.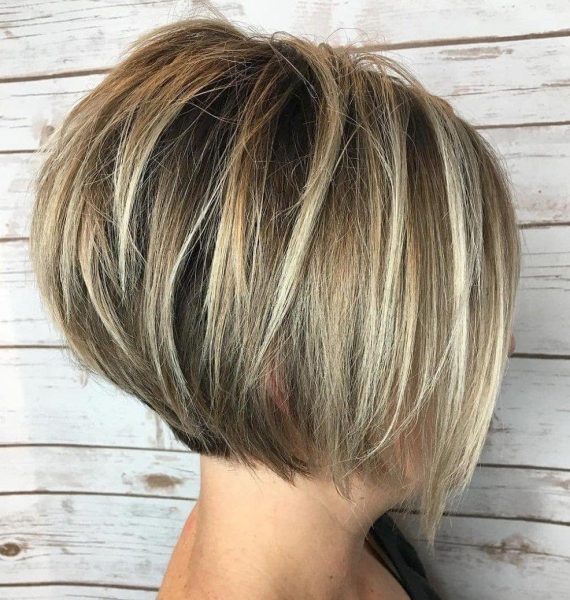 Source: @tresses.salon.studio
46. Medium Punk Bob Haircut
This strip is ideal for young women who want to express themselves through their appearance. Tousled graduated hair and bold colors reflect the complete freedom of a woman's nature. Undercut-style shaved areas at the temples make the face cockier.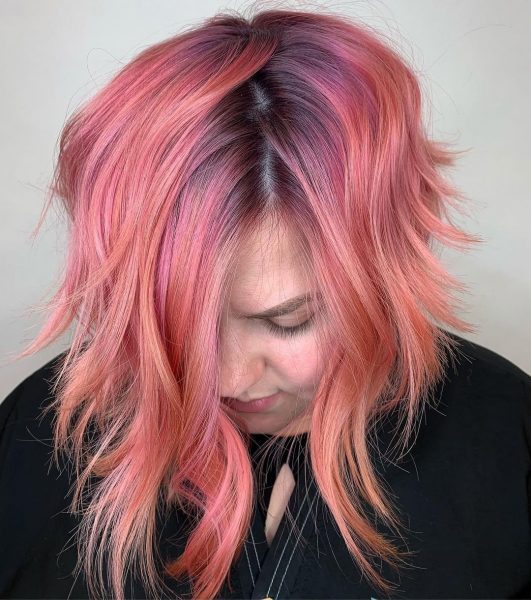 Source: @definedbysav
47. Cute & Classic Pixie-Bob With Fresh Pink Glow
Hair tips that are carelessly sticking out in different directions, an open neck and back of the head are the advantages of a pixie-bob. This haircut will make you gentle and feminine. If you are lucky enough to choose the correct haircut, then you can make your lips or nose smaller visually.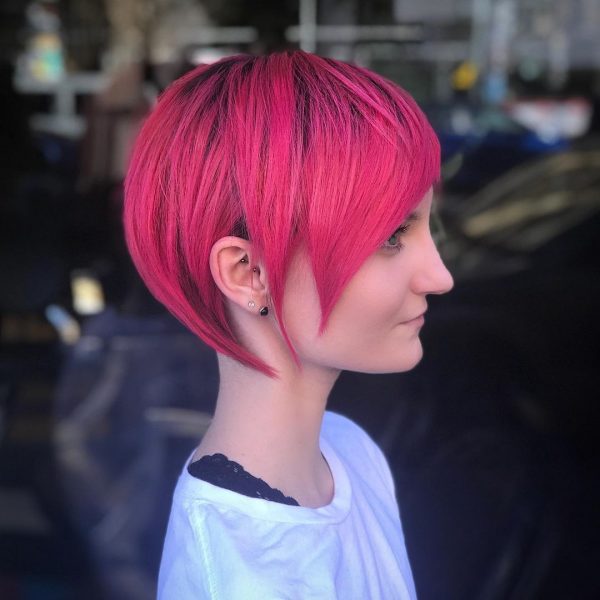 Source: @mandaziegelman
48. Elongated Medium Bob
This is the most versatile bob cut that will suit any type of appearance. When done correctly, a haircut will hide the flaws in your appearance and accentuate a beautiful neck or shoulder shape. This is suitable for everyday use.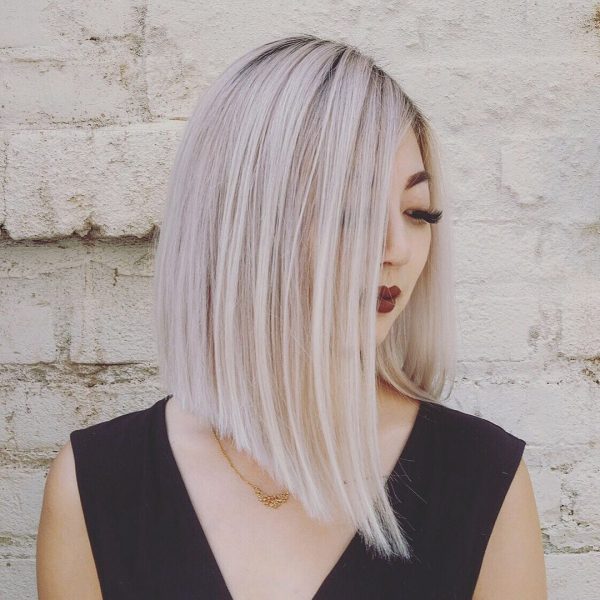 Source: @yamashiro_hair
49. Side Shave Stunner Bob Cut
Just a few clipper movements will allow you to make your look bright and bold. However, you will have to constantly shave your temples. For a business style, you can cover your temples with long curls.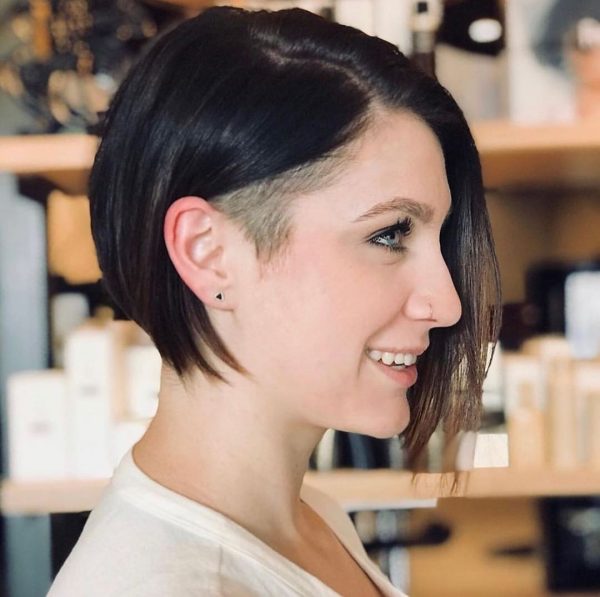 Source: @ritual.salons
50. Blonde Layered Bob With Bang
This is a bob haircut with several layers. It is ideal for women with fine hair. Thick hairstyle will go well with this haircut too. As for the bangs, then they should be cut in several layers.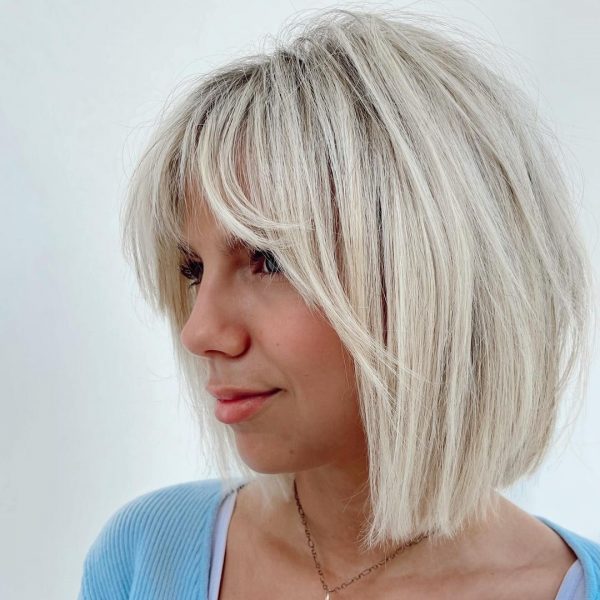 Source: @hairbykaitlynbrown
51. Blonde Contour Balayage and Angled Bob with Layers
This type of bob cut combines the tenderness of long strands and the rebelliousness of short ones, and the multiplicity of layers makes the hair voluminous. Due to this, the multi-layered extended bob is ideal for thin and thick hair at the same time. You can successfully dye your hair using the balayage technique.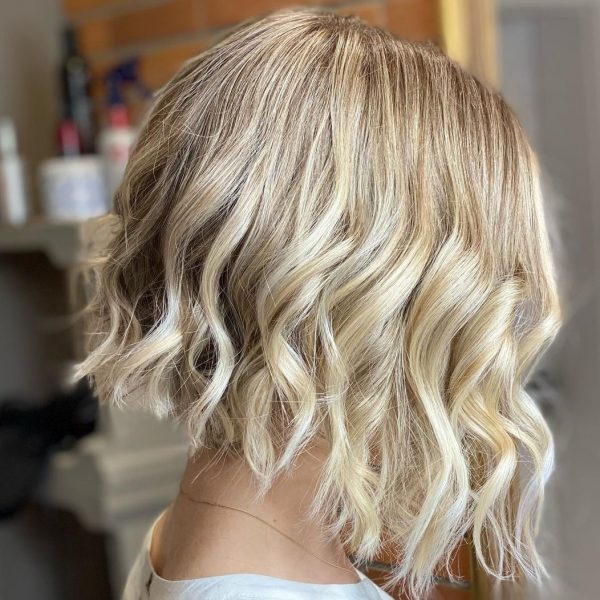 Source: @gilclairehairstyles
52. Medium Length Angled Bob Haircut with Side-Swept Bangs
You can visually lengthen your face by making a continuous line from the middle of your forehead to the shoulder line. It will also help you make the upper part of your face narrower, and your image will become more mysterious and seductive. Long oblique bangs are ideal for women who afraid to make bangs too short.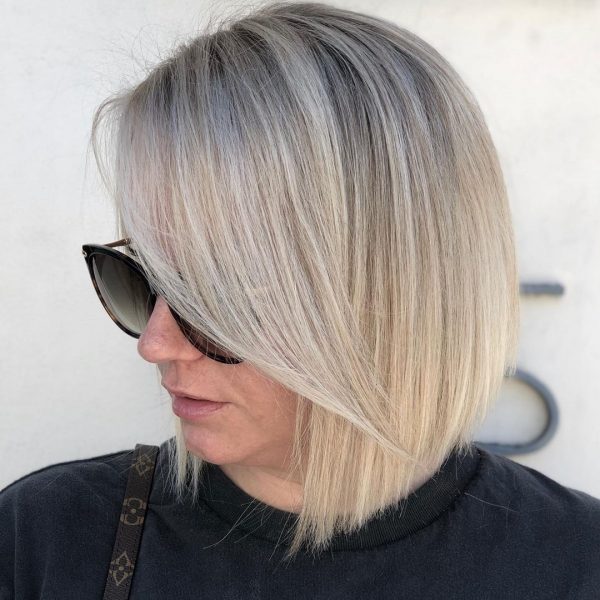 Source: @shelbyanne155
53. Texture and Dimension Medium Messy Bob Haircut with Bangs
This bob cut is very pretty when mixed with curly hair. Carelessness is in vogue today, which means that this haircut is very modern. The bangs in such a haircut will help you hide a too large forehead, as well as align the proportions of a face that has a too large nose. This type of hairstyle goes well with highlights.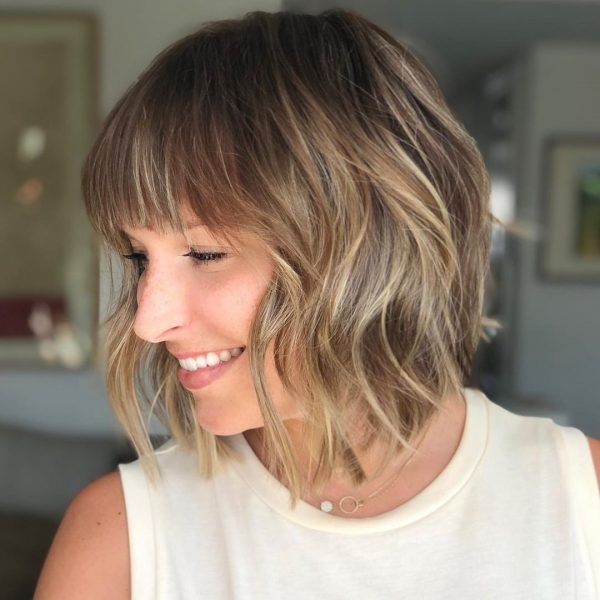 Source: @alissathesauce
54. Textured Brown Medium Bob Haircut with Bangs
This bob haircut has an elongated curl size. Young women choose this haircut when paired with curly hair. The result is a very cute hairstyle. This type of haircut is ideal for an oval face as it enhances the classic features of the face. You can make your hairstyle more fashionable by tousling it. Dry shampoo will be your left hand as it will help you add volume to the root area.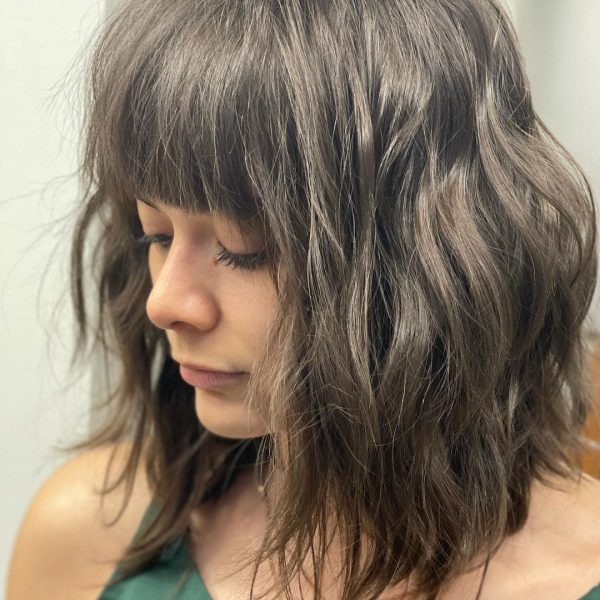 Source: @joycemariehair
55. Medium Bob Haircut with Bangs and Highlights
Medium length bob haircut suitable for long highlights. With this method, you can make your bangs stand out more. Stylists advise using several shades in order for weakened, sparse hair to look lusher visually.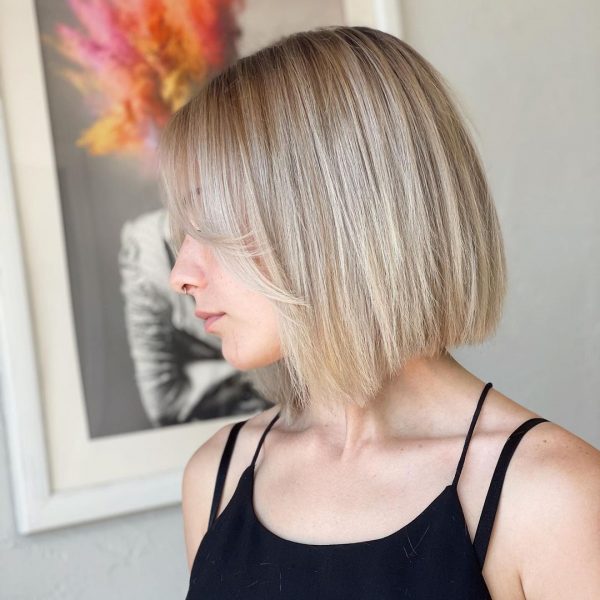 Source: @saltyhairbysara
56. Nice Bob Haircut for Black Thin Hair
Women with black hair can choose a bob haircut. This will help them update their image. This haircut emphasizes the correct shape of the face and makes the eyebrows and eyes more expressive. You should find a hairdresser with experience as only he will wash off the correct length that will give your face the correct proportions.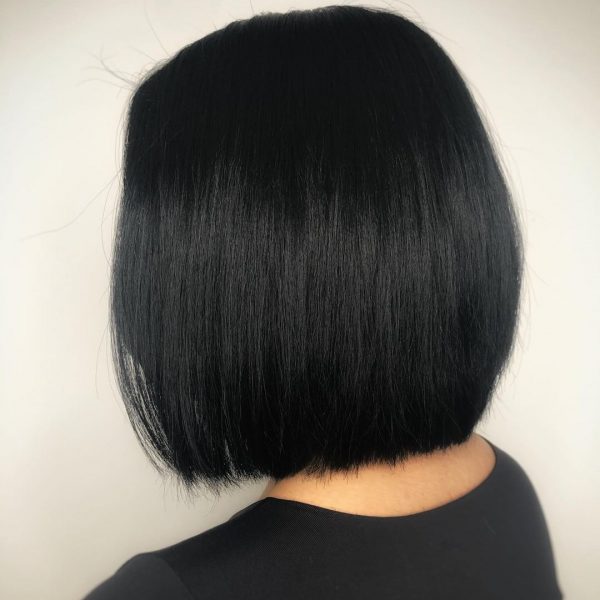 Source: @britt.anne.hair
57. Beautiful Chin-Length French Bob with Bangs for Brunettes
A straight bob with straight bangs on smooth hair is an image that was once created by cute Coco Chanel. This will make your face look less wide and is ideal for women with large cheekbones. Such a hairstyle must be constantly looked after since it cannot be collected at the back of the head.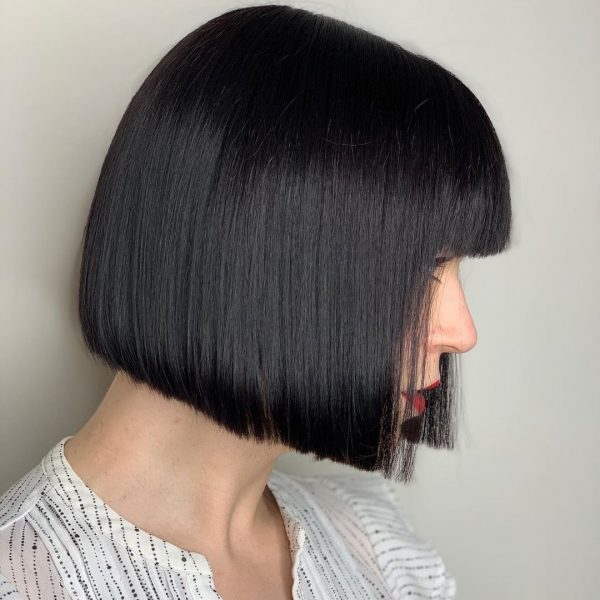 Source: @minhwaleehair
58. Angled Bob Precision Lines Texture
This bob cut is the softest and most feminine, it makes the face expressive. You can create curls at the tips of your hair, and then you will look like an extraordinary person. Women with such a haircut do not spend a lot of time on hair care. A special haircut technique is made by the one that curls on their own.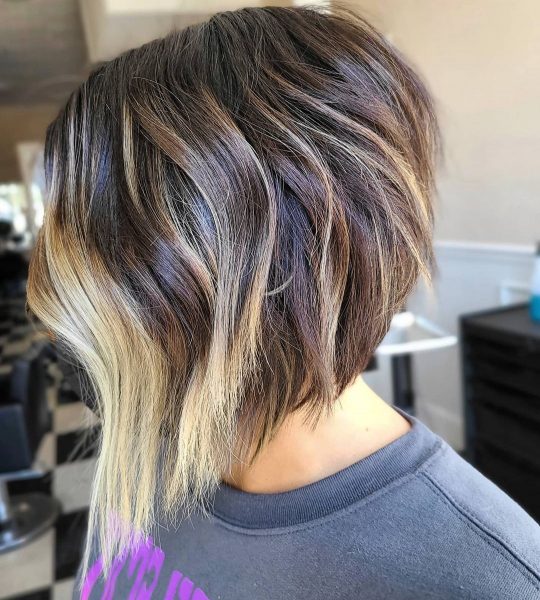 Source: @jenn.watsonnn
59. Medium Bob Haircut with Glasses
Medium bob haircut has a nice accessory. These are glasses. The best option is glasses with transparent or thin metal frames. You can wear glasses with black frames and large lenses if you are aiming for a classic look for yourself.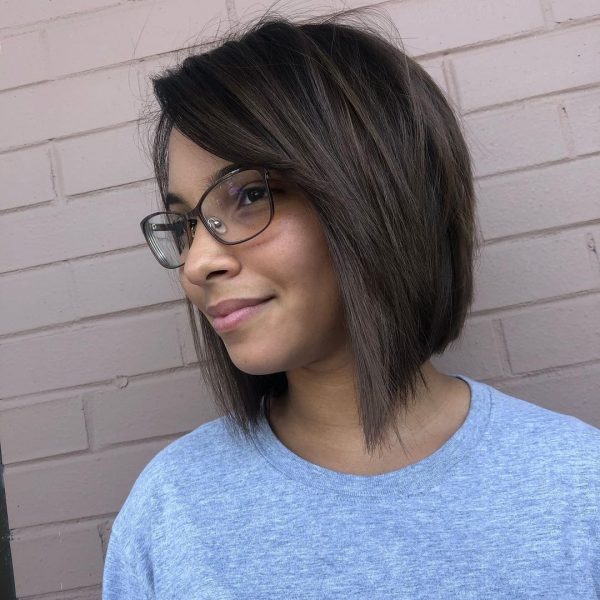 Source: @the_bob_haircut
60. Classic Bob with Short Bangs
Your look will become feminine if you make yourself a bob haircut up to the neck. It is ideal for women with small chins. Most often, this is the choice of young women who are in search of their own style, as well as women with thin, curly hair. Stylists recommend to such women a shortened version of the bob haircut so that the hair looks healthier.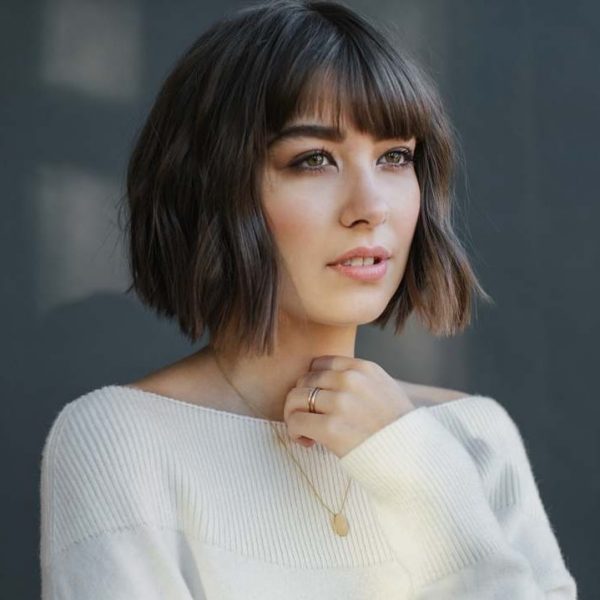 Source: @nickscuts_
You can ask a stylist to recommend the best type of haircut for you. When choosing, you will rely on your own taste. A professional hairdresser is ideal for those women who are still undecided about their style. The main rule of the attractive appearance of hair with an average length is correct and regular care with the use of expensive cosmetics.
Many women love bob haircuts. Back in ancient Egypt and medieval Europe, women made this haircut for themselves and their friends. Many trendsetters did their bob haircut in the twenties of the last century. Today the time has come when the bob haircut has become popular again.