Ombre hair with a soft gradient or a stark contrast change matches all season color types and hair textures. It is also suitable for any look. The only trick is to match it well with your skin undertones and eye color.
For instance, copper or rainbow shades won't flatter girls with tan skin and hazel eyes. Instead, sandy, honey, caramel ombre will contrast well against tan skin. We will show you 48 different ombre looks in the article below.
1. Blonde Ombre
Ombre looks cool and gorgeous on blonde girls. For natural blonde fair hair opt for gradient ombre highlights than dyeing your tresses with the following one color staining.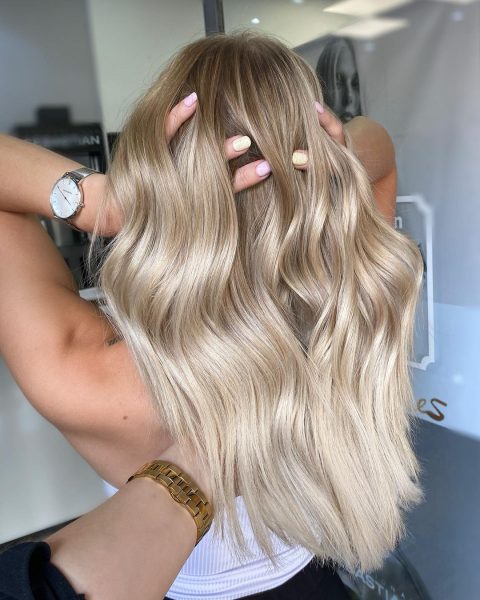 Source: @megiivalii
2. Ash Blonde Ombre
Ashy hues on dark hair create the very contrast that ombre highlights were created for initially. The cooler the locks are and the more contrast between the natural and the colored hair there is, the bolder the result you will achieve.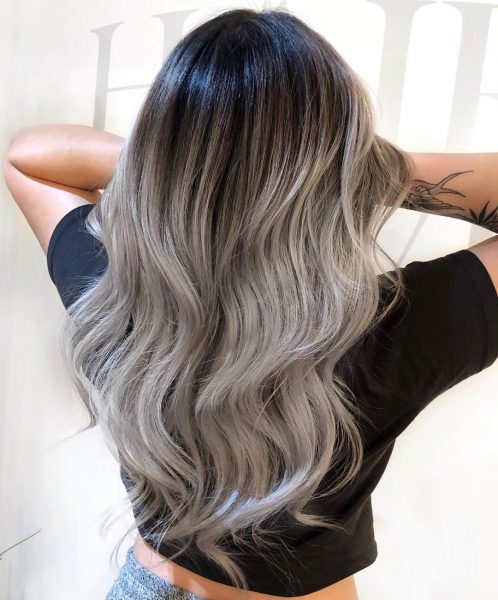 Source: @hairbyamberjoy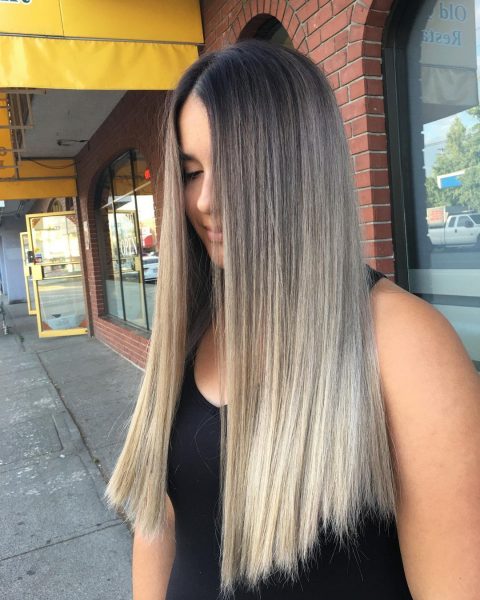 Source: @judy.mai.hair
3. Blonde to Pink Ombre Hair
Romantic light pink ombre is best for cooler shades of blonde. Strawberry and cream mix is made for dreamy and tender girls.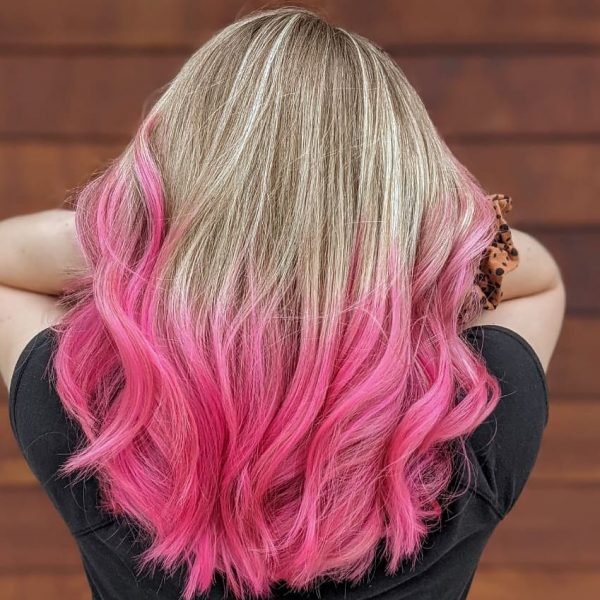 Source: @shebick_hairpics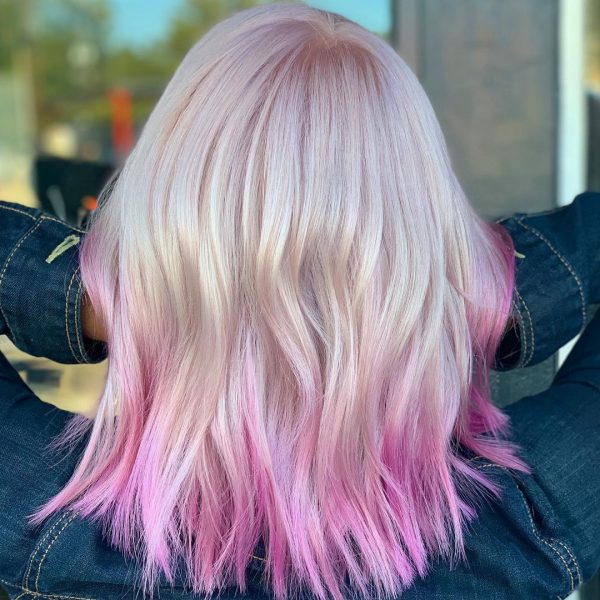 Source: @jackieinmanhair
4. Dirty Blonde Ombre Hair Color
Locks of different shades of blonde create the effect of a lion's mane. This hair color technique is a low-maintenance hair option as it doesn't need constant staining. The result is similar to one after a complex coloring, but it's actually a blonde ombre with a subtle gradient.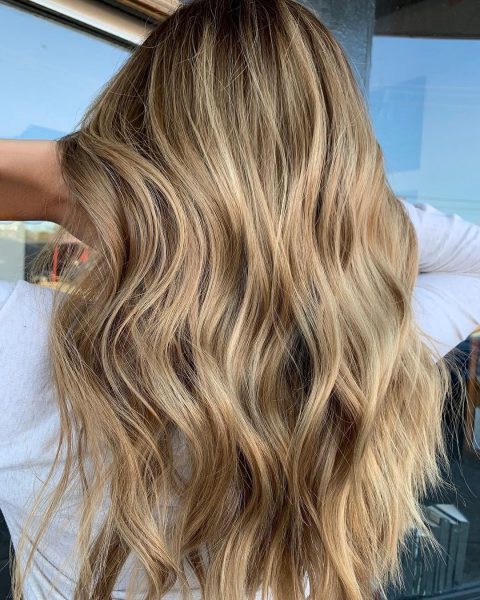 Source: @jackieinmanhair
5. Honey blonde ombre
A softened warm honey blonde ombre is easy to create on a natural fair hair base. It looks especially good on girls with green, grey or blue eyes and slightly tanned skin.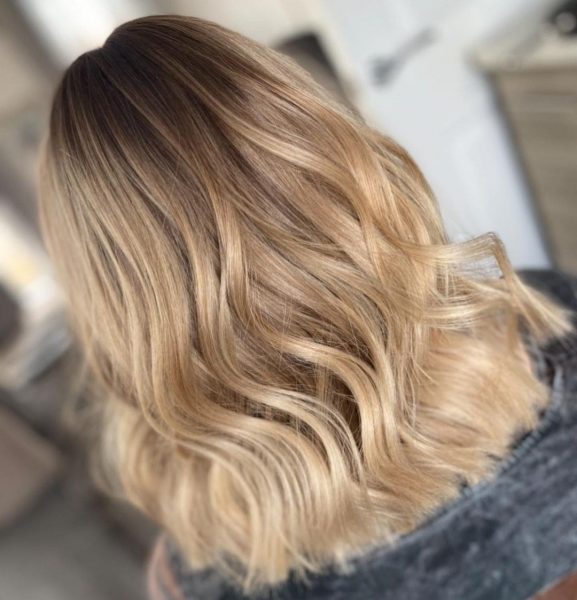 Source: @hairbycarysx
6. Strawberry Blonde Hair Ombre
A strawberry blonde hue makes you look younger and flatters your skin. This ombre color choice will legit make you look lovely and original. To benefit from this shade you will need to have a fair color base. In the picture the coloring looks like balayage, but nevertheless it is ombre.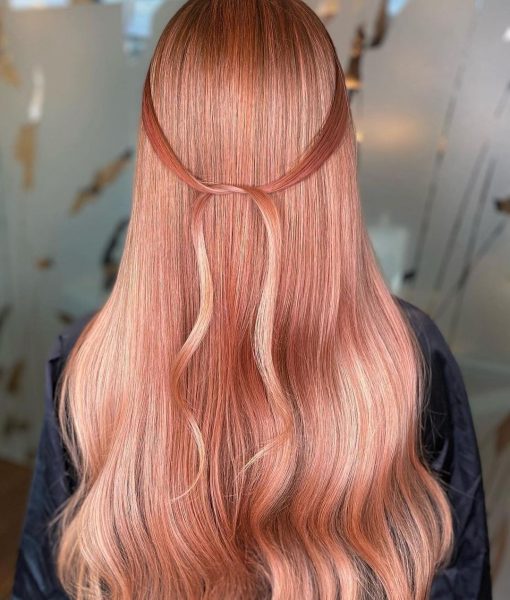 Source: @hairmadebylillian
7. Dark Roots Blonde Ombre
This classy ombre with a subtle change from a darkish base hair color to the light ends is always on trend. It suits all hair except black as in that case you will need to lift your hair up to 5 levels.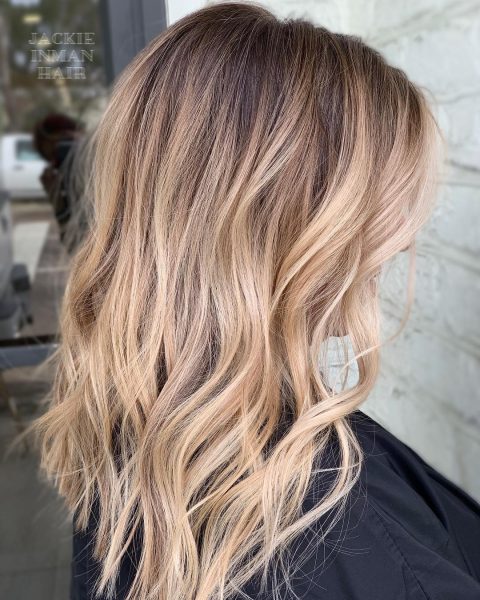 Source: @jackieinmanhair
8. Platinum Blonde Ombre
A cool platinum blonde looks brighter and more interesting with ombre. As a rule, you can't have that cool shade of natural hair or even achieve it through staining. That's the trick that ombre highlights do while making your hair look more natural and timelessly elegant.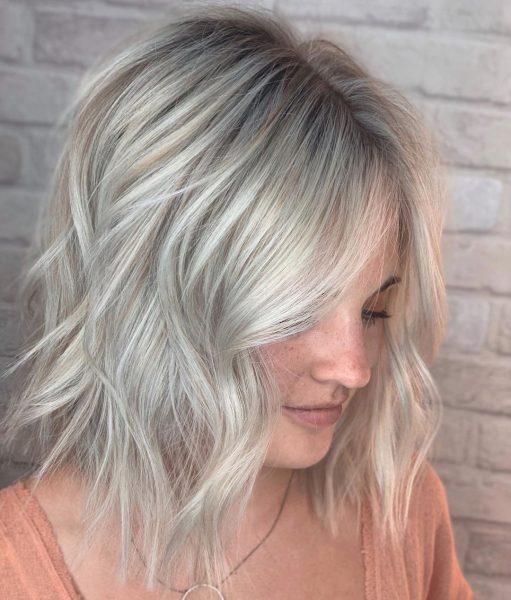 Source: @jackieinmanhair
9. Brown ombre hair
In the very beginning ombre was created for dark chestnut hair and fair hair. This coloring in warm golden shades of blonde is a win-win combination for brunettes. It also adds dimension and texture to hair. Works extremely well with wavy curls, braids, ponytails and other creative settings.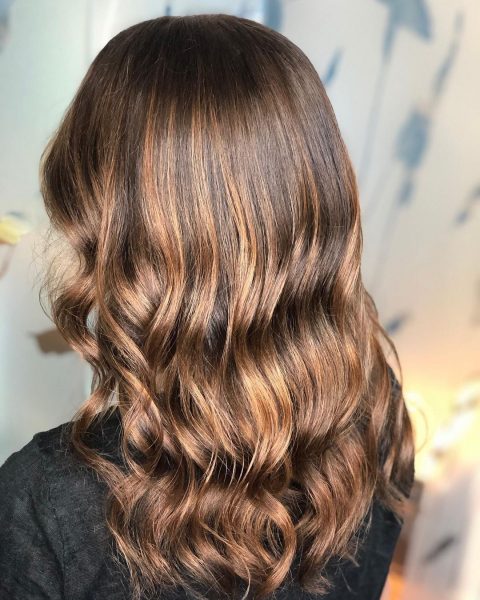 Source: @hairmadebylillian
10. Ash brown ombre
Brunettes should opt for a soft gradient of dark shades. If the contrast between almost black and blonde hair looks vulgar, then an elegant transition from one dark shade into another creates a stunning look.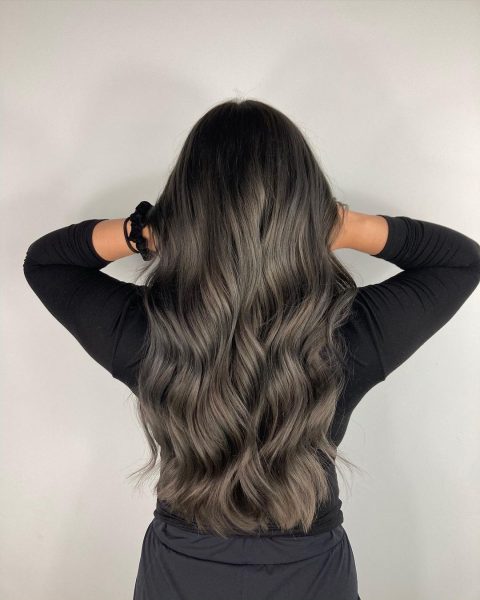 Source: @aerysalon
11. Auburn ombre hair
Auburn blonde is a transitional color from copper to warm blonde. Copper and chestnut hues match well together with blonde shades and flatter fair skin girls with green or blue eyes.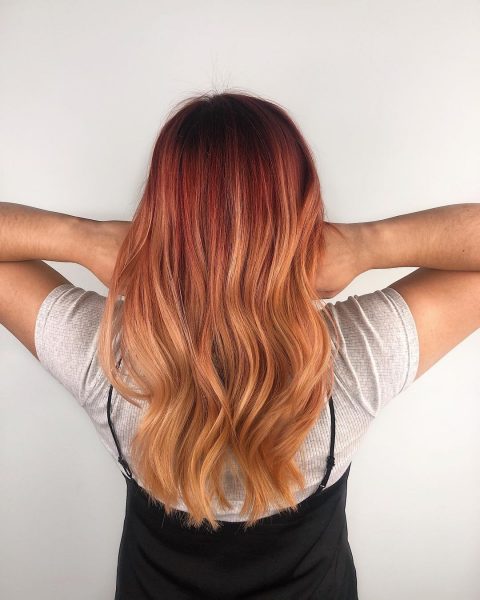 Source: @aerysalon
12. Brown to green ombre
A creative coloring works best with a dark hair base. This color choice is numero uno if you plan to gain everyone's attention. Many bold and creative girls opt for this coloring.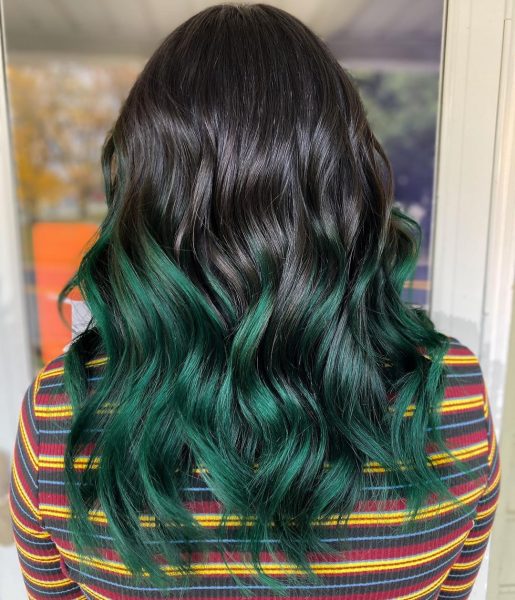 Source: @hairbykatierose
13. Black to blonde ombre
For girls with black hair it's especially important to reach a smooth gradation from the dark blonde roots to the lighter cool ends. At the end you will enjoy an elevated ombre look.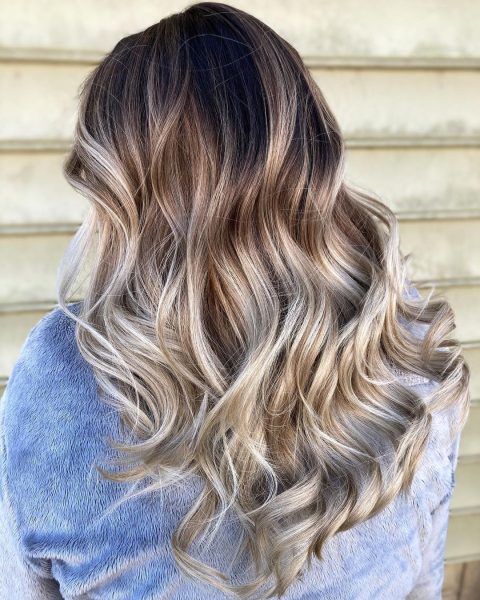 Source: @hairbykatierose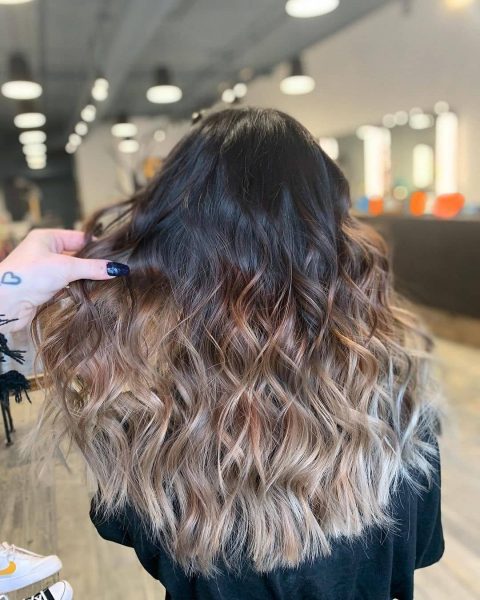 Source: @bishops.nempls
14.  Red ombre on black hair
Chestnut hair loves red hues. The latter could range from claret red to eggplant purple. Red shades on dark hair create an ideal contrast for ombre. It brightens the look and drastically changes the appearance.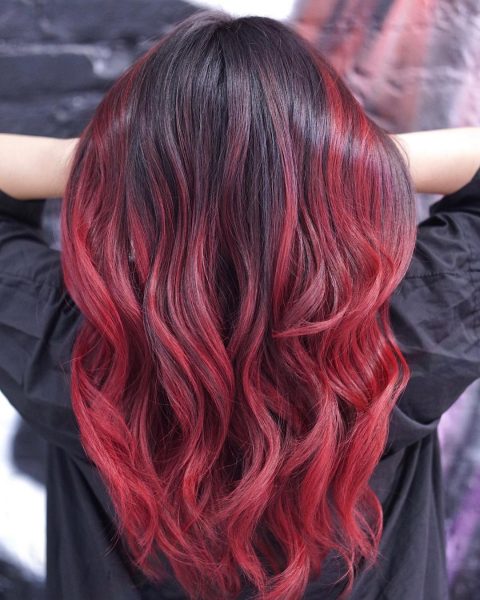 Source: @unfade_royren
15.  Ombre highlights on black hair
Anthracitic-platinum, caramel or colorful ombre highlights to the tips on dark hair look creative and elegant. They allow easy maintenance as the colors don't require constant staining and they suit pretty much every style, especially casual.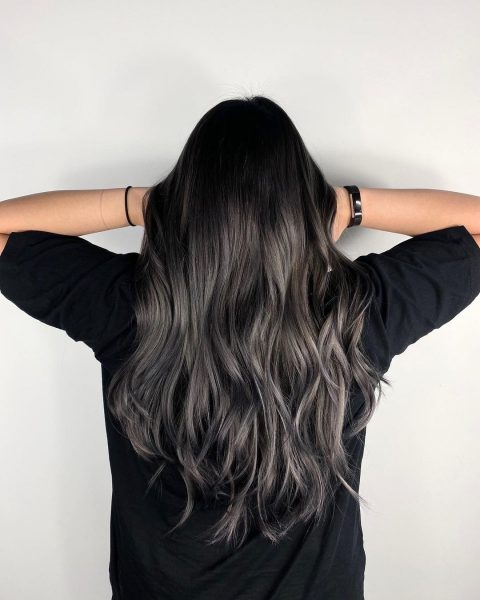 Source: @hairbykatierose
Source: @hairbykatierose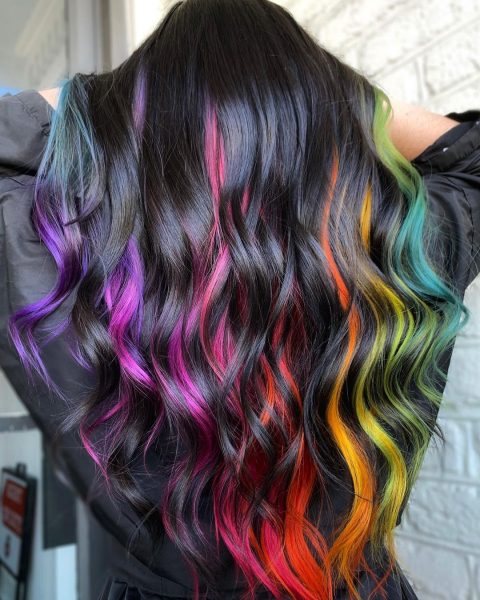 Source: @hairbykatierose
16. Blue ombre hair
Turquoise and light blue shades define dreamy and romantic people. These colors freshen up the look and enliven a face. Creative girls like opting for these colors as well. Still, dark skin girls with hazel eyes should be careful while choosing mermaid colors.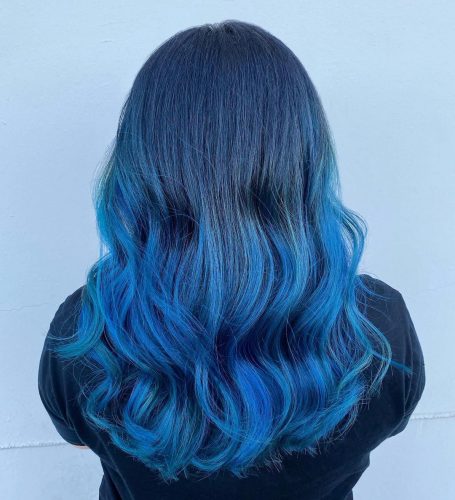 Source: @christiannahair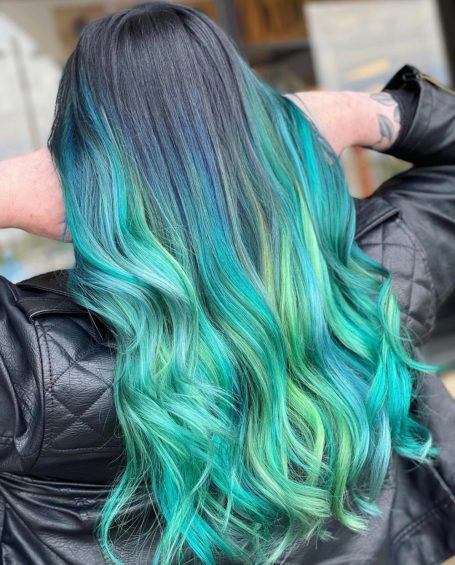 Source: @salonyeagerknoxville
17. Blue to purple ombre hair
Cool bright shades match well with any hair base color. A blue to purple ombre looks festive and creative. Perfect for braids, chignons and elaborated hairstyles.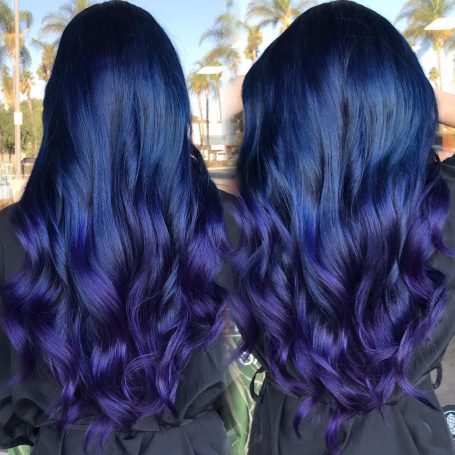 Source: @dkhairstyles
18. Black and burgundy ombre
Burgundy shades look best on brunettes. Dark hair color plus burgundy hues result in intense and elegant coloring.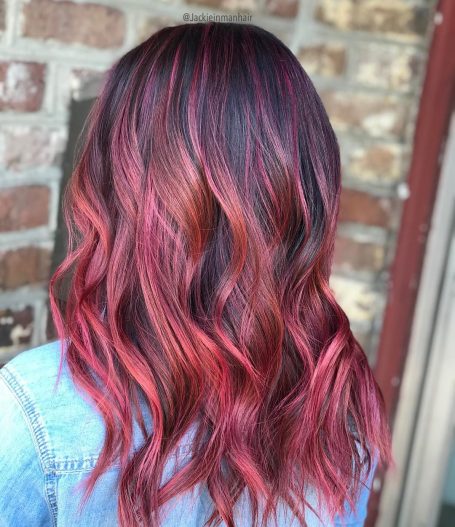 Source: @jackieinmanhair
19. Burgundy to blonde ombre hair
A rare and creative transition from a dyed burgundy base to creamy blonde. To get a gorgeous mix of shades aka milk & cherry hair, it's better to style or braid your hair on a regular basis.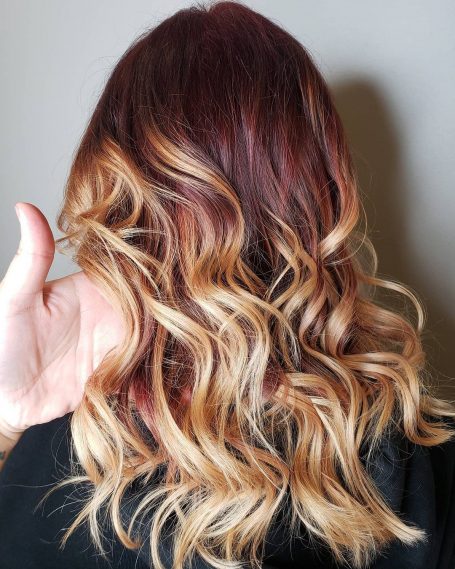 Source: @bellabeautiquellc
20. Dark to caramel ombre
A caramel ombre looks balanced and chic on chestnut hair. A smooth transition is very ubtle and it looks almost as highlights. That's the end result that a colorist should be aiming at.
Source: @hairbykatierose
21. Brown to pink ombre
Rose ombre on fair or chestnut hair looks like milk raspberry chocolate. It's girlish, tender, and lights up the whole look. It flatters girls with blue or grey blue eyes. As all creative colorings can underline the smallest imperfections, the skin should be perfect too.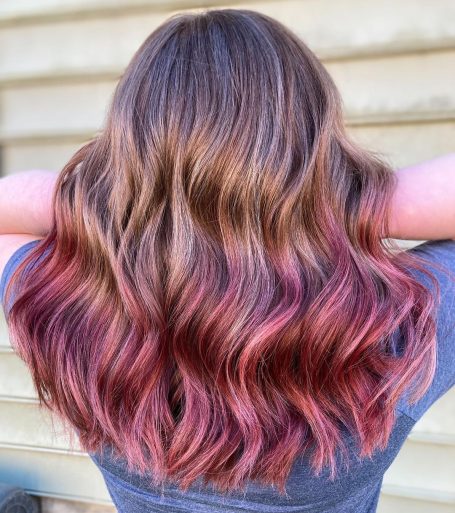 Source: @hairbykatierose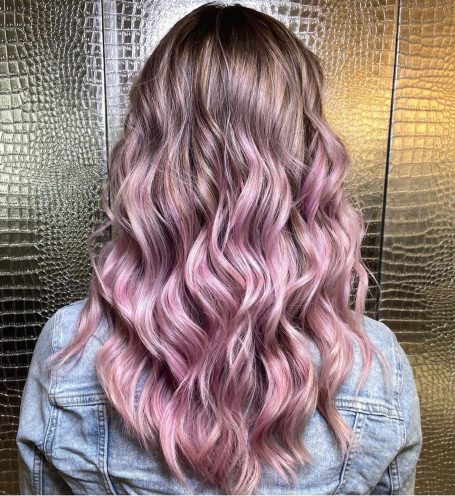 Source: @dkenvy
22. Orange ombre hair
Orange to wine-red color ombre looks cool, fresh and adds some welcomed dimension. If you are looking for a way to enliven or change your look and attract some attention, it's the best choice. It doesn't suit girls with dark complexion and hazel eyes though.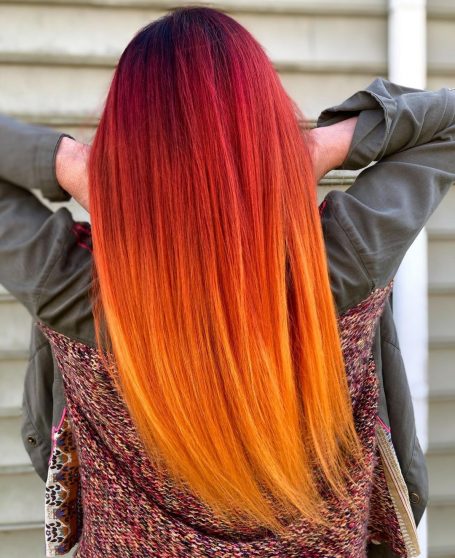 Source: @hairbykatierose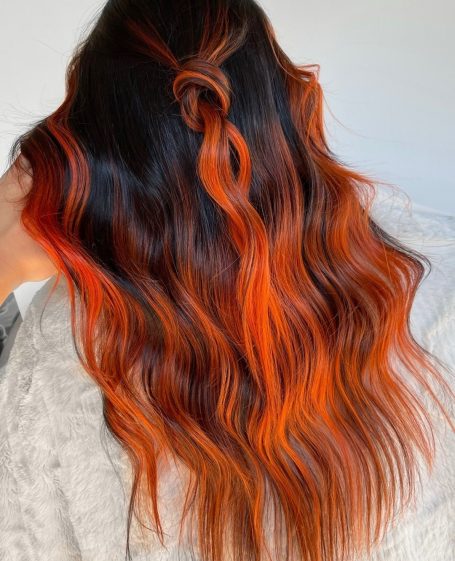 Source: @therainbowhairartist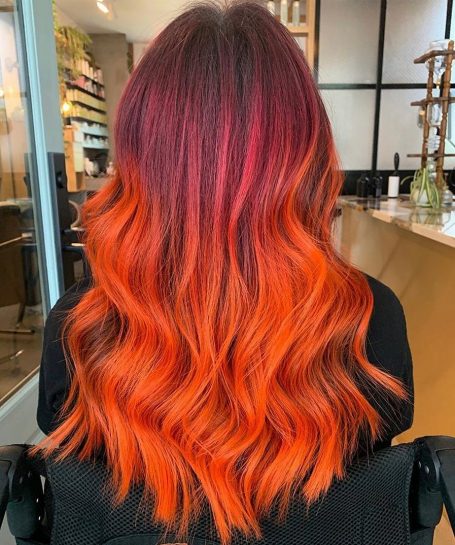 Source: @dnalabsalon
23. Green ombre hair
Green to turquoise mermaid ombre suits any hair color base. It doesn't require constant staining and enlivens the look straight away. The tresses gain attention and make the whole look very creative.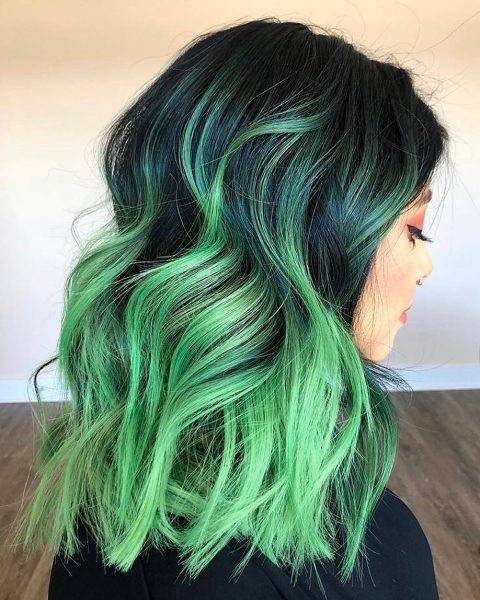 Source: @dnalabsalon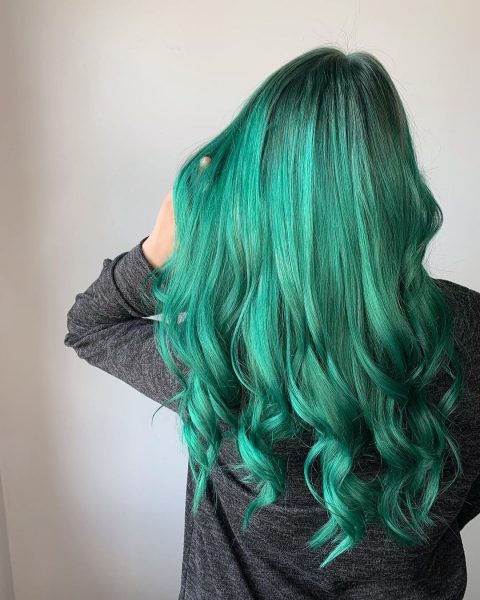 Source: @hairpaintingbykjb
24. Black to grey ombre
Platinum ombre with silver shades matches well with cool black hair color. The coloring looks chic, elegant and still original. That's the best option for business women.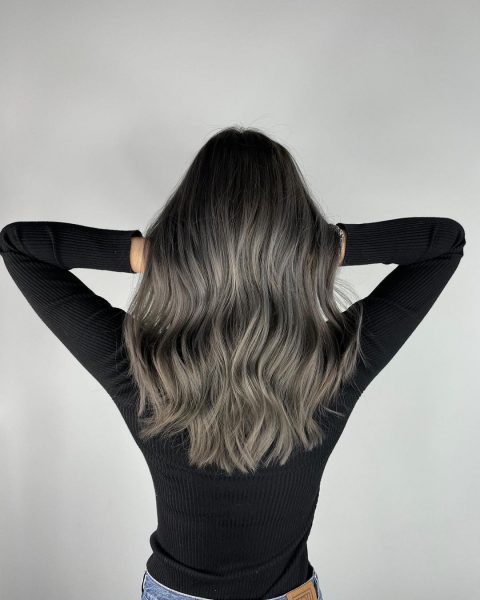 Source: @aerysalon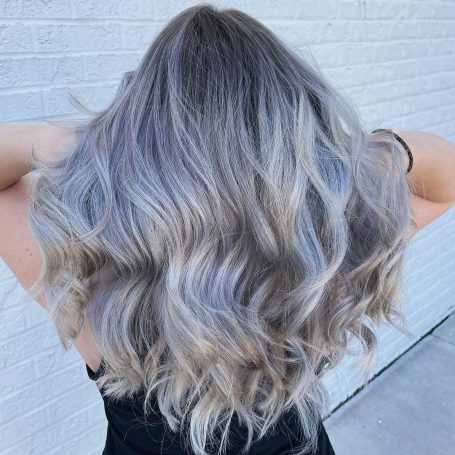 Source: @joymariebeauty
25. Copper ombre on dark hair
Copper shades give more texture to dark hair. This ombre is low-maintenance, so no need to elaborately style your hair. Still, if you make some efforts and braid your hair, or create beachy waves this shade will reveal its flamy nature.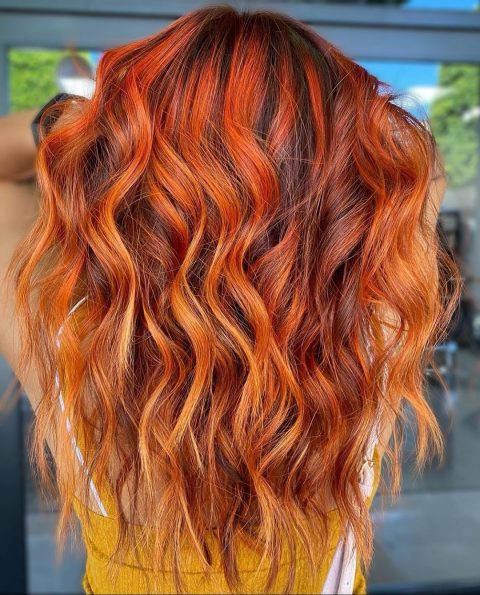 Source: @craftsalonglendora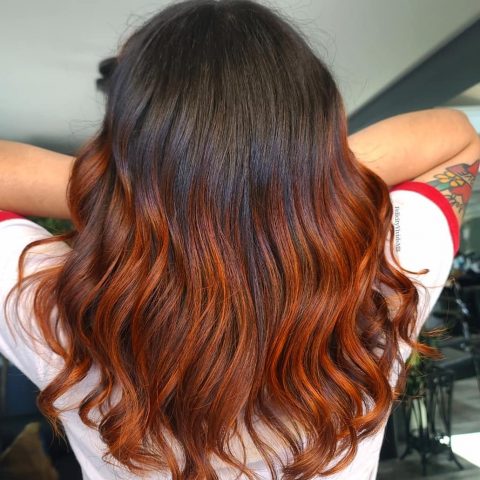 Source: @felicityvividsmb
26. Black to purple ombre
Lavender ombre on dark brown hair looks elegant. This frozen plum shade matches all complexions and doesn't require constant toning.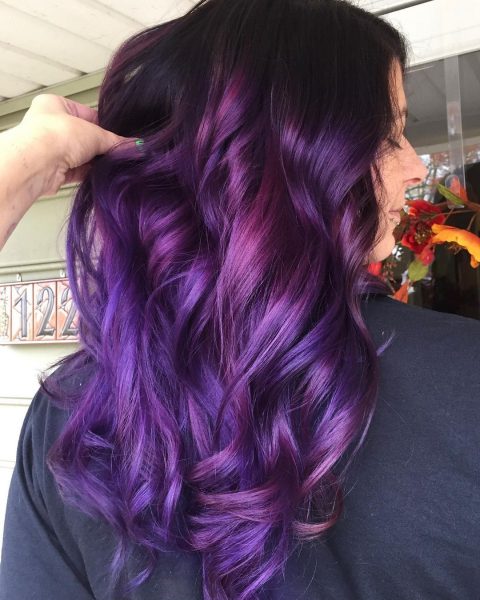 Source: @hairbykatierose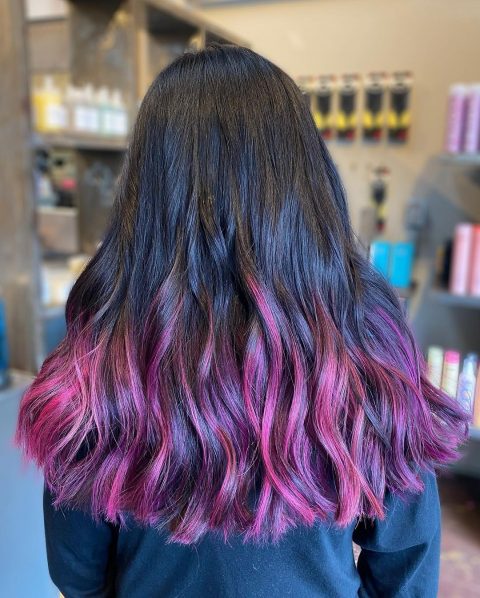 Source: @beautybybrenx
27. Rainbow ombre hair
A creative and lively coloring for likewise people. It goes well with casual, pank, glam-rock, and grunge looks. It's also perfect for people who are after a low-maintenance look as it doesn't require constant toning. A stark image change is guaranteed!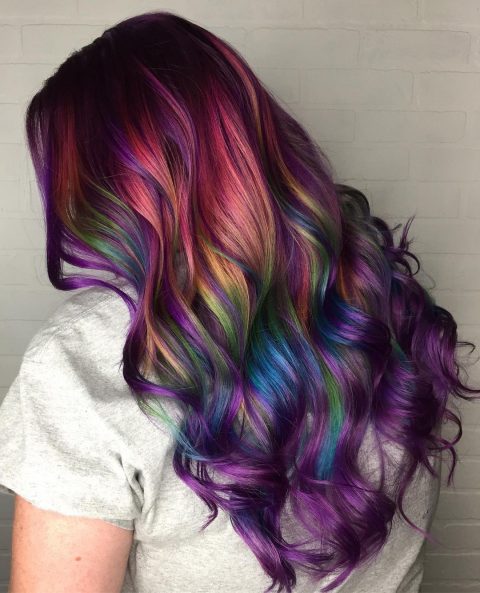 Source: @hairbykatierose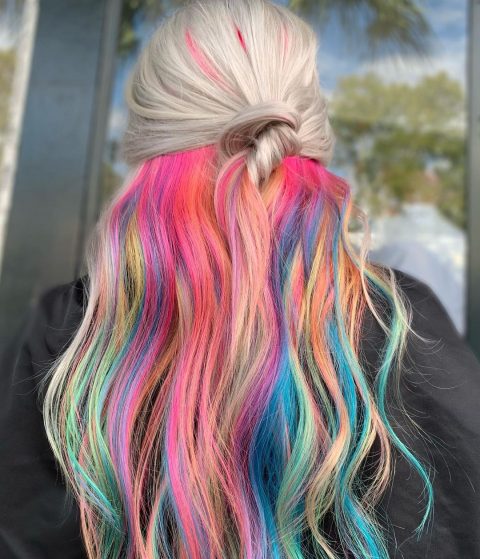 Source: @jackieinmanhair
28. Rose gold ombre hair
Natural hair should be lifted to 9-10 levels to obtain this pure shade of rose gold or strawberry blonde. It looks amazing on girls with cool skin undertones and green and grey eyes.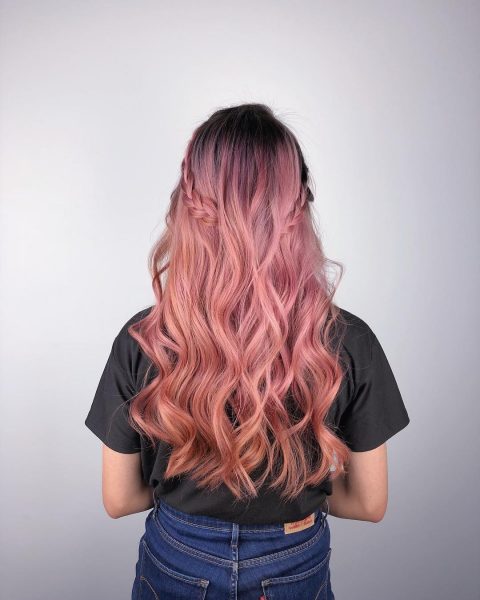 Source: @aerysalon
29. Black to silver ombre
Silver ombre with a smooth gradation from black to platinum creates an elegant and polished look. A natural base should be toned into the coolest shade so the colors of the roots and the ends can meld seamlessly.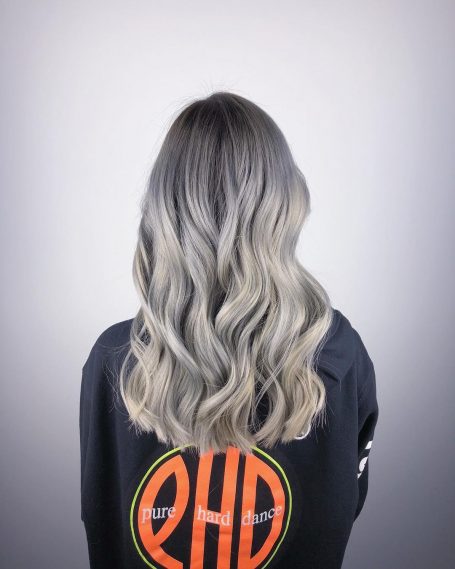 Source: @aerysalon
30. Brown to red ombre
Red ombre elements can freshen up short and long hair. Dazzling burgundy, ochre, eggplant shades pair well with black and chestnut hair.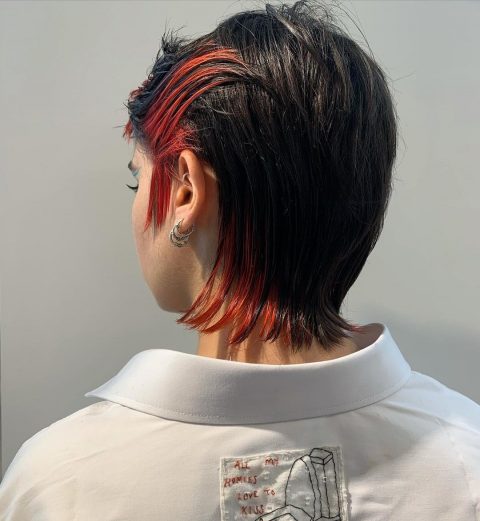 Source: @rebeccajacques_hair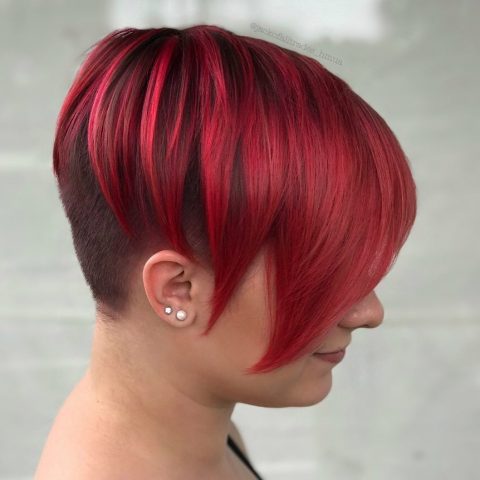 Source: @jackieinmanhair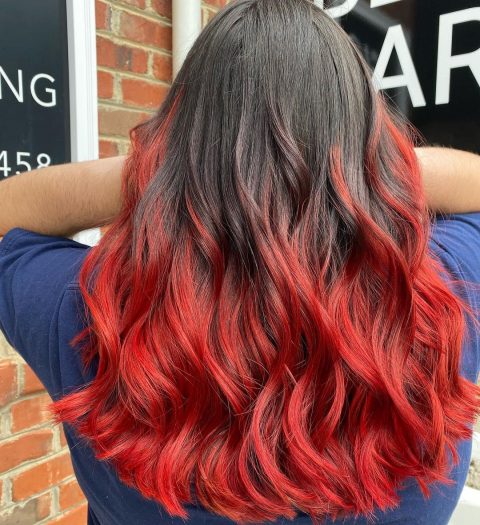 Source: @therealmelholli_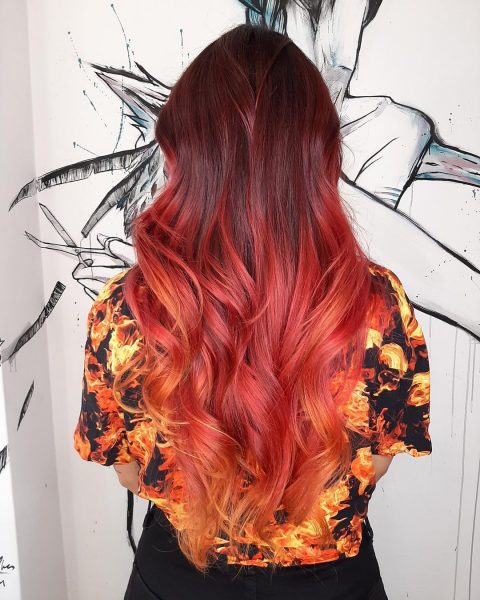 Source: @slash_lisbon
31. Red to blonde ombre
A gradient strawberry & cream ombre makes us crave juicy strawberries! To rock this hair coloring, you will need to get the lightest hair base. This ombre looks stunning with tousled curls and elaborated hairstyles.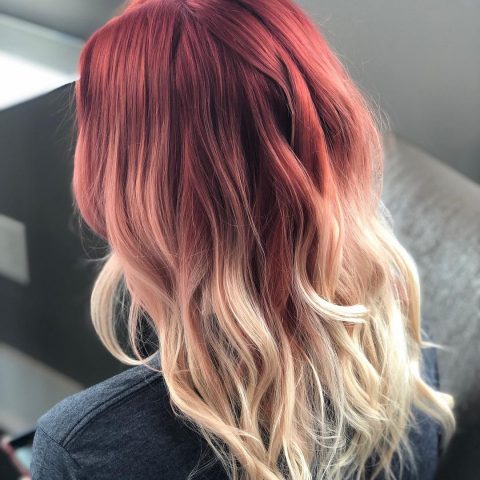 Source: @jhamm_creates
32. Ombre 2 colors
Bright red strands on fair hair create a flaming ombre. Curl and style your hair so that the color can pop.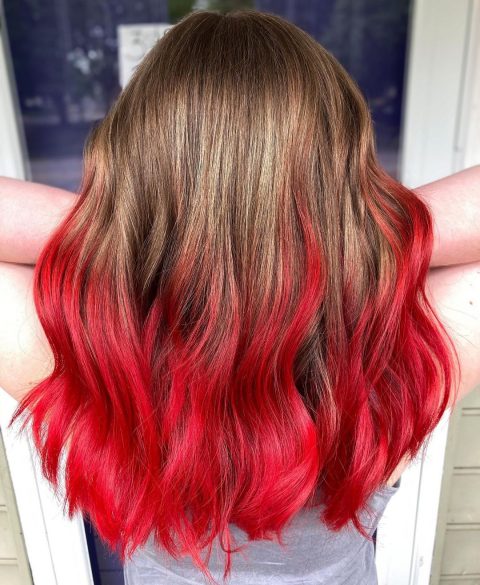 Source: @hairbykatierose
33. Tri colored ombre hair
Purple, magenta and orange colors meld into each other seamlessly. These three colors brighten the skin and enliven your face features. The smooth color gradation matches all complexions.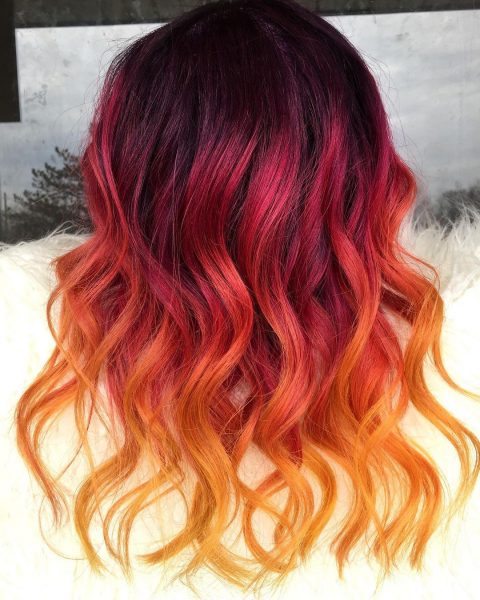 Source: @hairbykatierose
34. Multicolor ombre hair
Colorful pastel strands go well together with any ashy blonde, i.e. platinum, babylights, grey blonde. A mash-up of subdued pink, green and turquoise colors look elegant on fair skin girls with green, blue or grey eyes.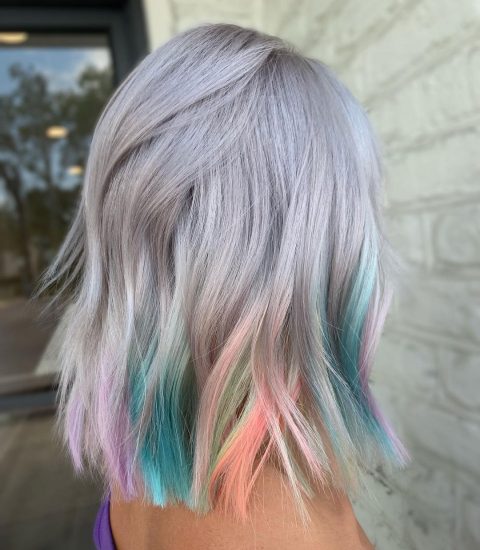 Source: @jackieinmanhair
35. Short ombre hair
To spice up very short and straight blonde hair, add more details to your haircut. Ombre creates the necessary texture and volume!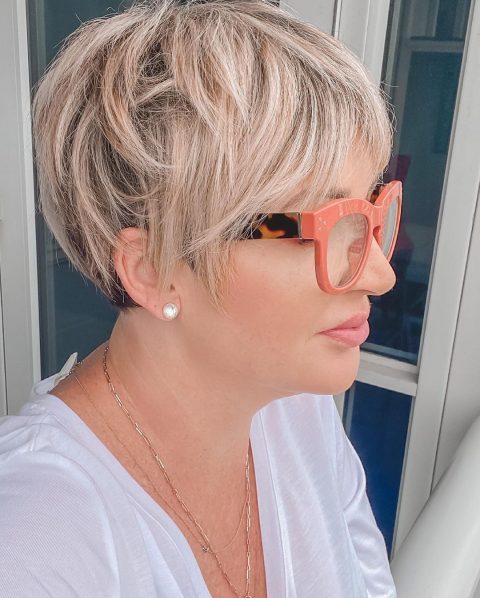 Source: @curlologybymarilyn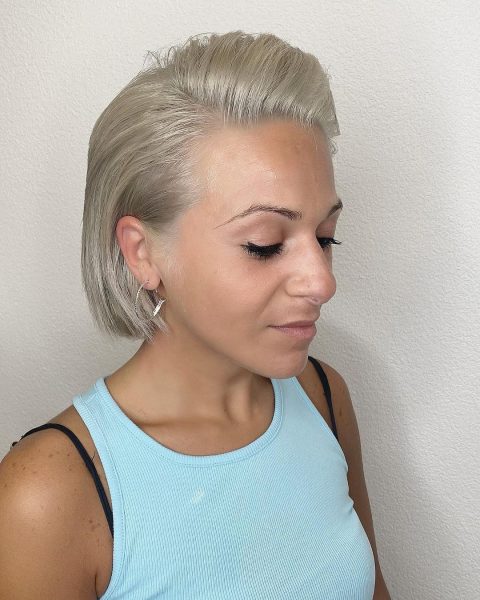 Source: @martini_coiffeur_
36. Shoulder length ombre hairstyles
Medium length bob ombre can provide welcomed dimension and texture to your hair. Bob and layered haircuts with a seamless change from one color to another look polished and elevated.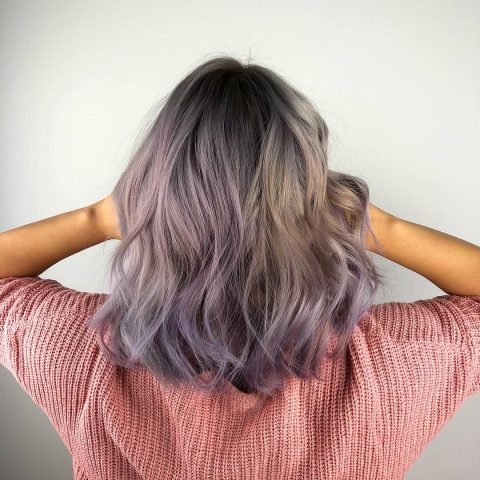 Source: @aerysalon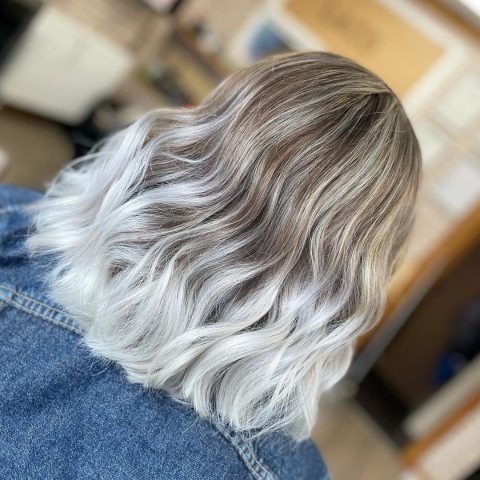 Source: @hairbylandco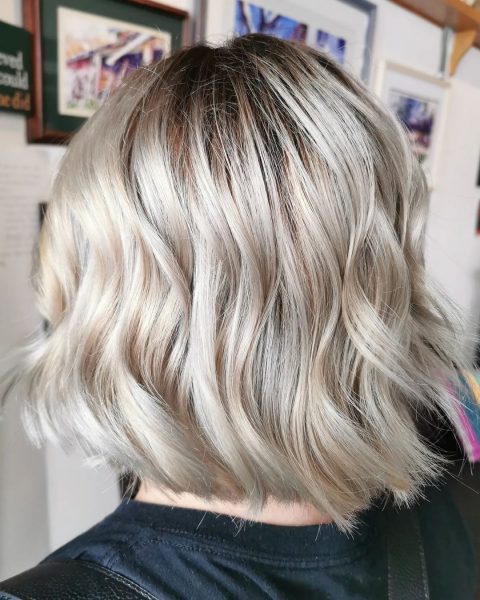 Source: @hairstylistmichellee
37. Ombre pixie
Short or medium length pixie or bixie cut can become an attention grabber with a colorful ombre. It freshens up the look and accentuates the haircut, not the age.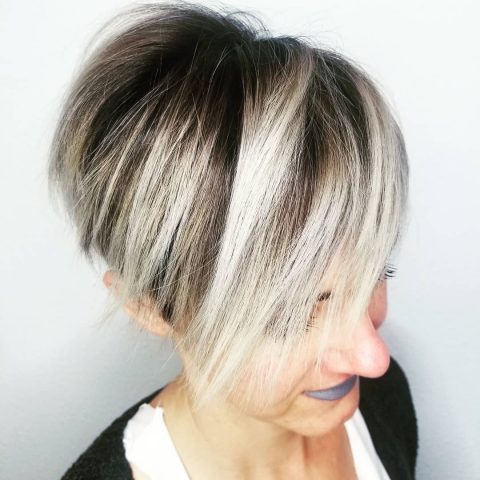 Source: @self.salon
38. Ombre bob
A bob haircut and a smooth blonde ombre is a perfect match. This option brings texture and dimension to fine hair.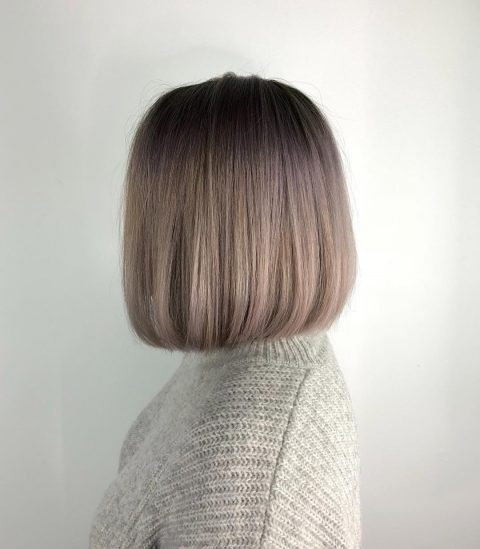 Source: @aerysalon
39. Ombre lob haircut
A plain long bob could look a bit dim. Instead, a caramel ombre can create a well-groomed and elegant look. Hair will look even more elevated when growing out with this ombre.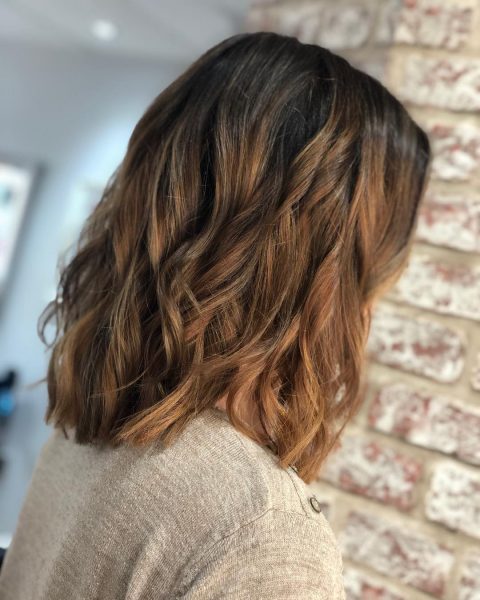 Source: @laurajadehair_
40. Blonde ombre with bangs
Fair hair could be spiced with an ombre. Hair should be dyed to a natural blonde first to create this dreamy and girlish haircut with bangs.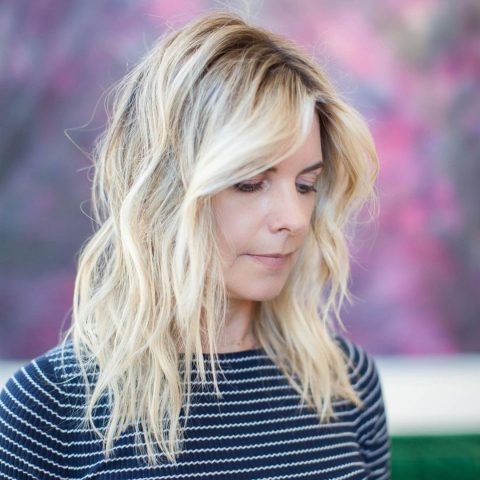 Source: @whitneyratigan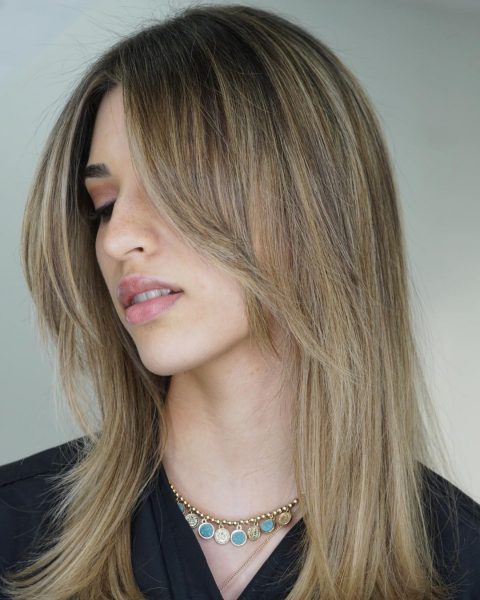 Source: @cristianoscarihair
41. Ombre on straight hair
These highlights match well with curls or different hairstyles. Still, ombre on long-layered straight hair is a ready-to-go look.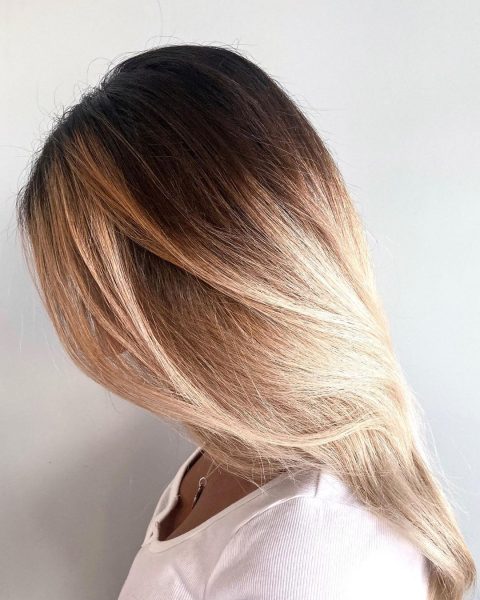 Source: @ericrobertcouture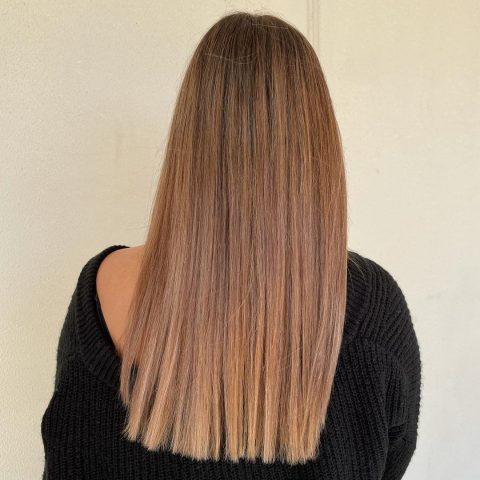 Source: @christineandcostudio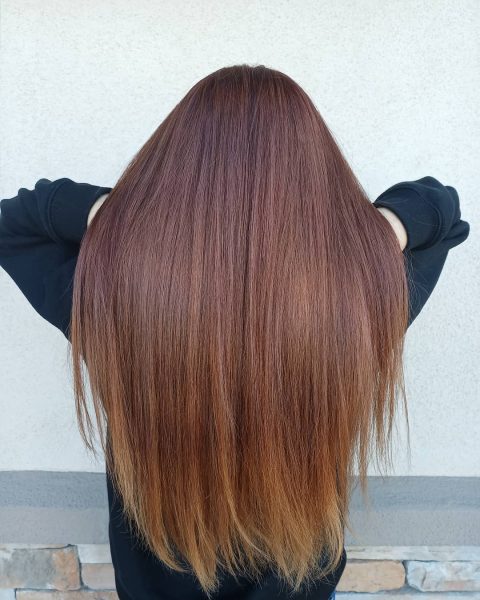 Source: @_off_with_her_hair
42. Ombre curly hair
Ombre your natural curls for even more dimension and texture. The ombre technique doesn't differ from coloring straight hair but the result exceeds expectations. Ombre curls create a stylish and posh look.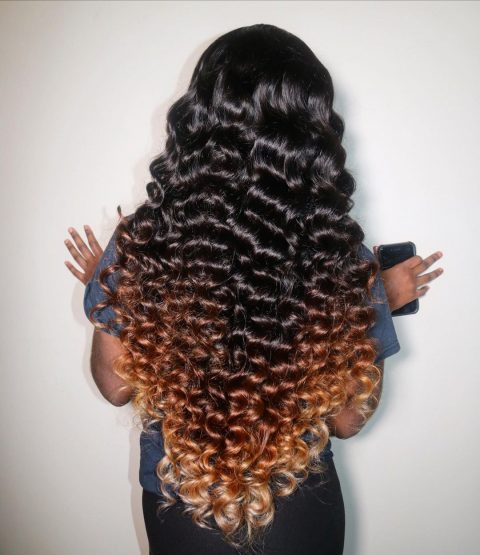 Source: @gorjesswigs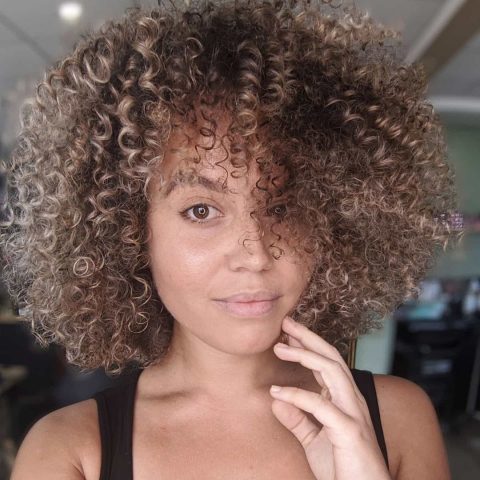 Source: @hairby_hc
43. Ombre weave hairstyles
Long wavy hair is an ideal experiment field for any ombre choice. Ombre highlights work best with curls and textured waves. You can opt for a vibrant contrast or a soft gradation.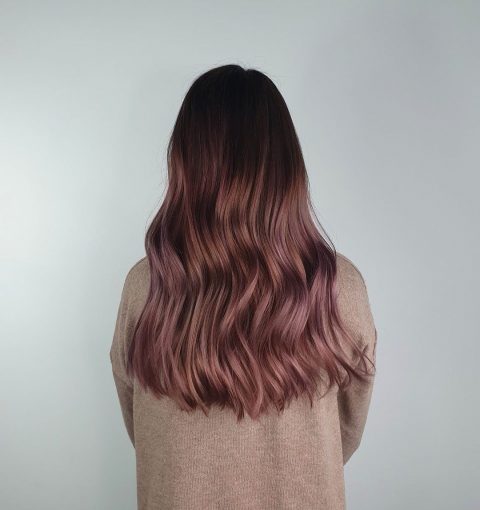 Source: @aerysalon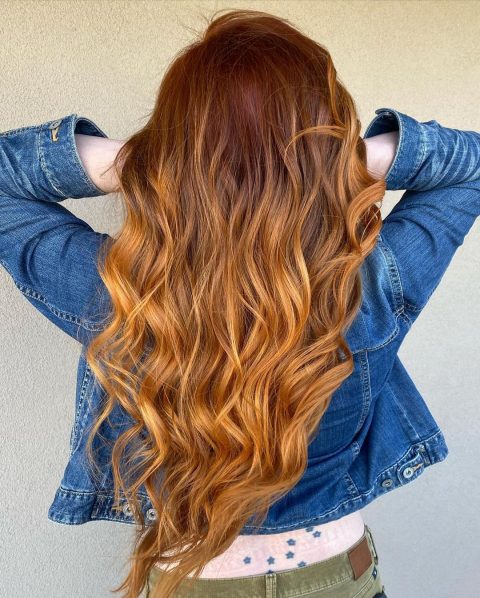 Source: @hairmassiah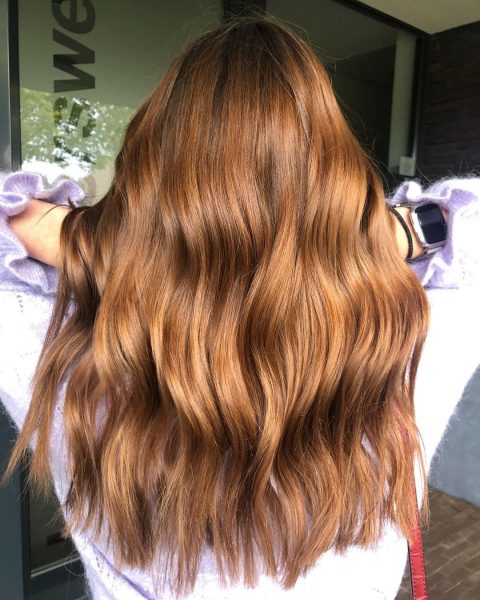 Source: @hairstyling_ilenia
44. Ombre hair color for black women
Face color and hair color of girls with dark skin tones represent a monochrome of different shades. Ombre can lighten the look. It could be challenging for a master to dye hair first but light strands look stunning against darker skin tones.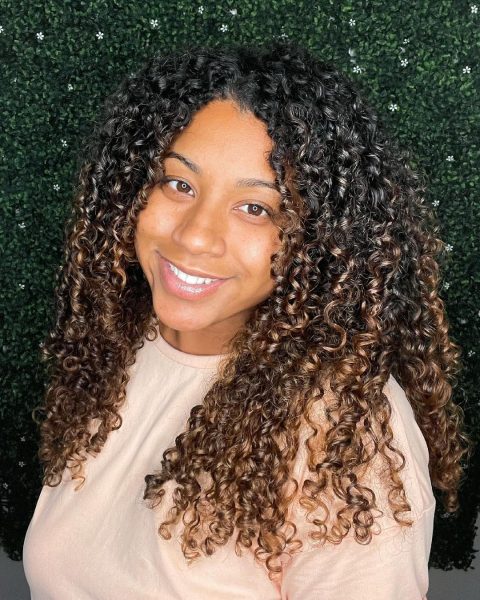 Source: @deandra_espinal
45. Ombre hair for dark skin
Girls with dark skin tones and dark locks should be attentive while choosing a haircut and highlights. Ombre can simplify their choice as it adds brightness to this monochrome of dark shades. Tinge of light will also enliven the look.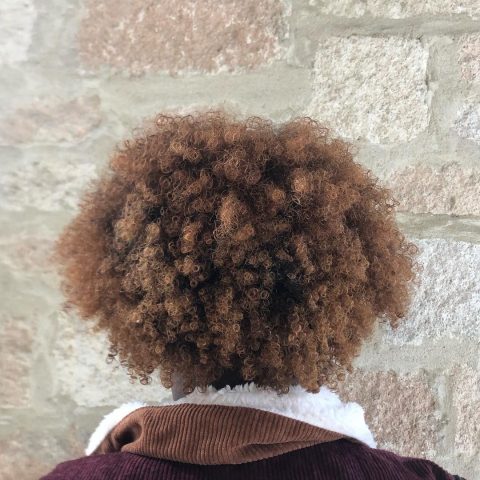 Source: @beautybylaygi
46. Ombre hair for fair skin
Compared to girls with dark skin tones, fair skin ladies can go for any shade of ombre. Creative highlights of different colors and of different intensity will work best. In the picture you can see a chestnut base with a caramel ombre that perfectly suits fair skin.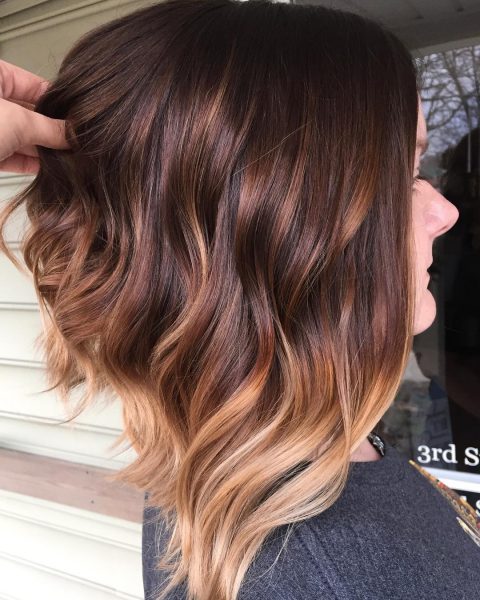 Source: @hairbykatierose
47. Fire hair ombre
Different brassy shades in one ombre can flame up your look. It looks stunning on fair skin girls with green or blue eyes.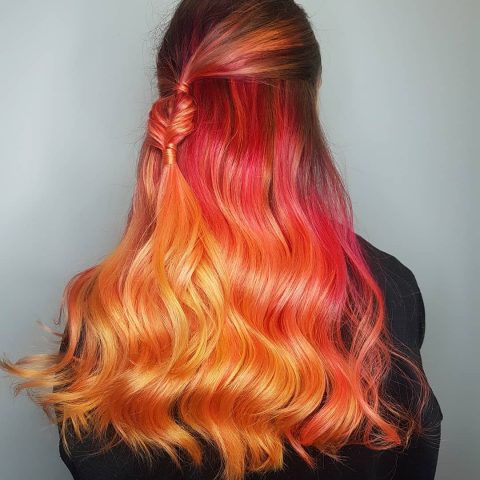 Source: @perceptionshairsalon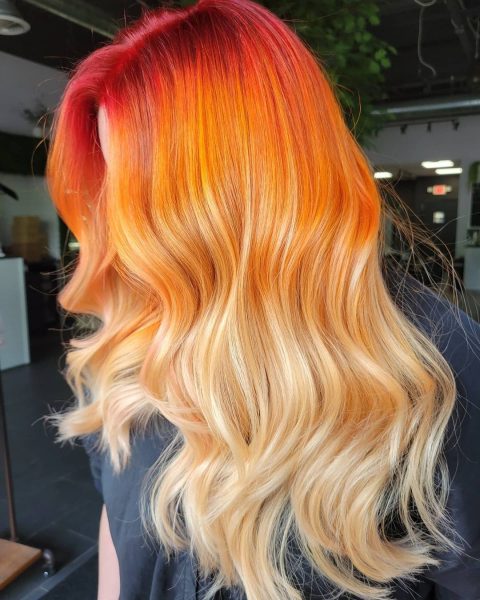 Source: @geminisalonandgarden
48. Reverse ombre
Reverse light to dark ombre is one remarkable way to color your hair. It requires a total dyeing of hair so colors could meld seamlessly.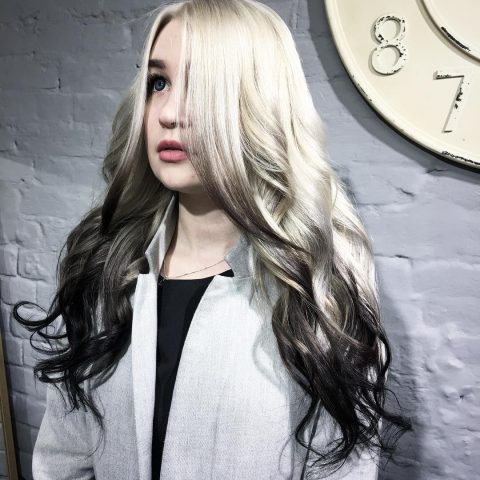 Source: @nataliakop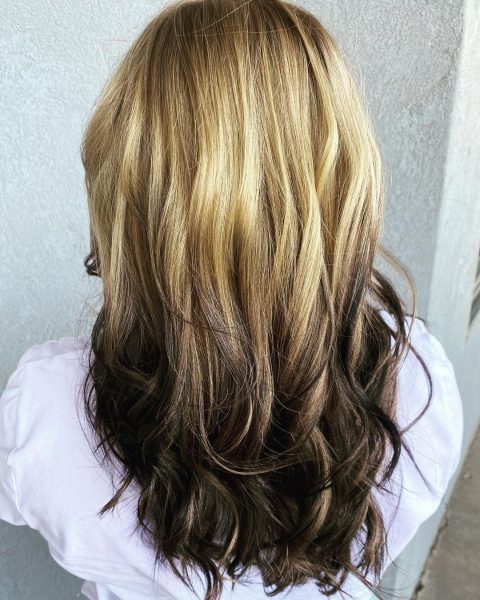 Source: @andreashairapy
Ombre highlights work well with hair of different color, texture, and length. The key point is to choose a color that suits your complexion, eye color, and style. We hope that 48 ombre ideas can help you to make the right decision.