Every month, women face the choice of what art to make on their nails again. You can choose one of many options, such as short and long nails, square and almond. This article will describe to you what types of ombre are suitable to your image, with which the fingernails and glitter are combined. In addition, you will find principles of choosing color combinations for different forms of nails.
French Ombre Nails
Ombre French manicure is an alternative to classic French manicure. The master creates a gradient transition from a natural shade such as pink or beige to white. This design is elegant, natural and appropriate for any image. It is universal, so it is suitable for a girl or woman of any age. The glitter version will make it even more decorative and festive. With French ombre nails, the rhinestones and large glitter are well combined. You can also experiment with nail shape and follow to French tips, for example, shape of coffin nails or make them pointed.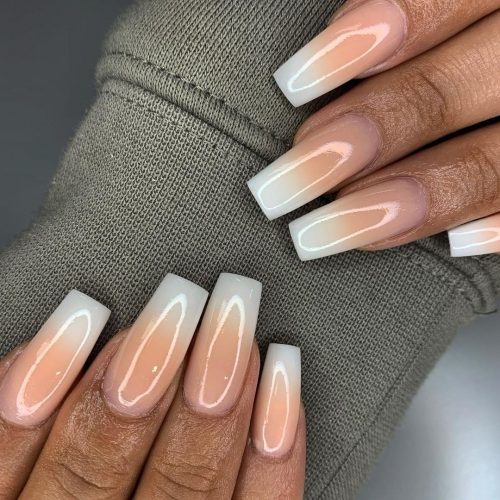 Source: @by.mxndy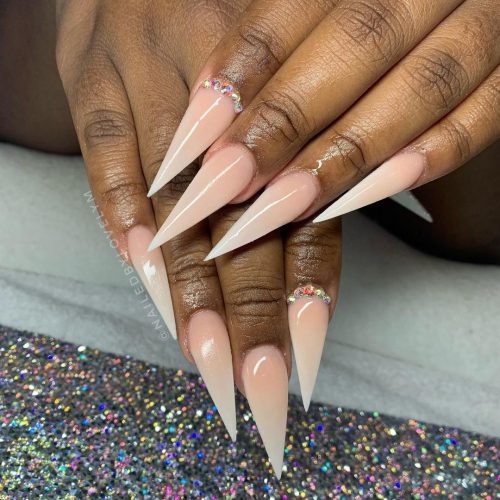 Source: @nailedbylovelym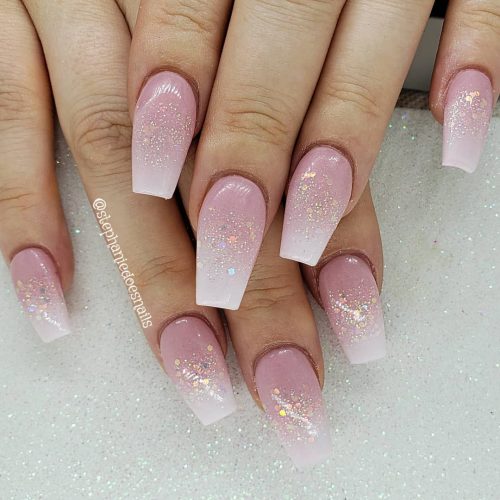 Source: @stephaniedoesnails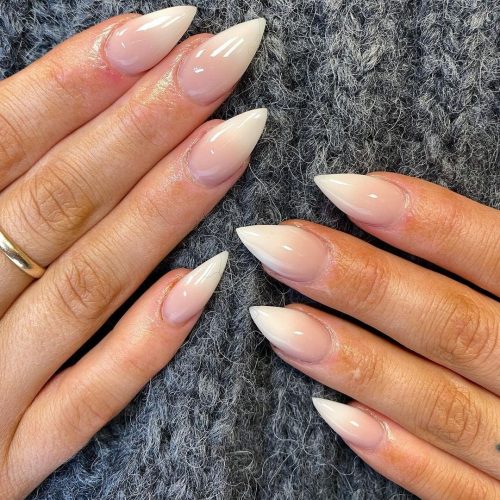 Source: @laquenegledesign
Glitter Ombre Nails
Pink glitter ombre nails look very feminine. It's a basic variant for any manicure that looks good with office wear a work uniform. It will be very bright and attract attention. That's a pretty brave design choice. Shiny glitter on the nails is better combined with holiday dresses, and it will be especially suitable in the outfit with bright clothes. In addition, this design is perfect for the wedding image and adds sparkle to this dress.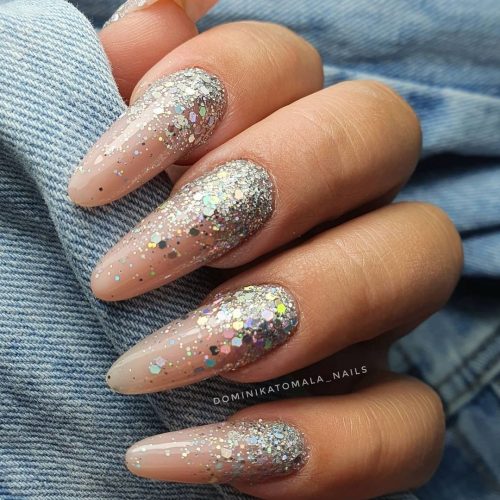 Source: @dominika_nailartist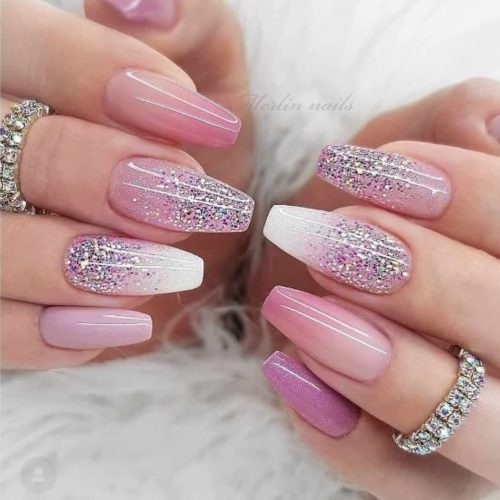 Source: @nailsclips_24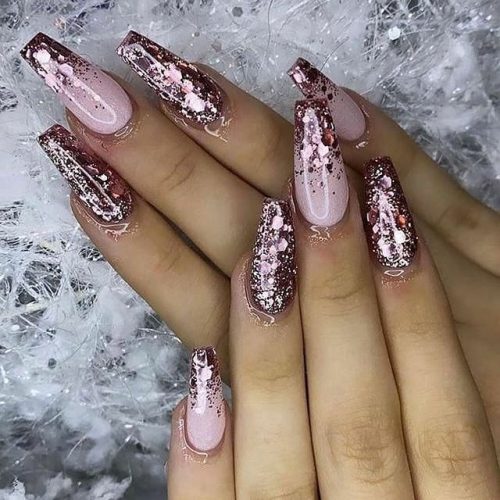 Source: @amazing_naailsfeed1
Pink and White Ombre Nails
Pink-white ombre is easy and beautiful. The basis of this design is a smooth reverse from dark shade to light one. Professionals use different shades of pink, such as bright and natural. Gradient looks naturally in such combinations. It's an ideal option in combination with other decorations such as rhinestones and glitter. You can also focus on one or two nails if you choose a different design for them in this color range.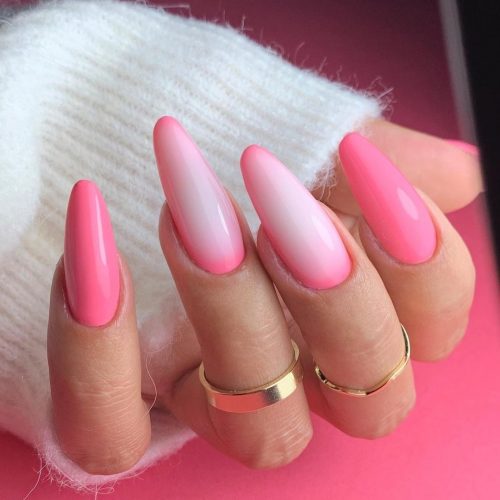 Source: @nailedit_skien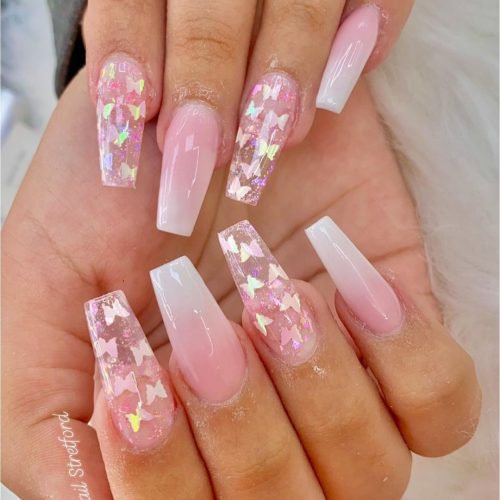 Source: @queennails.uk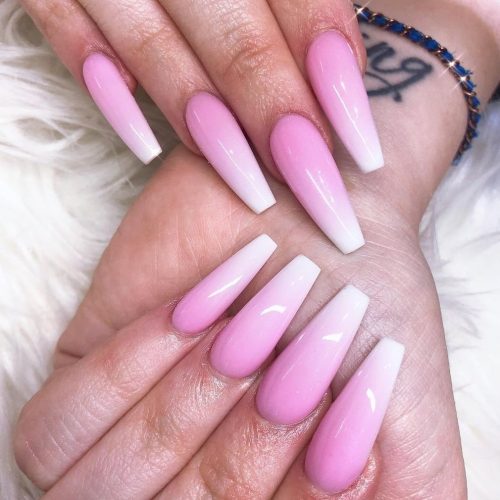 Source: @phuongle0815
Hot Pink Ombre Nails
An effective alternative to the previous version is hot pink ombre nails. Contrast gradient is a good option that allows you to make a smooth wave from one bright color to the other ones. Purple and coral pink are effective complements each other. The classic variant is a combination of bright pink with white one or light beige. Such design is ideal for women with almond-shaped nails, small and long nails.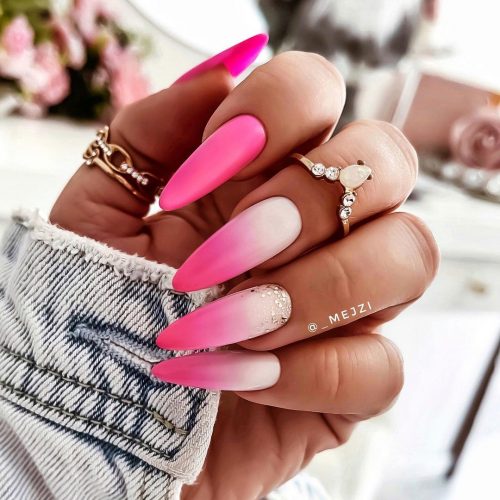 Source: @_mejzi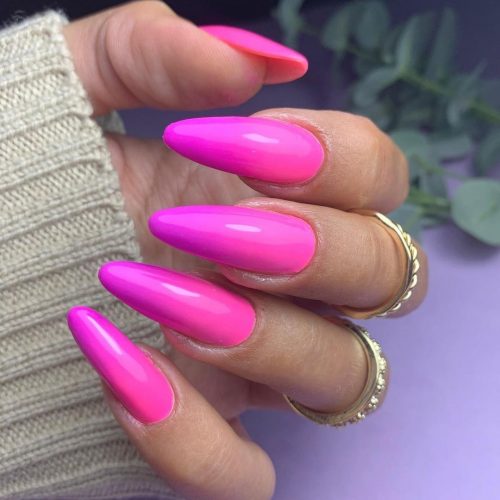 Source: @nailedit_skien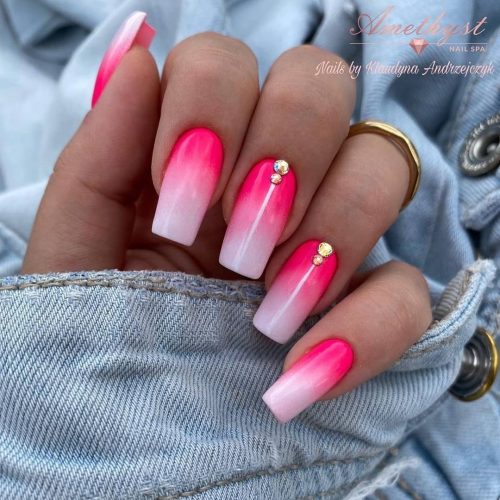 Source: @amethyst_nailspa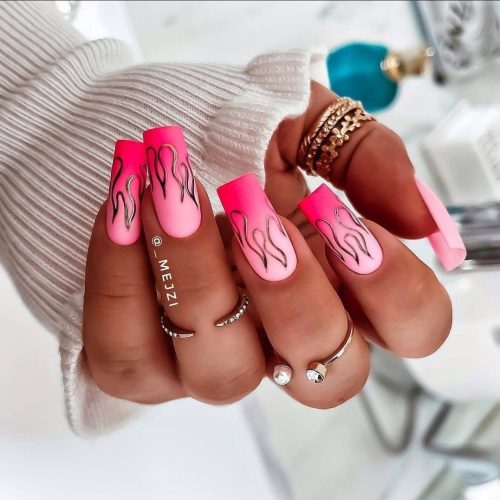 Source: @_mejzi
Red Ombre Nails
Red and black ombre nails prompt us to vamp women. The sum of burgundy shades is looking well with black one. Another good option is a gradient from dark to light colors. This type of manicure allows you to become spectacular both in everyday life and at the holiday. It is ideal for fans of informal clothing styles. It's also the best place to celebrate Halloween. You can combine it with a vampire or a witch costume.
Source: @adoreluxenails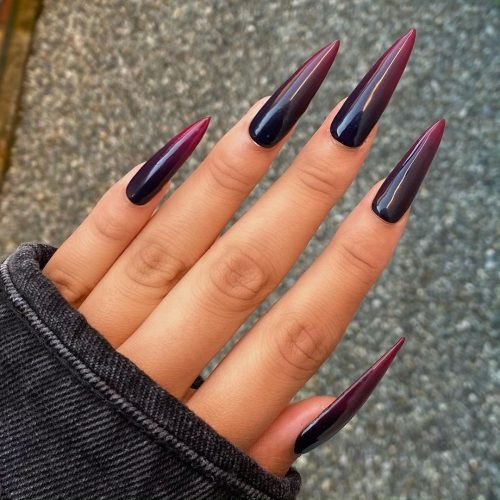 Source: @malinasnaglar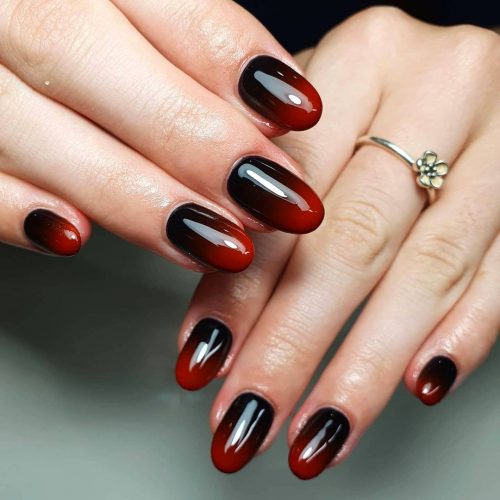 Source: @andreas_nails_beauty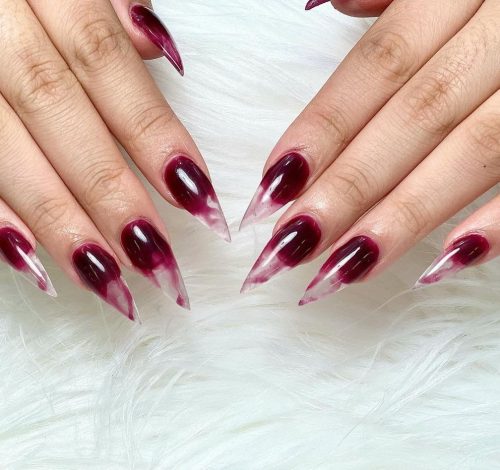 Source: @thenail.eva
Blue Ombre Nails
Blue ombre is a stylish variant of cold-shaded winter manicure. It looks beautiful at any time of the year, but winter is the most harmonious option. You can choose any design options, such as pink and blue ombre nails, blue and white ombre nails, or elegant black and blue ombre nails. Another spectacular variant is royal blue with deep and noble shades. This unusual color will be ideal for most events and will match any dress.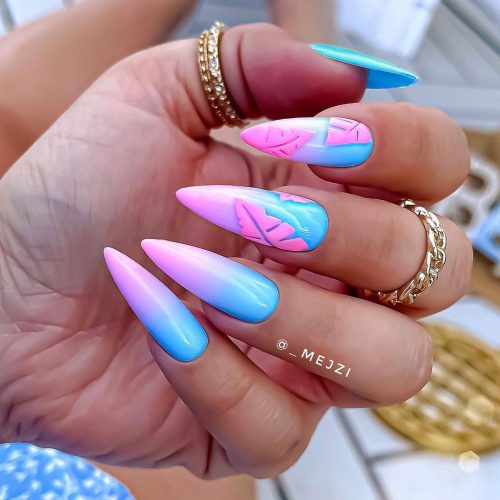 Source: @_mejzi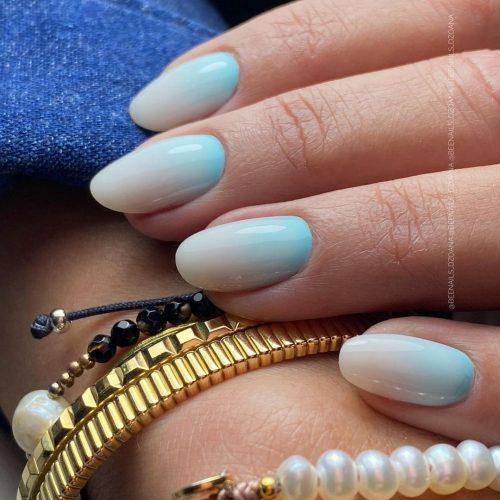 Source: @beenails_dzoana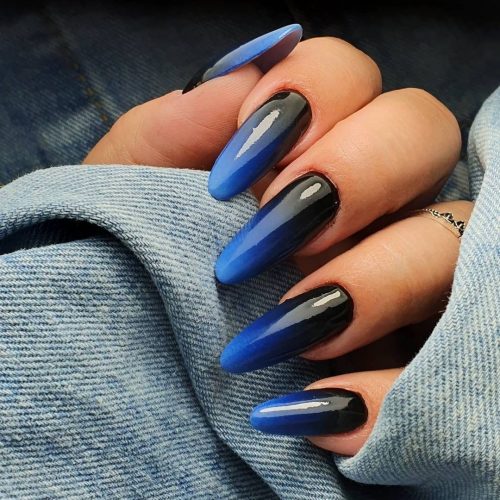 Source: @dominika_nailartist
Purple Ombre Nails
Pink and purple ombre nails is a choice of women who seek to make their manicure diverse. Purple color is always a mystery and elegance of grace. It's rare in the wild, so you can be sure it'll look fresh and unique on your fingernails. Black is another color with which the purple blend well. If you want, you can add the print with flowers or rhinestones.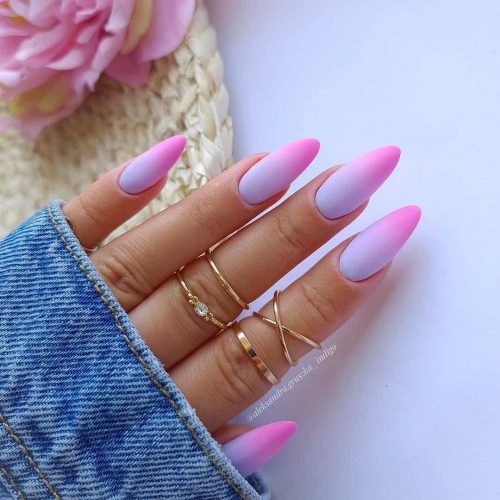 Source: @indigodistributor_sara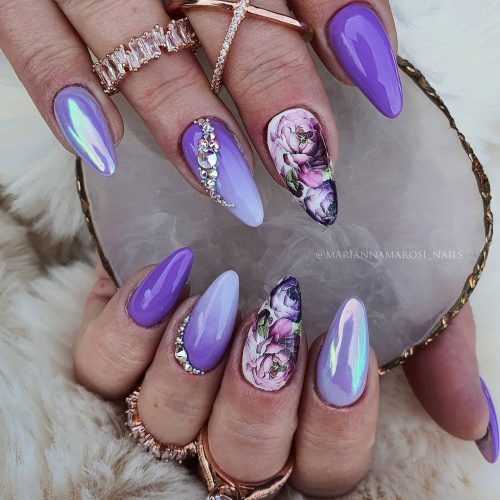 Source: @mariannamarosi.nails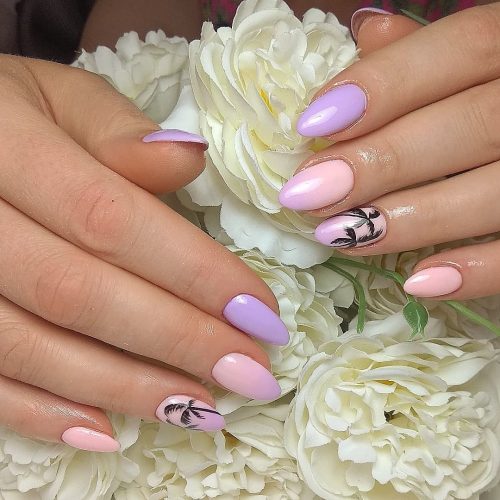 Source: @flowernailslublin
Black Ombre Nails
Black is almost universal one. It is combined with many paintings and favorably highlights bright colors. Pink and black ombre nails is the most popular design in which expressive dark color spreads in gentle shade. A more business and classical combination is black and white ombre nails. Ringstones or black glitter is the best option to dilute such nails reminiscent of the light of night stars. This type of manicure will adorn every woman and will be appropriate in every situation. It is also an interesting version of nails for a New Year's party.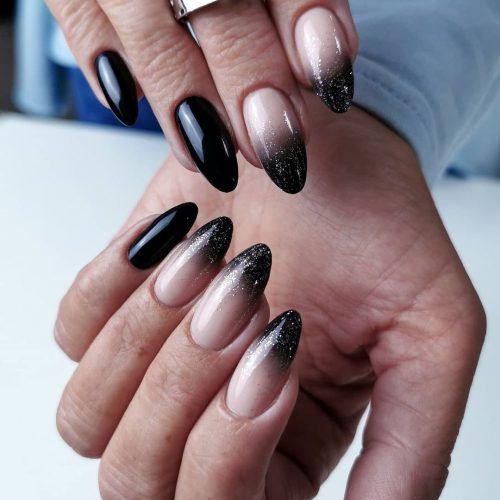 Source: @paznokcie_celline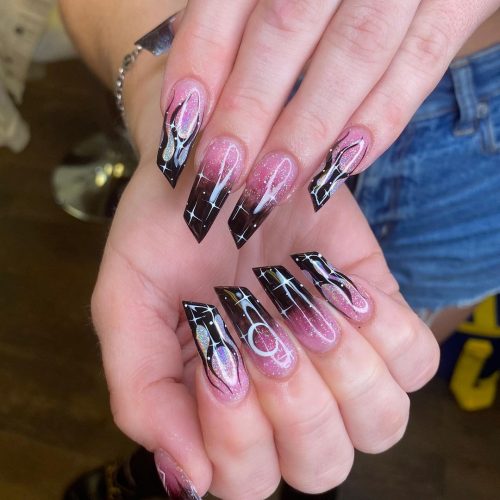 Source: @sans_nails
Source: @amazing_naailsfeed1
Nude Ombre Nails
Nude gradient is neutral art, which fits everyone regardless of age and style of clothing. White and nude ombre nails blend harmoniously with any outfit. You will enjoy it in combination with business and holiday attire. This is also a nail design that is perfect for wedding manicure. Glitter, rhinestone, and any print will make you more fun in your mood. The nude design of this manicure looks harmoniously on nails of any shape and length.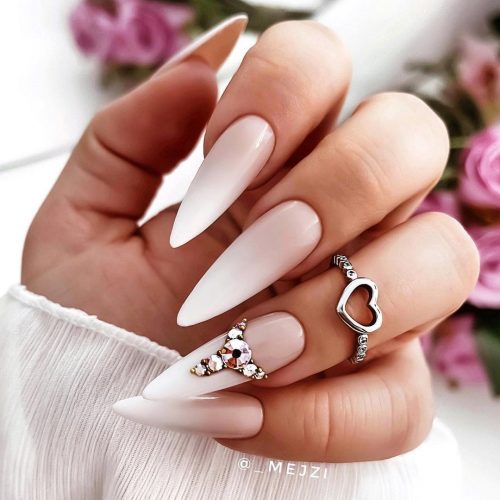 Source: @_mejzi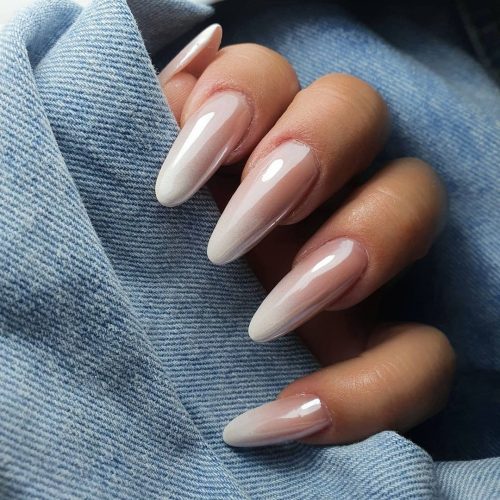 Source: @dominika_nailartist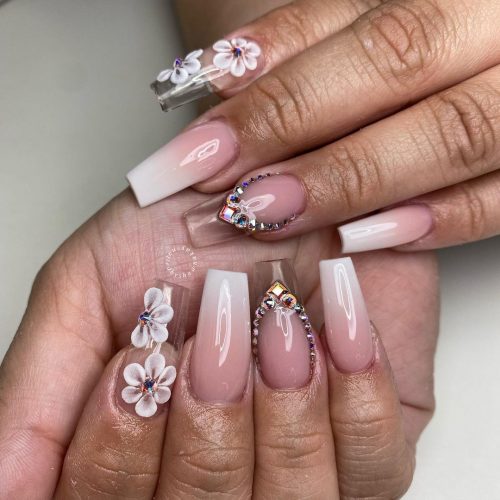 Source: @nailedbyshawnakay
Gray Ombre Nails
Grey and white ombre nails are not such uninteresting as you might think at first. Cold shades are elegant and feminine ones because they are an allegory with modesty and nobility. Winter is the most popular season for these nails. This simple and succinct design fits every everyday image. You have to make these nails more beautiful, if you want, with glitter, print, or a third shade in this graceful gradient.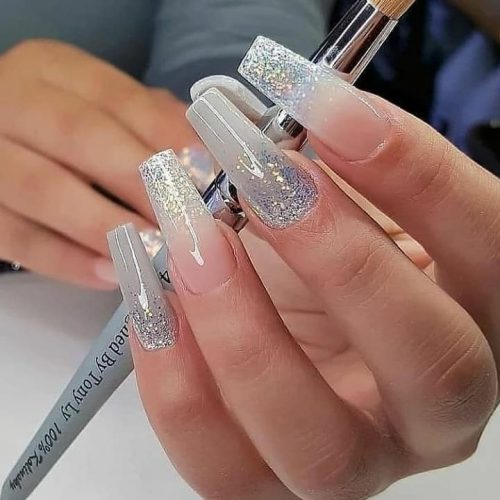 Source: @amazing_naailsfeed1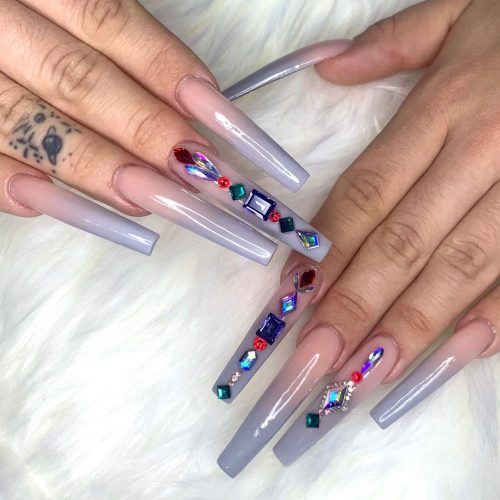 Source: @noelianailedit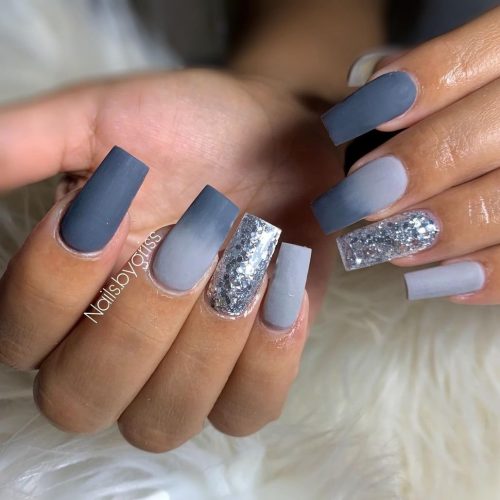 Source: @nails.bygriss
Gold Ombre Nails
Golden ombre is a spectacular design thanks to the splendor of glitter on the nails. The impression is expensive and luxurious. A mix of white and gold ombre nails is ideal for a wedding ceremony or other big celebration. Pink and gold ombre nails look less contrast and more natural. In any event, such a design would be appropriate and attract the attention of others. The most successful design is on rectangular nails and wedge-shaped ones.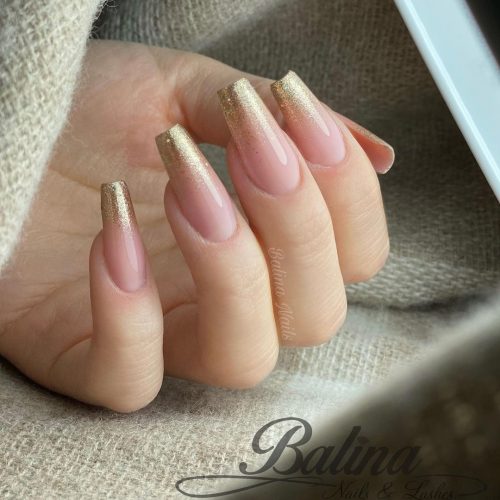 Source: @balina.nailsalon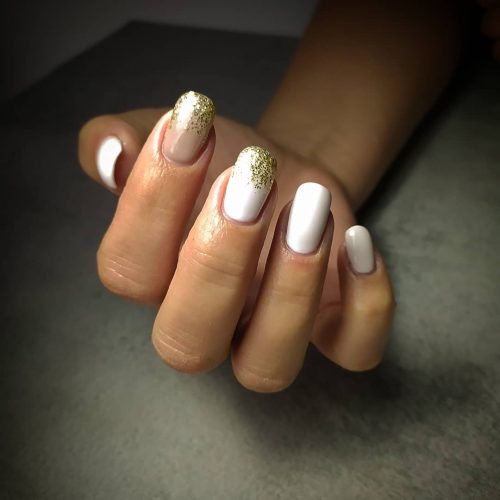 Source: @dorotalewandowskanails
Source: @cant_relate_nails
Orange Ombre Nails
For fans of unique combinations, pink and orange ombre nails are perfect. This is a contrasting gradient in which different shades of color spectrum overlap. A variant with a rich carrot color is what will allow you to look fun and bright even if you add black to your nails. For true fans of beige manicure, the gradient with gentle peach shade is ideal. This type of manicure is popular in summer and autumn when nature pleases us with bright leaves and blue skies.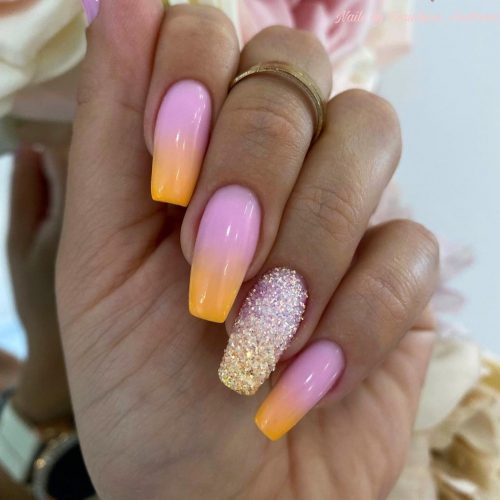 Source: @amethyst_nailspa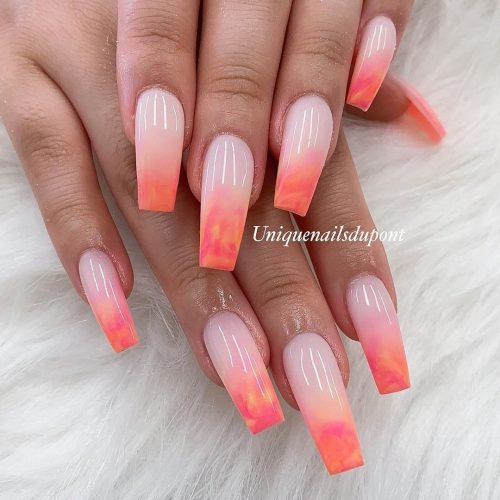 Source: @uniquenailsdupont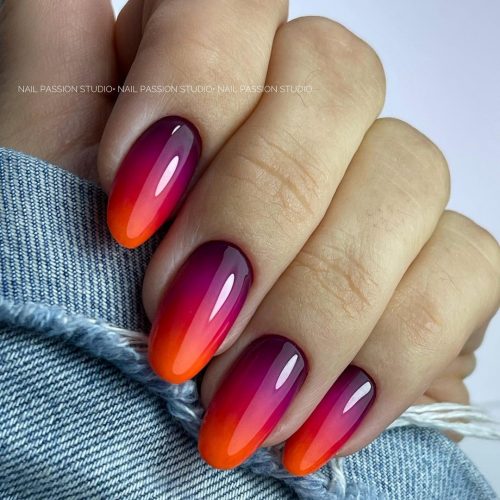 Source: @beenails_dzoana
Yellow Ombre Nails
Colorful nails with yellow varnish are ideal for a summer manicure. It's a color that people associate with joy and happiness. It looks good on a bright background like yellow and white ombre nails. A manicure like this will make you energetic and fun, and show you're a real lady. Pink and yellow ombre nails are something similar but more elegant. It looks perfect on top of most clothes and looks natural.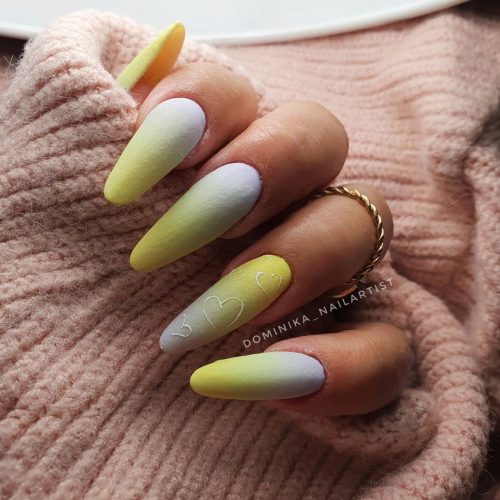 Source: @dominika_nailartist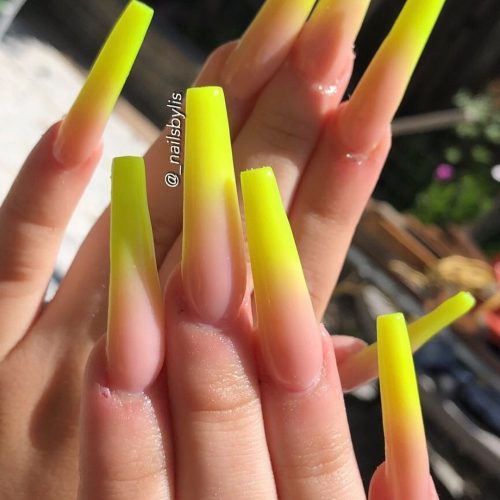 Source: @nailzbylis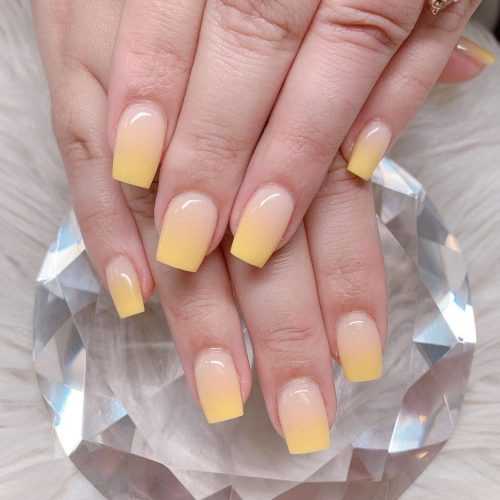 Source: @nailexpo_austin
Green Ombre Nails
As with the last variant, light green ombre nails are the ideal variant for summer manicure. It harmonizes with everyday and holiday outfits, and art on such nails looks up to spring. You can make this manicure more colorful if you add rhinestones and gradients to your nails. In this manicure, the perfect shades are blue, pink, brown, and beige. If you add a white color, you can even highlight the colorfulness of it.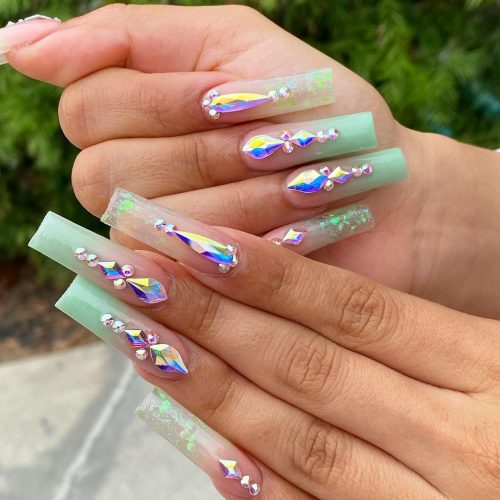 Source: @acrylicsbyfatima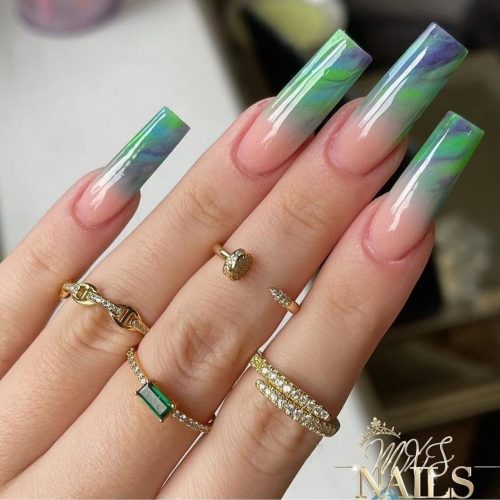 Source: @nailsandbeautylounge_brandon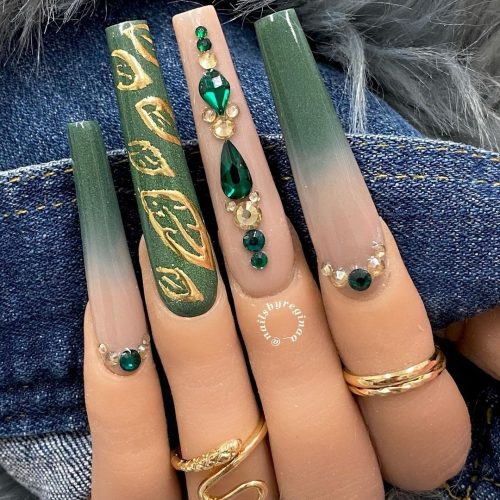 Source: @nailsbyreginaa_
Brown Ombre Nails
Brown ombre is a classic variant of manicure, which has elegant shades and emphasizes female beauty in the cold season. This is a great choice for fall and winter nails. Universal shades of autumn are perfect for any event. If you're getting a manicure for a New Year's party, you should add decorative elements to your brown ombre. A few shiny rhinestones will be the final touch of your holiday image.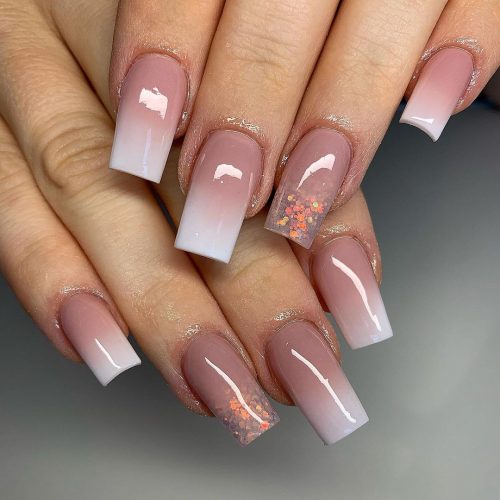 Source: @evesnailsx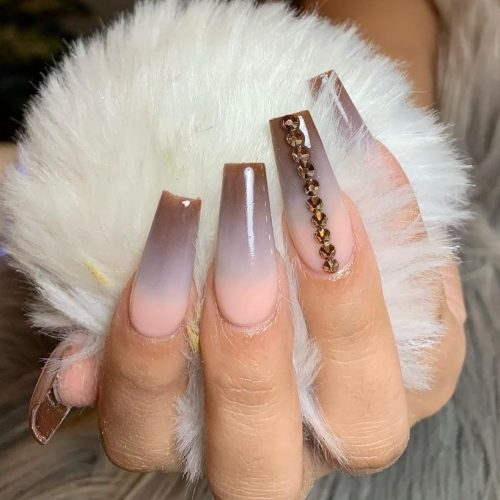 Source: @nailsbylulu__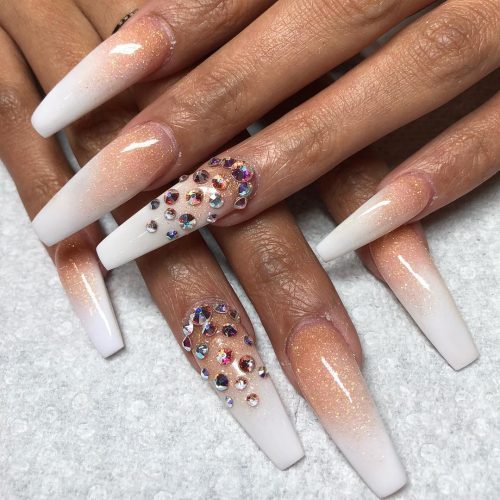 Source: @nailbyleah
Silver Ombre Nails
Silver ombre is similar to brown in that it is harmoniously combined with you in winter months. Shiny silver glitter ombre nails will make your manicure elegant. It fits any shade, so black and silver ombre nails will look very spectacular. Glitters are analog of your courage. Pink and silver ombre nails is a more delicate set if you do it with the addition of a cold shade. If you plan to add additional colors, we advise you to pay attention to the beige color.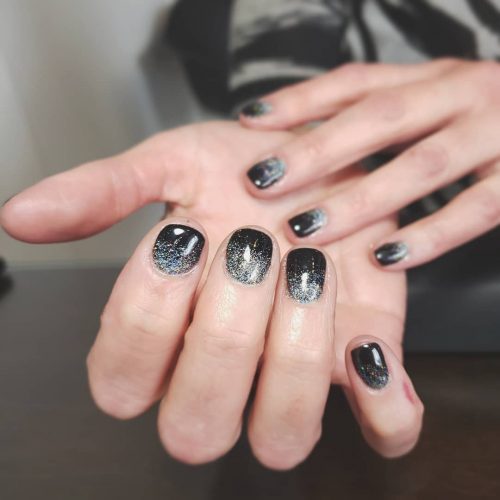 Source: @candynails71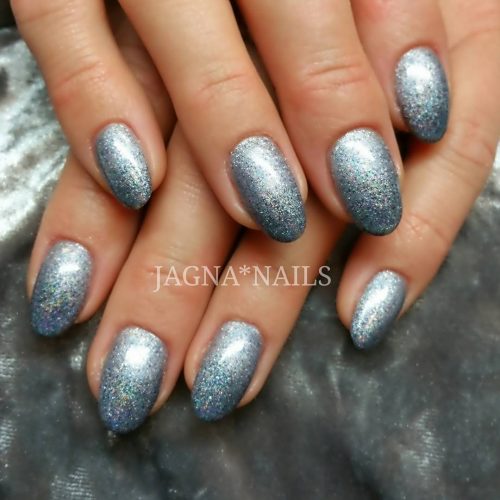 Source: @jagnanails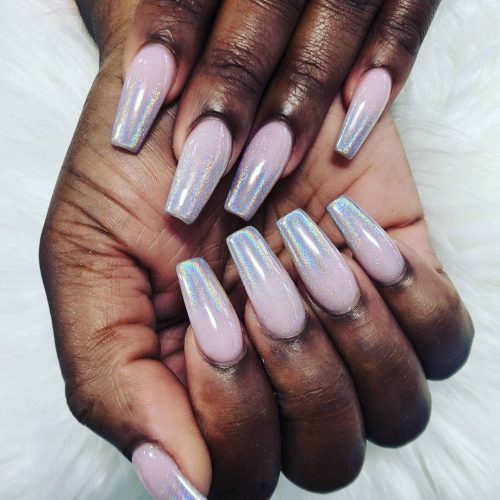 Source: @dabanailsandspa
Matte Ombre Nails
Matte gradient nails are ideal for fans of brave decisions. Such a shiny manicure is a very popular decision, so the matt selection will be unique to you. Matt ombre nails with such shades as pink and green, yellow and purple, blue and orange are ideal combinations. You can also do an experiment and do various forms of nails, such as square, sharp, and almond ones. Geometry print is also good.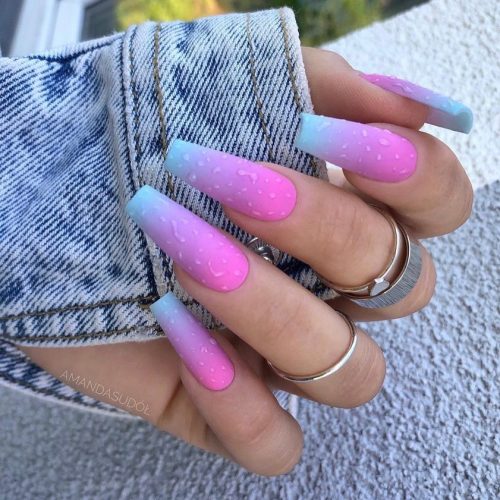 Source: @elite_nail_master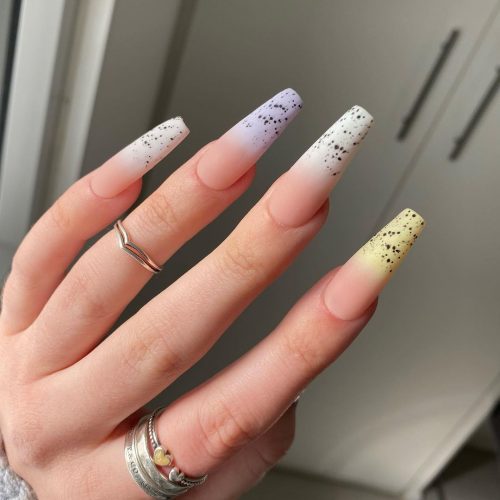 Source: @mbeauty__x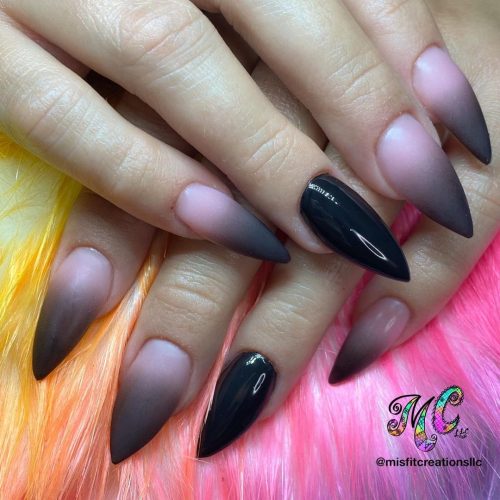 Source: @misfitcreationsllc
Rainbow Ombre Nails
Matte ombre you can easily make more unique if you decide to order rainbow gradient nails from your professional. You must combine several shades or make each nail with a unique color. You'll look original if you make a horizontal wave that shows shades along with the nail.
Shiny polish is a good solution in such a manicure. It is a current variant of summer and spring manicure. In the warm season, you can make a rainbow ombre to make yourself a cheerful mood.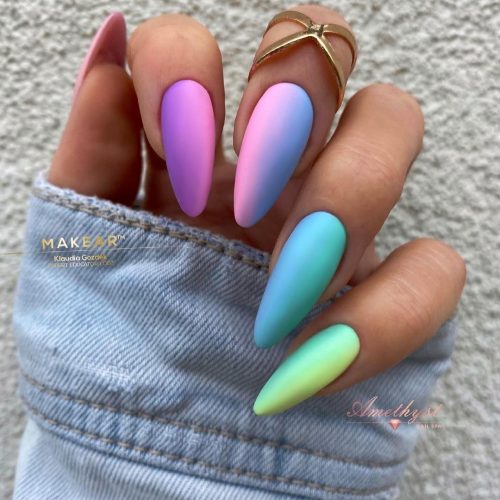 Source: @amethyst_nailspa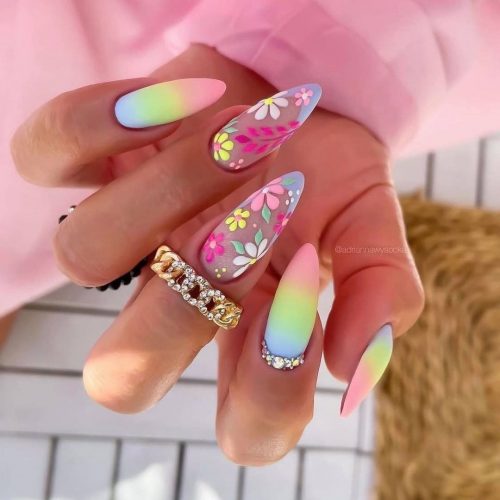 Source: @indigodistributor_sara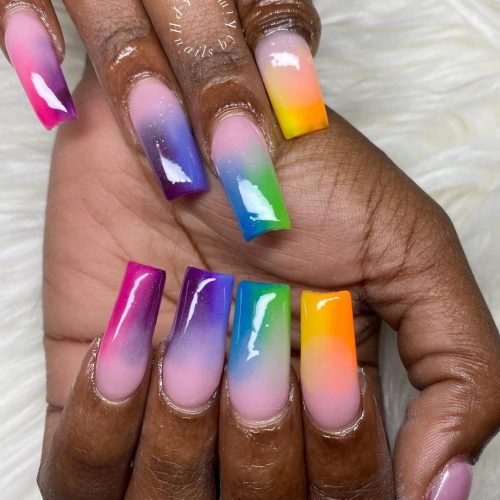 Source: @kphnails.bykim
Chrome Ombre Nails
Chromium ombre with metallic effect is a unique variant for nail design. This coating shines under the sun and strengthens the contrast between shades. Black holographic nail polish adds courage to your manicure. Gradient combined with dark shades is another spectacular variation. Fans of natural shades can make basic design brighter with chrome ombre. This type of manicure is suitable for any type of clothing and looks extraordinary.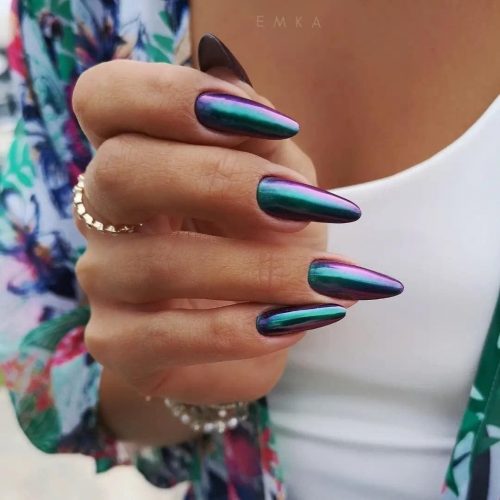 Source: @indigodistributor_sara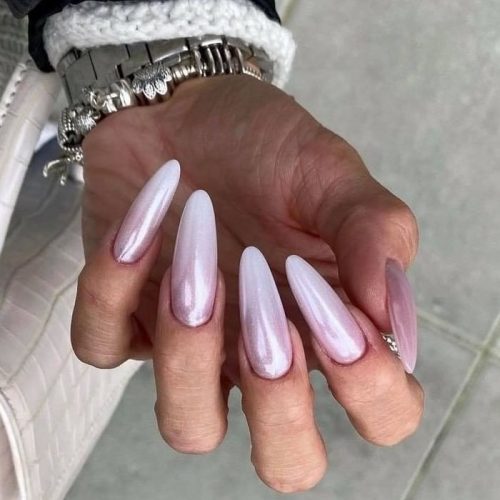 Source: @indigodistributor_sara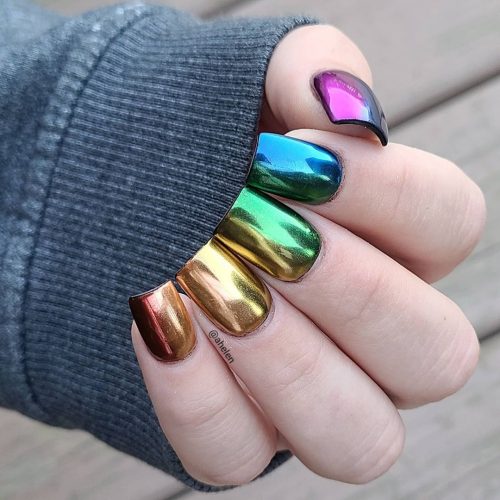 Source: @ahelen
Pastel Ombre Nails
Pastel fade nails are the optimal solution for any woman regardless of her age and style. It is a simple and concise variant that has a spectacular appearance for any event. You can make your nails more versatile by making the gradient of similar colors. Nude tones are harmonized with soft tones such as blue, purple, and light green. You can design one nail in a different shade, which is similar to the background by color scheme, for example with metallic effect. Electric shades are harmonized with matt and gloss coating.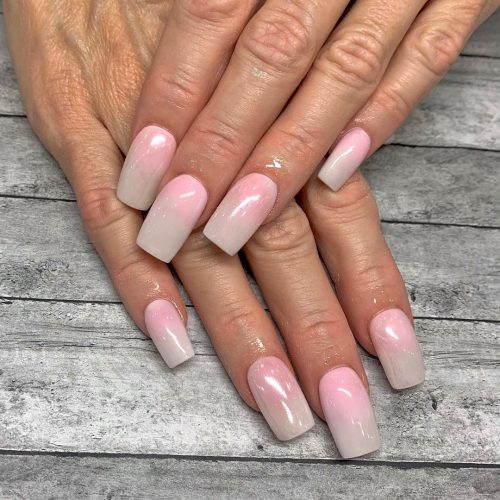 Source: @nicolenailzit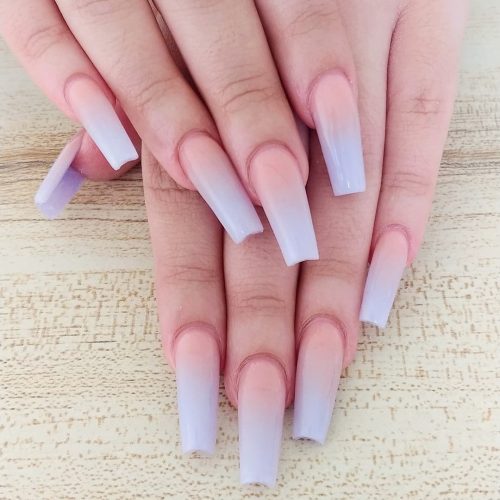 Source: @nailstudionz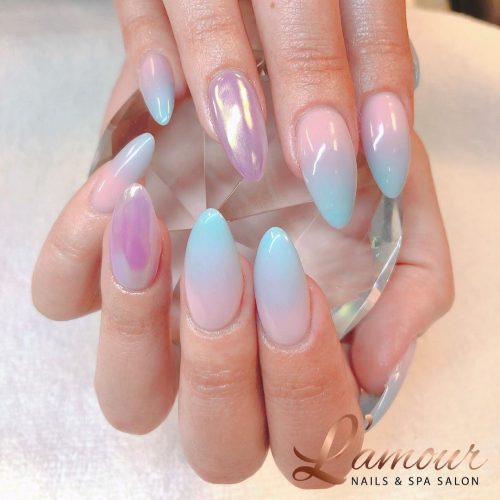 Source: @lamournailspasalon
Neon Ombre Nails
Fans of contrasting images can order nail designs with neon ombre from their professional. Such manicure will immediately pay attention to you due to acidic shades and non-standard way of performance. Simple coating without decorative elements looks spectacular and bright in itself. If you want, you can diversify your manicure with geometric drawings, color lines, or rhinestones. These methods add completeness and originality to the design. This is a good choice for work and study, for holidays.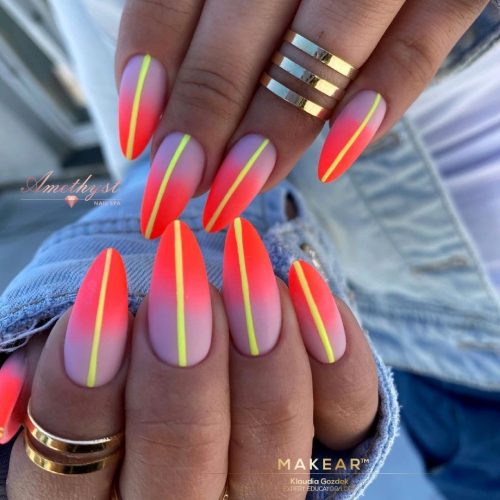 Source: @amethyst_nailspa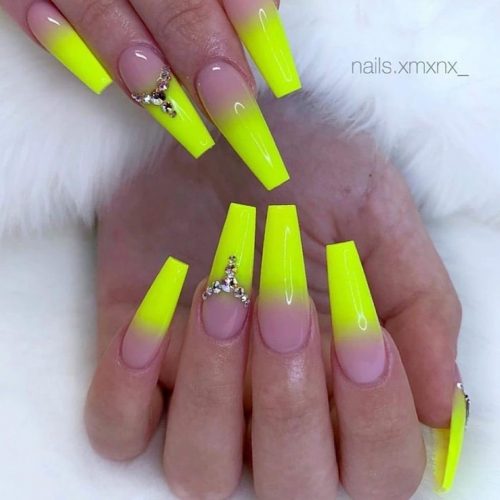 Source: @cosmetic.fetishh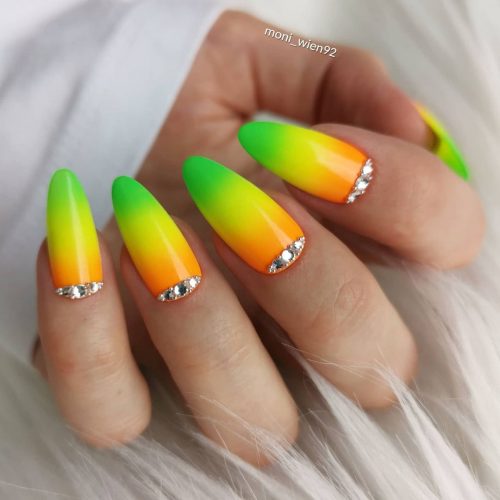 Source: @moni_wien92
The Best Colors for Coffin Ombre Nails
Wedge-shaped nails are also called «ballerina». It's the perfect shape for medium- and long-length nails, so you can choose any design. This manicure has a refined and gentle appearance. The best color combinations for them are fresh and elegant ones. It can be turquoise, beige, pink, grey, teal, or light green. The gradient looks beautiful, as well as the design with strata and glitter. A manicure like that would be a great addition to a woman's outfit.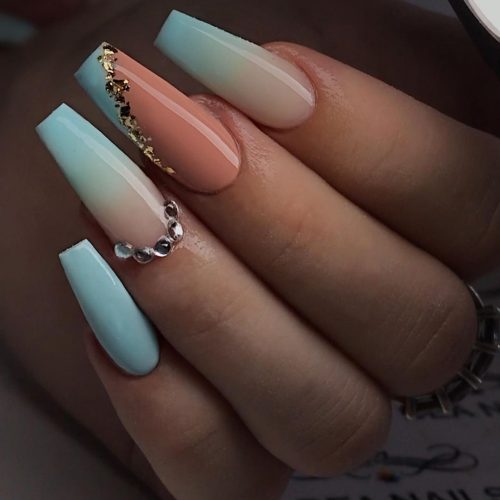 Source: @dea.nails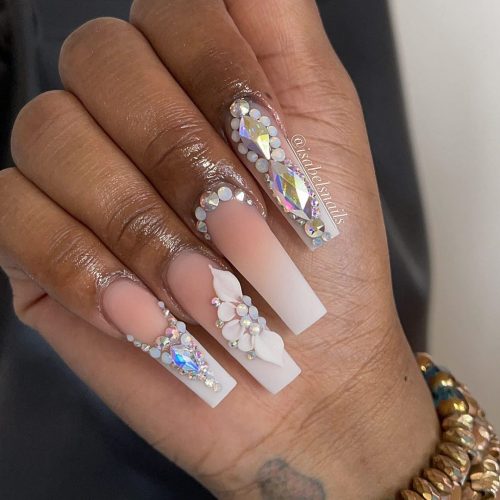 Source: @isabelsnails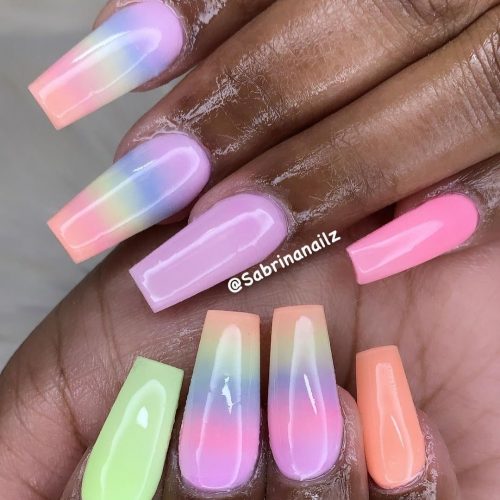 Source: @sabrinanailz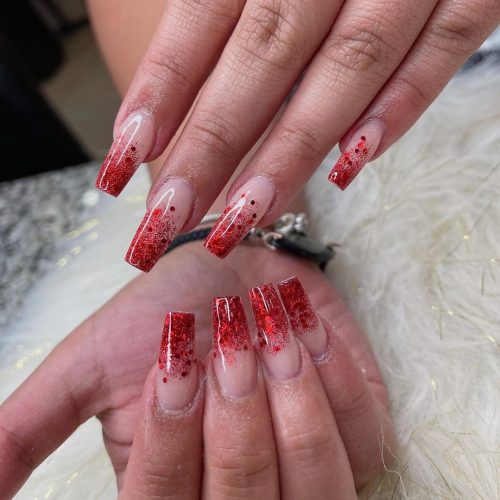 Source: @atlnails.jack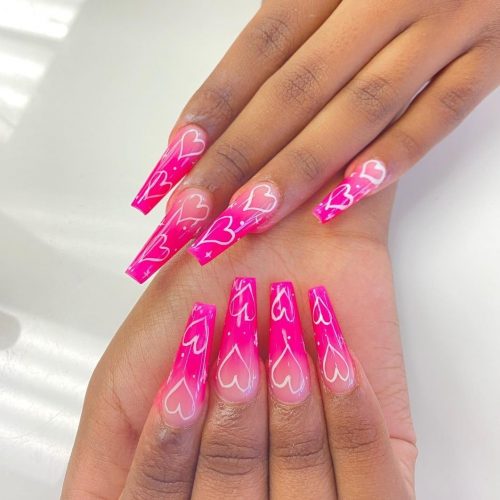 Source: @lovelynailsspa17716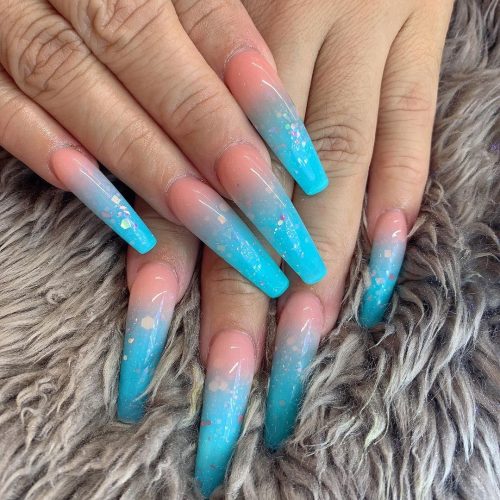 Source: @nailpeaksalon
The Best Stiletto Ombre Nail Designs
Pointy-tipped nails look brave and irregular. Such combinations as waves of black and other shades will be contrasting with this shape of the nails. You have to choose shades that are the same in contrast. These are, for example, bright or beige shades. Manicure ombre you can spectacularly decorate with paintings, glitter, or glow. The original idea is a combination of nail design with jewelry such as bracelets and rings.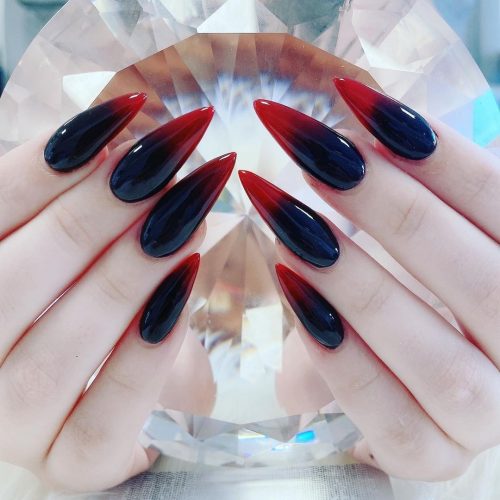 Source: @glintrey1018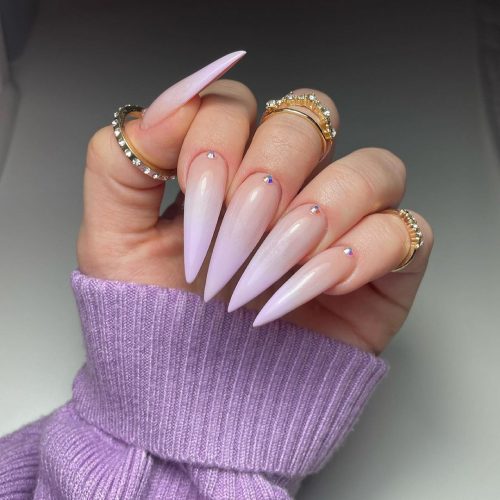 Source: @victorias.secret_room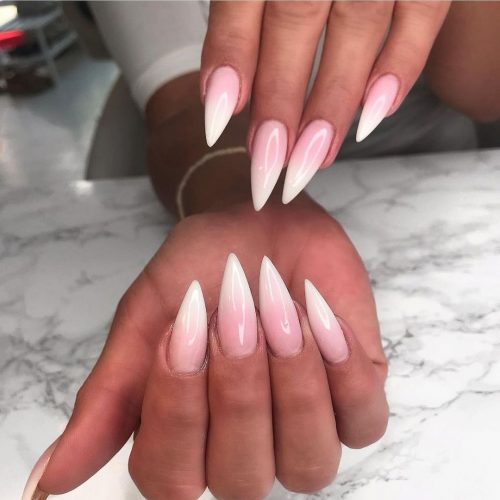 Source: @totsiee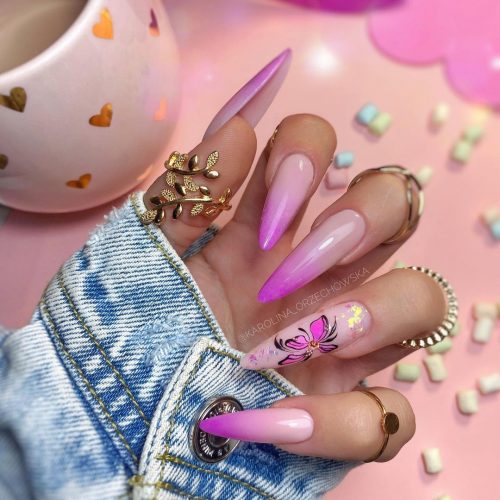 Source: @karolina_orzechowska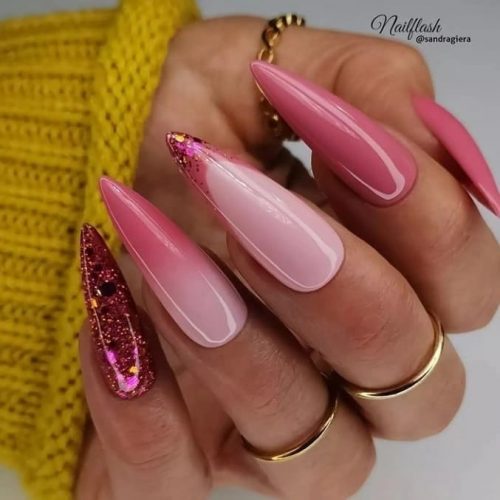 Source: @amazing_nailsclips1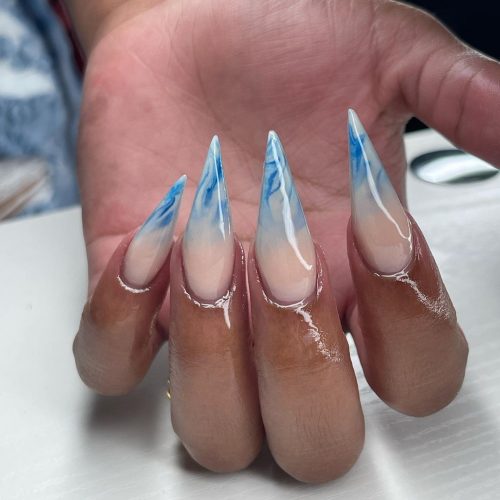 Source: @nailedbyemz
Top Ideas for Short Ombre Nails
If you have short nails, the design range is smaller for you. However, you can experiment with different shades. For example, you can choose a classic monochrome variant using one color but different shades. Combinations like orange with yellow, green with blue, and purple with blue are popular. However, such combinations as blue and orange or purple and yellow are more unique. Fans of classic choose contrasting black-and-white variants.
Source: @beenails_dzoana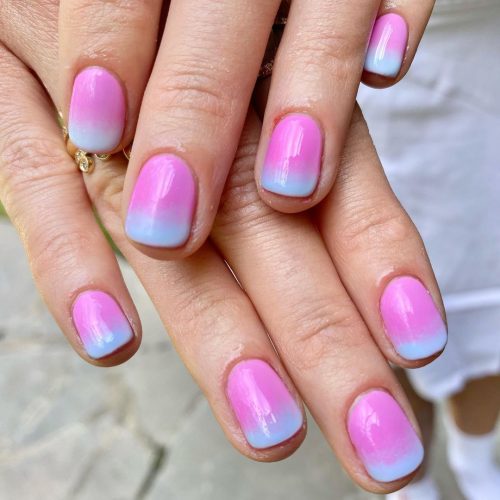 Source: @vee._nails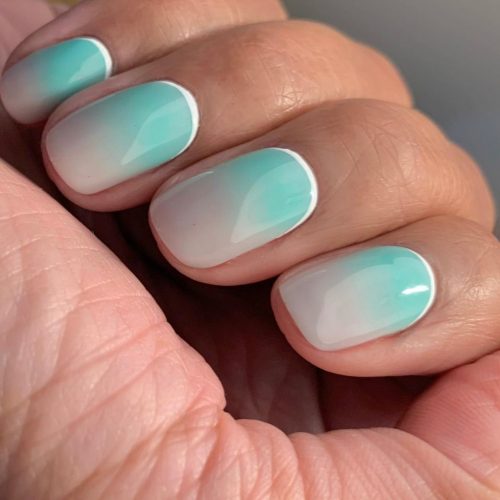 Source: @manicuredbychristina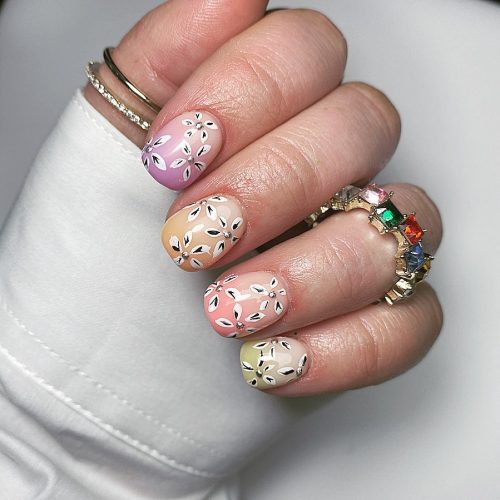 Source: @the.nailgeek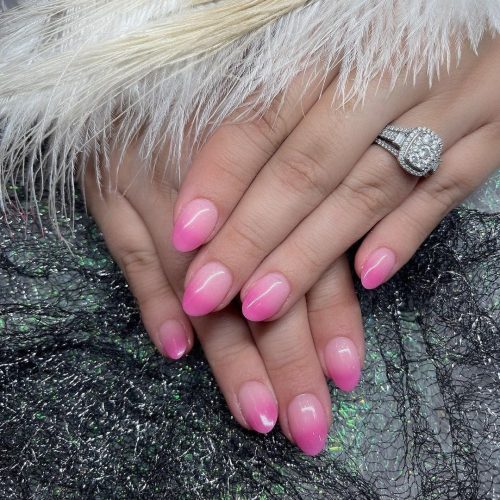 Source: @liznailslisle
Cool Almond Ombre Nail Arts
Almond nails are the very embodiment of nudity and womanhood. You can choose beige shades to decorate such nails. If you choose a gradient from purple to pink and then to yellow, you will not be wrong. This combination is reminiscent of a sunset at sea. Soft colors such as light salad, blue, peach, and light yellow are spectacular solutions for this shape of nails. It's also not a mistake if you add rhinestones and ornaments to your manicure.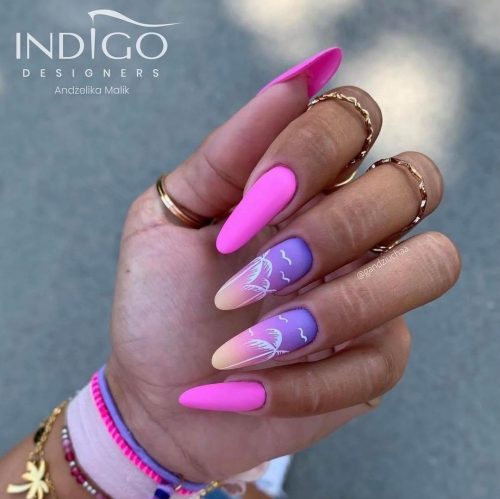 Source: @indigodistributor_sara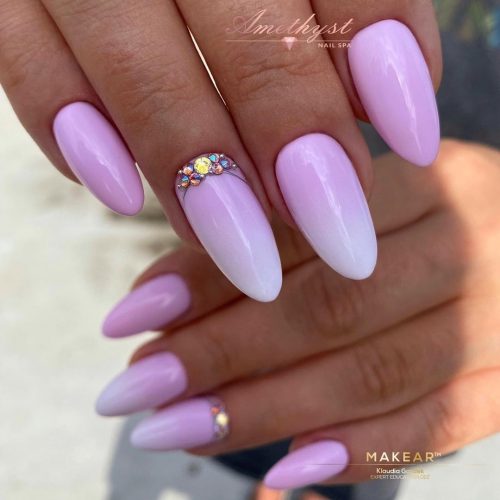 Source: @amethyst_nailspa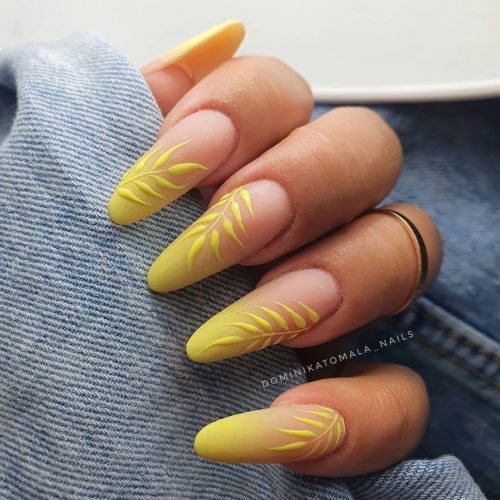 Source: @dominika_nailartist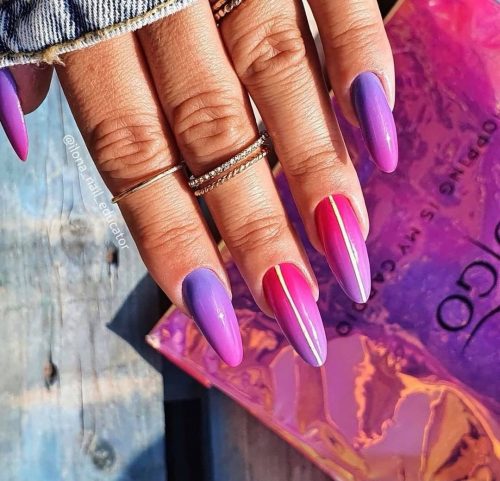 Source: @indigodistributor_sara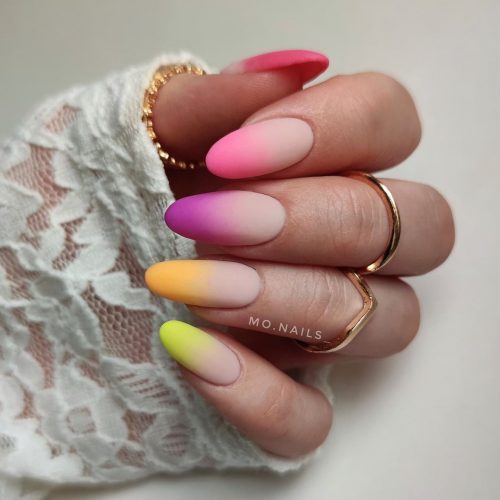 Source: @mo.nails_
See also: