Manicure is an excellent way to complement any female style by bright colors and beautiful details.
It is also an integral part of body care. Orange manicure is a practical and reliable option due to the fact that it's chosen by specialists when applying different nail technique, when choosing nail shapes, types of varnishes, drawing elements on a nail. In addition, an orange color is a universal shade. It is combined with a lot of shades, bright patterns, prints. The orange color symbolizes the movement of energy, the rhythm of spirit, desire, desire, and passion. Yellow and orange is a combination of Eastern culture where citrus, spices, and clay are used together with salted shades of sand and buds. Orange nail designs are very original and versatile, and are popular in 2021. That's why modern women often experiment and create new things on their nails.
61 Fresh Orange Nail Ideas to Try This Year
1. Coffin Orange Rainbow Nails
Coffin nails are an interesting option if you decide to start a fresh and unique manicure. The fingernails of this variety narrow on the sides and visually make your fingers much longer. That's why this type of manicure is perfect for overweight women and for people with short fingers and small palms. Different shades of orange make the manicure unique. The glossy effect of the nails produces special lacquer. This type of nail design is the perfect option for a dashing garment and hairstyle. It will look good with a style in which every detail is important.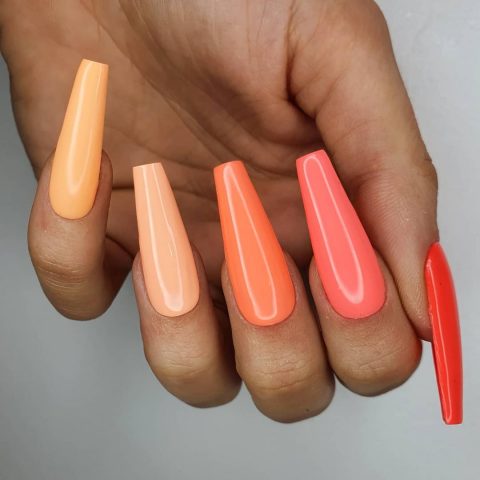 Source: @__studio25nails__
2. Hot Orange Almond Nails
Almond nails are one of the most fashionable solutions in the modern world and in the 2021 season. The bright shade of orange will make your female image more refined and juicy. Nail drawings in the style of small patterns and geometrical figures enhance your personality, and the combination of glossy effect with a matt base will demonstrate your courage. This manicure fits perfectly with holidays and everyday activities.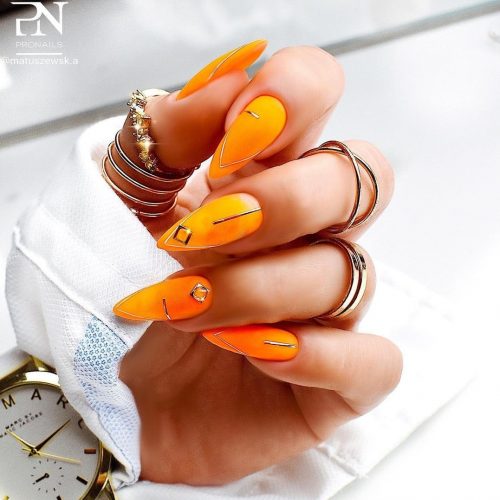 Source: @matuszewsk.a
3. Neon Orange French Manicure
French is a classic type of manicure. A small stripe of the drawing is located at the top of the nails. It gives your image of femininity and elevation. Neon French will brighten not only the nails but also the hair and clothes. Your nails will become more beautiful and will shine new shades if you make half your nails monochromatic.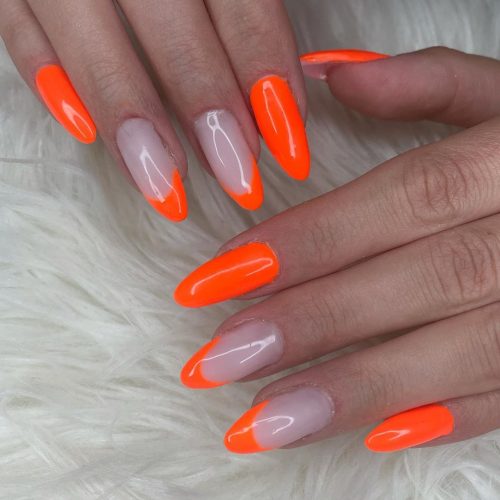 Source: @michaela_nails
4. From Orange to Pink Matte Nails
Matte orange and pink make the image of the manicure refined and feminine. Discreet patterns, drawings, and decorative spots highlight the individuality of women and add even the everyday image of romance and dreams. This type of nail art will not go unnoticed by your friends and loved ones as their focus will be on every detail of your nail drawing.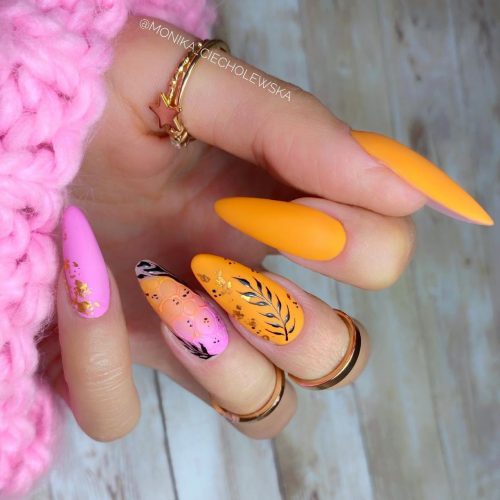 Source: @monika_ciecholewska
5. Orange and Black Stripes with Ringtones
Girls who often make extraordinary decisions have long made it a rule to make a combination of black and orange in a manicure. Variability plays an important role in such manicure. For example, nails with waves ranging from gentle to bright orange can be combined with nails in black and orange stripes. Circular jewelry makes your nails more precise, colorful, and narrow.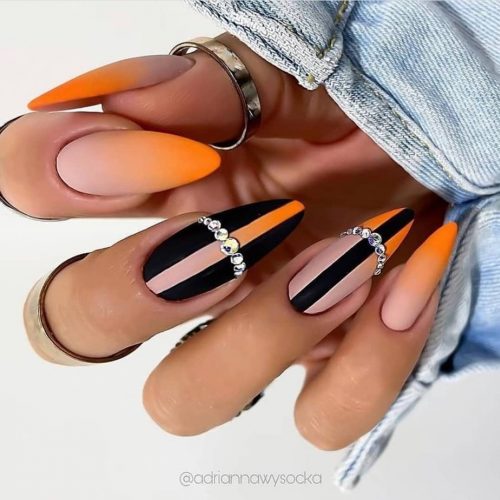 Source: @adriannawysocka
6. Burnt Orange with Black Points
The manicure in the color of the terracotta shows the harmony and tranquility of your spirit. It will emphasize the tenderness and elegance of your clothes and will complement the womanhood of your hair. You can make black marks in the lower part of the nail plate that will highlight the smallest details of the nail drawing. This will make your manicure original. You can achieve the mirror effect by using gel polish.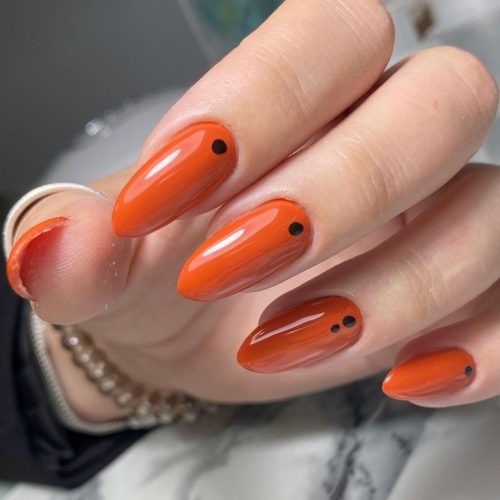 Source: @kerenb.nails
7. Pointy Nails with Butterfly Stickers
Those women who love unique nail art can boldly experiment with nail art on orange nails that look bright and exquisite. Several selected nails may contain a butterfly pattern. It'll make your image more personal, and the shape of your nails will be perfect if it's sharp. Acrylic can give your fingernails a reflective effect that a manicurist uses to create the perfect cover and durability of nails, too.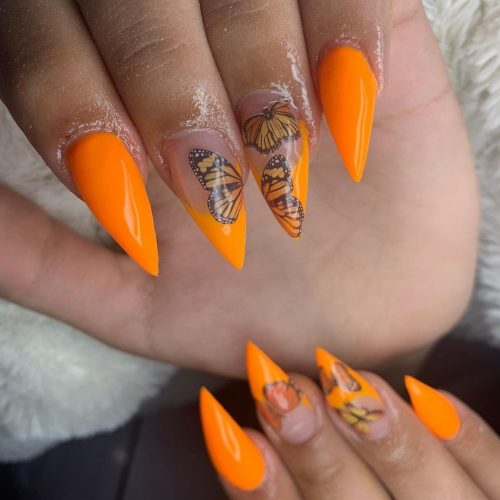 Source: @brunasofianails
8. Orange and Black for Basketball Fans
True basketball fans not only wear team-like clothing, they also get their nails done. In addition, orange is a symbol of this sport. The design of the orange and black manicure will make your image experimental and interesting. Black nails with pointed shape are well matched with inscriptions and ballsbut orange is the best friend for various theme patterns and inclusions. If you are looking for a sports manicure for training, gym attendance, running, or any other activity, this option is perfect.
Source: @classicmully
9. Orange Gel Polish with Geometric Print
Neal design in minimalistic style is ideal for everyday manicure. Different shades of orange can be given originality (from pale orange to bright orange), and a geometric print on several nails that focuses on details will make your nails neat and personalized. This type of manicure is absolutely fascinating, especially if it is made in deep and beautiful colors and is decorated with patterns, stripes, and precious stones.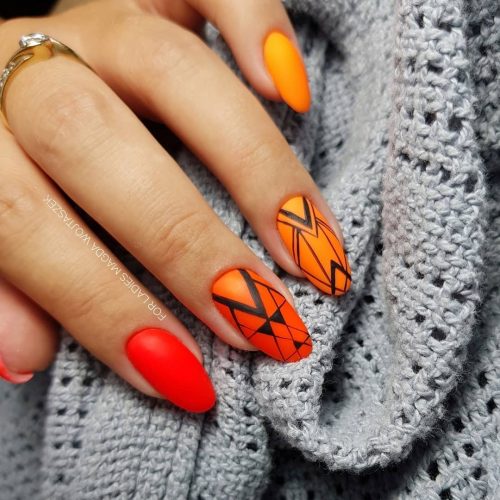 Source: @forladies_magdawojtaszek
10. Matte Nails With Black Pattern
You can make a leopard print nail to create a spectacular and elegant image in a manicure. This type of nail art will look bright and juicy on a matte base, it will give the nails a refinement. Tightened and pointed nails fully convey the drawing and draw the attention of the surrounding people to the details. The orange stripe on one of the ten toenails will look very original. This manicure will be a great addition to the light-colored clothing.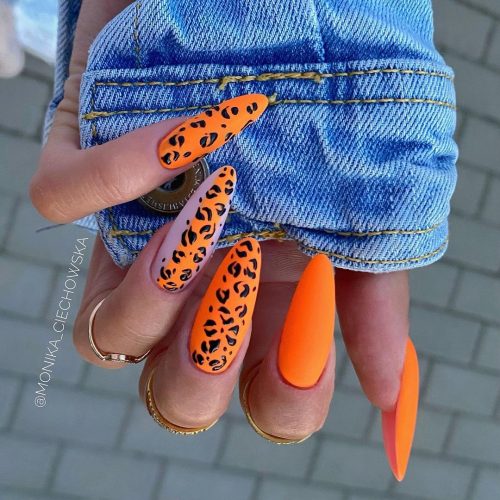 Source: @monika_ciecholewska
11. Pink and Orange Watercolor Design
Watercolor design can be called a genuine work of art in the sphere of nail art. Underneath the acrylic is a drawing which can highlight the personality of the manicure owner and complement the gentle and airy image of any girl. A bright palette of shades exists due to a striking combination of pink and orange shades. is one of the most exclusive manicure designs in an ideal combination of style and color.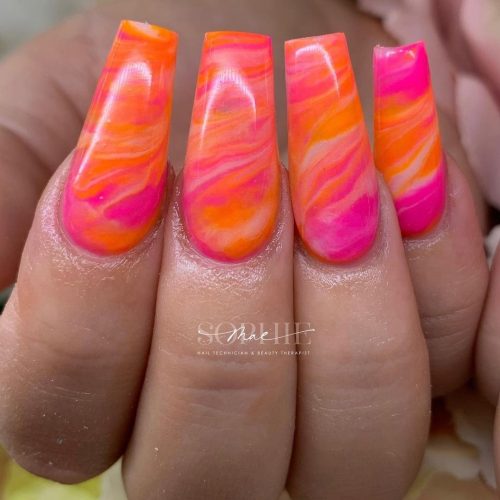 Source: @sophiemaenailsbeauty
12. Burnt Orange Acrylic Stilettos
The stilettos-shaped nails are a lean and pointed shape that shows people how impressive and colorful you are. The shape of the nail and the glossy effect of thegel polish convey the shade of the color you choose. Thus, terracotta fingernails will not go unnoticed by the people around them. They will look harmonious and unique. Such manicure does not require the use of flashy decor elements, as it already looks finished.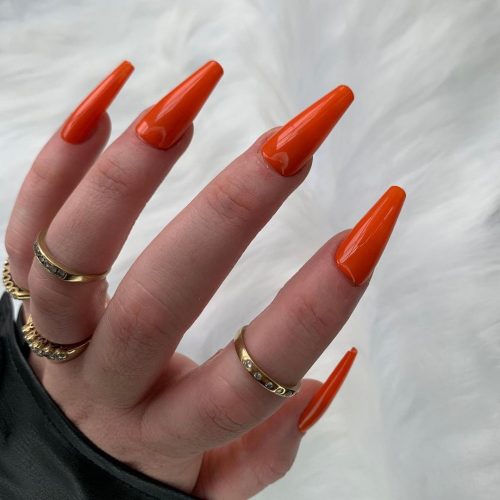 Source: @cherrybombclaws
13. White and Burnt Orange
The novelty of the manicure comes with great speed. The giraffe manicure looks unusual and stylish. Variability in this type of nail design is achieved by a successful combination of terracotta and white and multiple nail designs. The print often occupies the entire area of the nail or is located in its lower part, looking like a small addition. A manicure like that would be perfect for the everyday image of a woman.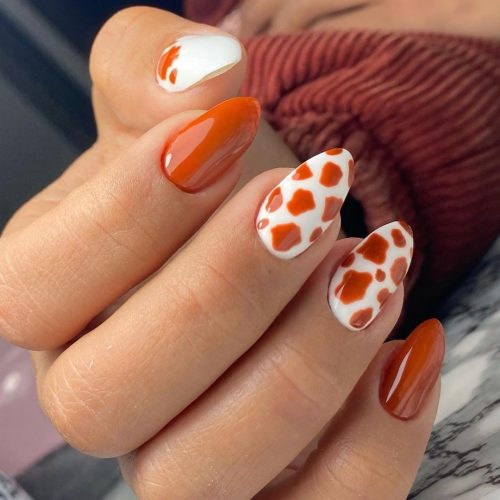 Source: @kerenb.nails
14. Burnt Orange French Tips
The French-style manicure is a leader in the nail art industry. To make this manicure more original, you have to put a stripe in the color of terracotta on the top or a nail on it. The base of the nail must include the beige shade. Experienced master-hands point out the following features of beige manicure. Acrylic is the ideal option for covering nails and their increased strength. Therefore, the nails will reflect the world around you. The manicure looks feminine and romantic, and it can complete any image.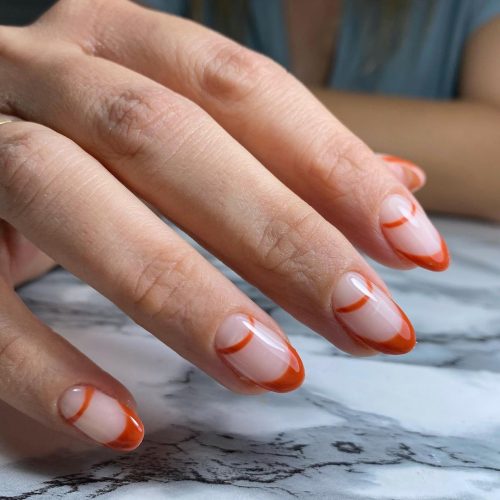 Source: @kerenb.nails
15. Cute and Simple Orange Ombre Nails
Fashion critics note new features in client preferences for color selection and manicure decoration. The ombre manicure looks stylish and succinct, and its glossy effect can not go without the attention of your friends and relatives. You can make the wavelengths beige and orange. Therefore, your manicure looks romantic and gentle. Drawing elements on nails is an additional option because mixing shades is the most important thing in this form of manicure.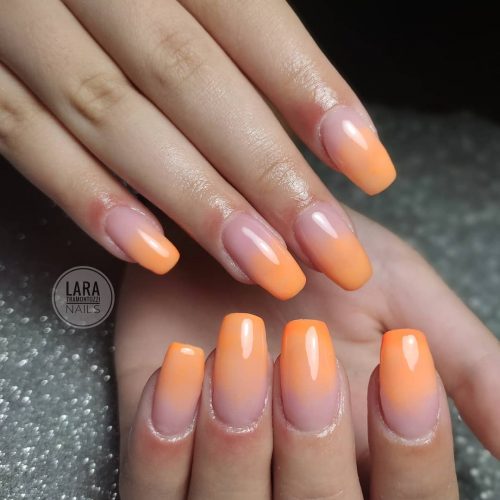 16. Freshy Light Green and Orange Ombre
Is there anything brighter than green and orange manicure? Such manicure ombre is a popular direction of nail art by creating interesting contrast and playing paints. For spring or summer looks, refreshing shades. The gentle waves of shades of green and peach give you and your loved ones a sense of ease. A manicure is good for women who prefer to feel the aesthetics constantly in their image.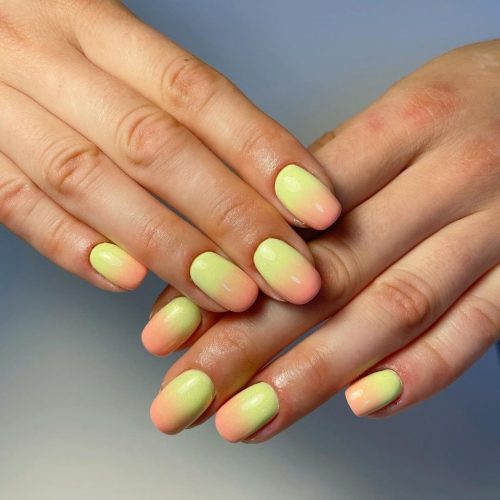 Source: @centrum_urody_cyyybulska
17. Hot Pink and Orange Ombre Nails
The ombre manicure allows you to experiment with flowers and their shades because it gives your fingernails originality. Bright waves of shades of orange and bright pink and short pointed nails make you light, gentle, and spring. You don't have to wear such jewelry as rings on your fingers. Shade waves are the most important thing. Pink blends equally well with both the bright and the muffled orange palette.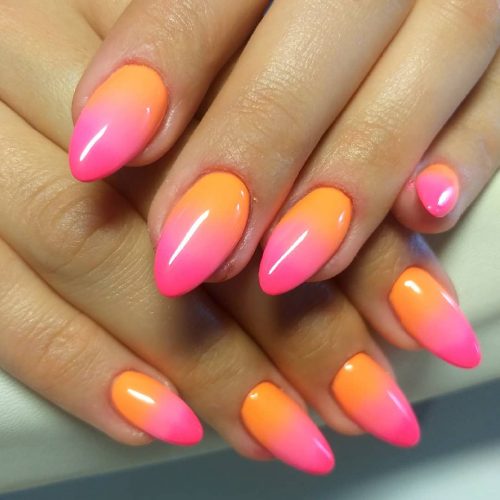 Source: @pp_place.for.you
18. From Orange to Yellow Ombre with Palms
Ombre is an ideal option for fans of original nail designs. The gradation from bright orange to yellow shows a bright palette of colors. On the pointed nails there will be vividly visible drawings of palm trees, which are especially appropriate during the summer season. Such manicure is successfully combined with elegant costumes and dresses, because it focuses on the details of clothing.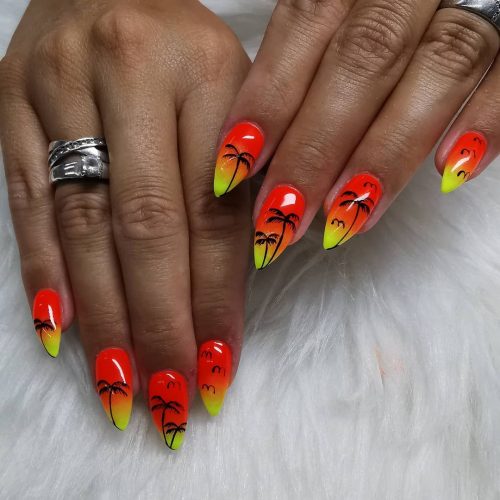 Source: @studioo_n
19. Square-Tipped Orange and Black Ombre
The ombre manicure creates an unusual combination of shades. Sharpened nails with square shape gentle waves look as harmonious as possible. A black stripe in just one corner of the nail plate gives national design an original. This type of manicure will emphasize the personality of the girl and will be an excellent addition to any image. Nevertheless, not all women go in this form. You have to choose this manicure if you have the right finger shape.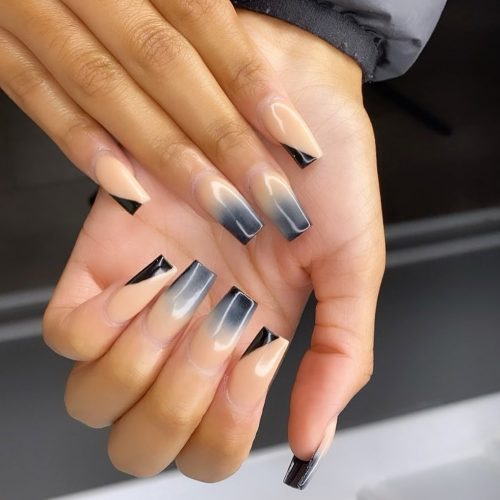 Source: @mariesnaillounge
20. Orange, Yellow and Pink Ombre
Ombre manicure allows you and the manicure masters to experiment with shades. The soft combination of orange, yellow, and pink creates a bright palette of shades. Small square nails are the perfect base for such a manicure. It makes your nails soft and feminine and fits the clothes of various shades because it produces an extraordinary mix of shades. Therefore, the Eiffel Tower or the French tricolor will appropriately decorate the design of your nails.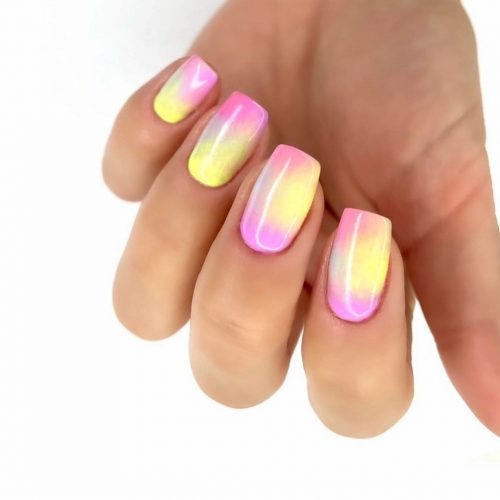 Source: @sylvianails
21. Orange and Blue Different Hands Nails
Mysterious and charming, the color of the sky and the sea, sung by the poets. It's all blue. You have to choose two completely different colors for each hand in order to create a spectacular manicure. The combination of blue and orange makes your hands fresh and bright. You can display the yin-yang symbol on two nails, and you combine bright and bright colors of the selected colors. At the top of the other nails you apply the strips that the master does in the manicure French style. The glossy effect is the result of the acrylic.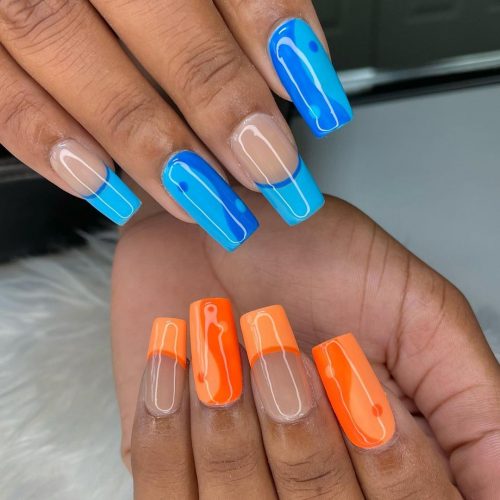 Source: @_nailsbyjanessa
22. Purple Manicure with Orange Accent
The combination of different colors allows modern masters to experiment and create unique manicures. You can use the gold and black blotches applied to the matt base of the purple shade. This is the ideal option on the oval nails of acute shape. One orange nail on each hand would make an interesting note of courage. The golden blotches will look especially harmonious on your beautiful hands.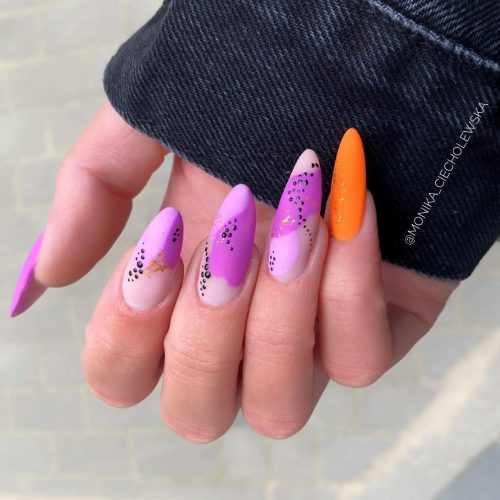 Source: @monika_ciecholewska
23. Bright Orange with Red Dotts
Is it possible to say with certainty that a bright and high-quality manicure can improve the mood? This issue is very relevant during rainy and autumn droughts. Minimalistic women prefer to focus on small details. For short oval nails the master likes to choose a bright orange shade. Nail design will look original due to small red dots on each nail. The combination of bright orange and red will make your hands feminine and laconic.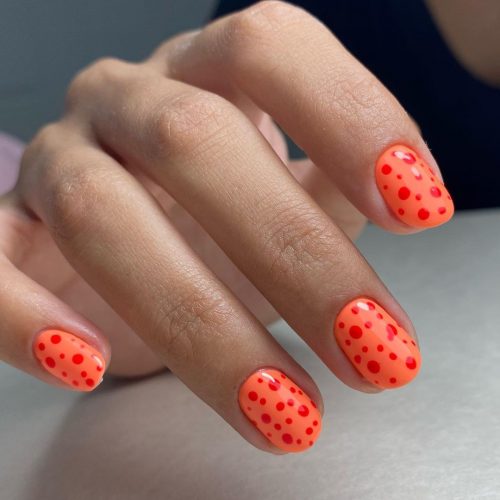 Source: @kerenb.nails
24. Coral Orange Gradient with "Wet" Nails
Bad weather or no mood? Let's treat ourselves to a bright manicure! You can make yourself a romantic and soft image by a laconic manicure. In this manicure, the light coral shade that emphasizes a girl's elegance plays a big role. The ombre from pink to yellow makes a bright palette of summer and peaches. The effect of the water flowing down off your fingernails is something you should definitely try. It's popular right now.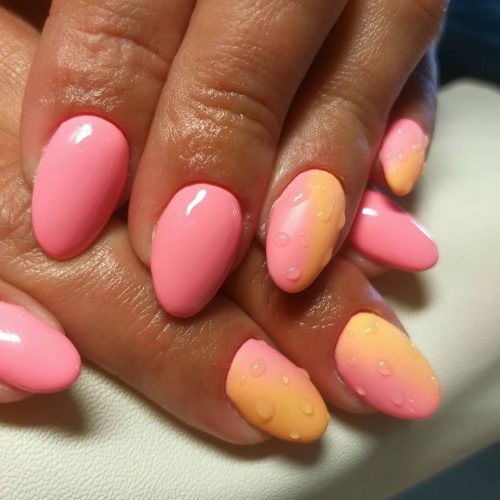 Source: @pp_place.for.you
25. Funny Halloween Nail Art
The Halloween theme manicure looks original and stylish. The palette of shades from light to bright orange includes a matt manicure of ombre on the nails with a sharp and narrow shape. Such nails are conspicuous by the variety of symbolic drawings. This manicure emphasizes the individuality of women. As far as details are concerned, the quality green nail polish is perfect for creating a high mood.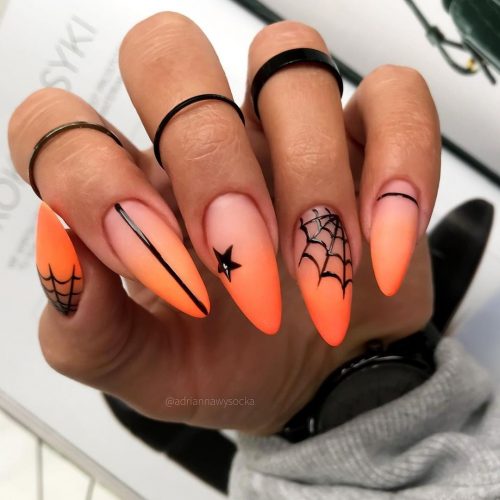 Source: @adriannawysocka
26. Bright Orange with White Print
Bright orange manicure looks stylish and has summer inspiration. You can make several nails by using a minimalist white print that enhances the effect of individuality. Gel polish helps create glossy effect that focuses on details of the drawing. A manicure like that would be a perfect complement to an airy and romantic look. This is another incredibly rich palette that modern women need bright colors this summer. This design will cheer you up and make you smile when you don't want to have fun.
Source: @pysia_kr
27. Chrome Light Peach Nails
The most topical design this season is a mirror or chrome manicure. It requires a special powder. Mirrored surface and smooth shine fans can choose chrome nails that look spectacular and elegant. A light peach shade will give your image of tenderness and softness, will make you feminine. A nail manicure like this would be great for an air dress or a light suit. It's a stylish and fashionable Hollywood trend of nail design.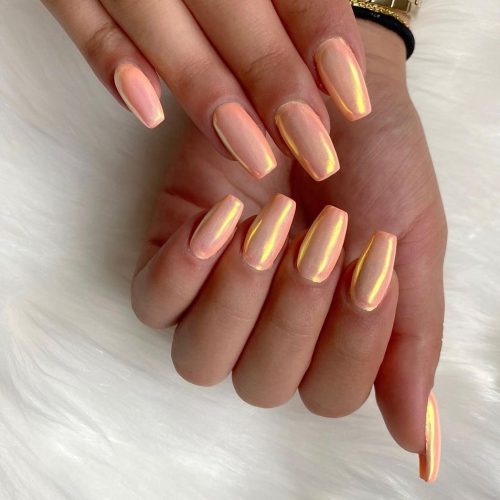 Source: @nails_byilariaaa
28. Orange Ombre with Botanic Print
The orange ombre manicure allows women to experiment with colors and create interesting nail designs. Refined waves from light to bright orange show freshness and uniqueness. Some nails have a light color, which makes your hands look aesthetic and bright. The combination of different shades allows you to look spectacular.
Source: @sylvianails
29. Light-Orange Ballerina Nails
There are different styles of nail painting that will allow you to choose something to your liking. Ballerina-shaped nails, which are in the form of ballet shoes, are leading in the industry of nail art. The sophistication of such nails highlights well-chosen shades. Light orange ballerina-shaped nails give us the opportunity to experiment with jewelry. You can make a few nails by using pink rhinestones, yellow inclusions, and aesthetic patterns.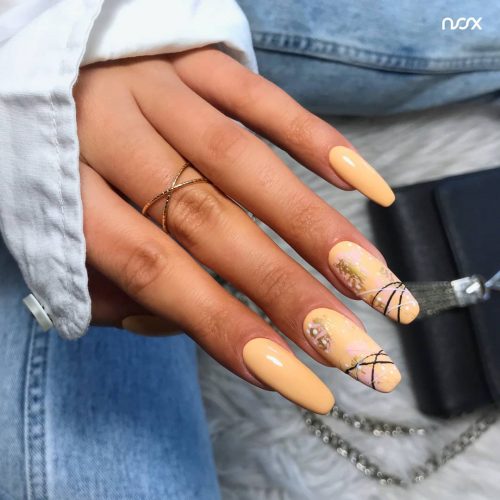 Source: @noxnailspl
30. Peach Acrylic Nails with Gold Glitter
Acrylic nails look not only stylish but also effective due to the reflective effect. Feminine manicure fans should use beige varnish with small yellow amount of sequins. This will make your nails expressive. You can use a big flower ornament on one nail. This manicure will make your image complete.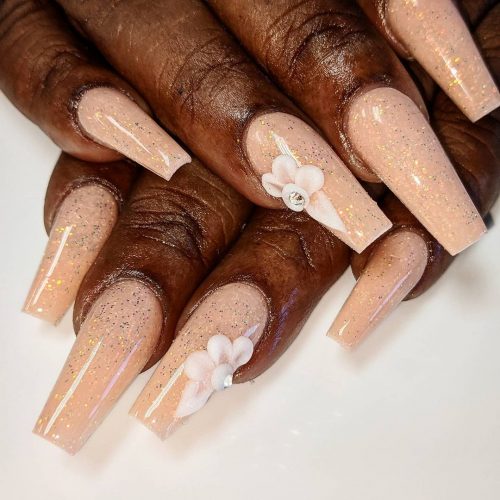 Source: @lnl_legendnails
31. Close-to-Yellow Orange French Tips
You can diversify your French-styled manicure. To do that, do an experiment with the shades and the nail pattern. An orange-yellow, long, and narrow-toed French will make you individual and expressive. A unique drawing on one nail in the form of circular rhinestones will make the function of geometric figures. This type of manicure is perfect for both the everyday and the ceremonial image.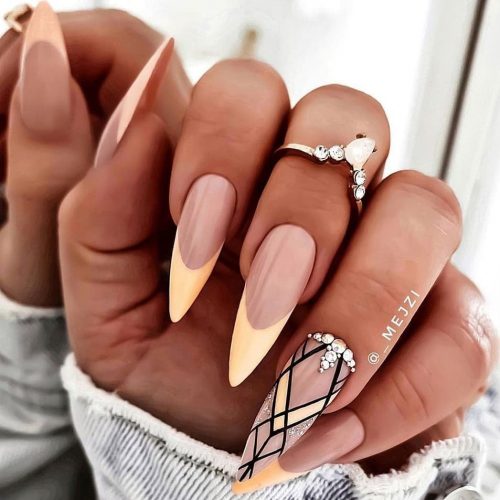 Source: @houseofbeautyofficial
32. Pink, Black, Purple and Orange Mani
Experimenters prefer to focus on each nail, focusing on unusual combinations and ornamental elements. On some nails, you can make an ombre from pink to orange, purple. On other nails with the same color combinations, you must add a leopard print drawing. This design is suitable for holidays.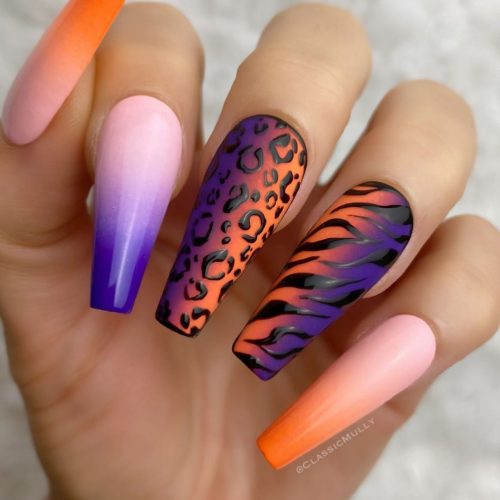 33. Peach Gel Polish with Silver Glitter
Peach gel polish for nails will make your manicure nice and romantic. A small silver glitter will draw the attention of the people around you to your nails. It's the perfect place to walk in an elegant suit.
34. Orange and Beige Matte Manicure
Typically, a graceful and spectacular manicure can only be done using variability. You have to put beige and orange on the long nails. Matt nails can be painted with a leopard-printed decorative ring. This type of nail design looks original and stylish, which you can't miss from the outside.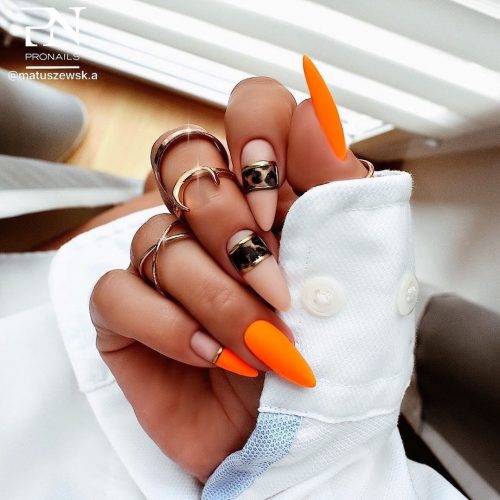 Source: @matuszewsk.a
35. Orange, Pastel and Flowers Mix
Light colors and aesthetic drawings are ideal for spring or summer manicure. The sun, orange shades, which differs in glossy effect by using acrylic, should be applied only to a few fingernails. The beige matte base will look great on the other nails. This pastel-flower mix gives you a feeling of ease and freedom.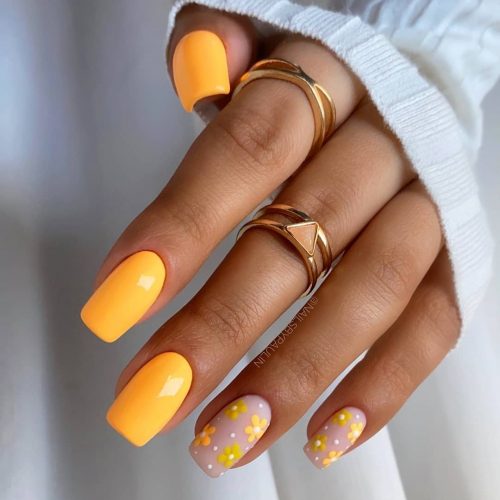 Source: @noxnailspl
36. Burnt Orange Fall Nails
Square nails are combined with transparent manicure. Maple leaf drawings are appropriate in the autumn season. The red-yellow shade makes your nails bright and unforgettable. This nail design will complement any image in the autumn season.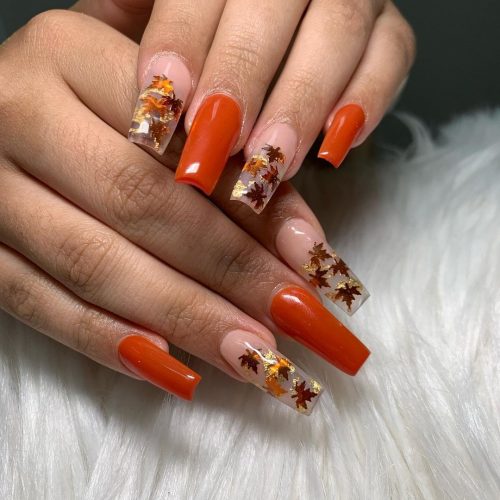 Source: @nailsbyjrosales
37. Deep Orange and Gold Fall Nails
Autumn manicure is the most appropriate time to create bright orange and yellow shades. The deep orange tint with glossy effect demonstrates your brightness and efficiency to those around you due to the correct use of gel-lacquer. You can use gold glitter to make your nails complete. Make a mix of shades with the effect of dripping water from the nails water flowing down off your nails.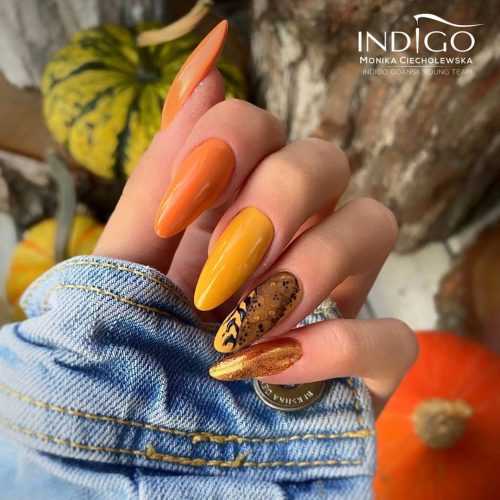 Source: @monika_ciecholewska
38. Brown-Orange-Red Wavy Mix
Elegant manicure with waves takes the lead in the nail industry. The basic drawing looks attractive due to the use of unique combinations of shades such as orange, brown, and red. The waves are located at the center of the nail plate or at the edge. The print drawings make your nails as expressive as possible.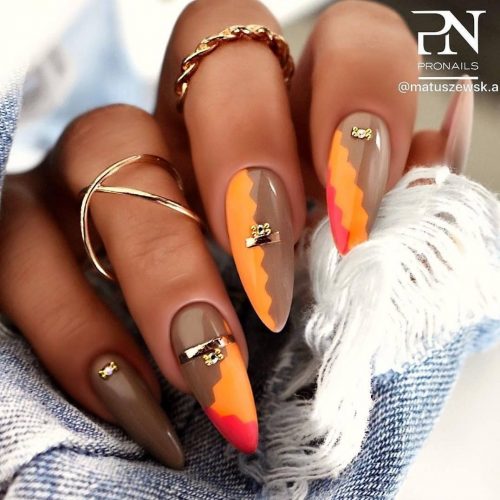 Source: @matuszewsk.a
39. Simple Orange Stiletto Nails
Wedge-shaped nails give you a lot of space for experimentation. You can make minimalistic manicure by using orange shade. It shows a girl's glamour. This orange manicure is interesting and stylish even if it doesn't have a drawing.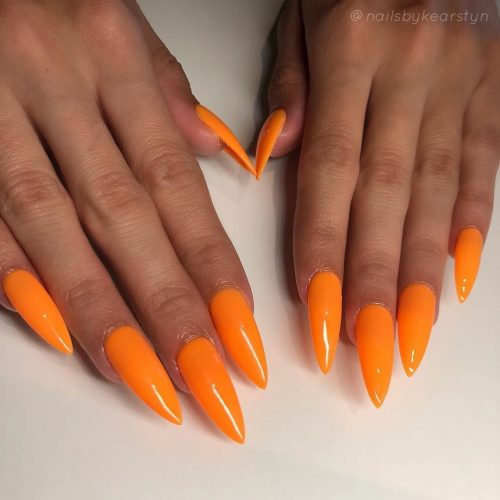 Source: @nailsbykearstyn
40. Sparkly Orange and Peach Design
A bright manicure helps to emphasize individuality and feel more confident. Each fingernail can have its own drawing, being distinguished by variety and style. The orange and beige fingernails are well matched with circular rhinestones and fine sequins. This type of manicure is like shining. It's very elegant.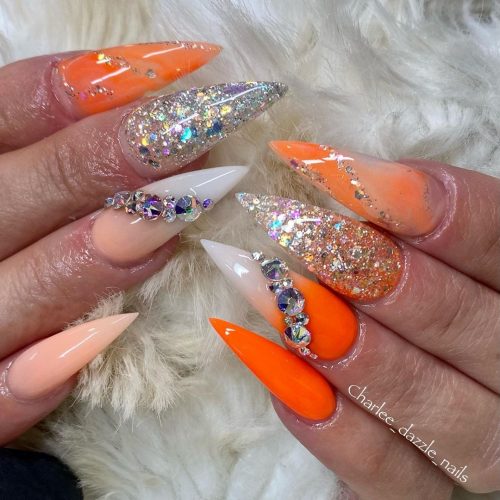 Source: @charlee_dazzle_nails
41. Dark Orange with Pattern Mix
Modern nail design called texture looks unique and stylish as it demonstrates your individuality. The matte base and the unusual drawings draw people's attention to the details of the nails. The dark-orange shade translates the atmosphere of autumn. And as far as black blotches, they make manicures original. This is a neat design that fits the everyday image perfectly.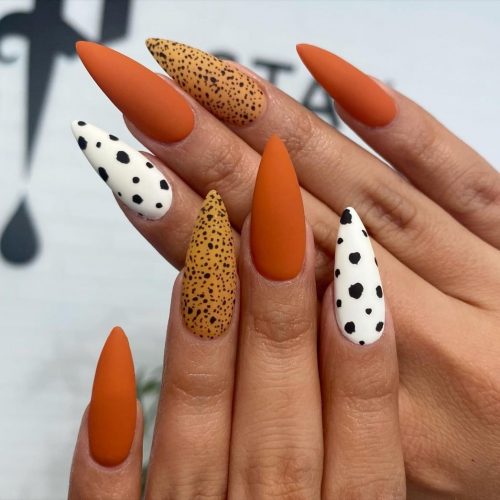 Source: @jbepolished
42. Rich Gold and Orange Printed Nails
The combination of golden glitter and light orange highlights the autumn atmosphere and makes the manicure spectacular. You can create one nail with glitter and precious stones, and all other nails can be yellow or golden. A manicure like that would be a perfect complement to the holiday clothe.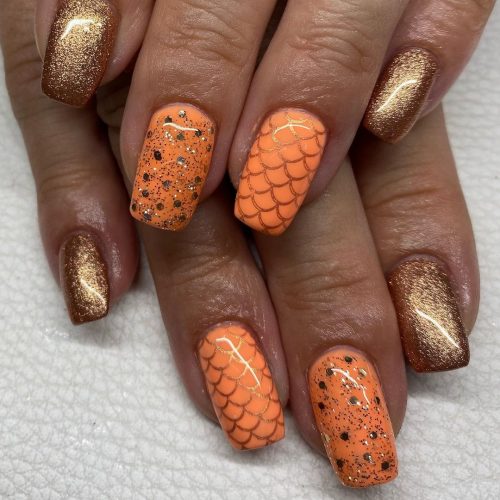 Source: @nail_candy_by_beverly
43. Bright Colored All-Season Mix
If you have a bright manicure with a few shades on your hands, you can do it at any time of the year. The manicure artist has to draw a mix of different colors on each nail. Among these colors are orange, pink, yellow, green. These nails keep women in the trend and focus of attention.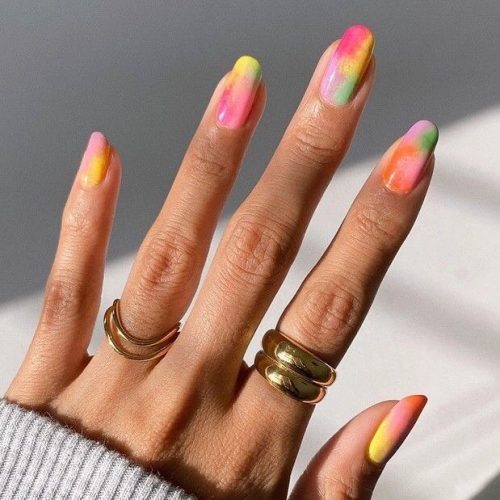 Source: @most_extra_nails
44. Neon, White and Discolored Waves
The wave manicure takes the lead in the world of nail art. It looks original when combined with unusual color variants. The whole drawing can consist of neon, white, and colorless waves, making the manicure summer and saturated. This type of nail design would fit a light dress or an elegant pastel suit.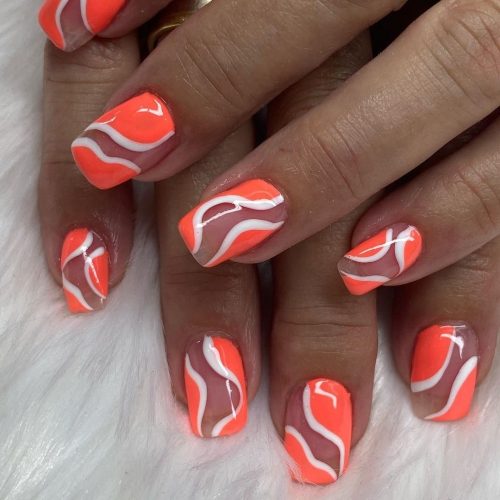 Source: @fada_nails
45. Light Peach and Silver Nails
Light-peach manicure with glossy effect emphasizes the individuality of women and gives them the image of a romantic person thanks to gel polish. A manicure like that would be a great idea for a romantic date or an evening stroll.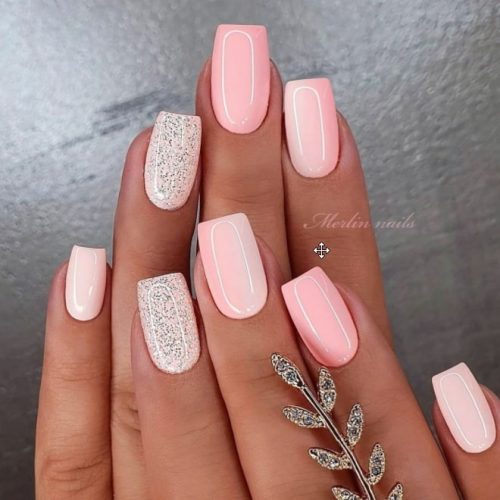 Source: @jet_set_beauty_nails
46. Short Orange Nails with Flowers
And the short nail fans can try to make minimalist nails. An orange shade with a glossy effect will add brightness and glow to the style of your nails. Your nailmaker can make one nail with a clear shade and cover it with a chamomile. Such spring or summer nail design will go with the light and romantic image and clothes of young girls.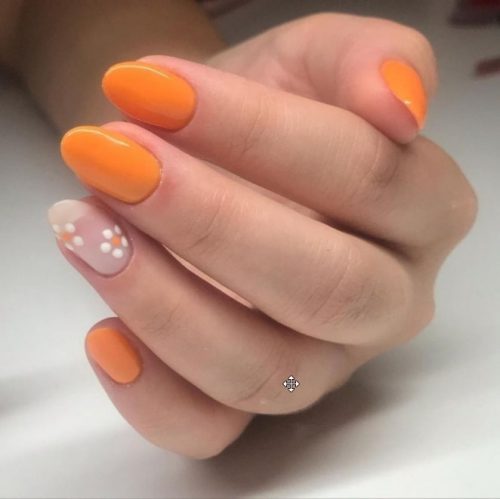 Source: @nails_by_natalia.s
47. Shiny and Beautiful with Crystal Blings
The light orange on the long nails looks concise and stylish. The mirror effect is those nails that are covered with gel polish. Multi-colored crystals and circular straps make your nails unique. Such nails have a drawing that looks like a work of art because the manicure's way of self-expression comes first in this style.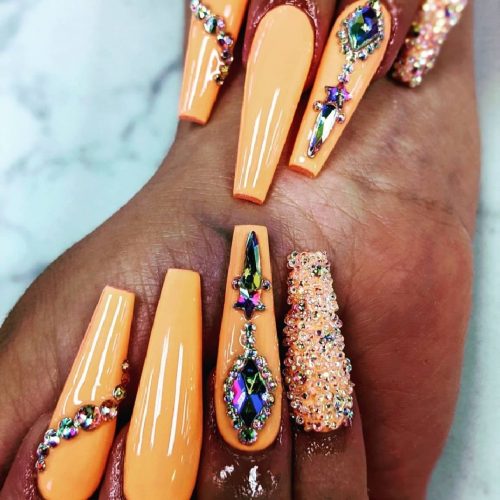 Source: @lnl_legendnails
48. Sunny Orange Chrome Nails
Metallic manicure is an ideal option for confident people. Sun and orange colors give your hands summer style. The bright wavelengths on the nails demonstrate the completeness of the manicure. Jewelry is an optional component of such a manicure.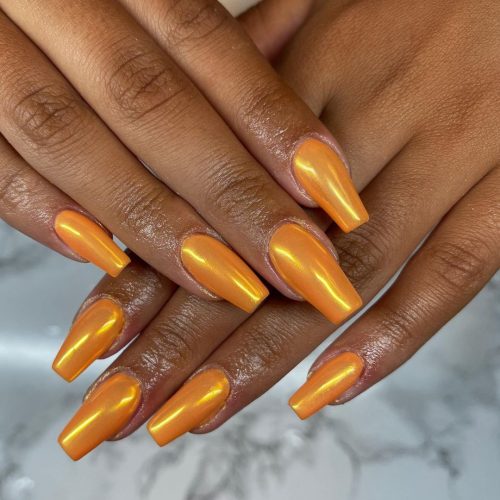 Source: @naglarelina
49. Orange and White Camo Design
The camo manicure looks original and interesting as the attention of the people around it will be drawn to the nail design. This unique combination of orange, white, pink, and red makes a palette of bright shades. Such a matte-based drawing lengthens the nails visually and becomes an excellent addition to any image (such as business style or casual clothing).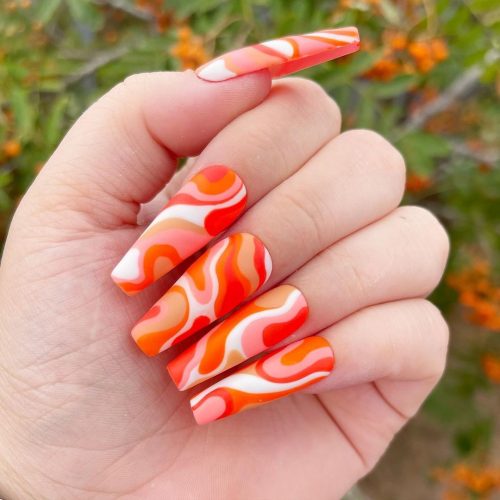 Source: @pressedbyjaide
50. Orange Ombre With Color Rhinestones
The ombre manicure creates a bright palette of colors in which each element has no analogues. Refined streams from light to bright orange look bright and warm. The massive colored stones will distinguish you from other women and allow you to draw people's attention to every detail of the drawing. This type of manicure is the perfect solution for a holiday. For everyday style, this manicure is inappropriate.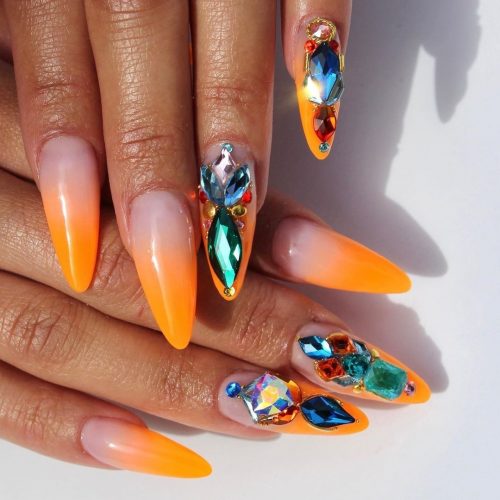 Source: @_allured
51. Classy and Simple Short Orange Nails
Minimalist style gains popularity in the world of neil art. The light orange shade on the short nails demonstrates your femininity and purity. The glossy effect will make you one of the other girls. This nail design is perfect without extra print.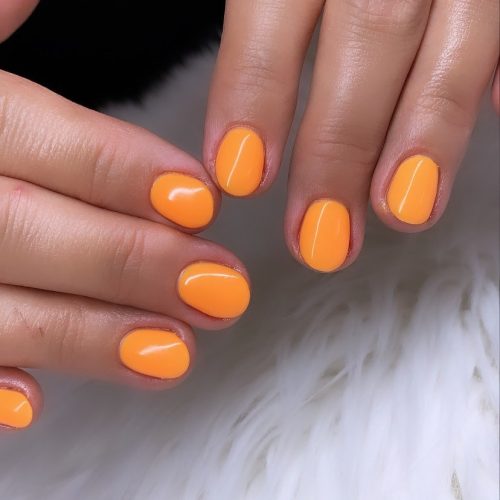 Source: @nails.by.kimberlee
52. Nude Orange Marble Manicure
Marble nails are appropriate in any image, be it casual style or holiday dress. It's a universal idea. Beige combined with orange is the ideal option for women who do not want to look flashy and bright. This manicure looks finished without extra printing. It is an embodiment of aesthetics and minimalism.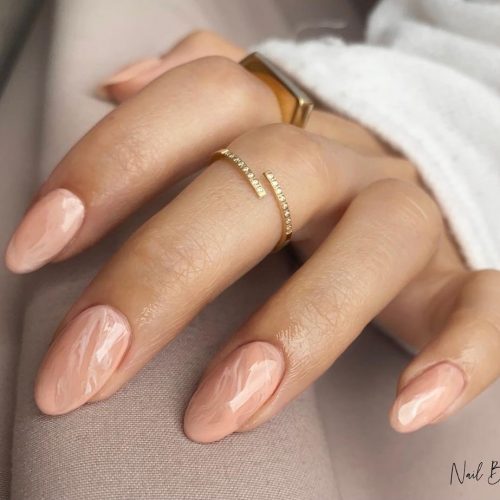 Source: @nail_blisss_
53. Bold Orange and Green Summer Design
The combination of bright shades of green and orange is an excellent complement to any image. Your manicure will become saturated with such shades. You can make nails unique if you use one nail as a platform for a separate color, for example, green. This type of manicure should have a glossy effect because it looks bad without glitter and stripes. Such a manicure would be the best solution for the celebration.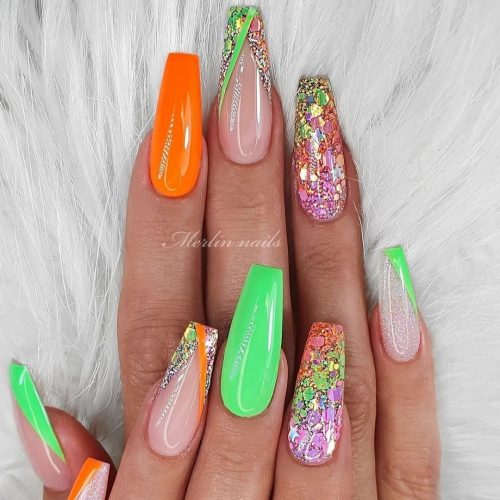 Source: @jet_set_beauty_nails
54. Elegant Orange French
A French-style manicure is considered a classic in the nail art industry. To achieve the original design, you have to apply an orange strip at the top of the nail plate. With acrylic you have to do a reflective effect. So, you make your nails strong.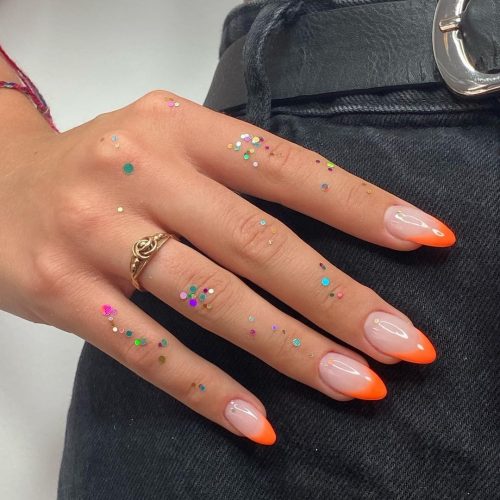 Source: @malinowestudio
55. Long Deep Orange Marble Nails
Long marble nails look spectacular and stylish. This will distinguish you from other girls. This is a very bold and unique manicure. You can add one nail to this design. This design is perfectly matched with bright dresses or costumes.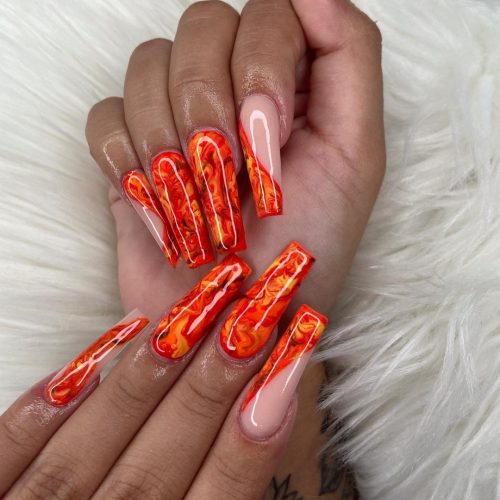 Source: @nailzbymarzzz
56. Sweet Fruit Matte Nails
Fruit manicure with matt coating will give summer mood to every girl and will add to any image of brightness and saturation. The bright orange on the short nails looks feminine and soft. You can use the summer orange drawing. It'll make your nails juicy.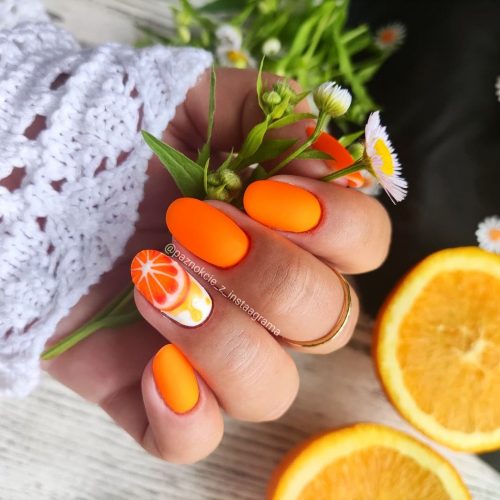 Source: @paznokcie_z_instaagrama
57. Orange Fire Rainbow Nail Art
A flaming orange rainbow will give your fingernails an impact and an unrivaled style. You can do an experiment and add elements of a different shade to this drawing. This will make a universal combination of shades. Such a manicure should not include other elements of the decor, such as ostriches, because it would be superfluous.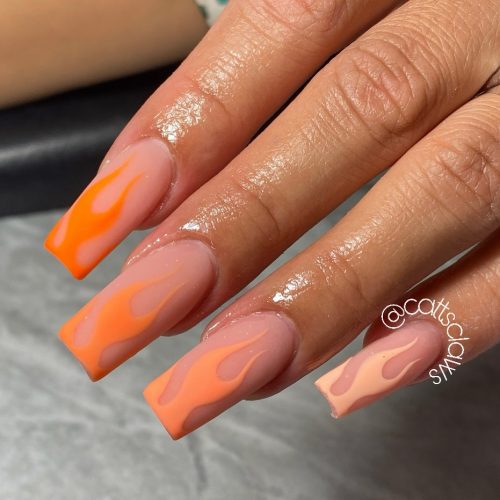 Source: @cattsclaws
58. 3d Bright Orange French Tips
The French manicure is a classic variant in the modern nail industry. You have to put a bright orange stripe on the top of the nail. You can do the effect of three-dimensional space by applying bubbles to your nails. This manicure fits perfectly with vivid images. Every detail is important in this design.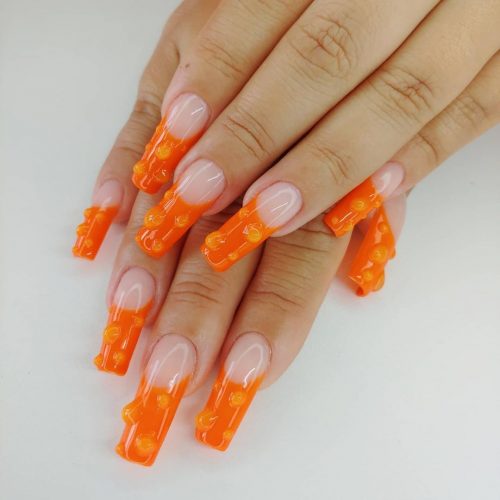 Source: @finesseyourclaws
59. Elegant Combination
You can combine gentleness and elegance if you make a new manicure. The design of orange-striped nails can include grey and brown. These nails are elegant and aesthetic. You can wear any outfit if you get that universal manicure. Brown manicure is one of the most demanded nail style. It is well received on different nails and has neutral properties. The design of such nails is often done in both concise and spectacular style.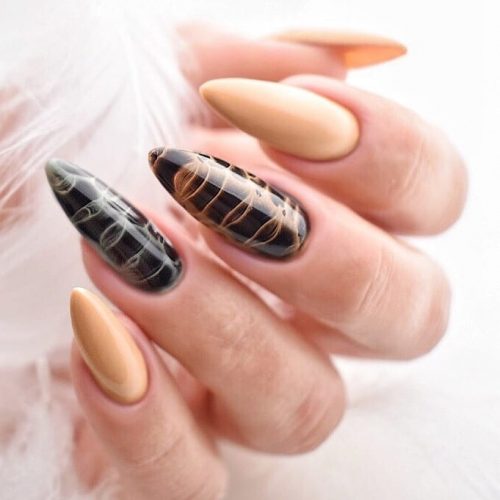 Source: @noxnailspl
60. Orange, Peach, and Print Mix
A manicure for women who want to look feminine should only contain light shades. The ideal option is to use shades such as pink, white, and orange ones. One nail can be painted in a leopard print style. The glossy effect is due to the use of gel polish. This mani is suitable for both everyday and festive image. Gentle, refined, and deliciously beautiful nail design you can create in this season, using the fashionable shade of gel-lacquer in color «peach». The stylish peach manicure gives the nails ease and freshness without adding to the effect of your chosen style.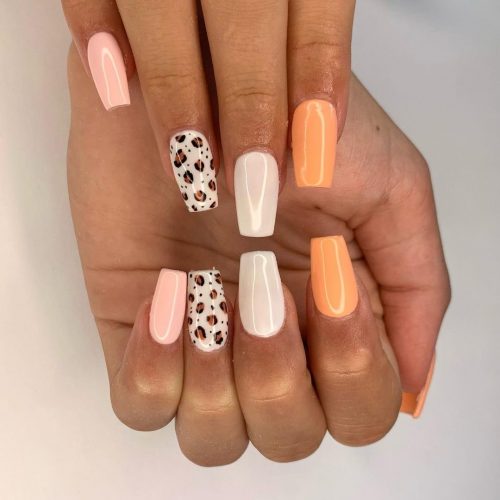 Source: @sarahcraykbeautytherapy
61. Orange and Grey Glitter Nails
Orange and grey colors manicure gives its owner a mood of autumn, it makes the woman stylish and unique. The large and small size of the glitter will make your nails bright and shiny. This is an interesting idea. All thanks to a combination of unusual shades and bright ornamental elements. You should worry about the correct and harmonious shade of varnish in cold or warm tones, which would look better in a certain variant and a selected range of clothes.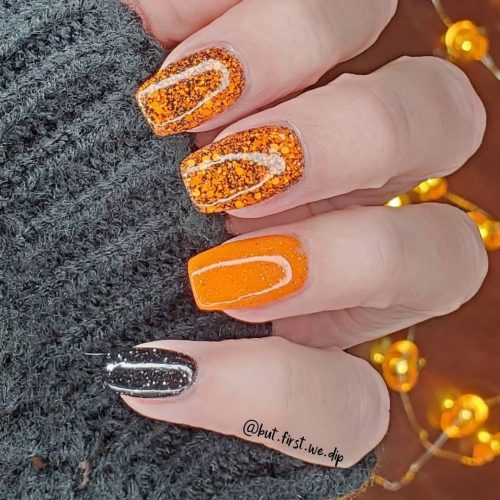 Source: @but.first.we.dip
Orange Nails FAQ
[wp-faq-schema]