A pink manicure can be the perfect choice for a party and for the workplace. An elegant pastel pink can compliment your office wardrobe whereas a bright pink can wow your party look.
A neon pink color is extra trendy in 2021, so you can paint monochrome neon pink nails, or isolate the color on the tips for the French manicure.
1. Elegant Light Pink Nails
A light-pink manicure goes well with elegant and fine dresses. It is often chosen for proms as it suits pretty floaty dresses. Minimalist geometric patterns appear charming on a neutral pink color base.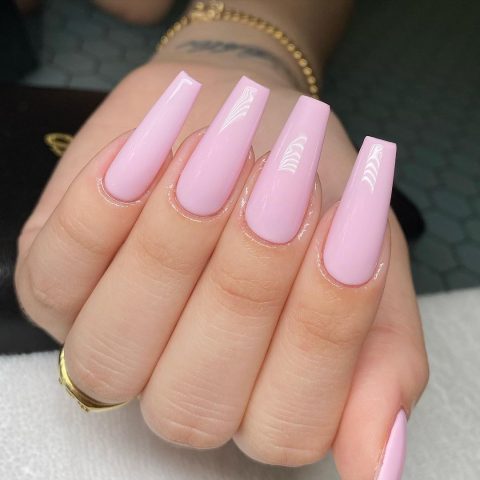 Source: @thenailbarmia
And if you want to add more artwork, garnish your nails with rhinestones and glitter. Gel nail polish also adds a reflecting look. If a nail bed is long, every digit can be coupled with nail art as pink subdues the effect of design.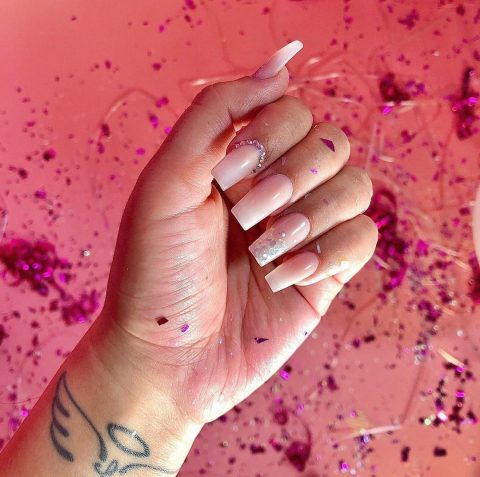 Source: @thenailbarmia
2. Hot Pink Stiletto Nails
Girls who like to be the centre of attention choose stiletto shaped long nails. To enliven the effect, stiletto nails are painted with a bright pink gel. You can play with additional nail decorations such as glitter, beads and stones as the length allows you to go creative.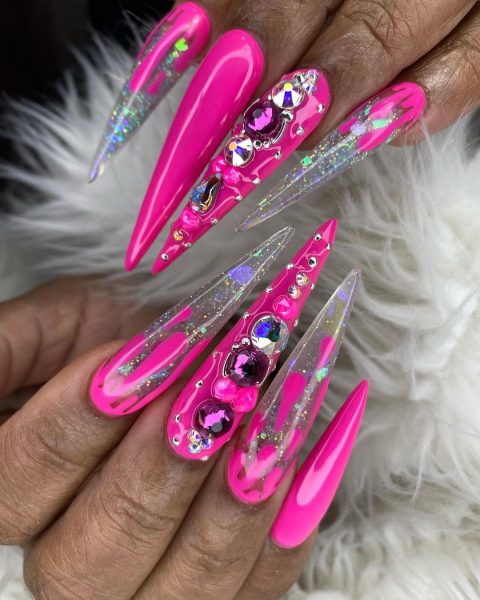 Source: @nailsbyletice
Fans of smooth and mirror effect nail art will love the idea of chrome nails. The trick is in applying mirror powder. A chrome pink creates a refined look while pointy nails bring in a bold character to the mani.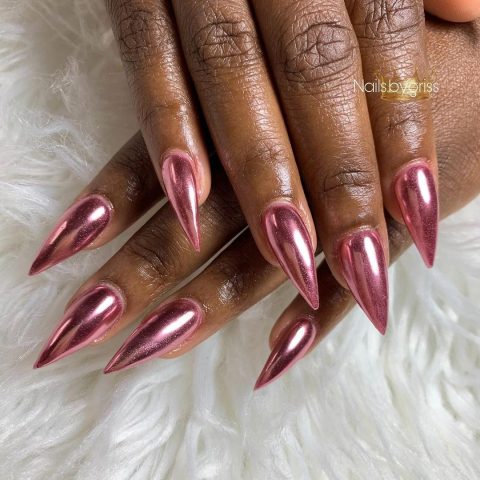 Source: @nails.bygriss
3. Baby Pink Nails
Baby pink nails are a simple minimalist style manicure. Subtle designs and smooth shading-off are the main features of it. Short nails painted in a pale pink look almost colourless. To give it a bit of a French touch, add a stripe at the tip of the nails.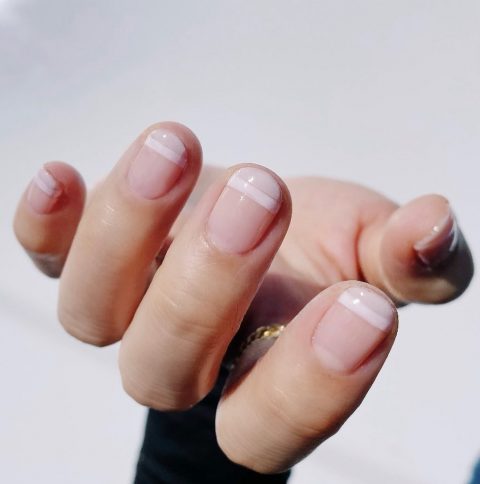 Source: @thehangedit
A pale rose gel looks rather muted on pointy shaped nails. This is a perfect summer mani where nail artistry is not necessary. A gel polish helps to create glossy mirror-like effect nails. They look polished and elegant.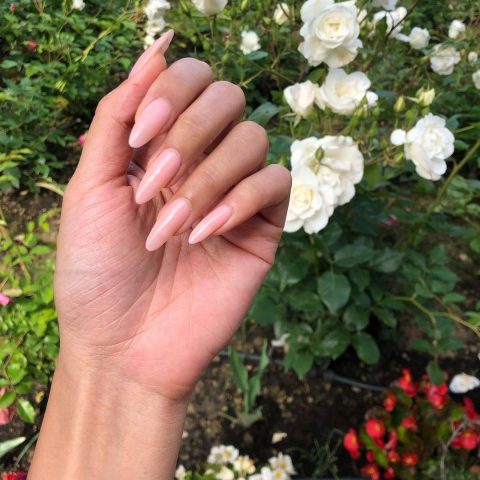 Source: @kristinarodulfo
4. Pink Glitter Nails
A mani with pink large flake glitter is real eye-candy. This nail art allows wearing it without additional embellishments. Big round glitter dots on long fingernails will make the eyes clasp on this nail design.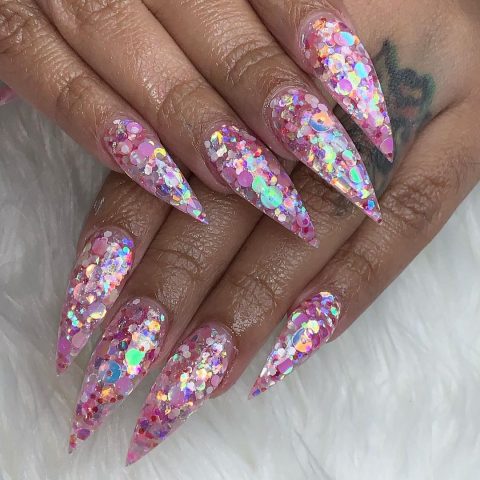 Source: @nailsbykeishkeish
5. Matte Pink Coffin Nails
Opt for pink for your coffin nails if you want to divert attention from funeral thoughts ignited by the name of the shape of the nails. A sheer pink polish with a matte effect works best. Go for light colours instead of nudes to kill somber moods.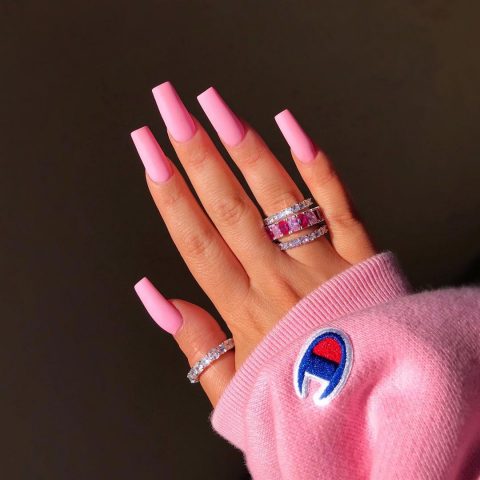 Source: @deelishdeanna
6. Pink French Tip Nails
Pink French manicure is a classy design. It suits different nail lengths and shapes. You can paint the whole nail bed with a pink varnish or go further and adorn your fingernails with nail art using this color.
A white and pink manicure looks best on almond-shaped medium nails. They can be natural or acrylic nails. The pastel-rose color is used as a base and the white color is used to dress these cute tips.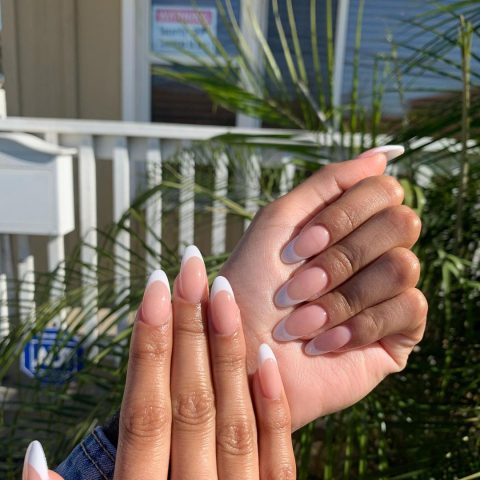 Source: @narissas.nails
Pink French tips on a pastel base is a modern turn for the French manicure. You can use one or several shades for tips following one rule: they should be similar in tone and brightness. Try out a pastel base for colourful French tips so you won't overload the design. Additionally, you can put on a matte top coat.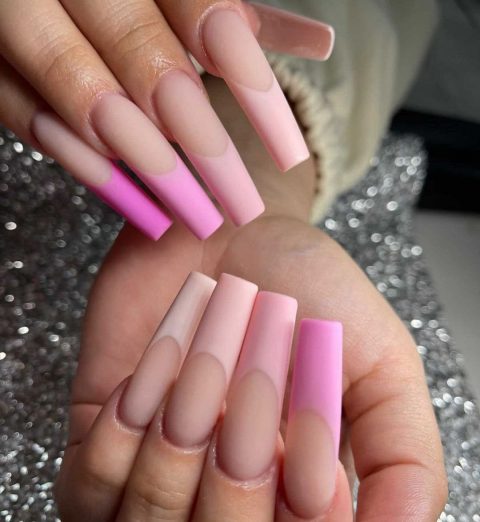 Source: @tammytaylornails
7. Neon Pink Nails
Neon is a very trendy color for summer time. It matches long nails and tan skin. If you like to be the centre of attention, a neon pink is your choice. Choose the bold pink hue to go solo or add beads and rhinestones.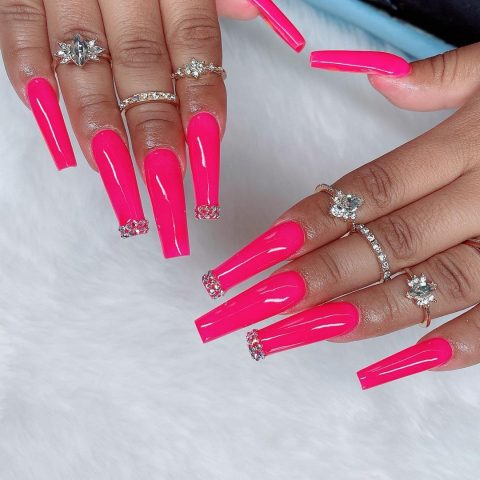 Source: @jasmin_nails
8. Pink Sparkles Nails
If you want to bring bright colors into your life, go for pink with a combi design manicure. You can combine different ideas in one design by creating unique nail art on each nail. As an example, think about a hot mix of chrome and matte nails. We suggest opting for a depiction of a broken heart nail design, created with glitter and rhinestones.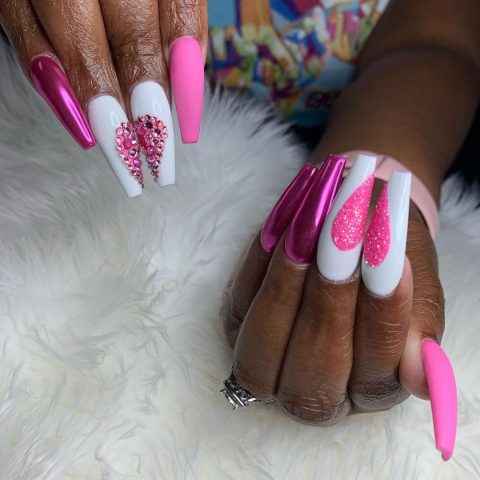 @nailsbykeishkeish
9. White tip Nails With Pink Powder
Powdery pink nails with white French tips are best for long natural, gel or acrylic nails. Bright, juicy colors match tan skin. Freshen the classic French mani by thickening tips and adding a line of rhinestones on one of the nails.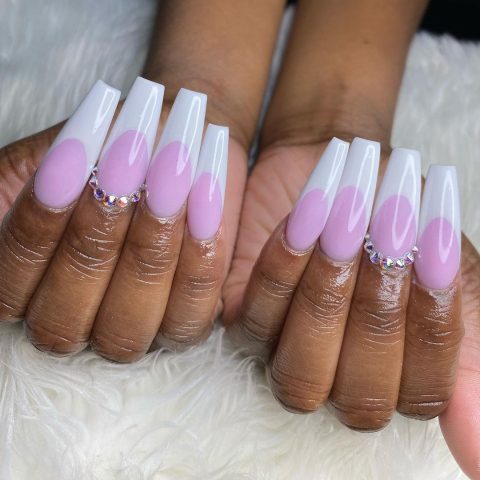 Source: @nailsbykeishkeish
10. Pale Pink Nails
Acrylic nails are a perfect option for lovers of long nails. A transparent rose pigment is used to create the effect of natural nails. This design could be used as dreamy spring nail art or you can spice it up with pretty beads, rhinestones, or decals.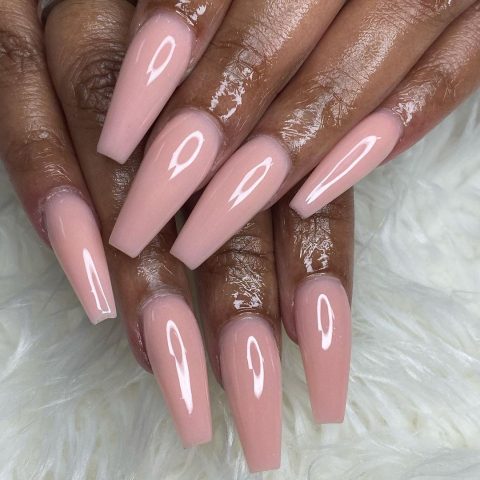 Source: @nailsbykeishkeish
11. Light Pink Nude Nails
If you fancy an elegant manicure go for light pink nude art design. A sheer shade of the color will do the job. There is no need to couple it with bright decals, or big shiny rhinestones.
A blush mono shade is perfect for short nails. And if you want a bit of creativity, enhance half moons with simple nail art.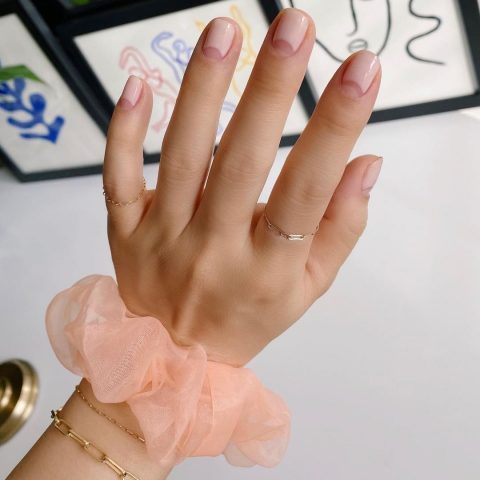 Source: @thehangedit
Long live long nails! And you can skip nail design, as in this case less is definitely more. A light pink hue looks classy and doesn't need any nail art or embellishments. Almost colorless nude pink is still very on trend for 2021. The gradual natural play of this feminine color does the trick for this manicure.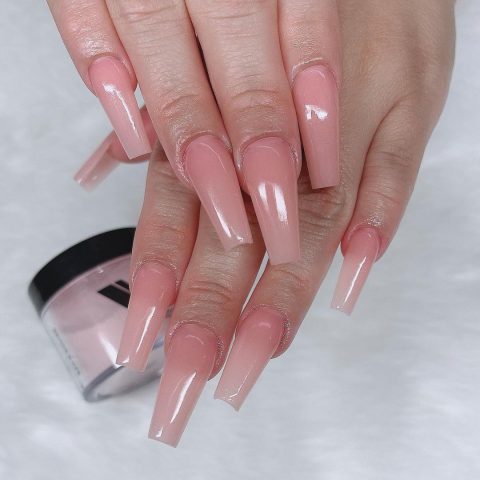 Source: @jasmin_nails
12. Dark Pink Nails
If you think that bright colors are only for long almond and stiletto nails, then you are on the wrong track. A bright pink color gel goes well with short nails. Nothing works better than an even coat of a single color gel. Be careful with additional decorations though, as an intricate design and crystals can optically make your digits look less slimmer.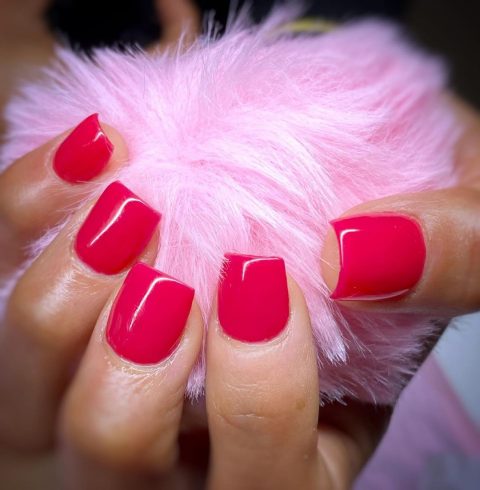 Source: @nailsbycoco.c
13. Light Pink Pointy Nails
You can wear acrylics in a monochrome manicure or opt for a 3D nail design. Get inspired from the combination of a light pink hue with dimensional golden glitter. Pointed shaped nails and this nude color go great together for a romantic look as well as for a cocky one.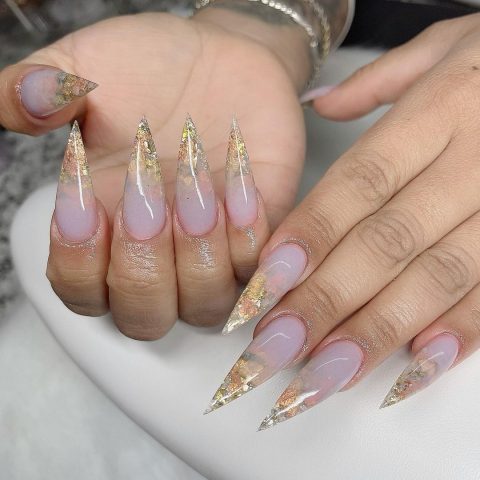 Source: @jasmin_nails
14. Clear Pink Nails
Square shaped nails with a light pink varnish conquer girls' hearts. Acrylics is your way to lengthen and strengthen your nails as well as to give them this subtle glossy effect. Stand out from the crowd by adding some decorations at the tips of a couple of nails.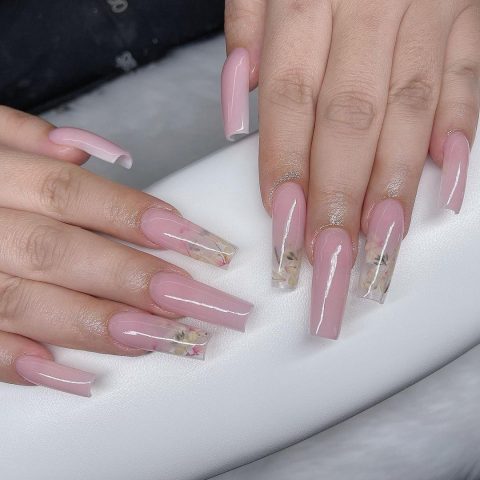 Source: @jasmin_nails
Square shaped nails is a creative field for experiments to get transparent acrylic and gel nails. In this particular case a light pink gel was applied onto the nail bed, and the transparent tips were embellished with flower nail art. At the end seal the look with a clear top.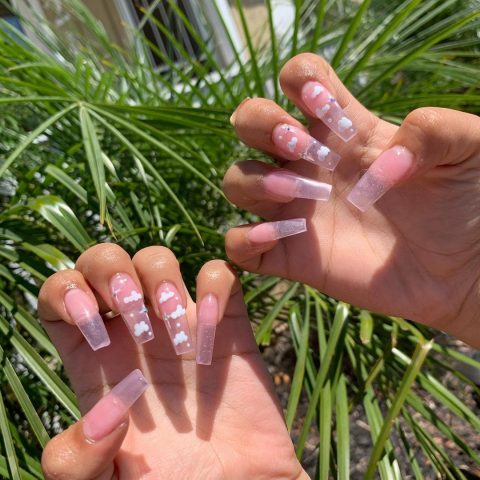 Source: @narissas.nails
15. Pastel Pink Nails
A pastel rose will flatter short nails of square or oval shapes. A matte top coat and a creative minimalist drawing as a colourful stripe will help to make your nails pop.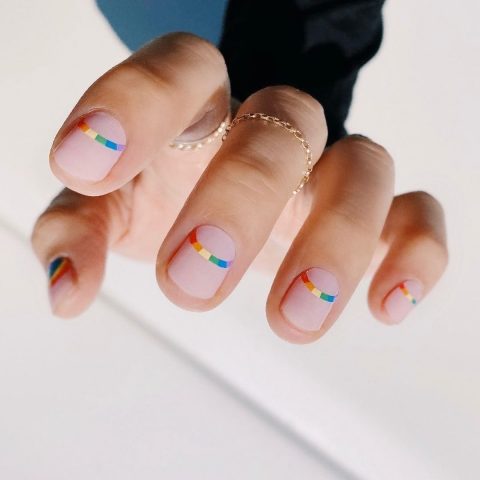 Source: @thehangedit
Want to have a manicure that suits all occasions in everyday life? Rose pastel tones on short, square nails is the way to go. It matches an elegant evening gown and an office outfit. Forget about nail art as a matte top coat will give you to talk on the nails.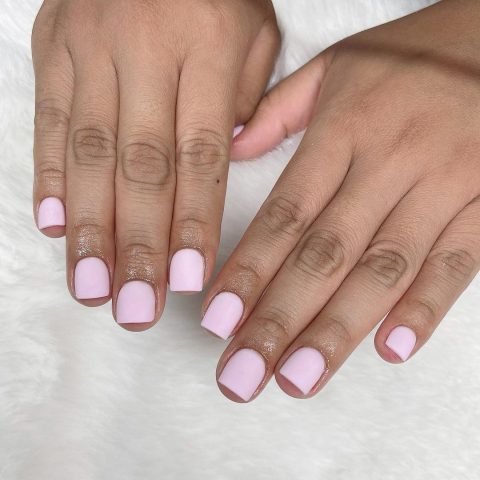 Source: @jasmin_nails
16. Natural Looking Pink Nails
Pick out natural colors for almond-shaped nails. Sobriety of a natural pink hue will definitely melt your heart. The color makes your hands and nails look elegant and polished. Just one light layer will give the feeling of transparency. Don't go for rhinestones and nail art as it will spoil the innocence of natural looking nails.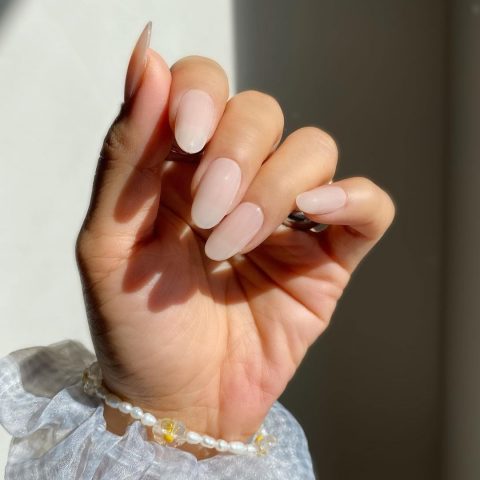 Source: @thehangedit
17. Bright Pink Nails
Long square nails draw our attention easily. It might not be the best idea to paint them bright. But there is a pink exception. A sheer shade of this color matches the shape and various nail art ideas. It goes well with a line of rhinestones and pink glitzy elements. Gel creates a glossy finish that accentuates nail art.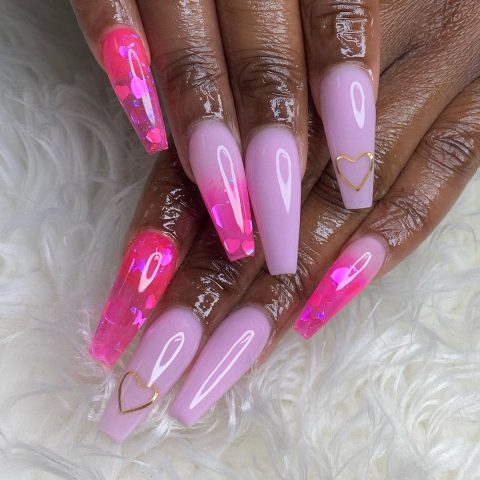 Source: @nailsbykeishkeish
18. Soft pink nails
If you want to shine bright like a diamond, choose this mani that combines a pale pink base with bright elements. The varnish, coupled with the red embellishments, suits an evening gown. Nails should be long enough so the beauty of the composition could be easily made and seen.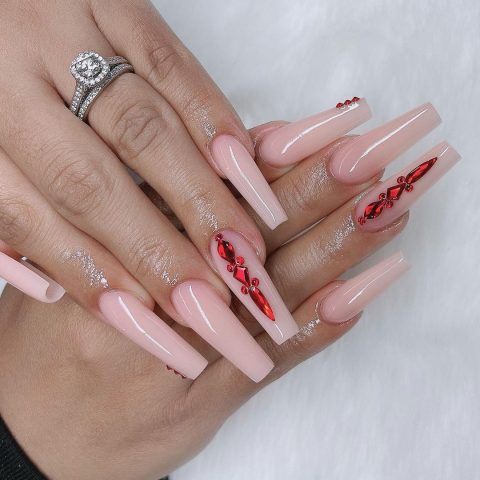 Source: @jasmin_nails
19. Pink Nails with Diamonds
Stiletto nails love rhinestones and ombre blends. The longer a nail bed, the more you can show, the more beads you can place. It's better to use light shades of pink to make these stones pop. This hue looks wonderful on tan skin.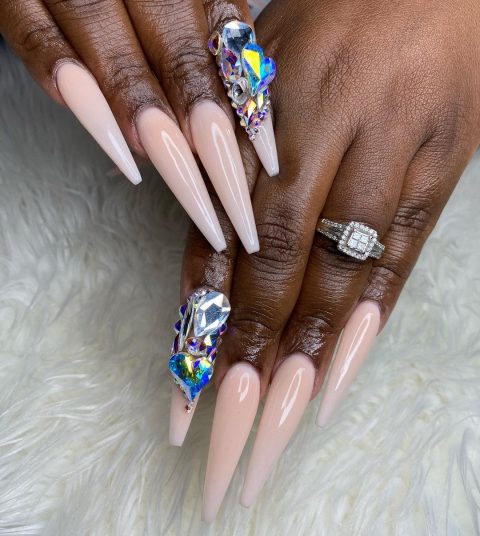 Source: @nailsbykeishkeish
20. Pink Marble Nails
One of the options for manicure that suits it all is marble nails. Pink marble nails express minimalism and aesthetics and make do without additional glitter or nail art.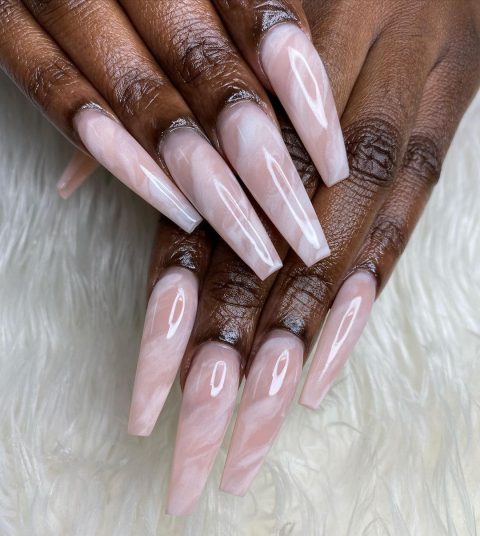 Source: @nailsbykeishkeish
21. Rose Pink Chrome Nails
A trend on cool metallic nails comes back this summer. A special powder or a gel creates the metallic effect that tones down a bold pink hue. A chrome effect adds a lil of spice to a manicure. A nail bed should be even so the gel can be painted perfectly.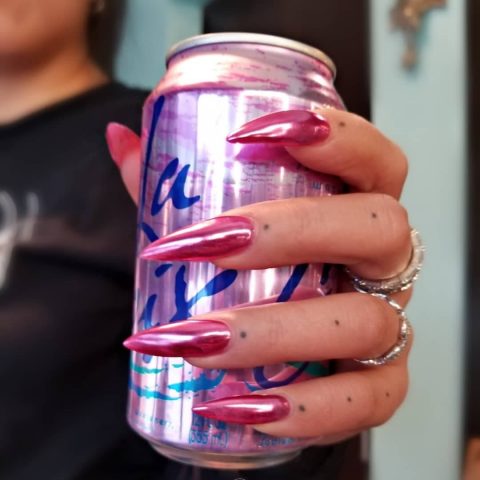 Source: @auranaildesign
22. Pink and White Glitter Nails
Add a little bit of an ombre effect to these acrylic glitter nails and they will flatter your tan skin. Do you want to shine even more? Couple them with embellishments and rhinestones. The shiny iridescent nails of different shapes will get you in the centre of everyone's attention.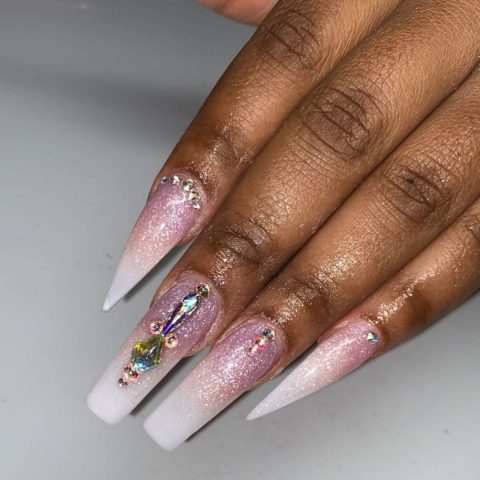 Source: @ambersnails00
23. Pink and White Ombre Nails
A rose shade in ombre nail art goes great together with beige, blue, and yellow colors. Still, the most frequent pairing is a shade from pink to white. Manicurists prefer a smooth gradient of colors. Don't pep it up with anything else, as it's already an attention-grabber.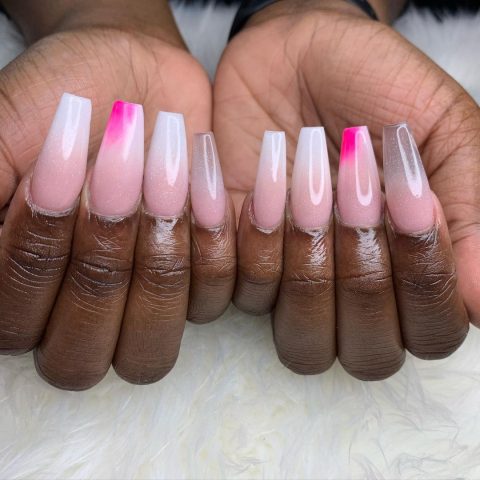 Source: @nailsbykeishkeish
24. Hot Pink and Black Nails
They say that black doesn't pair with pink at all. Still, stunning nail art can be created with the right combination of these two colors. Bright glossy pink and matte black gels mix and match together with fancy gold elements to create a statement look.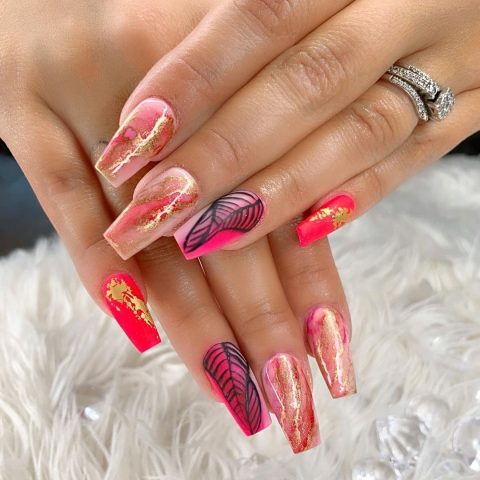 Source: @maranailedyou
If you don't want to play with contrasts, just accentuate a couple of fingernails with whimsical nail art. Subtle patterns and a gradient from lighter shades towards darker ones will make your manicure look bodacious.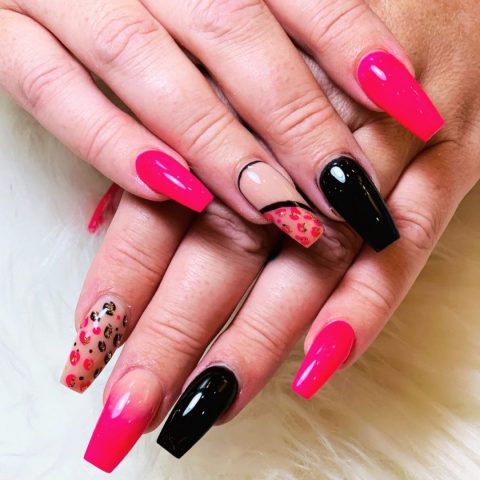 Source: @lamournails_etownky
25. Pink Nails with Black Tips
Short nails hold up well to creative nail art in the French style. Black tips, complemented with eye nail art on half moons give a riff on the classy French mani. And the best color to use as a base? A pink pastel matte coat highlights this offbeat manicure.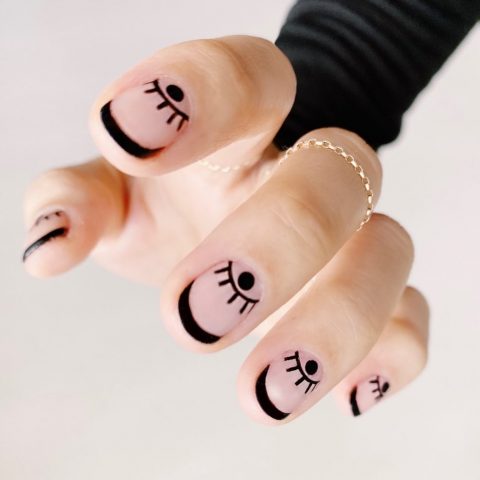 Source: @thehangedit
One more way to give the Frenchie a go is to trace a black dashed line on your tips. This nail art stands out well on an almost transparent light pink matte base.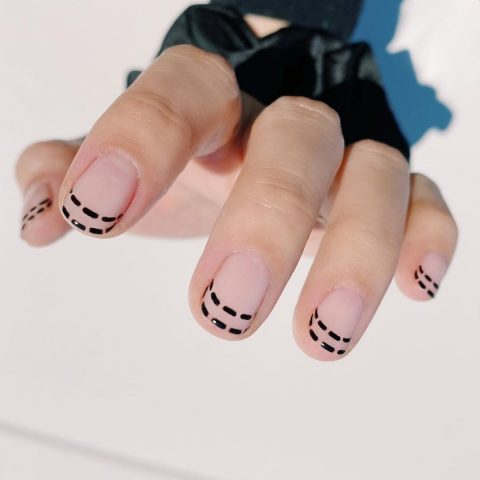 Source: @thehangedit
26. Light Pink and Gold Nails
A blush pink manicure with colourful elements and golden foil has a feminine appearance. Glitter is used to create abstract lines and colorful sprinkles are put on to dress up a couple of nails.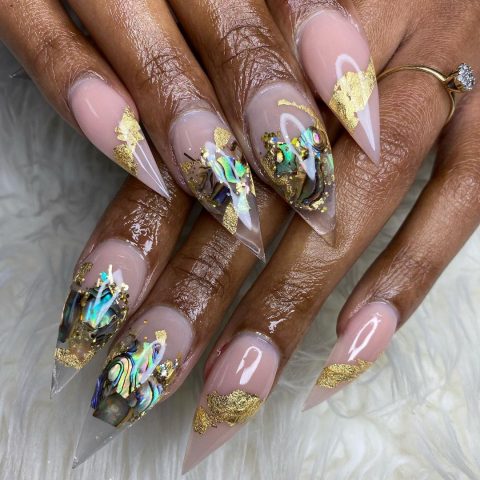 Source: @nailsbykeishkeish
27. Pink and Blue Ombre Nails
Ombre nail design can combine not only similar shades of one color, but also different bold hues. A blended ombre fading from pink towards light blue or navy blue creates a rather original look. Artistry such as subtle patterns, titles or different letters give an easy win to this mani.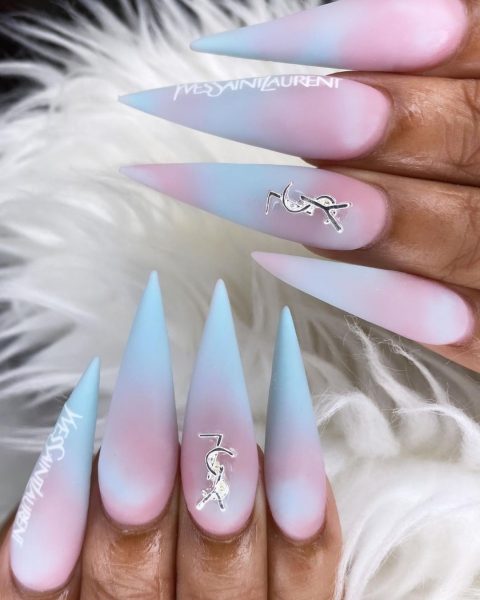 Source: @nailsbyletice
28. Pink and Purple Ombre Nails
You can't go wrong with purple to pink color ombre nail art. This version is complemented by an entire purple to pink ombre fingernail. Bright colors allow you to forget about extra art design for this manicure.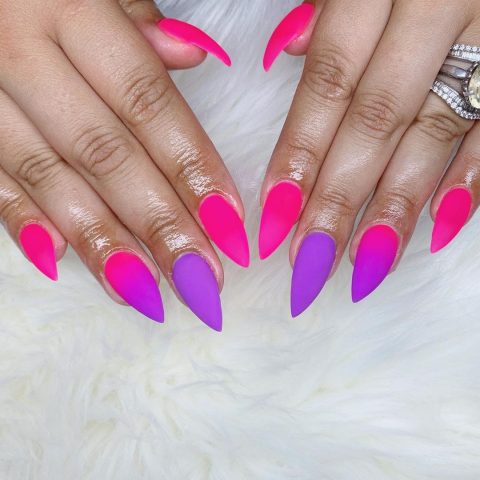 Source: @allycaraveo
Add a bit of sandy texture to the rose and violet combination as it will make your digits look eye-catching and stylish. These colors are rather tender so enliven it with bold and opalescent rhinestones. This is a great idea of a manicure for a special occasion.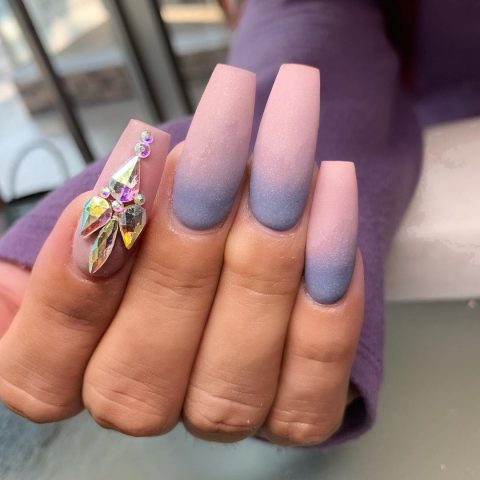 Source: @maranailedyou
29. Pink and Gray Nails
Pink and grey is another trendy match. You can stick to these colors just to accentuate one or two nails or paint your entire ten digits with them. A glossy pink and grey ombre fade is eye-catching minimal nail art for everyday life that doesn't require any other efforts.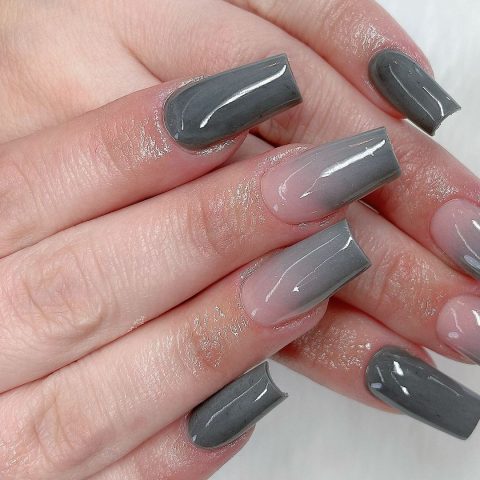 Source: @jasmin_nails
30. Pink and Silver Nails
Bold girls prefer offbeat nail art where every nail has a different design. You are allowed to have fun to mix and match all that you love: glitter, patterns, and rhinestones. If you wish to subdue the striking effect opt for a combination of a pale pink and a silver polishes.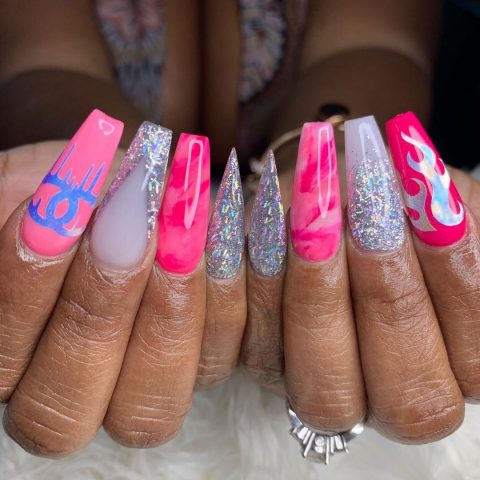 Source: @nailsbykeishkeish
31. Pink and Green Nails
And what about a pink and green encounter? It's a great idea until you don't mix them together on one nail. Be careful not to overload your manicure with these colors. Emerald green goes well together with pale pink, while a mirror effect polish matches well with a matte coat on other digits. Complete the look with an elaborated nail drawing and large rhinestones.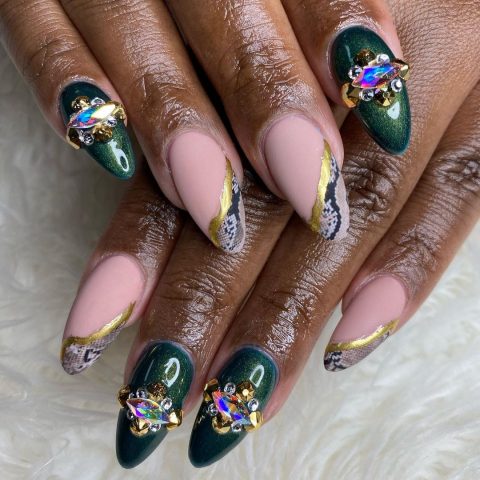 Source: @nailsbykeishkeish
32. Pink and Yellow Ombre Nails
If you are tired of dull nail art and a mix of subtle shades try out a manicure with nude pink and neon yellow colors. One rule: to let the manicure stand out, choose a transparent gel or light shades of varnish for other nails. This combination lets the yellow shade grab the attention.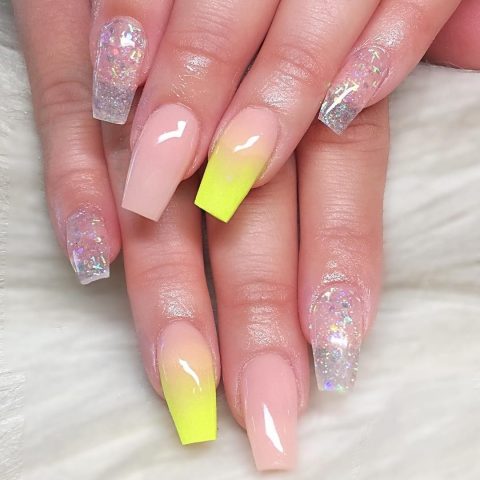 Source: @maranailedyou
33. Pink and Orange Nails
Orange lines on a transparent pink coat are a minimal nail style that can be worn every day. The design will cheer up the mood and the shade of orange will flatter your tan skin.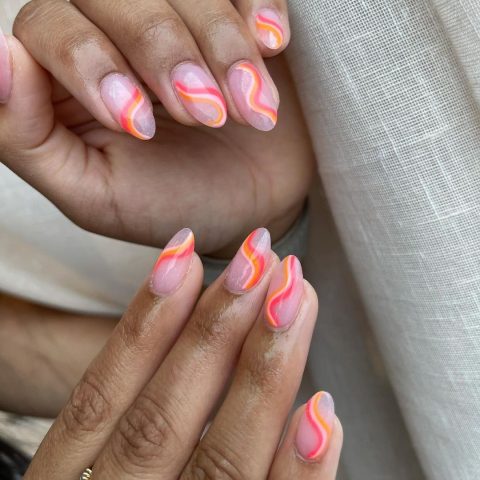 Source: @blumenailsspa_solon
If you want to go for a bolder look with these colors, choose bright pink and orange shades. Add a bit of a green color, some rhinestones, a hint of glitter here and there, and voila! the summer manicure is ready to pop.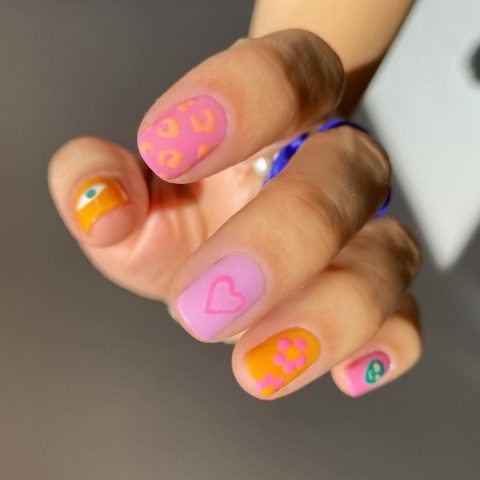 Source: @thehangedit
34. Pink Pointy Nails
Choose bright elements, designs and a play of colors whenever you wear a transparent base. Designs painted in a bright pink together with glitzy elements will dress up the look. This mani will match a beautiful evening gown.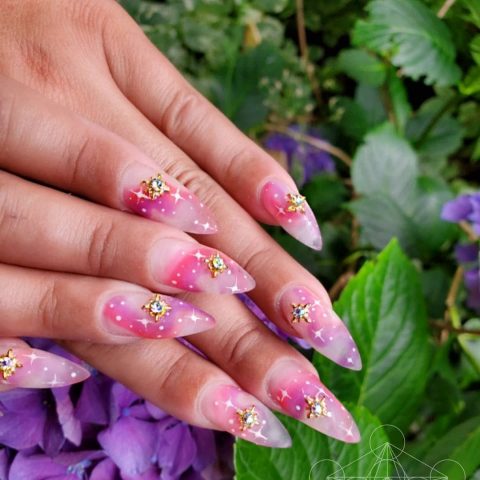 Source: @auranaildesign
35. Pink Nails with Rhinestones
A balanced mix of colors and embellishments is a sign of a skilled manicurist and imagination of her client. Combine different designs for each and every nail but be sure not to change a base color, whether a chrome rose or a classy white.
Source: @nailsbykeishkeish
36. Clear Pink Coffin Nails
A pale pink is the best choice to forget about funeral connotations of this nail shape name. Choose gels with golden shimmer to pep up your manicure. Pale pink polish will get your nails noticed even without intricate nail art.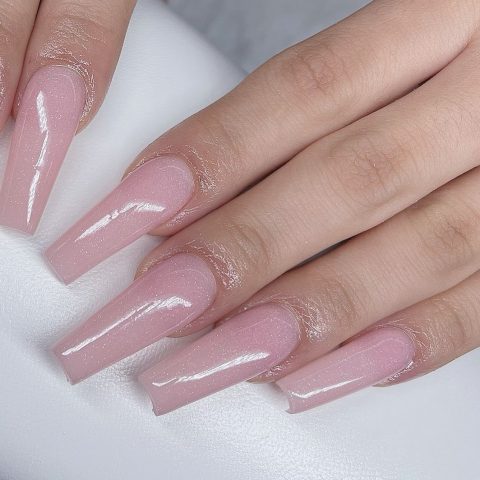 Source: @jasmin_nails
If you are looking for a dramatic effect, top it up with beads, rhinestones, glitter, and pom pom elements. Walk this look with a stand-out gown.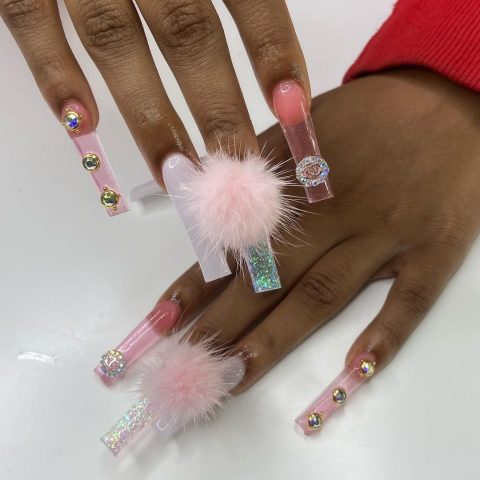 Source: @lyssasstudio
37. Long Pink Stiletto Nails
Stiletto nails are already an attention-grabber. Boost the look with a color gradient and crystals. A smooth pink fade from a baby pink shade at the half moons to a brighter shade on the tips flatter tan skin. Remember that the longer nails you have, the more elements you can place on them.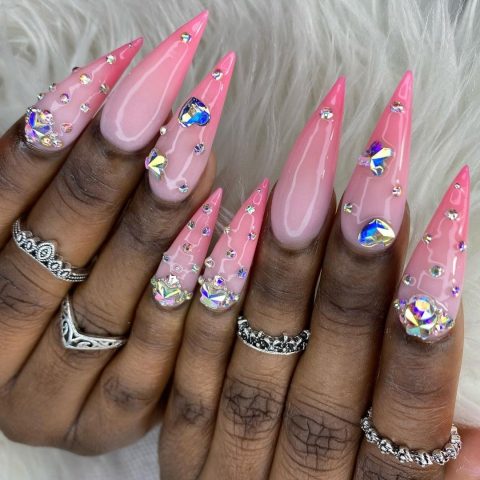 Source: @nailsbyletice
38. Light Pink Almond Nails
A pale pink shade deserves a starring lead if you want to create a romantique tender look. If you want to make your rings pop, leave your nails painted in innocent sheer pink without any nail art.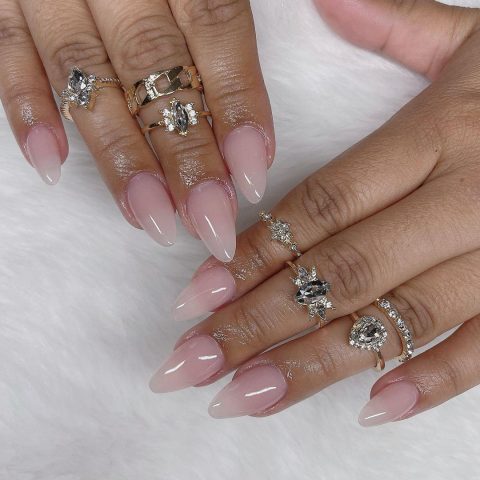 Source: @jasmin_nails
39. Short Natural Pink Nails
Bright colors can make your digits look short and chubby. If you have short nails go for a nude or a transparent pink gel. Adorn it with a minimal design in dark-blue or black as it accentuates the natural look and fits into a short nail bed.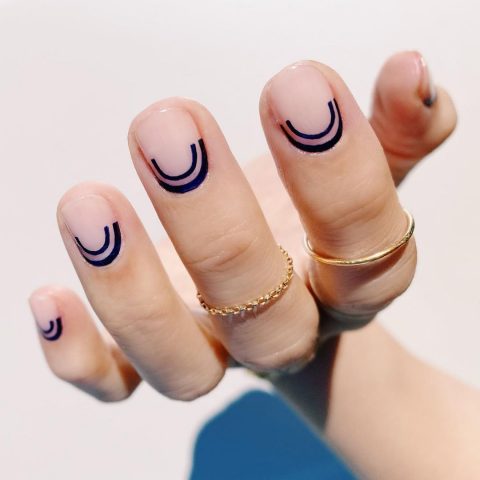 Source: @thehangedit
Half moon design is the name of the game if you aim for creativity. Go for evil eye nail art onto your half moons to stand out.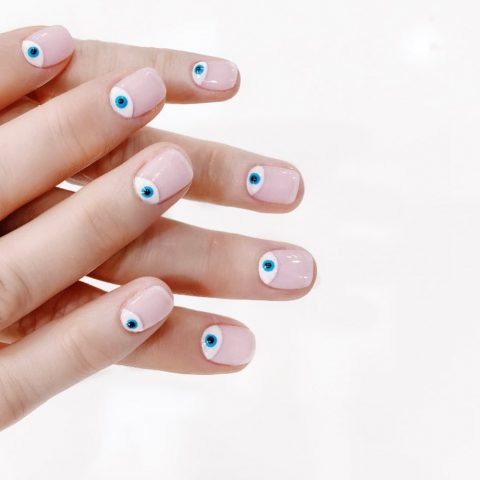 Source: @thehangedit
40. Pink Square Nails
Light shades are your best bet for square shaped nails. A bit of a gradient from pink to white and a matte top will be sufficient for this manicure. Keep clear of big gems and beads as it can spoil the polished look.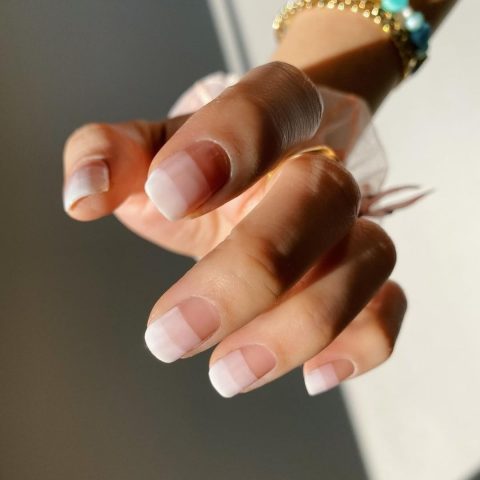 Source: @thehangedit
41. Baby Pink Oval Nails
Many women choose a varnish of elegant hues of pink. A tea rose pink, a powdery pink, or nude pink, you name it. This color is very feminine and you can wear it for almost every occasion. A light sheer pink completes the look of refined nails but if you insist, add a subtle minimalist design.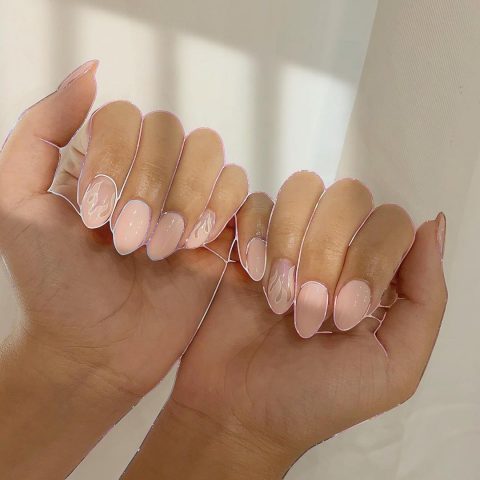 Source: @luminousnailboutique
42. Neon Pink and Yellow Nails
You won't go wrong with a fierce neon mix of pink and yellow for this summer. Try out painting the rear digits with sheer colors and add nail design for tips of the middle and ring fingernails.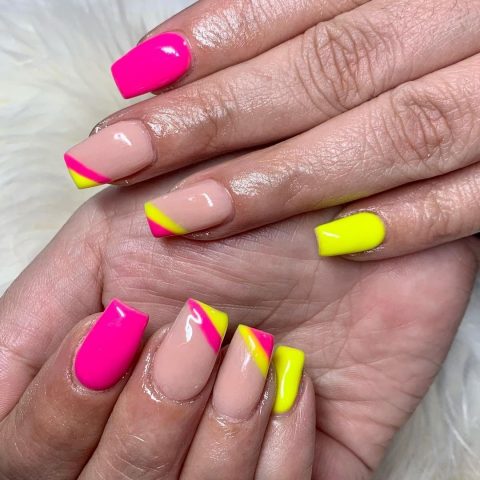 Source: @nailssbykarinaa
If you are looking for a way to add a splash of color to this manicure, opt for rainbow nail art on the tips. It looks neither banal nor in-yer-face bling. This manicure flatters both short and long nails.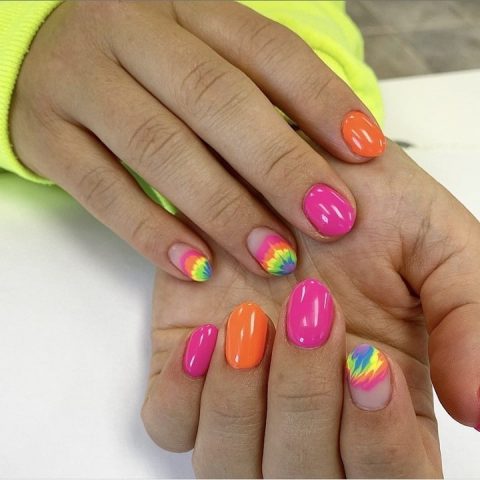 Source: @polishedpinkiesutah
43. Pink and Gold French Manicure
Update the French manicure with a light pink base and golden tips. This nail art looks very polished and suits a gorgeous evening gown.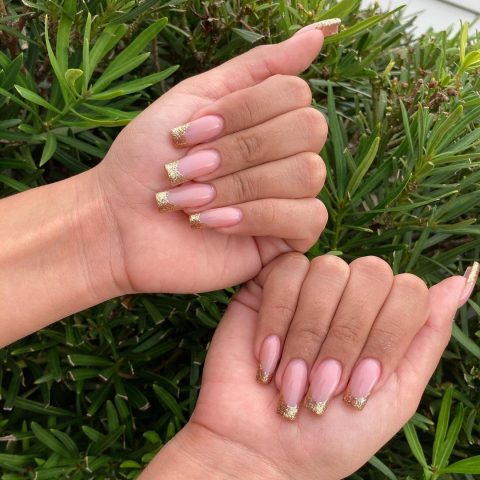 Source: @lbellabeauty
44. Hot Pink Ombre Nails
Pink ombre nail art is best on long nails. Use lighter shades of pink at the base and gradually add more color till the very tips. This ombre fade doesn't need any other decorations such as beads or designs. Finish off the look with a clear base.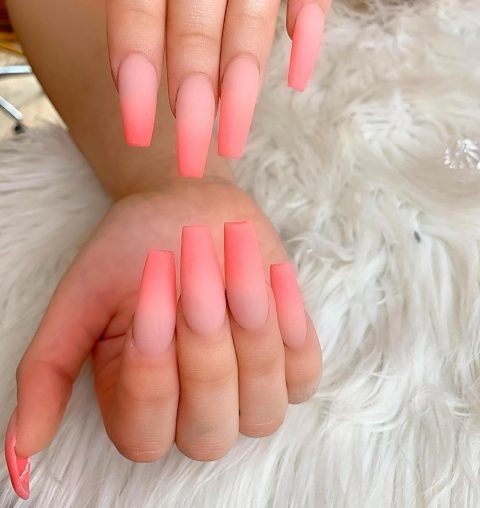 Source: @maranailedyou
45. Pink Nude Coffin Nails
Another trend is a glossy ombre nail art on coffin shaped nails. Choose light shades of pink to make your manicure simple and refined. This mirror glossy fade makes it pop without any other nail art.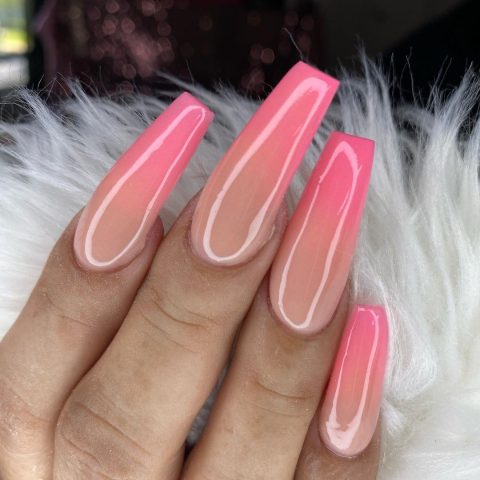 Source: @nailsbyletice
More:
https://www.pinterest.com/nails_lover/pink-nails/
https://beautly.com/ombre-nail-ideas/
https://beautly.com/black-and-white-nails/
https://beautly.com/short-nail-designs/