A rose is a flower that represents love, passion, sensuality, and hope. A rose tattoo is a great option for any part of the body. This is the reason why many women choose this particular flower for a tattoo.
Depending on the location of the tattoo, the presence of leaves, stems, and thorns in the rose is the meaning of such a drawing changes. For example, the image of a flower with a stalk shows the great stamina of the tattoo owner, and the leaves around the bud are a symbol of a joyous character.
1. Red Rose Tattoo
Red roses mean eternal passion and true love. According to legend, flowers with scarlet bottles appeared in the garden of the goddess Aphrodite because of the fatal injury of her beloved Adonis.
The colorful bouquet that is painted inside the necklace on the shoulder symbolizes the love of the tattoo owner to the attention of the people around her. One small rose from the drawing seems to be separated from the main composition and under this pattern hangs a cross on the chain. Those women who have the memory of the loved one may choose such a drawing, but it may have a religious significance too.
In general, such a drawing may indicate that a person attaches importance to faith and love. It can symbolize your willingness to meet a soulmate.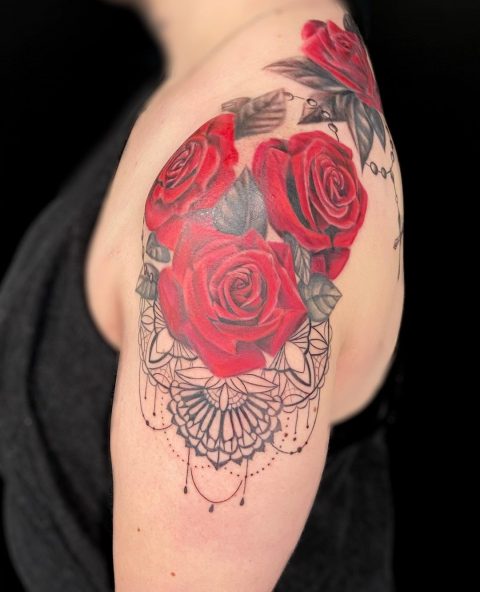 Source: @chai.el_ayazra
2. Yellow Rose Tattoo
The yellow rose is a symbol of happiness and family well-being. A bud on a long stem pointed towards the heart is a traditional tattoo for women whose core values are love, family, and home. Often the stem is replaced with an inscription with a name or symbol. Typically, women paint such a memorial tattoo to give their love to their loved ones and friends.
Source: @saitamme
3. Black and White Rose Tattoo
Realistic black and white rose tattoo suggests a combination of romance and deep sadness. In addition, women who choose this drawing want to express their character. Such a woman must love flirting and fun. In the United States, residents hold special festivals and tournaments dedicated to this noble flower. Black and white American traditional rose tattoo combined with an ultra-short skirt is a great method to keep you from going unnoticed by handsome men.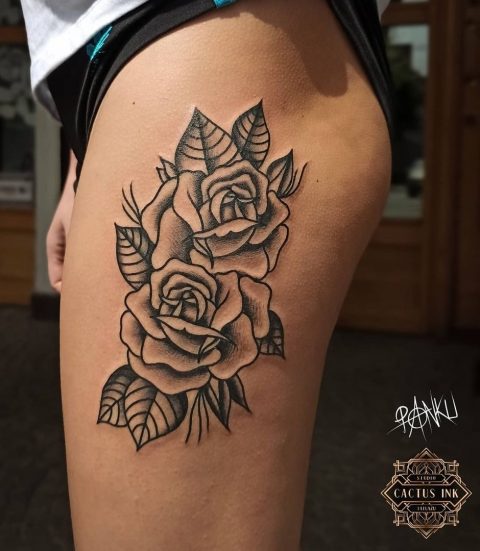 Source: @panku.tattoo
4. Black and Grey Rose Tattoo
The traditional color combination of the rose pattern, which is black and grey, shows your love for permanence. This tattoo is very realistic and large. The stems that overlap part of the bud are a symbol of your deep power of will when a person is ready to step on his or her feelings if that is what life circumstances require of him. Brave and desperate women most often paint sleeve tattoos. This is the reason why this type of tattoo is more acceptable to men.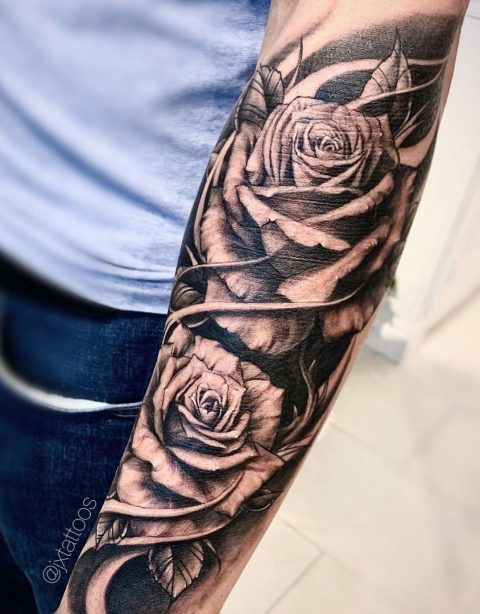 Source: @jina.gwansoontattoos
5. Black Rose Tattoo
The black rose tattoo on the shoulder is a symbol of your great loss, grief, and sadness. The image is made in the style of minimalism. Thus, it has no graceful shadows or the specialized delicate beauty of the bud. The woman who chooses such a sketch seeks to deal with the pain with her own strength and feels the urge not to give up and to move on.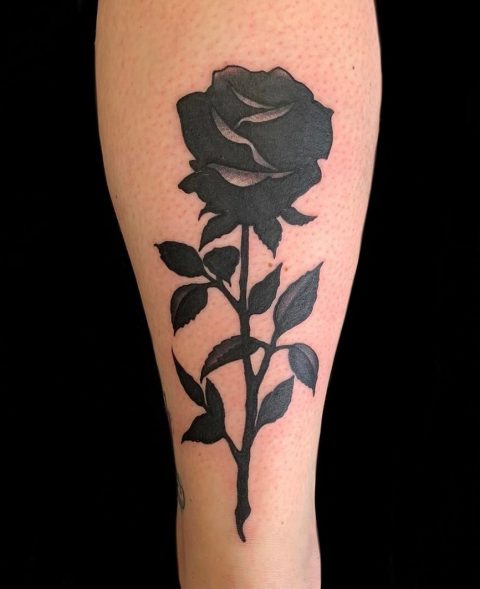 Source: @bengeltattooart
6. Pink Rose Tattoo
The mini-tattoo, which depicts a light pink rose, speaks of the gentleness and innocence of the owner. A woman has a sensual personality and looks attractive. A long stem and an undiscovered bud in such a color as hot pink are evidence of the strong will and intrinsic potential of a woman's love, as well as a symbol of her creative abilities.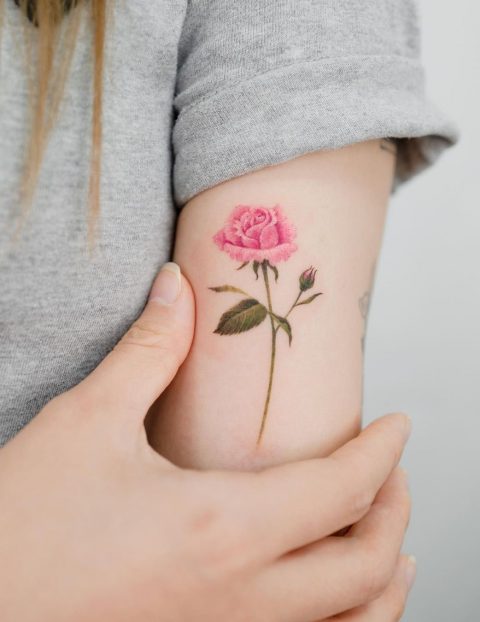 Source: @zihong_tattoo
A bright pink rose is a symbol of the impulsiveness and sensuality of its owner. The woman who chose the shoulder to paint this is a prominent person who likes big and loud companies.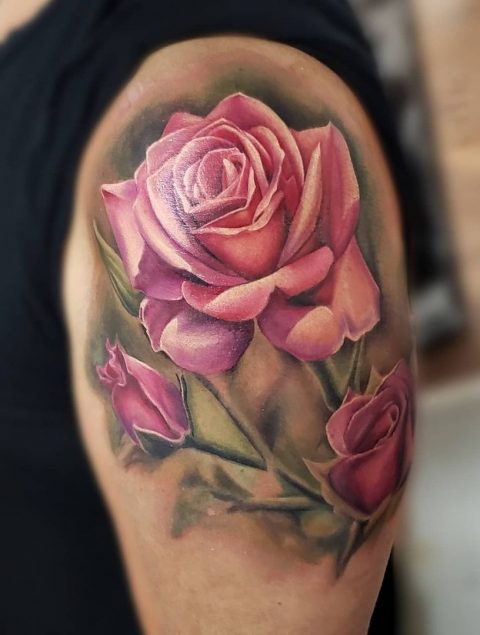 Source: @mamatried.tattoosmith
7. White Rose Tattoo
White ink rose tattoos are what fragile women choose, who tend to highlight their care and love. A small tattoo looks on your shoulder very gently, especially if the owner of its tattoo is a young girl, and leaves speak of your cheerful character or soft and compliant temperament.
In addition, the white petal rose tattoo often symbolizes the purity and loyalty of its owner.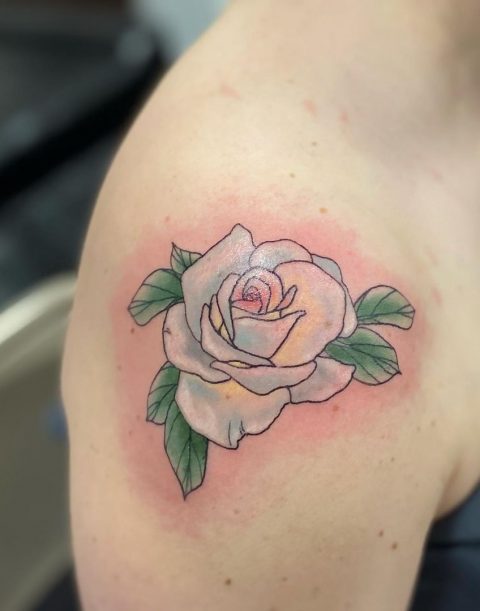 Source: @koritattoos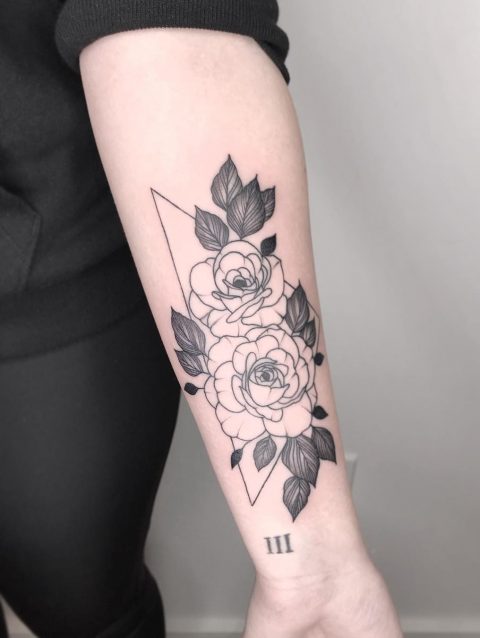 Source: @tattooyourface
8. Purple Rose Tattoo
The purple rose symbolizes your extravagance and artistry. Such women are often called weirdos. They are fun, bright, and they love attention. The presence of other flowers in the figure indicates that tattoo owners are tolerant of outsiders.
The choice of unusual color in a tattoo may also be indicative of your rejection of generally accepted rules and regulations, as well as an indication of your desire to express your individuality.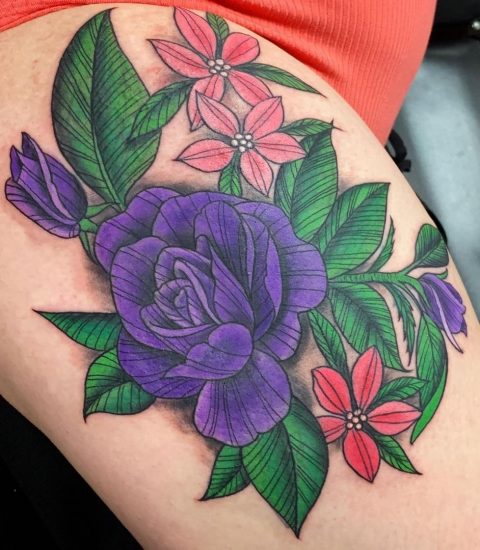 Source: @bklyn_brig
Women who love the frequent changes in life choose the tiny image of the purple rose. They aspire to freedom and novelty. The sketch of such a tattoo refers to a style of minimalism in which there is nothing superfluous except qualities such as the beauty of the bud.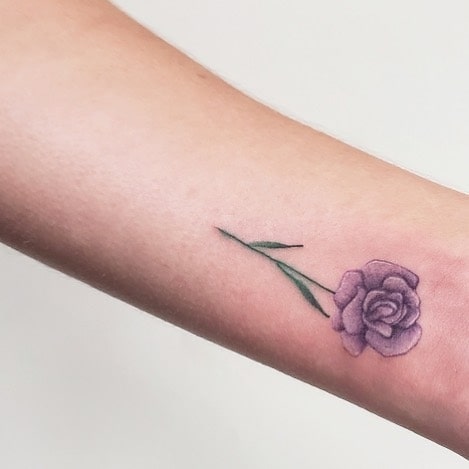 Source: @tattooavenuechicago
9. Traditional Rose Tattoo
The rose that your specialist will draw you in your traditional style is a testament to your introverted nature, to your sternness towards yourself and the people around you. Outline tattoo image is an even and clear one. The presence of thorns on such a rose means suffering from its own categorical. The figure drawn inside the geometric triangle shows a slow and joyful lifestyle in which the family members of tattooed women follow certain rules and thus achieve balance in the home and personal relationships.
As for the shade, the choice of red color may symbolize your inner spiritual harmony and indicate your sensuality.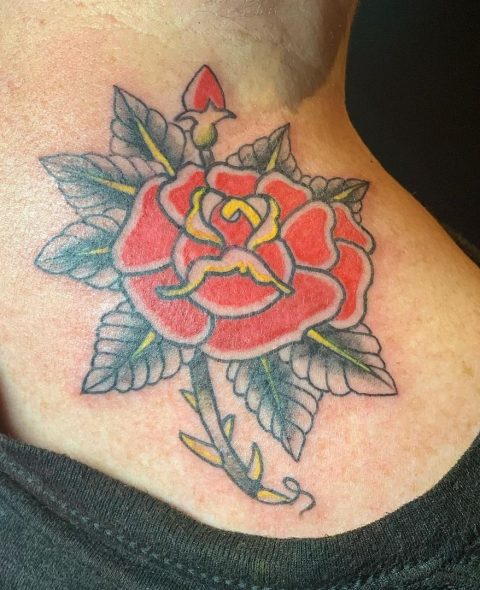 Source: @inkwright619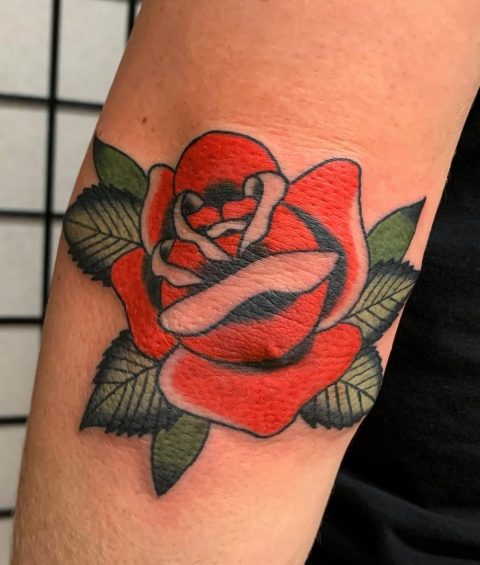 Source: @sw_wright
10. Small Simple Rose Tattoo
A small simple behind ear rose is a symbol of secrecy and mystery. A woman does not share her secrets with others. For personal secrets, she uses a diary or a time-honored person. A clear outline speaks of your sharp boundaries in dealing with strangers. A falling rose indicates a loss of trust in a loved one.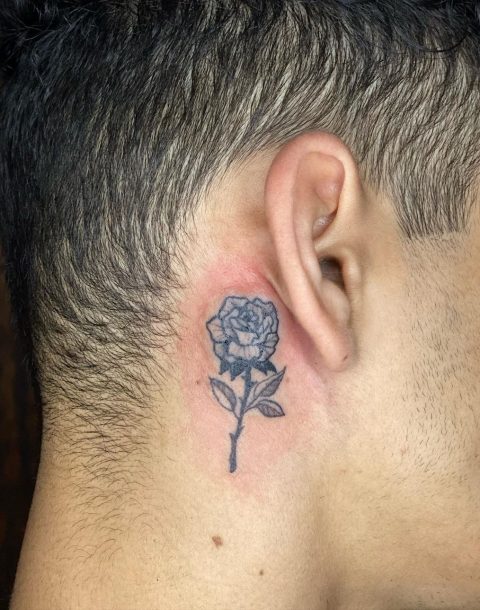 Source: @zurdtauroink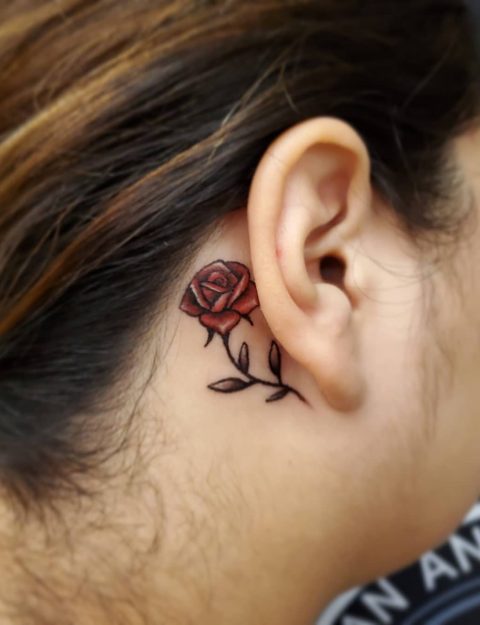 Source: @loutat2
11. Realistic Rose Tattoo
Realistic-style rose tattoos are chosen by women who have excellent style skills. The design is very simple. The outline drawing is clear and smooth. Owners of such a tattoo are always independent of the opinion and influence of outsiders. Often, tattoo specialists add spikes or barbed wire to a pattern that makes it more symbolic, and then it begins to show how expensive a person's personal freedom can be.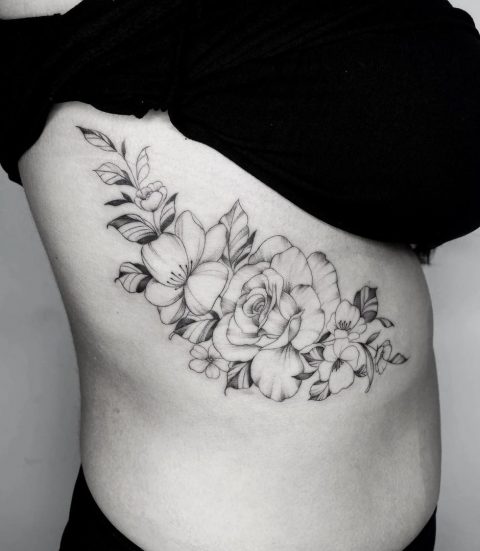 Source: @emma.tatt
12. Watercolor Rose Tattoo
Watercolor rose tattoo selects those who wish to self-fulfill. To make such a drawing is always an impulse of the soul and a desire to manifest one's individuality through art. The unsolved bud is a testament to your inner abilities and talents.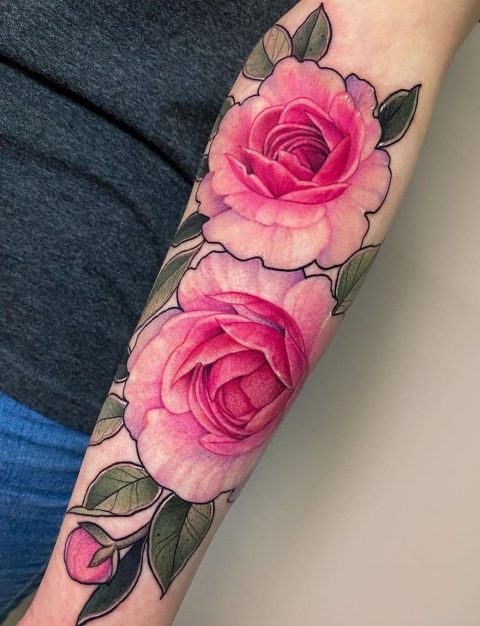 Source: @connor.tattoos
13. Stemmed Rose Tattoo
Traditional rose tattoo with a stem is the idea of strong and hard women. The drawing, which is created on the chest, speaks of the freedom of the owner's views and her emancipation. Often, the specialist replaces long stems with memorable quotes or names of loved ones that give power to the woman.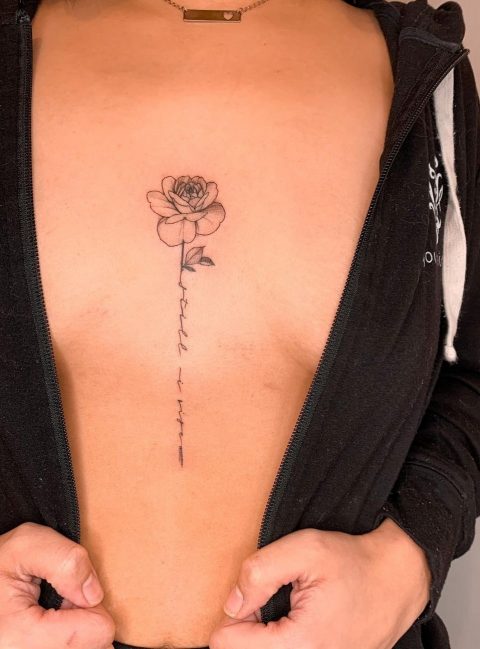 Source: @wildeblume.aesthetics
The flower that the expert will draw on your clavicle is a testament to your character and female pride. The presence of spikes is an analogy of inner trauma, which is why you built the barrier of alienation and neglect around you.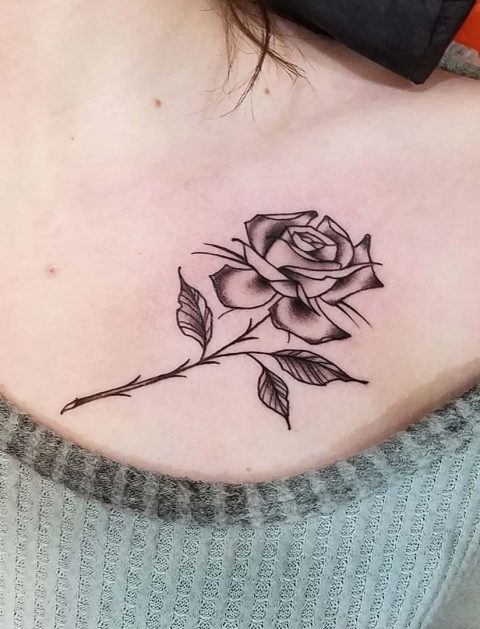 Source: @emily_isnt_listening
14. Rose with Thorns Tattoos
The thorny rose on the elbow indicates the complexity of its owner. She is firm in the process of communicating with people around it, strives to achieve all her goals, and has not yet fully realized its potential. Such a tattoo is unisex and therefore it will be an excellent variant for both men and women.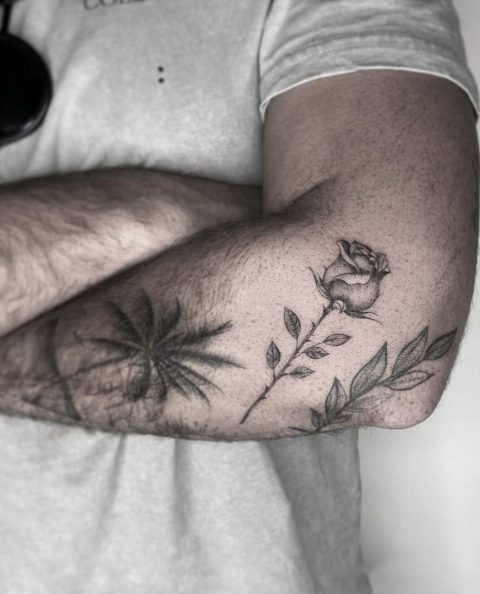 Source: @emma.tatt
15. Tribal Rose Tattoo
The combination of a bright rose with a geometrical pattern is the choice of powerful people. They tend to indulge in the impulse to see and understand the power of beauty. They want to be different and dominant.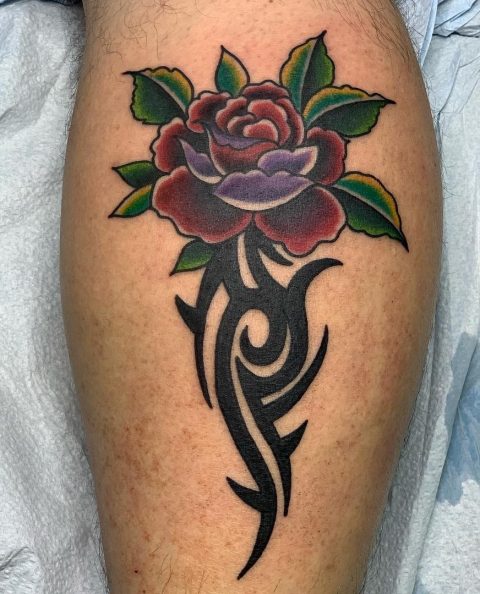 Source: @tejashua
16. Bud Rose Tattoo
Rosebud is the deepest association of the woman who chose this drawing, with her internal it. The unbroken flower is a testament to the fragility of the tattoo owner, as well as a testament to her inexperience in relationships. Some women like to add a butterfly image to the bud, which shows a thrill for a great feeling.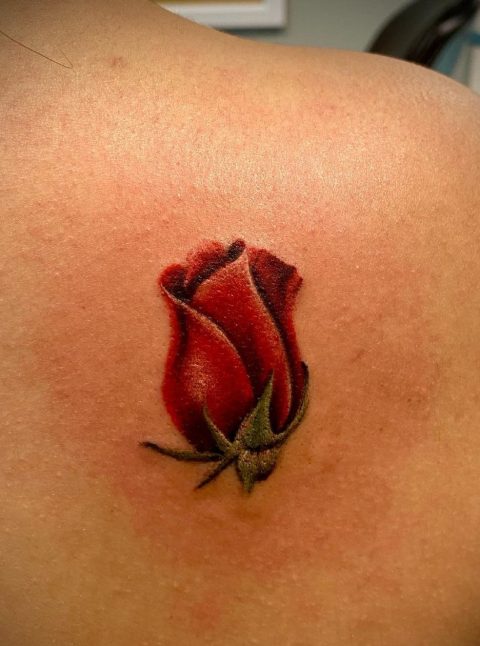 Source: @wittyart
17. Single Rose Tattoo
Single stem rose tattoo is what independent women choose, which is also very smart. The image of the flower with the stalk shows the strong character of the woman. Moreover, the presence of the thorns informs of the inner vulnerability of the tattoo owner, which she hides behind false hardness and coarseness.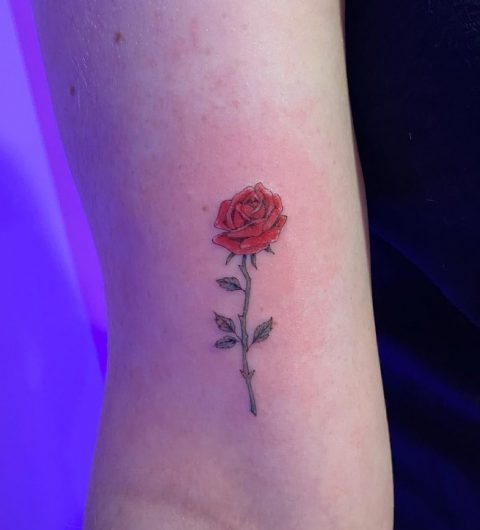 Source: @jesvalentinetattoos
18. Tiny Rose Tattoo
Women who prefer an elegant style choose the minimalist sketch of a minimal rose tattoo. The image of this cute little pattern on the thigh speaks of the young woman's light playfulness and her love of flirting. If a specialist drew this tattoo on your arm, it's a symbol of womanhood and love. Often, tattoo artists add other flowers to the rose that highlight the beauty of the main character of such a flower and her willingness to meet again.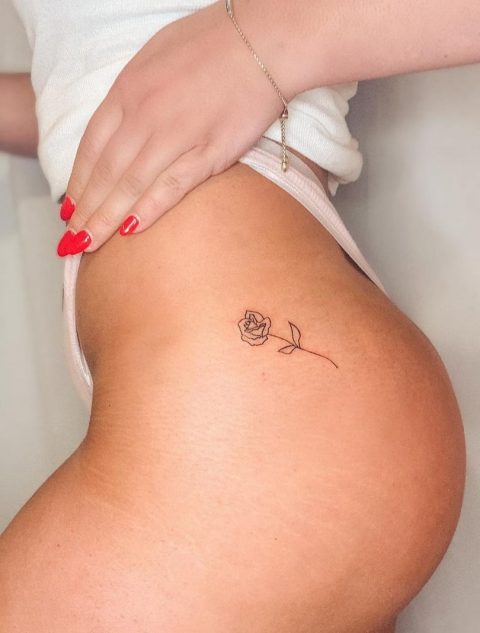 Source: @wildeblume.aesthetics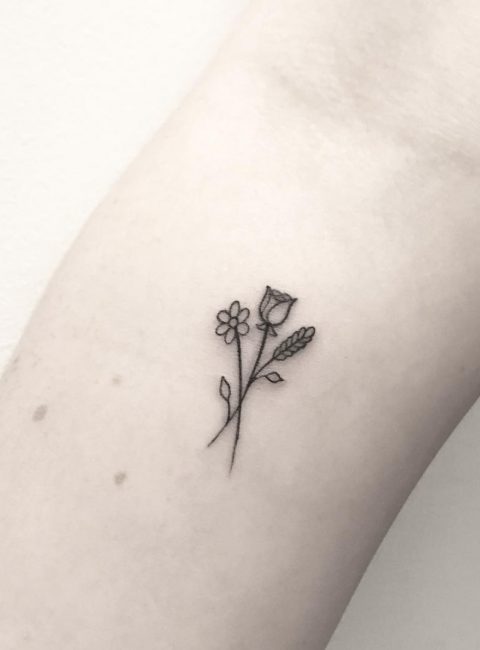 Source: @tattooyourface
19. Dead rose tattoo
The faded rose is a tribute to the loved one who has left the world of the living. A woman can show such a tattoo that she once had a great feeling and now she's ready to give all of herself to her future choice.
Source: @marni_tattoo
20. Geometric Rose Tattoo
A tattoo of a geometric rose indicates that its owner likes the modern style. A woman tries to strike a balance between beauty, womanhood, romance, or inner unity and harmony.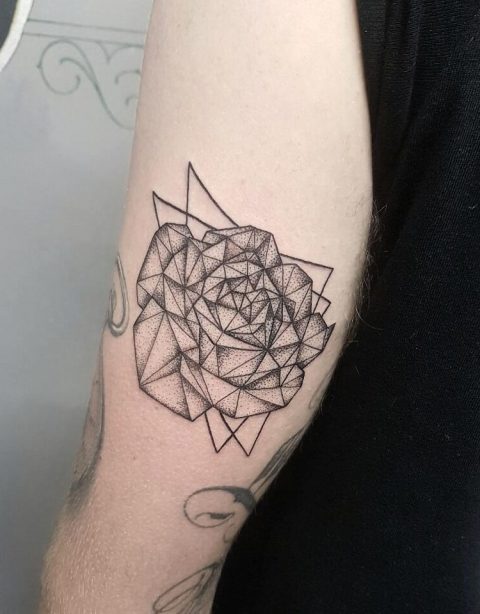 Source: @the_devlintattoos
21. Shaded Rose Tattoo
Those women who raise the hope of a bright future in love or politics choose the design of a gradient rose. The beauty of the contours speaks of the elevation of the ideals of women. The petals that surround this flower are a symbol of light temperament. And an undisclosed bud tells us of a woman's willingness to overcome any obstacles in her path of life. Sometimes, instead of a bud, you can see a dagger that symbolizes the cruelty that the tattoo owner had to face.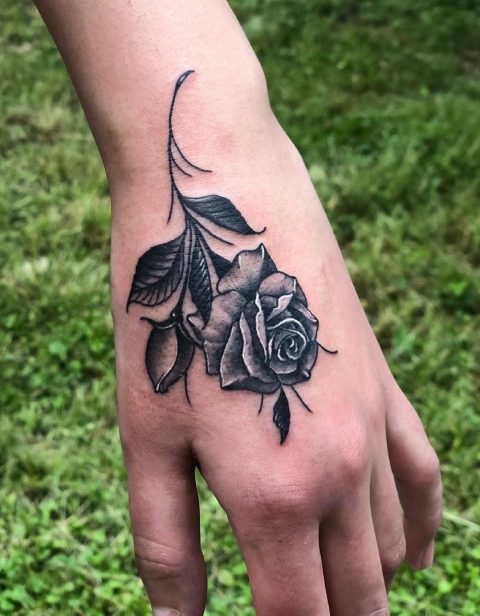 Source: @devils_seed_tattoo
22. Two Roses Tattoo
Women who have found their soulmates choose the pattern of two roses. The red petals convey passion, love, and a strong attachment. The leaves around the flowers are the ease of a relationship. Often, specialists add an anchor image to this drawing, which symbolizes a woman's loyalty to her partner.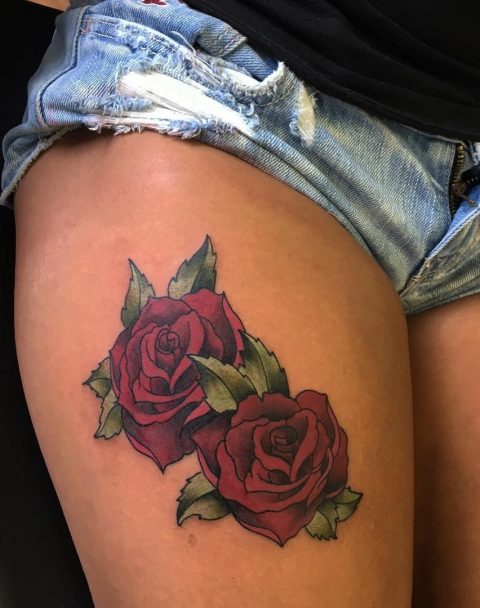 Source: @celebrity_tattoos
23. Neo-Traditional Rose Tattoo
The woman who chose the neo-traditional tattoo is a brave person with a modern view of life. An undiscovered bud shows an internal barrier that prevents her from being with others. The spokes on the sides speak of the betrayal of a loved one. In addition, the large leaves that surround the flower are a symbol of a woman's hope for a brighter future. Often, tattoo artists add markings with marked quotes or names of loved ones.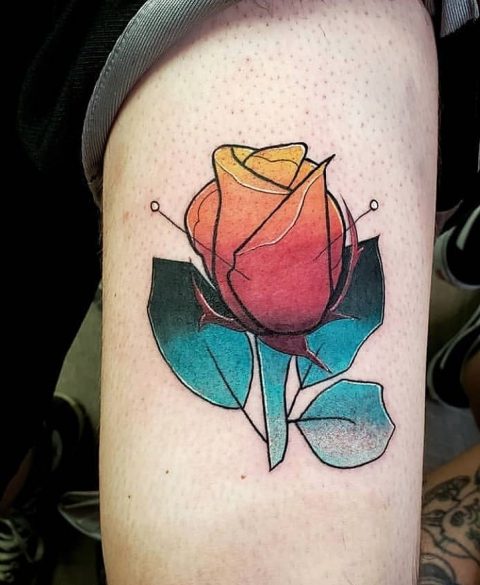 Source: @tattooavenuechicago
24. Hearts and Rose Tattoo
The female rose and heart tattoo symbolize a young woman's increased need for love and her loyalty to her partner. Often, in the heart, the tattoo artist writes the name of the woman he loves. If the heart is broken, then a tattoo like this speaks to the tragic love that was in this man's past.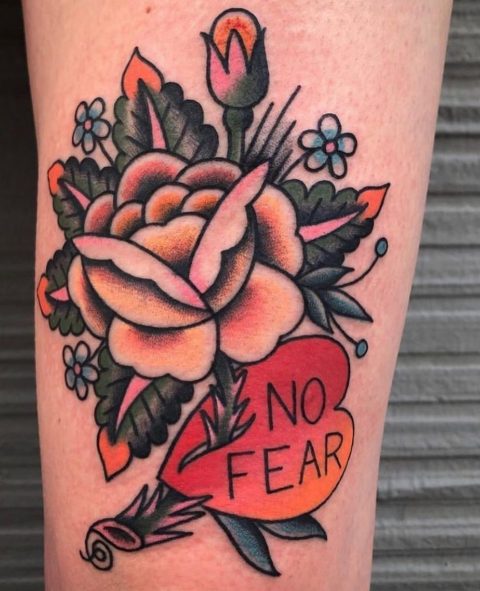 Source: @halolongbeach
25. Cross with roses tattoo
Sketches like cross and rose tattoos are chosen by those who have lost a loved one. A vintage rose highlights a woman's beauty and the depth of her feelings for a deceased friend. Women often put the name of a lost lover on the cross. Sometimes a rose-cross tattoo can be religious.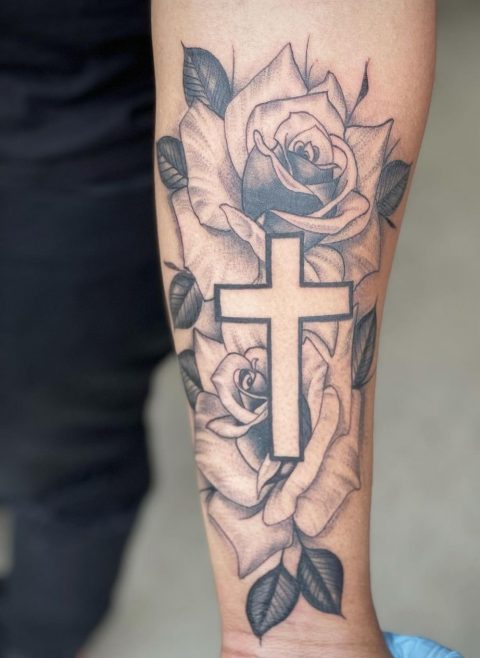 Source: @gsoriano4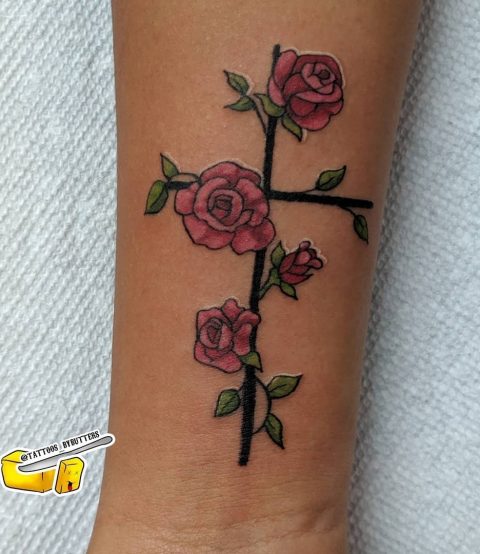 Source: @tattoos_bybutters
26. Roses and vine tattoo
The figure rose with vines on the leg is a symbol that a woman is confused in a relationship or is under intense pressure from those around her. The presence of a heart in the plexus of vines symbolizes a strong attachment and love to a partner. In a drawing of the heart, a woman can fill in the name of her lover or their commemorative date.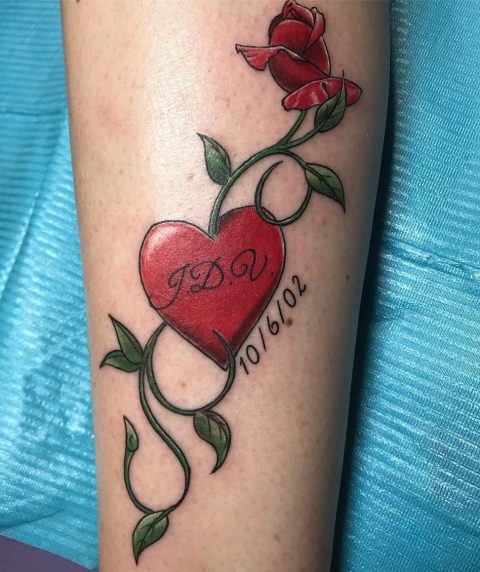 Source: @johnnychopstattoo
27. Rose with names tattoos
Rose tattoos with names are very popular with those women who strive to make a beautiful and unusual declaration of love to their chosen one or to a loved one who occupies an important place in the life of the tattoo owner.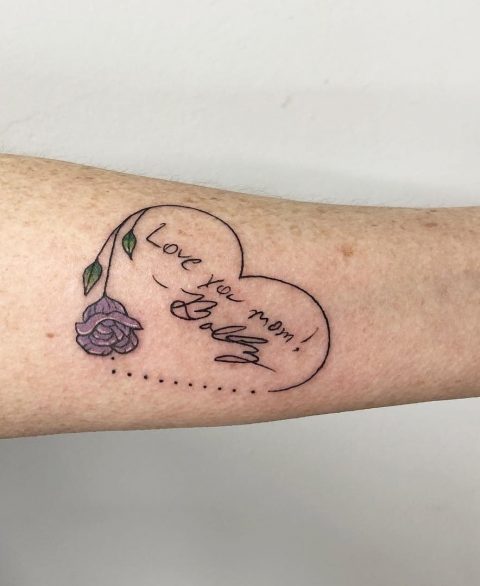 Source: @tattooavenuechicago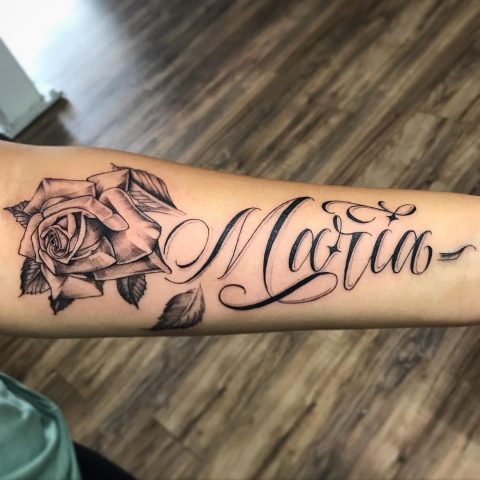 Source: @jayz_tattoos
28. Rose and butterfly tattoo
A wild rose with a butterfly is, first of all, the meaning of the origin of the thrill of love. Only women who choose this tattoo are very impulsive, tender and vulnerable. Sometimes tattoo artists make a drawing where the flame burns the butterfly's wing. This, in turn, is a symbol of the challenge of building a relationship.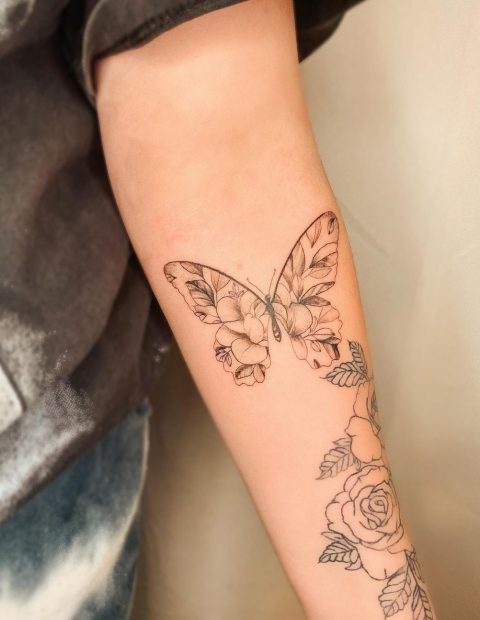 Source: @wildeblume.aesthetics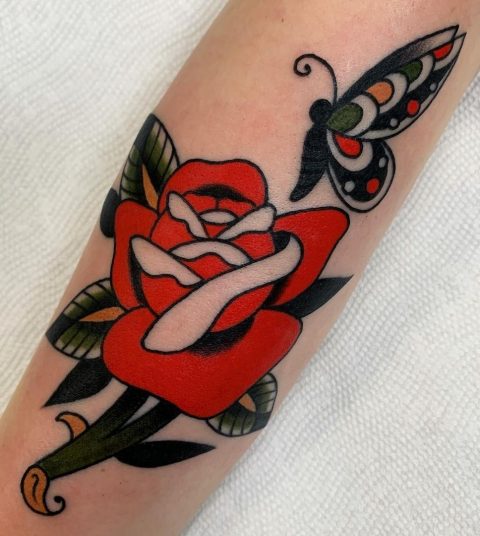 Source: @sw_wright
29. Roses and lace tattoos
Noble and single women choose black rose sketches with lace. Only a few people around them support their views. Sadness and heartache is the habit of a tattoo owner. However, if a woman chooses bright colors for such a drawing, the meaning of the tattoo becomes exactly the opposite. Then it will symbolize the nobility and fortitude of this beautiful and unique woman.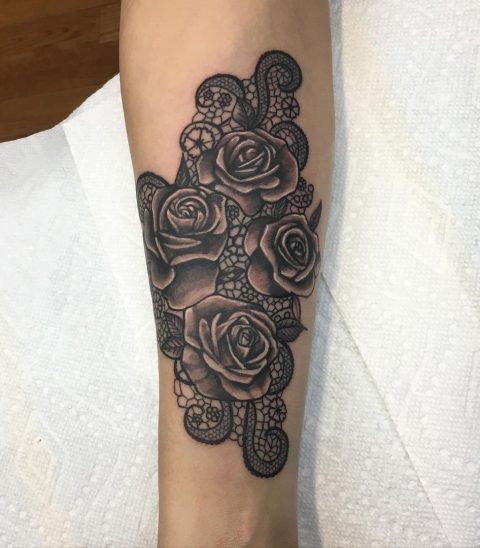 Source: @evil_rob
30. Rose and star tattoo
Rose and star tattoos are popular with dreamers and people who believe in success and fulfilling their deepest desires. Those who have this tattoo hope that the moon and the stars will show them the true way of life.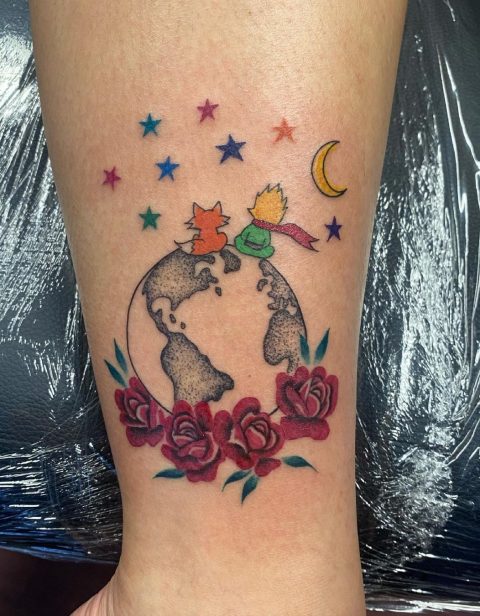 Source: @uhhhhtaco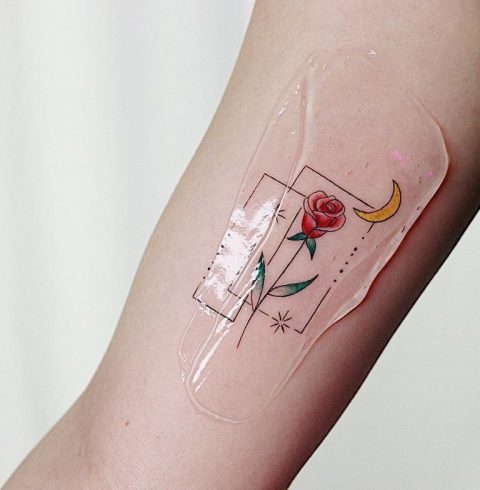 Source: @heart.haney
31. Rose and pearl tattoos
Self-confident individuals prefer the pattern of pearls and roses. They excel in business, study, and even their hobbies. The vintage rose in this tattoo is the meaning of the inner beauty and nobility of a woman.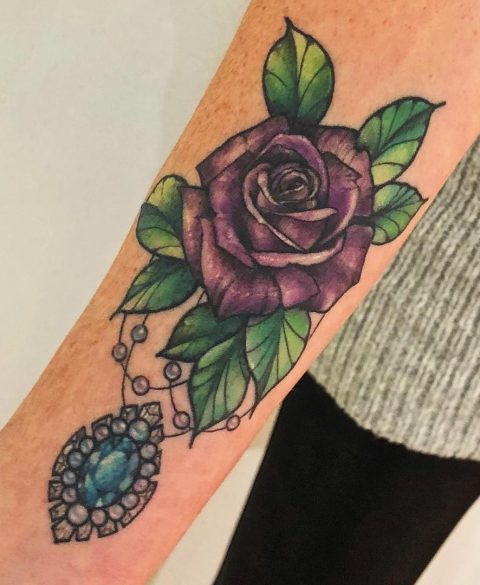 Source: @connor.tattoos
32. Rose and diamond tattoos
A woman's tattoo, which combines a drawing of a rose and a diamond in itself, is a testament to the strength of feelings between a man and a woman. The relationship between these people is strong, and the woman herself feels protected. Only happy people decide to draw this sketch on their skin.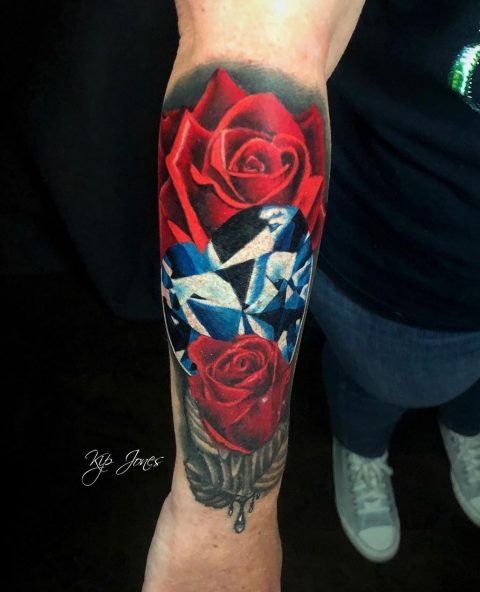 Source: @kipjoneswho
33. Roses and lilies tattoo
Women who choose a tattoo sketch of a bouquet of lilies and roses are more in love with their partner than with life. Their sense is pure and reliable. These partners have a harmonious relationship. Moreover, they have a very delicate and sensual relationship. In the background of the drawing, the tattoo artist often paints open wings, which is a symbol that lovers fly in the sky with their happiness.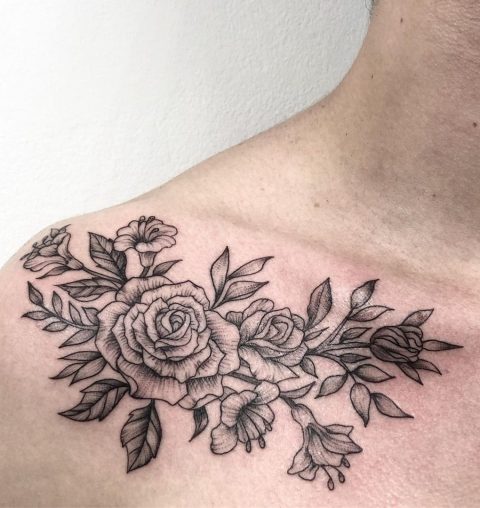 Source: @tattooavenuechicago
34. Rose sleeve tattoo
The full sleeve or rose half sleeves tattoo is decided to gain strong and courageous women. They are looking for ways to express themselves. By choosing such a female drawing with roses, the women hope to be heard and understood by individuals like them. The color palette of such a rose sleeve tattoo depends on the emotional state of the girl.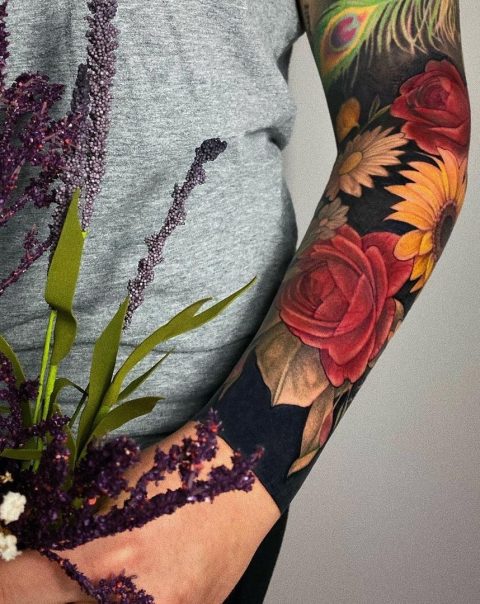 Source: @connor.tattoos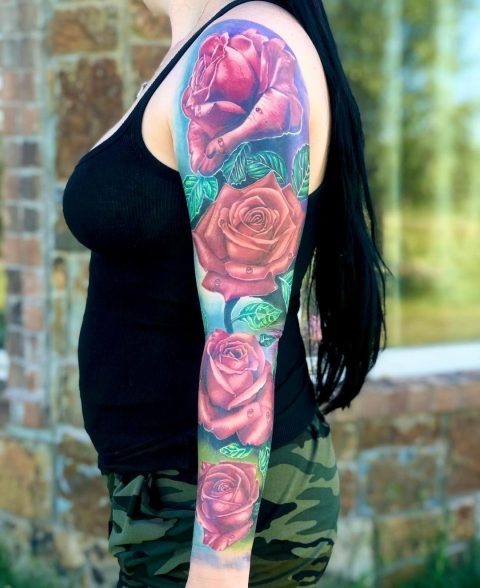 Source: @lordevans
35. Rose hand tattoo
Small rose tattoos on hand are a choice of brave women who are not afraid of difficulties in finding their place in life and even the opinions of others. To create such a drawing, the tattoo artist and the client will need a lot of patience and willpower as it is a painful process. The fact is, the skin in this place is the thinnest. Traditional rose with stem and leaf is the embodiment of love and inner beauty. A black flower with fallen leaves is a memory of past glory, success, or a darling person.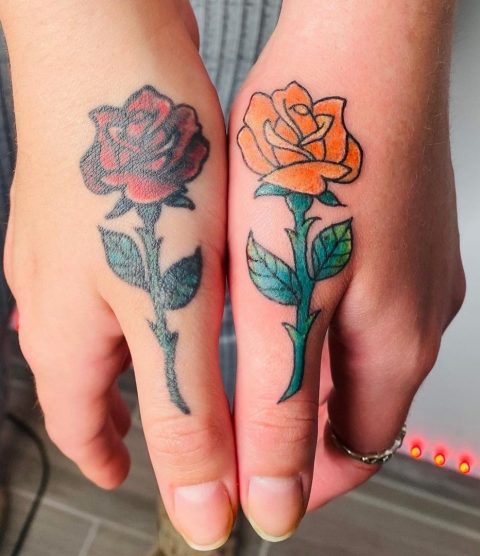 Source: @havenstudiobk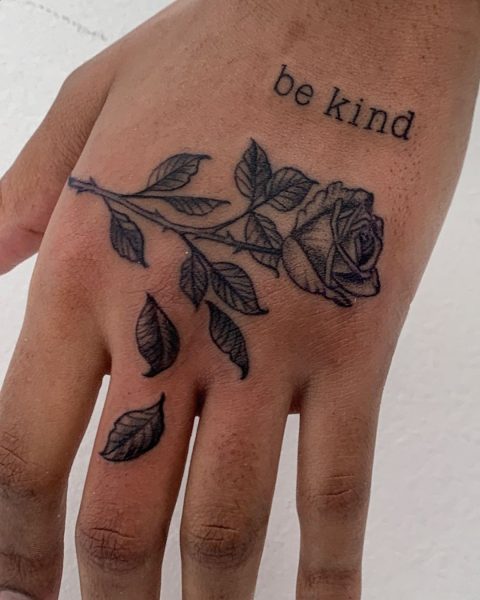 Source: @bklyn_brig
36. Snake and Rose tattoo on arm
The upper arm is a place for tattoos that women choose to display their life beliefs and principles. The inner arm is a place that is popular with people who like to keep their last word. The lower arm is the place on the body that audacious women prefer, who are forced to restrain their spiritual impulses into regular life. Often the reason for this is an office dress code. However, when they take off their jackets or slap the sleeves of their blouses, then their true nature comes out and the people around them can see it. Often, women choose a royal flower called a rose and combine it with a snake to tell everyone around them what powerful temptations they have to fight. At the same time, a butterfly is a symbol of the emerging tenderness for this woman's partner.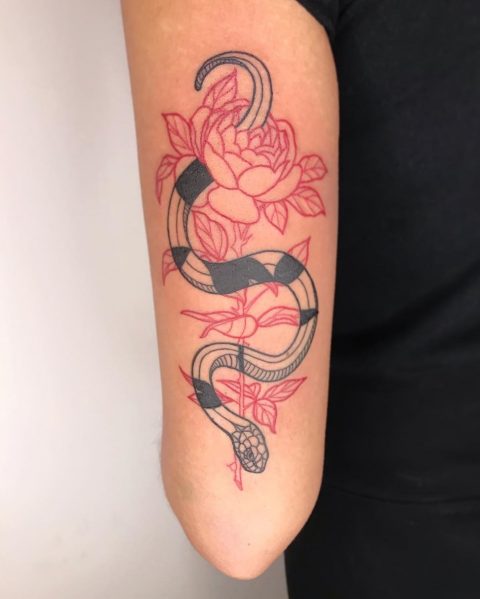 Source: @tattooyourface
37. Rose shoulder tattoo
On the back shoulder, women paint a tattoo of a rose that attempts to highlight their strength, beauty, and sensuality. The small tattoo shows the elegance of the young person and gives her femininity.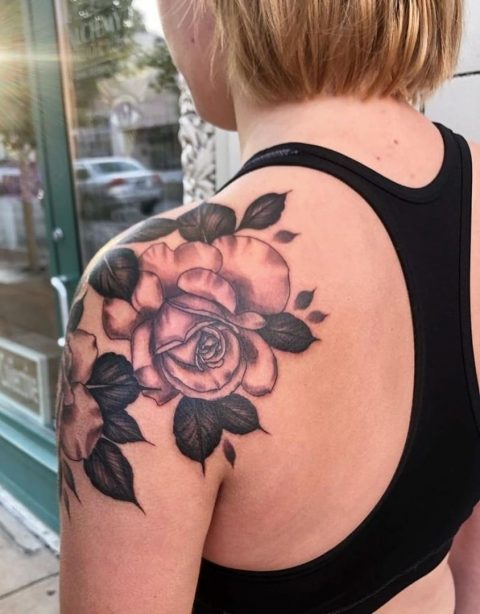 Source: @alchemytattoocollective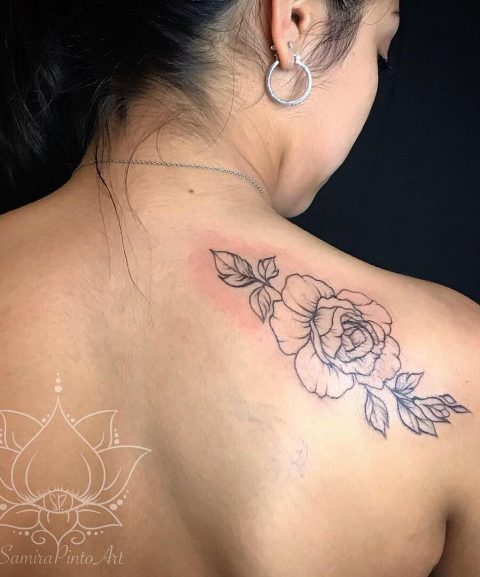 Source: @sacredjourneytattoo
38. Rose neck tattoo
The curve of the neck is one of the most sensual places on the body of a woman. The decorated rose symbolizes the inner beauty and nobility of man. The drawing that the tattoo artist will put on the back of the neck will only be available when the owner wants it. Because if she puts her hair down, no one will see this image. On the side, women apply this pattern, who dream of announcing to all around them that they have recently experienced betrayal or have met an interesting person. In the first case, it's a rose with a dagger, and in the second one, it's a rose with a heart.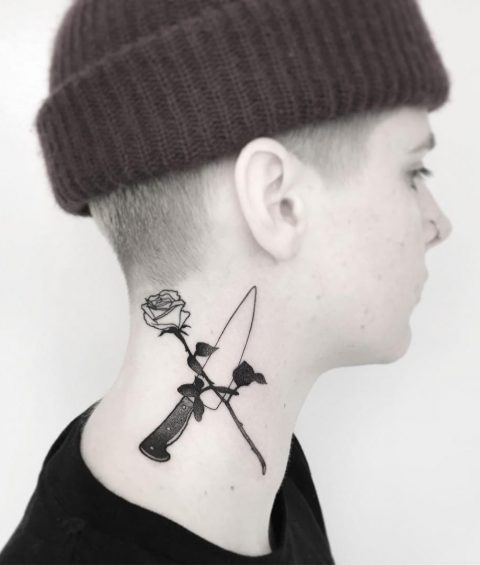 Source: @tattooyourface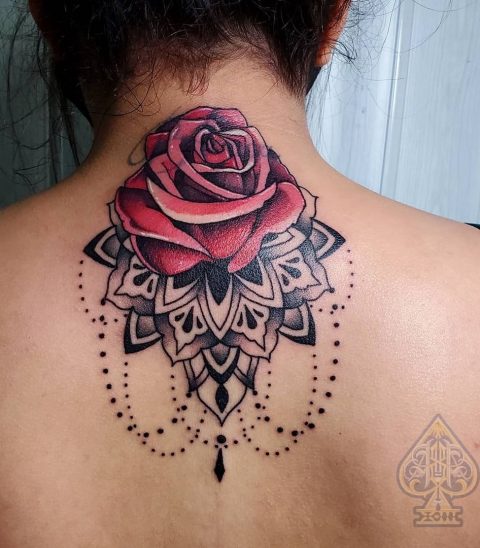 Source: @tatt_by_ajay
39. Rose forearm tattoo
On the forearm are tattooed women who have a strong character. They like fresh and stylish images. However, a black-and-white sketch or a colored drawing would be a woman's choice, which is not an important factor because all people would like her tattoo.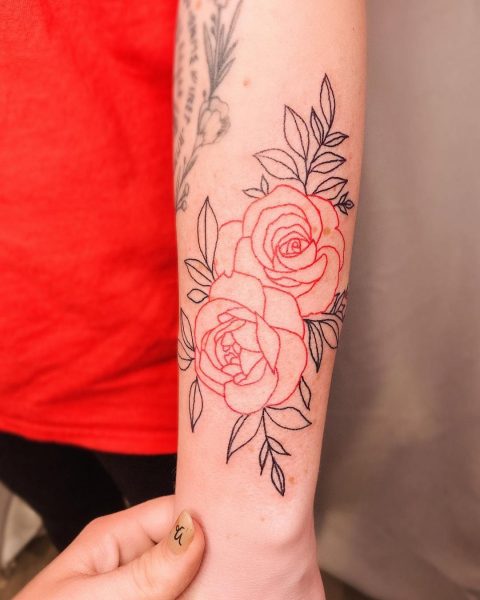 Source: @wildeblume.aesthetics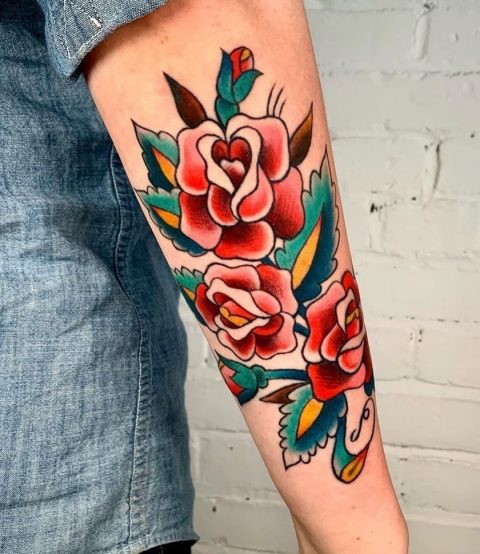 Source: @fortunetellerportland
40. Roses tattoos on side
Sensual women make the pink tattoo on the body side. This place is hidden from the eyes of outsiders. In such a case, a woman can manifest her full personality and express herself and her inner peace. Some people talk about forbidden love or lost youth by picturing a rose on the side of a cage. Other women can also talk about lost opportunities but through the drawing of this female tattoo with falling leaves in the rose.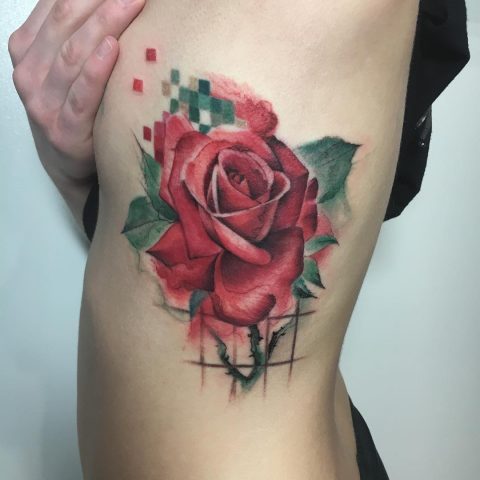 Source: @connor.tattoos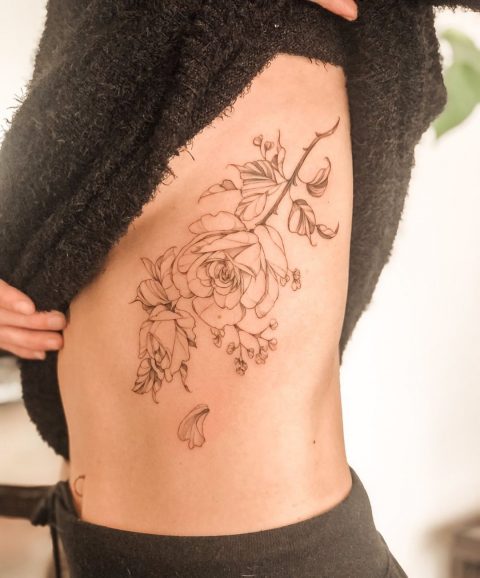 Source: @caseybresso
41. Roses tattoos on hip
Rose hip tattoo speaks of the playful nature of women and their commitment to flirting. Rose emphasizes beauty, attracts attention and intrigues. Whether the drawing is minimalist or otherwise, this unique tattoo will always look spectacular and tempting.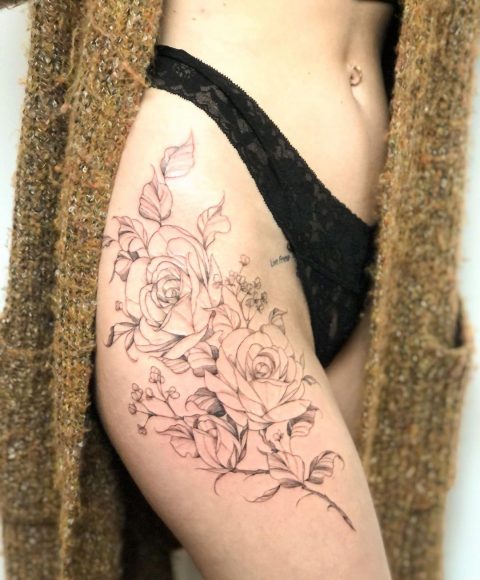 Source: @caseybresso
Source: @shaydy.all.day
42. Rose tattoo on wrist
The small tattoo on your wrist is a sign of elegance and mystery. It's not immediately visible, but it certainly attracts attention. By choosing a rose, a woman demonstrates her sensual nature. Often, tattoo artists add an inscription to such a drawing, which will be a commemorative date or the name of a loved one.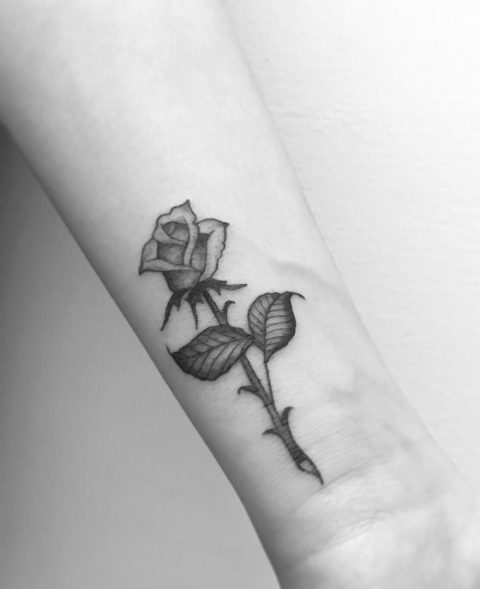 Source: @tattooyourface
43. Rose ankle tattoo
A rose pattern on the ankle is a great way to emphasize the beauty of a woman's legs. Such a tattoo will attract the attention of those around you and add to your image. A small rose looks very tender and graceful, and the legs of a young person are remembered for a long time.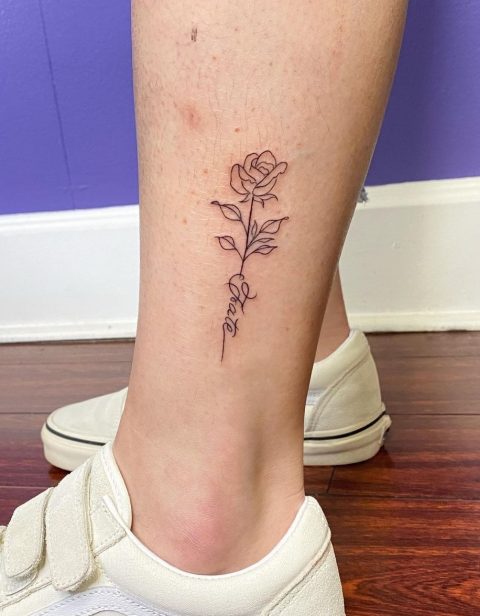 Source: @uhhhhtaco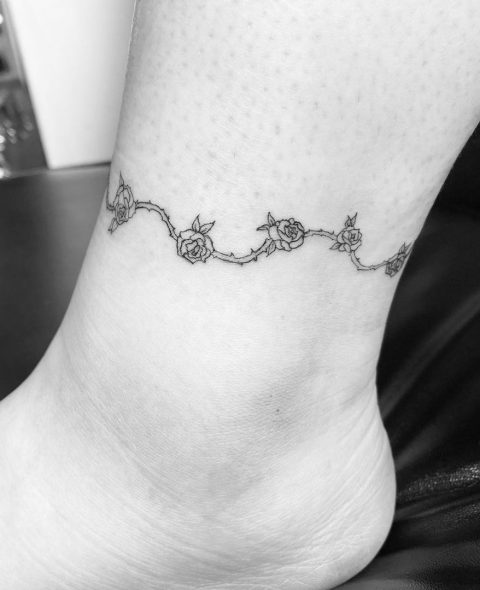 Source: @chels.tattoos
44. Roses tattoo on back
Tattooing on the lower back is one of the most popular places that modern women choose. They try to emphasize their womanhood and sensuality. Roses look unforgettable and beautiful, no matter what shade they were painted in. It can be both black and white and colored.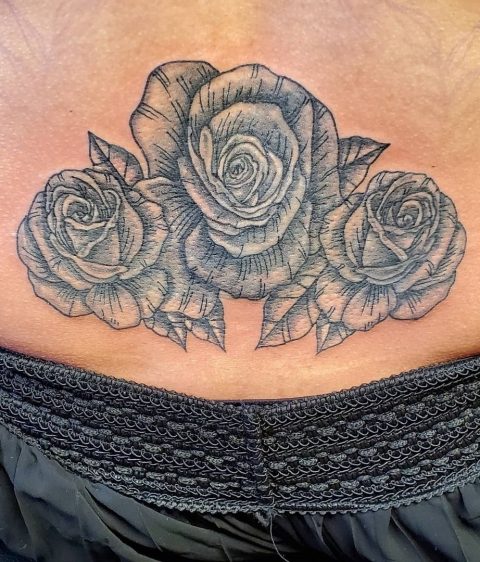 Source: @squirrel_gravy
45. Rose Tattoos on Foot
The women who paint tattoos on their feet are independent and independent individuals. They choose what expresses their tattoo. It could be a method of self-expression or a display of sensuality. Because it is up to the young woman to decide whether to show this small drawing to the people around her.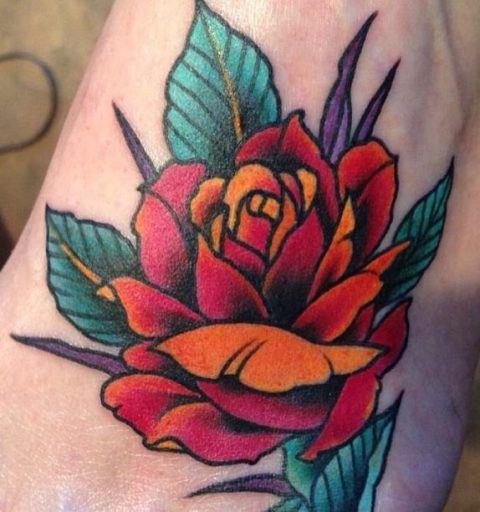 Source: @jazz_tatzz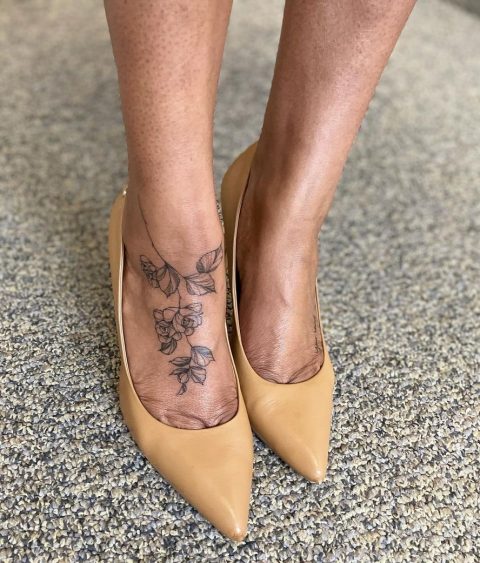 Source: @caseybresso
46. Compass Rose Tattoo
The image of the compass with the rose symbolizes loyalty to its life principles and the search for a higher purpose. It can also have the meaning of travel.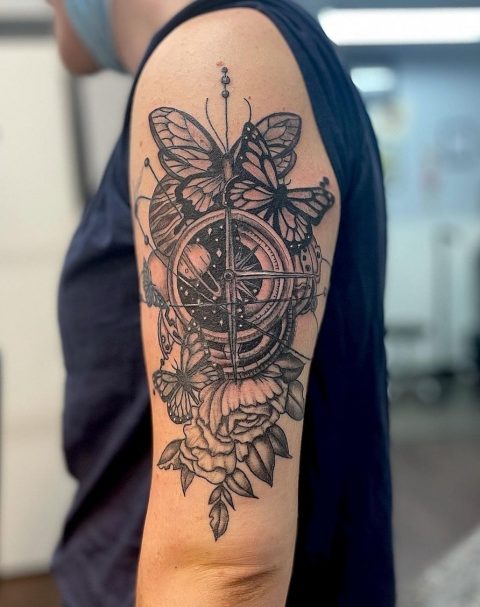 Source: @bornheim_tattoos
47. Money Rose Tattoo
A rose-shaped tattoo is a choice of women who have already achieved success or are still on their way to it. The dollar symbolizes wealth, comfort, and fame.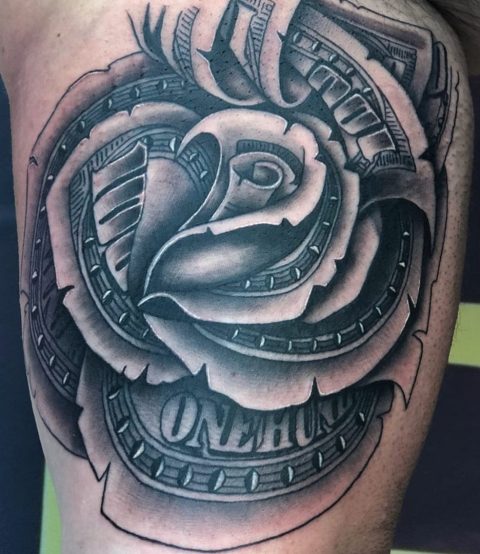 Source: @jongioiatattoos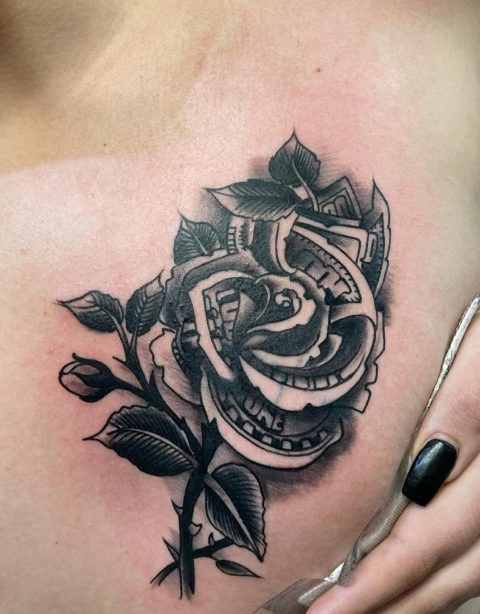 Source: @bornheim_tattoos
48. Skull Rose Tattoo
The image of the skull reminds the people around you of death. Skull rose tattoo shows us a man who likes to take risks and is not afraid of anything.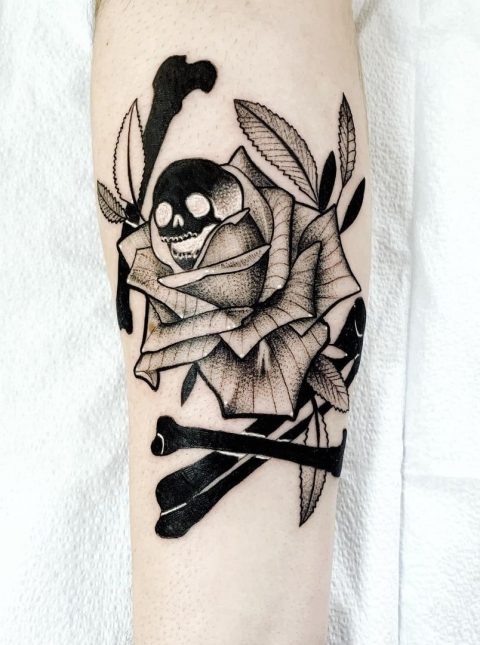 Source: @annawolfftattoos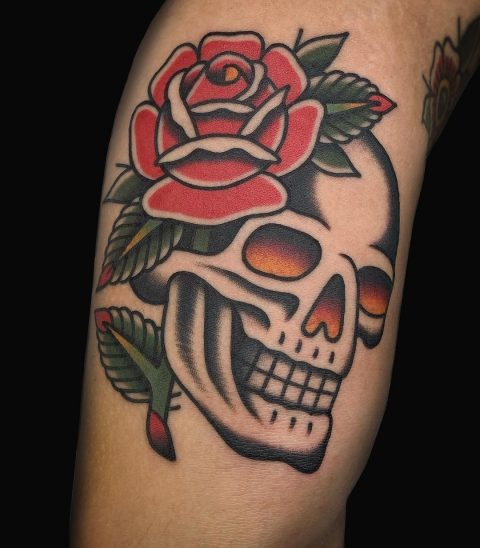 Source: @outerlimitscostamesa
[wp-faq-schema title="FAQ about Rose Tattoos "]