A semicolon tattoo is one of the most meaningful symbols for people who are going through a tough period. The choice of this tattoo shows that our life continues against all the odds.
In this article we have covered for you many ideas of different semicolon tattoo designs and where to place them so they will look right for men and women.
1. Semicolon Butterfly Tattoo
This semicolon butterfly tattoo has got the subtle outline of wings. It's a popular tattoo choice for a romantic wearer who is going to make tough choices or in two minds about the future.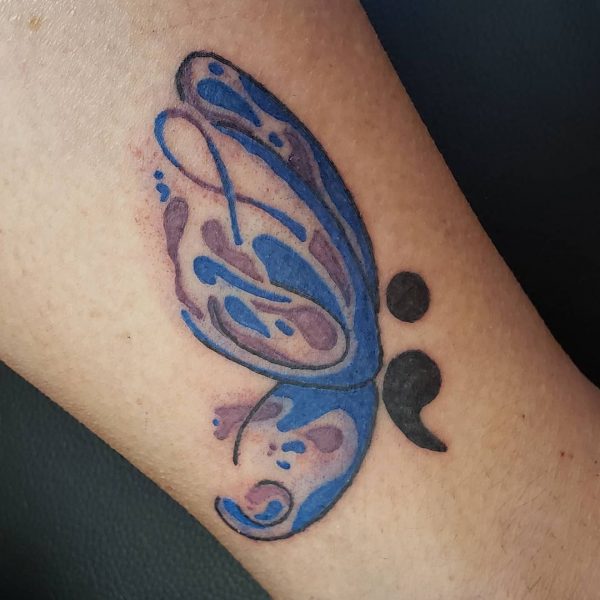 Source: @glimmernink
If the outline is well-defined, and the lines are of the same widths, this tattoo's meaning is a bit different. It represents a strong personality and also shows the romantic vulnerable nature of the character and the sufferings caused by amorous feelings.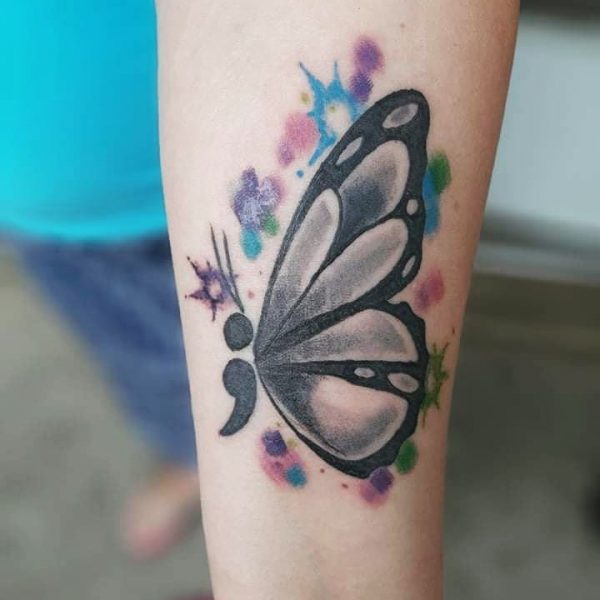 Source: @njogsk8r
The delicate lines of black and white butterfly emphasize the sophisticated taste of its wearer. Its placement on the inner bicep could tell about a possible gay orientation who has experienced an unrequited love.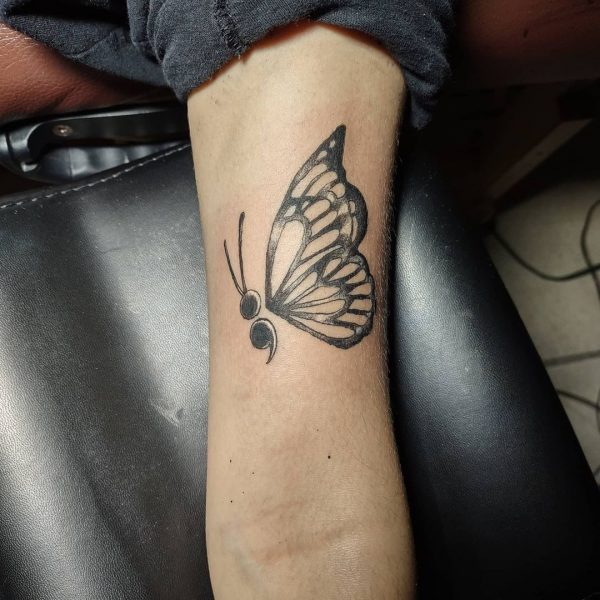 Source: @thefamouslery
2. Heart Semicolon Tattoos
A heart with semicolon design placed on the wrist of the left arm symbolizes a romantic person who doesn't like to show her feelings. In this case all too often depression is linked to the sorrows of love.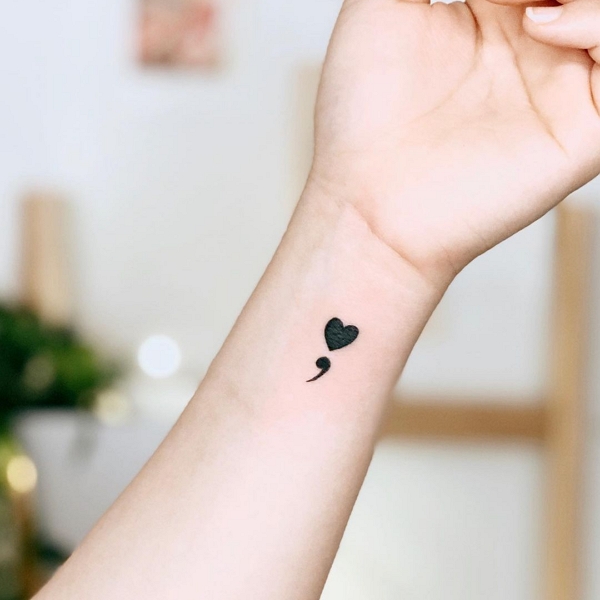 Source: @dalgu_tattooer
This semicolon heart design is placed on the right arm and made in two colors resembling two playing card suits. It could denote a gambling character. Quite often this tattoo is chosen by restless people who like travel and love affairs.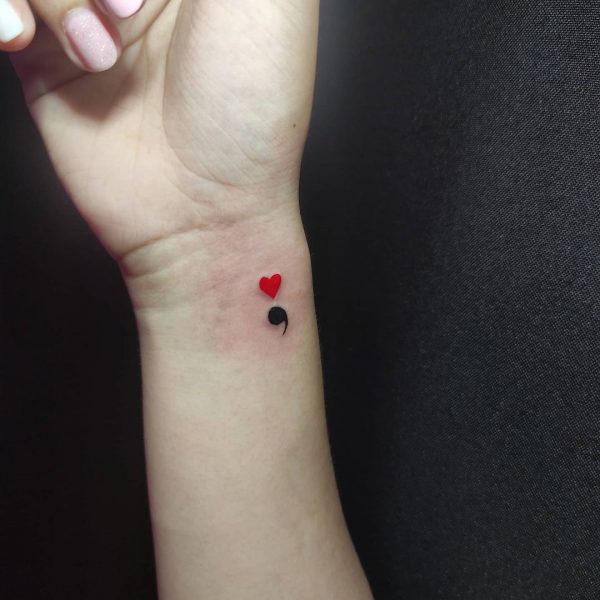 Source: @renz_edrizon
If you see a semicolon heart tattoo painted on the exposed part of the body and tattooed in bright colors, you could think about its wearer as a person who lacks attention from others. He might suffer from social rejection and misunderstanding. These people quite often need comfort and friendly support.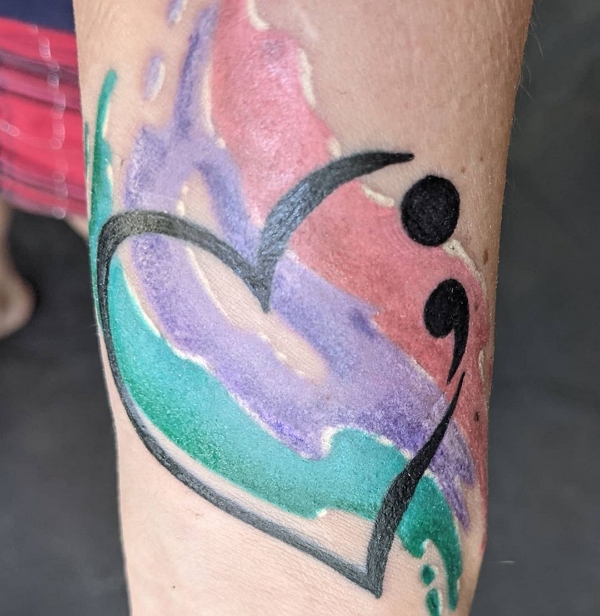 Source: @complete.njema
3. Cat Semicolon Tattoo
A tattoo location on the wrist where you can feel the pulse says that the tattoo meaning is linked with the heart. A cat can symbolize a witty mind. This design together with a comma explains that its wearer has a choice between the heart and the mind.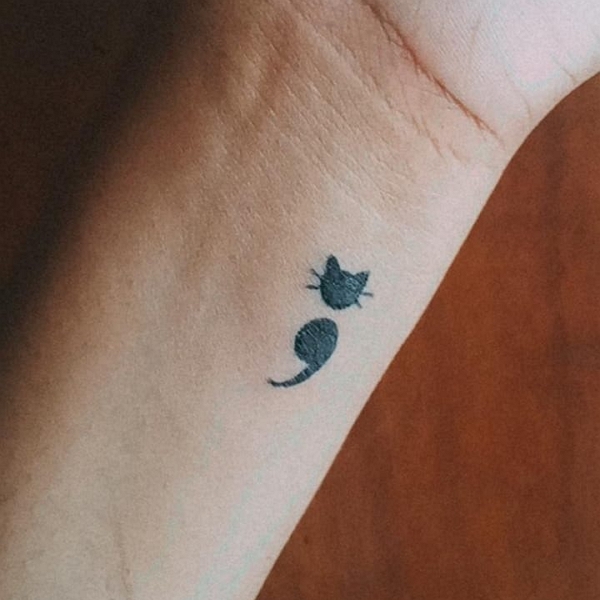 Source: @heyitschami
A colourful cat semicolon tattoo could say that its wearer tries to cipher the initial meaning of the semicolon tattoo. A person with this design will open up to those who can understand his true nature.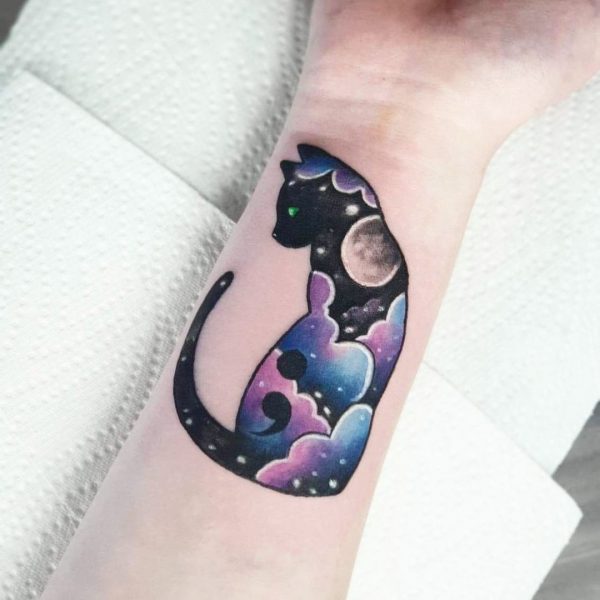 Source: @tattoosbyrhianne
4. Semicolon Watercolor Tattoo
A butterfly with a semicolon body painted in colorful shades describes a person who loves life. Still, it also says that its wearer can get hurt easily.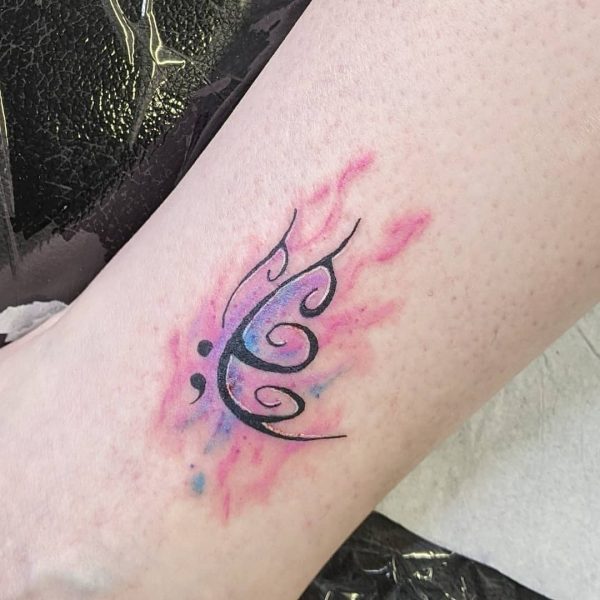 Source: @dannystattoocollective
A semicolon painted on vivid aquarelle colors could signify a loss of a significant other, a love partner, or general joy. The initial meaning of a flower tattoo is happiness, but together with a semicolon it can be a sign of sadness and bitter flashbacks.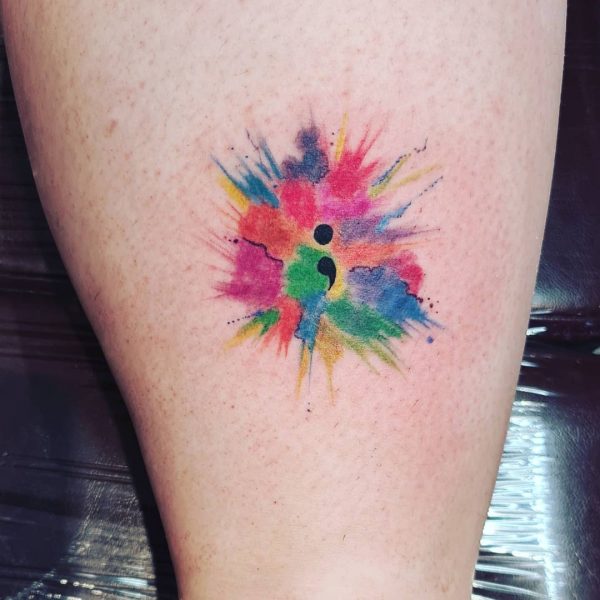 Source: @muthahubbardstattooparlour
A black butterfly tattoo surrounded by vivid colors is a symbol of surviving in a cruel human world. It describes a sensitive person who has a keen susceptibility for ups and downs of life.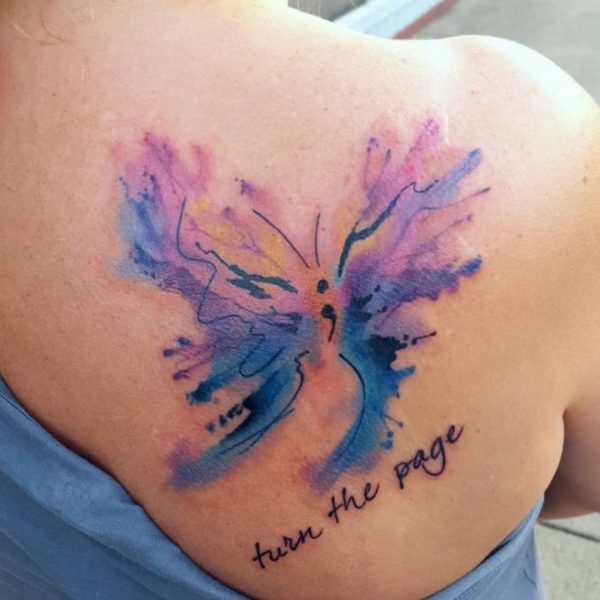 Source: @semicolon__tattoos
5. Infinity Semicolon Tattoo
This design of an infinity semicolon tattoo symbolizes a person who keeps going over the same ground. He often experiences depression, dismay, and internal battles. And the heart instead of the dot says about a vicious circle in his romantic life.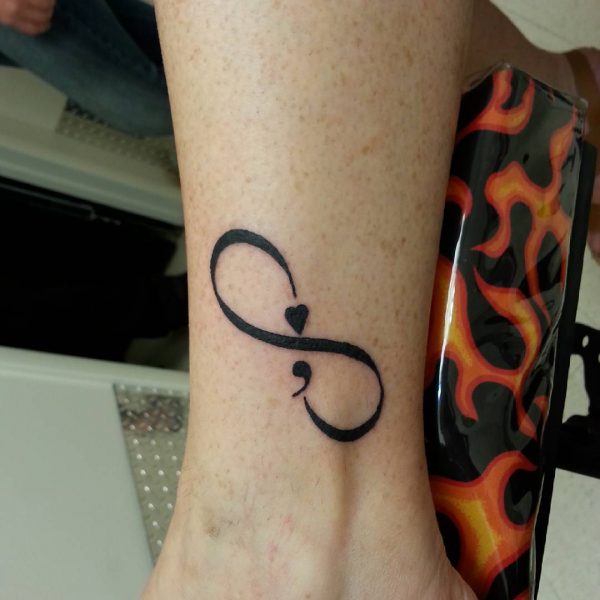 Source: @dave_fij
6. Semicolon with Heartbeat
A cardiogram sign together with a semicolon design describes a person as someone who falls in love easily. Love means a lot for him but it often comes with pain and disappointment.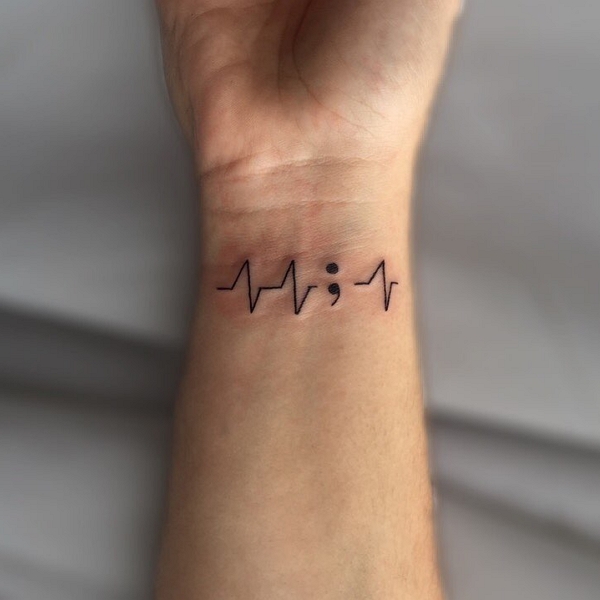 Source: @thetattoovalley
There is another body art with a cardiogram sign. The tattoo combines a semicolon, a zigzag inside a broken heart and a title "Beautifully Broken" below the tattoo. This design reflects romantic experiences linked with the pain from the loss of a significant other.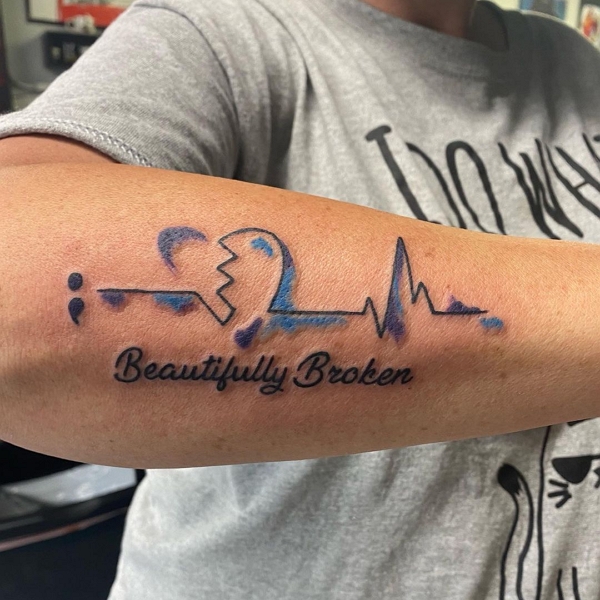 Source:@wjscott77
7. Semicolon and Cross
A semicolon and cross tattoo denotes a spiritual development of a person. A wearer of this tattoo sees self-enrichment as his personal path that gives him hope and strength to keep going through life.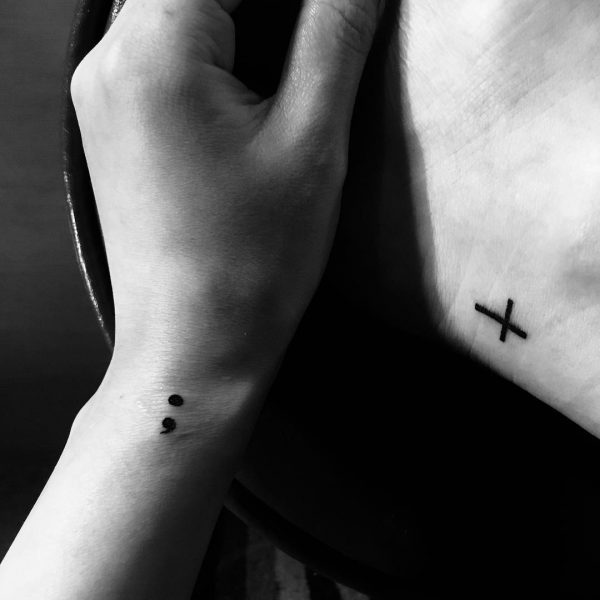 Source: @maga.oh
8. Dragonfly Semicolon Tattoo
A dragonfly and a dragon indicate speed, courage, strength, and resilience. Still, even people with these features are ordinary humans and can't escape anxiety. The semicolon in the centre with the designs of a dragon or a dragonfly says that the people can be in a tough situation.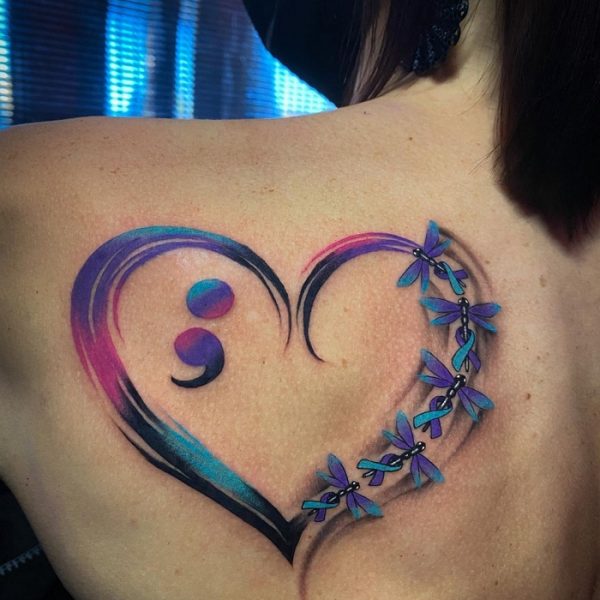 Source: @mikeaveno_tattoos
It's painful to get a tattoo on the wrist. People who go for it want to show that they are strong and resilient. Look at this picture with a semicolon in the centre of the dragonfly, as an example.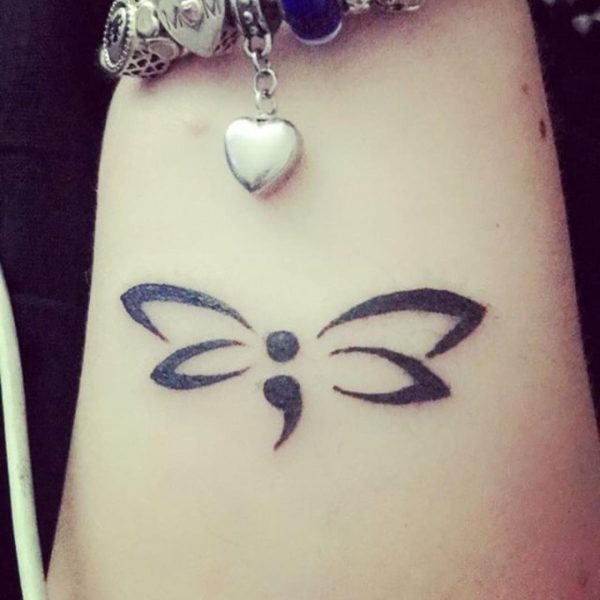 Source: @semicolon__tattoos
9. Semicolon with Flower
The design is tattooed on a very sensitive body part, hidden from occasional eyewinks. The rose describes a passionate person who dives into love relationships easily. The semicolon by the stem says that a person is lost in the relationship, or grieves the end of it.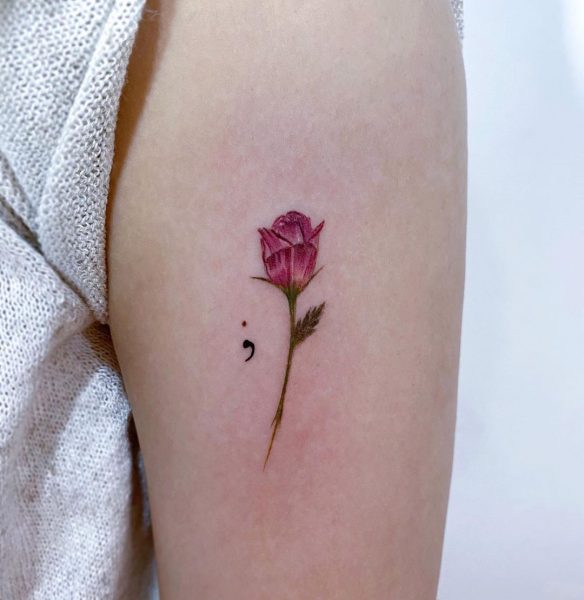 Source: @o_nuwol_tt
Instead, a sunflower semicolon tattoo declares 'I'm cheerful!'. A person with this tattoo can enjoy life fully and face occasional pain caused by cakes and ales.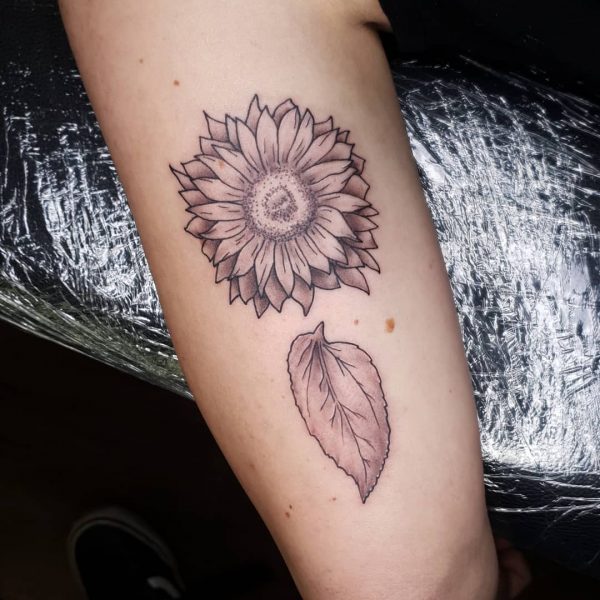 Source: @reddesertink
10. Warrior's Semicolon
This semicolon warrior tattoo defines its wearer as a spiritual soldier. It often means that a person is at the crossroads of life, rethinks his own decisions and tries to take new directions in life.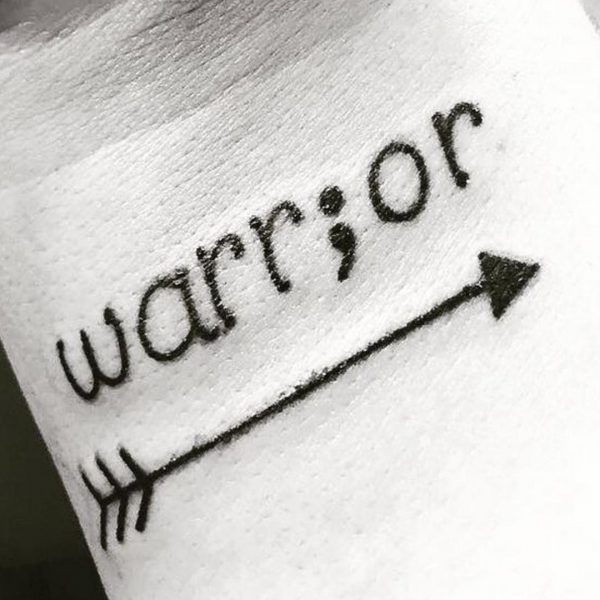 Source: @semicolon__tattoos
The quote reminds a wearer that life goes on. A person with this tattoo never forgets about the shortness of life and thus, tries to put more reasons into her existence.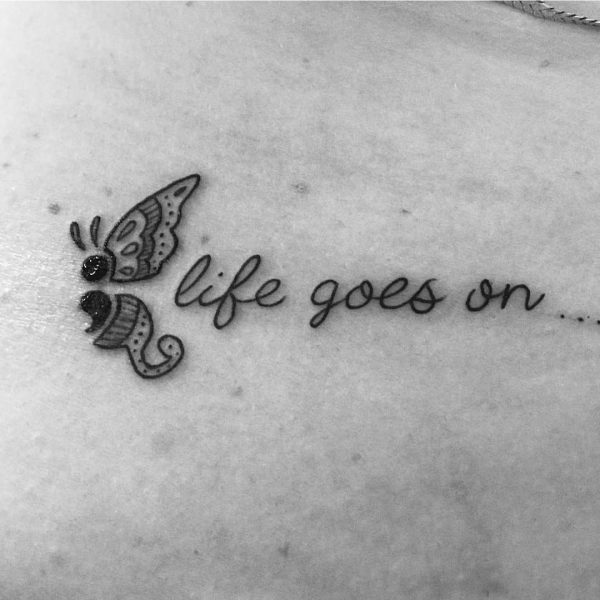 Source: @semicolon__tattoos
A semicolon tattoo punctuated with a quote or a saying has a clean-cut meaning. A person with this tattoo is quite conscious and doesn't fritter away his energy.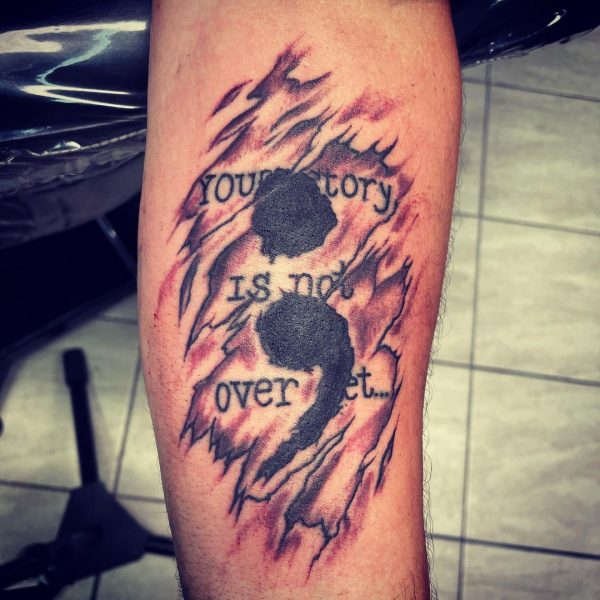 Source: @pearcetattoos
11. Semicolon Birds Tattoo
A bird means freedom. The image of a semicolon birds tattoo symbolizes the idea of coping with troubles and moving forward no matter what. The choice of dark shades characterizes a person with melancholic traits.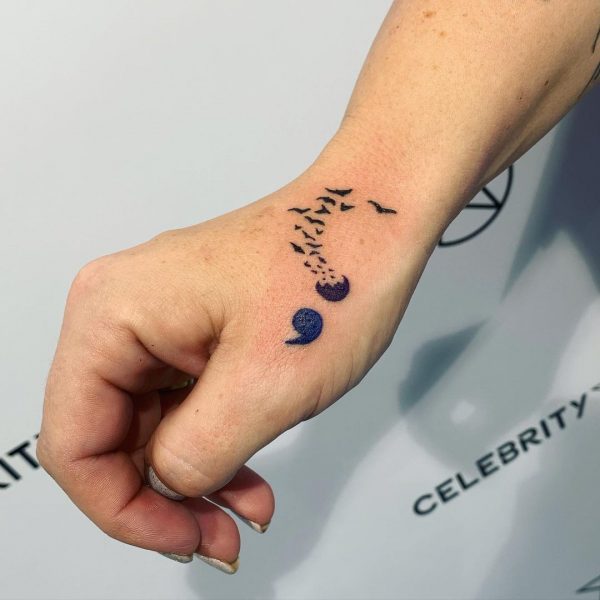 Source: @georgiacaroline.tattoos
12. Semicolon Arrow Tattoo
An image of an arrow can tell us about an ambitious and goal-orientated person. Though, the semicolon in the centre of the design shows us something has led him to rethink his goals.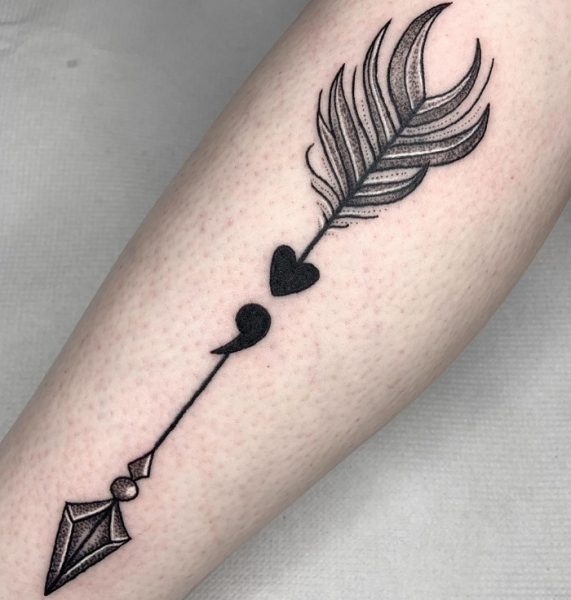 Source: @jessicawentzeltattoo
13. Rainbow Semicolon
Rainbow colors above the semicolon describe a positive person, a daydreamer. Still, this design shows us that he isn't immune from love turmoil.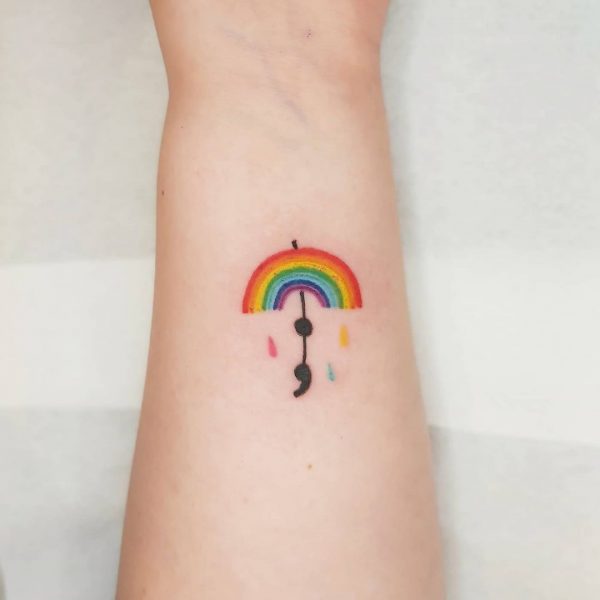 Source: @siscotattoos
14. Semicolon Music Tattoo
A treble clef and a music note represent a person who is passionate about music. In this case a semicolon tattoo with a G clef sends the ciphered message to those who can see through the romanticism of sadness.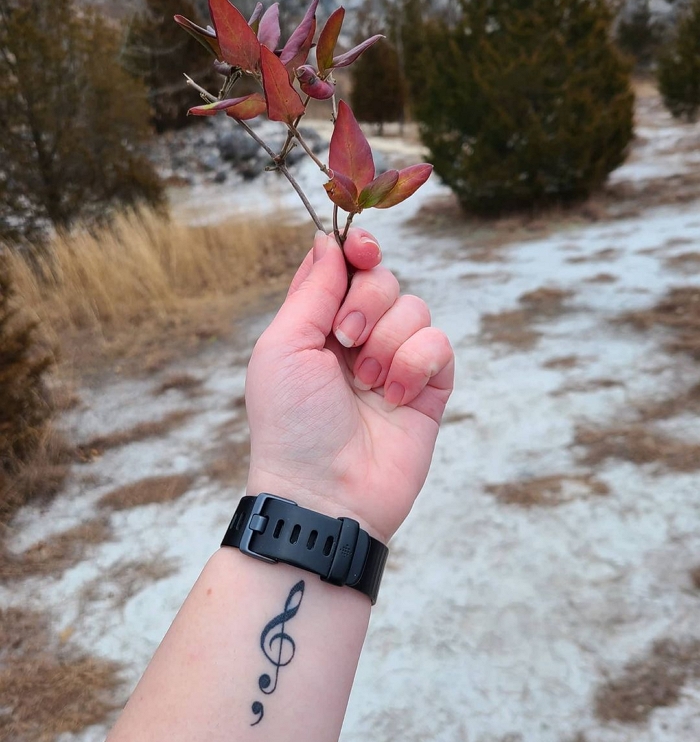 Source: @saramaephotography_
Another subtle tattoo of a semicolon with a music note. A person with this tattoo could be vulnerable to occasional attacks of a black dog and also open to creativity appeals.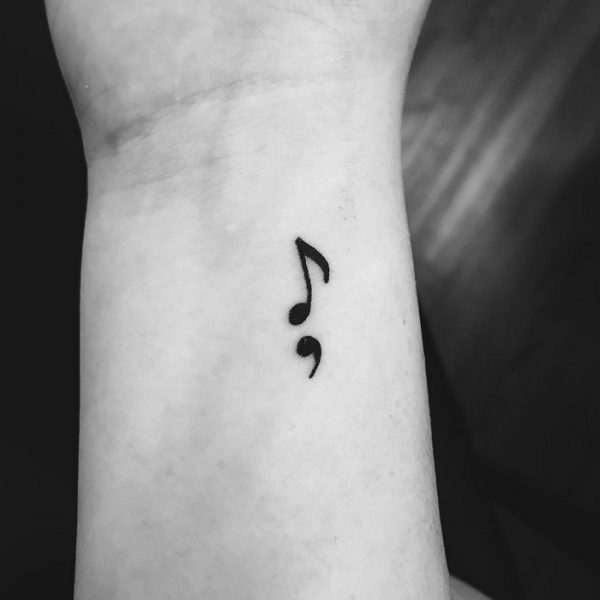 Source: @sierranicoleeeee
15. Colorful Semicolon
The semicolon symbol is hidden in the sun&moon design. It describes a person who is choosing his life paths.
Source: @aliciavasquezart
A mix and match of cool and warm shades describes a stable person who struggles against depression and loneliness from time to time. This design suits girls more than guys as it symbolizes sympathy and femininity.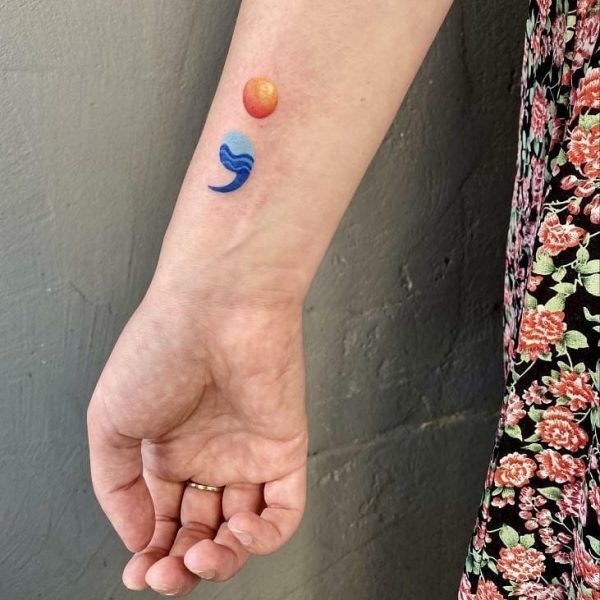 Source: @orchideapn
A blue shade of a butterfly describes melancholic features of a tattoo wearer. A person often faces depression and dismay but refuses to give up and strives to spread the wings.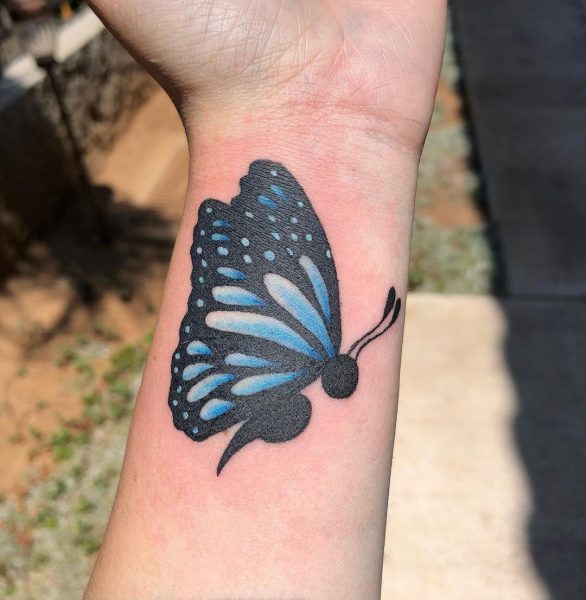 Source: @ag.bodyart
16. White Semicolon Tattoo
White subtle ink on fair skin clouded with a gray gradient could represent a person who keeps himself to himself and who avoids attention of other people. This tattoo design is placed to remind its wearer about the rapidity of life.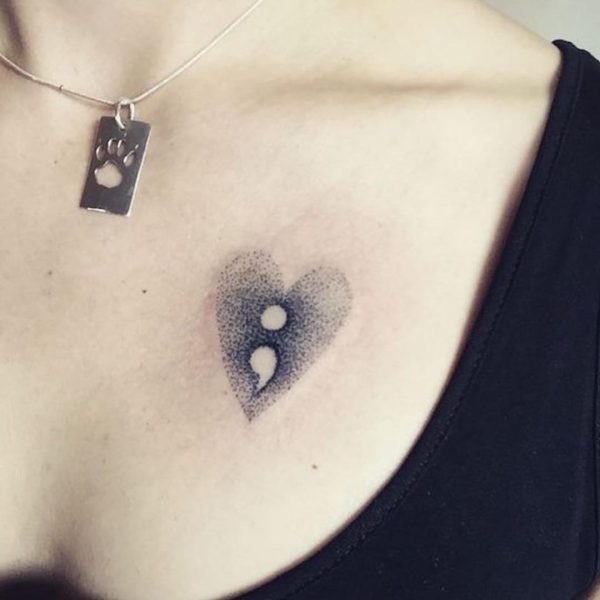 Source: @semicolon__tattoos
17. Small Semicolon
A delicate and discreet semicolon tattoo can represent commitment to the #projectsemicolon. Often people who don't like to make a show of their emotions opt for this choice.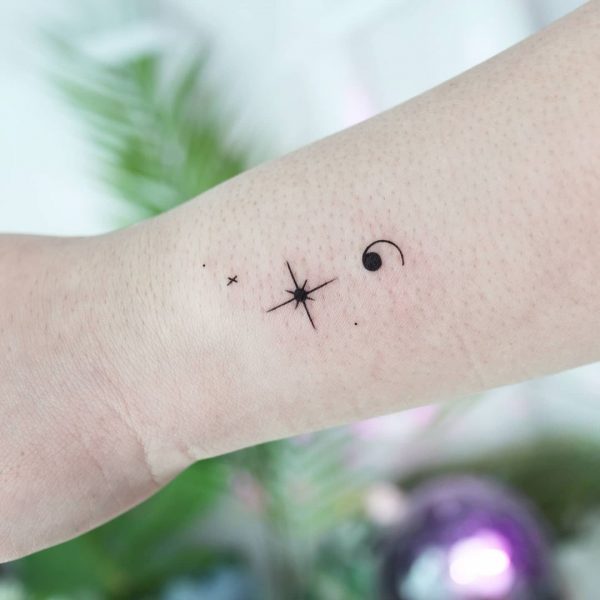 Source: @tattooist_namoo
This photo shows another traditional way to express struggles with depression, loneliness, and suicidal thoughts. The wings of a dragonfly symbolise yet another chance. Only a person with the same tattoo on the body can understand the true meaning of it.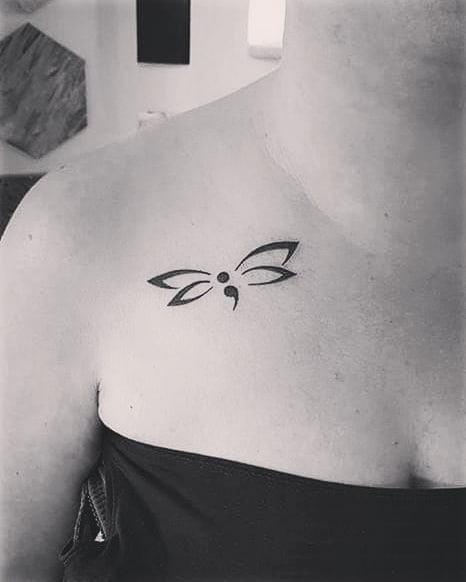 Source: @jana.gerhardt.tattoos
Related: Small Lotus Flower Tattoos To Help You Feel Zen
18. Lotus Semicolon Tattoo
The official meaning of the lotus is silence and oblivion. This design together with a semicolon could represent a reserved person who makes decisions on his own without listening to others.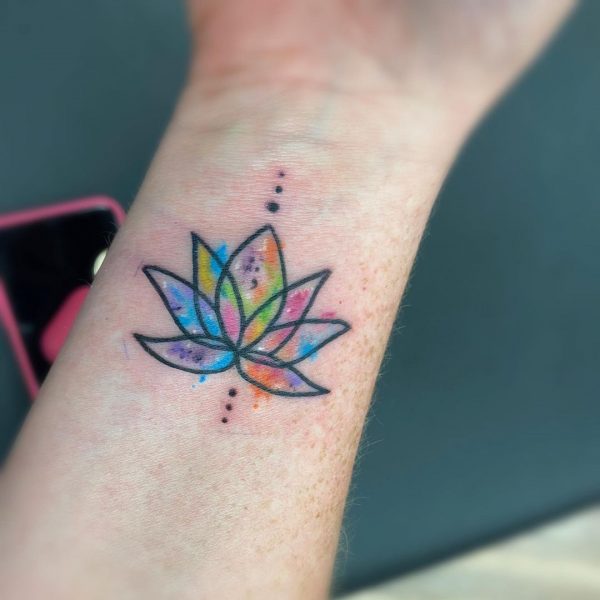 Source: @lizzie_starr
An image of a black and white lotus transforming into a semicolon reflects a melancholic nature of a person. Most probably a person with this design likes silence and loneliness.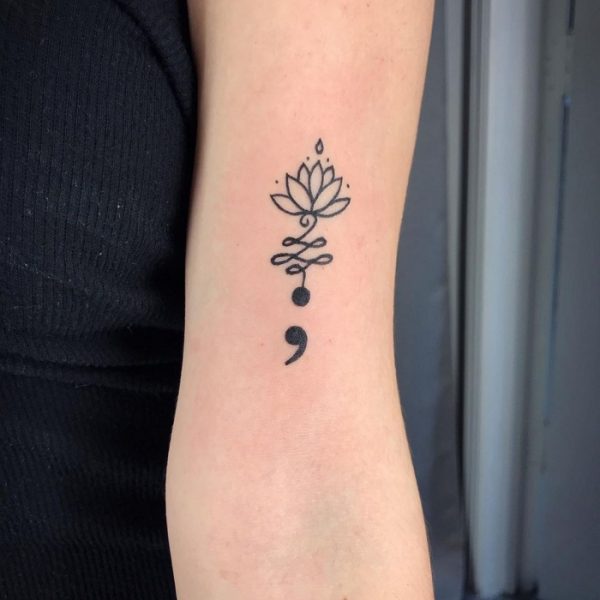 Source: @lukepukeink
19. Poppy Flower Semicolon
A poppy honours commemoration of a dead person. A person with a poppy flower semicolon tattoo grieves the loss of a significant other and keeps memory of him or her.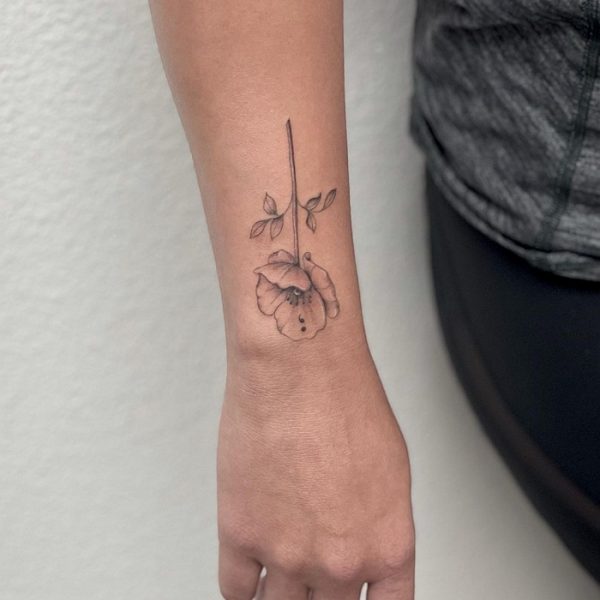 Source: @felicia_lozoya
A colored poppy semicolon tattoo is usually inked with cool shades such as dark and light blue, and violet. They represent sadness and melancholy.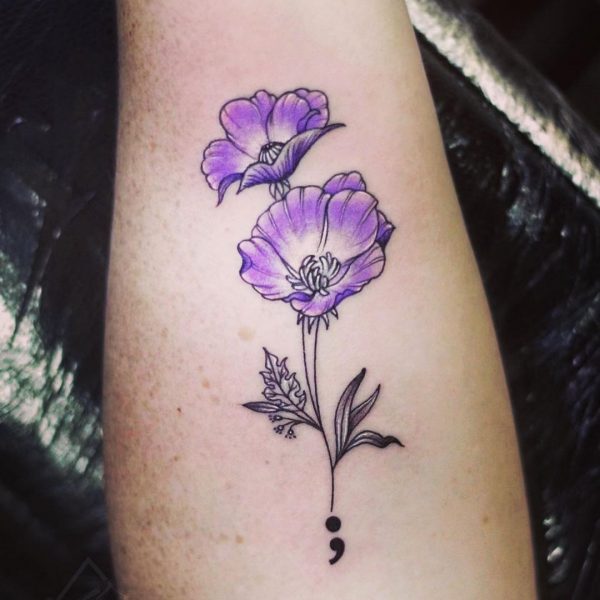 Source: @janagoesabroad
20. "Continue" Tattoo
The initial meaning of the semicolon is rebirth and finding our own way through a complete rethink of something. This tattoo design with the word 'Continue' says that a person has figured out the importance of some ideas and is ready to move on.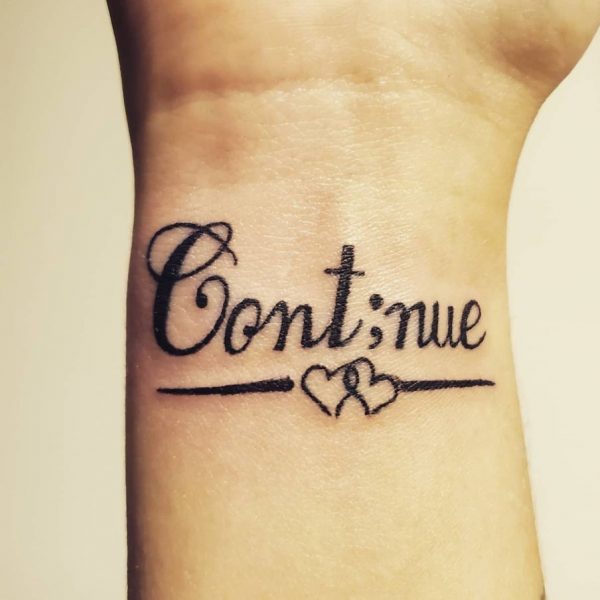 Source: @knockitoutdabox
21. Feather Semicolon Tattoo
A semicolon and a feather indicates the tendency to look for spirituality. A wearer with this tattoo is an independent adventurer.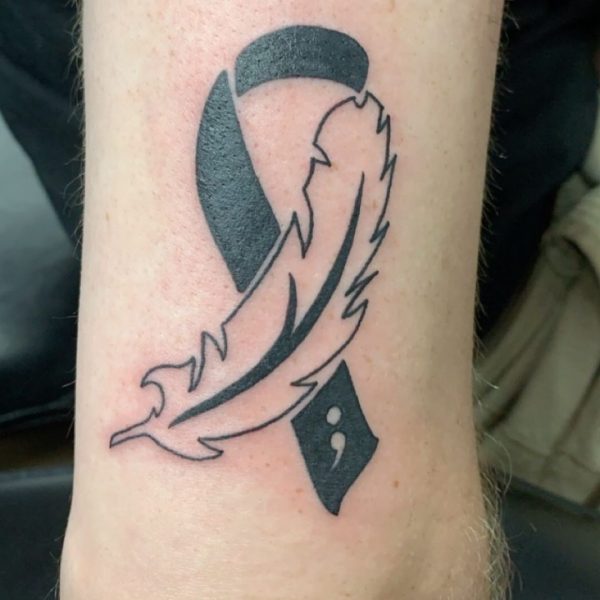 Source: @prizsmaaa
A colorful feather with a dripping ink semicolon says that life chapters of a person are to be written. People with strong character usually opt for this tattoo design.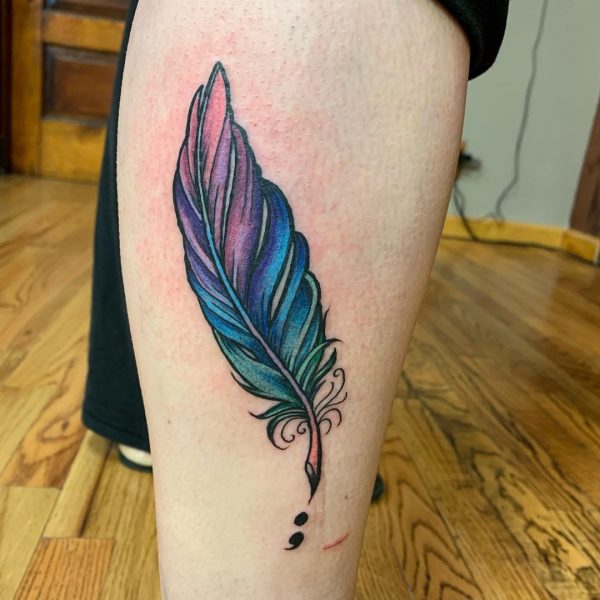 Source: @nixietattoo
22. Flowers and ButteflyTattoo
A semicolon presented as a body of a butterfly whose one wing pops with flowers is another feminine tattoo design. The semicolon body describes a tough period that has changed a person's life. The outspread wings indicate that the person is ready to fly again and explore life.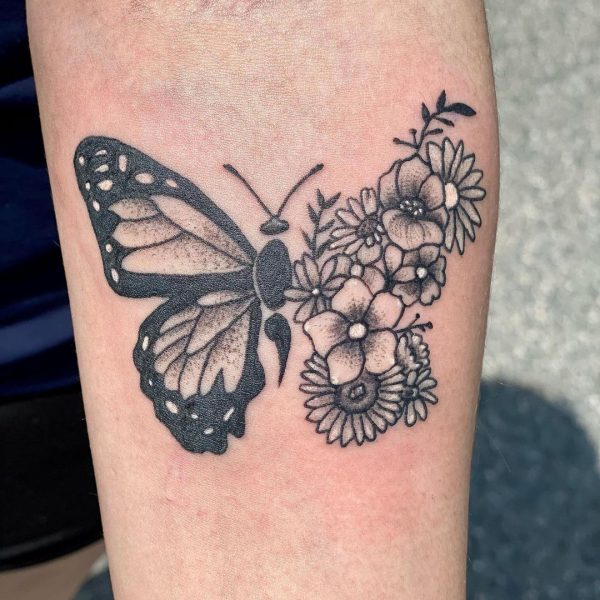 Source: @shadedfae_tattoos
23. "Sol Invictus" Tattoo
A semicolon creates Sol Invictus (latin for "Unconquered Sun"). This quote reminds a person in depression that nothing has been lost yet. This is the light that leads a wearer through the dark times of his life.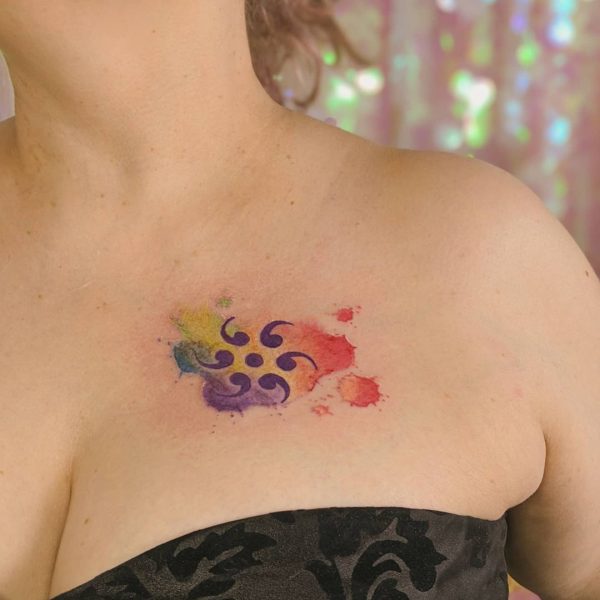 Source: @bextattoos
24. "Just Breathe" Tattoo
The quote 'Just Breathe' together with a semicolon says that sometimes after trying all ways round you should just continue living and enjoying what the world offers us. Most probably a wearer with this design has turned the page and decided to live no matter what.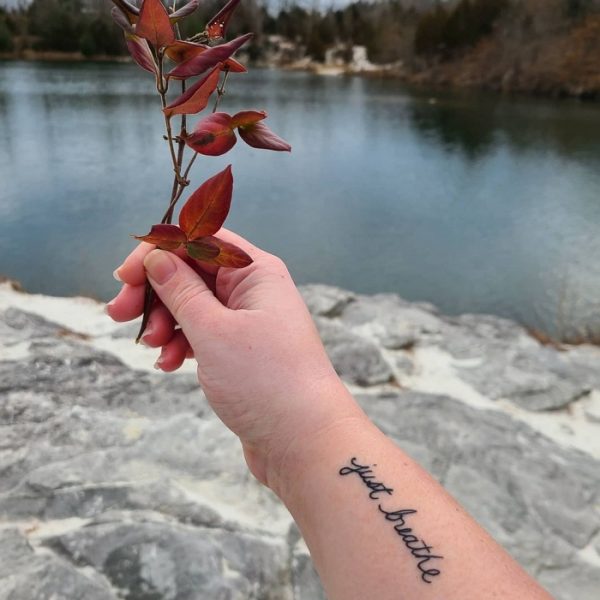 Source: @saramaephotography_
A tattoo located on the wrist is a reminder to yourself that life exists in every breath. People who have tried to commit suicide often mark their attempts like that.
25. Unique Quotes with Semicolon
An aspirational motto, a short quote works as a reminder to yourself. Here the semicolon represents the incompleteness of the phrase and the life as well.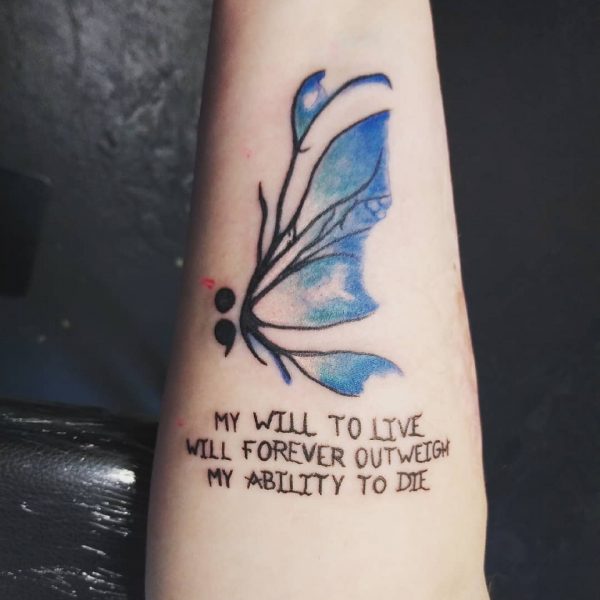 Source: @missmelisfritz
Men opt for a different quote or one-two neat words. The phrase 'Fight on' reflects the character and the intentions of a wearer. It emphasises his determination to overcome challenges in life.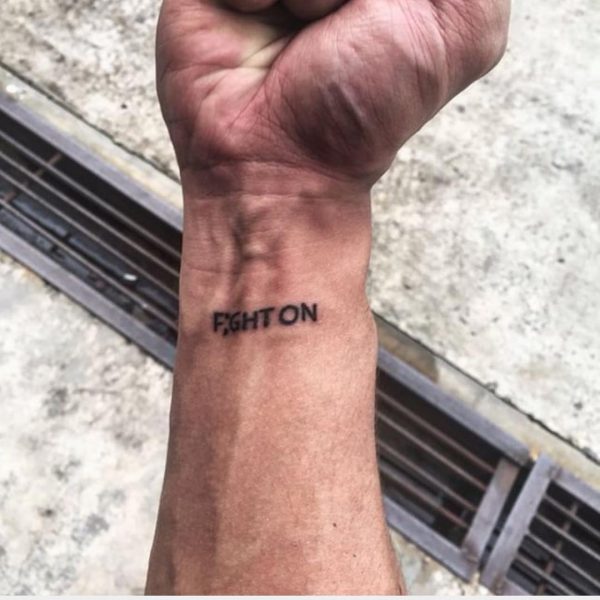 Source: @semicolon__tattoos
Ralated: Wolf Tattoos – 200 Fresh Ideas
26. Semicolon On Wrist
A semicolon of a blast of colors bears a meaning of a tough period in the past and the decision to let it all go.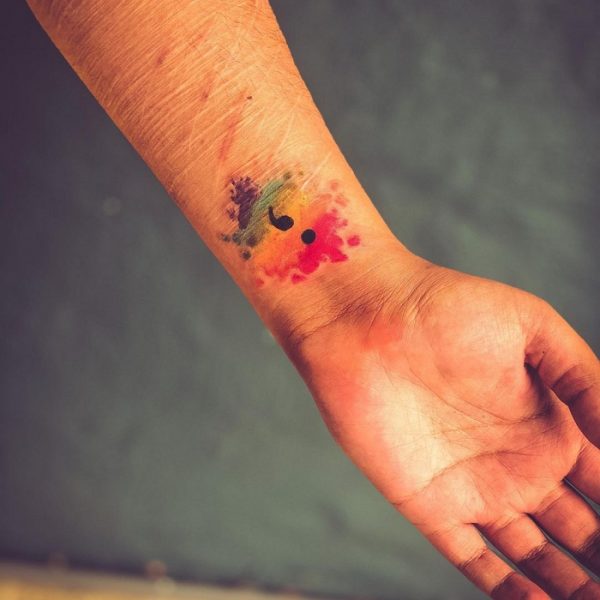 Source: @mobunniemoproblems
A more subtle design for a reserved person. A wearer tells us that despite all challenges and hardship he is ready to move on.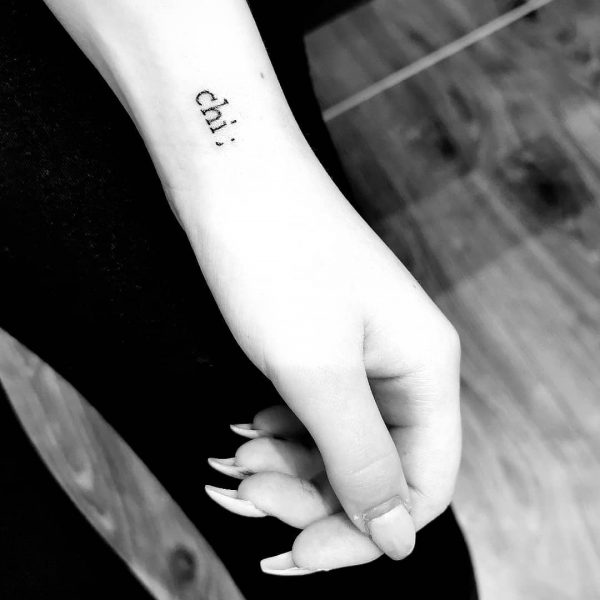 Source: @becca.mills.tattoos
27. Semicolon on Finger
A tiny finger tattoo speaks about a past event. The semicolon here reflects a hard moment in life that has finished.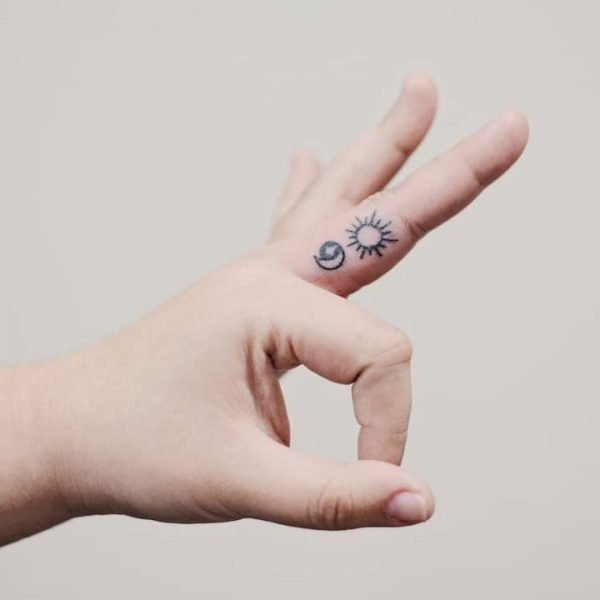 Source: @foreverink2010
28. Semicolon on Hand
Here the tattoo on the right hand works as a message. It reminds its wearer about the incompleteness of his or her business in life and that there is always something to strive for. Even in crises.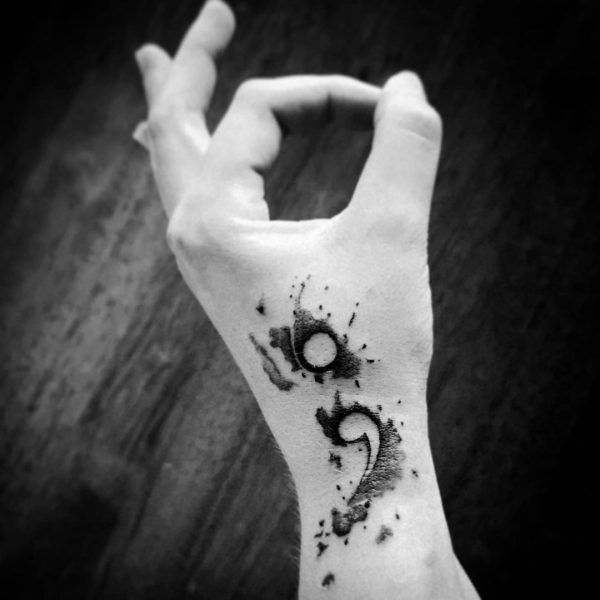 Source: @jennavaan
29. Semicolon Behind Ear
A tattoo behind an ear is quite feminin. A woman can't see it. It could be easily hidden under the locks whenever a wearer wants. It works more as a message for an important person in her life who will pay attention to this hidden part.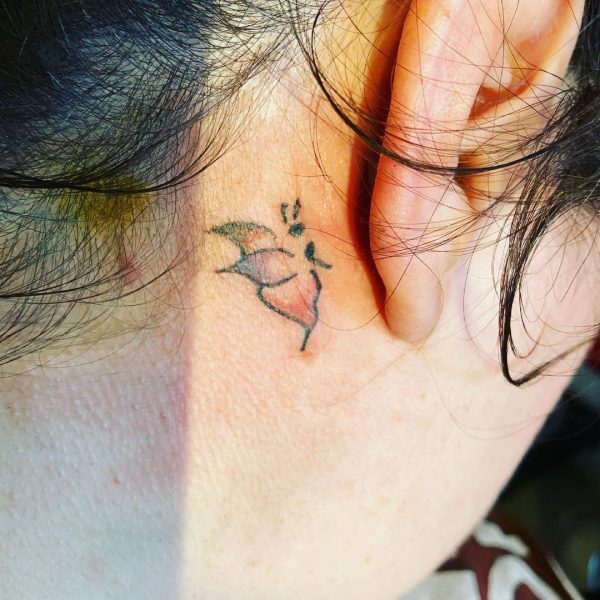 Source: @jmsmama09
A more dimensional tattoo design where the semicolon is deciphered as a lilly and a wing. Supporters of #projectsemicolon who wear these tattoos show to each other that they need support.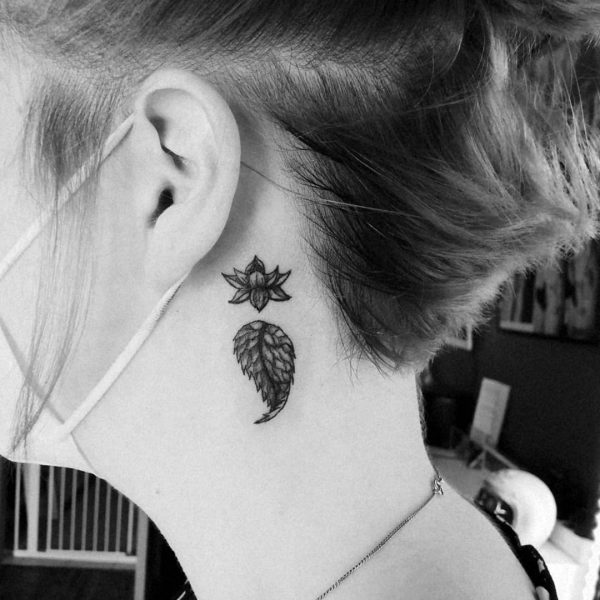 Source: @danielmtattoos
30. Semicolon on Neck
A tattoo on the neck speaks about a daredevil nature. A wearer with this tattoo is not afraid to make decisions. The design is accentuated with a quote 'My story is not finished yet' which underlines the intention to move on.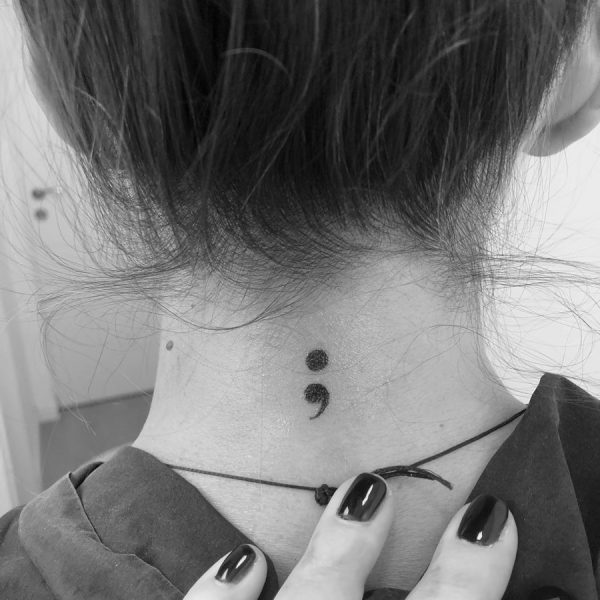 Source: @karin_algazi
[wp-faq-schema title="Semicolon Tattoo FAQs"]