Short nails look delicate and elegant. They garner attention when spiced with well chosen decorations. Short nails designs provided below are so different and original that any girl will find nail art according to her tastes and a nail shape (coffin or stiletto, almond or oval short nails). And a mix and match of various colors, patterns, embellishments and whimsical decorations can finish your look.
Very Short Natural Nails
Color Mix
Short natural nails look refined and innocent. If you are after some creativity, choose interesting decals and paint digits with a different nail polish.This minimalist nail design suits any occasion.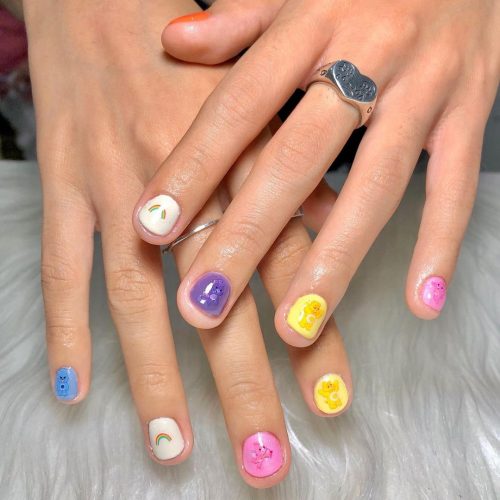 Source: @venusnailhouse
Mandala Patterns
Mandala manicure conquers our hearts with its mysterious design. Whimsical symbols gain our attention and make your nails look fancy and exotic.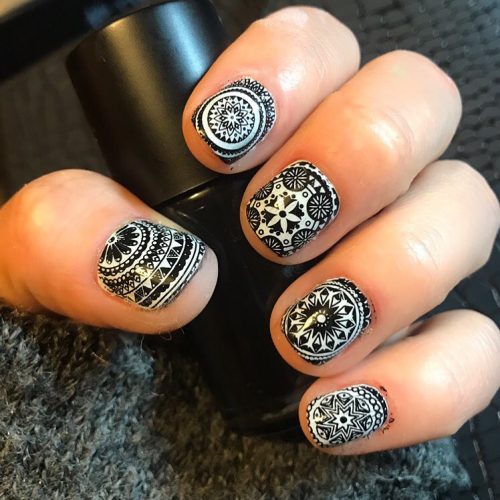 Source: @nailthenightin
Natural Red Nails
A regular red nail polish makes your nails look stylish even without embellishments. Finish off the manicure with a glossy gel polish. It's a simple and timeless nail manicure.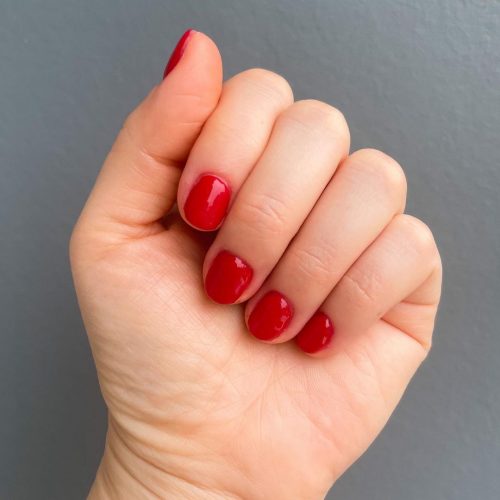 Source: @simplydippedmanis
Nude Rainbow Gel
Short nails give you a perfect opportunity to experiment with colors. A combination of different colors in one manicure will attract attention to every and each digit. It's a perfect addition to your casual look.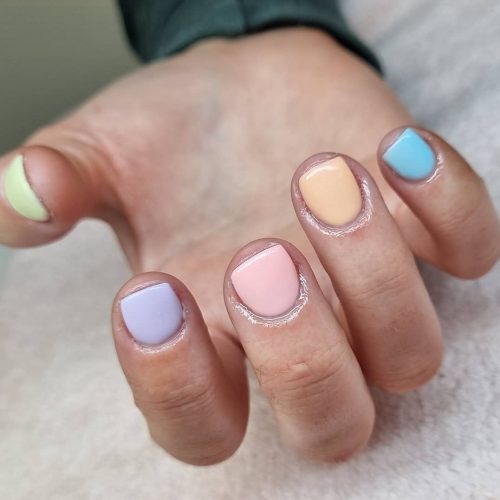 Source: @paigelee_makeup
Lunula Accent
Spice up a simple transparent manicure with some bright colors. Complement half moons with a yellow stripe to make the nails pop.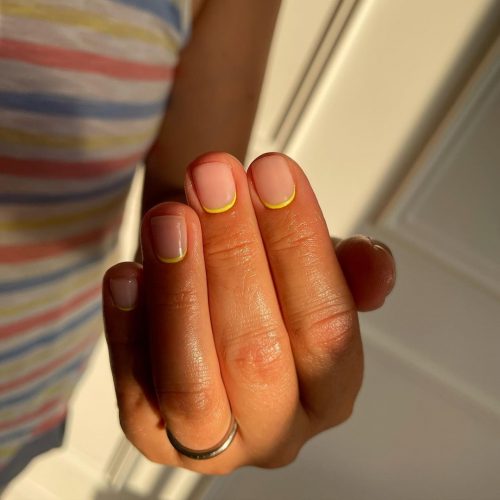 Source: @impactbeautybyrachel
Minimalistic Black Mani
A minimalist black manicure is an excellent decision for fearless and confident girls. A shellac nail polish makes your nails look very shiny. This nail art matches well with a party or a casual look.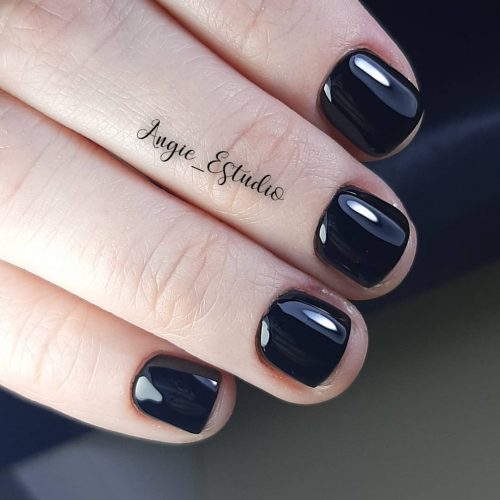 Source: @angie_estudio
Black Giraffe Print
A nail design with a giraffe print is an original combination of black and nude colors. Leave one nail and paint it black. This manicure will perfectly suit your casual look.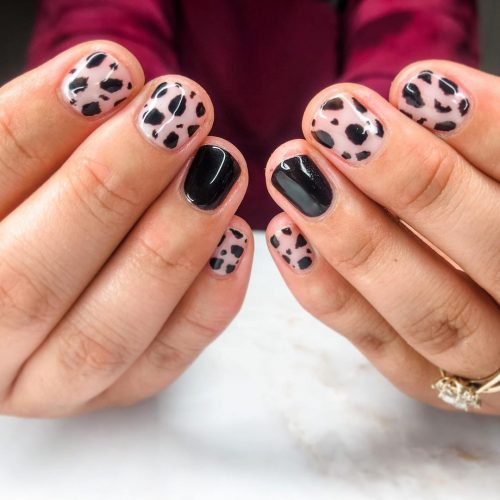 Source: @kalleenailsandbrows
Purple Butterflies
A pale violet shade looks fresh and girlish on short nails. Add some butterfly decals to your manicure for a bolder look. Crystals and a glossy gel polish will help you to create a glamorous effect as well.
Source: @olivia_haro_c
For Unicorn Fans
If you are after a cute mani, choose a pink gel polish. Put a tiny drawing of a unicorn on one of the nails to freshen the whole look and boost your mood.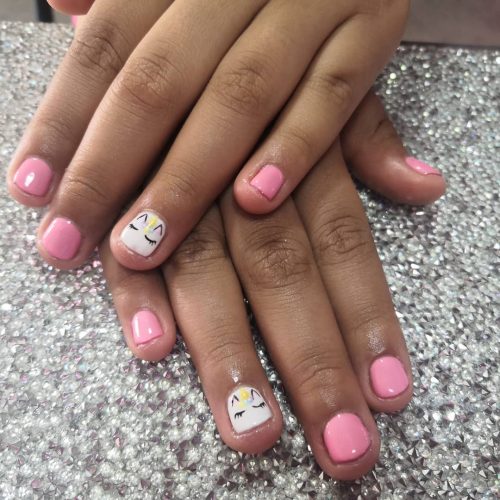 Source: @aryfashion_nails
Glossy and Glitter Purple Combi
If you want to rock a statement look, add violet glitter to some digits. A glossy sparkling nails design will attract attention to its details and will get your nails noticed.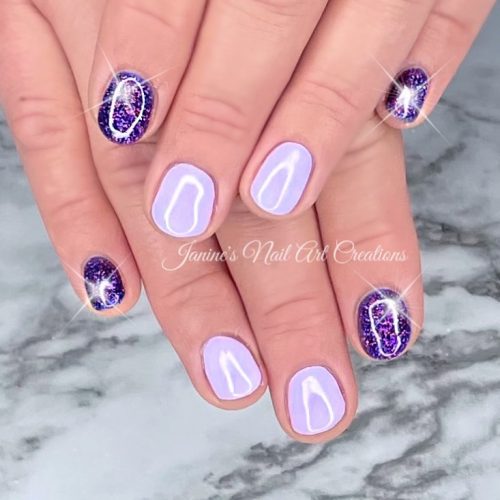 Source: @janines_nail_art_creations
Short Square Nails
Acrylic Nails with Marine Details
If you want to feel like a beautiful mermaid, go for the sea nail art. Acrylic nails with sea designs look stunning. A turquoise nail polish could be adorn with sea decals, drawings, dimensional crystals, gold glitter. The choice is there for you to treat every and each nail with a particular nail pattern.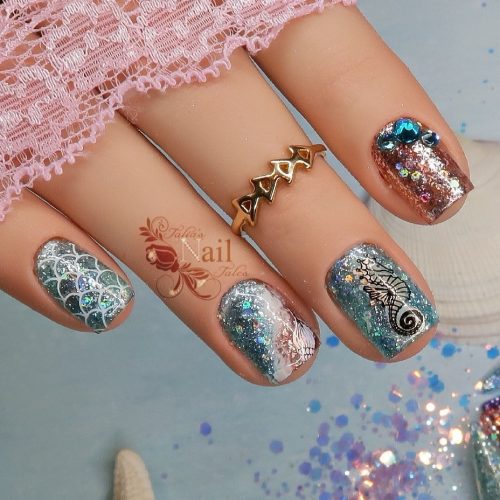 Source: @taliasnailstudio_
Black Flowers
Simple doesn't mean boring. A pale pink gel polish makes your fingers look elegant and cute. Add floral elements to attract attention to details and accentuate your romantic nature.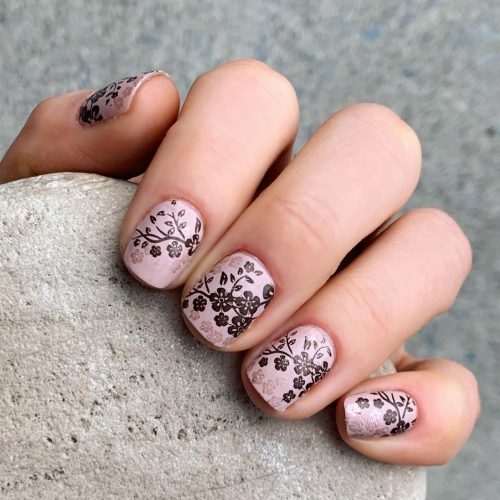 Source: @nailthenightin
Dark Grey Matte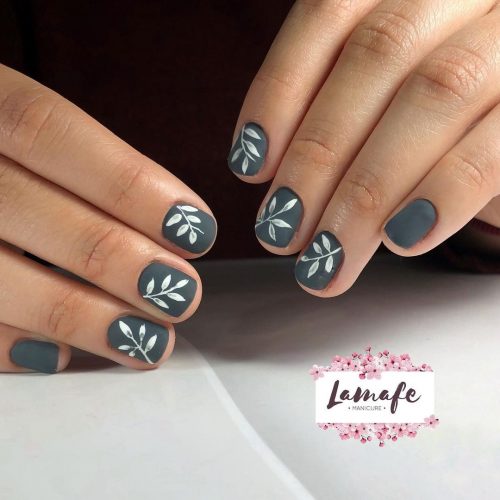 Source: @lamafe
A grey mono color manicure looks neat on short nails. Subtle drawings will brighten the color. A random placement of sprigs renders your nail art unique.
Blue Water Marble
Go for blue water marble nails if you miss the sea. This nail art brightens your look not only because of the principal blue color, but also because of some glitzy elements and interesting color transitions.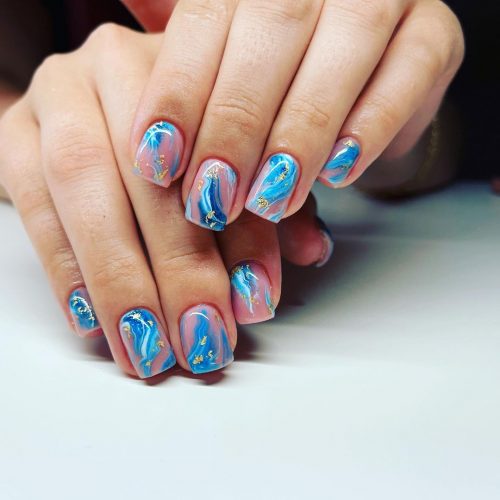 Source: @zknailscov
Looking for inspiring ideas for manicure experiments? Try 5 easy ways to create marble nails!
Square Gold'n Black Design
A black and gold design over a pink layer of polish creates a look of well-kept fine hands. This beautiful nail art suits an evening gown and a casual dress code.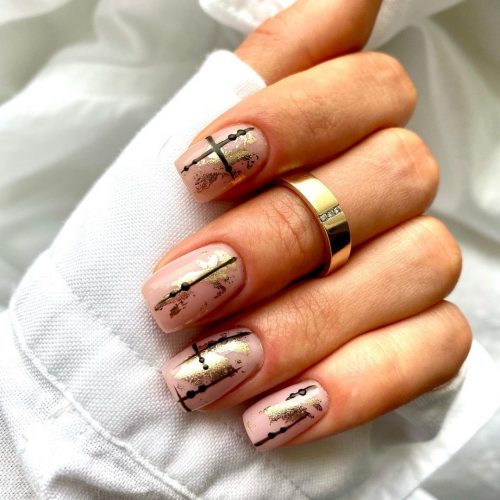 Source: @justyna_k_pilarska
Bridal 3D Acrylic Nails
This wedding nail manicure looks romantic and elegant. A dimensional white acrylic rose on one nail makes it even more festive. Add some silver glitter that matches well with white and that renders the look so special.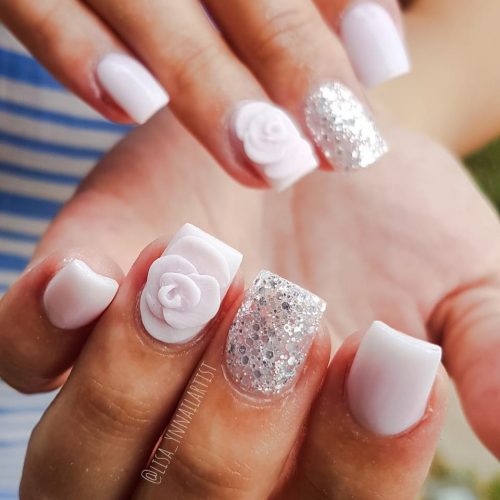 Source: @youngnails_sa
Matte Hearts Design
A matte nude manicure is perfect for girls who like minimalist and elegant nail designs. Funny matte hearts scattered all over the nail beds enliven the look and accentuate every nail.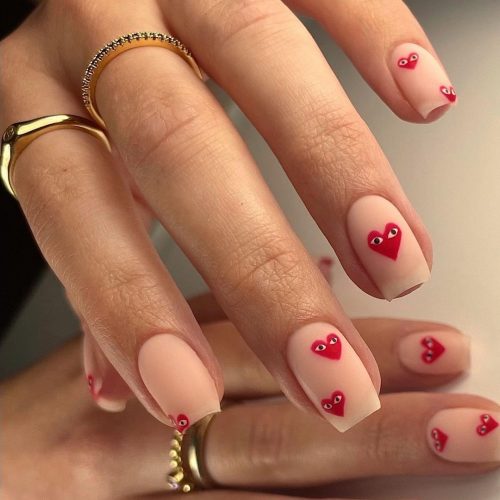 Source: @naomininastudios
Abstract Painted Mani
Abstract drawings on a transparent nail polish look funny and not too pretentious. Treat every nail with a different nail art. Let the design become the focus of your look and state your creativity and taste.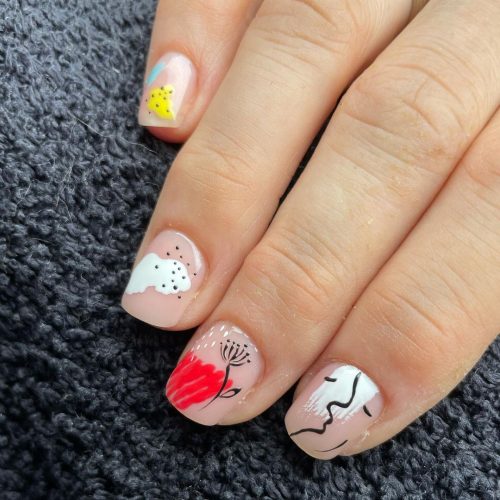 Source: @wachsy_nails
French White Tips Manicure
A classy French mani on short square nails looks tasteful and romantic. Place a dot at the bottom of nails to attract more attention. This nail art goes well with a business suit and a floaty dress.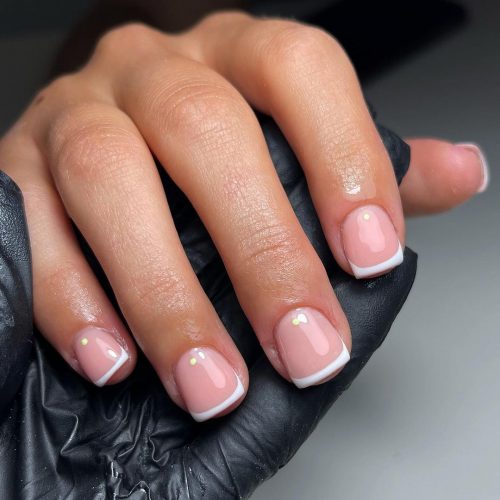 Source: @suzannenicollenails
White Background with Floral Details
A pale blue manicure will add more tenderness to any look. Adorn your nails with subtle floral drawings in red and place them in different parts of nail beds.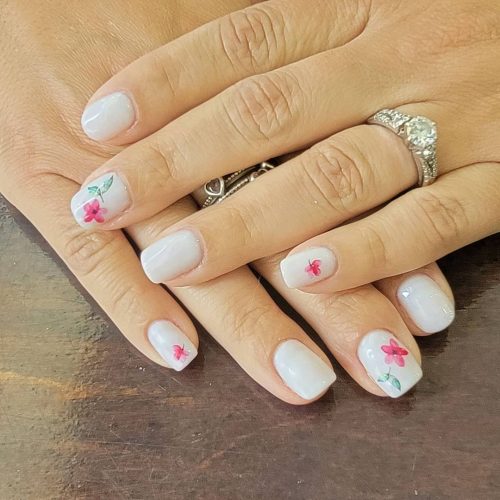 Source: @nikmonroee
Spring Rainbow French
The classic French manicure is a timeless nail art. To make it a bit more creative, opt for dazzling colourful tips.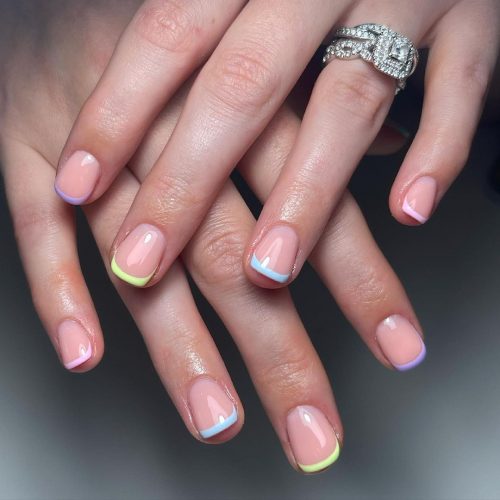 Source: @suzannenicollenails
Purple and White Acrylic Design
Violet and pink acrylic nails suit any look. The color combination is a perfect attention-grabber. Nails painted in solid violet could be complemented with a couple of nails painted in pink with white and violet swirls on them.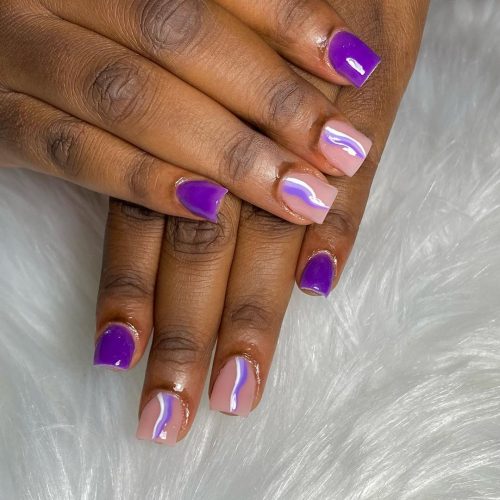 Source: @nails.by.nanis
Glitter Accent
An acryliс gel polish will add more shine to a white manicure. It looks stylish and beautiful. If you are after more shine, adorn a few nails with dimensional glitter. This mani is the best match to light-colored clothes.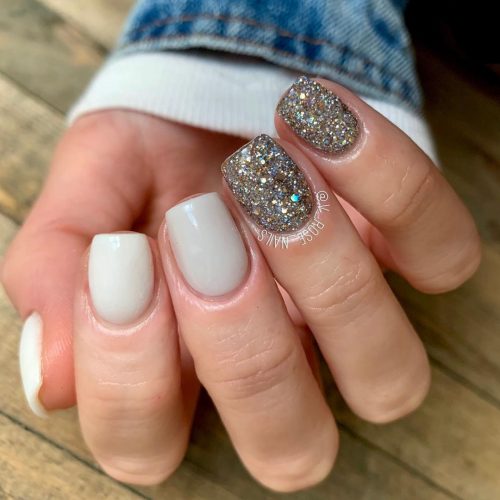 Source: @v_rose_nails
Cosmic Sparkle
A black mani on short square nails looks stylish and dramatic. Gold glitter will add some starry shine. This nail art is best for a night-out.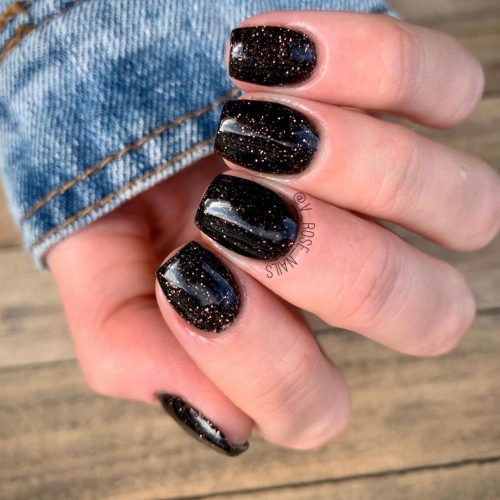 Source: @v_rose_nails
Bold Hot Pink
A fearless bright pink mani is the choice of bodacious girls who like to accentuate every detail. For a cool touch, add some glitter and crystals. This is a perfect design for a floaty and romantic gown.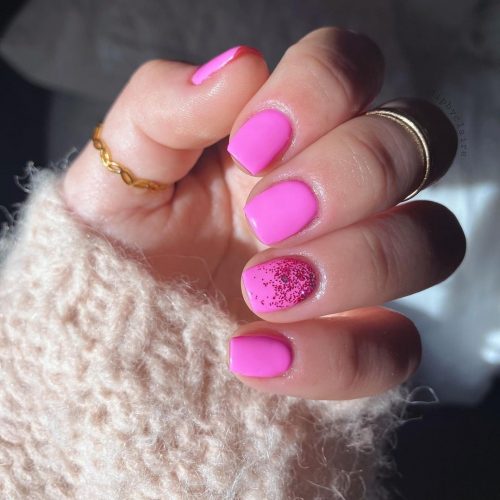 Source: @dipbyclaire
Glamorous Acrylic Mix
A different nail design on each and every digit attracts attention and expresses the personality of a girl. Fully painted nails could be sprinkled with large or small glitter and decorated with a starry design.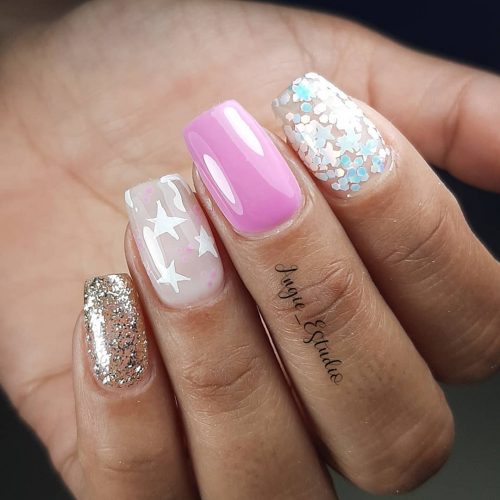 Source: @angie_estudio
Short Round Nails
Pink Cuties
Short round nails match well with a romantic look. A pale pink gel adds more shine and brightness. This nail art doesn't require more embellishments as it looks polished already.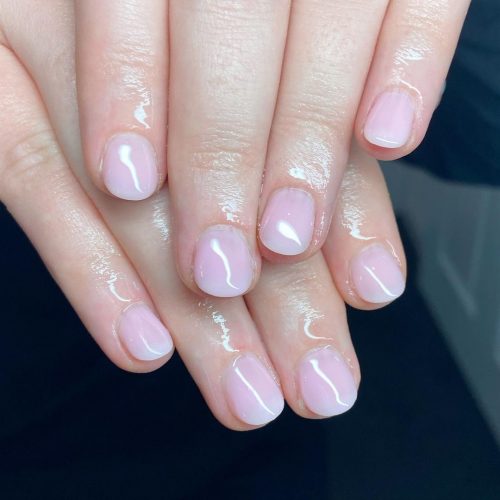 Source: @beauty_by_lisaxx
Lime Candies
A lime manicure with a juicy acid combination of yellow and green freshens up any look. Experiment with colors and create a unique mix of shades to make your nails pop.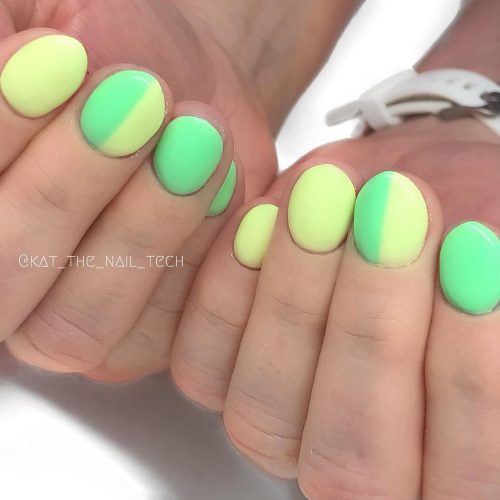 Source: @kat_the_nail_tech
Simple Black Dots
If you are after a minimalist motif in a manicure, opt for subtle and soft colors. Polka dots nail art could be an excellent design to make your digits look a bit more interesting. Seal the look with a clear and glossy gel polish.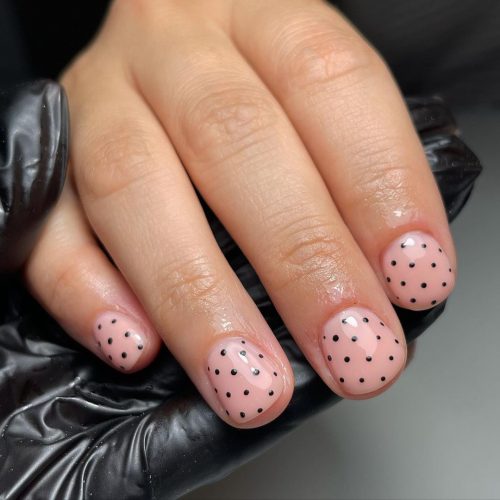 Source: @suzannenicollenails
Cartoon Painted Nails
Cartoon drawings on short nails look original and trendy. A combination of different colors let every nail look fancy and cute.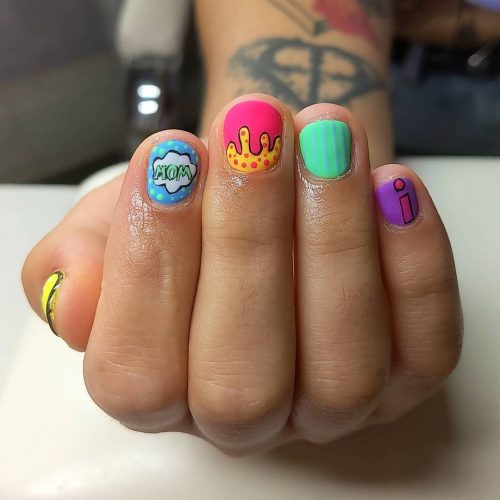 Source: @_nailzbyanna
Graphite Accent
A mash-up of white and grey is still very popular in the nail art world. Silver glitter adds more shine, and graphitic strokes make the nails look more quirky. Go further, choose one nail and brush it in different colors.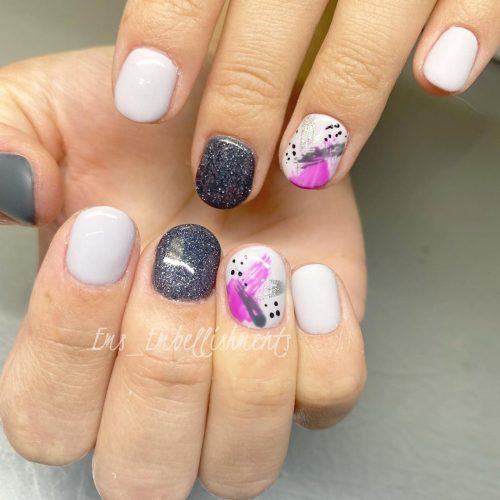 Source: @ems_embellishments
Fresh Mint
A mint manicure freshens up the look and adds a splash of colors to the whole appearance. If you want to make it more creative, imitate the cracks of color on a couple of nails. It suits a romantic gown or an elegant suit.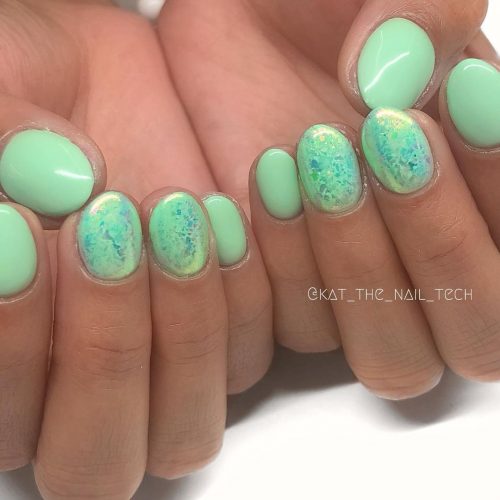 Source: @kat_the_nail_tech
Extra Glitter Mani
This glamorous white manicure is the best fit for girls who like to shine in every company. Add more gold glitter to make a statement look with your nails and sparkle in any setting.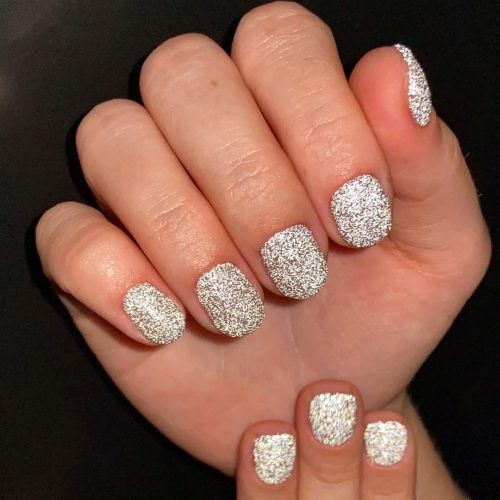 Source: @nails_bynl
Multicolor Plaid Design
This plaid nail design looks bright and stylish. A fearless combination of bright colors creates an interesting nail art and suits any occasion. A shellac gel polish is responsible for the mirror manicure effect.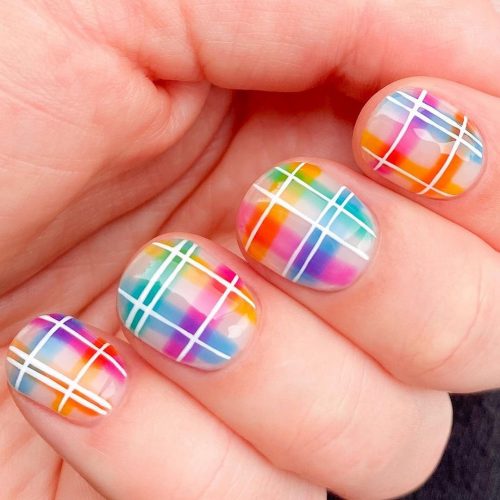 Source: @nailitmag
Electric Rainbow
If you are not afraid to experiment with colors, go for a unique manicure where every nail is painted in a different color. Colorful matte nails will definitely demand attention from people around you and cheer up your mood.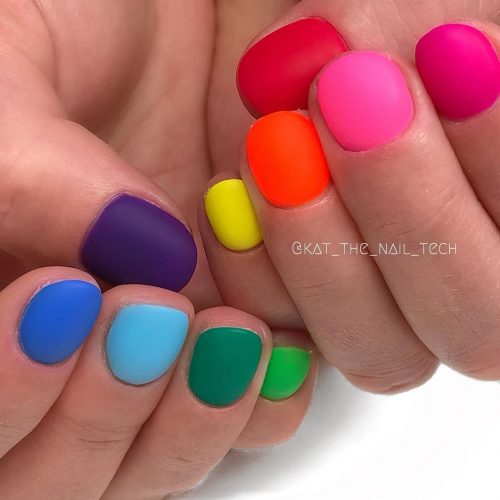 Source: @kat_the_nail_tech
Short Oval Nails
Confetti Design
A confetti nail design looks great for its combination of different shades. Place these colourful shades randomly to make your manicure even more noteworthy.
Source: @tribunedit
Green Marble Gel Nails
Marble nails are an ongoing trend that makes any look more elegant and stylish. Green marble nails look neat and delicate, and gold foil together with a black design can complete the nail art.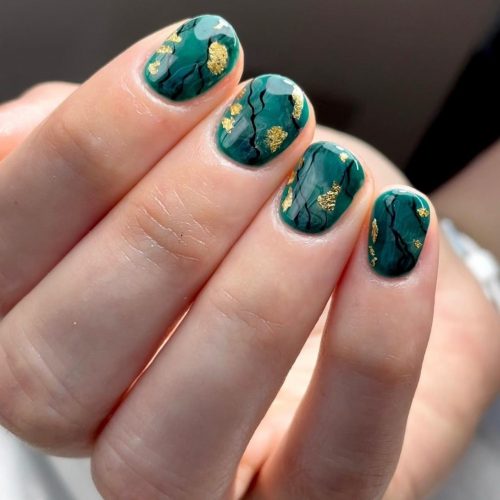 Source: @sianpetersnaildesign
Rose Orange Ombre
Ombre nails are very popular for its gradation and a play of colors. The pink to orange transition is a perfect idea for a summer manicure. Make your entire fingernail into a white color and add a cute decal. A pretty cupcake image could be one of the options, for example.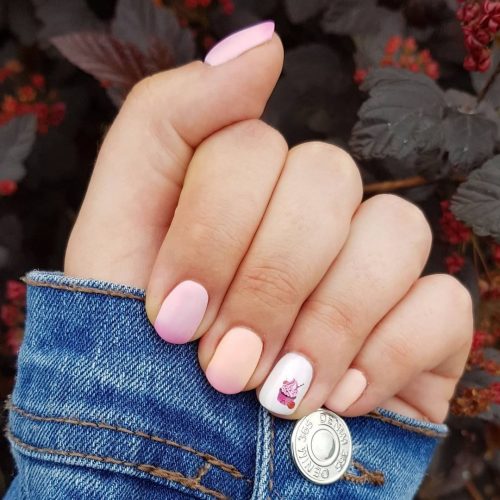 Source: @magzlebelt
Chocolate Trio
Nail art that resembles an assortment of tasty chocolates is a way to attract attention. This nail design is easily created with the right combination of chocolate shades and thin horizontal strokes. Adorn the look with glitter to a couple of nails.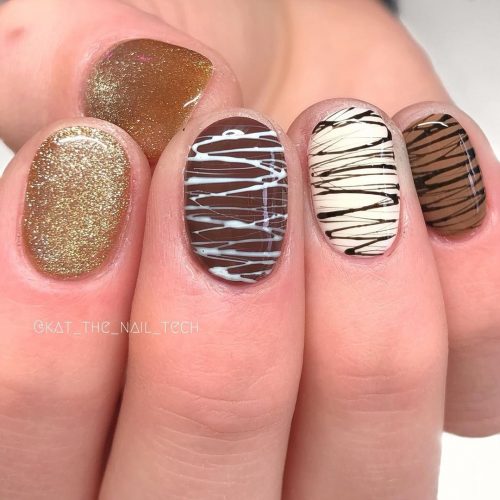 Source: @kat_the_nail_tech
Delicate Gray Ombre
Ombre is a perfect way to combine different shades. A smooth transition from dark grey to white looks very elegant and sweet. Complete the nail design with silver glitter on one or two nails.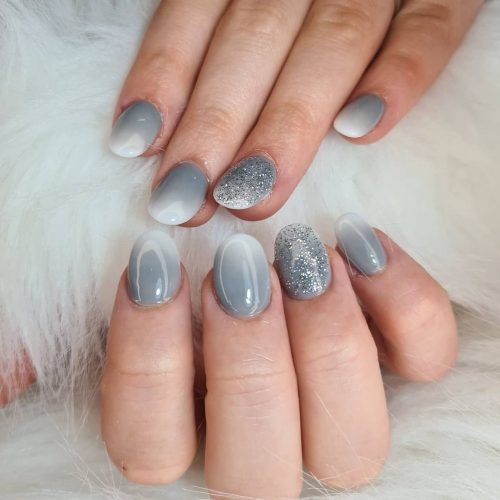 Source: @lov3urna1ls
Gold Geometric Print
A gold geometric mani will make your nails stand out. A mix of violet and gold accentuates your taste and attracts the attention to the hands.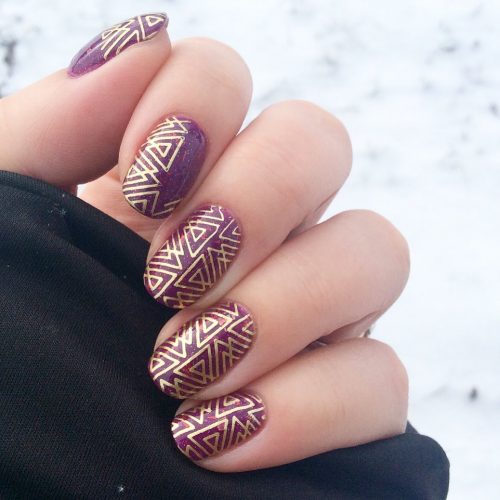 Source: @lakookla
Bright and Fun
A nude manicure can be decorated with cute and colorful floral drawings. It will definitely cheer you up. Contrast is the name of the game, so opt for different colors when painting your flowers. Rock this feminine and creative look with confidence!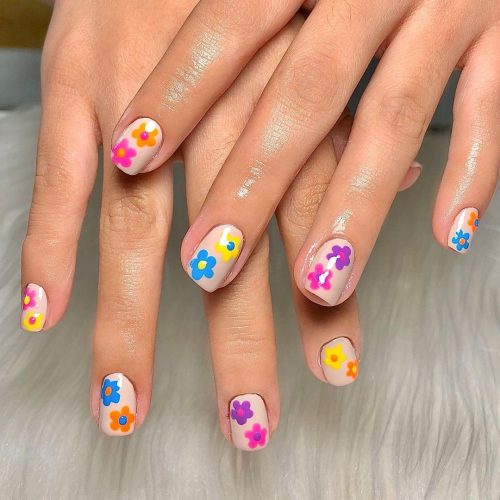 Source: @venusnailhouse
Sunny Yellow Babies
A yellow mani on short oval nails looks sassy and neat. If you want to make it a bit particular, choose trendy evil nail art on a single feature nail.
Source: @venusnailhouse
Christmas Theme
Christmas nail art looks festive. It will complete your look during the holidays. For a cool touch, add some snowflake drawings, rhinestones, and glitter.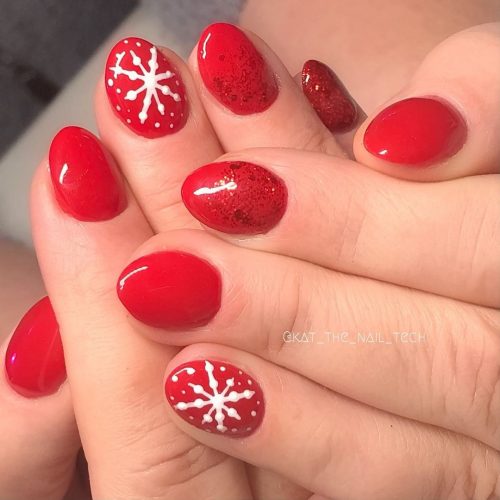 Source: @kat_the_nail_tech
Black French Tips
A classic French manicure could be restyled with colorful tips. In this particular case, the black tips could underline the confidence of a girl and her look.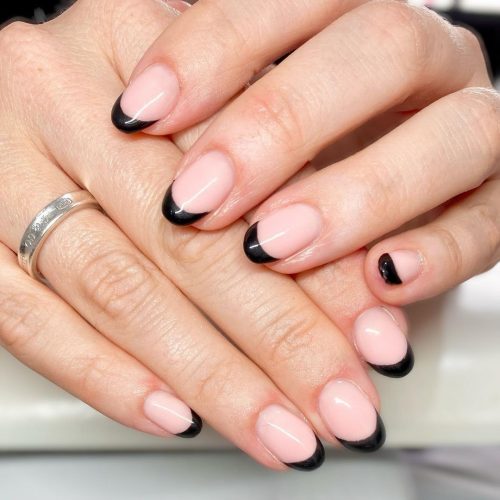 Source: @catxparr
Short Natural Pointy Nails
Sharp and Fun
A pink manicure always looks charming and stylish. Juicy melon decals on one or two nails freshen up the nail art. And shellac nail polish will make nails look so shiny.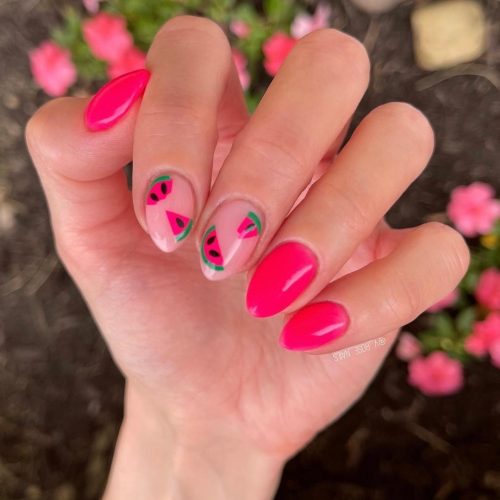 Source: @v_rose_nails
Rose Petals Acrylic Ombre
Try out a petal nail design to get a polished and elegant look. Go for acrylic nails if you're looking for a long-lasting and shiny manicure.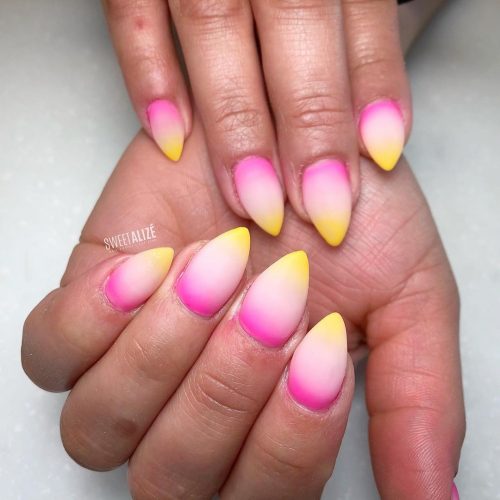 Source: @sweetalize
Neon Green
A neon manicure is always on trend. It looks bold and stylish. Green freshens up the look, while a small amount of subtle glitter creates an imitation of cracks. This is a truly statement manicure!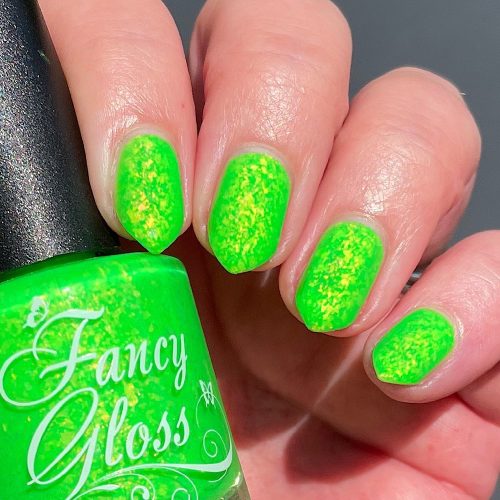 Source: @murrvie
Print Mix
Fans of whimsical drawings can go creative in nail art. Go for a combination of different prints, patterns, and shades to make each of your digits distinct.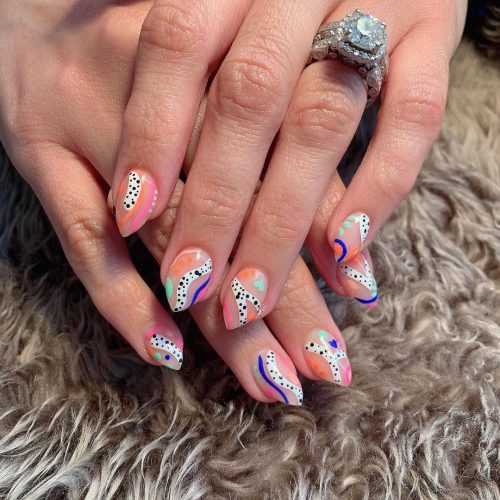 Source: @nailpeaksalon
Polish Wood
Polish wood nail designs look interesting and elegant. Paint one nail in a different color to balance the whole manicure. If you are after more effect, add some crack nail art.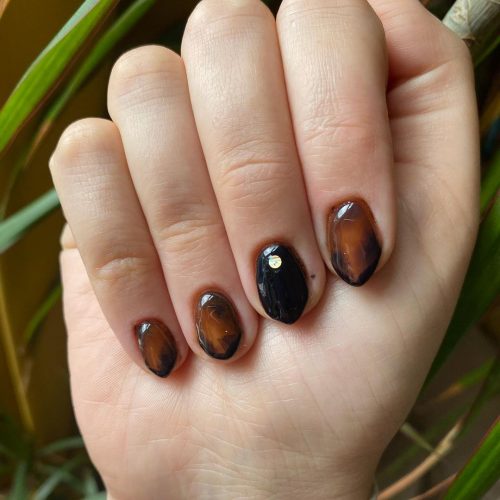 Source: @beth.at.the.nook
Watercolor Mani
A watercolor manicure combines different bright shades that match any look and make your nails noticed as well. This nail design is similar to a work of art as it shows the individual's self-expression.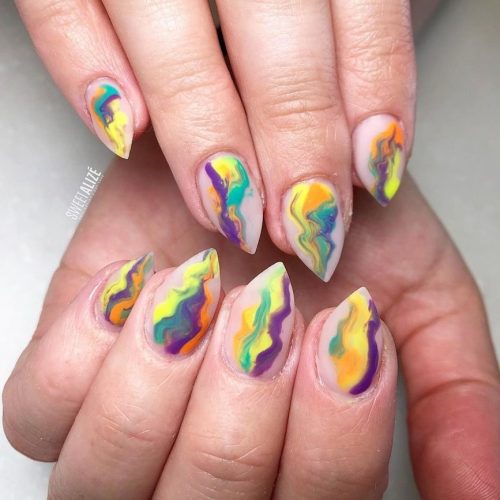 Source: @sweetalize
Red and White Flower Mix
A white manicure on pointy nails looks beautiful. Go floral and 'plant' some red and green flowers on a couple of nails. It will remind you about summer vibes and cheer up your mood.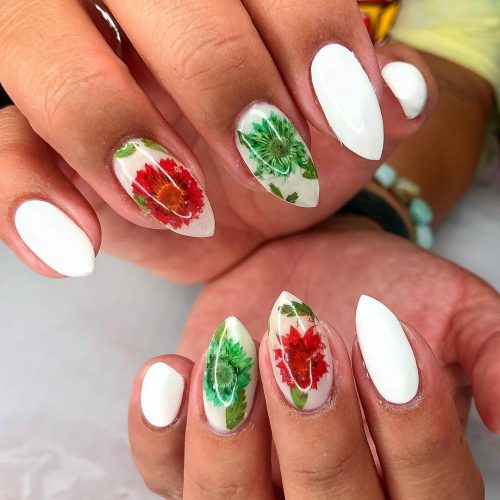 Source: @kalleenailsandbrows
Elegant Botanic Print
A turquoise glossy mani makes any look unique. An elegant floral design on one or two nails complements the main color and attracts attention.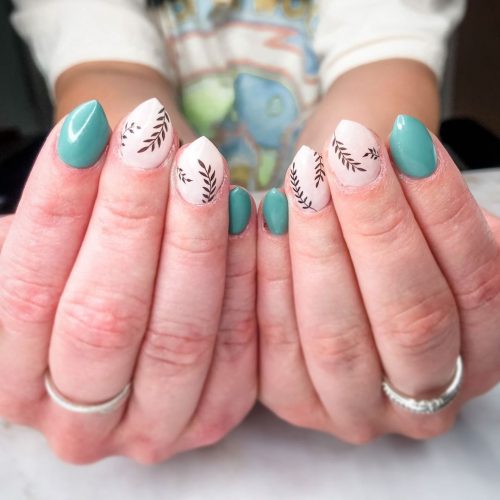 Source: @kalleenailsandbrows
Donut Style
Donut nail design decorated with colourful sprinkles looks tasty and fancy. Choose two offbeat colors for different hands. And in the end rock a stylish casual mani.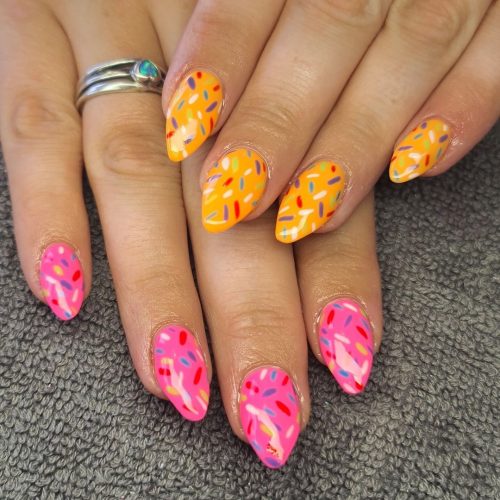 Source: @h2obeautynails
Shiny Accent
Light pink is an ideal feminine color to accentuate a girl's personality. It ideally suits a fancy gown. Go for a single feature nail and make it sparkly with gold glitter.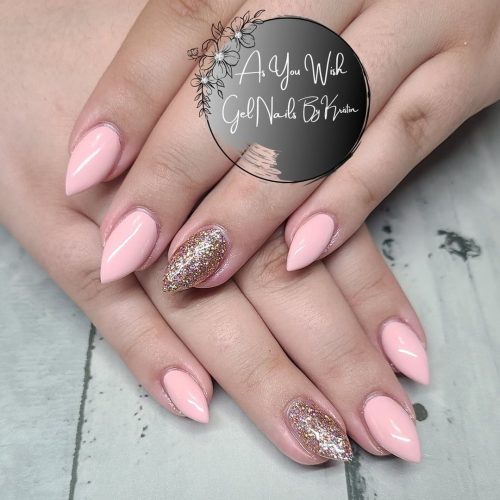 Source: @asyouwishgelnailsbykristin
Short Coffin Acrylic Nails
Elegant Tiffany
Tiffany style manicure looks elegant and polished thanks to a turquoise color. Shattered glass nail design accentuates your digits. The manicure matches a floaty dress or a casual suit.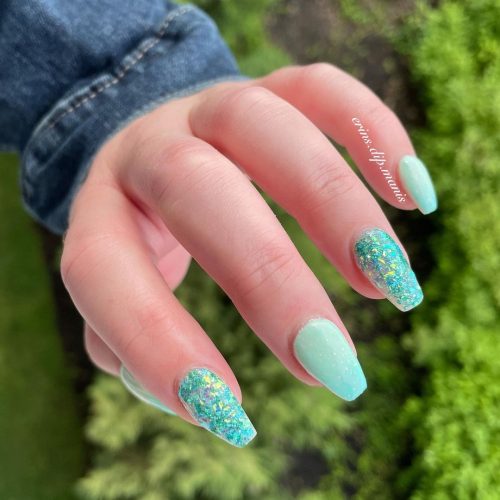 Source: @erins.dip.manis
Rainbow Coffins
Apart from the fact that coffin acrylics lengthen your nails, they are a perfect experimental field for a combination of violet, light-pink, blue, and turquoise shades. It's a simple and stylish nail art.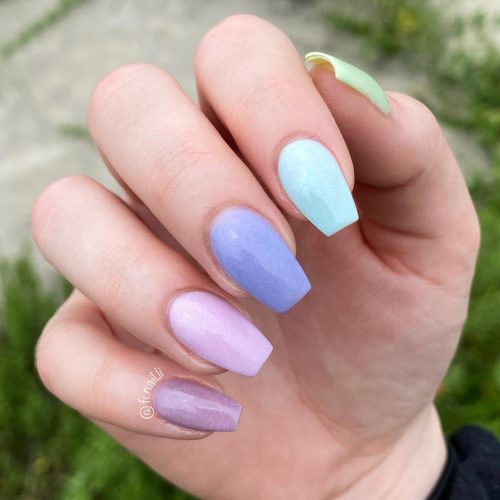 Source: @fi.nail.li
Nude Balerina Nails
The shape of ballerina nails resembles a ballerina's slipper. Nails look very romantic and fine. Nude color matches well with a black stripe at the top of a nail bed. Finish off the look with a glossy gel polish.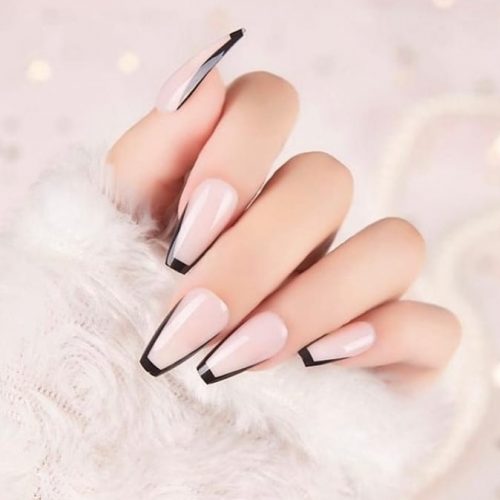 Source: @tipology_by_sakshi
Tropical Coffin Nails
Dress up your nude acrylics with a yellow triangle design at the top of the nail bed. It will resemble the French manicure but with a modern twist. A palma design on one nail will make your digits pop. Opt for a combination of pink, orange, and yellow as it adds brightness to your nail art.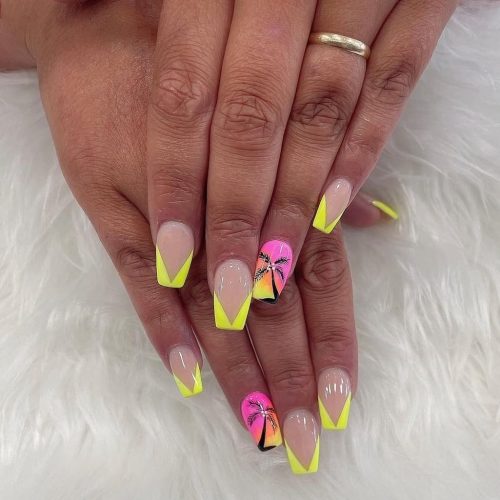 Source: @usastarsnails.dunstable
Minimalistic White'n Black Coffins
A minimalist style manicure matches elegant and fine looks. A white gel creates a beautiful and neat manicure. Paint all but one of your nails in a block color of your choice and add a star design to the remaining digit. It will bring attention to your hands.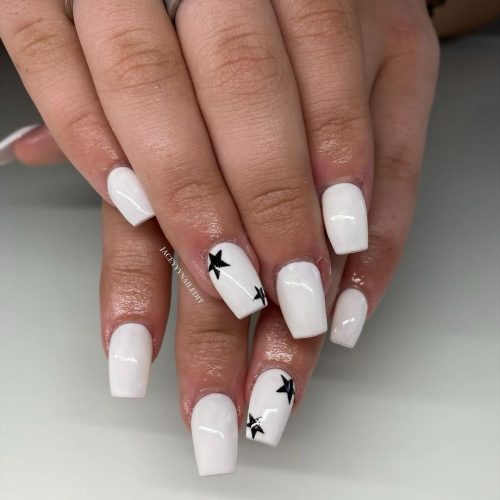 Source: @jaceyyynailedit
White and Rose Gradient
A gradient mani allows you to get creative with colors. A transition from light pink to white looks sassy and romantic at the same time. Natural nails and an iridescent play of colors create a sophisticated and natural look.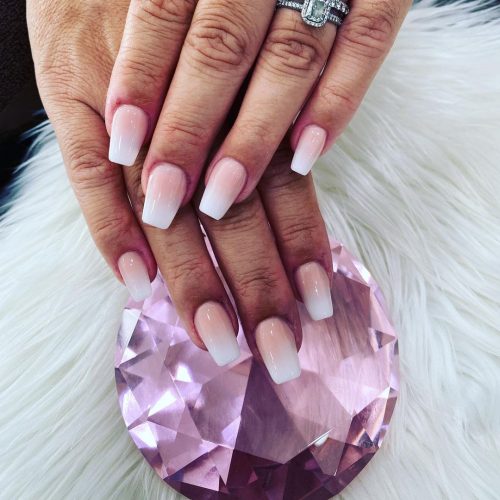 Source: @villa_park_nails
Funny Prints
Be ready to experiment with different nail designs to create a unique mani. You can add various patterns on each nail, e.g. a smile, a heart, or colorful prints, bright solid color stripes. This nail design matches a stylish look, where minor touches count.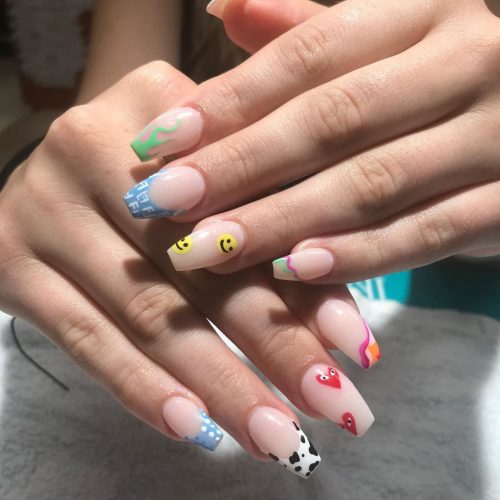 Source: @metimenailandspa
Creative Imagination
Different nail art on each nail can show your rich imagination and a sense of style. Try out violet and pink patterns or a subtle purple stripe at the top of your nail. This nail design will match an evening gown or casual clothes.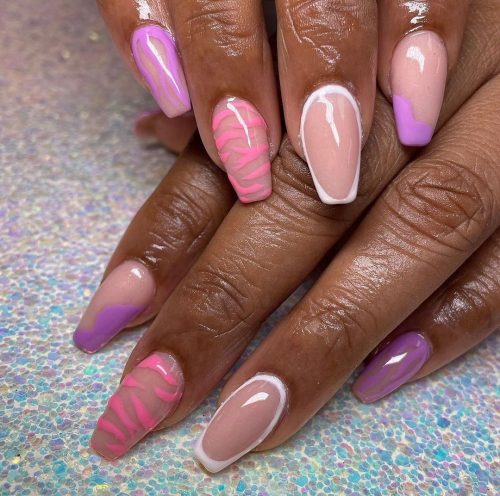 Source: @slimyklawz_spalounge
Bright Abstractions
A modern bright abstraction nail design has been brewing in the nail art world. An unusual fuse of white, red and blue shades makes a statement look and harnesses attention towards your digits.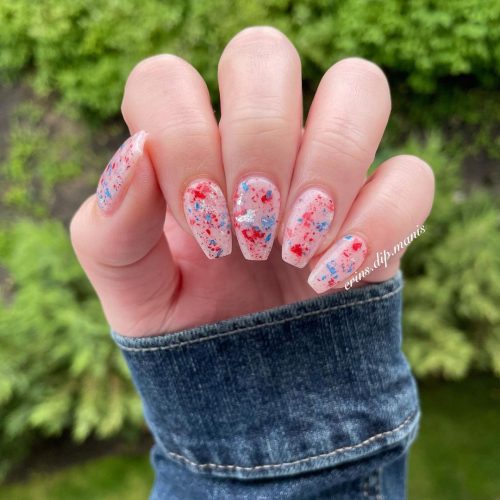 Source: @erins.dip.manis
Dark Red Gloss
Dark red color and pointy nails are a perfect match. Adorn your nails with silver glitter to add more shine to your digits. This nail art accentuates the look and works perfectly with an evening gown. If you are looking for a glossy effect, use a shellac polish.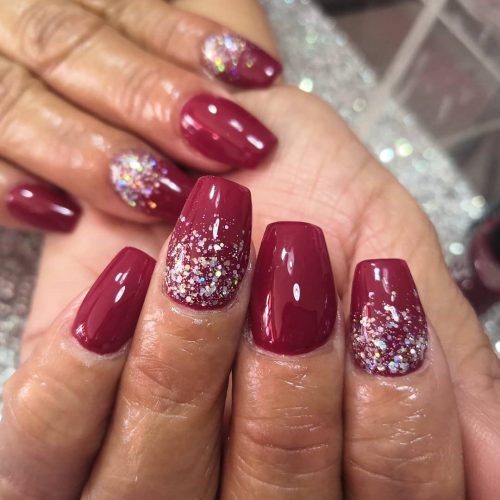 Source: @aryfashion_nails
Short Acrylic Stiletto Nails
Black'n White Stiletto Nails
It's easy to create a subtle and elegant nail design on pointy stiletto nails. To get your nails noticed, you can garnish a glossy white layer with tiny black sprigs on different parts of your nail bed.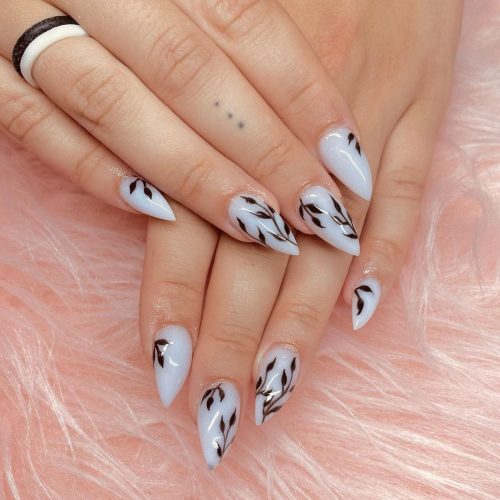 Source: @bossbeautynailsyyc
Mehendi Style
Mehndi design on your nails commands attention for its whimsical Indian patterns. Nude matches well with pink and yellow colors and creates a unique mani. A line of small black rhinestones can be placed to accentuate different nails. They also complete and balance the whole look.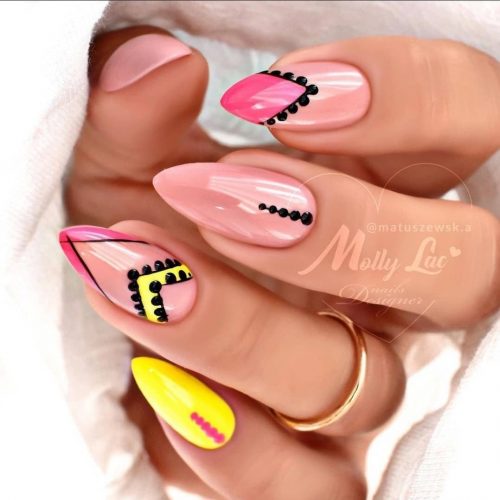 Source: @elegancenaails_
Deep Red
Red stiletto nails look glamorous and sassy. A gel polish is responsible for a glossy finish. Gold elements and subtle black strokes on an accent matte nail will ensure your nails go the distance. Silver crystals at the bottom make your digits look polished.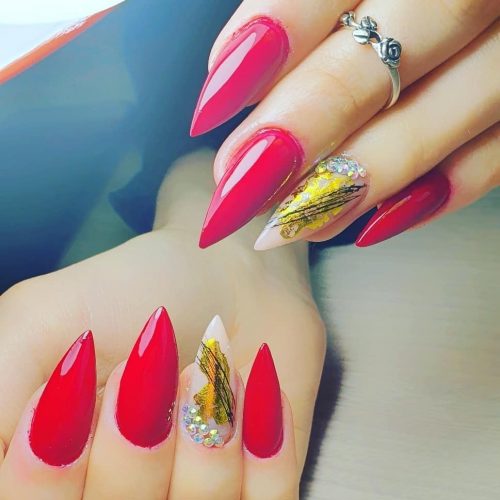 Source: @gecolomboalongamentos
Delicate Nude
Glossy nude make your nails look romantic and natural. Pick a nail to place a quirky design of a black color to complete your manicure. This manicure suits any occasion, either a festive or a prosaic one.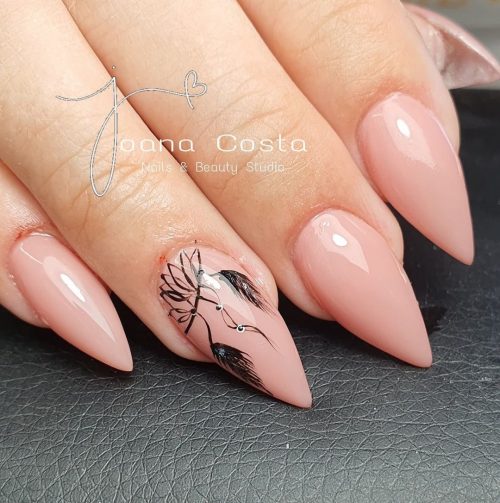 Source: @joanacostanailsbeauty
Glossy Ultramarine
Ultramarine is the color for confident and stylish girls who love to be at the centre of everyone's attention. A gel polish creates a glossy finish and a stiletto shape makes the mani look bodacious. A French blue manicure matches floaty dresses and elegant suits.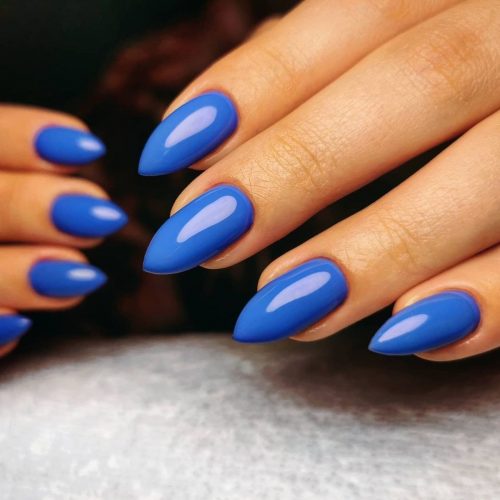 Source: @mariwee_creates
Green French Tips
Give a riff on the classy French mani with lettuce green color tips. Choose a nail to paint it in a solid pink color to make your digits pop. A mash-up of dazzling colors will make your manicure an eye-candy and will suit any look.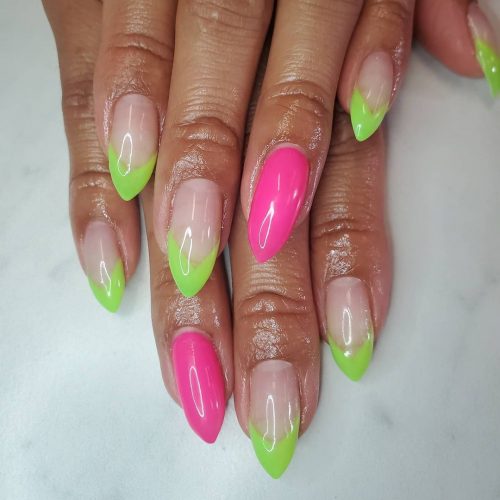 Source: @aliscosmoexperience
Rose and Yellow Neon
Neon nails are the best option for spring or summer when you want to pump up your mood. If you are after a creative and bold mani, opt for two different colors for two hands. A combination of pink and yellow creates a fresh statement look.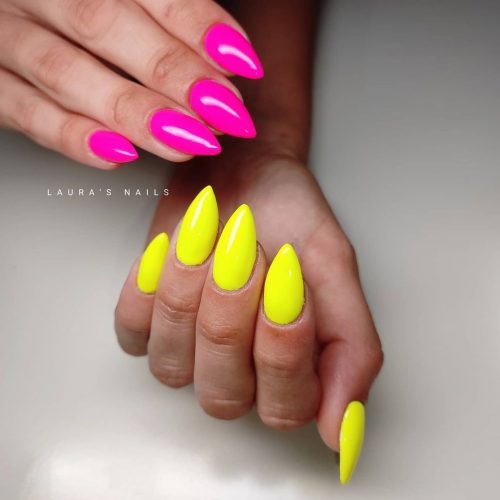 Source: @laura.s_nails
Sharp and Shiny
Shiny glitter on pointy nails attracts attention while whimsical patterns of violet and blue create a unique nail design. Nails can also be garnished with small crystals at the bottom of the nail bed.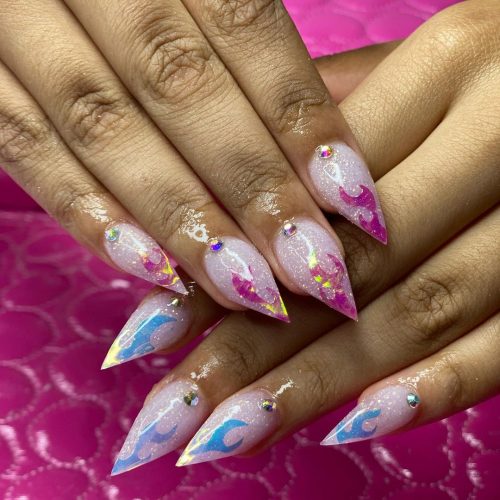 Source: @nailedonthe.dl
Like Claws
Short nails are perfect for creating a sassy and cool manicure where every detail matters. If you are after a statement look, paint all but one of your nails in black and color black only the tip of the remaining digit to get a French-like design.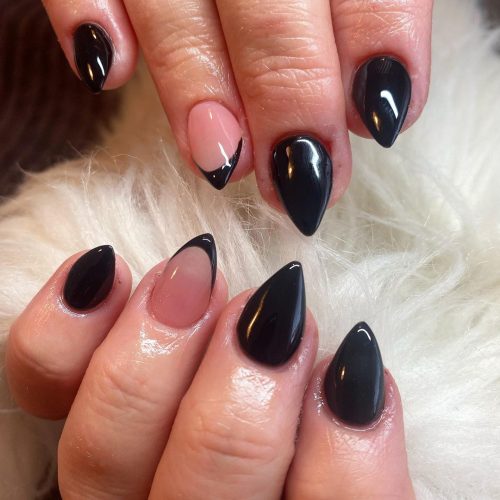 Source: @xxfairynailsxx
Glitter, Gloss and Matte Mix
A manicure that combines glitter, glossy and matte red nail polishes is a total attention grabber. It accentuates attention on every nail and suits a dramatic look.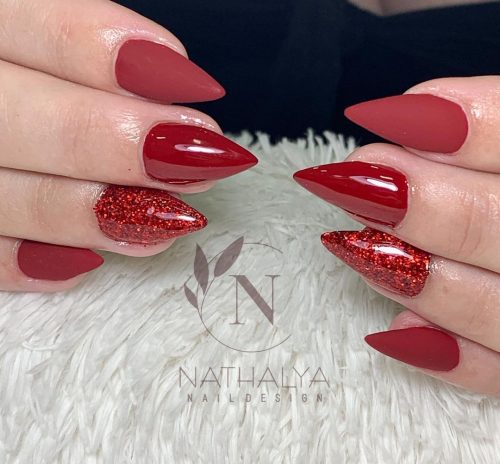 Source: @nathalyanaildesign
Short Almond Nails
Blue Star Design
Almond shaped nails are on trend in 2021. A blue polish adds brightness to the look and the starry nail art makes your nails look original. Again, this manicure suits every occasion and style.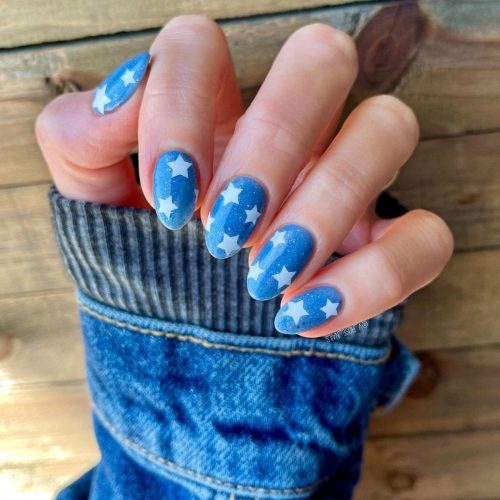 Source: @v_rose_nails
Coral Natural Nails
Coral natural nails are best for romantic elegant girls who opt for a minimalist mani. Coral glossy nails look fine and if you want to spice it up, add a decal with a cute bow on an accent nail.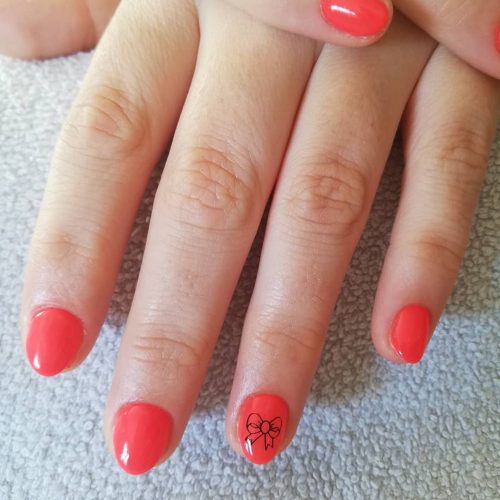 Source: @nailsbyshauny
Pointy Tri-Color Tips
An ordinary nude manicure could be spiced with tri-color tips, resembling the classy French mani but with a modern twist. A combination of white, violet and blue creates a colorful nail design allowing every color to play the leading role.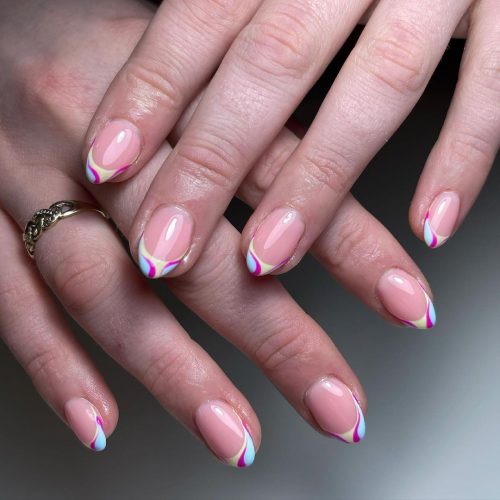 Source: @suzannenicollenails
Dark-Blue Chrome Mani
Fans of glossy colors love chrome nails. They are made with the use of a special powder. A dark-blue chrome mani looks gorgeous and quirky. A design on one of the nails will complete the look.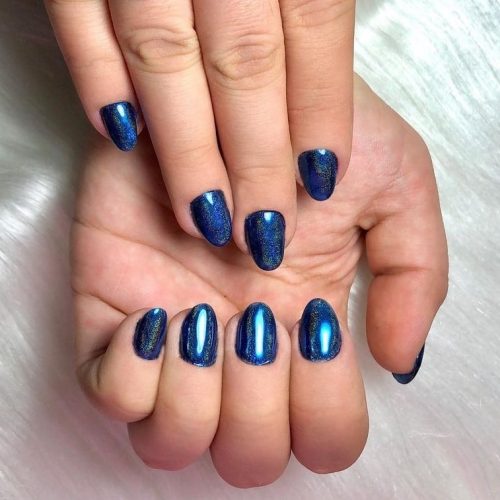 Source: @venusnailhouse
Grey and Glitter Combination
A grey and silver combination creates a sophisticated look where the attention is concentrated on details. A grey shiny polish and silver glitter match well together to result in gorgeous looking nails.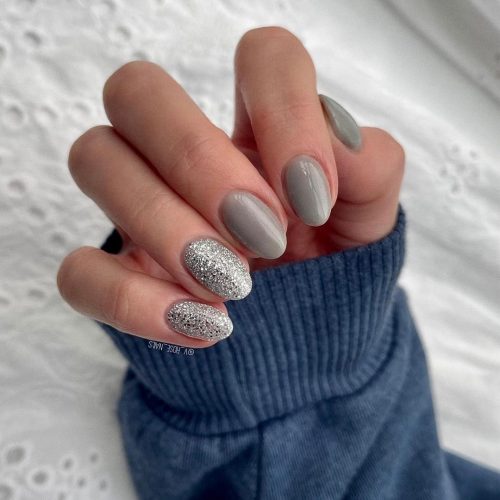 Source: @v_rose_nails
Funny Cows
Black and white animal print, in particular, a cow print looks creative and fresh. To highlight one nail, make a cute drawing of a cow. It suits any occasion or style, but is especially good for a party look.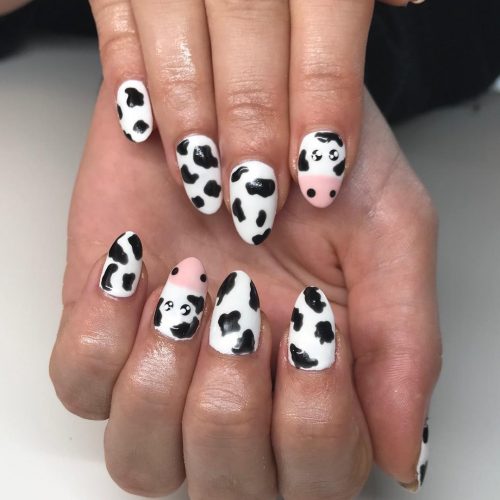 Source: @amanda_h_nails
Hot Orange Gel Polish
If you crave for a juicy summer manicure, choose dazzling orange colors that make your digits pop. A few stripes of different shades of orange underline a girl's personality and get those nails noticed.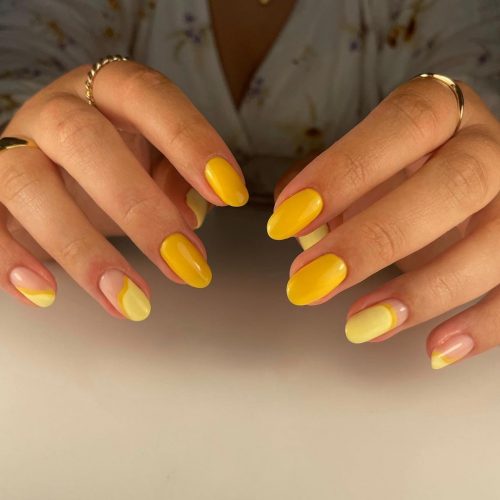 Source: @naomininastudios
Powder and Gold Acrylic Mani
Powder nail colors match all elegant and floaty gowns and suits. Sprinkle them with glitter, finish off the look with a clear polish and let the nails become the focus of attention.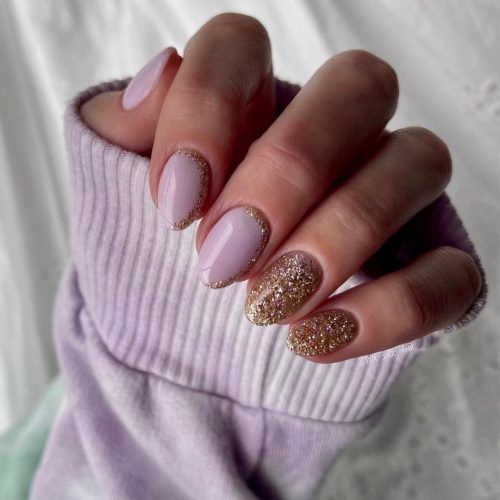 Source: @v_rose_nails
Summer Yellow French
Update a classic French manicure with a splash of yellow. Use an acrylic gel polish for an evenly painted and durable manicure. It also helps to create mirror effect nails. This summer nail art will complete and brighten any look.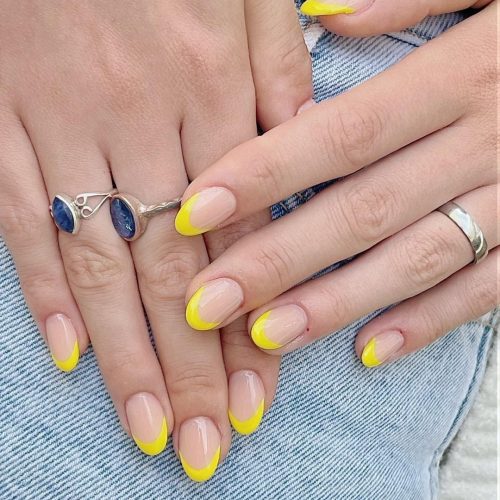 Source: @goldnails.munich
Natural Honey Marble
Marble nails are a universal manicure option that suits any look. It's a trendy nail art where you are encouraged to go creative. Opt for honey marble nails to complete a sassy look. No decorations needed as honey marble design does the trick to conquer attention.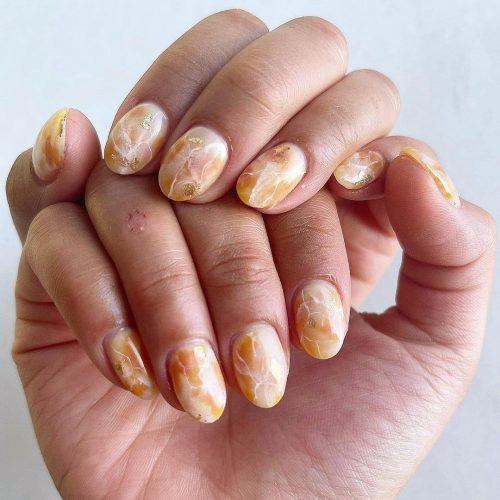 Source: @sapphirespaseattle_nailsartist
Kami Fubuki
Kami Fubuki are colourful confetti that are very popular in the nail art world. These sparkle particles and a black gel polish will make any look festive and glamorous.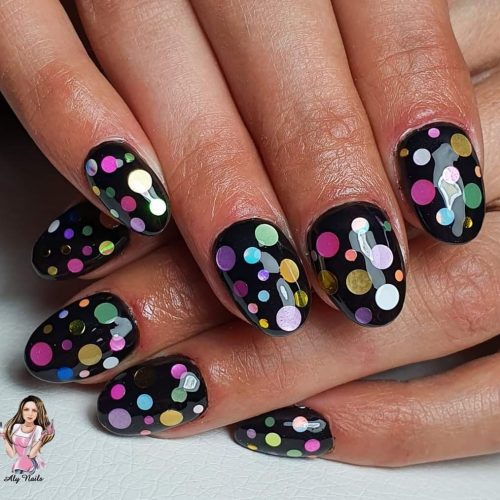 Source: @enachealinacorina
See also: